Etihad Airways announced today that they'll be launching three times weekly service between Abu Dhabi and Dallas as of December 2, 2014. The new flight will be operated by a Boeing 777-200LR aircraft. Etihad doesn't have any of these in their fleet yet, but is in the process of acquiring some from Air India. They'll be reconfigured with similar cabins to what they have on the rest of their 777-300ER and A340-500 fleet. The 777-200LR aircraft will feature eight first class seats, 40 business class seats, and 189 economy class seats.
This will be Etihad's fifth US destination, after Chicago, New York, Washington, and Los Angeles (service on that route launches on June 1, 2014). Since the new service is still nearly a year out, reservations haven't yet opened for the flight, and the schedule hasn't yet been published, though like all of Etihad's other US flights I suspect it'll be a daytime flight westbound and redeye eastbound.
Interestingly this announcement comes just a week after Qatar Airways' announcement that they'll be launching daily service to Dallas as of July 1, 2014. This now means that all three of the Middle Eastern "giants" will have nonstop service to Dallas.
This route is rather interesting for Etihad, since I'm sure one of their primary motivations for launching this service is American's huge hub in Dallas. Etihad doesn't belong to any alliance though is one of American's partners, and they codeshare on many routes. However, I can't help but wonder how stable the relationship between American and Etihad is. Qatar Airways recently joined the OneWorld alliance, and is a fairly new partner of American's, so you have to wonder if they'll ask for some sort of Middle Eastern monogamy at some point. After all, they're launching service to many of the "new" American's hubs, including Miami and Philadelphia.
Interesting times in the industry!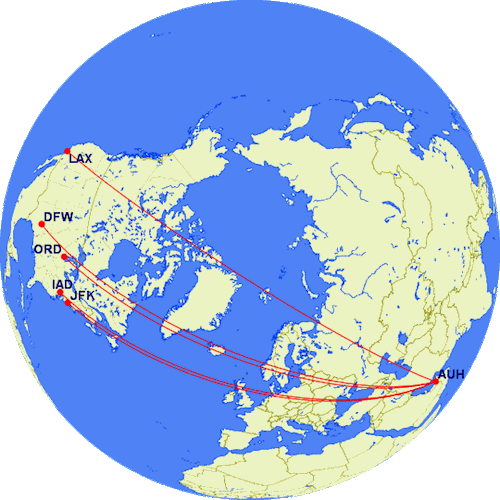 (Tip of the hat to Luke)