At the beginning of February we learned about some major changes that Hilton is making to their loyalty program.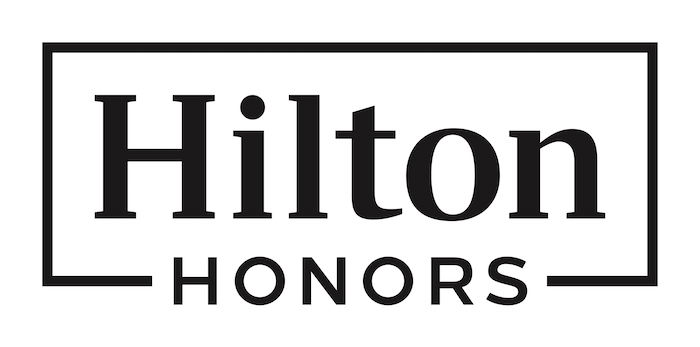 The big changes being made to Hilton's loyalty program
We're seeing five major changes being made to Hilton Honors:
The name of the program is being changed from Hilton Honors to Hilton Honors
The introduction of points pooling, where you can pool points with up to 10 Hilton Honors members at no cost
The ability to redeem points for Amazon purchases; this isn't something any of us will likely ever use, but I can see value in this for the "average" person
The ability to extend Diamond status for free as a one-time benefit, assuming you've earned Diamond for three years and have at least 250 lifetime elite qualifying nights or 500,000 base points
The introduction of Points & Money awards, and in the process, Hilton is getting rid of their traditional award chart
There are some changes that are unarguably positive, like the introduction of points pooling and the ability to extend Diamond status for free as a one-time benefit. However, the big question mark has been Hilton's new Points & Money awards. Well, Hilton's new award pricing is live as of today, March 1, 2017, and I've finally had a chance to play around with it.
Hilton Honors' new award pricing
The first major change that Hilton is making is that they're no longer using a traditional award chart, as they're completely reinventing their award pricing. Rather than having a fixed award chart, Hilton will have variable award pricing.

However, they promise that the absolute maximum award price for a hotel won't be increasing beyond the current highest amount charged for a given category. Meanwhile off season there will often be lower pricing. For context, here's Hilton's old award chart: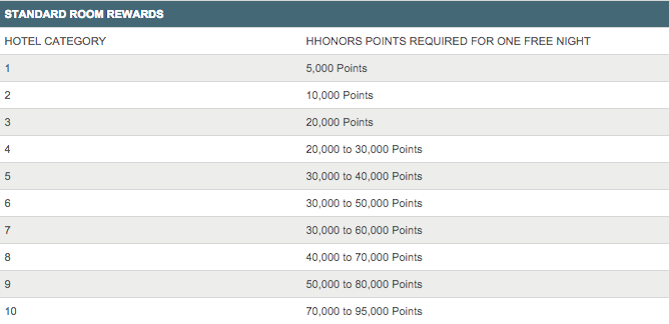 So it's possible that a Category 7 property currently goes for 30,000 points per night, and will go for 60,000 points per night under the new program. However, even under their previous system, Hilton could make such a change without notice, since each category had so much variance.
Hilton has a handy calculator that lets you compare the cost of redemptions before and after the change. Understandably a lot of people are skeptical, because we're used to loyalty program changes being negative nowadays.
So I don't think there's too much to add there as of now, as the pricing is working out exactly as expected.
As expected, I'm seeing some hotels continue to charge the same costs. For example, the Conrad Maldives continues to always cost 95,000 points per night.

However, I'm also seeing some low season pricing at some hotels. For example, the Hilton Seattle was previously 50,000 to 70,000 points per night, while I now see off peak dates where it's 32,000 points per night.

So while I don't love the concept of eliminating award charts, as of now I'm seeing quite a bit of upside with the new pricing. However, the downside is that some mid-range hotels will have higher pricing during peak season, as they'll be priced at the top end of their categories.
Hilton's Points & Money Awards
This is the biggest addition to Hilton Honors. Hilton has completely revamped their "cash & points" program. Now for each booking you can choose to redeem part cash and part points for a stay.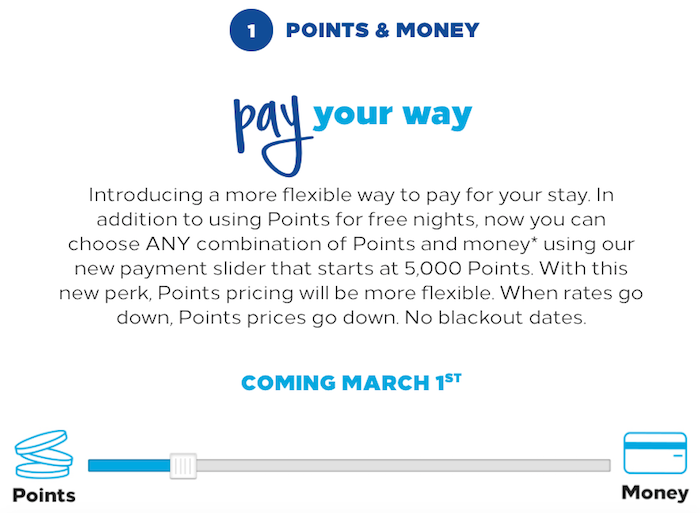 This is what I've been most curious about, since up until now we haven't really known what that would look like. I've played around with a few hotels, and here's what I've noticed in general:
The value you get per point through Points & Money awards isn't consistent; it varies by hotel, dates, etc.
In general this is a good deal when it otherwise makes sense to redeem points, but less of a great deal when the paid rate is so cheap that paying points doesn't make sense
When you go to make a booking you'll see the option to "Pay with Points & Money" listed under both the paid rate and points rate, and then you'll be brought to the slider, where you can decide how many points you want to redeem
The Points & Money awards can be used to offset the cost of Honors Discount rates, advance purchase rates, etc., so there's no requirement to use the flexible rate as the basis from which you're discounting
Example 1
Let's use the Conrad Maldives as an example, which costs either 95,000 points or $883.80.

Or you could redeem 10,000 points to offset the cost, which would bring the cost down to $720, which is a value of ~1.63 cents per point (about four times more than I value Hilton points).

On the other end of the spectrum you could redeem 85,000 points for the stay rather than 95,000, and you'd pay $90 in cash. I value Hilton points at 0.4 cents each, so here you'd be paying 0.9 cents per saved Hilton point, which I wouldn't consider to be a good deal. I'll gladly redeem Hilton points for 0.9 cents of value, but won't pay 0.9 cents to save a Hilton point.

So I guess the way you view the value you're getting out of this varies based on whether the alternative is booking an outright award or paying cash. If you're thinking of paying cash for a booking, the potential value to be had by redeeming part points is great.
Example 2
Let's use the Doubletree Jakarta as another example. You can redeem 20,000 points for a free night.

Or you could outright pay $136.

Or you could redeem 10,000 points and pay $62.

You're getting 0.62 cents per point there, which is about 50% more than I value Hilton points. So paying half in cash and half in points could be a great value, especially if you don't want to part with 20,000 points.
Example 3
For the last example, let's look at the Hilton Seattle off season, where the rate is $143.67 all-in if paying cash.

The rate in points is 32,000.

You could redeem 16,000 points plus pay a total of $72.84.

So you're saving 16,000 points for $72.84, which is getting ~0.45 cents per point. That's slightly more than I value Hilton points, though at that rate I wouldn't do a Points & Money award (or an award stay at all, for that matter — paying cash is a much better value).
Bottom line
With the latest changes, Honors points are turning into more of a currency than ever before. Hilton points aren't just for saving for an aspirational redemption, but rather it can make sense to redeem them for all kinds of reservations, even if you're just partially paying in points. This will certainly cause me to keep a lower balance of Hilton points, as I'll constantly redeem them to offset the cost of stays, when the value merits it.
Hilton Honors was already the closest to being a revenue based program due to the big ranges within each points category.
So while I don't want to wholeheartedly endorse these changes and say they're great, so far I'm quite pleased. The value you can get through Points & Money awards is excellent, and that's something I think a lot of consumers will find value in. However, when the paid rate would otherwise be high, you may find that hotels are consistently priced towards the top end of the category pricing, so that's something to be aware of. Fortunately hotels that are 95,000 points per night can't get any more expensive.
Have you had a chance to play around with Hilton's new award pricing, and if so, what did you find?