Reader Ruben asked the following in the "Ask Lucky" forum:
I've been adding up miles and plan on redeeming on Emirates First Class DXB-LHR, would you recommend as a better experience flying at night or during the day? is there much of a difference? Theres the 3am night time flight and then then daytime.

ps. its all about getting the most value 😉
"Emirates first class" and "getting the most value" — you're speaking my language! I love Emirates first class — it's just so blingy, so over the top, and on the A380, so fun thanks to the onboard shower & bar.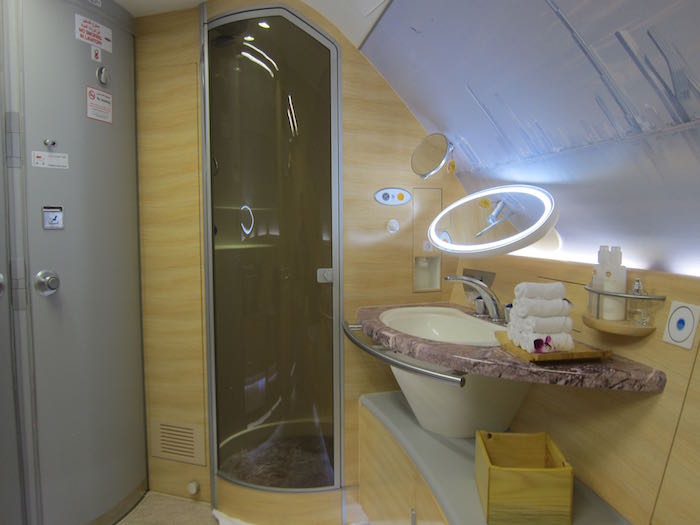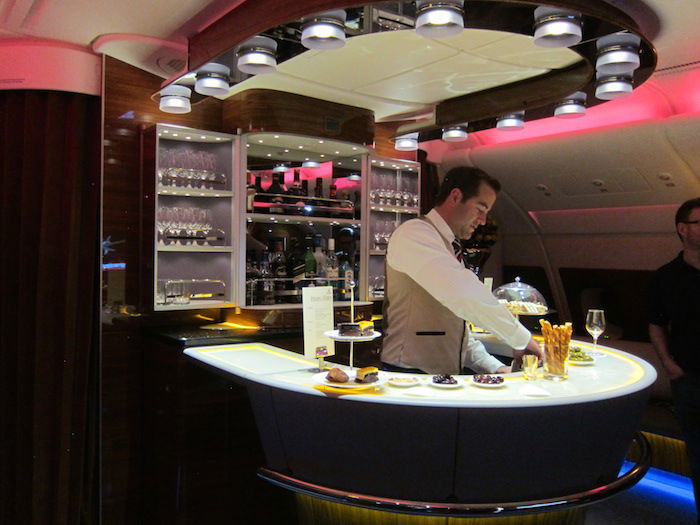 I've reviewed Emirates first class many times, including the following:
Emirates has eight A380 flights a day between Dubai and London (five to Heathrow Airport, three to Gatwick Airport), so they have a flight to suit just about every schedule. In terms of the experience, there are three general "types" of flights. For context, the flight from Dubai to London is about seven hours, and there's a three hour time change, so the flight typically lands four hours after it leaves, adjusting for local time.
The three general types of flights are as follows:
Redeyes (ie, leaving at 2:30AM and arriving at 7:00AM)
Morning departures (ie, leaving at 7:45AM arriving at 12:15PM)
Afternoon departures (ie, leaving at 2:15PM arriving at 6:40PM)
So which offers the all around best experience? Let's talk a bit about what you can expect on each of those flights:
Dubai to London redeye
Here's the menu for Emirates' Dubai to London redeyes.
This would be my last choice in terms of the onboard experience. There's a "full" breakfast service on the flight, and then a snack service if you're hungry before then. And we're not talking some extravagant snack menu with caviar like what JAL has in first class, but rather you can expect options like clam chowder, cottage pie, etc.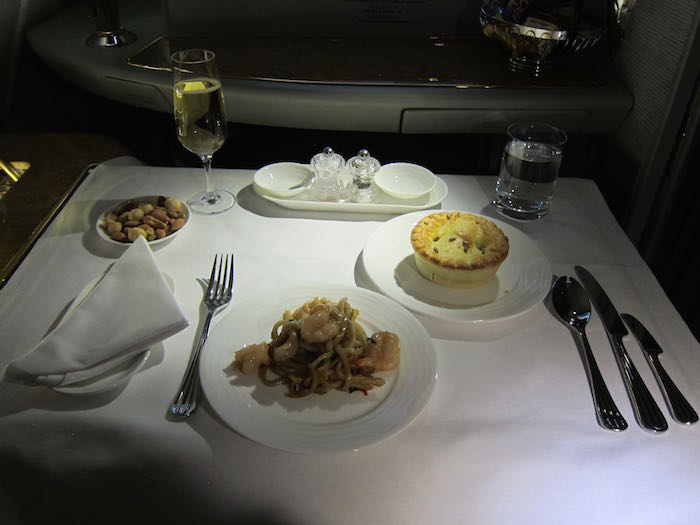 This probably won't leave you with the best impression of the Emirates first class service.
Dubai to London morning departure
Here's the menu for Emirates' Dubai to London morning departure.
They serve a decent breakfast after takeoff.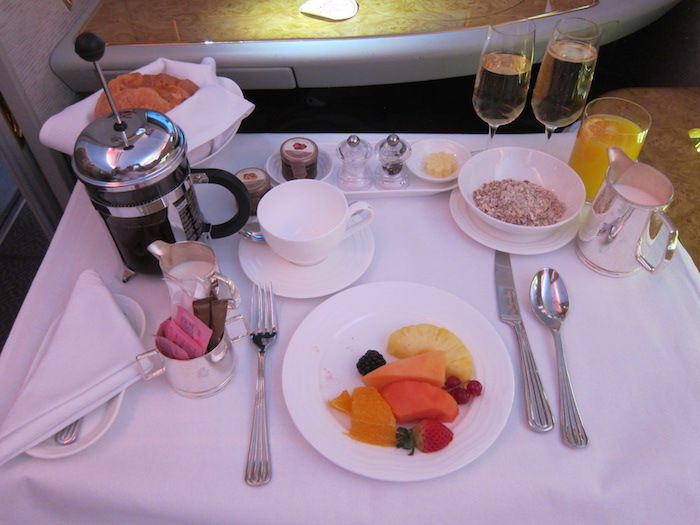 And then there's a pretty extensive lunch menu, which you can order from anytime. So if you prefer to skip breakfast you can go straight to the a la carte lunch menu if you'd like.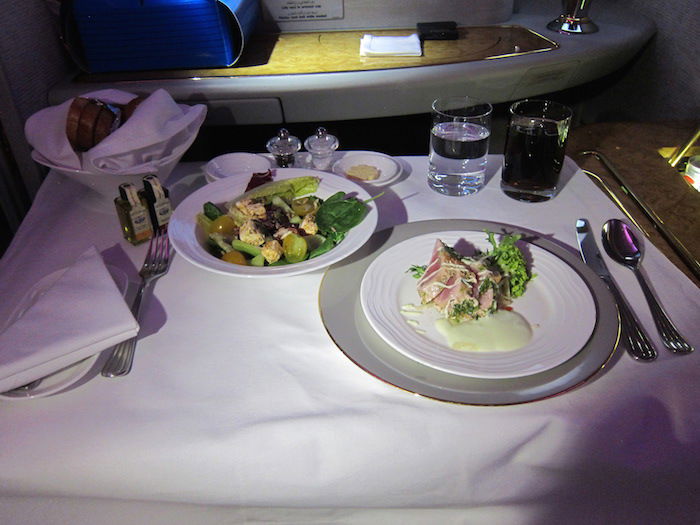 What's the downside of taking a morning departure?
You probably won't have much time to enjoy the Emirates Lounge in Dubai. If your flight leaves around 8AM, how much sleep do you really want to sacrifice to enjoy the lounge?
In general I find breakfast to be the most underwhelming airplane meal, so given the choice I'll usually avoid a flight with breakfast, if the goal is to "maximize the experience."
Realistically you're not going to be able to enjoy the bar and alcohol selection all that much on a flight leaving so early in the morning.
Dubai to London afternoon departure
Here's the menu for Emirates' Dubai to London afternoon departure.
This is the flight which really gives you the best of all worlds. You'll have a huge menu, and can order everything from caviar…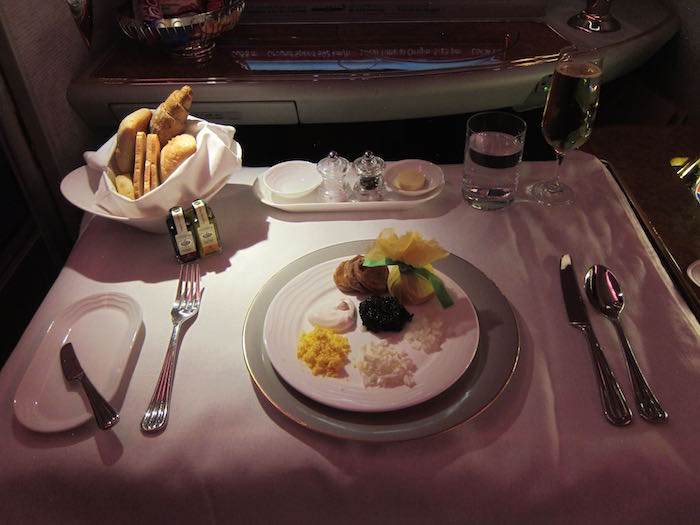 To an incredible mezze…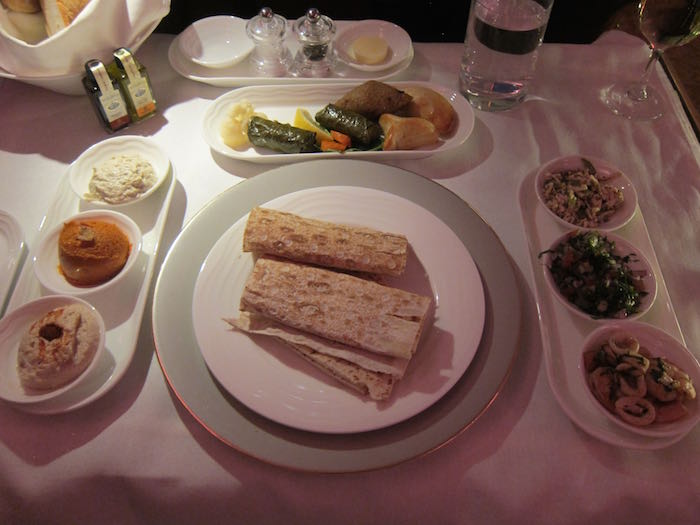 You can even have afternoon tea if you'd like…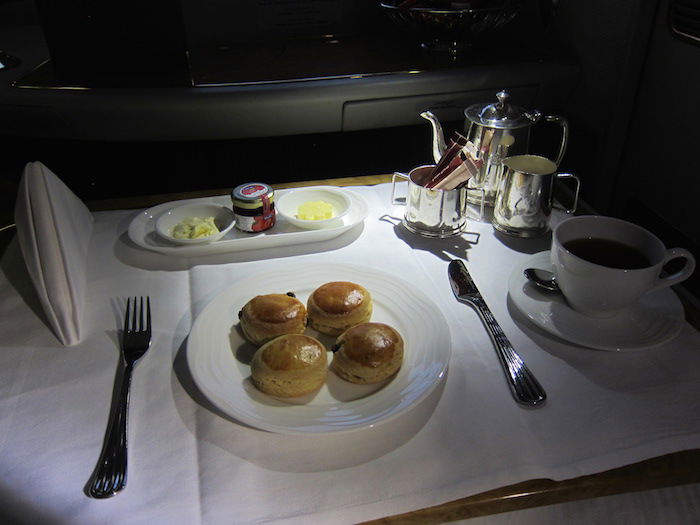 Since Emirates has a "dine on demand" concept, you can have a nice lunch after takeoff, and then dinner before landing, if you'd like.
Other advantages of an afternoon/evening departure include:
You'll have time to enjoy the Emirates A380 First Class Lounge in Dubai without having to get up too early.
The bar is usually a bit more lively on afternoon flights than nighttime flights.
You can maximize the drink selection a bit better and sleep upon landing. 😉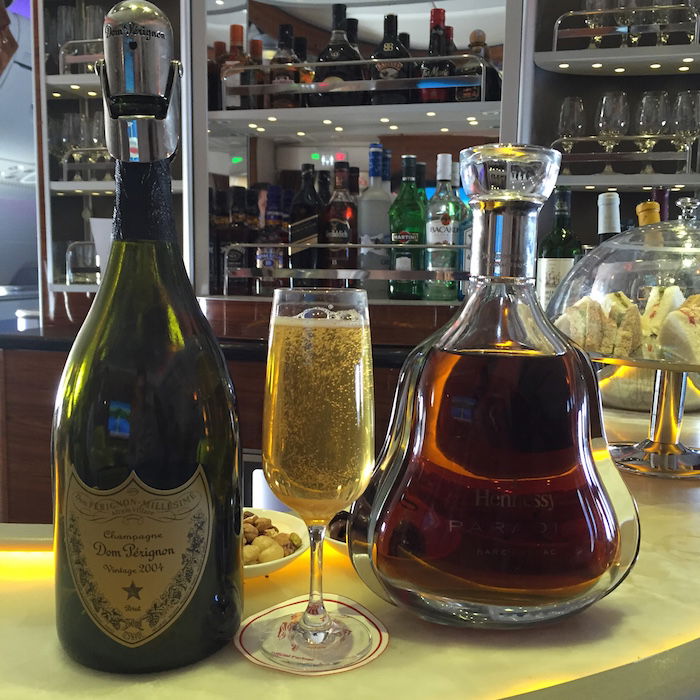 Bottom line
The hours of a flight are considerably less important on ultra longhauls, where they'll have a full service regardless. That being said, for flights from Dubai to Europe or Asia, I'd generally avoid the departures in the middle of the night if you're looking to maximize the experience. Not only will the food be underwhelming, but you likely wont' be awake enough to fully enjoy the experience.
I do find it a bit odd how lackluster Emirates' first class catering is on redeyes. They've built their business model around offering one-stop service between places outside the Middle East. So many people taking redeyes are connecting from elsewhere and might not be tired. You'd think they'd at least have the option to enjoy a proper meal.
Hopefully the above is helpful in maximizing your Emirates first class experience, Ruben!
Anyone have a different take than me when it comes to maximizing Emirates first class?