Want to receive extra benefits for your stay at Mashpi Lodge, including complimentary breakfast, a space available room upgrade, a property credit, and more? Contact [email protected] for more details. He may even be able to help if you already have a stay booked.
The primary reason we were coming to Ecuador was to visit Mashpi Lodge, which is a pretty incredible-looking hotel located inside a cloud forest not far from Quito (well, not far distance wise, but with the roads, it takes quite a while).
Before I get into the review, let me share how the hotel describes itself on its website:
Mashpi Lodge sits at 950 meters (3,117 feet) above sea level. Nestled between lower montane rainforest and cloud forests in the heart of a 1,200-hectare (3,000-acre) private reserve, the Lodge is a luxurious outpost in the middle of a lush, green world, 70 percent of which is primary forest.

Species thrive here, not only those within the realms of our understanding, but also those yet to be discovered. The Mashpi Frog and Magnolia are both endemic to this very forest and were only identified in the last few years – imagine what other creatures remain undiscovered!

Mashpi, located in the northwest corner of the Metropolitan District of Quito, the capital of Ecuador, provides guests with an unprecedented opportunity to explore both cloud forest and rainforest – two types of ecosystems that are highly rich in species and biodiversity. From the roots of the trees all the way up and over the canopy, guests will always be accompanied by experienced and insightful guides, most of which grew up playing around inside these same forests.
I'll be writing my review of this hotel in two installments — in this installment I'll be talking about how we booked, the transfer to the lodge, the rooms, and the basic facilities of the hotel, and then in the next installment I'll be talking about dining and activities at the lodge (after all, this is a place you come to experience the nature).
Booking Mashpi Lodge
Unfortunately Mashpi Lodge doesn't belong to any major hotel chain, other than being a National Geographic Unique Lodge of the World (which is a pretty cool collection of hotels, by the way).
My goal initially was to use the Citi Prestige Card fourth night free benefit for our stay, but unfortunately I was told that this property isn't eligible for the benefit:
Mashpi Lodge is considered an experience hotel and therefore is ineligible for the Complimentary 4th Night Benefit. An experience hotel is a hotel with rates that are cost-inclusive of accommodations, food, and beverages in addition to experiences such as tours and excursions as opposed to an all-inclusive hotel, which would cover accommodations, food and beverages only.
Mashpi Lodge has fixed pricing, so there's really not much opportunity to get creative (you can find the pricing here).
While the hotel isn't cheap, it is worth noting the rate includes just about everything, like transfers from Quito, the room, all food and non-alcoholic drinks, a majority of activities and excursions, etc. The only thing we spent money on while at the hotel was alcohol and spa treatments.
The property belongs to both American Express Fine Hotels & Resorts and Virtuoso, so you can at least get some extra benefits that way, including a property credit of $100-125, depending on which program you book through, as well as a space available room upgrade.
Since the rate was the same, it made sense to do that. If you want help with booking the hotel, either with Amex Fine Hotels & Resorts or Virtuoso, feel free to email Ford at [email protected].
Getting to Mashpi Lodge
Included with room rates at Mashpi Lodge are transfers from Quito. This is using a shared bus, which picks up in the city at around 8AM daily (arriving at the lodge around lunchtime), and it departs the lodge back to the city at around 11:30AM. Short of a private transfer, this once daily service is your only option for getting to and from the lodge.
The transportation only picks up at select hotels, including Swissotel, JW Marriott, Hilton Colon, and Casa Gangotena. So if you're staying somewhere else or are coming from the airport, you'll have to make your own transportation to one of the pick-up points.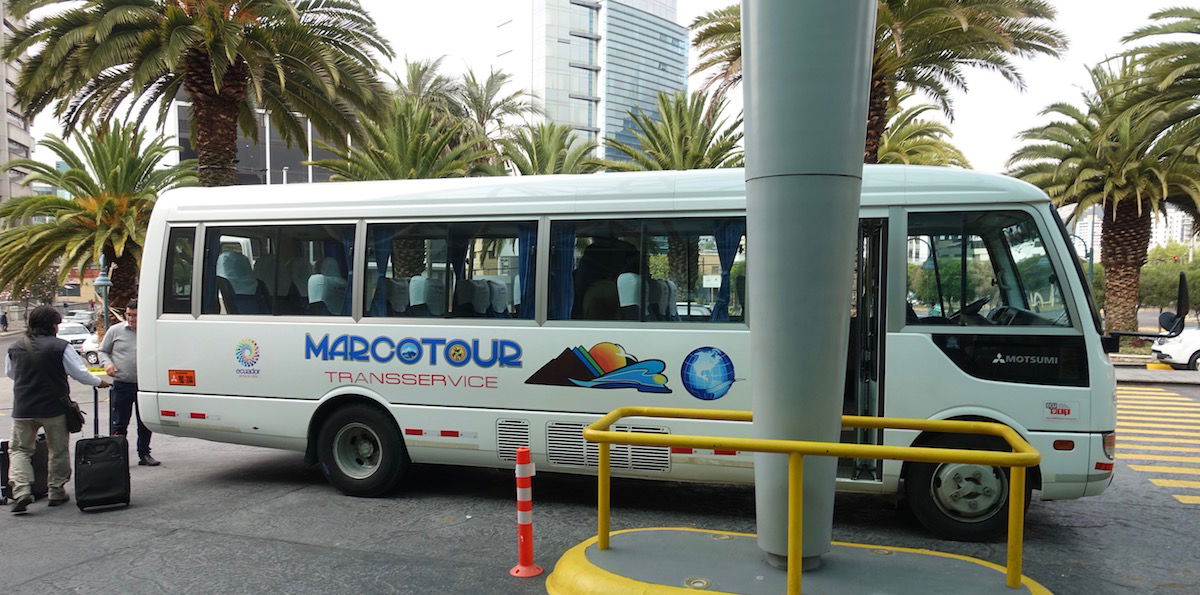 While the bus might not be very luxurious, I found this to be significantly more comfortable than a smaller car. There were a total of a dozen guests on the bus, and there was a guide from the hotel, in addition to the driver.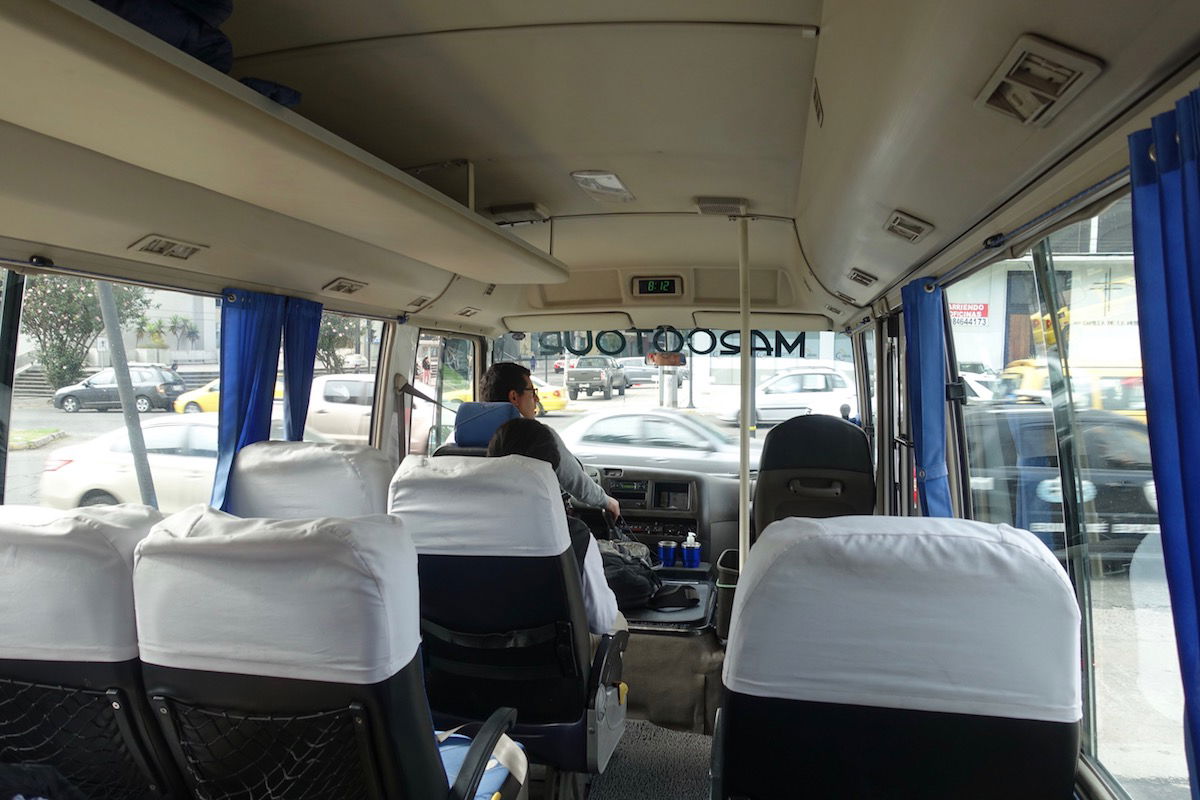 While the drive is advertised as being 3-4 hours, in reality the whole thing takes five hours, between the pick-ups and also the stops it makes. The bus stops at what's supposedly the equator line, etc. Personally I wish they'd just hurry up and get there as quickly as possible, but I guess this is quite intentional, because they don't want people arriving too early, so they can turn around rooms.
The first couple of hours of the drive were on paved, mostly straight(ish) roads, the next two hours were on mostly paved but very winding roads, and the last hour was down a really rough dirt road.
One thing that disappointed me is that they had no water on the bus. I would have brought my own water if I knew they didn't have any, but it just seems crazy not to offer guests any water on a five hour bus ride. I'm not sure if this was a one-off or the norm.
Mashpi Lodge public areas
We were so happy when we finally arrived at the hotel, after the five hour drive. There we were greeted by a bunch of staff, including the general manager, Marc. We were offered welcome drinks and cold towels.
The lodge has a covered walkway as you approach the entrance, and to the side of it is an area where you store the boots you're given for the duration of your stay while out and about.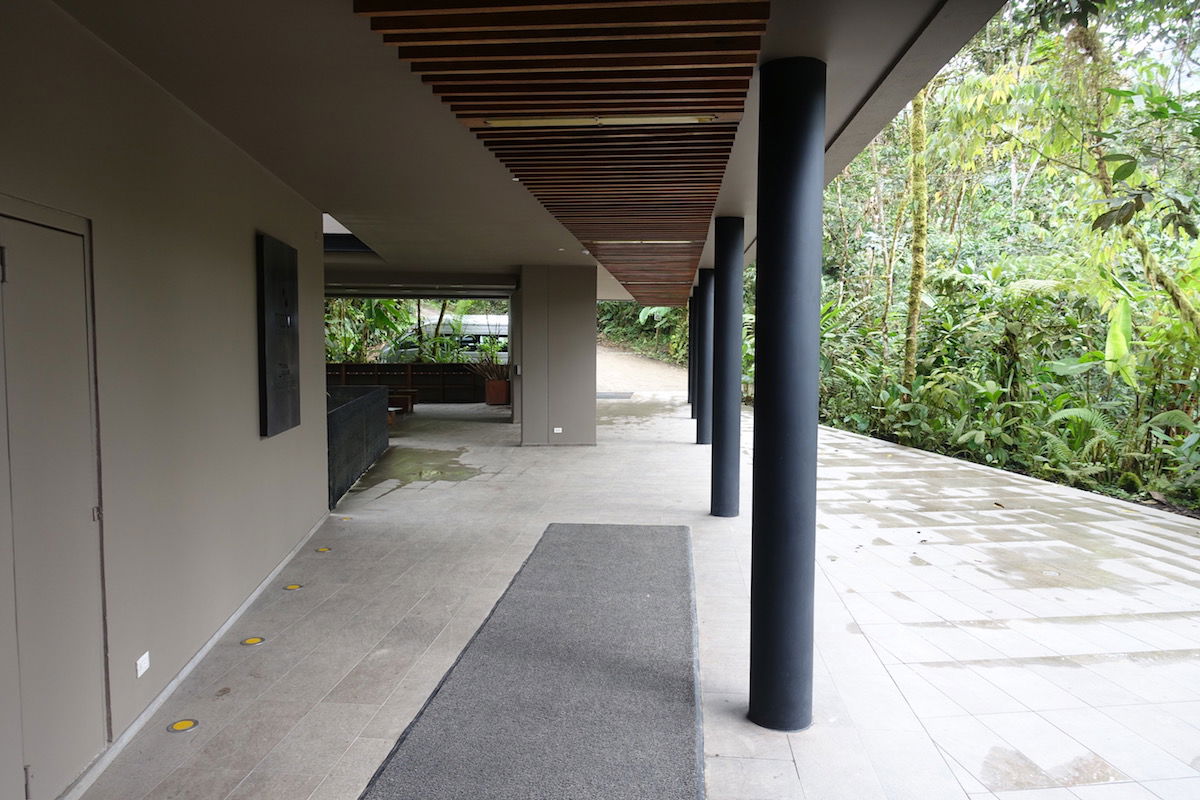 Mashpi Lodge entrance
I was immediately impressed by the design of this hotel. The hotel's design isn't just nice factoring in that it's built in the middle of a huge nature reserve, but rather it's legitimately nice by just about any standard.
Inside the entrance was a reception area.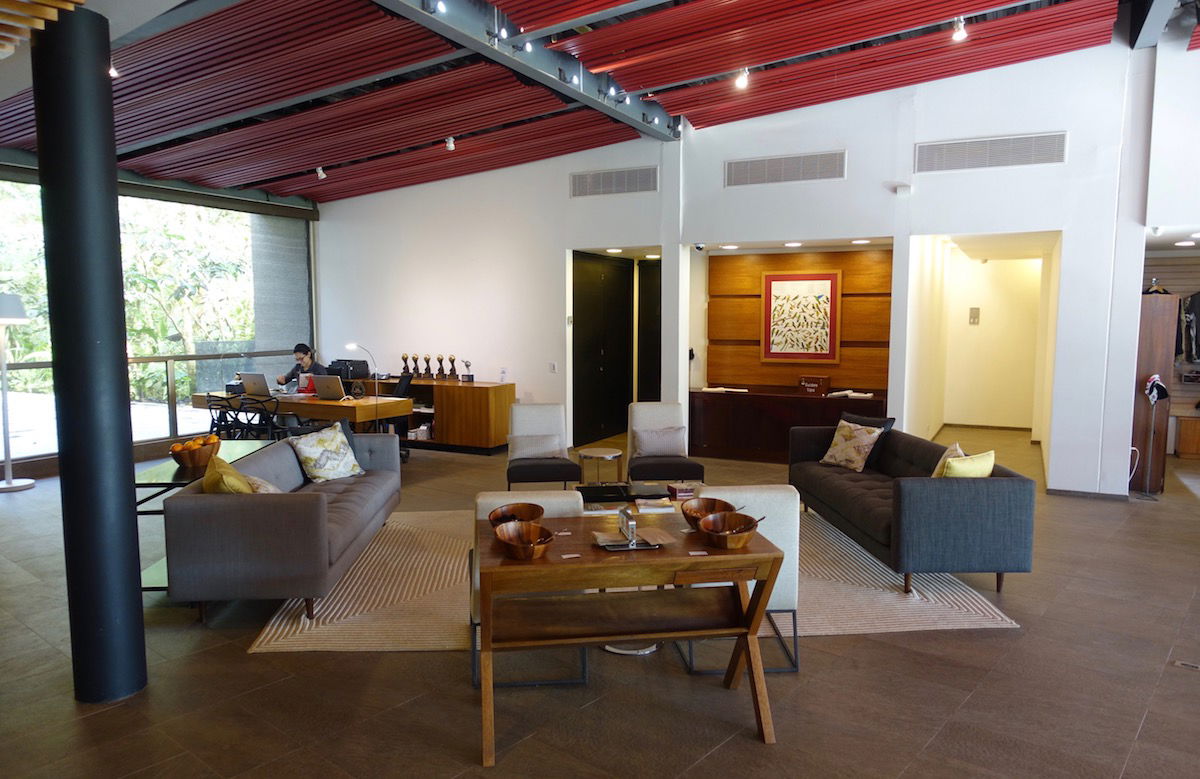 Mashpi Lodge reception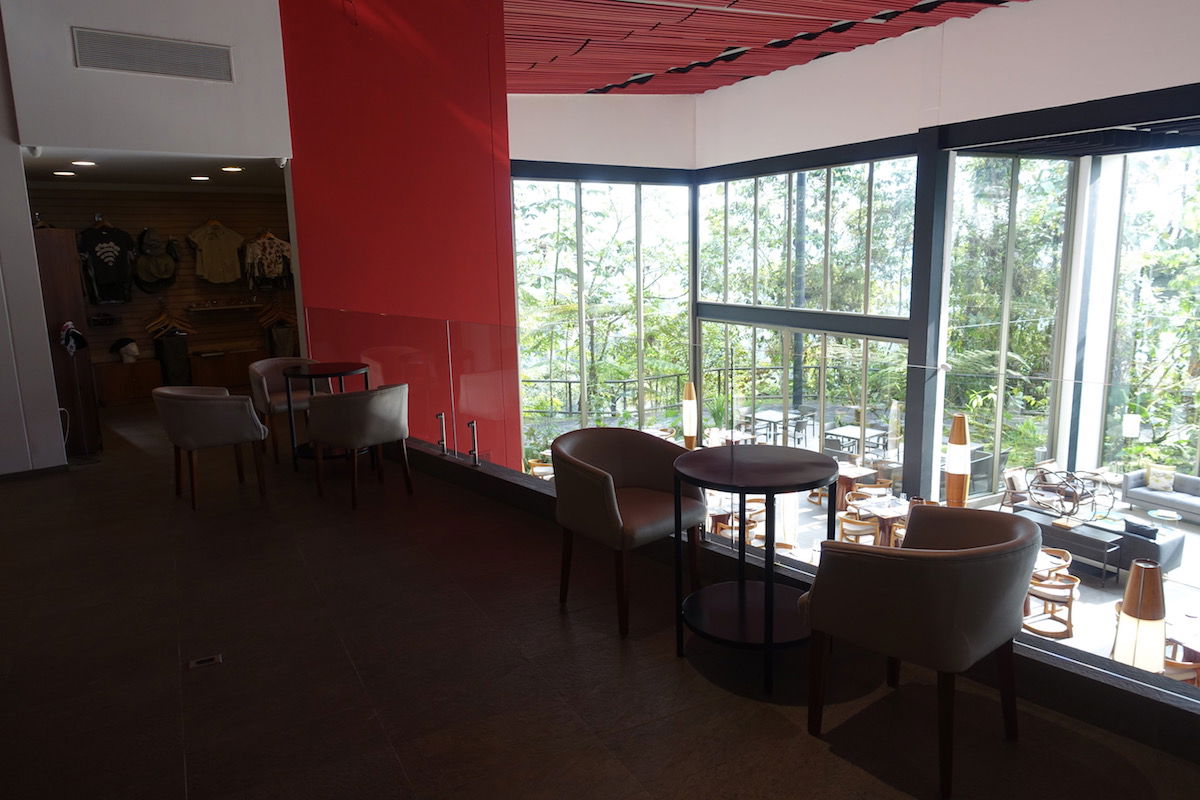 Mashpi Lodge reception
Immediately next to reception is a gift shop.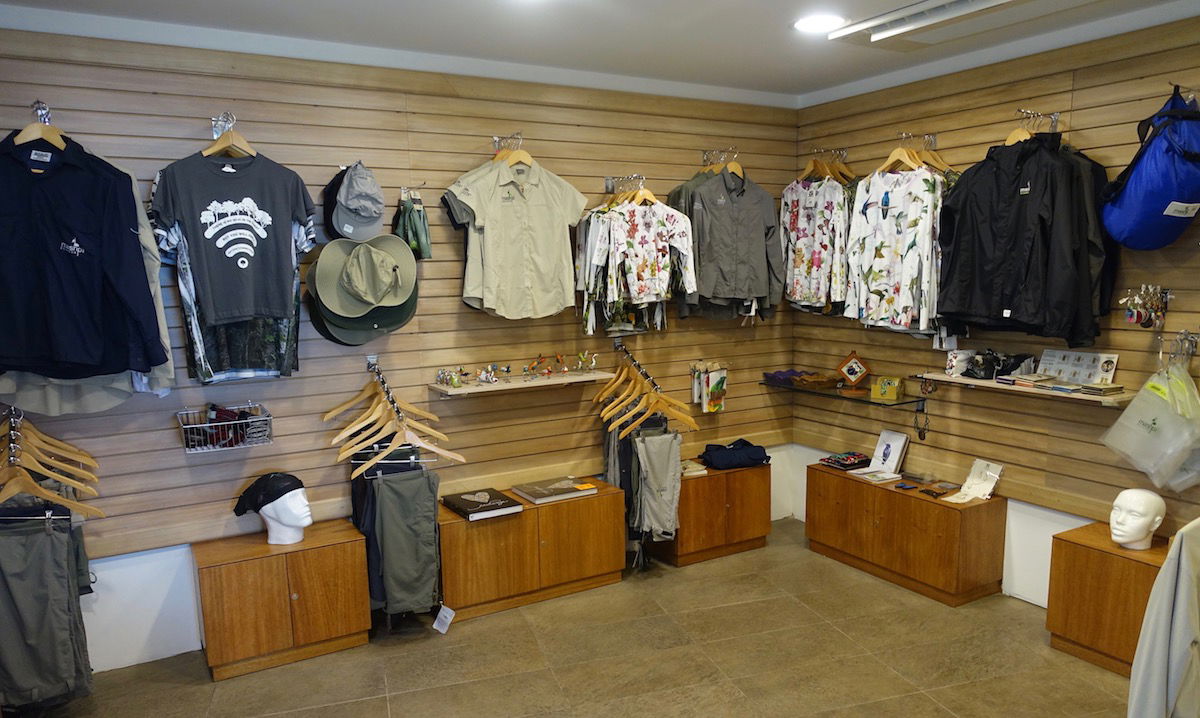 Mashpi Lodge gift shop
Across from the reception area is what's called the exploration room, where you'll meet with your guide to discuss what you want to do, and they also have some talks on various topics, if you're interested.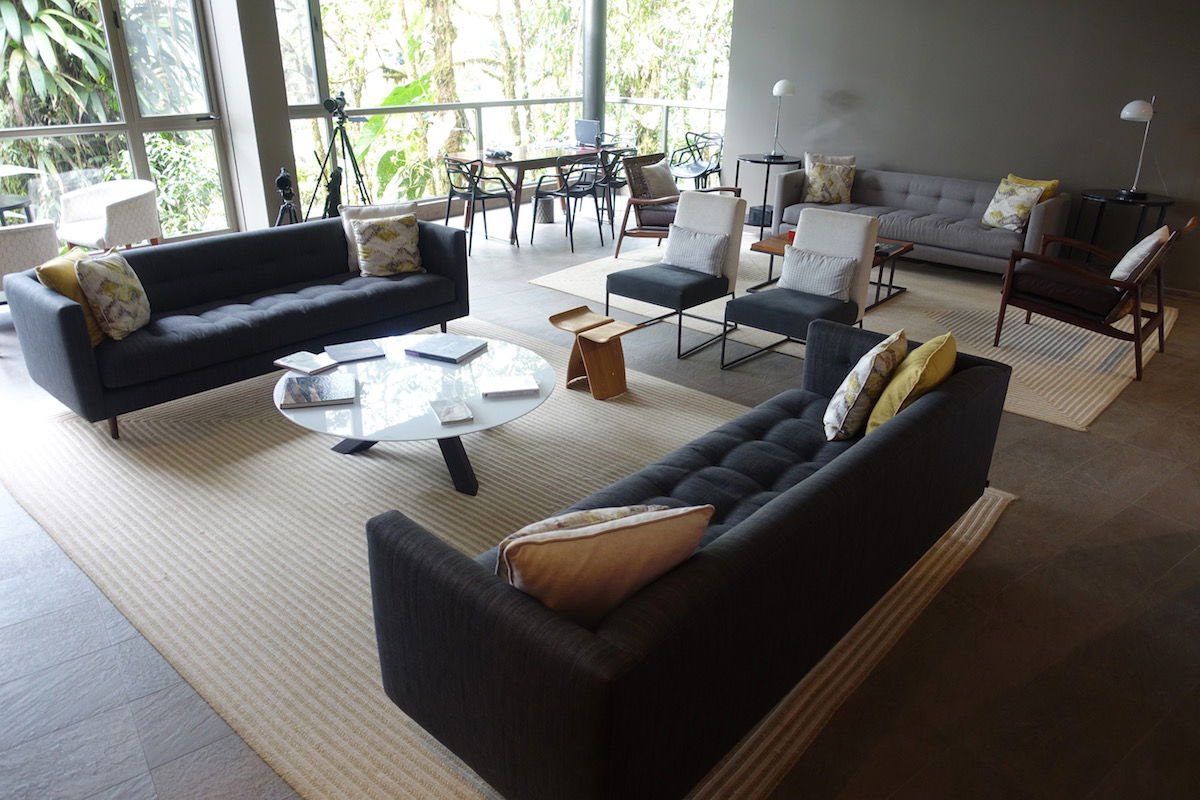 Mashpi Lodge exploration room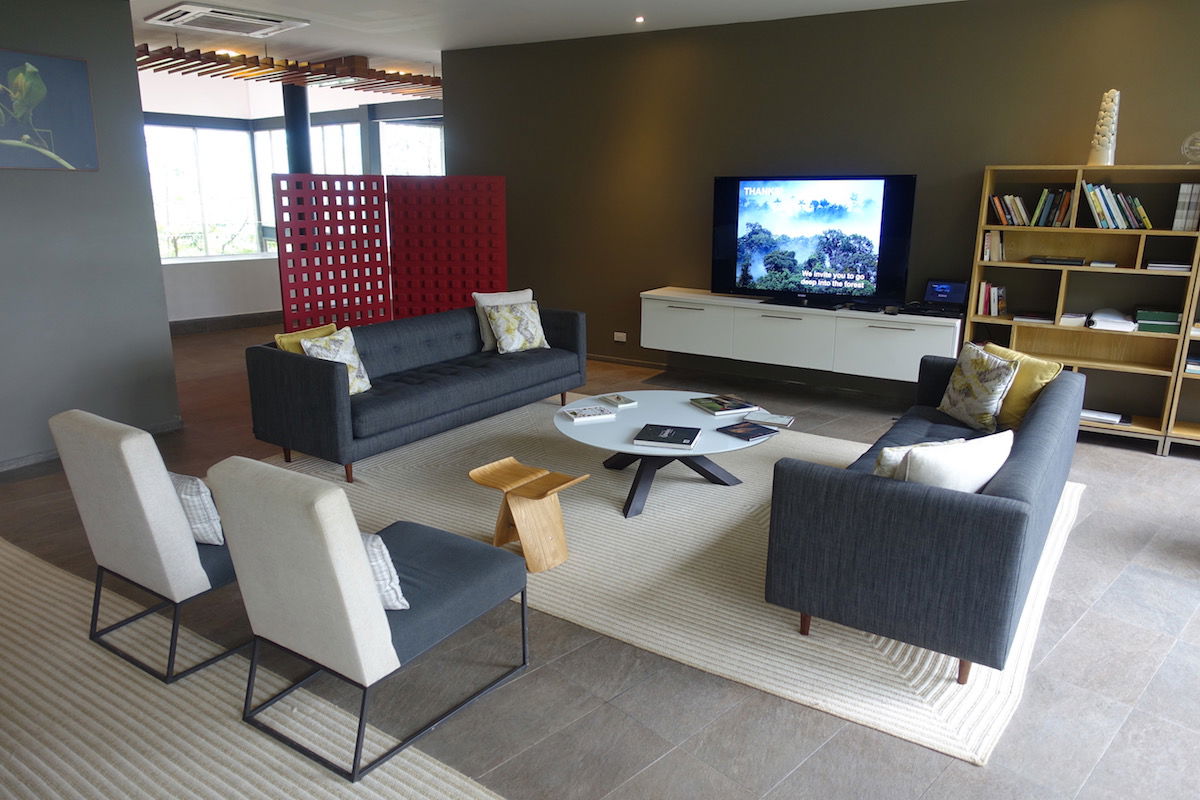 Mashpi Lodge exploration room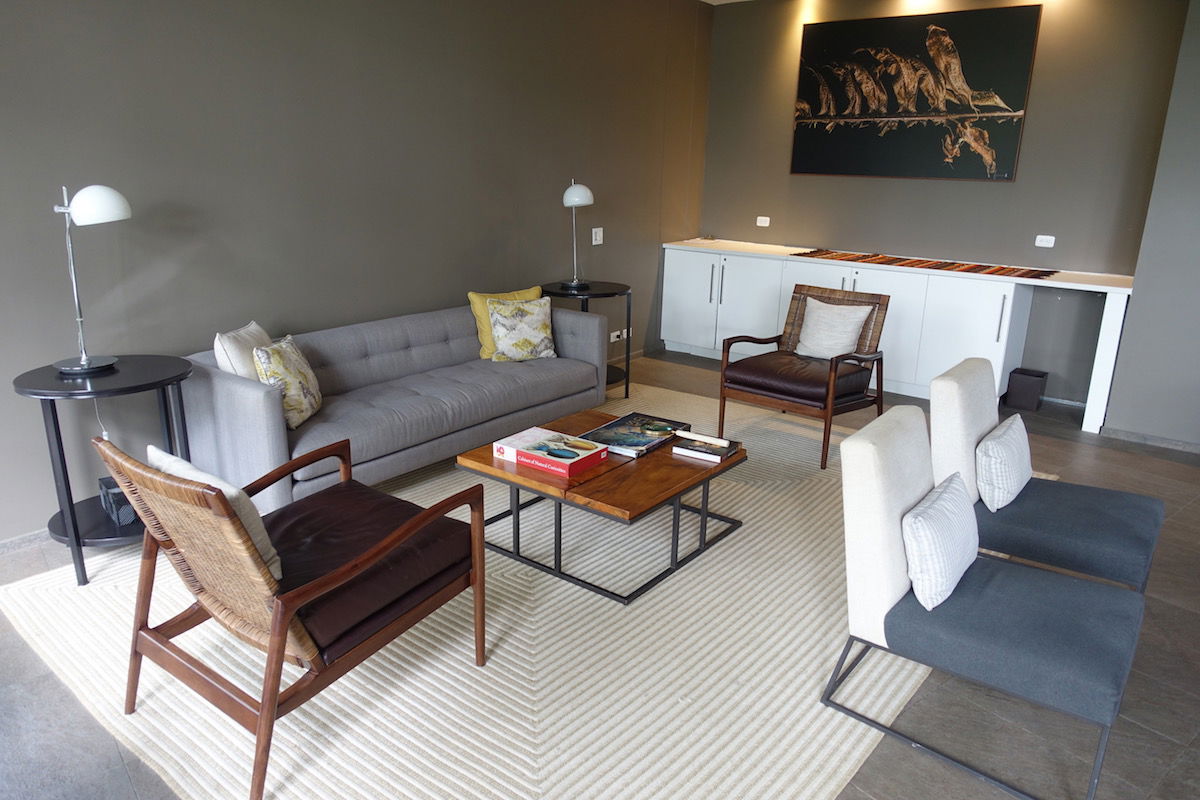 Mashpi Lodge exploration room
Visually the centerpiece of the hotel is the incredible dining room. How beautiful is that?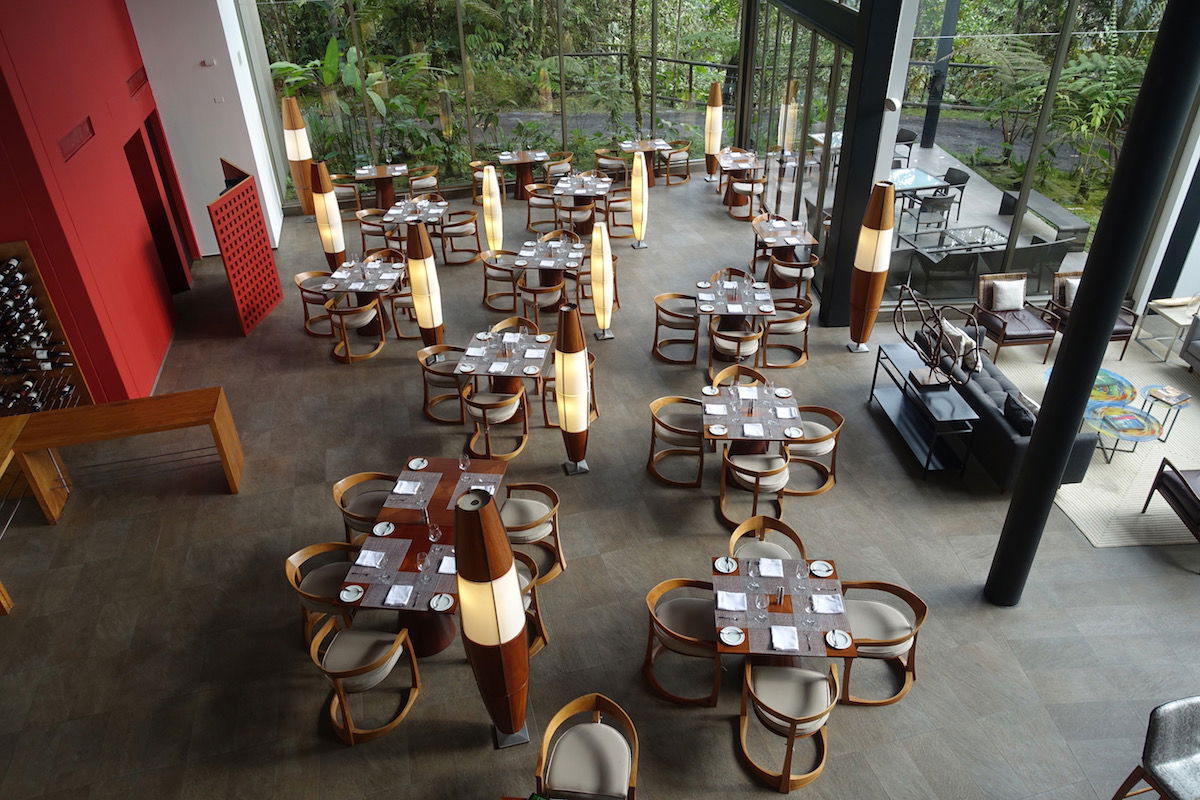 Mashpi Lodge restaurant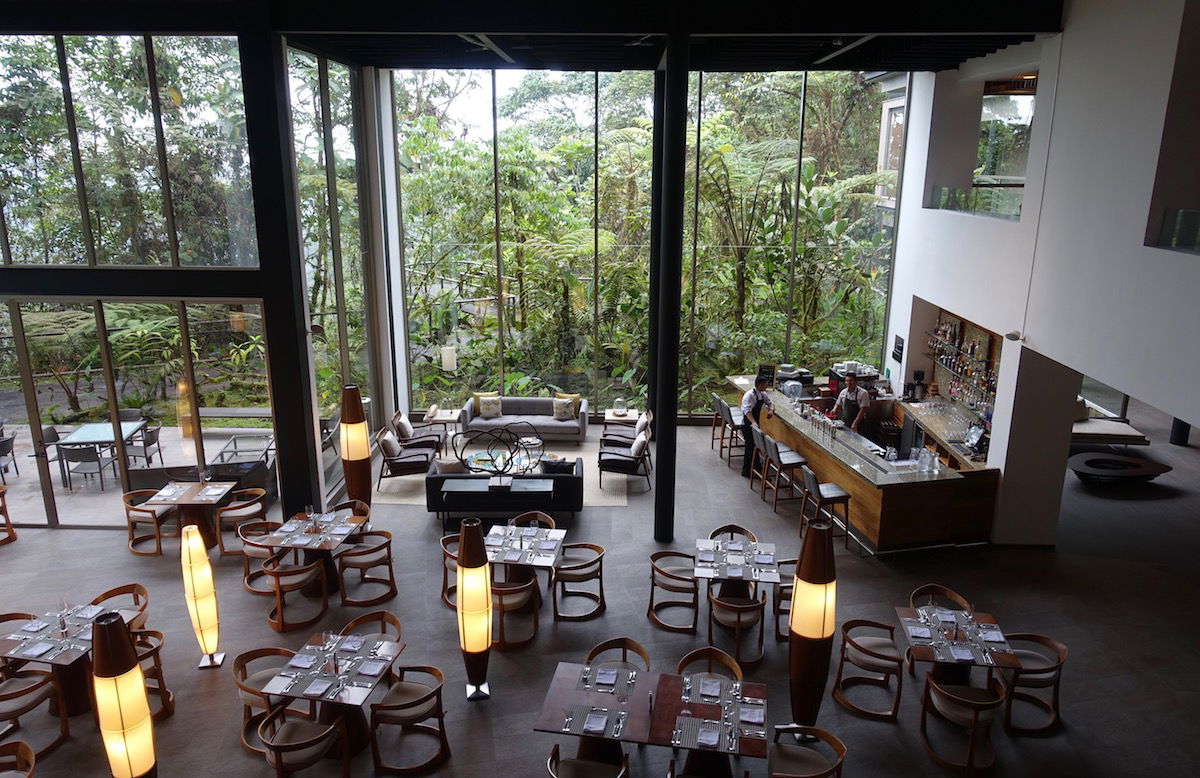 Mashpi Lodge restaurant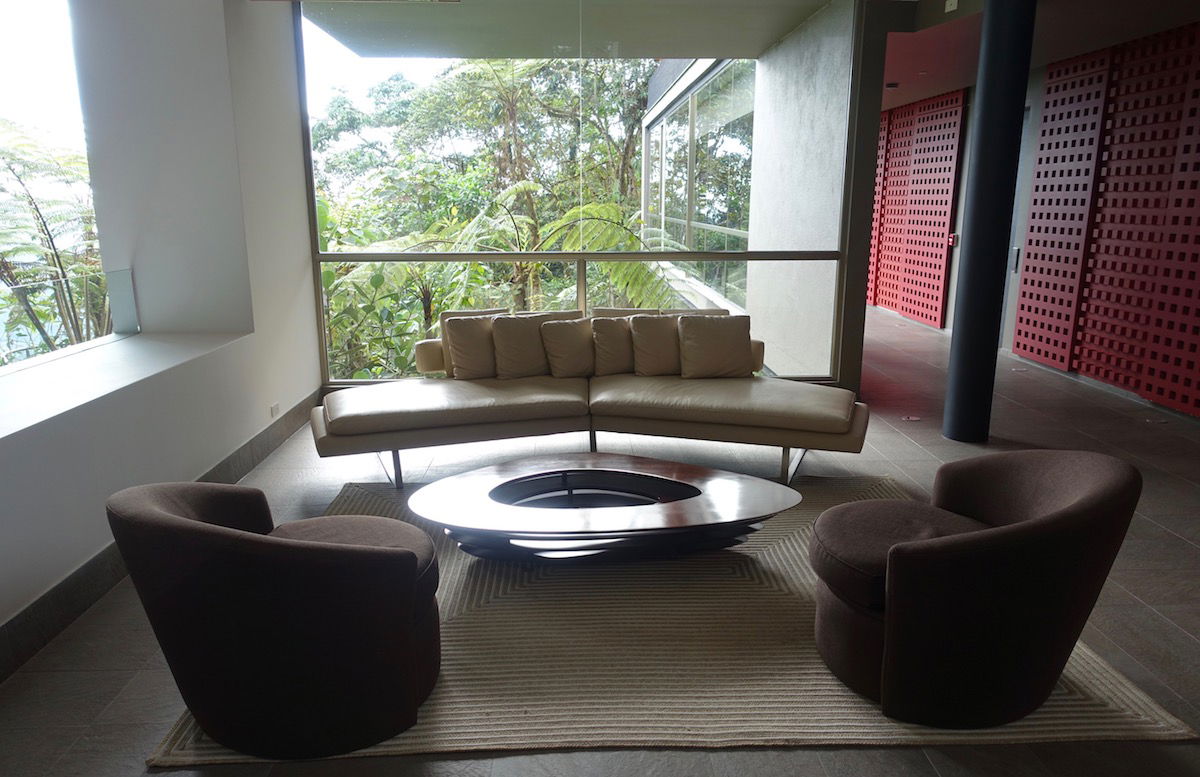 Mashpi Lodge seating
That's a cool dining room to begin with, but it's even cooler when it has this view: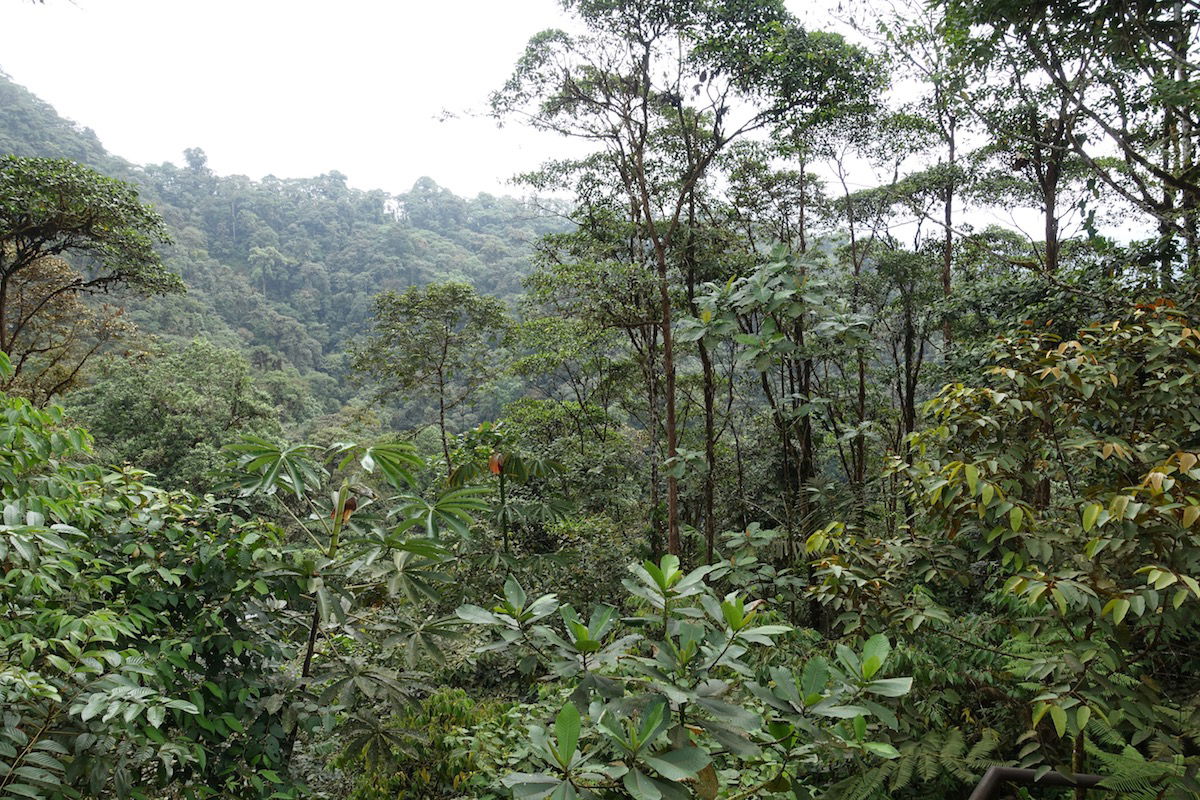 Mashpi Lodge view
Upon arriving at the hotel all the "new" guests were instructed to have lunch (more on that in the next installment), and then everyone was shown to their rooms after eating. Before heading to our room I briefly walked around outside.
Just outside the hotel is a cool lookout point, which shows you just how expansive this cloud forest is.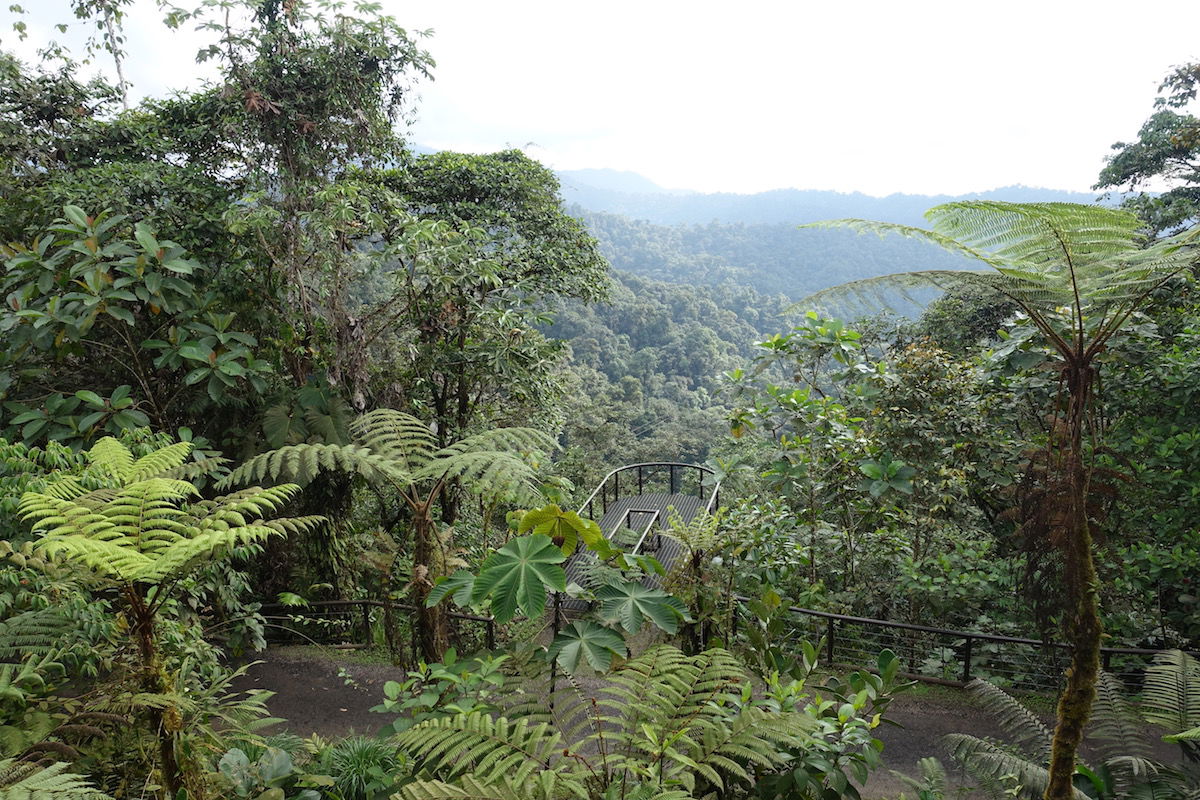 Mashpi Lodge view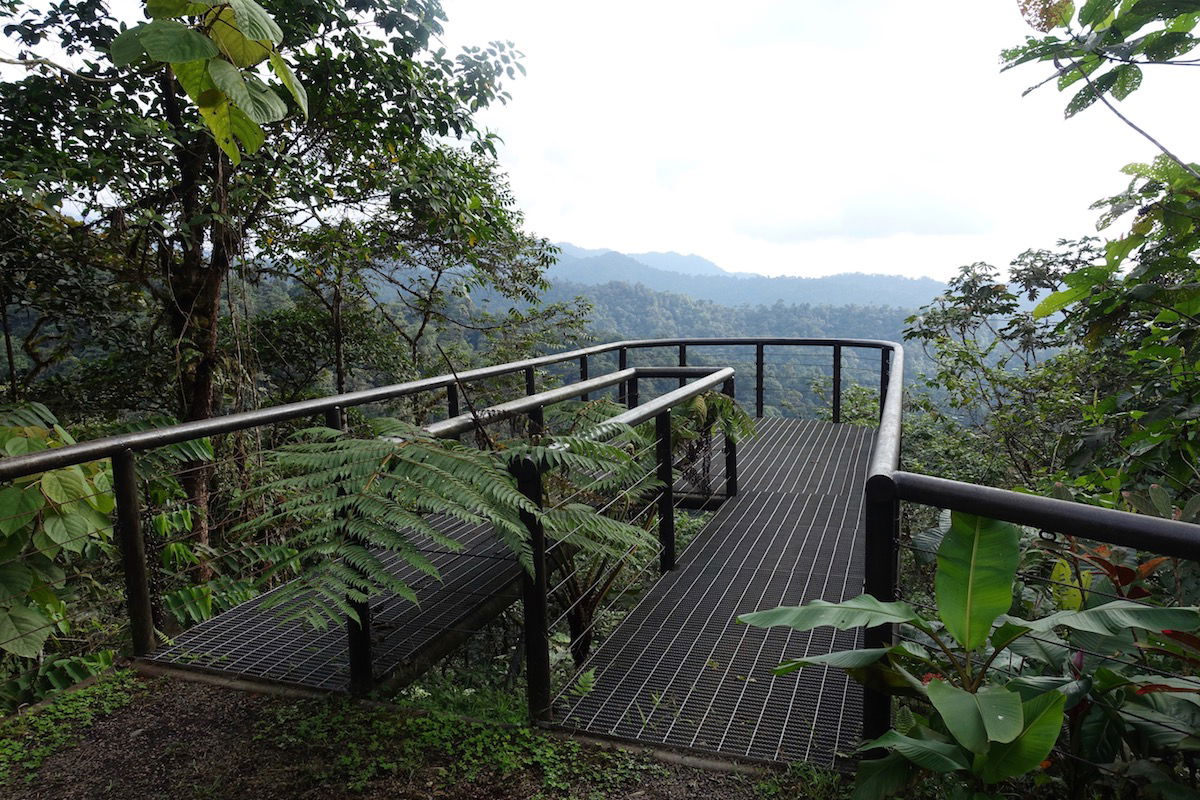 Mashpi Lodge view
It also gives you a good perspective on what the lodge looks like from the outside.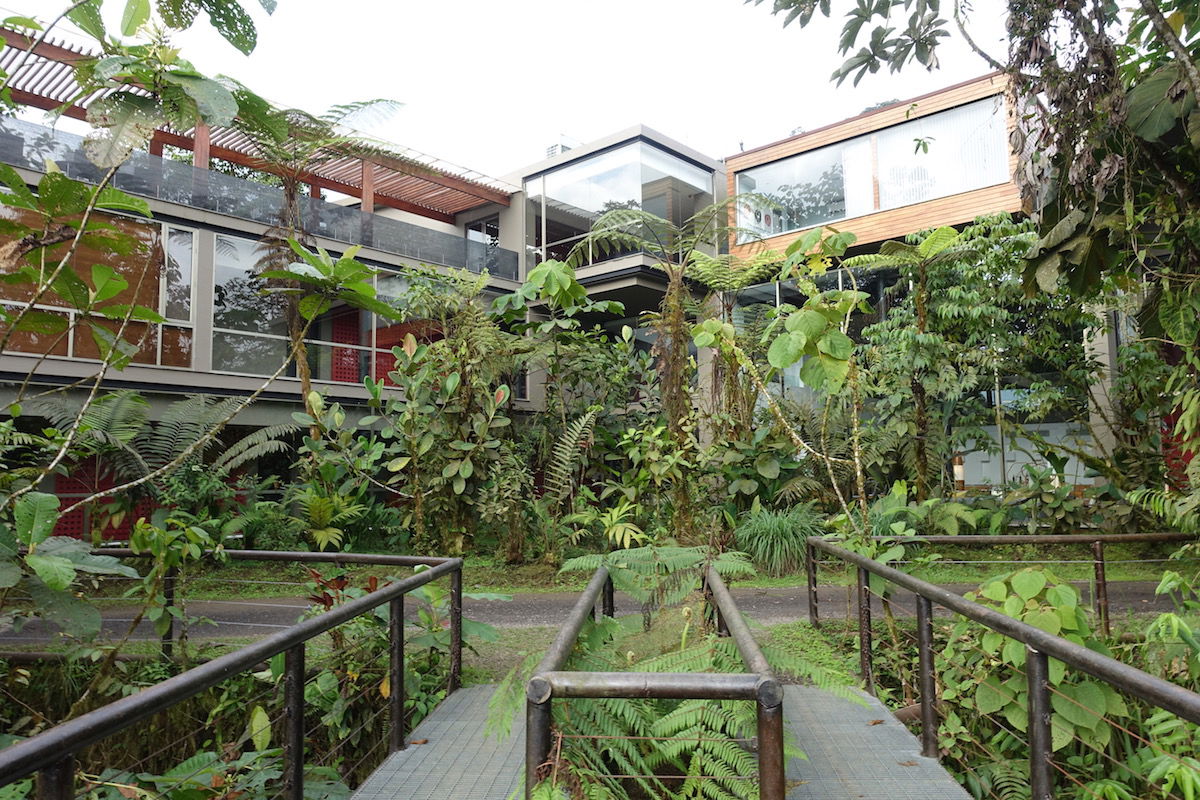 Mashpi Lodge exterior
If you want a higher vantage point, there's also an observation deck on the third floor.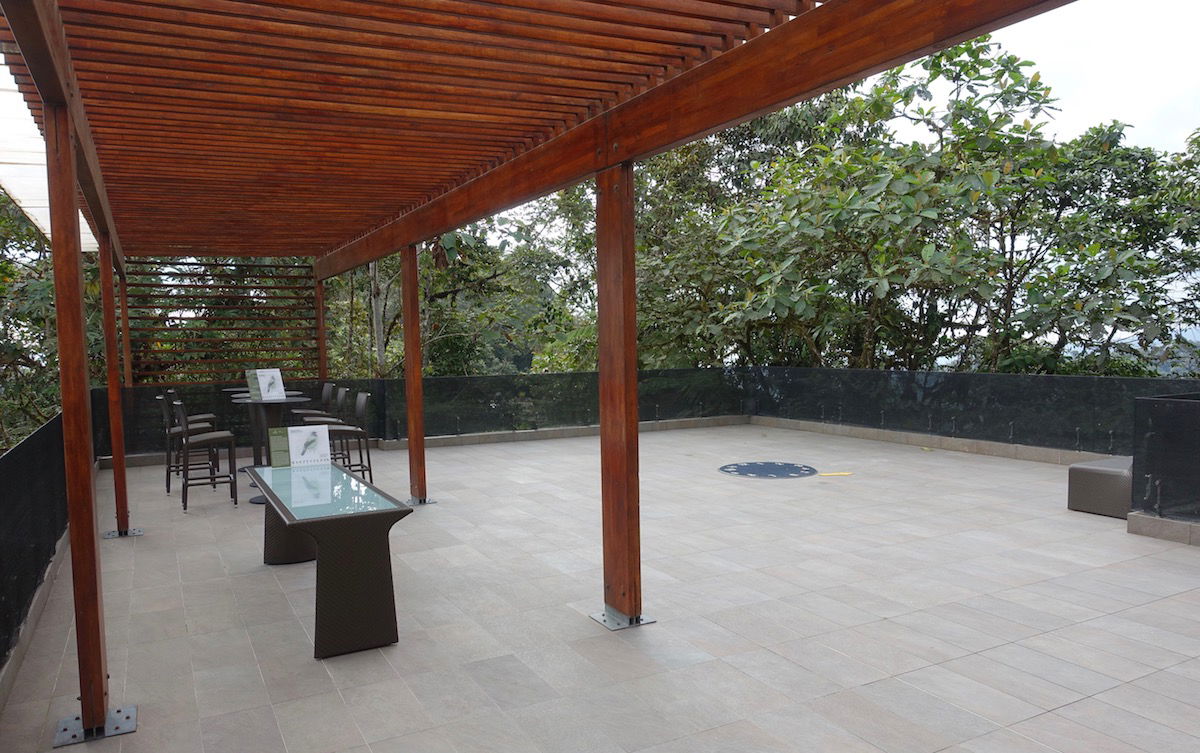 Mashpi Lodge observation deck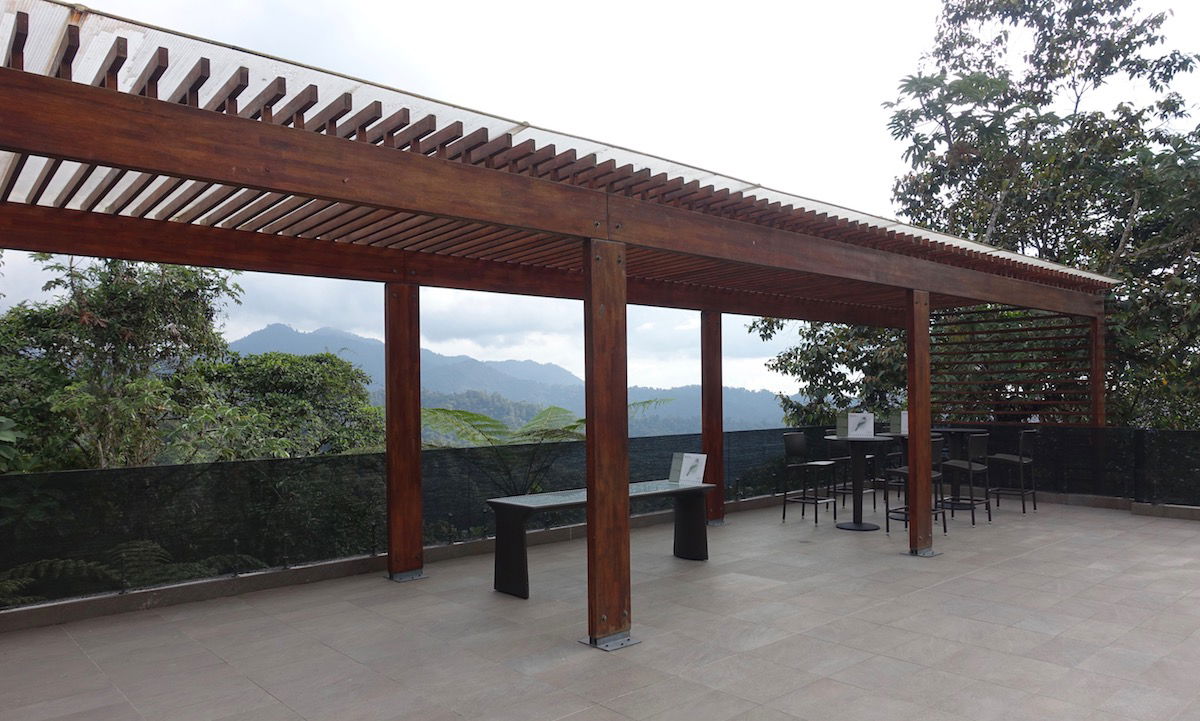 Mashpi Lodge observation deck
Mashpi Lodge rooms
The hotel has guest rooms on three floors. Mashpi Lodge only has 23 rooms, and they only have two categories of rooms:
There are 20 Wayra rooms that are 366 square feet each
There are three Yaku suites that are 495 square feet each
While booking through Virtuoso/FHR entitled us to a space available upgrade, the three suites were full, so we were assigned a standard room on the top floor (one level up from reception). I love the hallways and staircases in the hotel, and how no matter what part of the hotel you're in, you're reminded of where you are thanks to the floor-to-ceiling windows.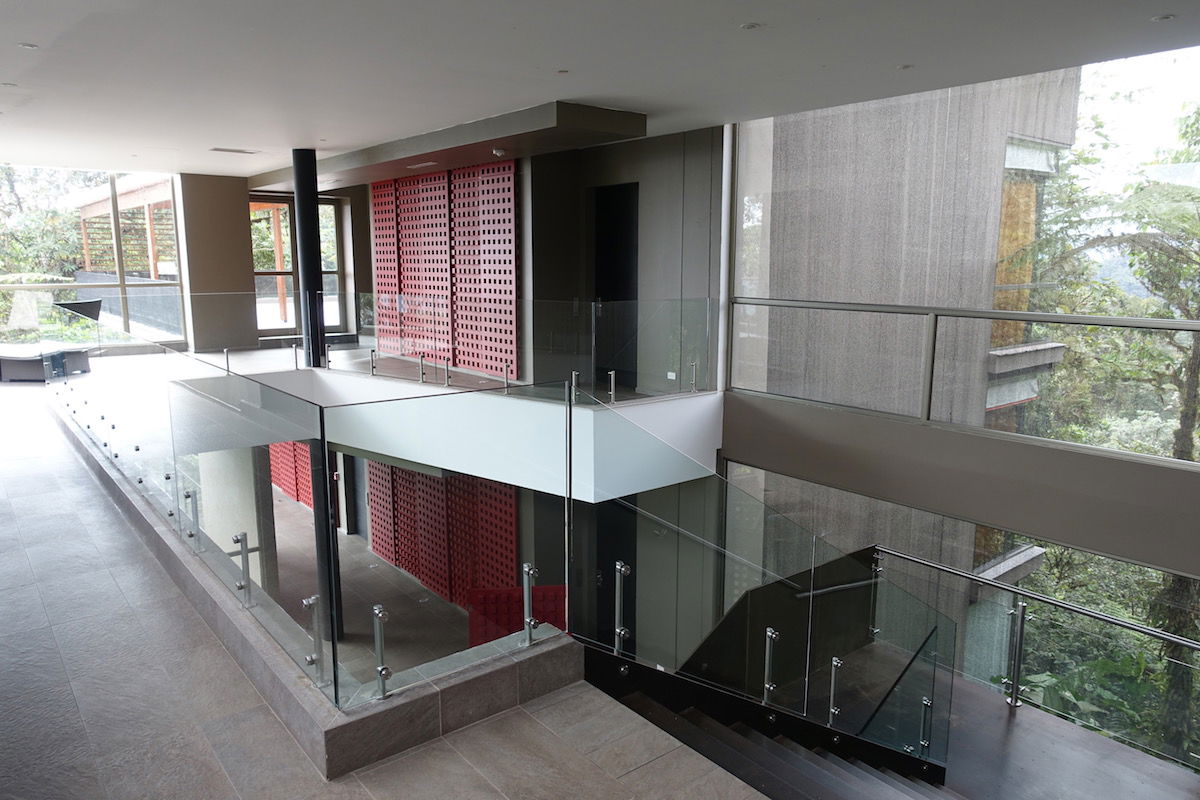 Mashpi Lodge
Our room, #21, was about halfway down the hall and on the left.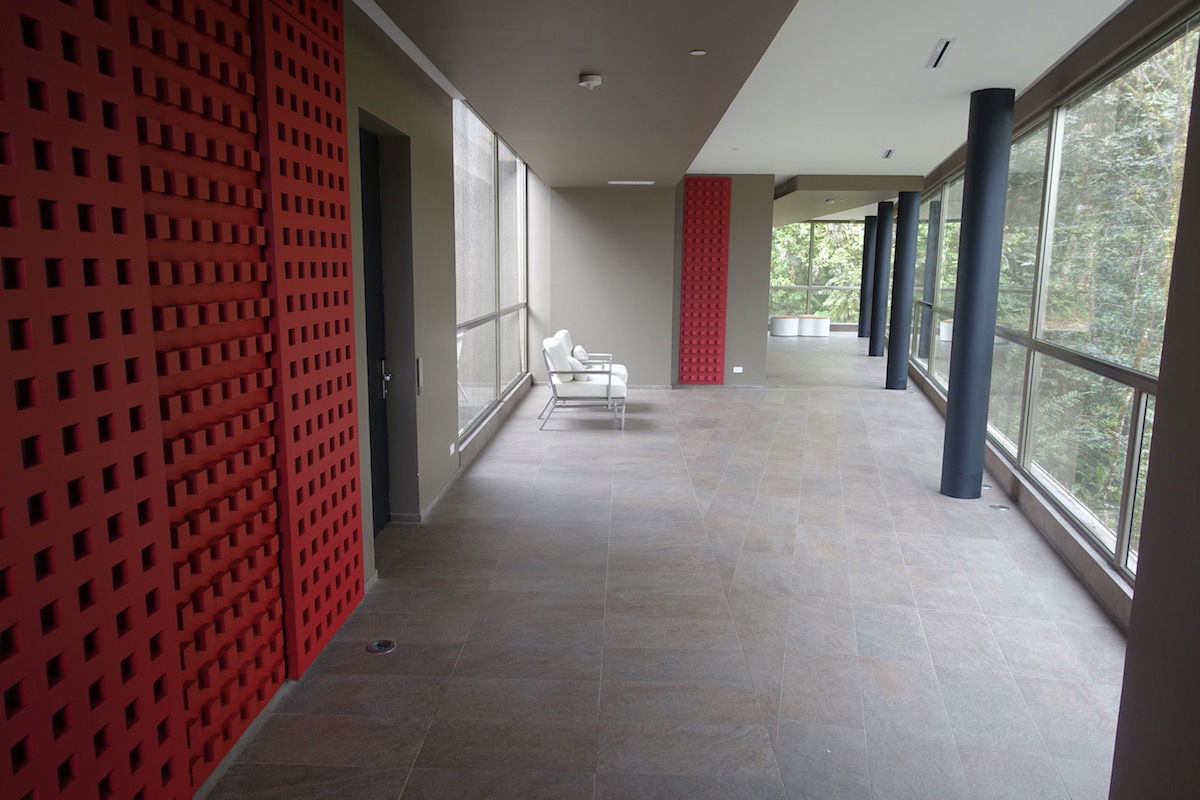 Mashpi Lodge hallway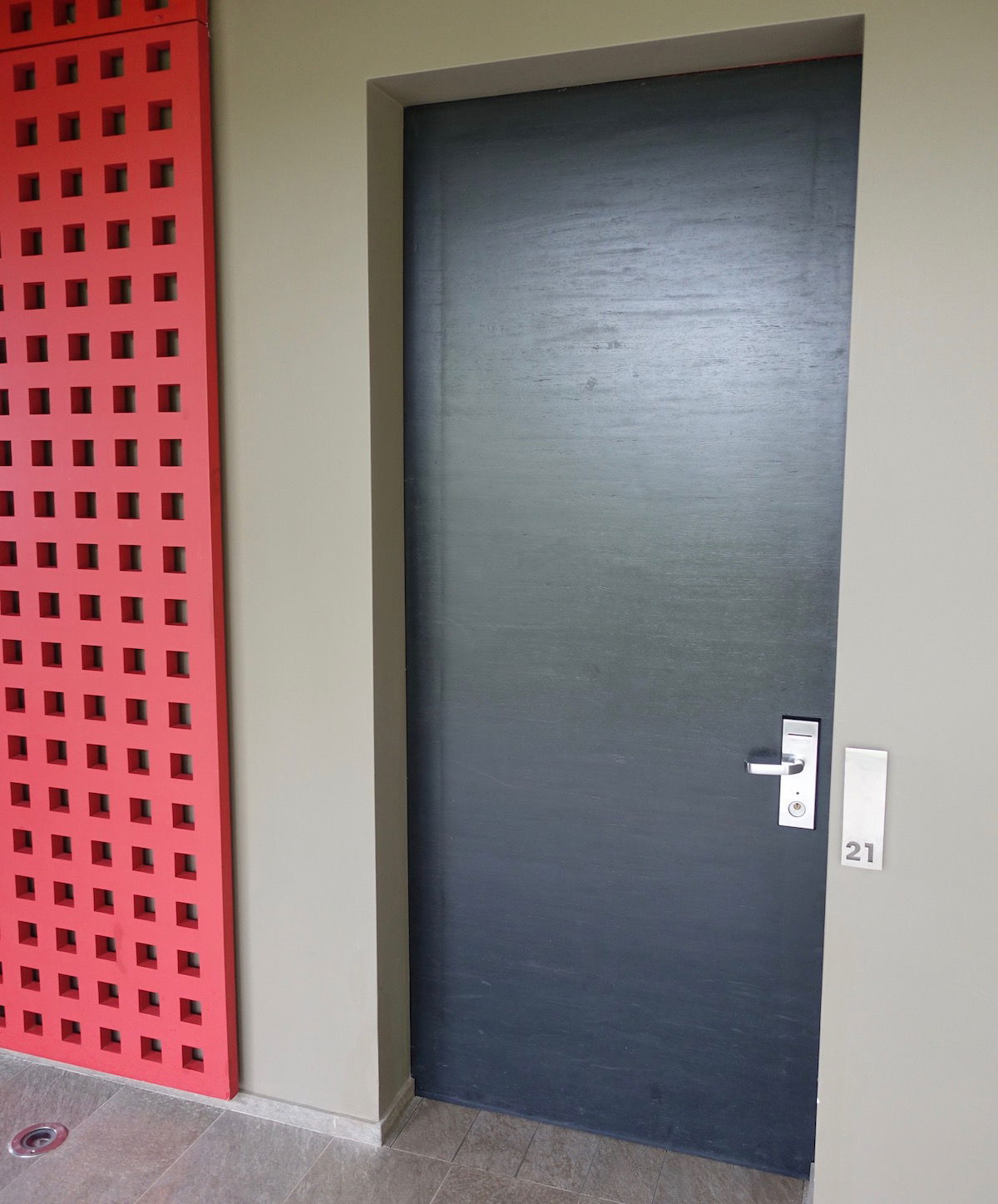 Mashpi Lodge room exterior
The room featured an entryway with a closet on the right and the bathroom on the left.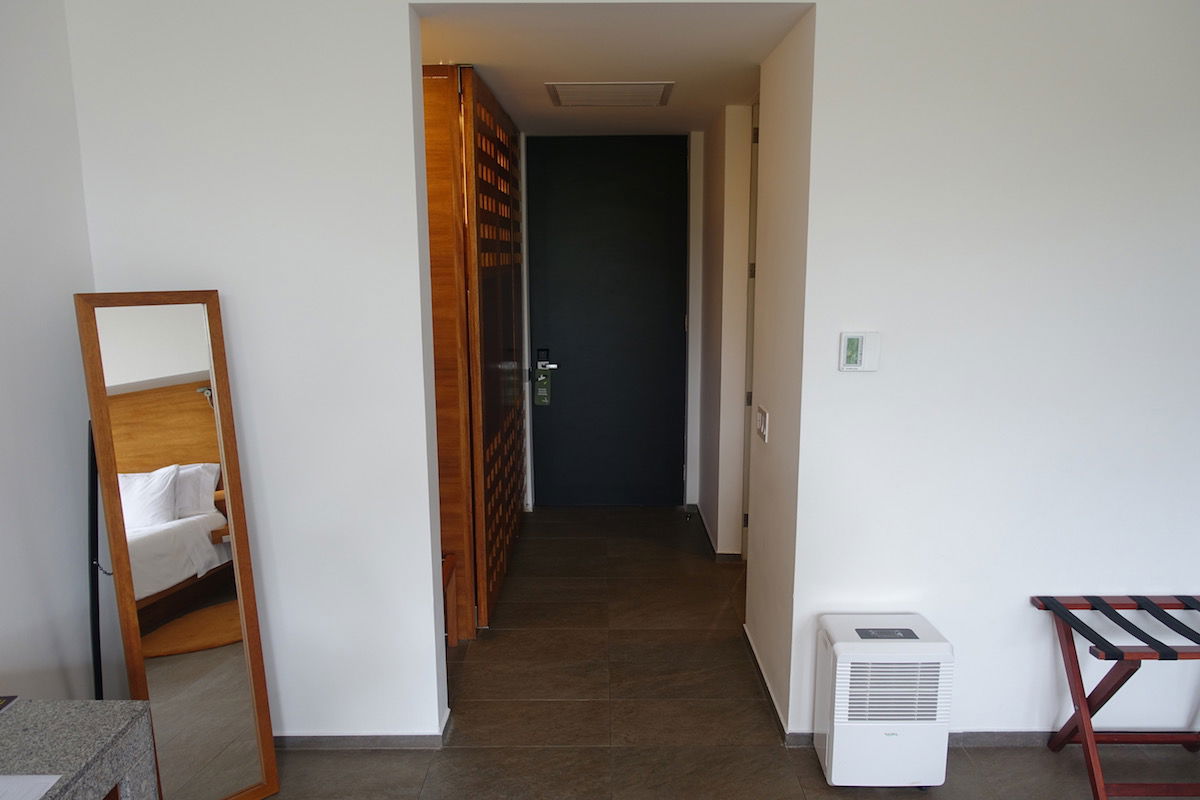 Mashpi Lodge room entryway
That led into the rest of the room. There was a comfortable king size bed.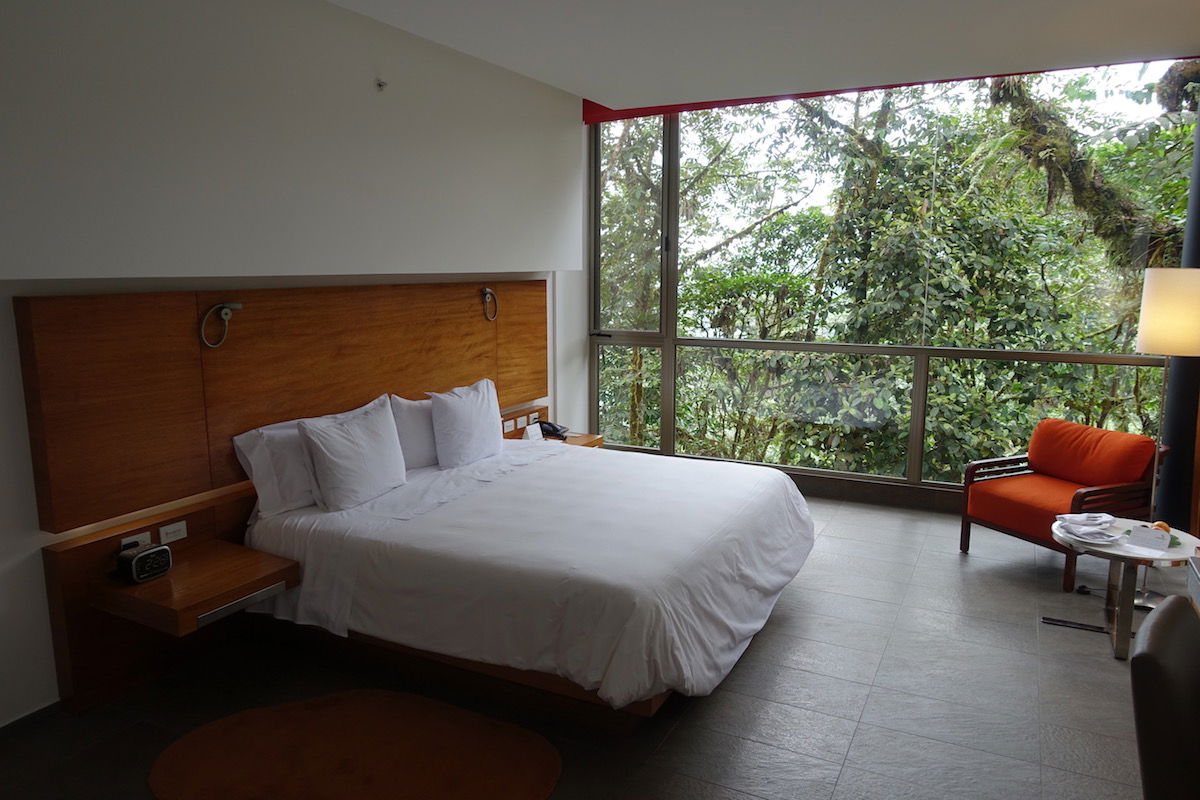 Mashpi Lodge room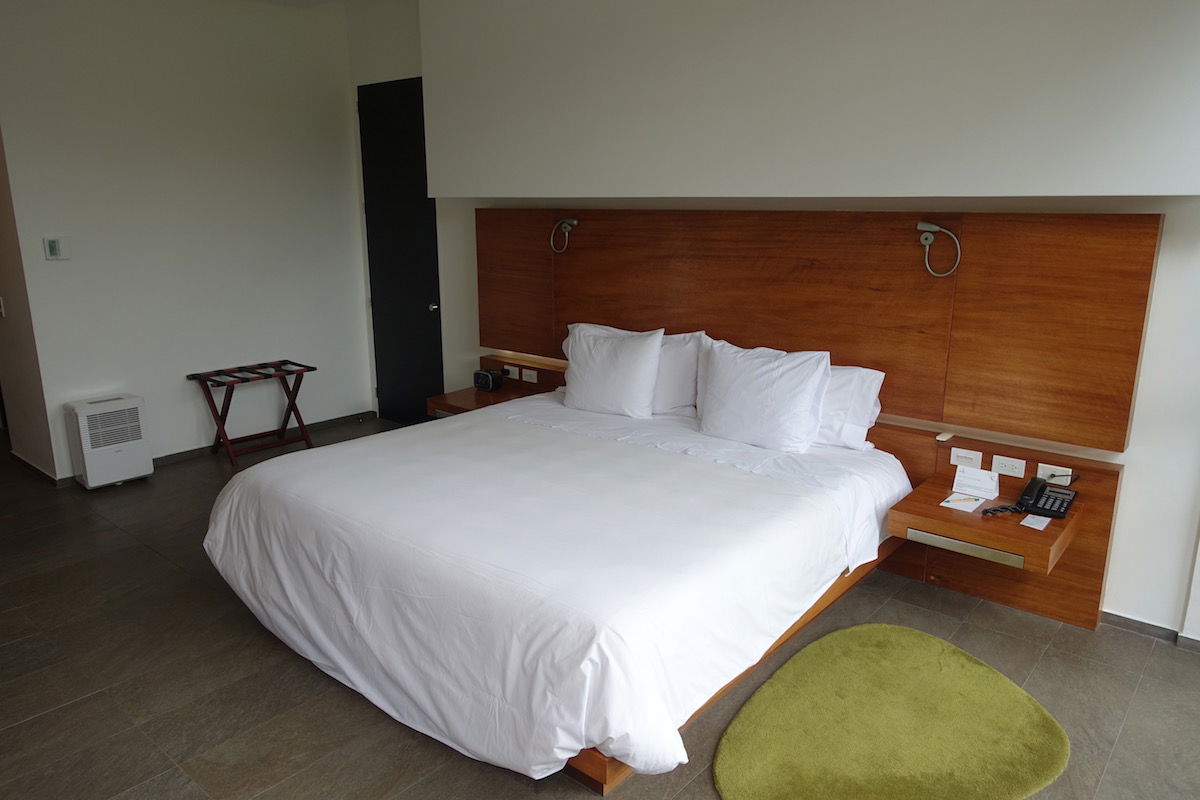 Mashpi Lodge room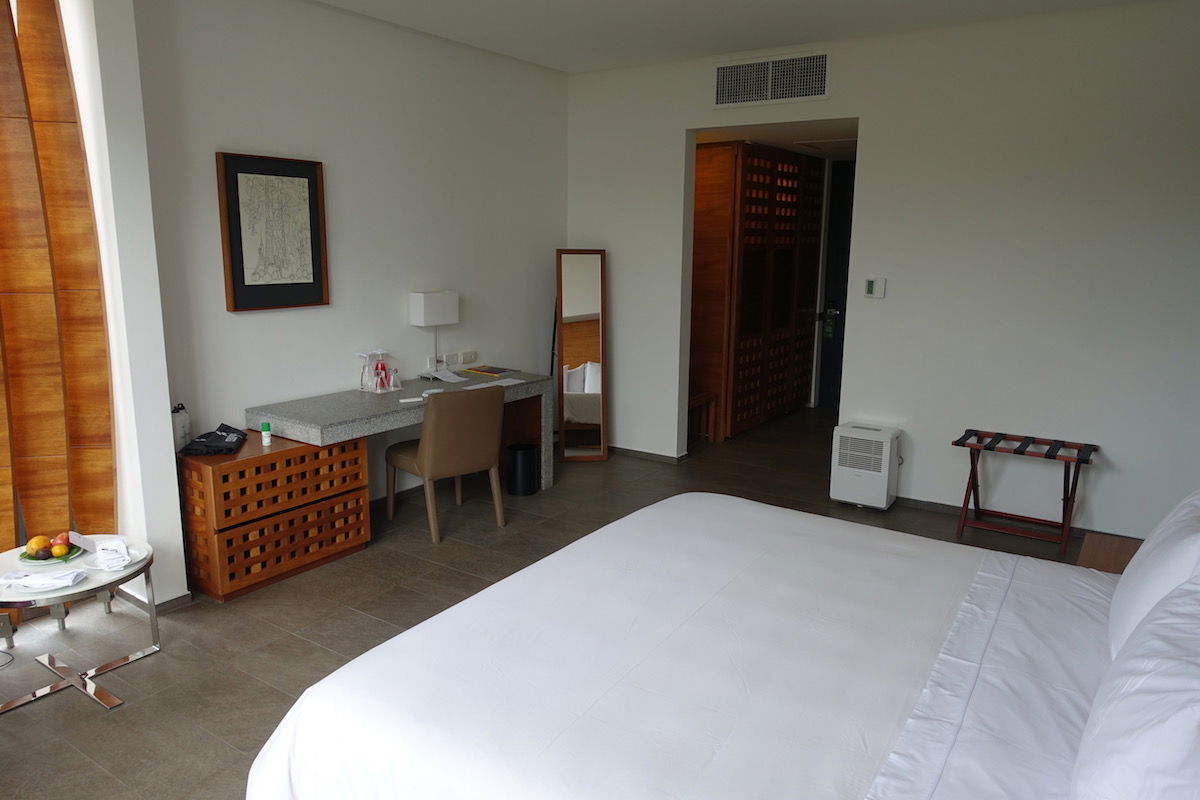 Mashpi Lodge room
Across from the bed was a desk. As you can see, the room doesn't have a TV.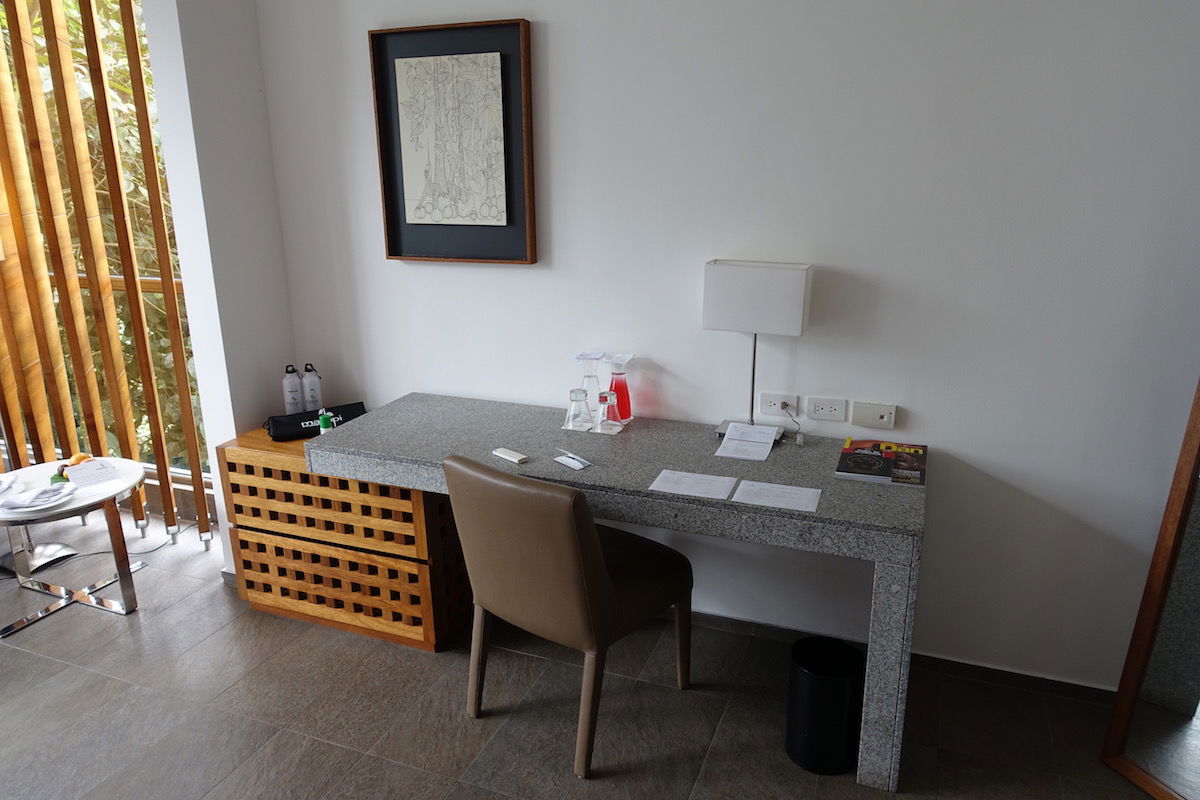 Mashpi Lodge desk
Then in the corner by the window was a chair with a table.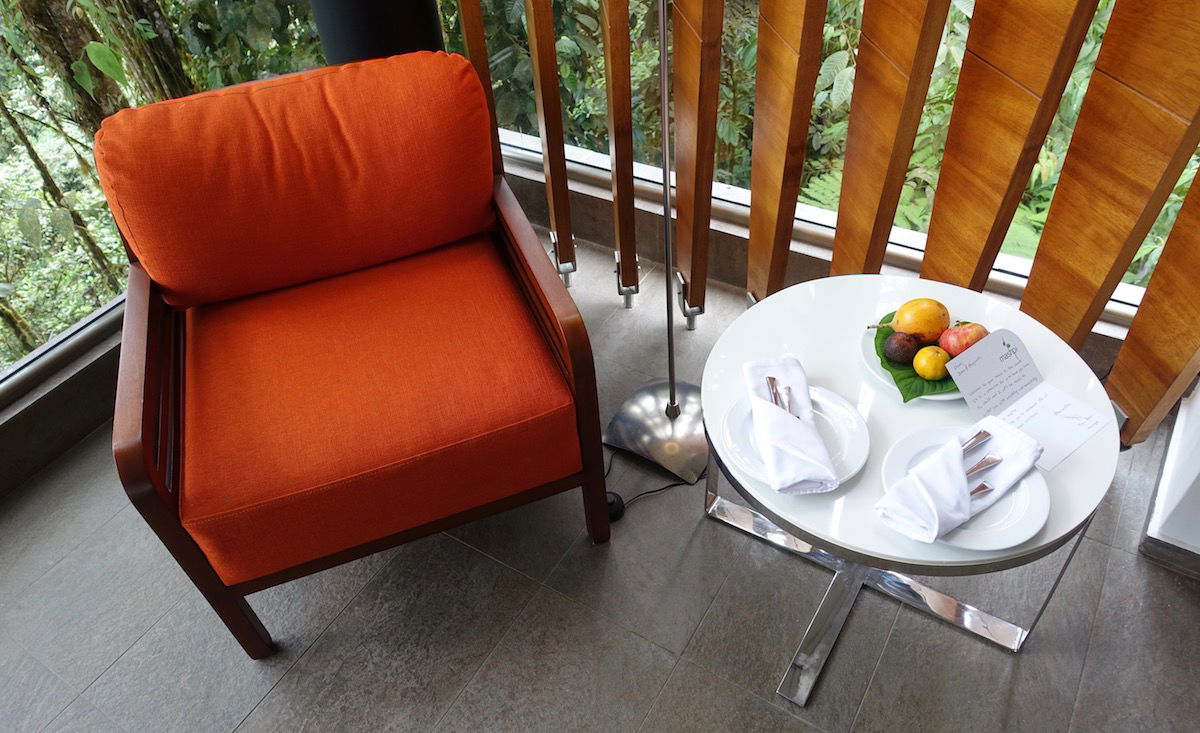 Mashpi Lodge chair & table
Of course the highlight of the room was the view, as you really felt like you were in a treehouse.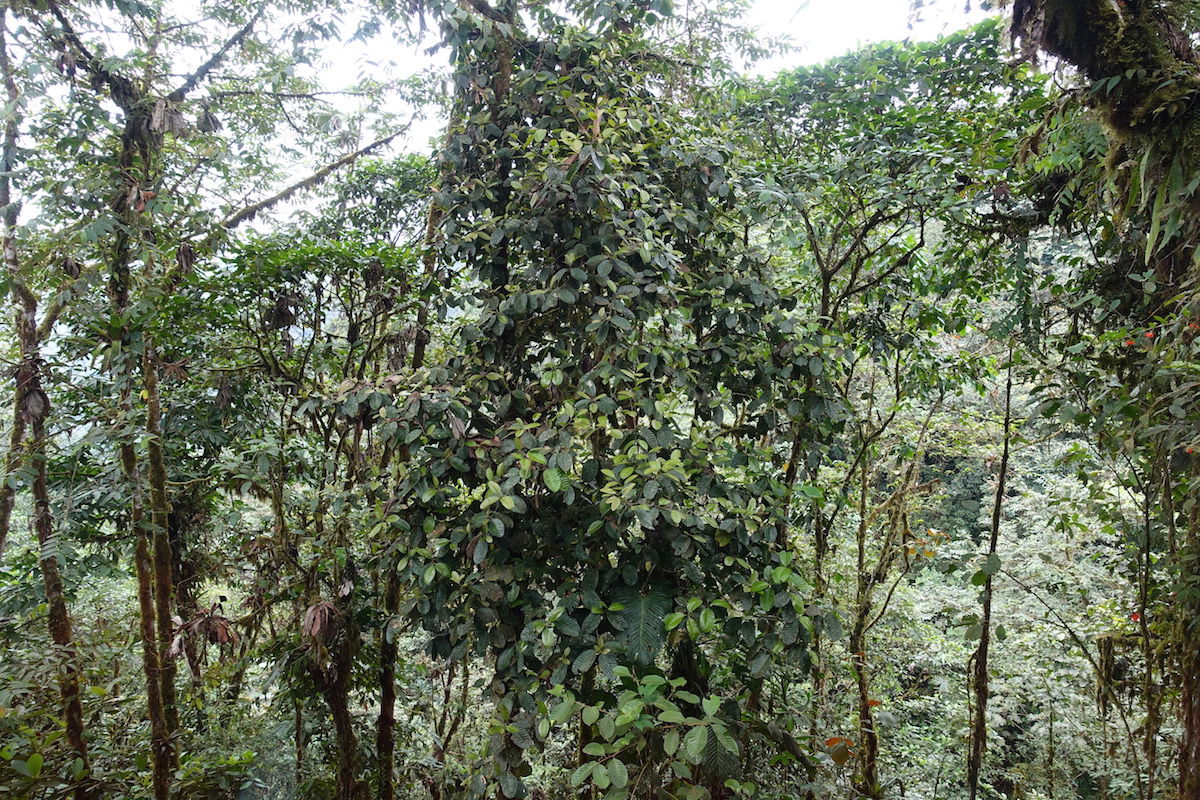 Mashpi Lodge room view
In the room was a fruit plate as a welcome amenity.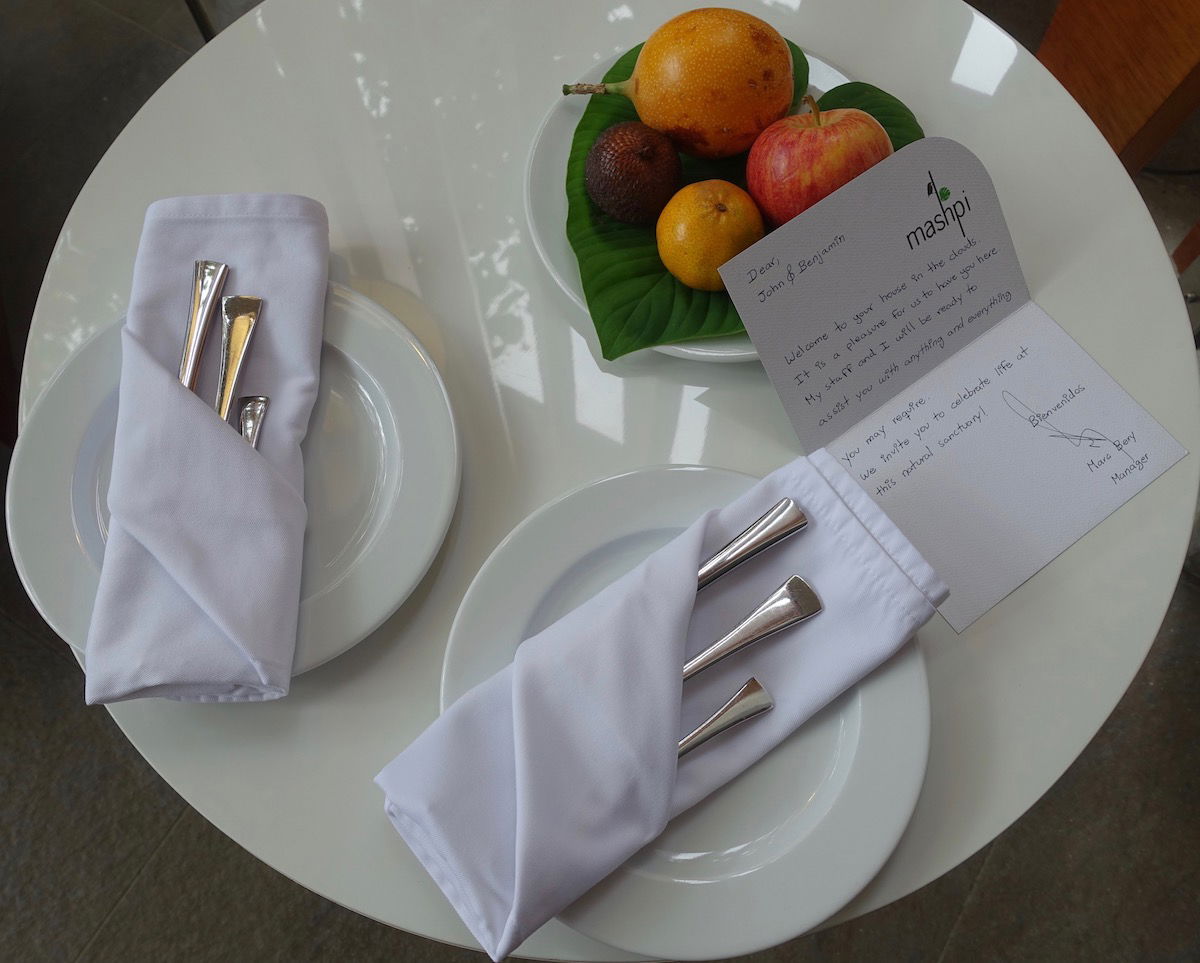 Mashpi Lodge in-room fruit plate
There was also some water and tea.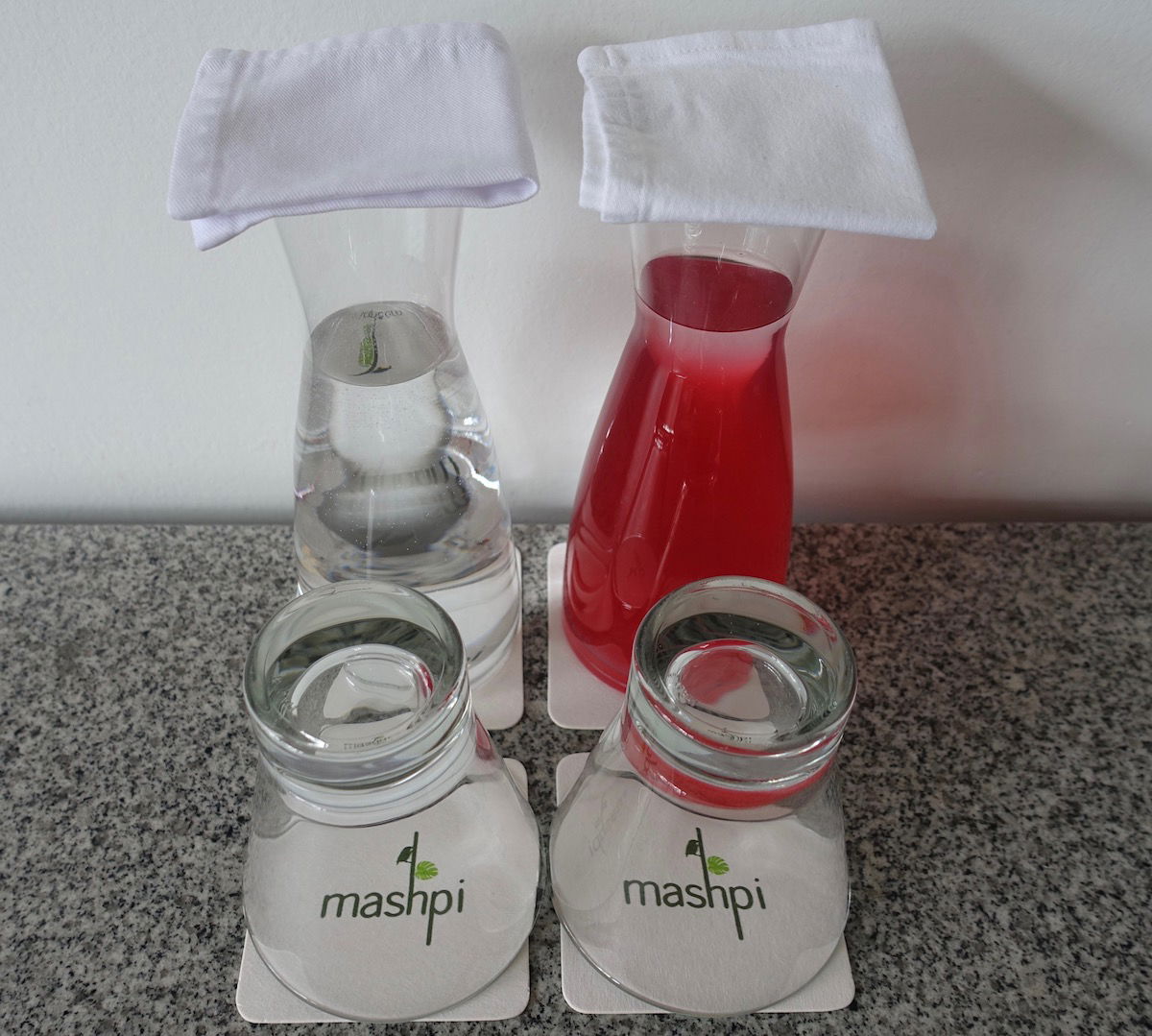 Mashpi Lodge water & tea
Then there were backpacks, water bottles, and mosquito repellent for when you go out.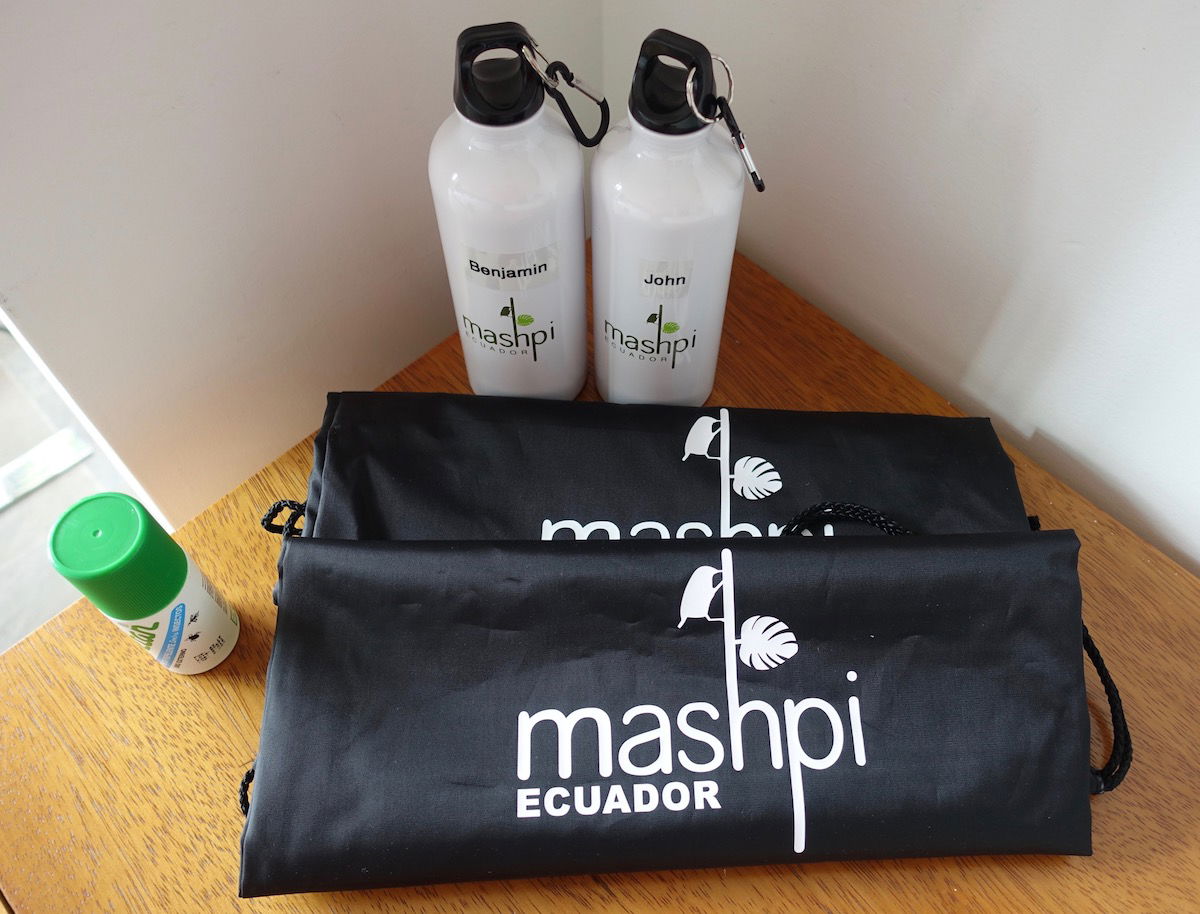 Mashpi Lodge backpacks, water bottles, and mosquito repellent
Back towards the entrance was a luggage rack and a closet, which also had the safe.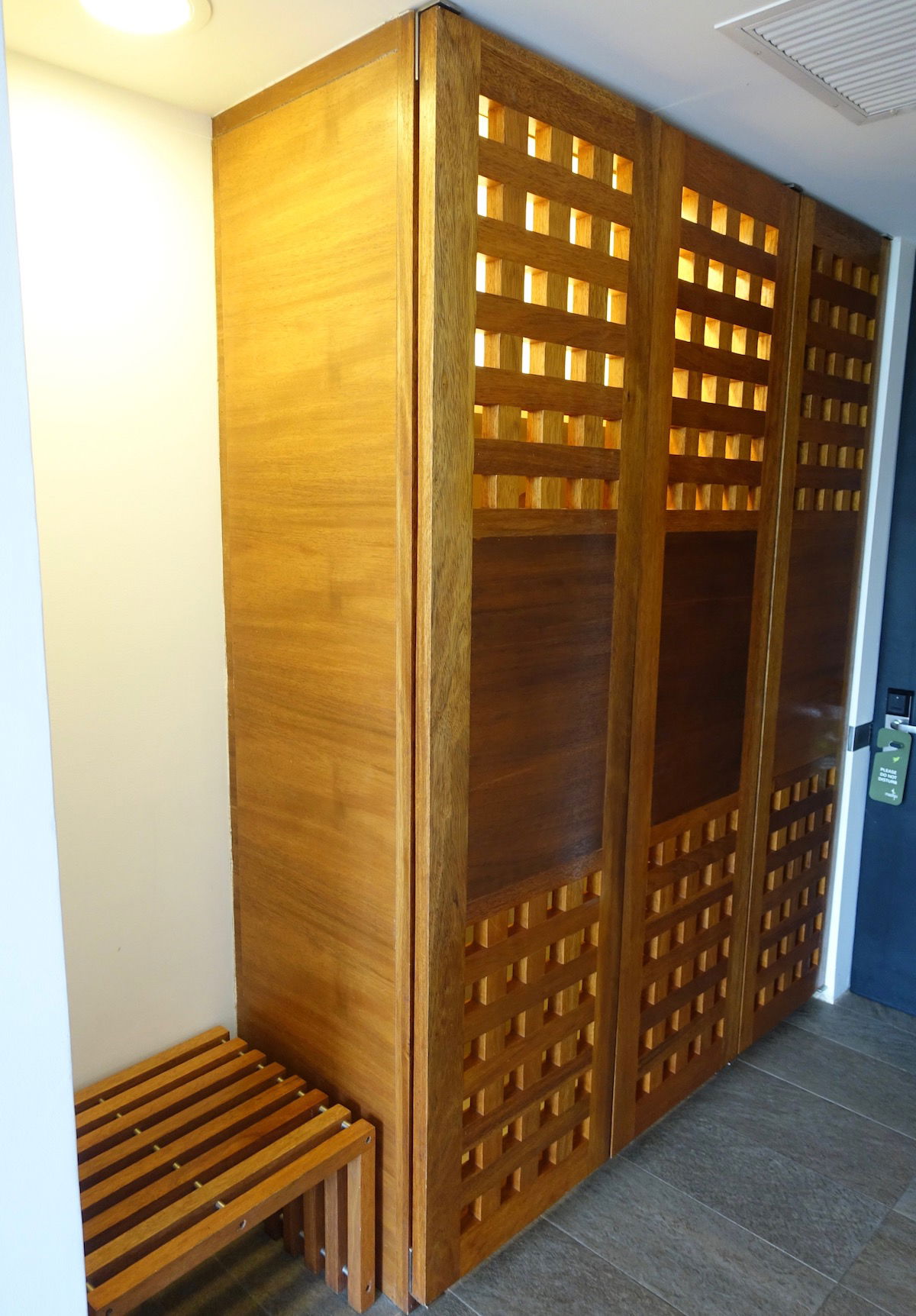 Mashpi Lodge room closet & luggage rack
The bathroom was quite nice, and had a sink, toilet, and walk-in shower.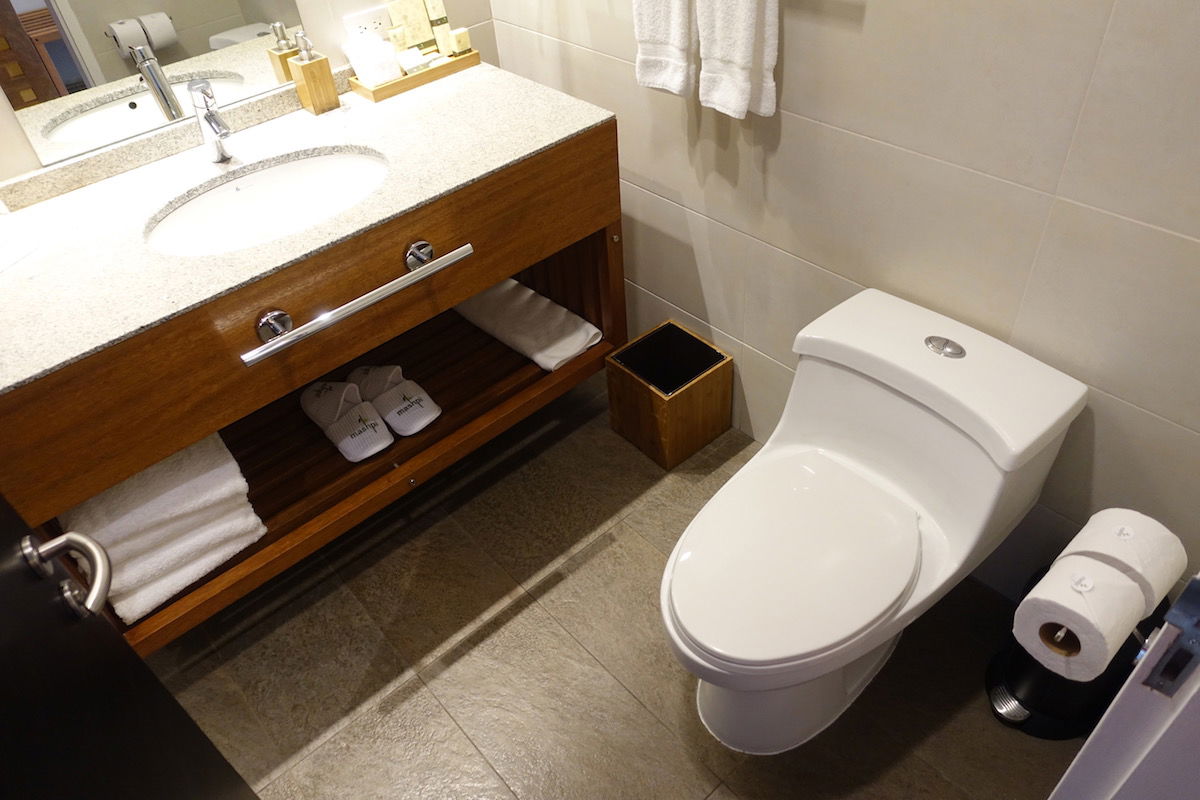 Mashpi Lodge bathroom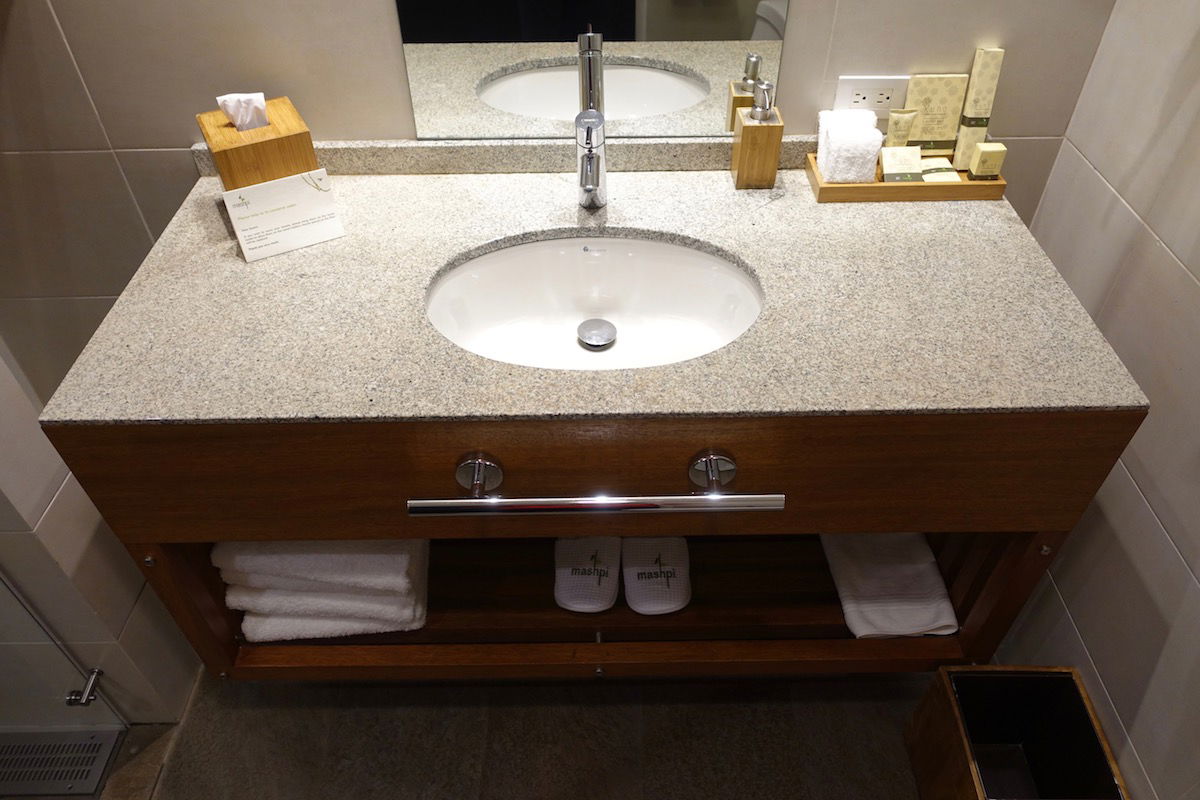 Mashpi Lodge bathroom
The shower had both a rainforest showerhead and a handheld one.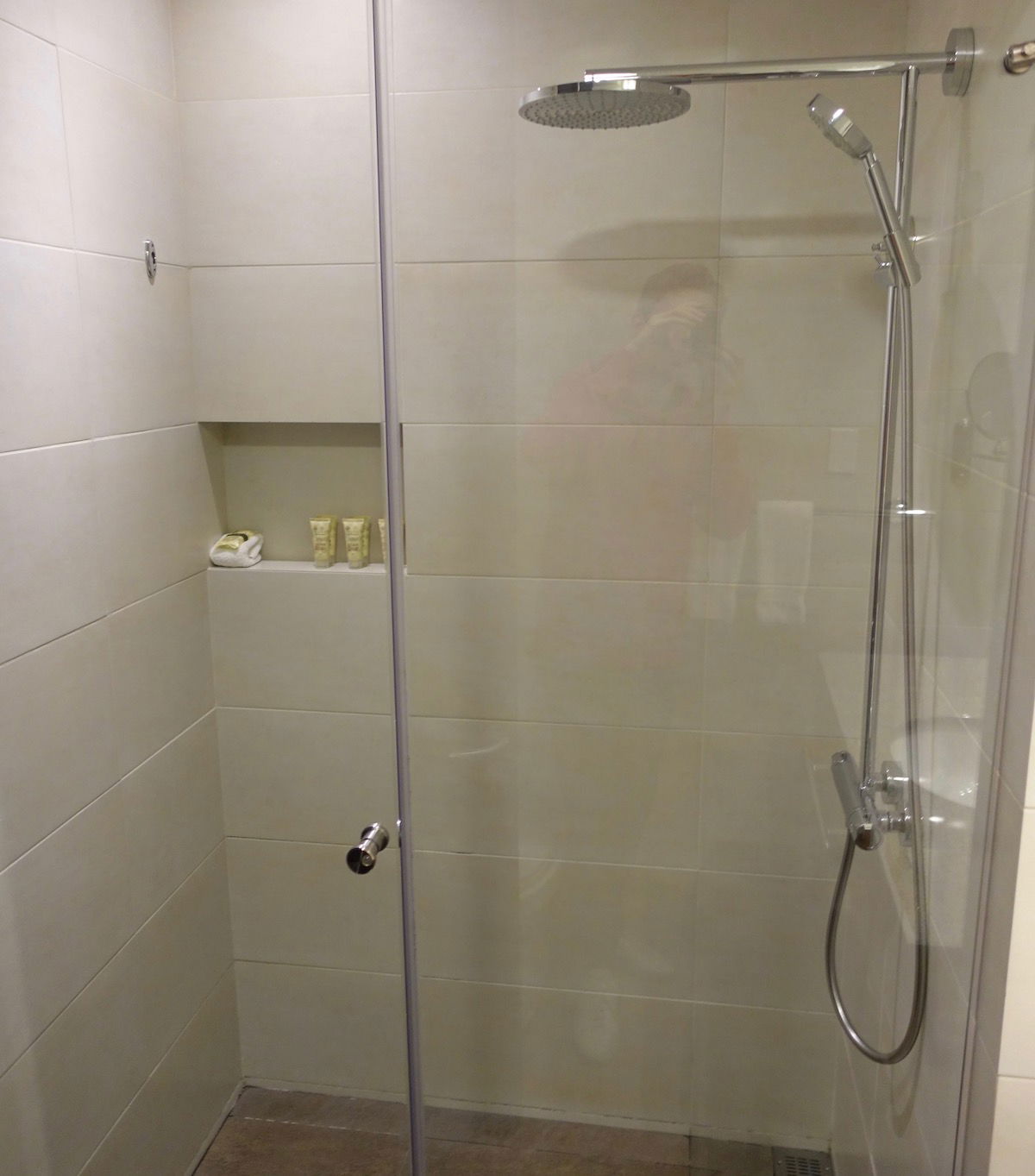 Mashpi Lodge shower
The toiletries are eco-friendly, and they ask that you only use their toiletries and not any others, given how they recycle water.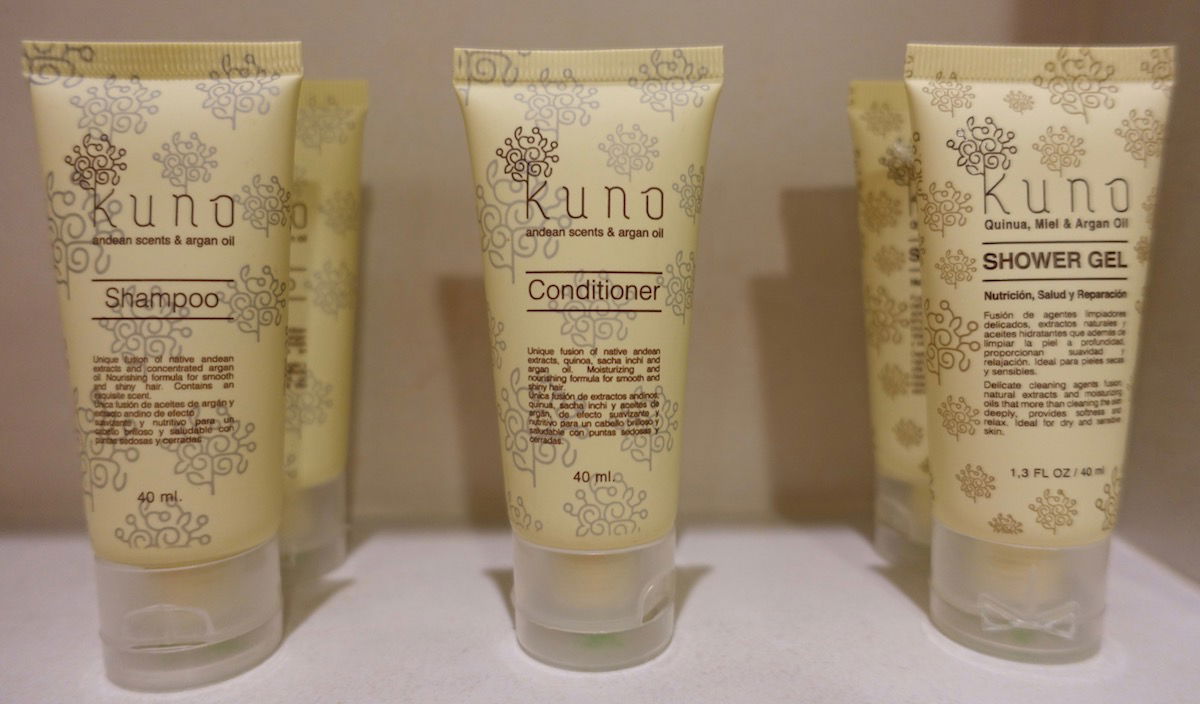 Mashpi Lodge toiletries
Wifi in the room was free and surprisingly fast. It wasn't super high-speed, but I had no trouble getting done what I needed to (I realize I should have done a speed test).
I was also happy that the temperature controls in the room worked quite well, so it never got too hot.
Mashpi Lodge bottom line
Mashpi Lodge really exceeded my expectations in terms of how beautiful the hotel is. While you obviously come here for the nature rather than the hotel as such, this is also a legitimately beautiful lodge, especially when you consider how tough it must have been to build.
I was happy with our room, and loved the views.
There were some minor issues during our stay, though, which I'll talk more about in the next installment. But overall service was better than I was expecting, especially given that 80% of the people working at the hotel are from nearby villages, who have presumably never worked at a luxury hotel before.
Stay tuned for the next installment, where I'll be talking more about dining and activities at the lodge, as well as my overall impressions.