---
Unless I'm on a longhaul international flight with a flat bed (or nearly flat bed), I try to avoid redeyes at just about all costs. Back in the day I'd do them all the time, but at this point they just take such a toll on me that they're not worth it.
For whatever reason I decided a redeye made sense here, though. American has two daily flights from Quito to Miami. There's a flight leaving at midnight and getting in at 5AM. I knew it would be unpleasant, but that way I wouldn't miss any "business hours" (due to lack of Wi-Fi on these flights) and could still get a nap in a proper bed.
The alternative was taking a 6AM flight arriving at around 11AM. That would have required spending a night near the airport, which just didn't seem worth it. So, how did I feel about that decision in the end?
American 946
Quito (UIO) – Miami (MIA)
Monday, October 15
Depart: 11:55PM
Arrive: 5:13AM (+1 day)
Duration: 4hr18min
Aircraft: Boeing 737 MAX 8
Seat: 3E (Business Class)
The flight attendants at the door didn't say a word as we boarded, and just stood there. They were definitely based in one of American's South America gateways (I believe they were a Lima crew, like on the outbound), though they were so unfriendly that I didn't even want to ask.
Here we were back in the same 737 MAX first class seats we had on the way out.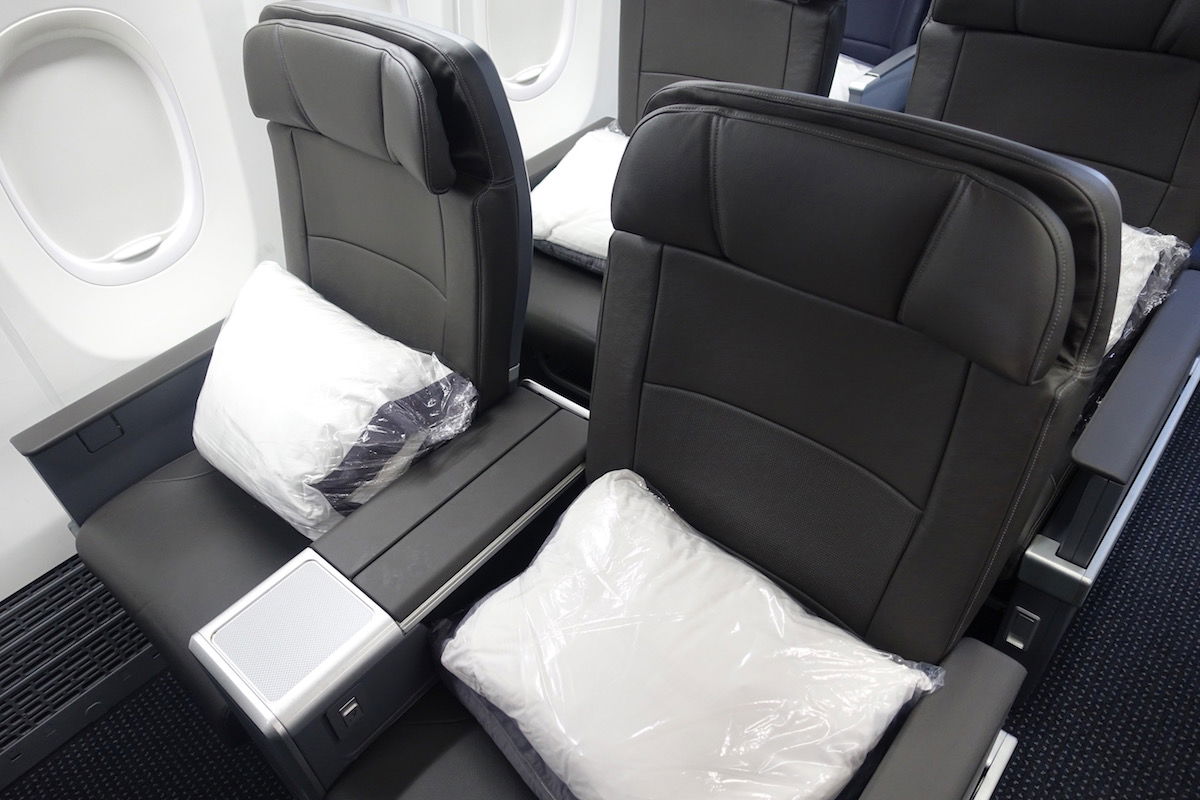 American 737 business class seats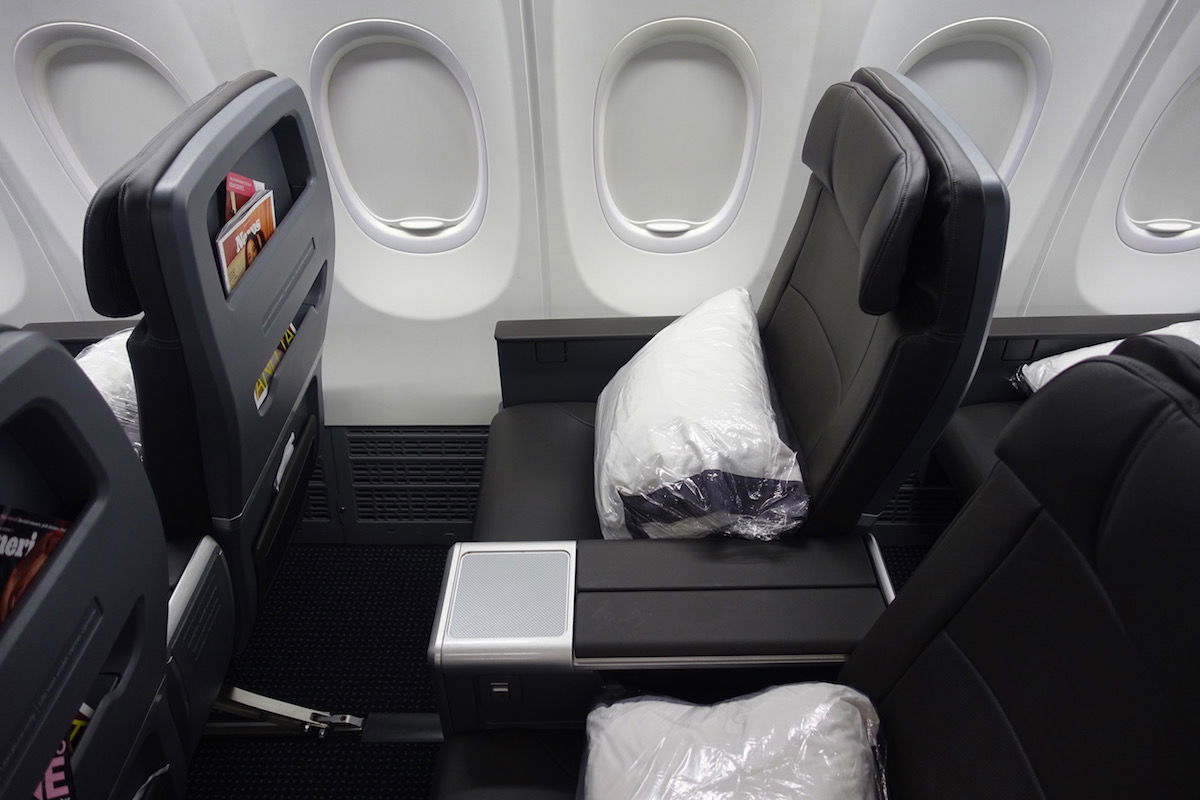 American 737 business class seats
Not only are the seats poorly padded, but they severely lack recline. Below is a picture of the seat fully reclined.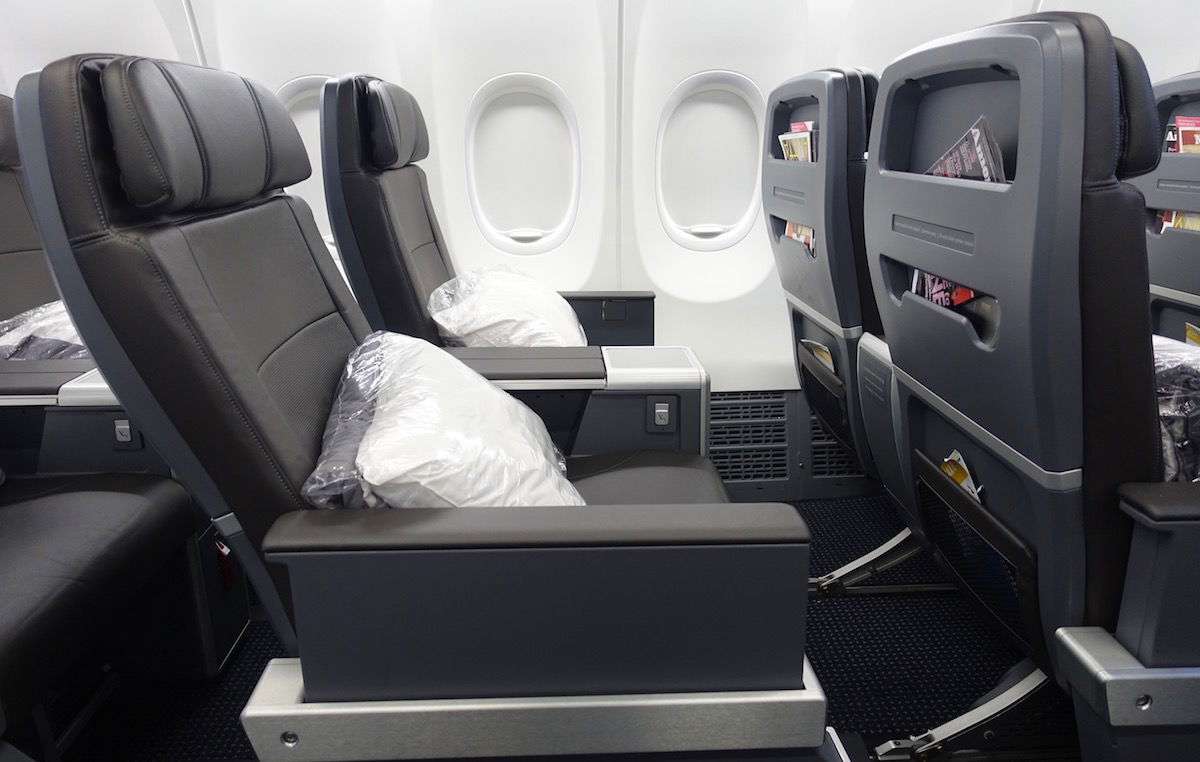 American 737 business class seat recline
On the plus side, at least they had the proper international business class bedding, which helps at least a little bit with getting comfortable.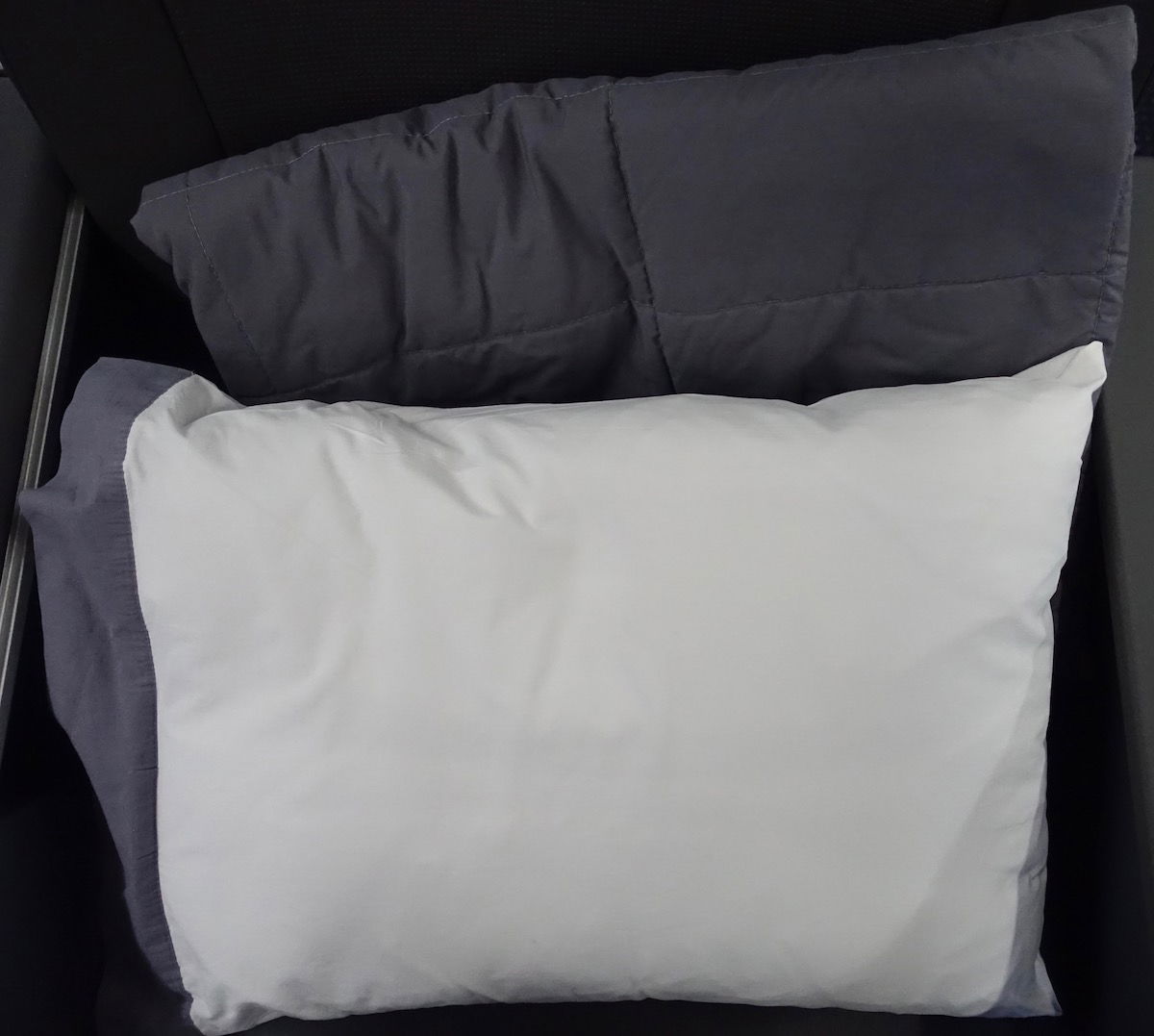 American 737 business class pillow & blanket
30 minutes after boarding the crew served pre-departure beverages, with the choice between water, orange juice, and prosecco. I had a glass of prosecco, hoping it would help me sleep.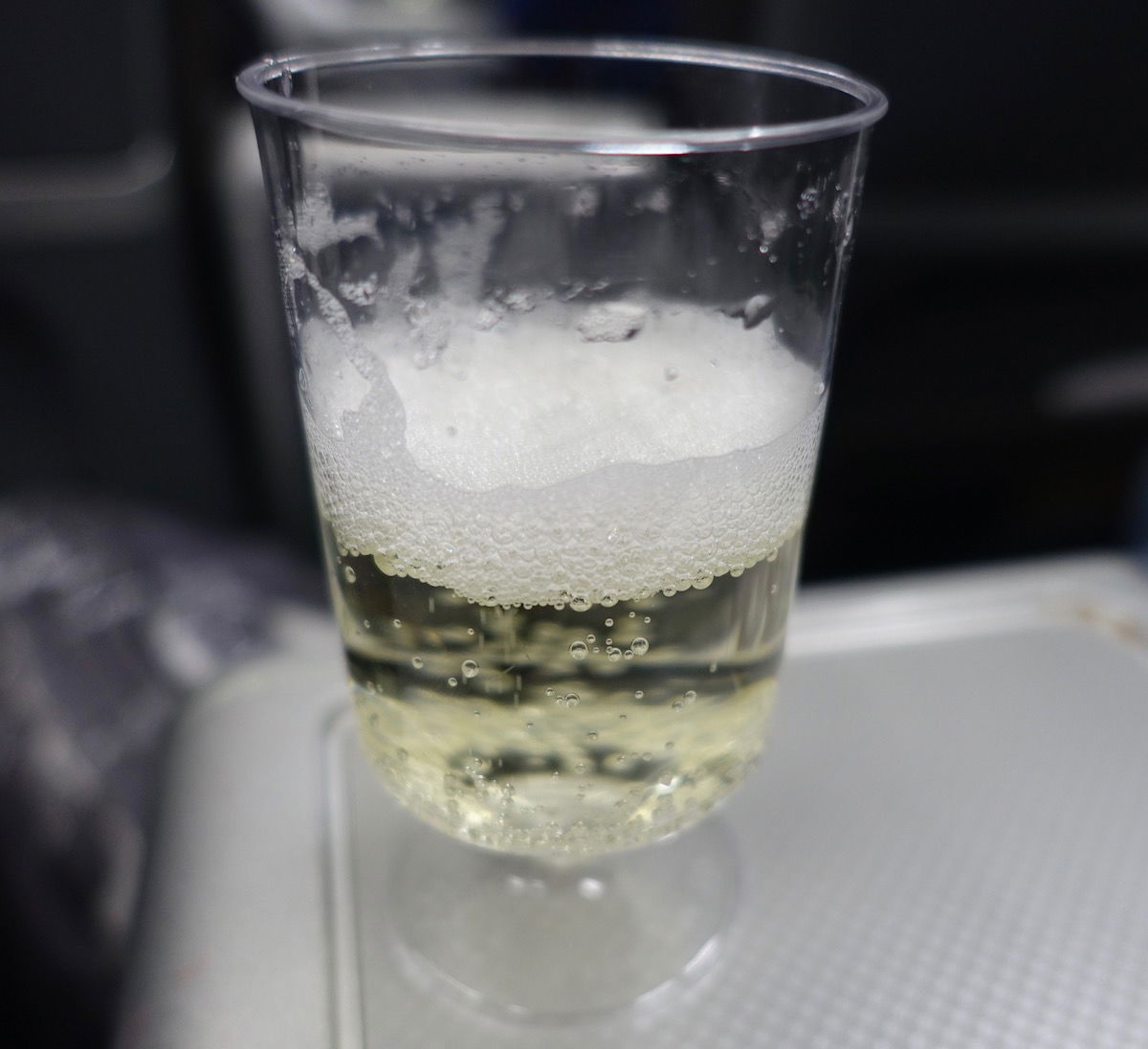 American business class pre-departure champagne
The door was closed at 11:50PM, and the business class cabin was completely full.
The purser announced our flight time of 3hr45min and cruising altitude of 36,000 feet, and a moment later the crew performed the safety demonstration.
We pushed back at 11:55PM, taxied by 12AM, and were airborne by 12:10AM.
There were no announcements from the pilots, though they did turn off the seatbelt sign about 30 minutes after takeoff. At this point the purser distributed hot towels.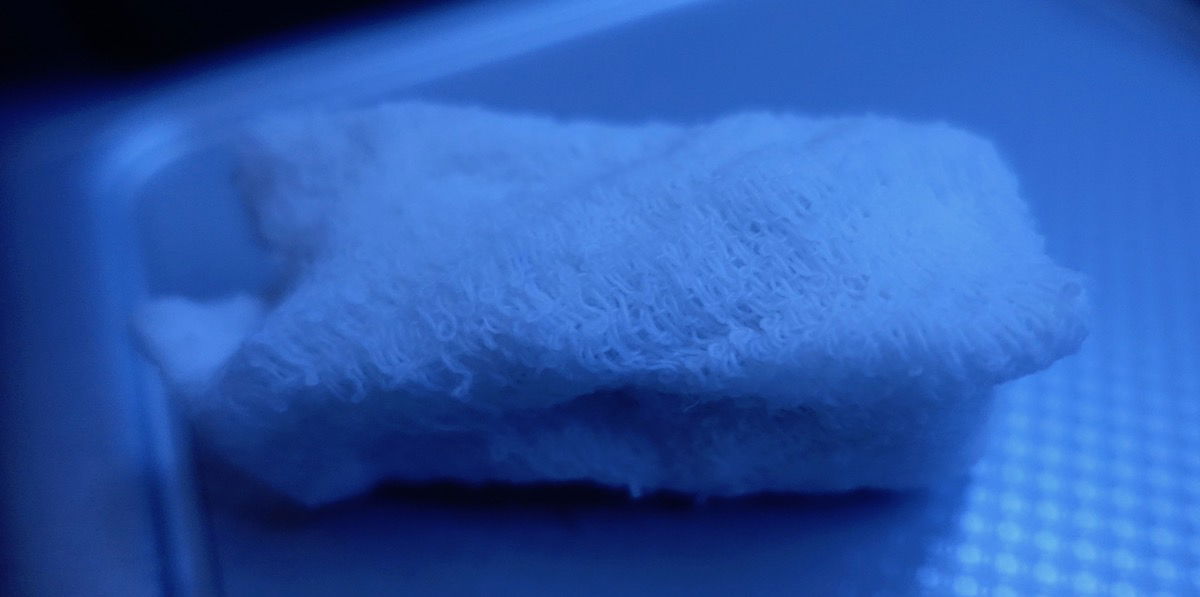 American business class warm towel
"Drink?"
"A water no ice, please."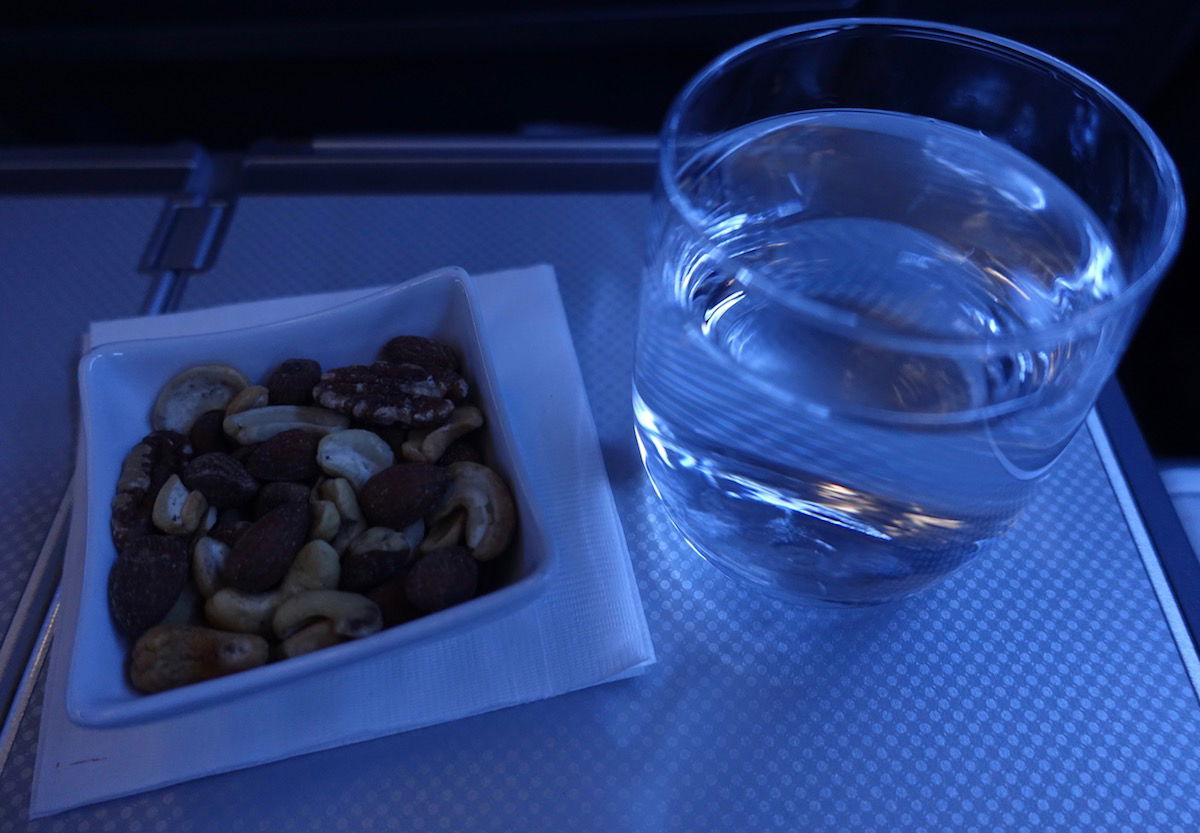 American business class warm nuts and water
I had pre-ordered an Asian vegetarian meal for this flight. I usually order these, but had forgotten to do so for the outbound.
"Chicken or beef?"
"I pre-ordered an Asian vegetarian meal."
"No, we don't carry special meals on flights under eight hours."
"It's fine if it wasn't loaded, but I can guarantee you American has special meals on flights under eight hours. I get them all the time, even on domestic flights."
"I'll check."
She returned a few minutes later and confirmed it hadn't been loaded.
"Just so you know we don't have them on flights under eight hours."
Obviously arguing with her would have accomplished nothing, though I was very tempted to show her pictures of Asian vegetarian meals on domestic US flights on my phone.
So instead I ordered the chicken.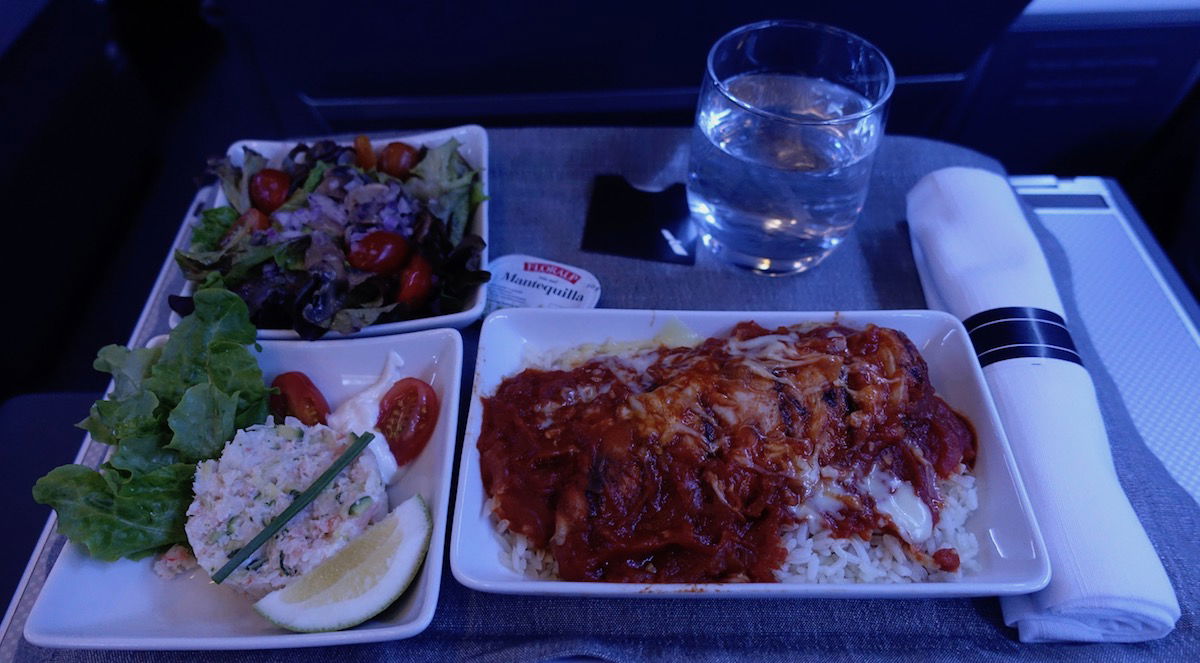 American business class meal service
This came with some sort of an appetizer. I'm not sure what it was, and when I asked the flight attendant she just shrugged her shoulders. I think it had shrimp or crab or lobster or something.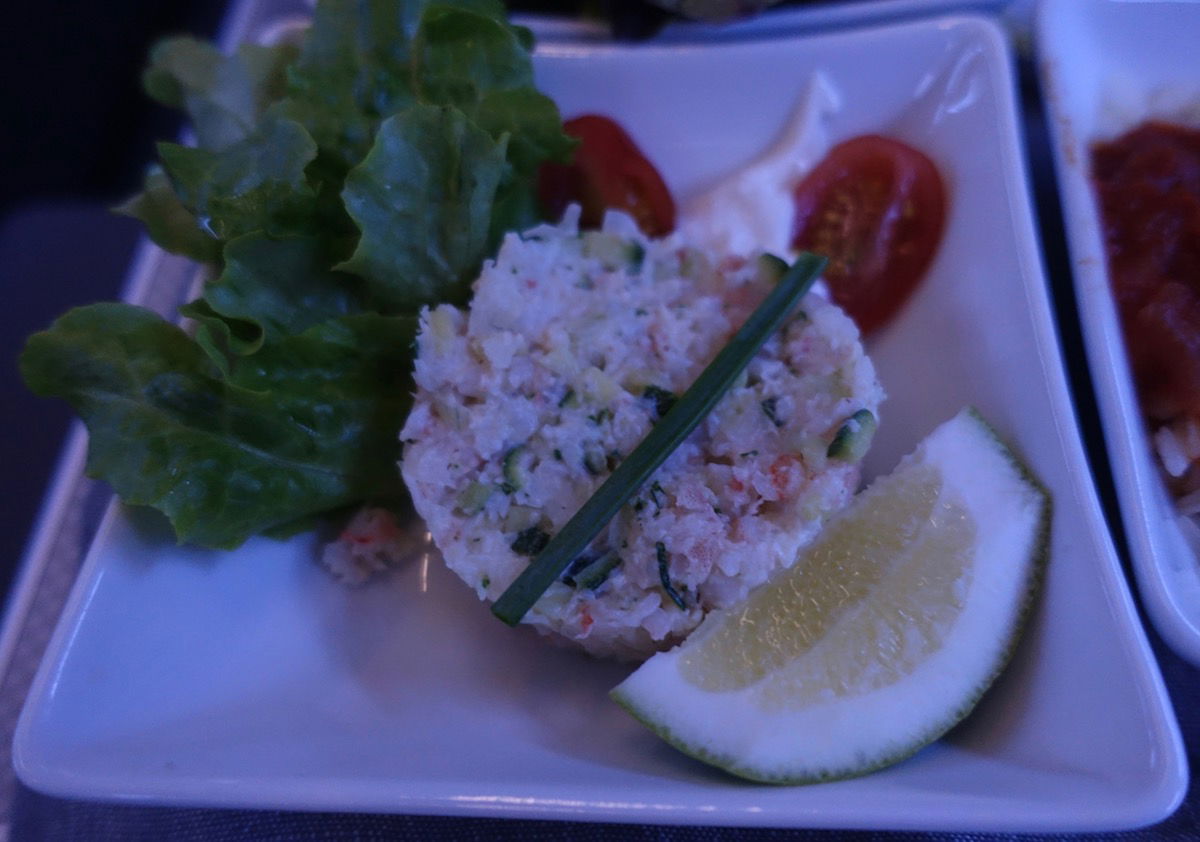 American business class meal service — appetizer
Then there was a small side salad.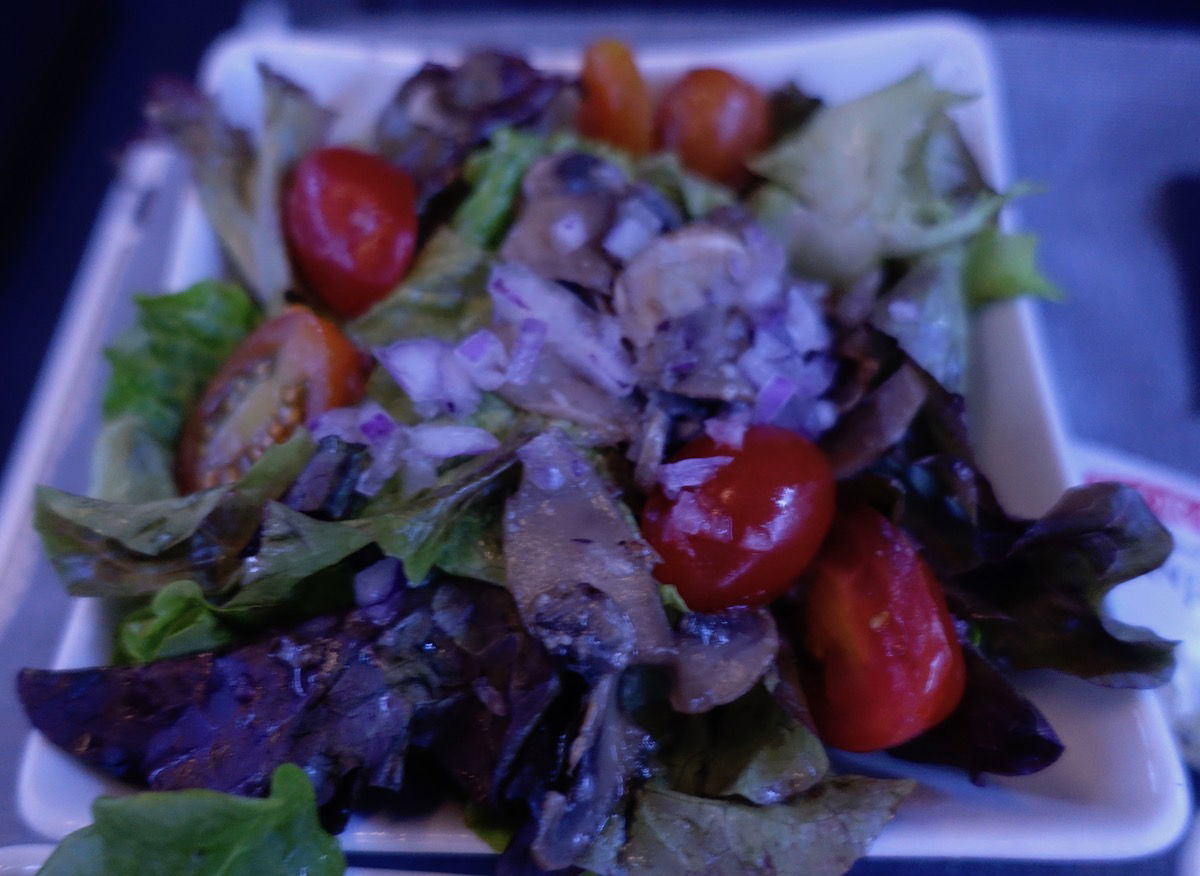 American business class meal service — salad
I wasn't that hungry, but I did try the main course, which was actually quite good. It had chicken and cheese and tomato sauce.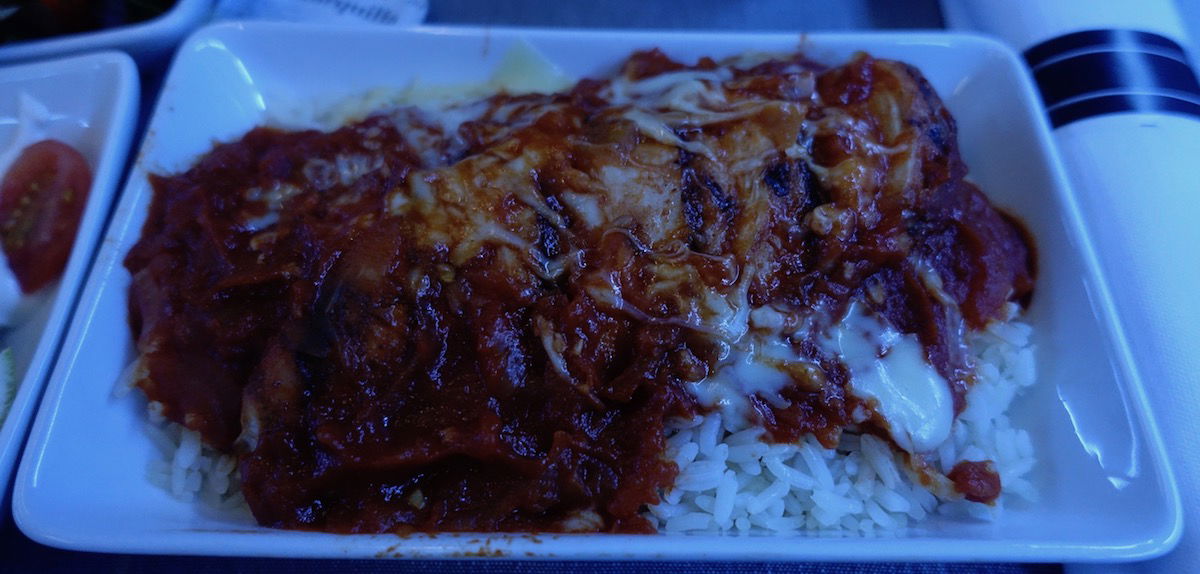 American business class meal service — main course
A few minutes later I was served the dessert separately, which was a chocolate cake.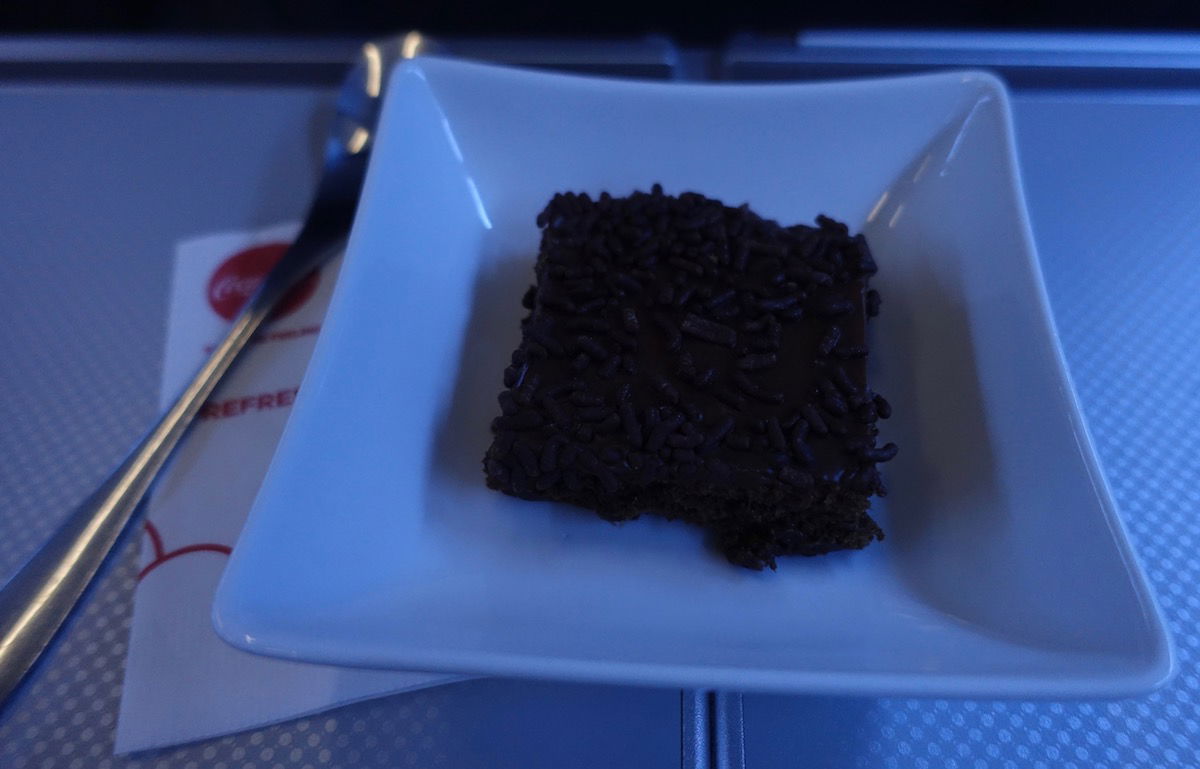 American business class meal service — dessert
At this point it was about an hour into the flight. I tried to recline my seat and get some rest, though unfortunately I had no luck. I was hoping I'd at least get a little bit of bad sleep, but I wasn't able to get any. The padding was just so bad and recline so limited.
I get that other people are able to sleep sitting upright just fine — and I'm jealous of those people — but I'm someone who struggles to sleep unless conditions are perfect.
So eventually I resorted to just sitting there for the next nearly three hours. I was too tired to work, but also couldn't sleep, so…
I did go to the lavatory a couple of times, and both times the flight attendant was sitting in the galley with earbuds in watching something on a portable device, with her feet up, and a blanket wrapped around her. She looked more comfortable than just about anyone else.
We landed in Miami at 4:50AM, and were at our gate by 5AM. The immigration hall was quite full, given the number of flights arriving from Latin America at this hour, though we were through in no time thanks to Global Entry.
American 737 MAX business class bottom line
I'm just not cut out to do redeyes anymore. Back in the day I could do them without issue, while now they really screw up my day.
That being said, I'm still not sure I regret having taken this, rather than waiting for the 6AM flight. While I was miserable the entire flight, the feeling of finally getting in a real bed upon landing was so nice. I got a solid three hour nap and felt great again, and was back to normal for the rest of the day.
As far as the flight itself goes, well… it wasn't great.