Over the past 12 months we've seen huge adjustments to Marriott's loyalty program:
This started last summer, when benefits were aligned across Marriott Rewards, Ritz-Carlton Rewards, and Starwood Preferred Guest, last summer
Then this winter Marriott Bonvoy was announced as the name of Marriott's new combined loyalty program
Then this spring we saw the introduction of Category 8 award pricing, meaning that free night awards could cost as much as 85,000 points per night
Well, now the next big change to Marriott Bonvoy has been announced. We've known this is coming, but we now know exactly when, and there are some other changes that go along with it.
Marriott Bonvoy peak and off-peak pricing
As of September 14, 2019, Marriott Bonvoy will be introducing peak and off-peak award pricing.
Essentially what this means is that during times of the year where properties are busiest, they could require more points, while during times of the year where properties have less demand, they could require fewer points.
Up until now Marriott has used their standard pricing year-round, so this is either positive or negative, depending on the time of year you want to stay somewhere (for most people it will be negative, since you get the most value redeeming points somewhere when a hotel is in peak season).
For context, here's Marriott's standard, off-peak, and peak award pricing: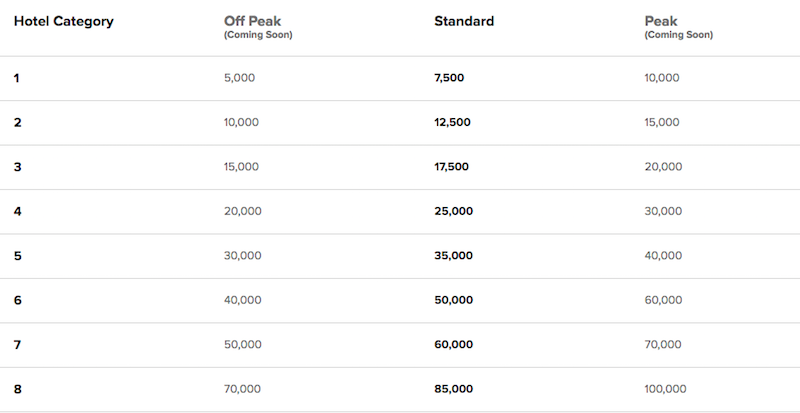 As you can see, with this change Marriott properties will cost anywhere between 5,000 and 100,000 points per night — that's quite a range!
How many hotels will have peak and off-peak pricing?
So, can a hotel just choose to have peak pricing year-round? Nope. As Marriott explains it:
Across the entire portfolio, standard rates will be offered the majority of the time with the rest being an equal distribution of peak and off-peak
Peak and off-peak pricing will extend to all 7,000 Marriott Bonvoy properties worldwide
How can you figure out new pricing?
Unfortunately there's no way to know the updated pricing just yet. On September 14 people will be able to log into marriott.com or the Marriott Bonvoy app to see if properties in the destination they want to travel are in standard, peak, or off-peak pricing, using the flexible date finder.
That won't be live until the changes go into effect, though, which is incredibly frustrating.
What happens to previously booked stays?
What happens if you book a stay by September 14 at the standard rates?
After that date, if a property offers off-peak rates during the period you're staying, members can cancel and rebook, assuming they're outside the cancelation deadline
If you need to make a change after the date where peak and off-peak pricing kicks in, you'll be subjected to the new rate
Updated Marriott Bonvoy Cash + Points pricing
Cash + Points is a popular redemption option that allows members to redeem a combination of cash and points towards the cost of a stay. This will continue to be offered, though Marriott will be updating this redemption chart to standardize the amount of cash needed to redeem a stay within each category.
The amount of points will vary depending on whether a property is peak, standard, or off-peak. Here's the new award chart: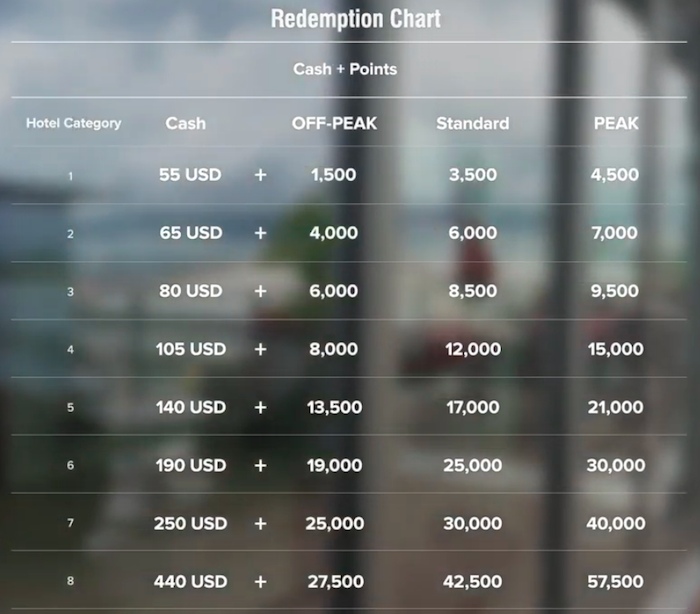 Marriott adding limits on Points Advance
Marriott Bonvoy offers Points Advance, enabling members without enough points to reserve a room while continuing to earn points to cover the rate.
As of September 14, 2019, Marriott will limit Bonvoy members to having at most three Points Advance reservations at one time.
For Points Advance reservations made before that date, Marriott will honor up to five at the standard redemption rates.
This policy change seems totally fair to me, since a lot of members were making a huge number of reservations, limiting the availability that other members have access to.
Marriott's new "Stay 5, Pay for 4"
Marriott Bonvoy is known for "5th Night Free," allowing members to get a fifth night free when they redeem points.
This is being rebranded as "Stay for 5, Pay for 4." With this, members will receive the lowest-point night for free.
This is potentially a mild devaluation if you're in a situation where your stay involves different priced nights due to peak and off-peak pricing. It's no longer specifically the fifth night that's free, but rather whatever night is cheapest.
Bottom line
While Marriott promises that a majority of dates will still have standard rates, and the remaining dates will be equally distributed between off-peak and peak, this is no doubt a hugely negative development for members. Of course we knew this was coming, so there's nothing to be surprised about here.
The way to maximize points is to use them when stays are disproportionately expensive, which will almost always be during "peak" dates. The cost of Marriott's most expensive properties is now 100,000 points per night, which is steep.
I'd say the other adjustments to the program are fair enough, like limiting the number of Points Advance reservations, aligning Cash + Points pricing, etc.
What do you make of these Marriott Bonvoy adjustments?