I've been a big fan of Starwood Preferred Guest for over a decade, though that was recently folded into Marriott Bonvoy.
In the SPG program I had Ambassador status for several years, which could be earned by racking up 100 elite qualifying nights in a calendar year.
Marriott Bonvoy has maintained this aspect of the program. Back in the Marriott Rewards days, they offered this as a pilot program, though as part of Bonvoy Ambassador Elite is now a published tier.
Readers often ask if I think this status is worthwhile, so I wanted to share my thoughts in this post.
Marriott Bonvoy Platinum, Titanium, and Ambassador requirements
In the Marriott Bonvoy program, here are the requirements over the course of a calendar year for Platinum, Titanium, and Ambassador:
Platinum requires 50 elite qualifying nights
Titanium requires 75 elite qualifying night
Ambassador requires 100 elite qualifying nights plus $20,000 of qualifying spend
It's worth noting that "qualifying spend" is based on the purchases on your folios that are eligible for points accrual. This doesn't include taxes or service charges, and typically doesn't include spa treatments, tours booked through the hotel, etc. Rather it just includes room rate, select incidentals, and most dining and beverage purchases, though I find it really varies by hotel.
The real cost of Ambassador Elite
As you can see above, there's a $20,000 spending requirement to earn Ambassador status. Spread across 100 elite qualifying nights, that's like paying an average of $200 per night, before any taxes and fees. That's not low, but not outrageous either.
The catch is that:
Marriott co-brand credit cards offer 15 elite nights towards status annually, so if you spread the $20,000 revenue requirement across 85 nights, that's an average of ~$235 per night
This assumes you never redeem points, and a lot of us redeem a lot of points, making it even harder to earn Ambassador
I barely earned Ambassador last year, but I'm redeeming a lot of points this year, and it's unlikely I'll requalify. If I'm going to splurge on hotels and pay cash (which I probably do more than I should), I'm generally not going to do so at a Marriott-branded property.
What are the benefits of Marriott Bonvoy Titanium Elite?
Beyond the traditional Platinum benefits (suite upgrades subject to availability, 4PM check-out, etc.), what are the incremental benefits of Marriott Bonvoy Titanium status?
Titanium members get a 75% points bonus, while Platinum members get a 50% points bonus
Titanium members get space available suite upgrades at Ritz-Carltons, while Platinums don't
Titanium members get United MileagePlus Silver status through the RewardsPlus partnership
What are the benefits of Marriott Bonvoy Ambassador Elite?
Above the Platinum and Titanium benefits, what are the incremental perks of Ambassador status?
Access to an "Ambassador," who is supposed to be your single point of contact for anything you could need from Marriott
Your24, which gives you a flexible 24 hour stay at a hotel, where you can check-in at anytime, and get the room for 24 hours (for example, this came in handy earlier this year when I had a flight arriving in Abu Dhabi at midnight, and I was leaving the following night at 2AM, since I could have the room from midnight to midnight, while only paying for one night)
My experience with Ambassador Elite status
So the above are the published differences, but what should you actually expect from the status? Here are my thoughts on the program:
Ambassador status is highly dependent on your Ambassador
Like most things in life, your experience will vary greatly based on who you're dealing with.
I've had the same Ambassador, Mike, for years, and he's spectacular. Simply put, he exemplifies what the program should be, and in my opinion he should be running the Ambassador program.
He just "gets it." He responds to my emails shockingly quickly, when I have a nuanced question he always gets me an answer, and when I do have an issue, he gets it resolved quickly.
He's a superstar, though I'd note that not everyone has had the same experience. I get emails frequently from readers who are underwhelmed by the program. One guy emailed me and said he had heard from his Ambassador once in the past four months, and she hasn't responded to any of his emails since.
So the variance in quality is huge.
Ambassador members may get better upgrades
This isn't a published benefit one way or another, though many hotels should be prioritizing upgrades for Ambassador members over Titanium or Platinum members.
While all Platinum members and above are eligible for suite upgrades, it seems pretty logical that if they're going to pre-block suites for guests, they'd do so by status or other considerations (repeat guest, etc.).
Certainly not all hotels do that, but on balance I'd expect to get more good upgrades as an Ambassador member than a Platinum member, for example.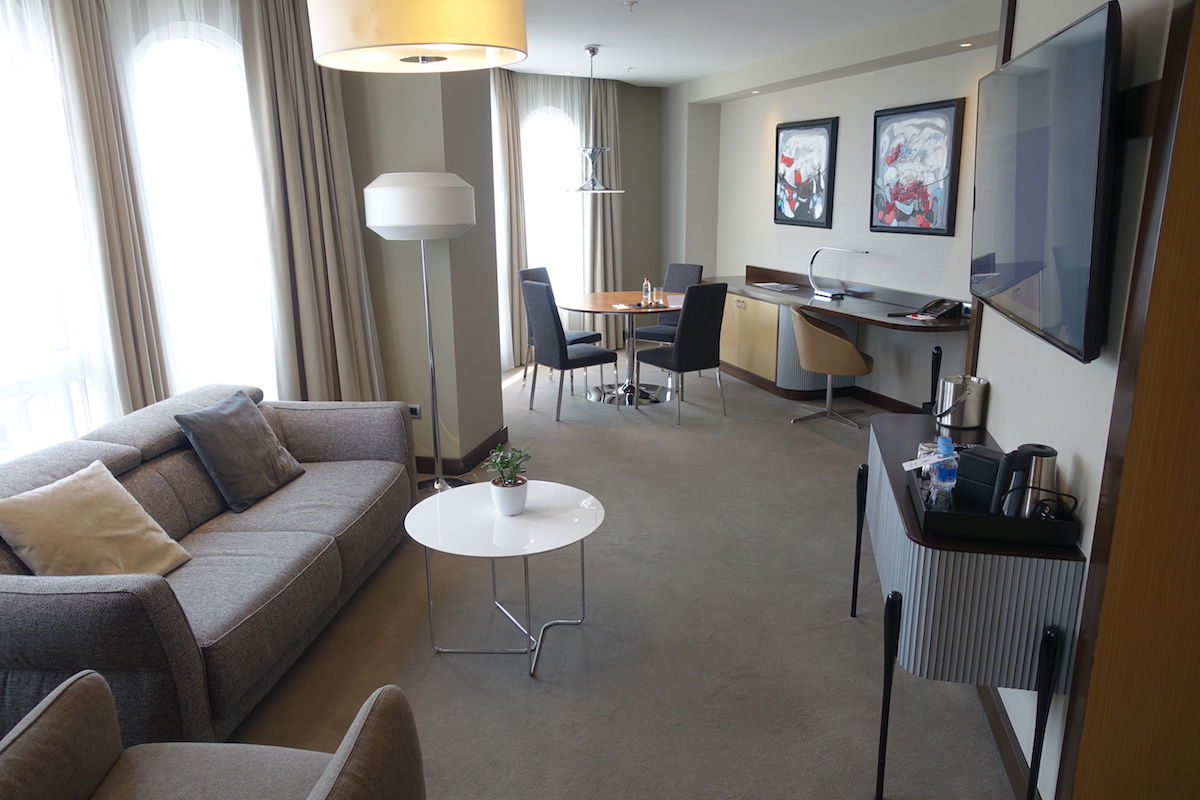 I do well with suite upgrades, especially outside the US
Your24 isn't quite as good as it sounds
Your24 sounds like a cool concept, though I'd note there's a huge catch. It's entirely at the hotel's discretion whether or not to confirm it, and they only do so two days before arrival.
So it's not just subject to availability, but even if a hotel has room, they don't have to grant Your24. For example, this has worked great in a hotel in Abu Dhabi that maybe had 10% occupancy, but I'd almost expect this to never work at a hotel in Europe, if you're trying to check-in early after a transatlantic flight.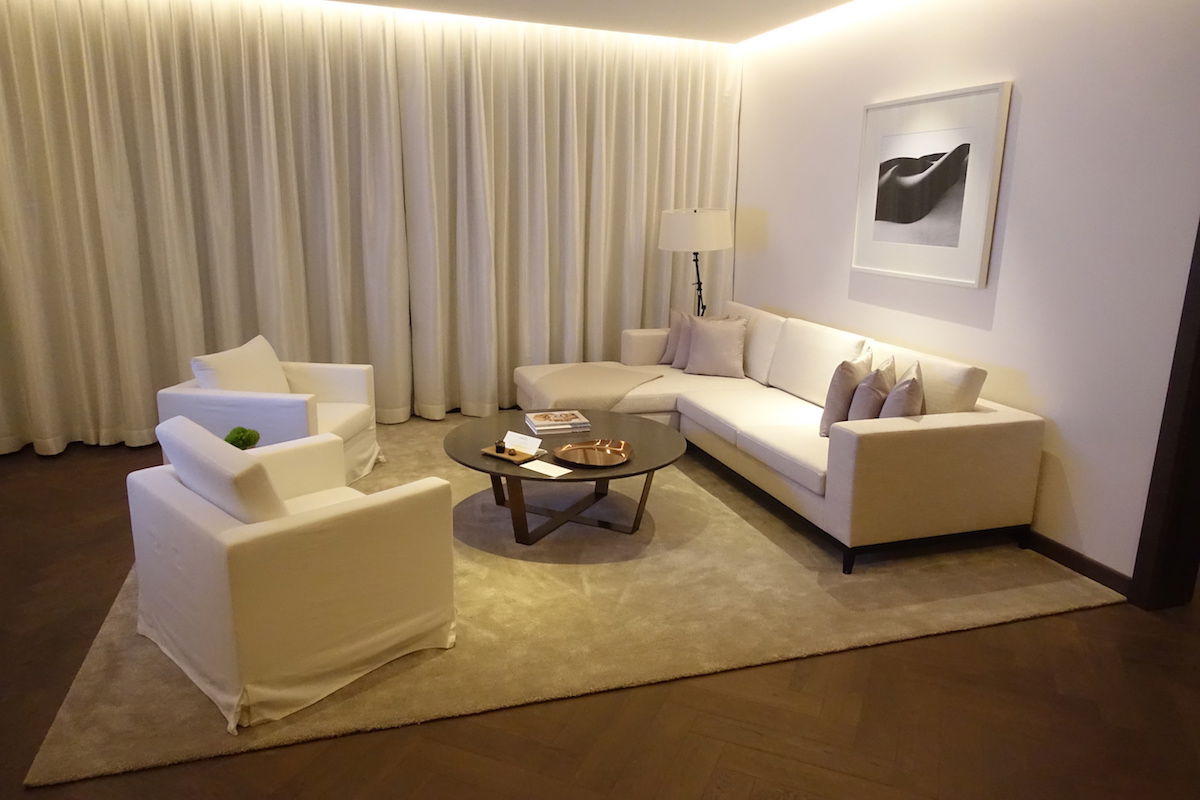 I used Your24 at the EDITION Abu Dhabi
So I'd say this sounds better than it actually is.
Ambassador has been invaluable for navigating the Marriott IT mess
I'd say that Ambassador status has been more valuable the past six months than ever before. As we all know, transitioning to the Marriott Bonvoy program has been a challenge, to put it mildly, and email response times from Marriott, as well as phone hold times, have been really bad.
So being able to just shoot off an email to my Ambassador and have him deal with stuff has been invaluable and has saved me so much time.
What a good Ambassador may do
Okay, let's be more concrete. Like I said, my Ambassador, Mike, is awesome, so what does he do for me?
For one, he surprises me out of nowhere and sends me cute notes that make me smile every so often.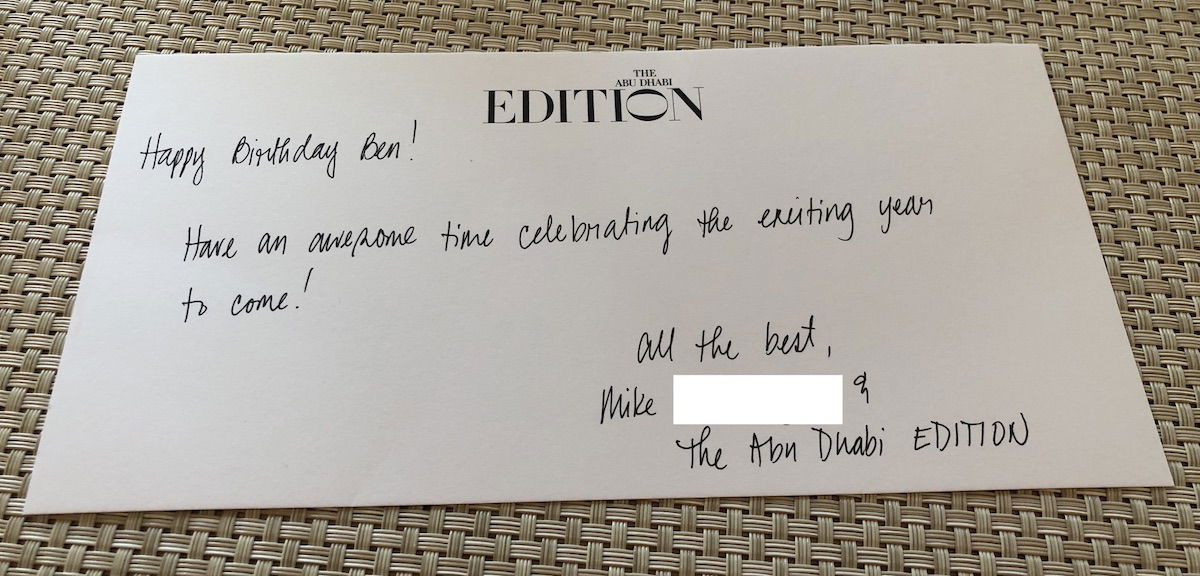 Mike sometimes leaves notes that make me smile
He also often arranges a special welcome amenity. It doesn't happen every stay, but your Ambassador will typically ask what you like in terms of food and drinks, and then maybe every few stays I'll have a customized welcome amenity waiting for me.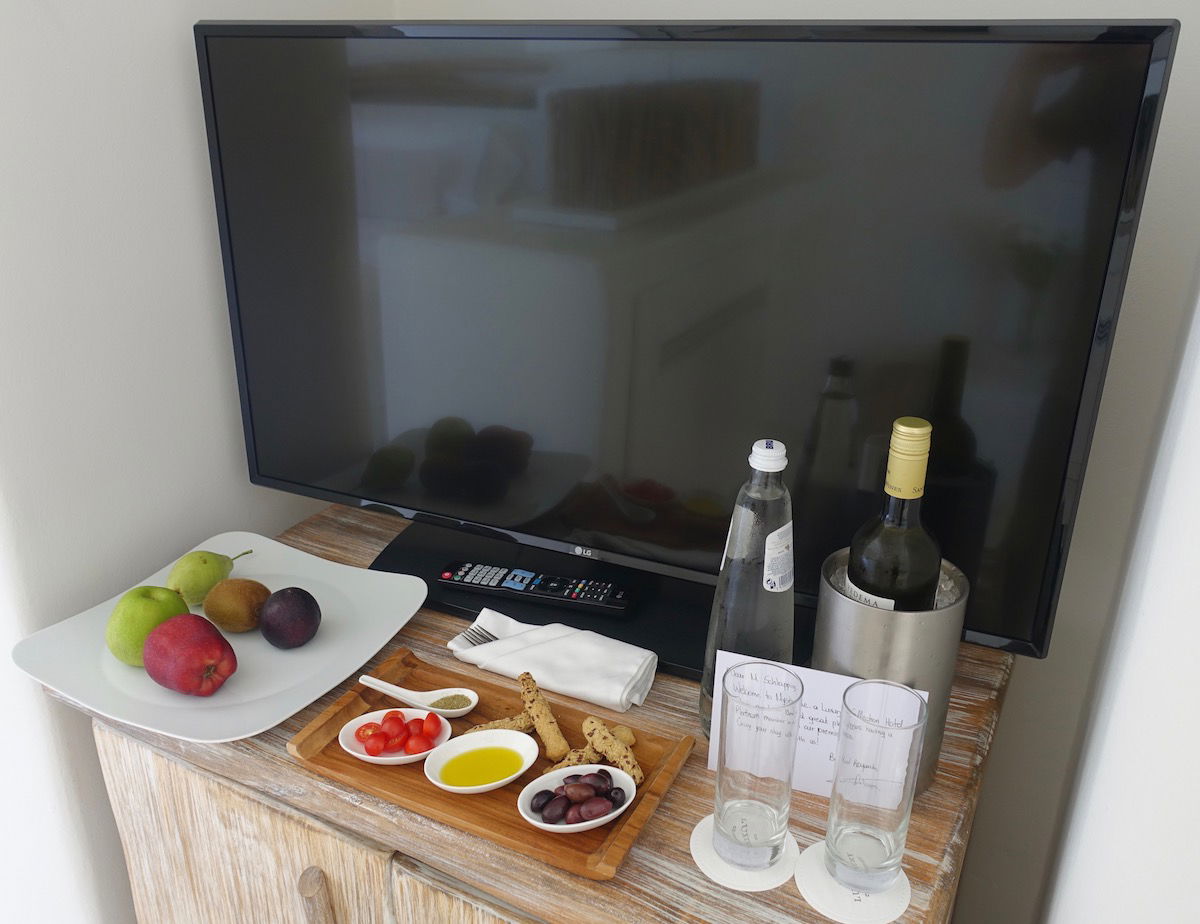 I receive welcome amenities quite often
If a stay doesn't post correctly, Mike always helps me get that fixed right away.
Mike often proactively checks with me before stays to see if there's anything he can do for me.
While it's rare that I ask for anything special, if I do, he's typically able to make it happen (within reason, of course).
Basically, my Ambassador makes me feel like I'm dealing with a really awesome human, rather than a large, faceless company.
Is Ambassador Elite worth it?
Obviously there's no one-size-fits-all answer. It depends on:
How many special requests you have
How good your Ambassador is
How much you'd stay with Marriott otherwise/how much travel you have to switch around to make it happen
I'm lucky in that I have a fantastic Ambassador. I know some other people who have great Ambassadors, and I know people who have bad Ambassadors. With a bad Ambassador I'd say the status is worth very little.
I'd say a good Ambassador makes this a fantastic program, though. Marriott is such a big brand that the experience just feels so impersonal, so to have an awesome single point of contact really is valuable.
Of course that only applies within reason. Is it worth doubling my projected spend for the year to requalify? Probably not. At the same time, if I don't requalify I'll really miss having the privilege of Mike's help.
I'm also lifetime Platinum with Marriott, and the truth is that most of my stays are in cities where I'd probably do well with upgrades even as a Platinum. For example, I'm generally finding myself staying at Marriott properties in Skopje and Minsk, rather than Marriott properties in New York and London.
If you're a Marriott Ambassador member, what has your experience been like?