It's no secret that I love Uber. They're innovating an industry that didn't innovate for decades, where horrible customer service became the norm.
The average Uber experience is exactly the opposite. There's an instant feedback loop where you rate the driver and the driver rates you, so that means everyone is usually on their best behavior.
Uber drivers get kicked out of the system if their rating falls below a certain number, which is why service is typically so good. I tend to take a pretty easy approach to Uber ratings, and in my hundreds and hundreds of rides only ever remember rating five stars. Unless someone is actively bad, I don't want to do anything that threatens the person's livelihood.
Well, for the first time ever I gave an Uber driver one star, and sent an email, because he was an a@$hole and a fraud.
Ford and I were going to LAX to catch a flight at 5AM, and decided to take UberBLACK. I take a mix of UberX and UberBLACK, though in this case we decided to do an UberBLACK. I knew the ride would cost me $70 after a $20 promotion code, which is about the same I'd pay for a taxi.
We got in the car, and the driver wasn't especially friendly to begin with. We wanted to take a specific route to the airport. Uber has a policy that the passenger can specify a route.
We wanted to take the route that was a distance of eight miles shorter, but takes two minutes longer, according to Google Maps. I don't think anyone in their right mind would pay an extra ~$30 to save two minutes.
Ford: "Hi, could you please take _____ to the ____ to the _____."
Driver: "Why?"
Ford: "That's the way I like to go."
Driver: "Why?"
Ford: "That's just our preferred route."
Driver: "Why? That's so stupid."
Me: "Well, it's eight miles shorter and takes about the same amount of time."
Driver: "Hah, well then you people should take UberX."
We were both floored, since this guy was such a condescending idiot. I've never had an issue specifying a route, or been questioned about my preferred route. Most drivers even proactively ask if I have a preferred route.
Throughout the whole ride he'd make snide comments.
"This is going to take forever."
"I can't believe we're going the long way."
"You realize there's going to be a lot of traffic at LAX?"
We were just polite in response, and in a non-passive aggressive way I tried to say "I think it'll be fine, Google Maps says it'll be just 40 minutes, which is the same amount of time it said the other route would take." And that's true, because I've taken a similar route many times before.
We didn't really say much else throughout the ride, and then I got the bill upon arriving at the airport, which was as expected.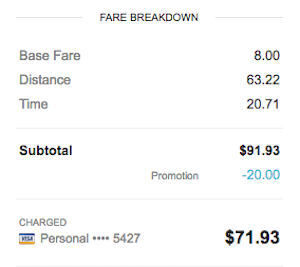 However, a minute later I got a fare correction for an extra $56, as it indicated that we had to pay the vehicle upcharge for having five passengers!!! It was only Ford and me, so that was a complete fabrication.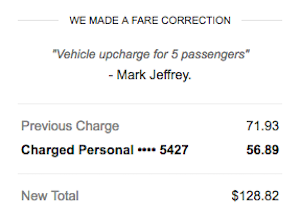 For the first time ever I gave the driver one star, and relayed my experience in the comments section. Within 10 minutes I received a refund of the full amount, which seemed generous.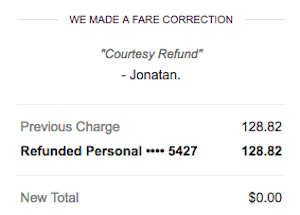 But I just can't get over this. What was the driver thinking?! On so many levels I can't figure this out:
Did he really think we would still give him five stars, or did he not care? You might not like all your customers, but sometimes just suck it up.
The ride took about 40 minutes and was a $91 fare — that's hardly anything to feel bad about
If the driver thought we were being "cheap," did he really not think we'd protest if he outright lied and claimed that there were five people in our car, when there weren't?
This was by far my worst ever Uber experience!
Has anyone experienced similar fraud with an Uber driver?