La Compagnie is the fascinating all business class transatlantic airline that started flying in mid-2014. Their first route was between Paris and Newark, and I was able to review that flight within days of when they launched operations. Last summer La Compagnie launched flights between Newark and London as well.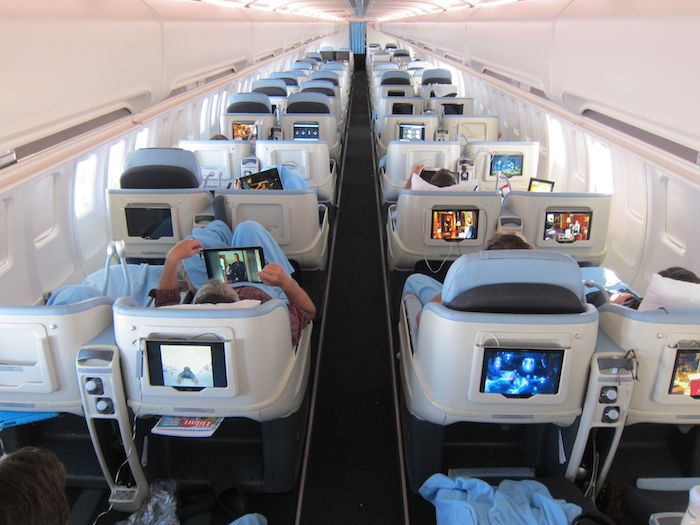 In March La Compagnie claimed they were breaking even on their Paris route, and were still "ramping up" on their London route (in other words, they weren't yet breaking even).
Well, early last month La Compagnie announced that they'd be discontinuing their flight between New York and London because of Brexit. Then La Compagnie announced that they'd instead add a second daily flight between New York and Paris. That's a questionable move, given that they were apparently already only breaking even on the route. By doubling capacity without a corresponding increase in demand, they're undoubtedly going to lower their yields.
There's one thing that's for sure, in my opinion: Brexit or not, if La Compagnie can't make the New York to London route work, there's not any other transatlantic market that they could make work either.
Brian Sumers of Skift published a fascinating interview he had with La Compagnie's CEO. While it's clear that the CEO is a bright guy, I'm kind of in disbelief about how scattered his growth strategy is. If you have the time I'd recommend reading the article. Below I'll share what I consider to be some of the highlights.
Why did La Compagnie pull out of London?
Supposedly London "did work," but they pulled the route because of future uncertainty:
London did work. We were at 77 or 78 percent load factor over the past four months.

We did a deep analysis of every single point, and our conclusion was very clear. We do believe in the British market. We believe in London. But the main problem is that I cannot keep investing into an environment in which I am not sure I will have a place within two years. Clearly, Brexit was not in business plan.
In what other markets could La Compagnie operate?
The CEO makes clear that increasing frequencies between New York and Paris is his top priority. However, after that, the area where he sees opportunities for an all business class airline are a bit puzzling:
I can give you perspective because there are markets that are so strong today that we know they can work — London, Paris, Geneva, Milan, Rome, Frankfurt. That's really clear. But some other cities may become attractive. Bordeaux is not served from America. If you want to go to Bordeaux from New York, you have to go through Paris or London or through Madrid. I think there is still not a market for daily service between New York and Bordeaux but at some point maybe there will be room, if only two or three times per week. Those are the things we are going to look at.

From Paris, hitting the [U.S.] West Coast at some point is something we could do. Hitting some other North American destinations is something we could look at in the future as well. And we cannot stay away from the strong growth in Asia forever.
In other words:
Who are La Compagnie's customers?
The airline thinks their customer base consists 40% of people who flew economy before, and now they spend an extra few hundred dollars to fly business class, while the other 60% of people flew business class before, and now save money by flying La Compagnie:
La Compagnie is addressing a population of business travelers traveling already in business class and of coach travelers willing to pay a bit more to upgrade themselves into business class. About 40 percent of our passengers were not traveling in business before La Compagnie. They were traveling coach. For a few hundred dollars more, they can get a bed and travel much more comfortable. So they travel with us.

Then you have 60 percent of our customers. They used to travel business class before. And with La Compagnie they spend an average of $2,000 to 2,500 per person less. So you have the two types of customers making up the customer base.
Why doesn't La Compagnie have fully flat seats?
I really think La Compagnie made a mistake by not installing fully flat beds. I get that they're a low cost carrier, but the simple reality is that they're not running a 100% load factor, and they could easily charge higher fares if they had fully flat beds. I suspect the real reason is because buying fully flat seats would have been significantly more expensive than the angled seats they got on the secondhand market. However, here's their explanation:
We did it for an easy reason — to put a little bit more seats in the plane and to keep our prices low. Now with the new generation of airplanes we are looking at and which we commit to over the next months, the seats we are looking at for the future will be horizontal. The technology has evolved. That's something we are very happy with.
Suggesting that "the technology has evolved" in the two years they've been in business seems like a bit of a stretch…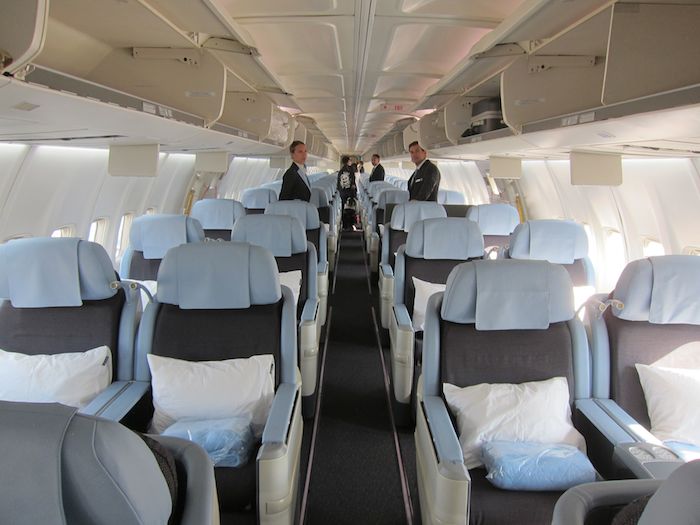 Did La Compagnie sell their "all you can jet" passes?
A couple of months ago La Compagnie tried to sell "all you can jet passes" for a year, which cost $35,000. I've been wondering if they sold these, so here's what the airline's CEO has to say:
We sold a few. I was surprised to sell those passes. I cannot disclose any particular numbers but we sold most of them. Not the 10, but most of them.
I do wish they had asked a follow-up question about what happened with these passes when La Compagnie cut their London route.
Bottom line
It's clear that La Compagnie is taking a more modest growth strategy than they initially planned to. Even so, I can't imagine them increasing service between New York and Paris will end well for them, as it will likely lead to lower load factors and worse yields.
I still can't really wrap my head around the markets where the CEO sees growth potential, though. New York to London and New York to Paris are the two transatlantic markets that are most premium heavy. Could an all business class airline really thrive to Frankfurt, Bordeaux, Rome, Milan, etc.? After all, an all business class airline can only hope to capture a small percentage of the overall market share.
I'll be curious to see what this airline looks like in a couple of years… if it's still around.