La Compagnie is the all business class transatlantic airline that started flying in mid-2014. Their first route was between Paris and Newark, and I was able to review that flight within days of when they launched operations. Last summer La Compagnie launched flights between Newark and London as well.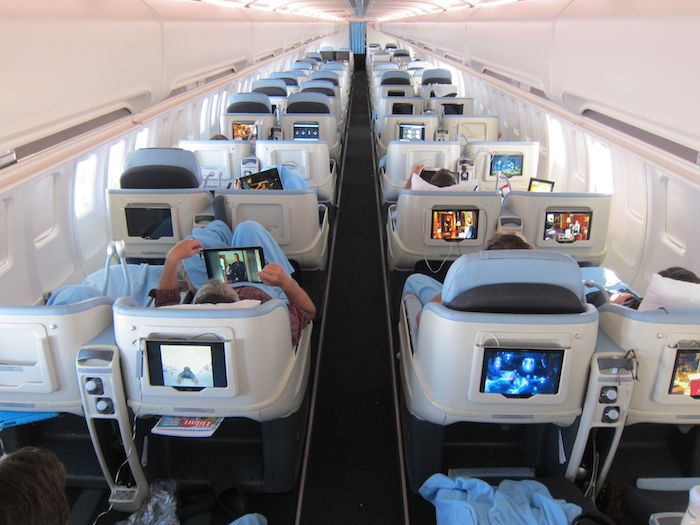 In March La Compagnie claimed they were breaking even on their Paris route, and were still "ramping up" on their London route (in other words, they weren't yet breaking even).
Well, earlier this month La Compagnie announced that they'd be discontinuing their flight between New York and London because of Brexit. That seemed like a convenient excuse, especially since we haven't seen demand shift very much in the short term. If anything, you'd think La Compagnie would thrive under those conditions, given that the route was largely targeted at New Yorkers looking to go to London.
When the airline announced that they'd be discontinuing the route, they said they'd be using that plane to now launch a second daily flight between New York and Paris. Well, I just received an email from La Compagnie about this second daily flight, and they have $1,400 roundtrip all-in fares to celebrate it. As I've long said, La Compagnie has an incredible proposition, though their operational reliability leaves a bit to be desired.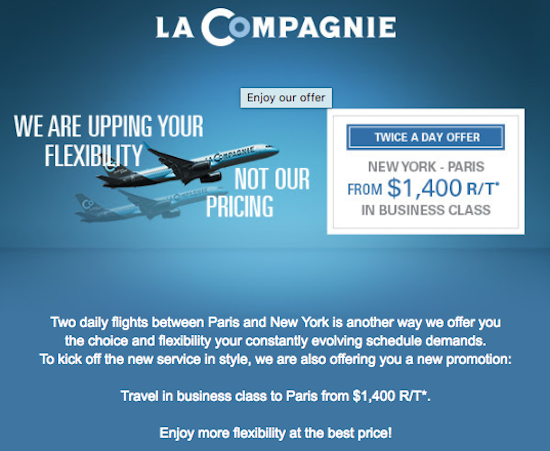 The catch is that they're not actually offering twice daily flights. Best I can tell, sometimes they're operating 7x flights per week, sometimes they're operating 9x flights per week, and sometimes they're operating 11x flights per week. Fair enough, they sometimes need some leeway in their schedule for maintenance, etc.
For example, starting next February they're operating their normal once daily flight, and then an additional frequency on Fridays, Saturdays, Sundays, and Mondays, with the following schedule:
B0102 Paris to Newark departing 12:55PM arriving 3:30PM
B0103 Newark to Paris departing 9:30PM arriving 10:20AM (+1 day)
But those are their absolute peak frequencies. Other weeks they're just doing one flight a day.
I'll admit that La Compagnie has made it longer than I was expecting. When the concept was first unveiled, I gave them six months. However, they've had very favorable conditions in terms of oil prices, so in retrospect I'm not surprised they've made it this long.
However, at this point I have to wonder what their strategy is:
They claim they're breaking even on one daily flight between New York and Paris
Adding a second daily frequency will unarguably lower their yields, given that demand for their service isn't doubling overnight
On top of that, some weeks the second plane is just sitting around, other weeks it's operating two roundtrip flights, and other weeks it's operating four roundtrip flights; while I know they have favorable lease terms and occasionally planes need maintenance, parking a plane is expensive, both in terms of the actual parking costs, and also in terms of paying for the lease without generating any revenue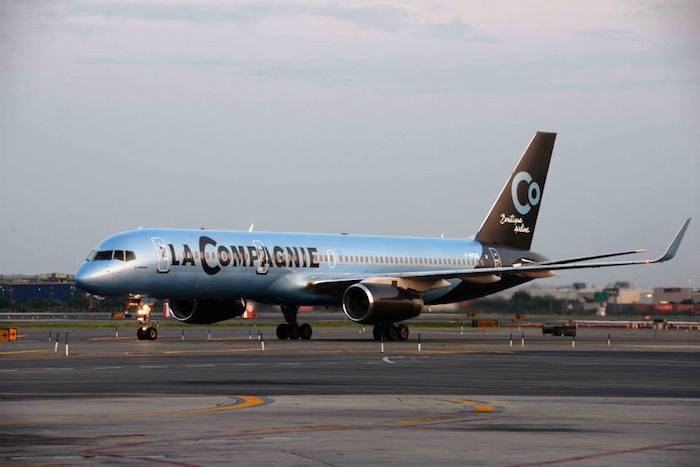 The airline has lofty expansion goals, and earlier in the year claimed they were working on acquiring an additional Boeing aircraft, which was set to join the fleet in 2017. However, I have a hard time imagining that will actually happen.
While they've talked a lot about their expansion plans, you'd think that they would use their second plane to make that happen, rather than putting it on a route where it will significantly reduce their yields.
Keep in mind that recently La Compagnie sold an "all you can jet" pass, where you could buy a pass for $35,000 that gets you unlimited flying for a year. Many thought this was a desperate attempt for a cash strapped airline. I thought it was actually creative, and assumed they were doing it to generate some publicity, and that it would be mutually beneficial given that they have empty seats. Then weeks later they cut their London flight, so maybe it was in fact a desperate measure.
Given the above, it sure looks to me like La Compagnie's days may be numbered…
What do you think of the future of La Compagnie?