It's the end of an era. As flagged by @ameeriklane, American Express will be discontinuing its lifestyle magazine, Departures…
Amex Departures is shutting down as of January 2024
Effective January 1, 2024, Departures will no longer be available. Card members will no longer have access to departures.com content or receive any Departures magazines.
For context, Departures is Amex's lifestyle magazine, with a focus on luxury and travel. It's intended specifically for those with the Amex Platinum and Amex Centurion products.
Departures has quite the interesting history, as it started all the way back in 1984. Up until 2013, the magazine was published by American Express Publishing. Then it was sold to Time Inc., along with Travel + Leisure. Then in 2017, Meredith Corporation purchased the magazine portfolio of Time Inc., including Departures. Throughout this time, a publishing agreement continued with American Express.
Then in March 2021, it was announced that Departures would no longer be a print publication, but rather would transition to a digital magazine. Furthermore, at the time, Amex brought publishing of the digital magazine in-house, as it ended its publishing agreement with Meredith Corporation.
I can't vouch for the accuracy of this statement, but the New York Post (okay, so it's probably not accurate) claims that Departures generated roughly $50 million per year in revenue at its peak.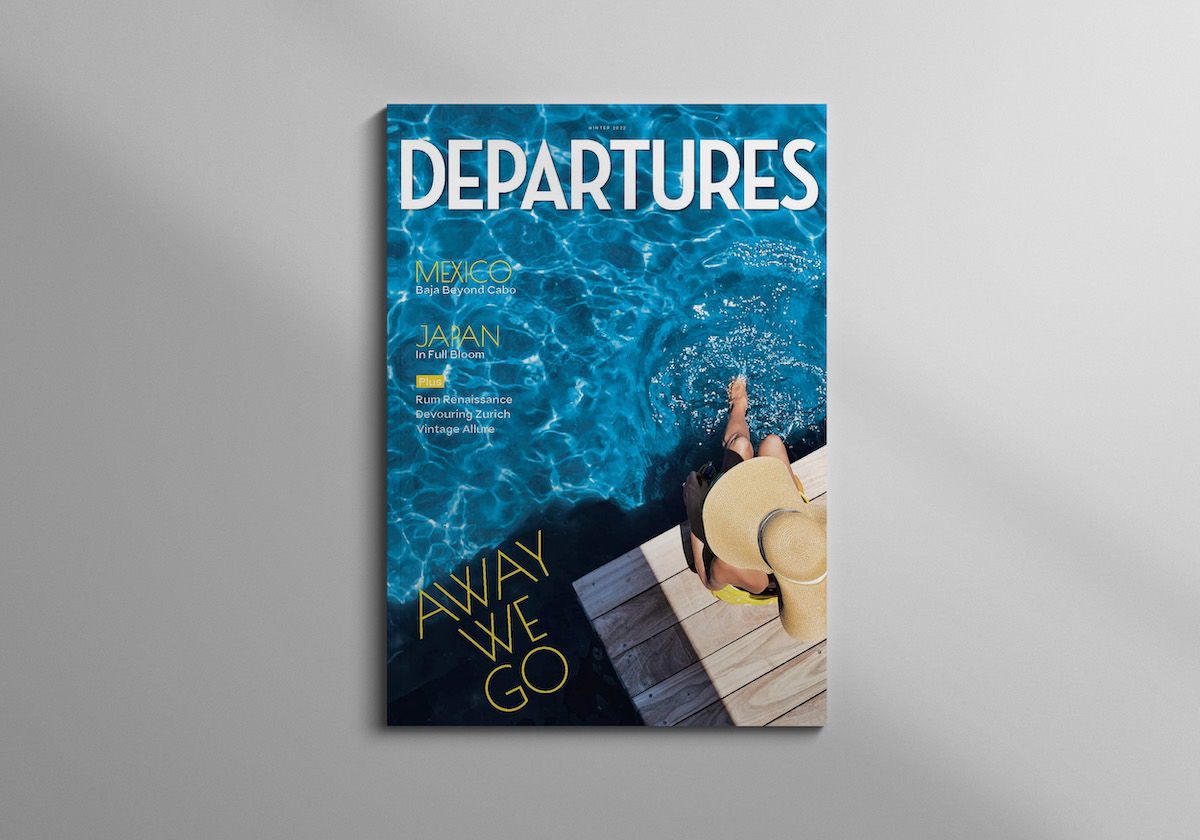 My thoughts on Departures being discontinued
I remember how much I'd love reading Departures Magazine as a teenager. Every time it arrived in the mail, I'd flip through every page, and dream of all the places I'd love to visit some day. Yes, the magazine felt like it was mostly ads, but it had lots of pretty pictures of beautiful destinations and luxury hotels, and it was an era where the internet wasn't quite as popular of a resource for travel.
It's interesting that Amex couldn't find a way to make Departures work. After all, the customer base for Departures is large and quite affluent, so you'd think it would be easy to sell lucrative ads. However, I also see how this happened.
During the first year of the pandemic, we saw several travel print publications (including many inflight magazines) discontinued, as people wondered if travel would ever rebound. So I understand why the decision was made to go digital at that point. The issue is, once Departures went exclusively digital, it was competing directly with a lot more websites.
It's one thing to flip through Departures Magazine when it's sitting on your coffee table or kitchen counter. It's a whole different thing to actually go to the Departures website, log-in with your account, and choose to read the stories there, rather than going to another travel site with a similar focus.
For what it's worth, traffic data suggests that the departures.com site gets an average of somewhere around 250K page views per month. The "about" page of the Departures site lists nearly 50 people working at the company, so I can understand how it's probably not a very profitable venture at this point.

Bottom line
After 40 years, Amex's Departures publication will be ending. Until a few years ago, this was a magazine that Amex Platinum and Centurion card members were mailed. As of 2021, Departures transitioned to being online only. Unfortunately I think the concept lost most steam at that point, and now Amex is pulling the plug.
What do you make of Amex Departures being discontinued?