One of the more interesting political airline stories of last year involved Kuwait Airways' fifth freedom flight between London and New York. Kuwait Airways operated a flight from Kuwait to London to New York, and had pick-up rights in London, meaning you could fly them between the US and UK.
While their product is extremely uncompetitive, you couldn't argue with their excellent business class pricing, which was consistently the lowest in the market.
Last year Kuwait Airways was forced to stop selling seats on their flight between London and New York, though. This was due to a case from 2013, where a passenger with an Israeli passport traveling between New York and London was refused boarding. He booked the ticket through Priceline (which allowed him to enter his Israeli passport information) as an Air India codeshare flight.
Kuwait Airways refused to transport him, claiming they were just following Kuwaiti law, which prohibits its citizens from entering "into an agreement, personally or indirectly, with entities or persons residing in Israel, or with Israeli citizenship."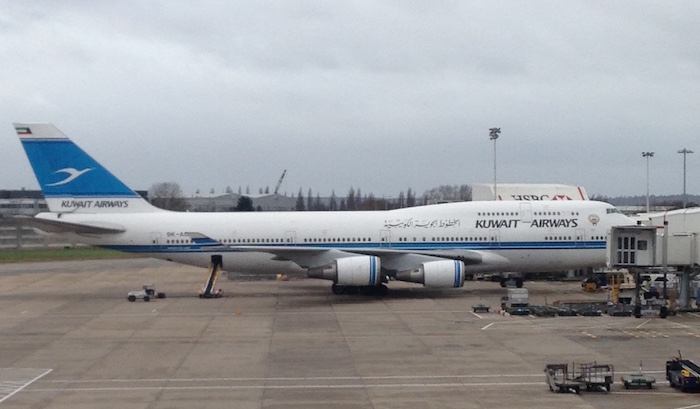 Kuwait Airways 747
This contradicts US law, which states that airlines "may not subject a person, place, port or type of traffic in foreign air transportation to unreasonable discrimination."
The legal question became what constitutes "unreasonable discrimination." The DOT came to a ruling on that late last year, when they decided that Kuwait Airways was in fact engaging in discrimination. This meant they had to stop selling tickets on their route between London and New York, since it was ruled that this was unreasonable discrimination when a Kuwaiti company is operating flights between the US and UK.
Meanwhile Kuwait Airways was allowed to continue to operate their Kuwait to New York flight, since it's a national policy as opposed to an airline policy. In other words, since someone can't enter Kuwait on an Israeli passport, it wasn't considered unreasonable discrimination.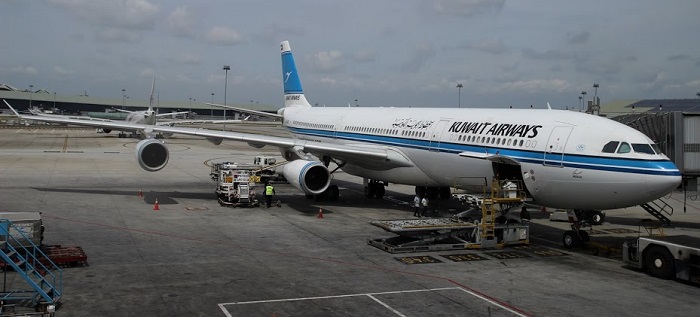 Kuwait Airways A340
Interestingly Kuwait Airways continued to operate their Kuwait City to London to New York flight 3x weekly, in addition to their 3x weekly nonstop flight between Kuwait and New York. By routing through London they had the opportunity to sell tickets from Kuwait to London and from Kuwait to New York (via London) on the same flight, though obviously couldn't sell tickets on the London to New York flight alone. As a result, the transatlantic flight tended to be quite empty.
Well, Kuwait Airways will finally be discontinuing their flight between London and New York. Per routesonline.com, Kuwait Airways will operate all 6x weekly flights between Kuwait and New York nonstop as of October 30, 2016. The flight will operate with the following schedule:
KU117 Kuwait to New York departing 10:05AM arriving 4:20PM
KU118 New York to Kuwait departing 7:30PM arriving 3:30PM (+1 day)
I might just have to try this flight soon. As you guys know, I'd like to fly Biman Bangladesh from London to Dhaka, and it looks like Kuwait Airways has some great business class fares from there back to the US:
First class fares aren't much worse either:
While I don't know about the soft product (hopefully it's better than Saudia's), Kuwait Airways' 777 business & first class cabins are so outdated. While I know they don't have wifi, perhaps they'll have a fax machine?