Back in June of last year Aerolineas Argentinas was added as a Delta SkyMiles partner. More saver options are always a good thing, though I haven't heard great things about Aerolineas Argentinas.
As of now their only route to the US is from Miami to Buenos Aires, and one of the cooler aspects of flying with them is that using Delta SkyMiles you can route from Miami to Sydney via Buenos Aires, with a stopover if you'd like. So I've been toying with the idea of doing a Delta award from the US to Australia via Buenos Aires in one direction, and via Guangzhou on China Southern in the other direction.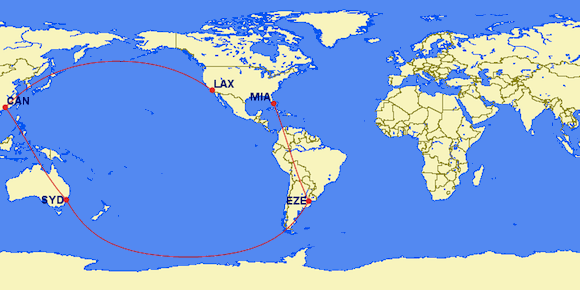 After my experience on LOT I've been tempted to try more non-premium airlines in order to improve my knowledge of different types of alcohol, and Aerolineas Argentinas seems like a great option.
I was doing some research on their "Club Condor Class," and you know it's a bad sign when their website doesn't even have a picture of their business class seat. There is an excellent video of the product on YouTube, though:
Their entire page describing Club Condor Class is pure gold, starting with this: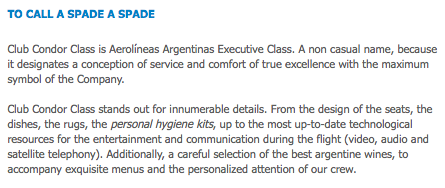 If we're going to "call a spade a spade," I think there's a different way we can describe the product. 😉
Their "Comfort on Board" section is even better though:
Seats with ample space among them. They have headrests of adjustable height footrest with various positions.
Okay, cool.
Each seat has a screen of individual video, where you will be able to enjoy four movies, previews or just opened in Argentina, in stereo.
Four movies? With that kind of selection how am I supposed to decide?!
The audio system has 12 channels with the most varied musical genders.
The more genders the merrier!
You will be able to make satellite phone calls through an individual telephone from your seat, paying with your credit card, to a cost of U$S 7.50 per minute. If you wish to send a fax, you will be to request it to the crew to a cost of u$s 7.50 per page.
And this is probably my favorite part! Forget in-flight Wi-Fi, I could fax in blog posts during my 15hr50min flight from Buenos Aires to Sydney (did anyone know an A340-300 could even fly that far?).
So, is this a flight y'all would enjoy reading about?