Kuwait Airways has a unique flight between New York JFK and London, which continues onwards to Kuwait City.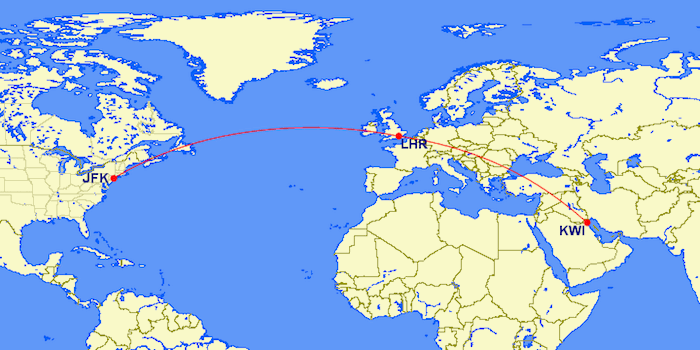 Kuwait Airways has a terrible first & business class product, though their premium fares tend to represent a really good value, and are substantially below industry norms. So I've always been intrigued by flying with them.

There was a story which went mainstream back in 2013, in which an Israeli passenger was refused travel on this Kuwait Airways flight between New York and London. He had purchased his ticket through Priceline, where he was sold the flight as an Air India codeshare flight (meaning it had an Air India flight number and was operated by Kuwait Airways).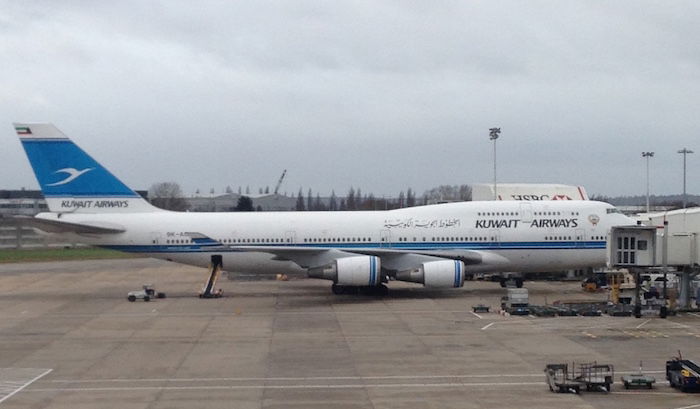 He didn't realize he would be denied boarding on those grounds. While Kuwait Airways' website doesn't even give the option of entering an Israeli passport on the booking page, Priceline let him book it without a problem.
At the time, the Department of Transportation determined that Kuwait Airways was in fact engaging in discrimination, despite the airline's defense that they were just following Kuwaiti law, which prohibits its citizens from entering "into an agreement, personally or indirectly, with entities or persons residing in Israel, or with Israeli citizenship."
US law states that airlines "may not subject a person, place, port or type of traffic in foreign air transportation to unreasonable discrimination."
Here's what was decided in the case, per USA Today:
In a January 2014 filing dealing with Gatt's complaints, the airline claims that it doesn't violate U.S. law and doesn't discriminate based on race, ethnicity, nationality or religion because it is simply following Kuwait law's prohibition.

"Kuwait Airways respectfully submits that it has not violated the above statute," said the filing from Evelyn Sahr and Kathryn Moore, lawyers in Washington, D.C., representing the airline. "All Kuwait Airways passengers are treated equally within the requirements of applicable laws."

The department concluded that Kuwait Airways discriminated. In a letter to the airline, the department said Kuwait Airlines must comply with U.S. laws forbidding discrimination in exchange for access to U.S. facilities.

"It is our duty to ensure that the transportation system is free of discrimination. Period," Transportation Secretary Anthony Foxx said in announcing the letter.
Well, it seems the DOT and Kuwait Airways couldn't come to an agreement, as Kuwait Airways is cancelling their New York to London flight effective immediately. The flight is no longer bookable on kuwaitairways.com.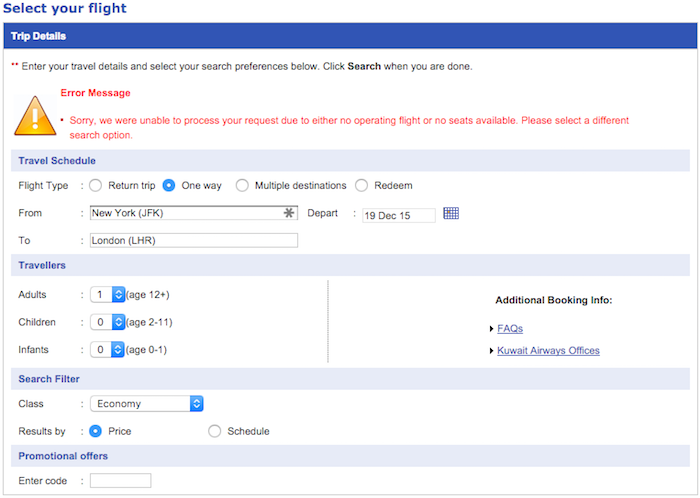 Via USA Today:
"Today, Kuwait Airways informed the U.S. DOT that they will be eliminating service between JFK and London Heathrow," Namrata Kolachalam, a department spokeswoman, said Tuesday.

"It is unfortunate that Kuwait Airways has decided to suspend its service, instead of accepting Israeli citizens as passengers," said Jeffrey Lovitky, a Washington lawyer representing Eldad Gatt, who was refused a ticket because of the policy. "This demonstrates Kuwait's stubborn refusal to give up its boycott of Israeli citizens."
Kuwait Airways is allowed to continue their nonstop flights between New York and Kuwait City, but isn't allowed to refuse transport to Israeli citizens between the US and any third country where they are allowed to disembark. Since those with Israeli passports can't disembark in Kuwait City, that route is allowed to continue.
Bottom line
This is probably the most serious "discrimination" case we've seen when it comes to airlines transporting passengers. I think the DOT is spot on here. As much as I disagree with a country denying someone entry based on their passport, I see how that logic can hold up when it comes to the legality of air travel. Meanwhile it's much tougher for Kuwait Airways to argue that there's no discrimination when someone is traveling between two countries where their passport is considered valid. That's just plain stubborn and objectively discriminatory.
What do you make of the DOT's ruling, and Kuwait Airways cutting their flight between New York and London?