Update: Read my full KLM Business Class 787 Amsterdam To New York review.
After a great week in Sri Lanka, we returned to the US by flying SriLankan's A321neo business class from Colombo to Abu Dhabi, KLM's A330 business class from Abu Dhabi to Amsterdam, and KLM's 787 business class from Amsterdam to New York (this was a discounted one-way business class ticket).
In this post I wanted to share my initial impressions of that last flight, on KLM's 787-9 from Amsterdam to New York.
KLM 787 business class cabin & seats
KLM has their best business class product on the 787-9, as it's the only plane in their fleet to feature direct aisle access from every business class seat. Specifically, they have 30 reverse herringbone seats in the forward cabin, in a 1-2-1 configuration.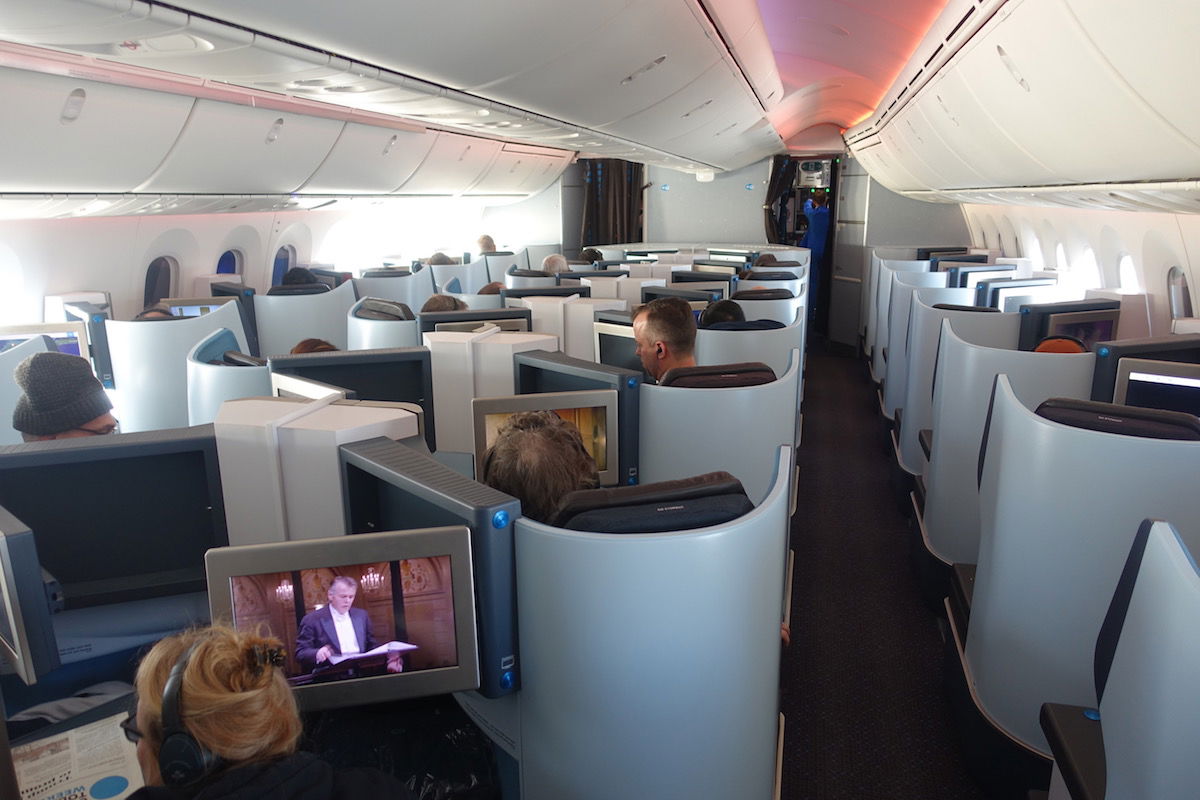 I'm a big fan of KLM's seat finishes. The airline sure sticks to their blue theme in a non-obnoxious way, and I like that. The seat has an enclosed storage compartment to the side of it, and the footwell is also quite large.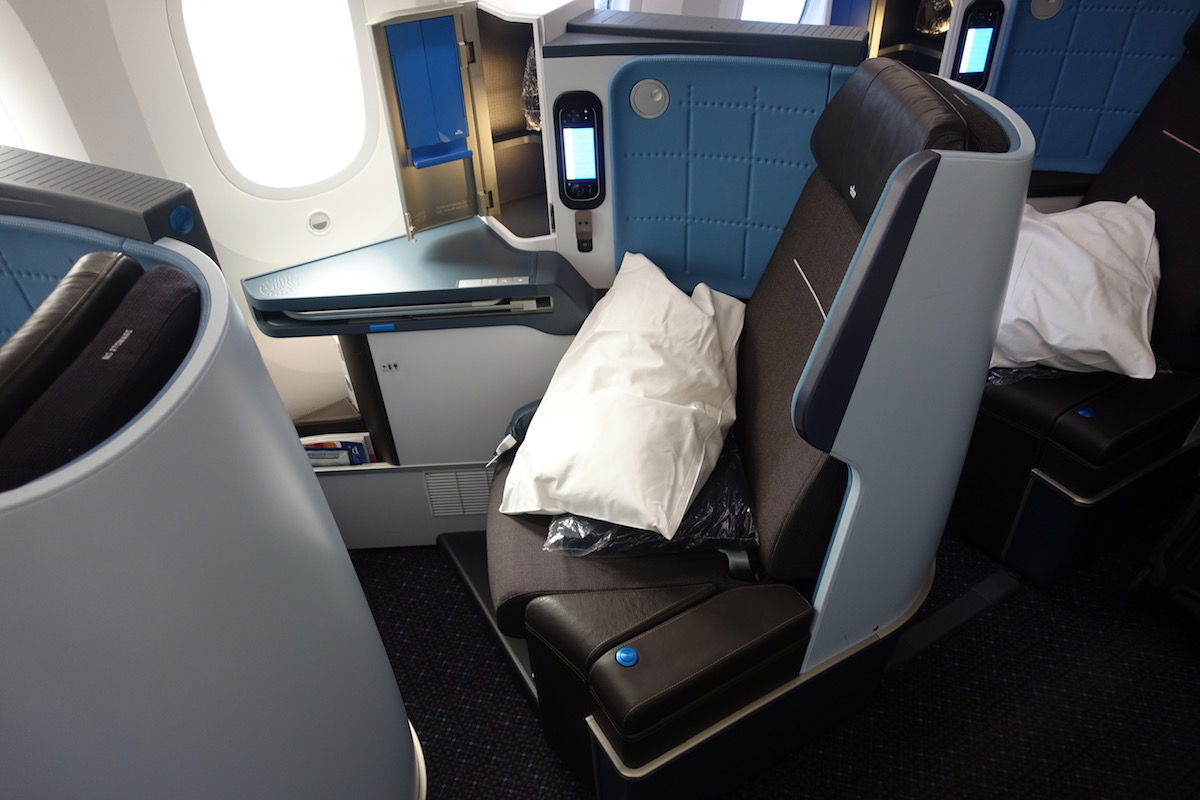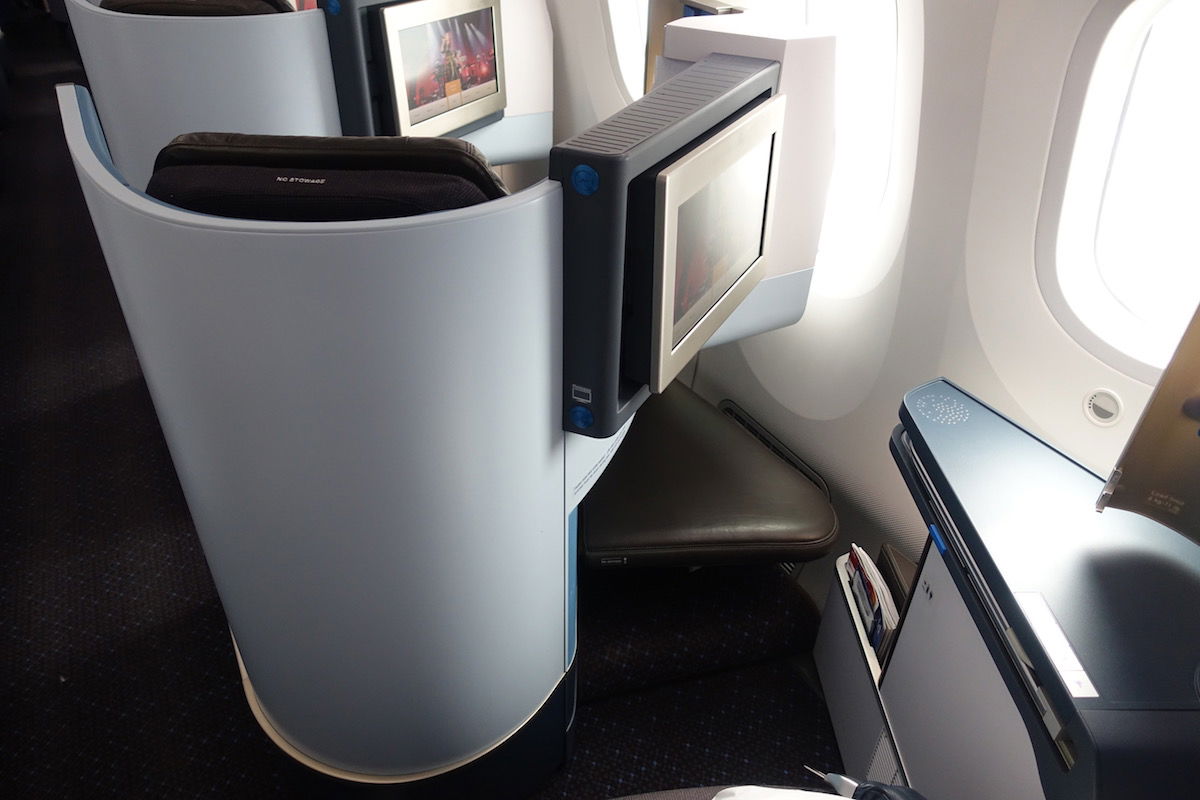 I found the seat comfortable in the reclined position, though I did find that it was just a bit on the narrow side, as is often the case with this configuration on the 787, since the cabin isn't quite as wide as the 777.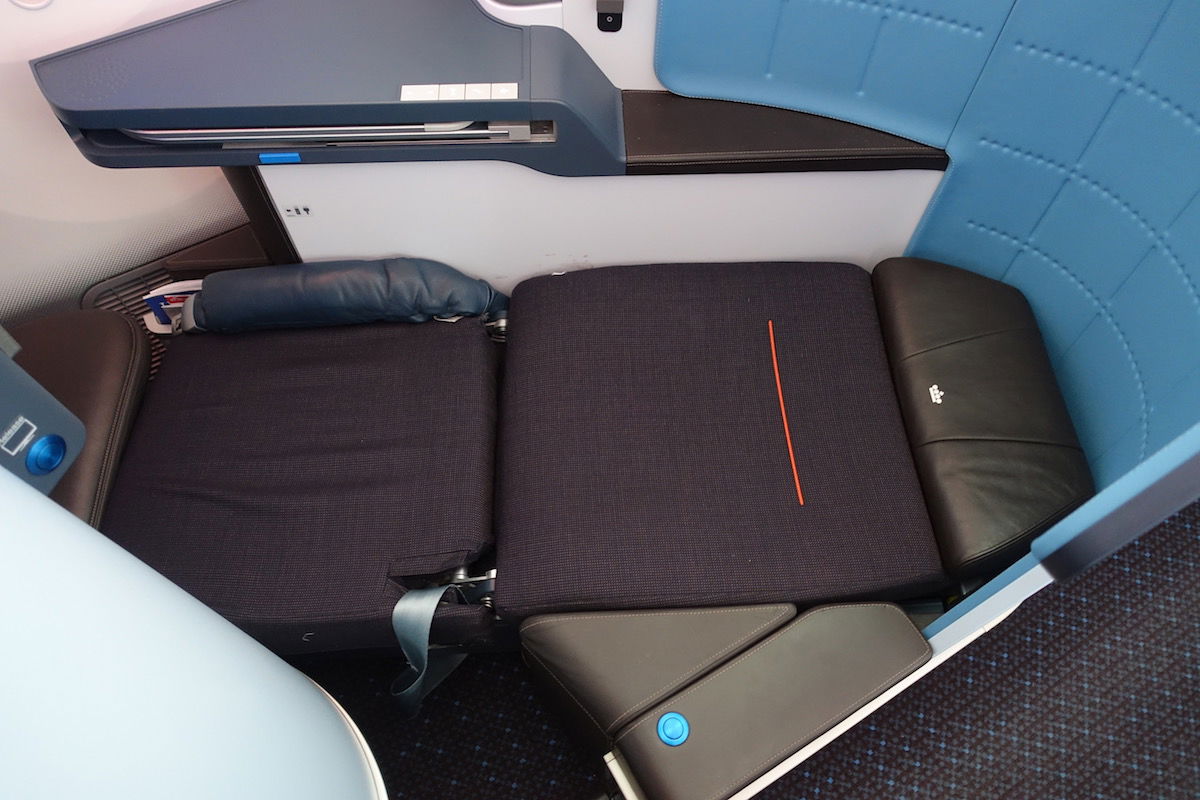 Each seat also has an individual air nozzle, which is nice.
KLM business class food
On this flight lunch was served after takeoff. Service began with drinks, along with mixed nuts and/or cheese. I had KLM's signature cocktail, The Flying Dutchman.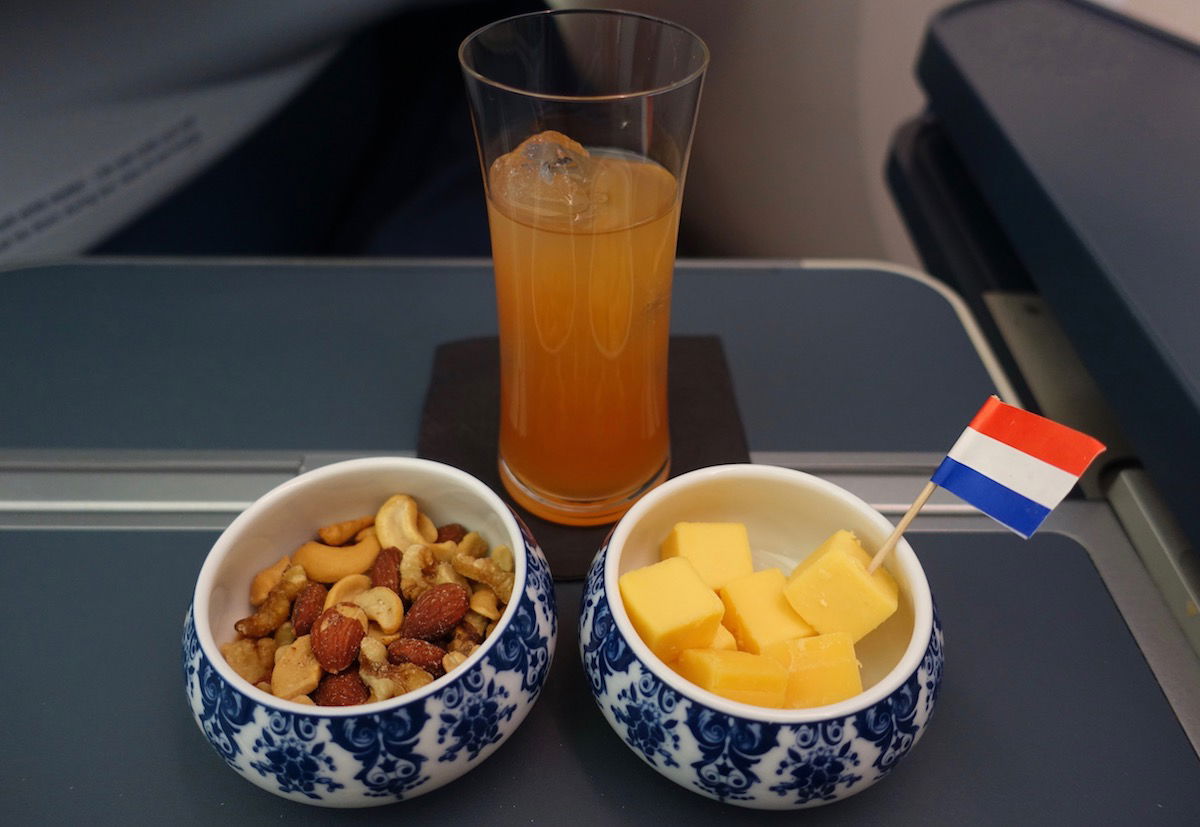 Next up was the choice of an appetizer or soup, along with a salad. I chose the sweet potato curry soup, which was very good.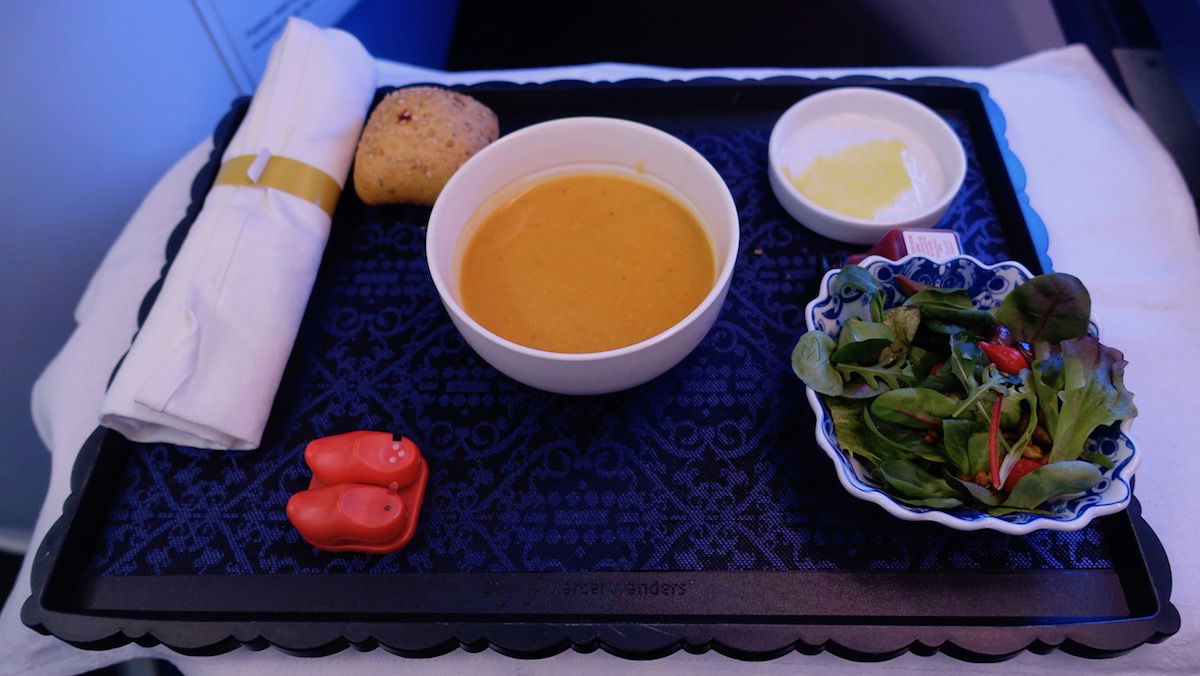 There were three choices for the main course (salmon, chicken thigh, and braised veal), two of which weren't appealing to me. I ordered the salmon but they didn't have enough. While they didn't tell me I had to change orders, the friendly flight attendants came around asking for "volunteers" to switch, so I agreed.
I switched to the chicken thigh option, which I didn't like at all, but that's a function of personal preference.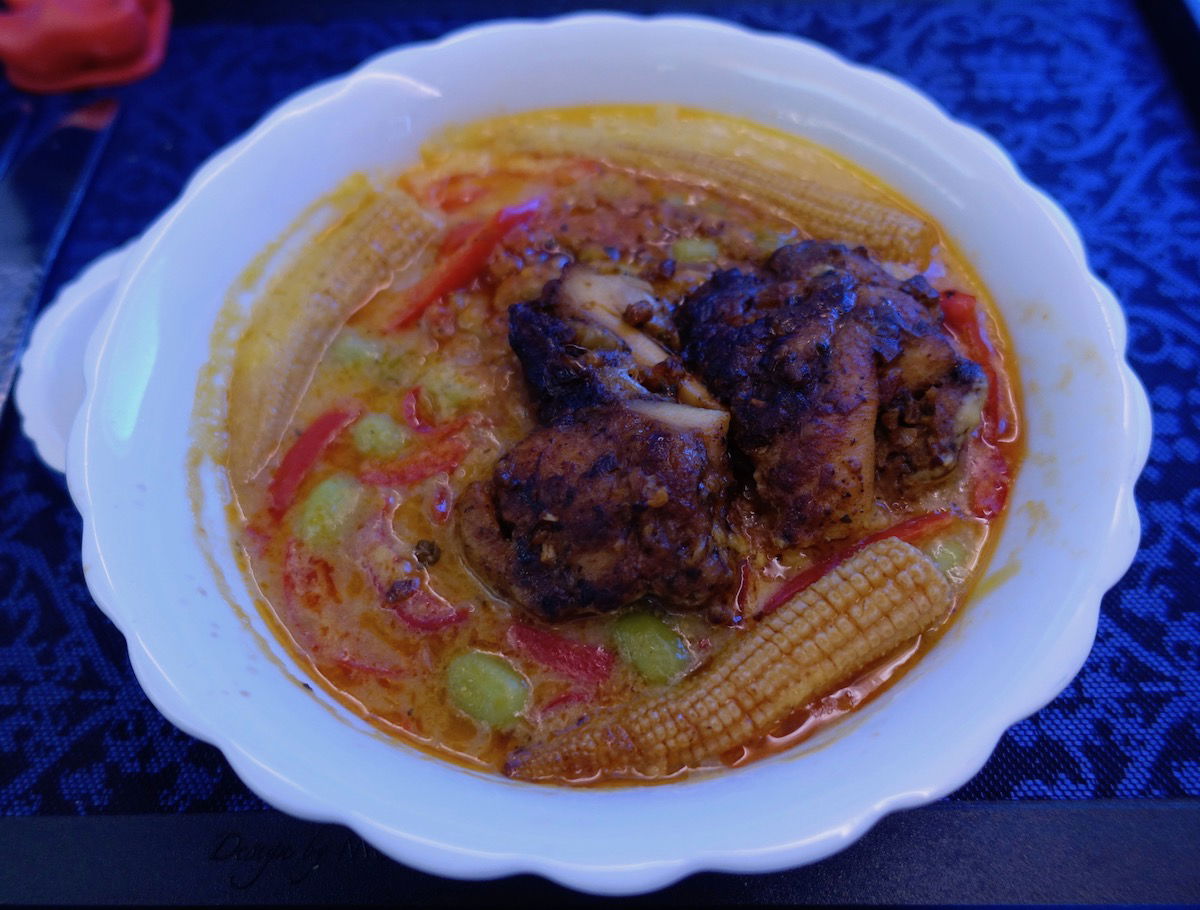 Lastly there was the choice of a fruit plate, cheese plate, or a citrus mousse for dessert. I chose the citrus mousse, along with a coffee.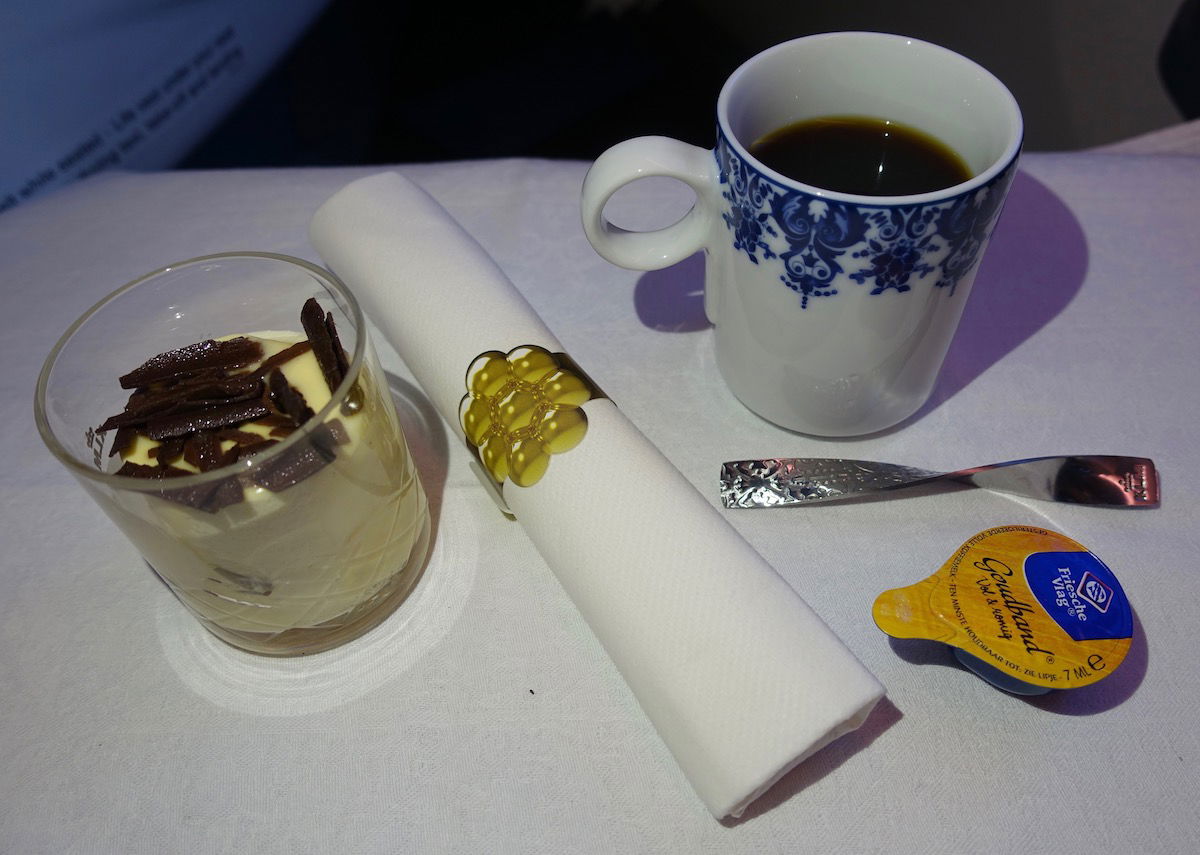 Just under two hours before landing a pre-arrival snack was served, with the choice of a steak sandwich or a pizza margherita.

There was a chocolate lava cake for dessert.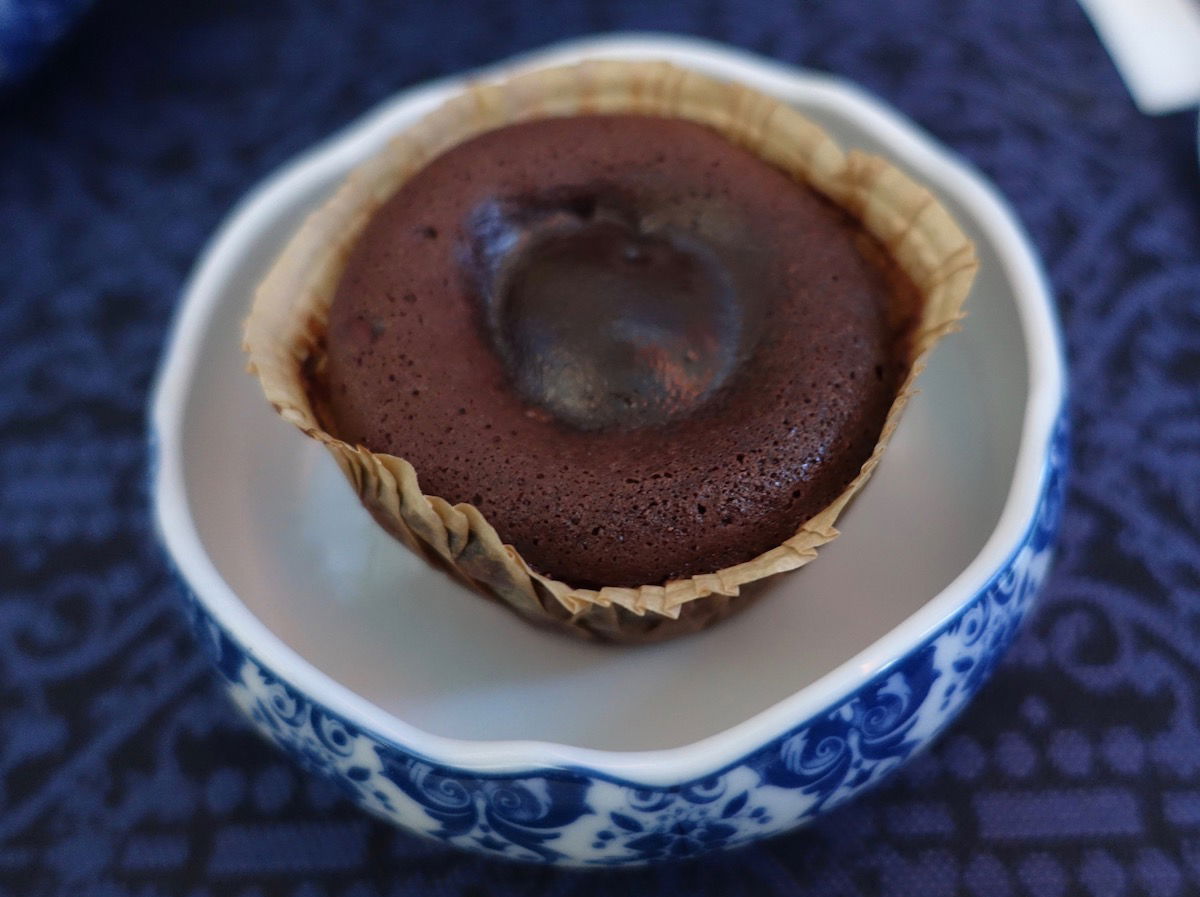 Overall I'd say the food was unremarkable. I enjoyed the soup and dessert, while the mains were disappointing.
KLM business class amenities
KLM has alright pillows and blankets.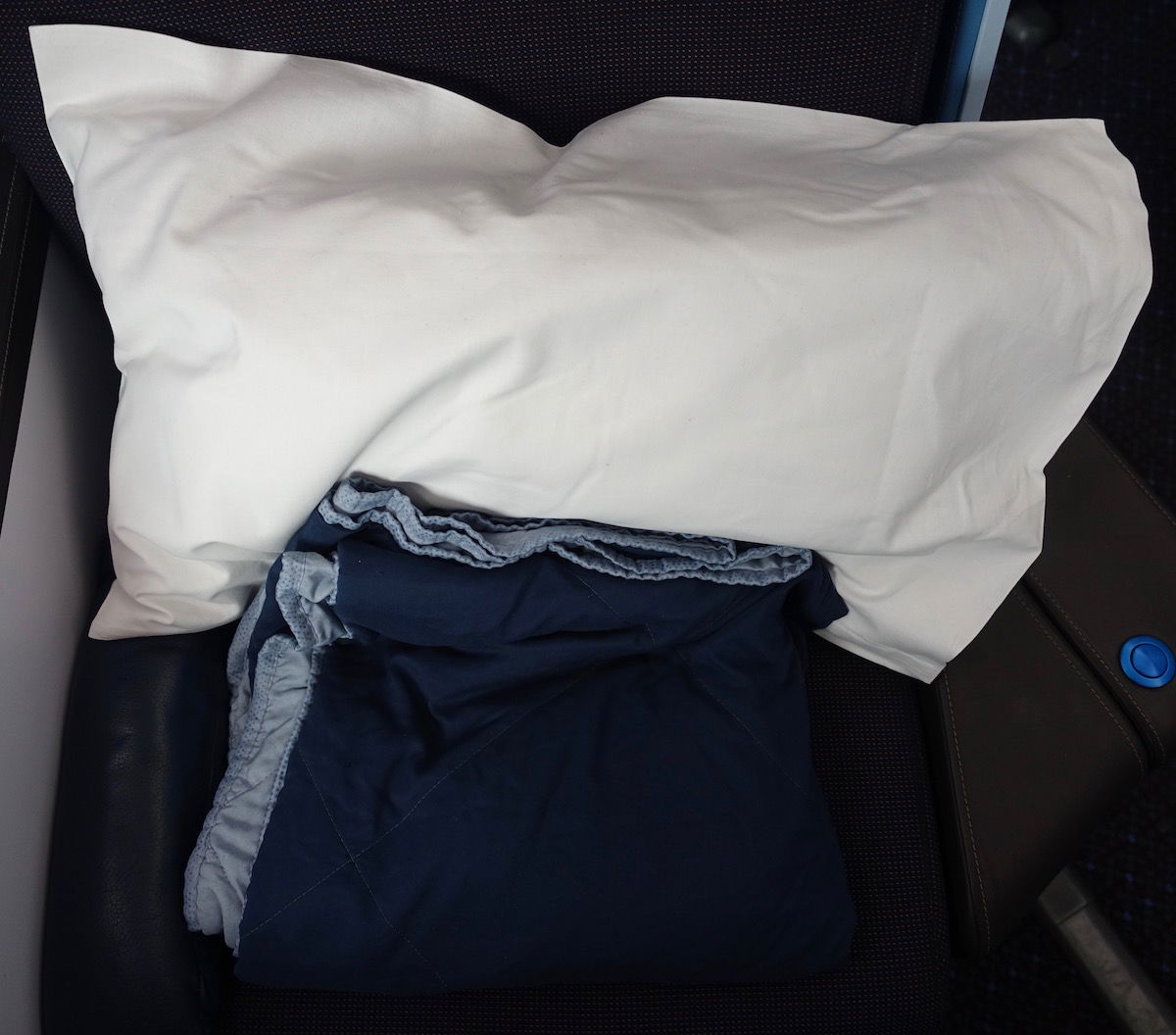 There were noise canceling headphones, which were pretty good quality.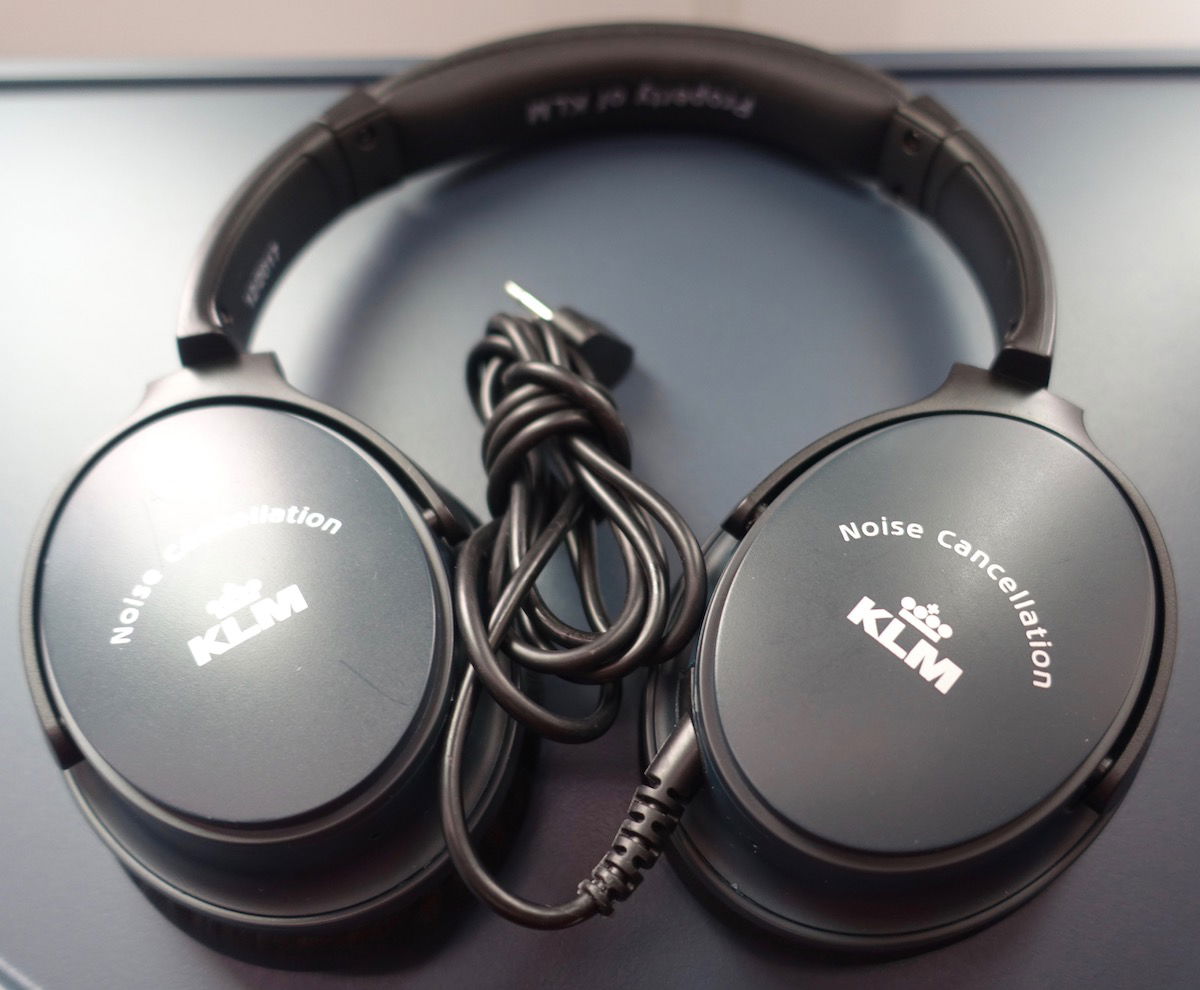 Then there was the same selection of amenity kits as on the previous flight, except one of the kits was blue rather than red.
This is totally minor, though something I found odd. Ford chose the top kit while I wanted one of the other kits. The flight attendant told me that kit was for females, and she'd bring it to me if she had enough.
On the previous flight there were both kits, and the flight attendant said we could take either one. So they had enough, and eventually on this flight I was given one of the other kits.
I compared the contents of the two kits, and literally the only difference was that one had red socks and the other had orange socks. So I'm sure it wasn't the flight attendant's intention, but it seems a bit ridiculous to suggest that a kit can only be for a certain gender based on the style of the kit.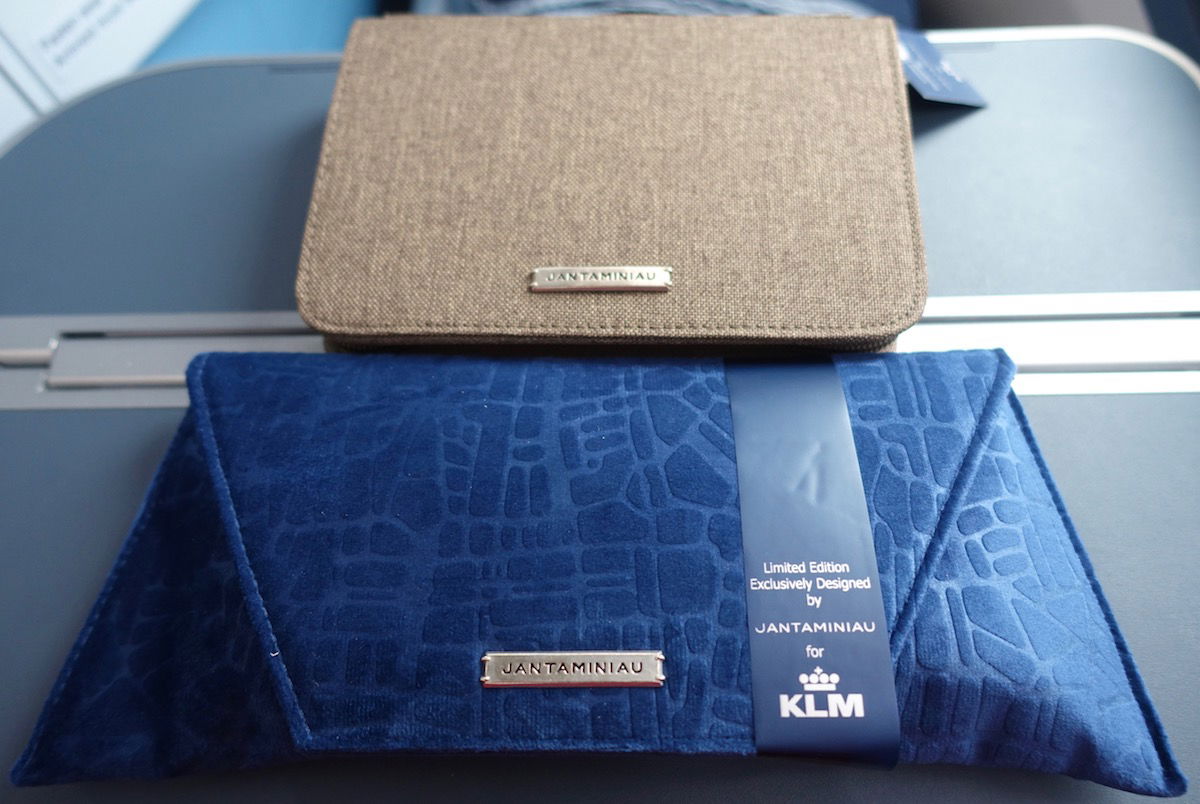 Of course the best amenity on KLM are the cute little Dutch houses offered before landing.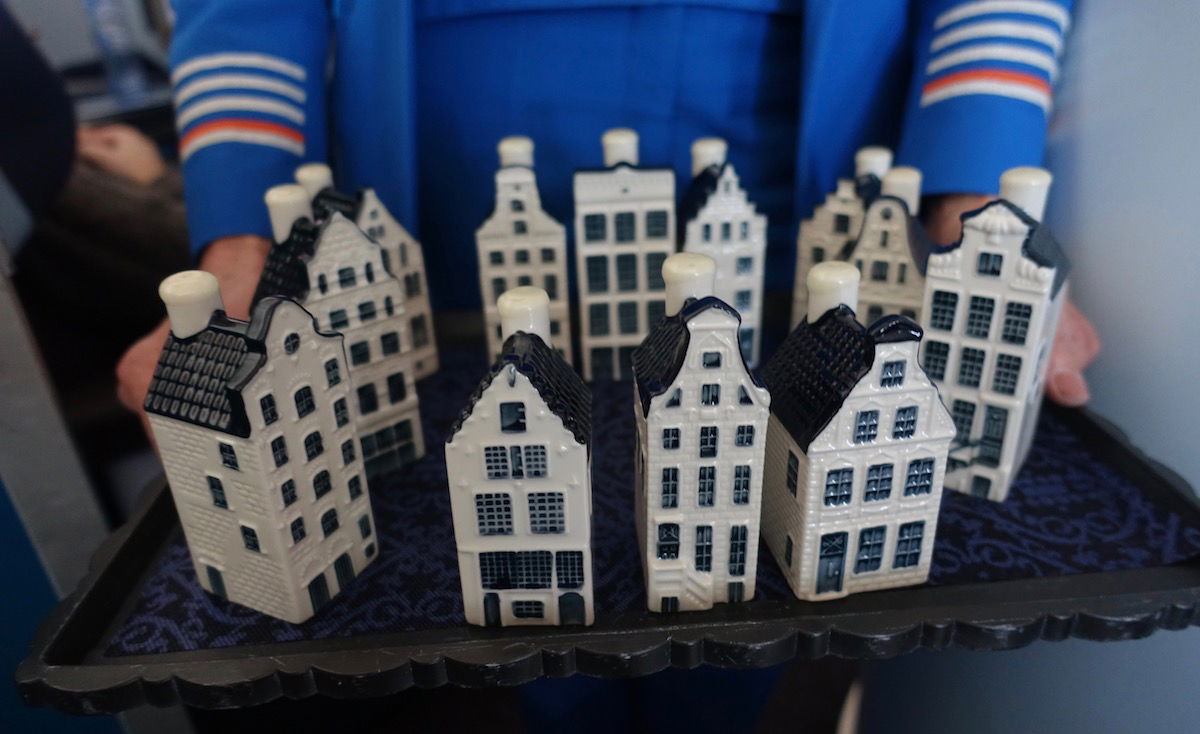 KLM business class entertainment & Wi-Fi
KLM has an excellent and highly responsive entertainment system on the 787, with a big selection of movies and TV shows, and no ads.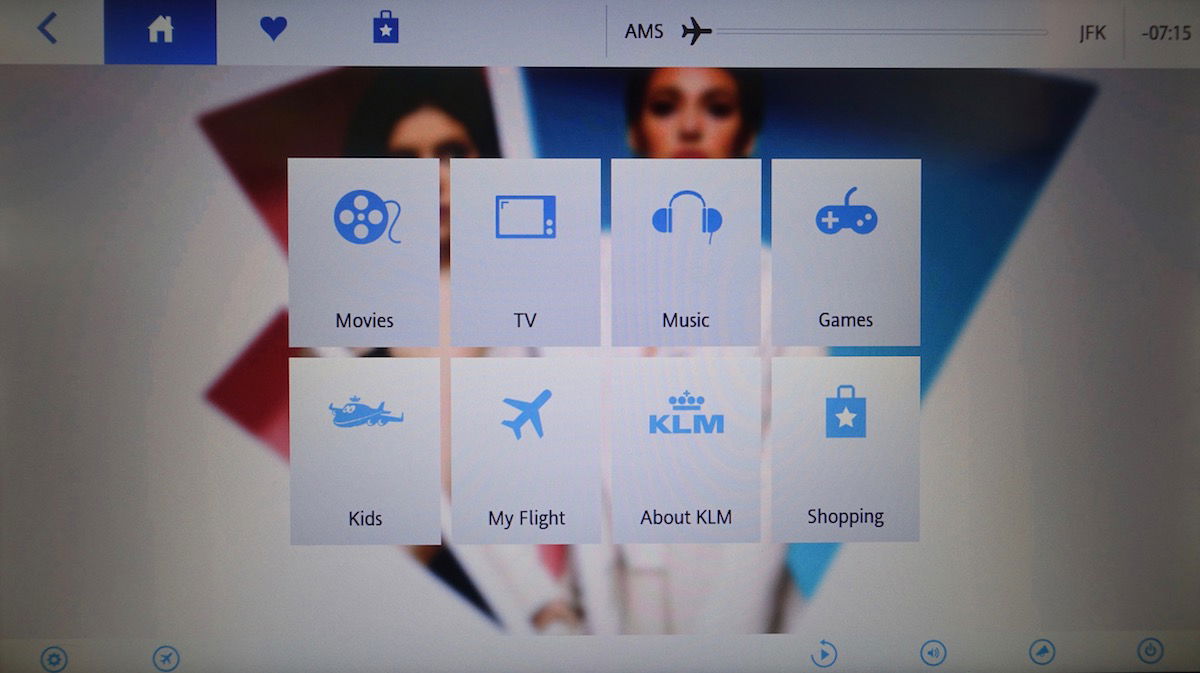 KLM 787s also have Wi-Fi, which sure is nice. They charge based on data usage as follows:
5EUR for 20MB
10EUR for 50MB
30EUR for 200MB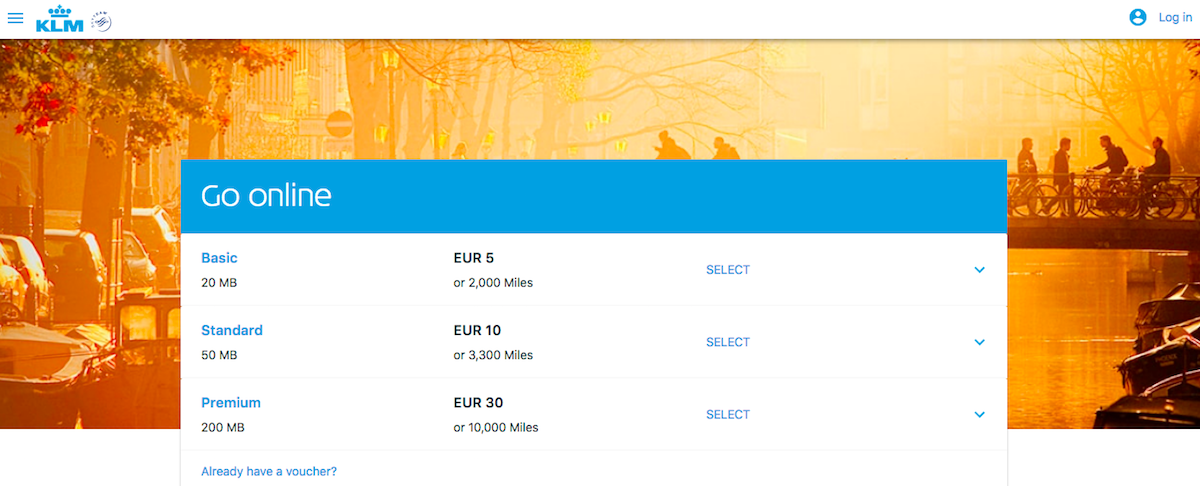 I only wanted to use Wi-Fi towards the end of the flight, so purchased the 50MB plan for 10EUR. After four minutes I had apparently used all of my data. What the heck?
I'll admit I'm not a tech guy, but I don't understand how this happens with some frequency when I fly and there are plans that charge based on data usage. I made sure nothing was updating in the background, so how can that happen?
So yeah, some Wi-Fi is better than none, but I wish they'd switched to fixed pricing like many other airlines have.
KLM business class service
The flight attendants working business class were absolutely lovely. Actually, perhaps they were too lovely. They tried to develop a relationship with every passenger and be personable, though that also came at the expense of service speed.
For example, the first meal service was only done 3hr10min after takeoff. On one hand I suppose that's not bad in terms of passing time on a daytime transatlantic flight, though at the same time a lot of passengers were connecting from Africa, the Middle East, India, etc., so presumably wanted to sleep.
And it took this long in spite of not being a terribly elaborate meal service. It's not like Turkish Airlines where they were plating at each seat, or anything. But rather it was because they took their time talking to each passenger as they served every course.
By the time the first meal service done we were already passing Greenland.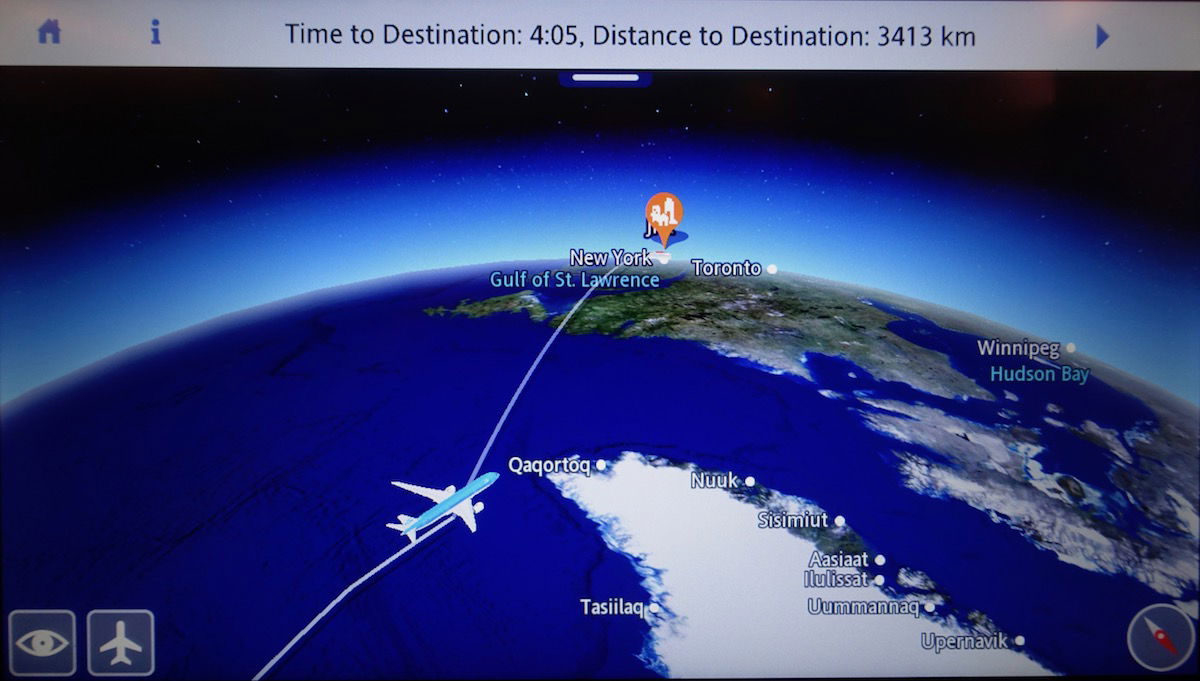 It was just over two hours between when the lunch service ended and when the pre-landing service started. Like I said, the flight attendants were really, really lovely, though.
KLM 787 business class bottom line
KLM offers a pretty solid business class product, though I do think there's some room for improvement.
On the plus side, KLM has comfortable reverse herringbone seats, air nozzles at each seat, extremely friendly cabin crew, a good entertainment system, and an X-factor in terms of their design, amenities, and general quirkiness.
However, there is also some room for improvement. They could improve their bedding, charge for Wi-Fi based on time rather than data usage, speed up their service, and perhaps improve their food a bit.
Still, overall I really like KLM.
If you've flown KLM 787 business class, what was your experience like?