Good morning from Los Angeles! I've just wrapped up one of the most insane trips of my life, where Matthew and I flew 33,000+ miles in one week, including about three days of nonstop flying, without staying in a hotel. Suffice to say that slipping into a "real" bed last night was even more enjoyable than usual.
After flights on China Eastern, Qatar Airways, Royal Air Maroc, Saudia, and Pakistan, I was very much looking forward to my JetBlue Mint flight from New York to Los Angeles. As a reminder, I booked this as a paid ticket for ~$600, which is their advance purchase pricing in the market.
JetBlue has been known for over a decade for their great economy product, so how do they perform in the premium market, which they enterd a couple of years ago? Very, very, very well. I had fairly high expectations, but they were exceeded.
To sum it up, JetBlue Mint is like a breath of fresh air compared to flying the legacy carriers in the market. That's not even meant to be a "mint" pun, but it's actually true. The seats and amenities are excellent, the food is simple and delicious, and the service is the best I've ever had on a domestic flight.
I'll have a full trip report soon, but in the meantime I figured I'd share my initial thoughts.
JetBlue Mint seat
JetBlue's Mint cabin consists of a total of 16 seats, spread across five rows. Rows one, three, and five are in a 2-2 configuration, while rows two and four are in a 1-1 configuration.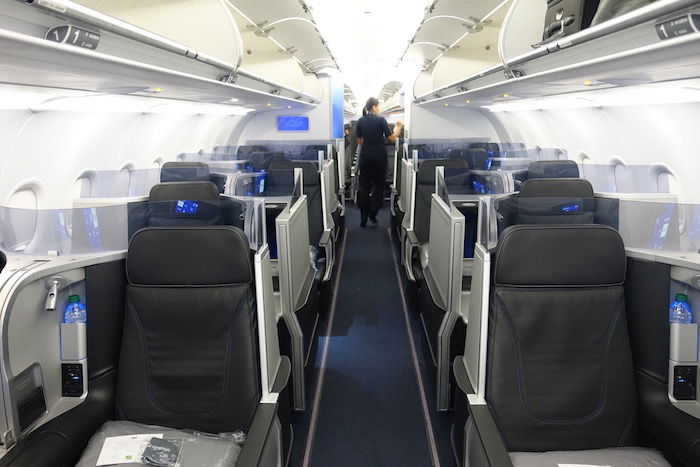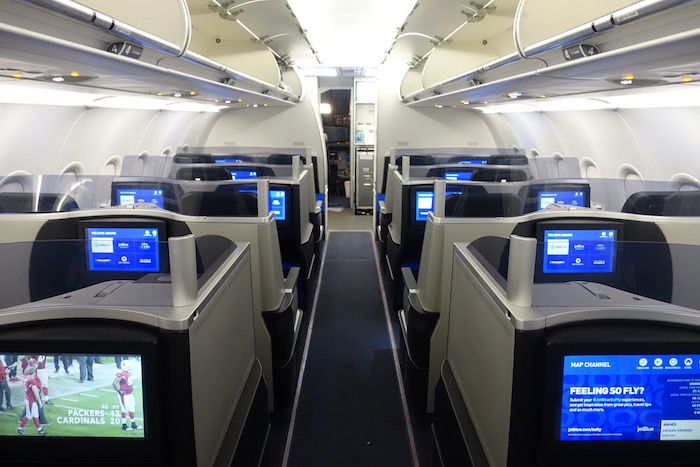 The single seats are known as Mint Suites, and are available on a first come first service basis. That's pretty fantastic, considering that those booking furthest in advance (and typically scoring the lowest fares) are also able to lock in the Mint Suites at no additional cost.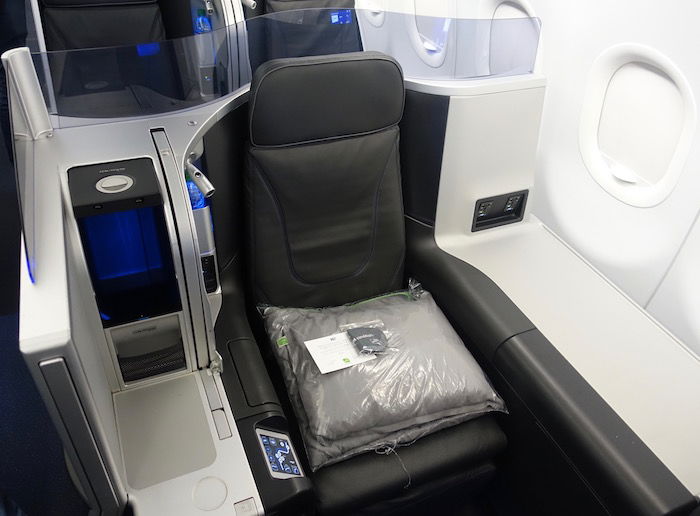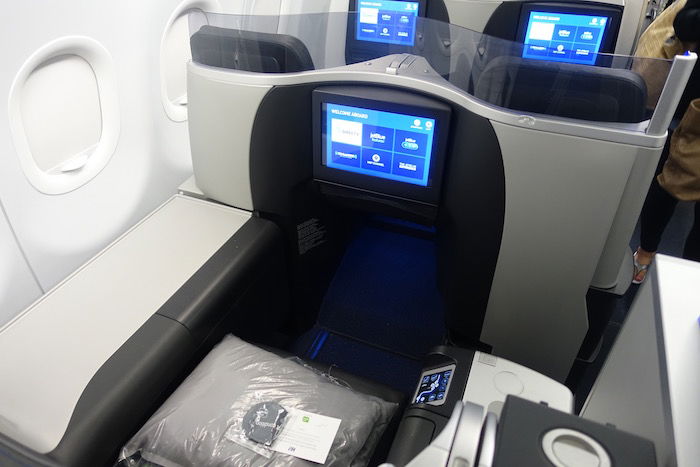 These Suites have doors.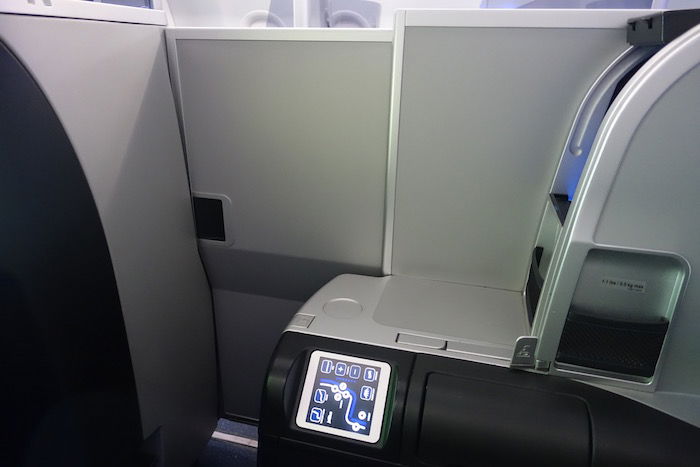 Now here's the thing — I generally prefer a reverse herringbone seat (like American's A321 first class) to a staggered seat like this. However, I'd say that this seat is a draw with American's A321 first class seat due to the additional privacy. That's amazing, since we're comparing business class to first class here.
JetBlue Mint amenities
Mint passengers get a great pillow and blanket, along with eyeshades. Other basic amenities are available on request.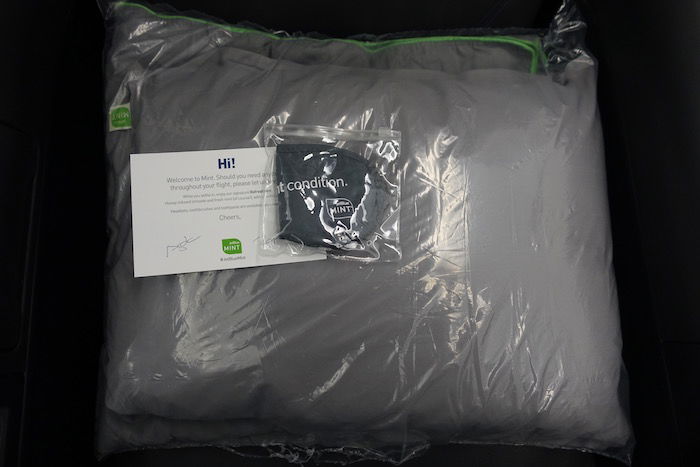 Mint passengers also get a Birchbox, which they apparently switch up often.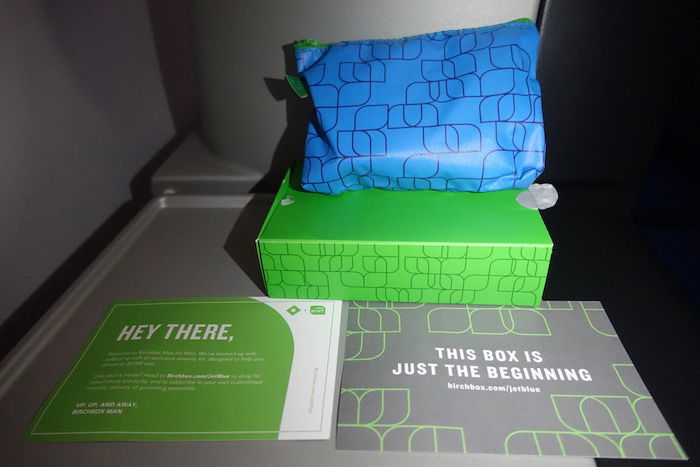 This is pretty random, since most of the items in there aren't things you could actually use on planes. But it's pretty cool nonetheless.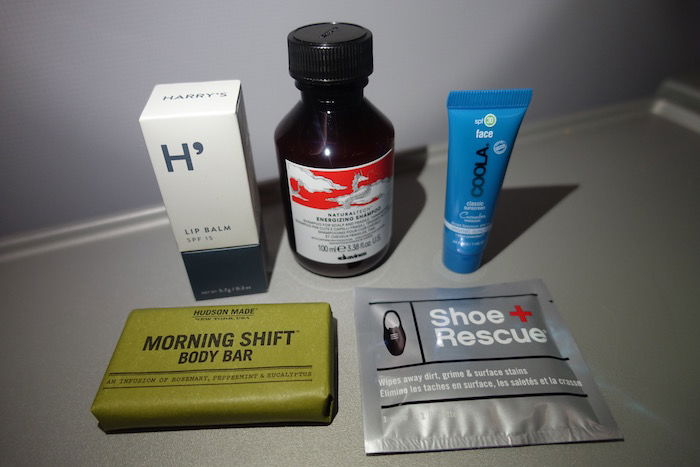 JetBlue has free Wi-Fi for all passengers, or for $9 per hour you can upgrade to high speed internet. The free internet was about as fast as what you'd get if paying for Gogo on American, while the premium internet was legitimately high speed. What a fantastic offering.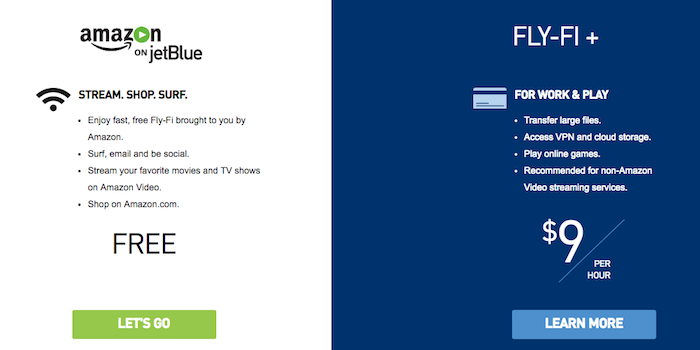 Then before landing, to go cookies were distributed.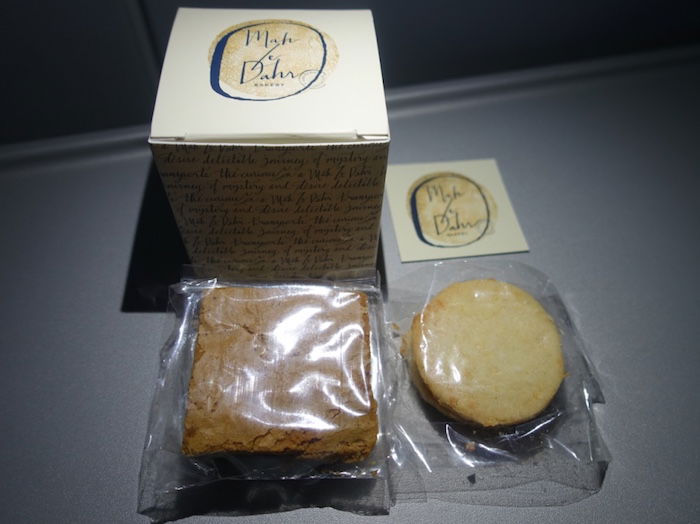 JetBlue Mint food
The catering was simple and tasty.
To start I was offered a drink (I chose a gin & tonic) and a deviled egg.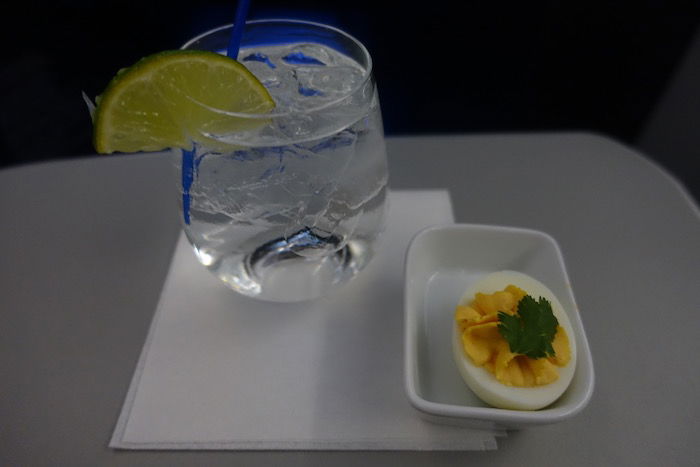 Then there are five dishes you can choose from after that (here's the menu), and you can pick up to three. They're all served at once, and you have the option between hot and cold dishes. While the format seems simple, the food was incredibly flavorful. I loved being able to try a little bit of a few different things.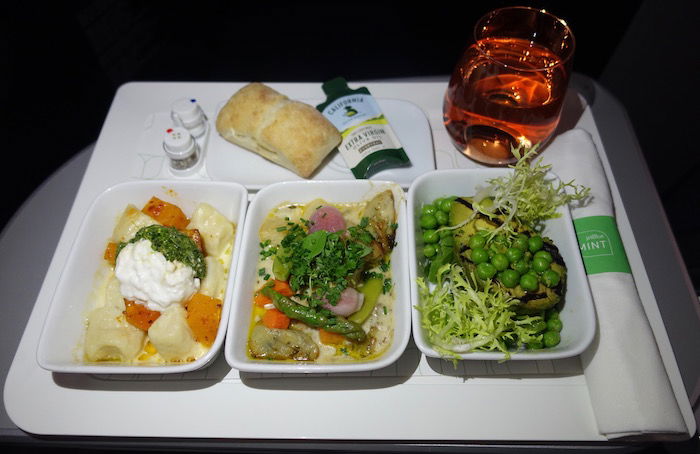 For dessert everyone was offered Blue Marble ice cream (which was actually great), fresh fruit, and an espresso beverage. The cappuccino was the best one I've had on a plane in a long time.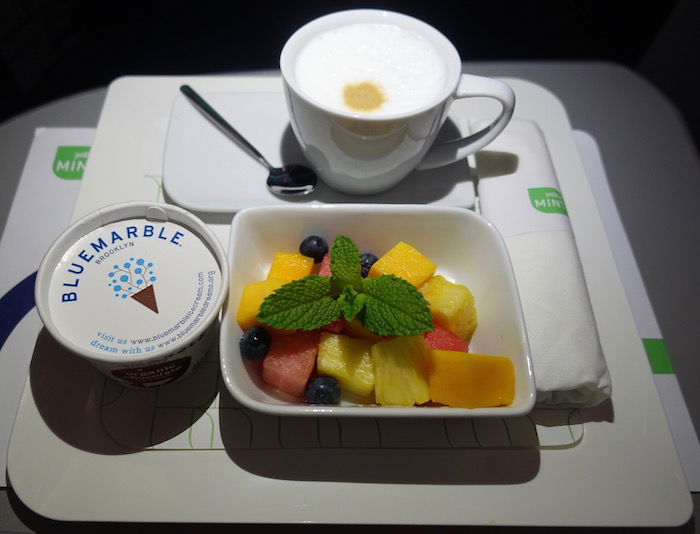 Then throughout the flight JetBlue's typical snacks were available.
JetBlue Mint service
This is where JetBlue Mint shined the most, and where JetBlue really impressed me. This flight made me realize just how low my standards of "good service" are with US airlines. I remember the last time I felt like I had good service on American's A321 transcon product, and it paled in comparison to this.
The flight attendants, Agda and Raphy, were incredible. Both crew members had genuine smiles throughout the flight and enthusiastically welcomed aboard every one of the ~160 passengers.
Once settled in Agda provided me a detailed introduction to the seat, product, etc. Both crew members were so attentive, and never let a glass get close to empty.
Once we passed through 10,000 feet and the seatbelt sign was still on, Raphy came around to every Mint passenger and asked whether he could hand us anything from the overhead bin.
Simply put, both Agda and Raphy made me feel like they were happy to be there, and wanted everyone to have a great experience. They were in a league of their own as far as US flight attendants go, at least compared to what I've become accustomed to.
JetBlue Mint bottom line
JetBlue Mint is hands down the best value domestic premium cabin product. Pricing starts at ~$600 between New York and Los Angeles, ~$550 between New York and San Francisco, and ~$400 between Los Angeles and Fort Lauderdale.
I think it may just be my all around favorite domestic product. Having an enclosed suite with tasty food, free Wi-Fi, great amenities, and the best service I've had on a US airline, is pretty tough to beat.
JetBlue, kudos on Mint. Not only has Mint brought down premium cabin pricing on other airlines, but it has also set a new premium cabin domestic standard, in my opinion.
I'm flying JetBlue Mint again soon, and can't wait to see if the service I experienced from Agda and Raphy is closer to the norm or the exception in Mint.
If you've flown JetBlue Mint, what was your experience like?