Update: Read my full China Eastern Business Class 777 Los Angeles To Shanghai review.
I just got off my first ever China Eastern flight, and figured I'd share my initial thoughts about the flight from Los Angeles to Shanghai (other than the fact that the crew was smoking throughout the flight).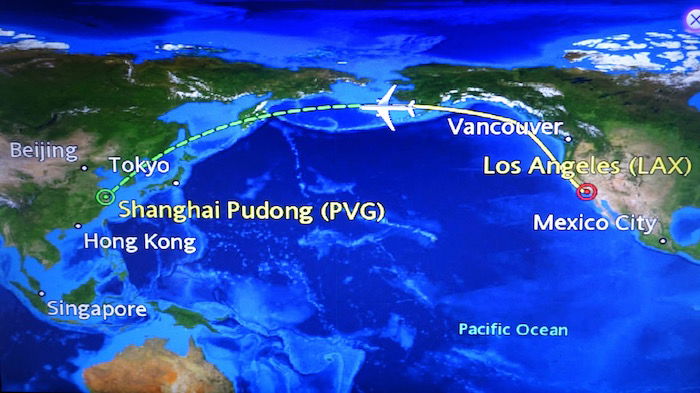 Prior to taking this flight I was optimistic about China Eastern. I recently flew China Airlines and was very pleasantly surprised, though I realize they're Taiwan based (though both airlines are in SkyTeam with similar hard products). Furthermore, my last flight on a mainland Chinese carrier was on Hainan, which was excellent for the most part — the crew was friendly and the service was great.
While I knew China Eastern had a bad reputation, I figured maybe they were trying to turn that around. They've invested in gorgeous new 777-300ER aircraft, so with the amount they're spending on the hard product, presumably they want to impress with the soft product as well, right? Wrong…
China Eastern 777 business class seat
China Eastern has reverse herringbone seats in business class, which I consider to be among the best hard products out there. So they get high marks for that.
However, China Eastern has the blandest reverse herringbone seats I've ever seen. There's no color to them, there's no walk-up bar, etc. It seems like they were happy to write a check for the cost of the seats, but didn't actually put any thought into how they wanted them to look.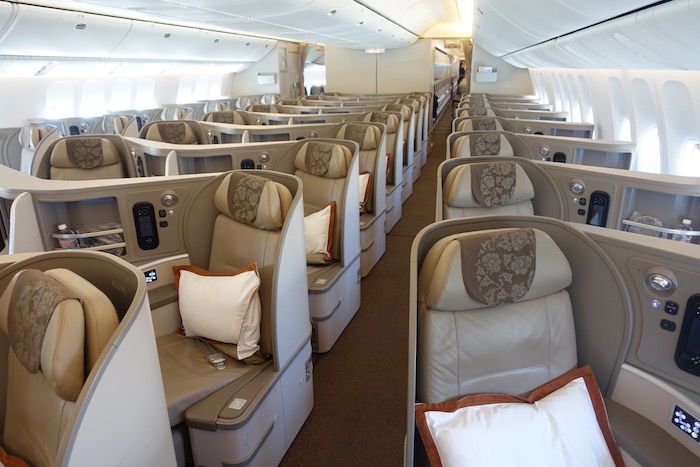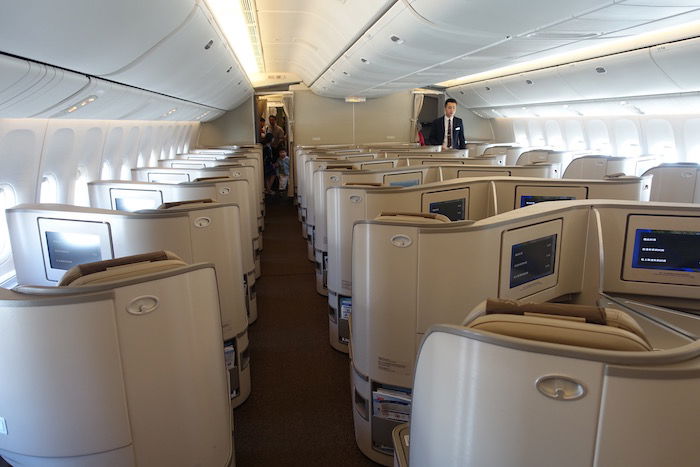 Ultimately the seat was the best part of the flight.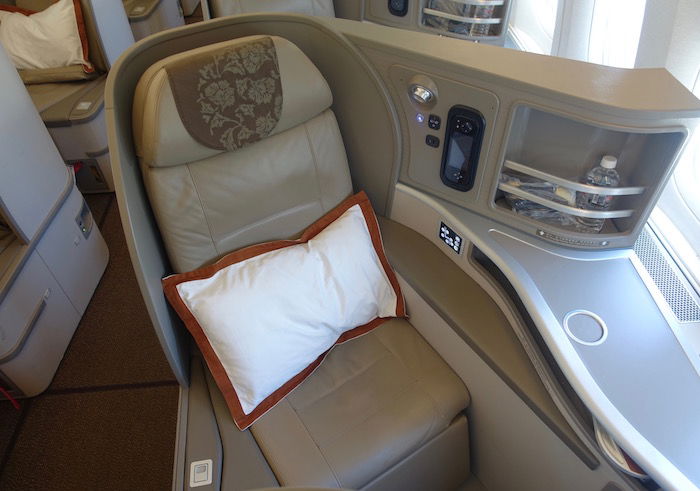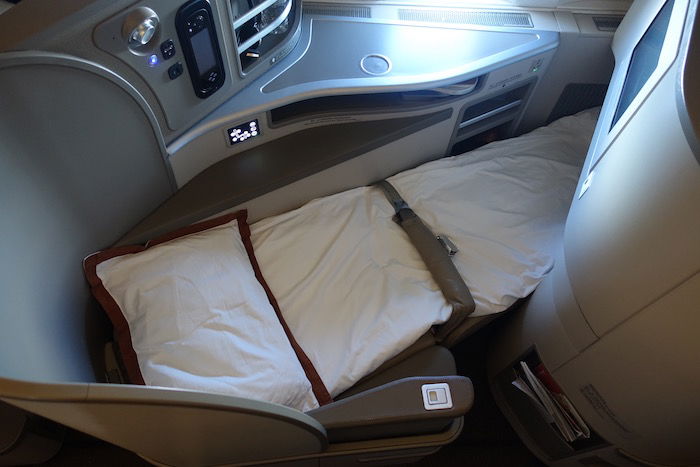 China Eastern 777 business class food
It was absolutely disgusting. In fairness, I don't eat pork, which prevented me from eating the Chinese meal. Even so, you'd think they could come up with a remotely appetizing western menu.
The appetizer was fine…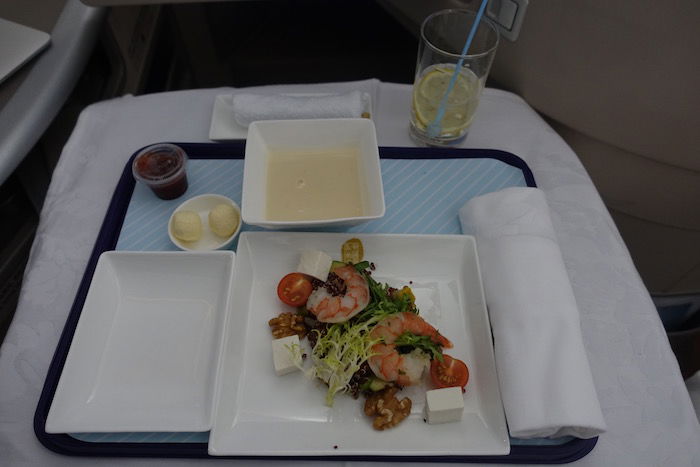 …while the main course was possibly the most disgusting thing I've ever been served on a plane.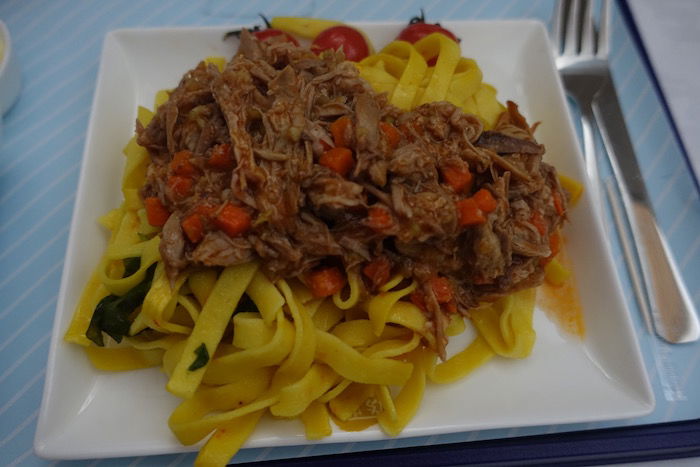 The mid-flight snack menu had a "Western Western Exquisite Western Snack."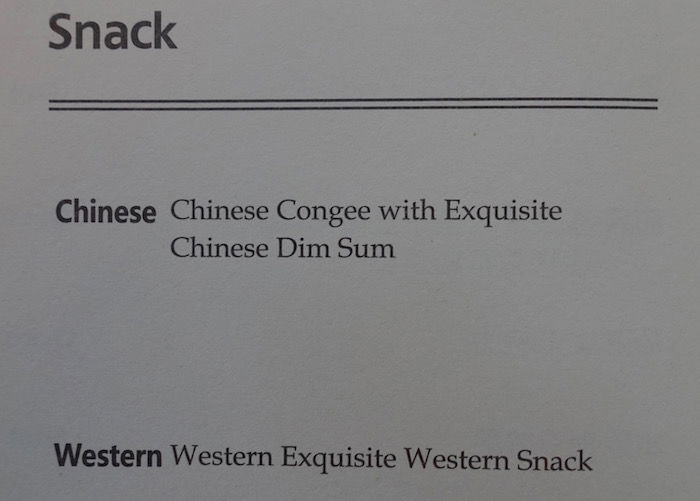 What did that consist of? A tiny stale salmon sandwich with fresh fruit. I can assure you, it was not not not exquisite exquisite exquisite.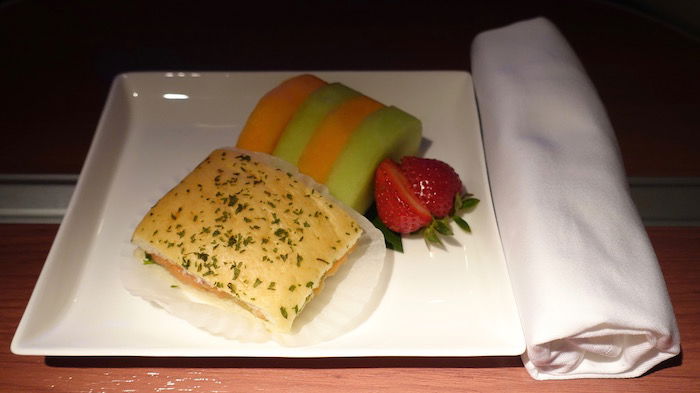 China Eastern business class service
This was actually the worst part of the flight. The crew's English wasn't too bad, so I really don't think this was due to a language barrier (though admittedly it was probably partly due to a culture barrier… partly).
China Eastern's onboard Wi-Fi home page advertises "New Boeing 777 offers 5-star hotel service in the air."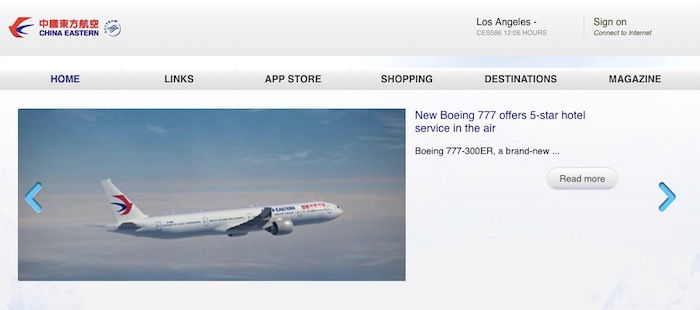 I think the only person in the world who could call the service on China Eastern 5-stars is Kim Jong-un, assuming he owned the airline.
Where do we even begin?
During boarding I noticed that they had a legitimate espresso machine with milk frothing device in the galley, so after lunch I ordered a cappuccino. I was served hot water with a nasty powder. I tried to order another one later in the flight, and explained that I was hoping for a proper espresso based drink with milk. "We don't have."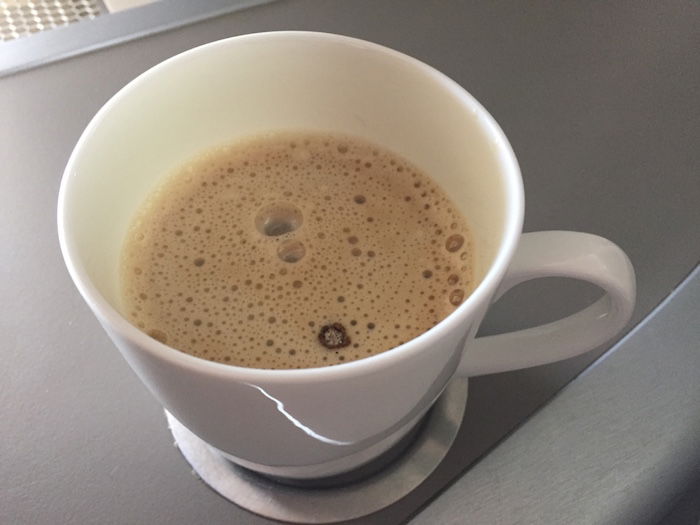 Later I wandered into the galley to go to the lavatory and noticed the crew having a huge cappuccino party in the galley, making cappuccinos for themselves with illy pods. At least eight crewmembers were in the galley drinking them while chatting.
The meal service was so sloppy. For example, I'd hand the flight attendant my appetizer and soup plate after they were finished, and she'd put the soup plate back on my tray, because she only wanted to clear enough so that there was room for my main course.
Just about everything about the service was disorganized. The bread was brought out about 10 minutes after the appetizers were served, at which point we were both already done with our appetizers.
The crew didn't have inside voices, in the sense that during the meal service they'd yell at passengers and one another. I realize that's largely just cultural and that inside voices often aren't a thing in China, but…
The crew also didn't do good safety checks, as there was a lady in business class using the lavatory during landing, and she walked back to her seat once we were taxiing in.
And there were many more things, which I'll cover in the full trip report.
China Eastern business class bottom line
China Eastern business class is great… if you board tired, full, and with earplugs and a nose clip (unless cigarette smoke doesn't bother you).
China Eastern has a great hard product and has so much potential, but they just fall flat when it comes to their soft product. The food and service were really underwhelming, probably the worst I've had on any transpacific flight.
Delta should be embarrassed of their "strategic partnership" and ownership stake in China Eastern.
Stay tuned for the full trip report!
If you've flown China Eastern, what was your experience like?