It would appear that JetBlue didn't get the memo that this isn't the time to devalue your frequent flyer program, let alone without notice…
JetBlue scales back "Even More Space" Mosaic benefit
Mosaic is the name of JetBlue's top tier status, and it offers a variety of benefits, including the following:
No change fees for members and their eligible travel companions
Two free checked bags
Redeem points for Even More Space seats at discounted rates
Expedited security screening
Priority boarding
A complimentary alcoholic beverage onboard
An additional 3x points per dollar spent on JetBlue
15,000 bonus points upon qualifying for status
Arguably one of the very best benefits of Mosaic status is the ability to redeem points at extremely generous rates towards Even More Space seating, which is JetBlue's extra legroom economy seating.
For example, historically Mosaic members could redeem anywhere from 200 to 1,000 points for a one-way upgrade to Even More Space seats. Personally I value JetBlue TrueBlue points at ~1.3 cents each, so to me that's like paying anywhere from $2.60 to $13 for an upgrade.
Well, it looks like without notice, JetBlue has devalued Even More Space points upgrade redemption rates for Mosaic members. It seems that for most routes, upgrade costs when redeeming points have tripled or quadrupled.
For example, a transcon upgrade to Even More Space that used to cost 1,000 points for Mosaic members now costs 4,000 points.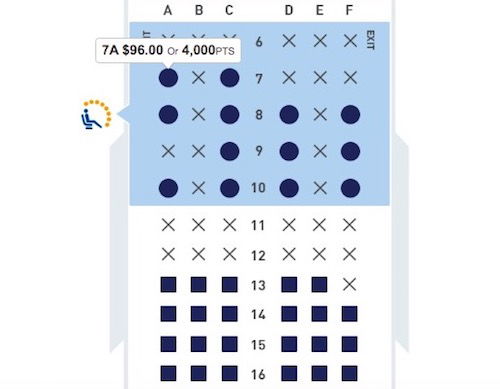 But isn't that still a good redemption value?
You may be looking at the above and saying "well you're still getting 2.5 cents per TrueBlue point, so isn't that still a good deal?" Yes and no.
In absolute terms it's probably still a good use of TrueBlue points, but it does fundamentally alter the value proposition of Mosaic status:
Most other airlines offer top tier elite members complimentary extra legroom economy seating, while JetBlue doesn't
Instead JetBlue's pricing to upgrade has been so reasonable that virtually any Mosaic members would earn enough points to always upgrade, and then some, so it seemed like a fair compromise
That will no longer be the case
How JetBlue justifies this change
Per Dan's Deals, here's what a JetBlue spokesperson has said regarding this change:
"With TrueBlue, we reward loyalty with customer-friendly options such as no blackout dates, all seats on all flights are available for redemption, and points that never expire. As a revenue-based program, our pricing model aligns with changes in travel demand and redemption values are linked to fares and ancillary fees. Although there was a change in the redemption rate for Even More Space seats, our most loyal customers are still able to redeem their points for Even More Space seats at significantly reduced rates. Mosaics continue to receive 15,000 bonus points when qualifying for Mosaic status, even at the lowered thresholds for this year, which can be used to redeem options such as Even More Space seats."
That's one of the longest non-explanations I've ever seen from an airline regarding a frequent flyer program devaluation.
This change just seems like such poor form on JetBlue's part. This is a time where airlines should be rewarding loyal customers and improving the value proposition of loyalty programs, rather than making them worse.
I understand airlines need to make money (or at least lose less money, as the case is now), but making changes that exclusively negatively impact your most loyal customers seems backwards.
Then also consider the fact that the other biggest perk for Mosaic is waived change fees, but that's something that everyone is getting now, so it's also not a point of differentiation. At this point the value of Mosaic is very limited.
Bottom line
Mosaic members will now be paying significantly more points for upgrades to Even More Space seats. While most airlines offer top tier elite members free upgrades to extra legroom economy seats, JetBlue doesn't. The compromise has been that points upgrades are really cheap. Unfortunately that's now changing, as the price seems to be tripling or quadrupling in most cases.
It's really disappointing to see a devaluation like this without notice at a time where airlines should be rewarding loyal customers, rather than cutting their perks.
What do you make of this change to JetBlue Even More Space upgrades for Mosaic members?