Earlier James wrote about how the Bombardier CSeries aircraft is being rebranded as the Airbus A220. Airbus has bought a majority stake in the CSeries program, and that change was finalized just over a week ago. So as a first step, they're rebranding this as part of the Airbus product line.
While plenty of airlines have the CSeries on order, the plane now formally known as the Airbus A220 has just received its first order. JetBlue has just placed an order for 60 Airbus A220-300, a deal which is valued at 5.4 billion USD at list prices.
This makes JetBlue the third US airline to order this aircraft type (the other two orders were placed when the plane was still known as the CSeries. Specifically, Delta will be the first US airline to take delivery of this plane, and then startup Moxy is the only other US airline to have ordered the plane, with 60 of the planes on order.
When will JetBlue get their Airbus A220?
JetBlue will begin taking delivery of the A220 in 2020, and in addition to 60 firm orders, JetBlue has a further 60 options that can be exercised starting in 2025.
JetBlue will be getting a bulk of these deliveries in 2023 and 2024, as they'll get five of them in 2020, four of them in 2021, eight of them in 2022, 19 of them in 2023, 22 of them in 2024, and two of them in 2025.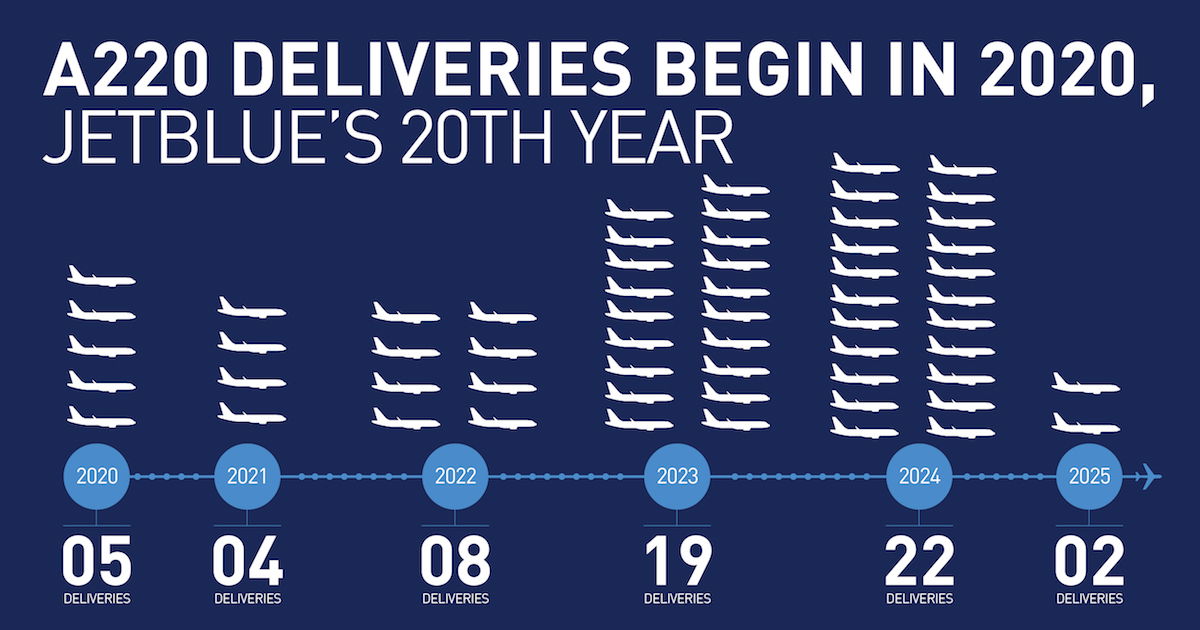 As part of this, JetBlue has also reshaped some of the other Airbus aircraft they have on order — they've converted their 25 Airbus A320neo orders to Airbus A321neos instead, and have adjusted the delivery schedule.
JetBlue will replace their E190s with A220s
JetBlue will be using the Airbus A220 to replace their Embraer 190s, which they plan to retire starting in 2020. The retirement schedule should be pretty gradual, and I imagine it will pretty closely reflect when the A220s enter service, since JetBlue has the same number of E190s in their fleet as they have A220s on order.
JetBlue says that the Airbus A220 has a 40% lower fuel burn per seat than JetBlue's E190s, which is a huge difference. They see this plane as opening up a lot of new markets that weren't previously possible. The A220 has a much longer range than the E190, so they'll be able to use this plane for transcon flying.
The E190 has a seating capacity of 100, while the A220-300 has a seating capacity of 130-160, depending on the configuration. Since JetBlue has generous legroom, an extra legroom economy section, and no first class, I'd assume their seat count to be somewhere in the middle, so let's say around 145.
In many ways this plane isn't a replacement for the E190, given how much bigger it is. However, if the fuel burn is 40% lower, that basically means the fuel burn on the two planes is roughly comparable, and if you can carry almost 50 additional passengers, you might as well. In terms of capacity it's similar to the A320, which has a capacity of 150 (though that will eventually be increased to 162).
The Airbus A220 is great for passengers
I've only taken one flight on the CSeries (now Airbus A220), and absolutely loved it. It's a smooth plane with wide seats and only one middle seat per row, and the cabin is modern and stylish. This is great news for passengers.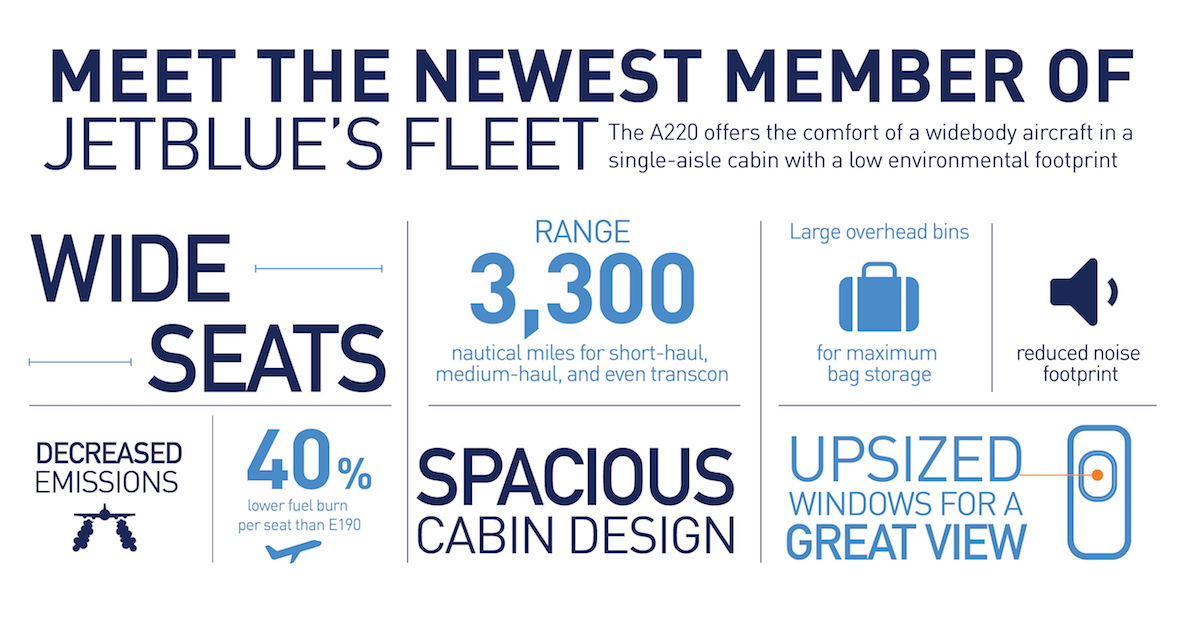 Bottom line
I'm excited to see another US airline order this great plane. The plane has low operating costs and is great from a passenger experience standpoint, so it's a win-win.
At the same time, I find this move a bit surprising in some ways. In terms of capacity the A220-300 is more of an A320 replacement than an E190 replacement. So long term JetBlue will be shifting to higher capacity planes. However, I guess their logic here is that if the E190 and A220 have roughly comparable fuel burn, why wouldn't you want to carry a few dozen extra passengers?
This order is also great news for Airbus, not just because of this particular order, but because it will hopefully encourage other airlines to consider the plane as well. I imagine they're hoping to get a bit of excitement surrounding the rebranding of this plane, and this is a good start.
The order is awful news for Boeing, though. In response to the partnership between Airbus and Bombardier, Boeing and Embraer are forming a partnership. With JetBlue shifting these planes from Boeing/Embraer to Airbus/Bombardier, that's quite a loss for Boeing.
What do you make of JetBlue's decision to place such a big order for the Airbus A220?