JetBlue is the latest airline to take delivery of the Airbus A220. JetBlue took delivery of its first A220-300 on December 31, 2020. The airline has now revealed what the interiors of these planes will look like, as well as the first regularly schedule route to get the plane, and there's a lot to look forward to.
JetBlue took delivery of its first Airbus A220
In mid-2018 JetBlue placed an order for up to 70 Airbus A220-300s, which will be an exciting addition to the carrier's fleet. Several months ago pictures emerged of the first JetBlue Airbus A220, and it sure is gorgeous.
The A220 is a beautiful plane to begin with — it kind of looks like a mini-A350 — and I think the JetBlue livery looks particularly sharp on it, especially with the engines and custom tail design (in the below picture the second shade of blue around the front of the engines and the orange along the leading edge of the wings is just temporary).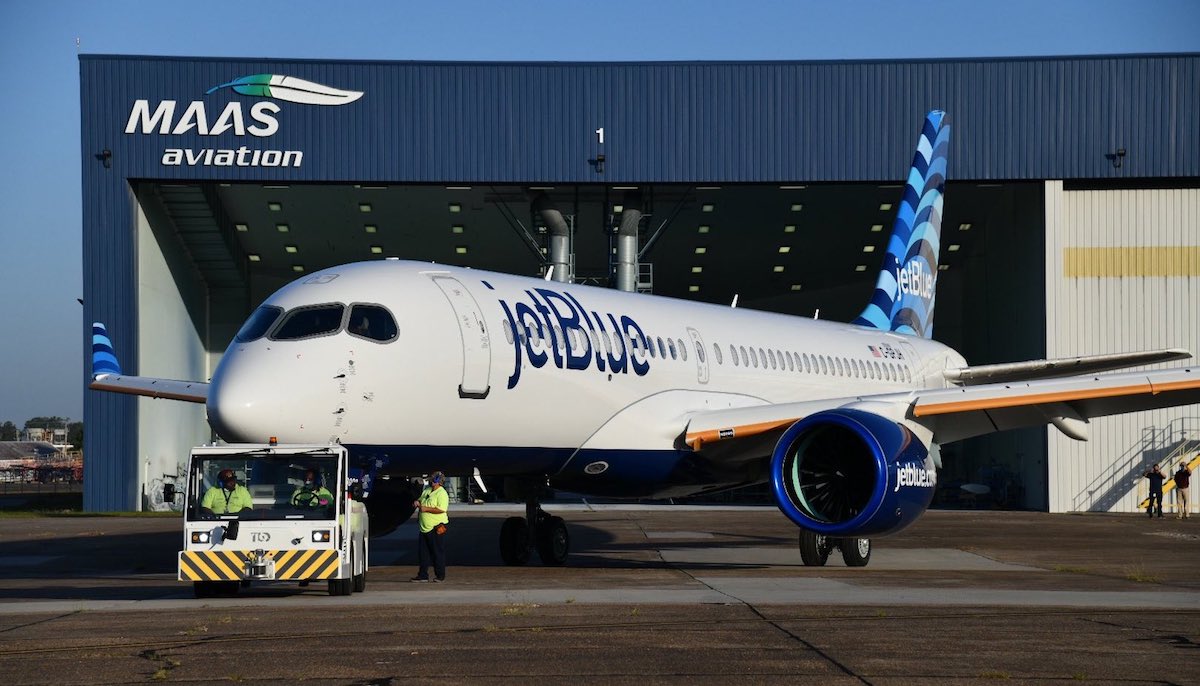 JetBlue's first Airbus A220-300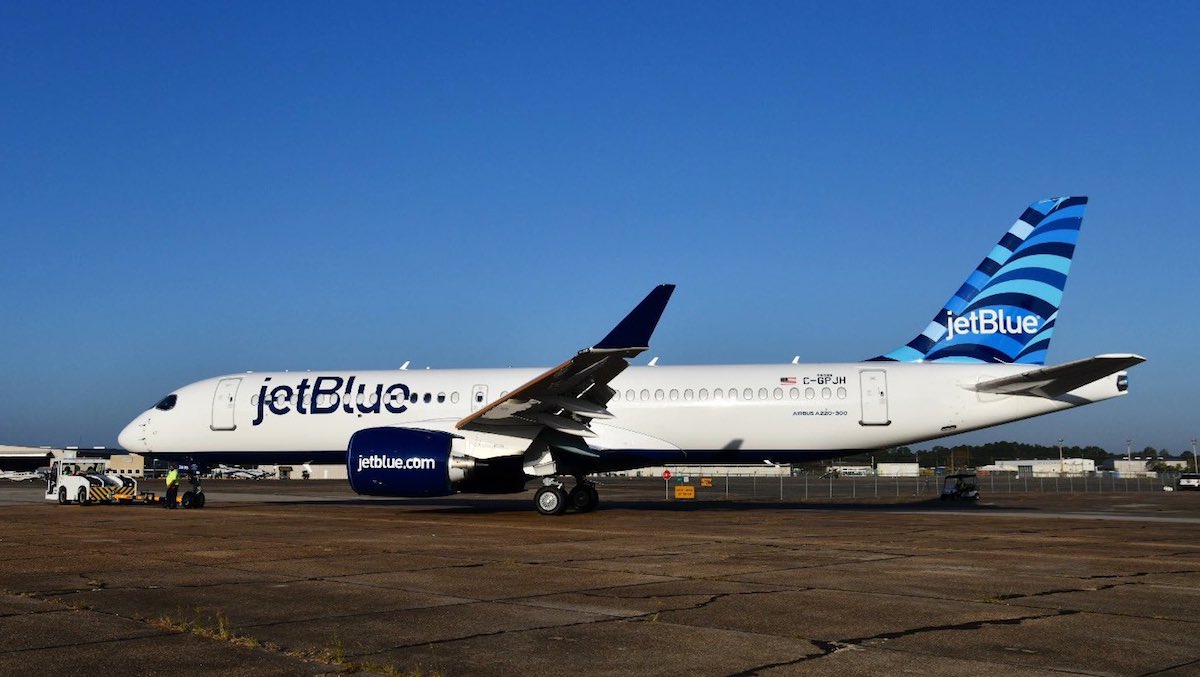 JetBlue's first Airbus A220-300
The plane was manufactured at Airbus' new US facility in Mobile, Alabama, which is in part intended to avoid tariffs.
We knew that JetBlue planned to take delivery of its first Airbus A220 in 2020, and that happened… just barely. On New Year's Eve, JetBlue's first A220 flew from Mobile to New York. The flight took just over two hours, cruised at 41,000 feet, and landed at JFK at 7:35PM.
JetBlue Airbus A220 cabin interiors revealed
JetBlue has now revealed its A220 interiors. JetBlue's A220s will feature a total of 140 seats, including:
30 Even More Space seats, featuring 35″ of pitch
110 regular economy seats, featuring 32″ of pitch
Here's what else we can expect:
Seats will be in a 2-3 configuration, and will feature 18.6″ of width, the widest available for a single aisle aircraft, and the widest in JetBlue's fleet
Adjustable headrests with new vegan leather material
In-seat power, including AC, USB-A, and USB-C ports
10.1″, 1080P high definition personal televisions at every seat
30 channels of DIRECTV with DVR-like pause and rewind functionality, full seasons of shows, hundreds of movies, and premium content from HBO & SHOWTIME
3D flight map offering multiple ways to track time to destination
Personal handheld device pairing capabilities for use as a remote or gaming controller
Expanded Fly-Fi connectivity, providing coverage to nearly the entire JetBlue network
Here are some pictures of JetBlue's A220 cabin interiors: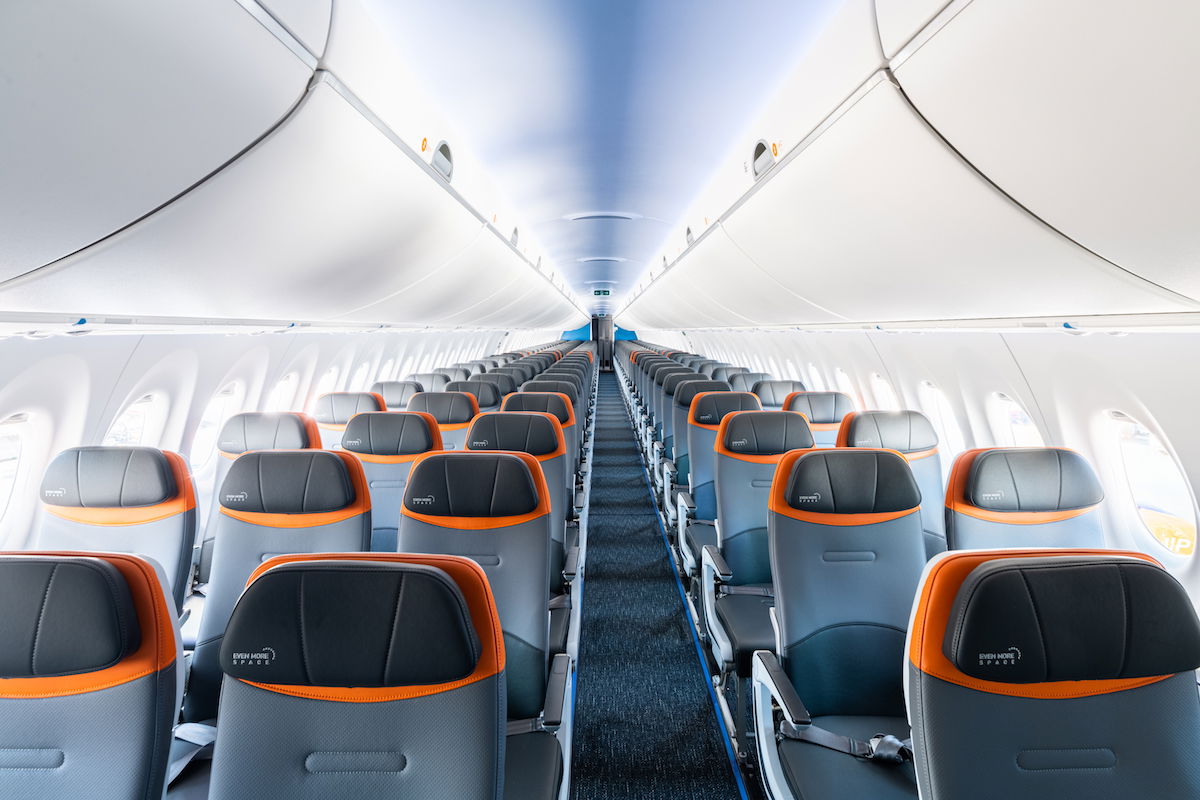 JetBlue Airbus A220-300 cabin interior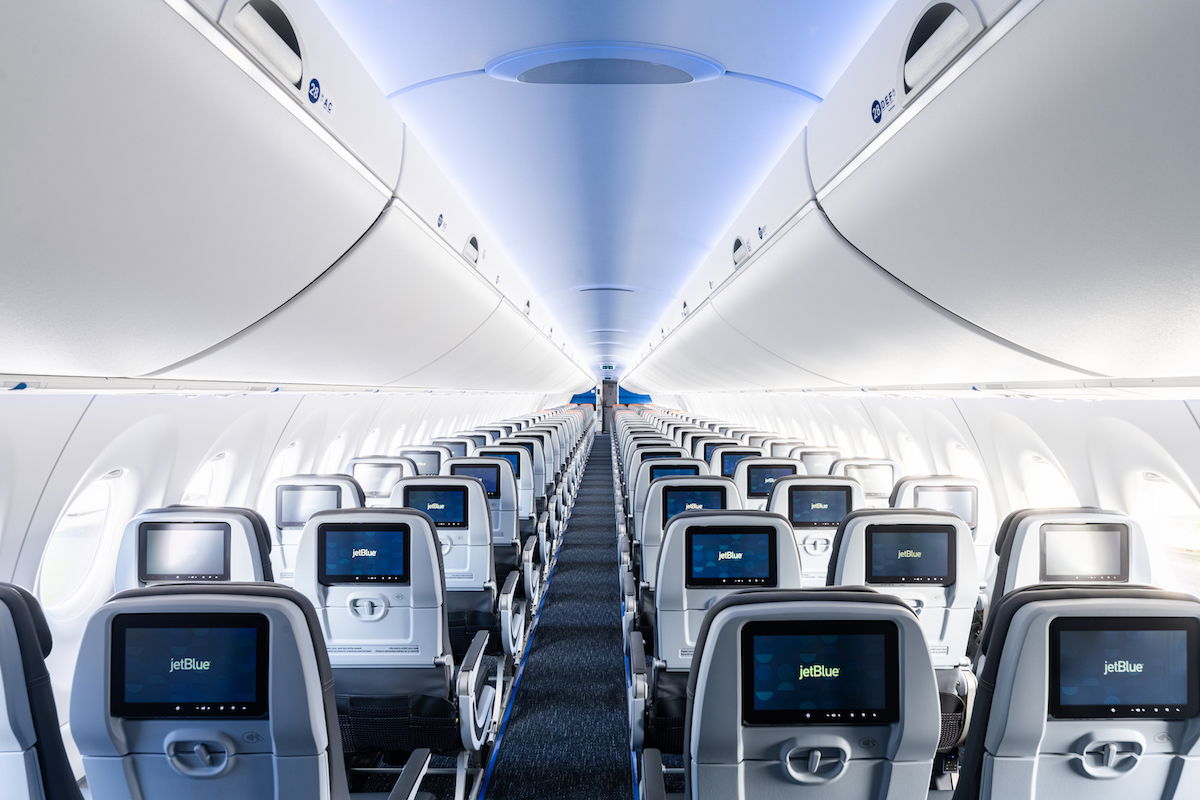 JetBlue Airbus A220-300 cabin interior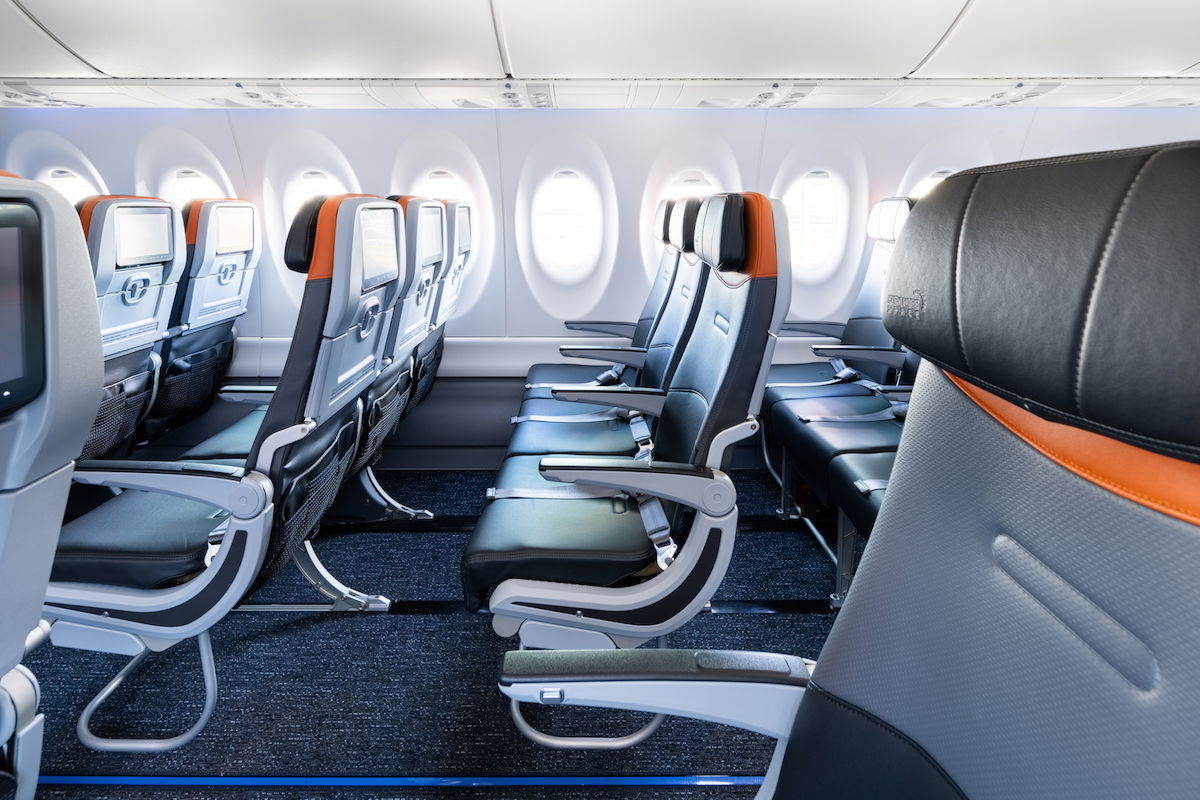 JetBlue A220 seats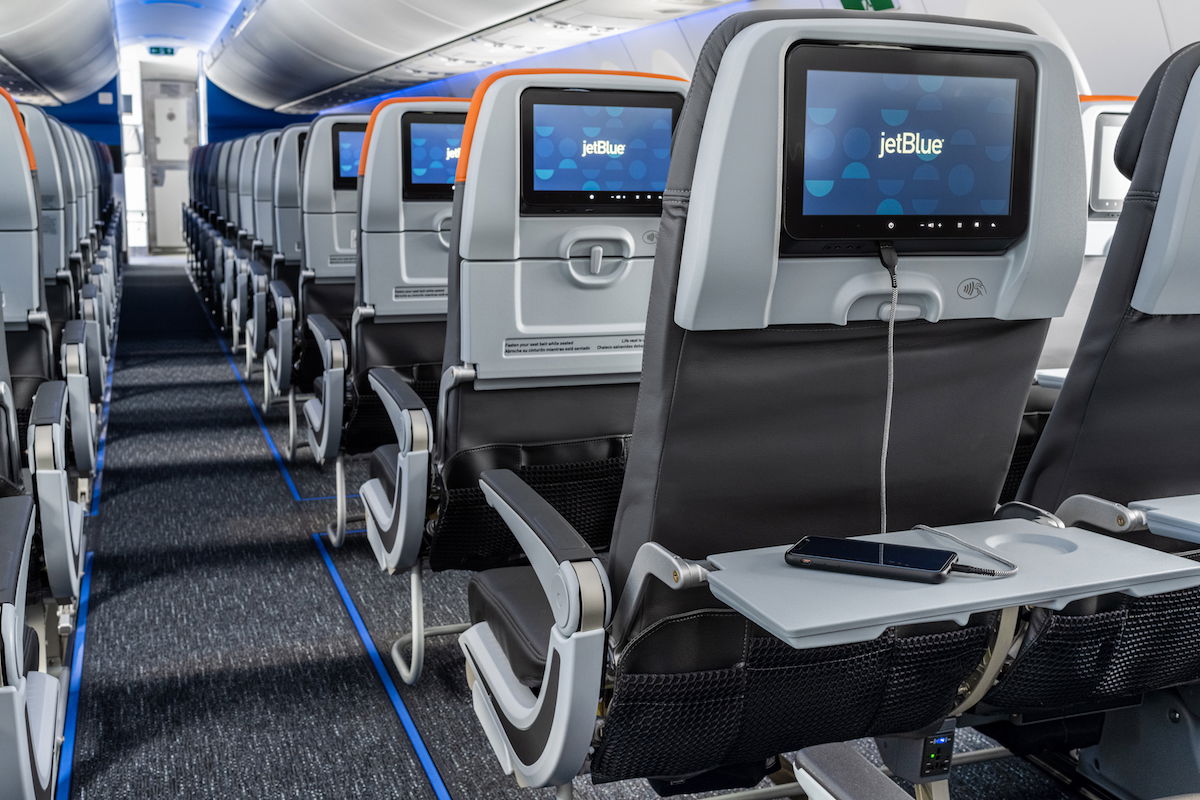 JetBlue A220 seats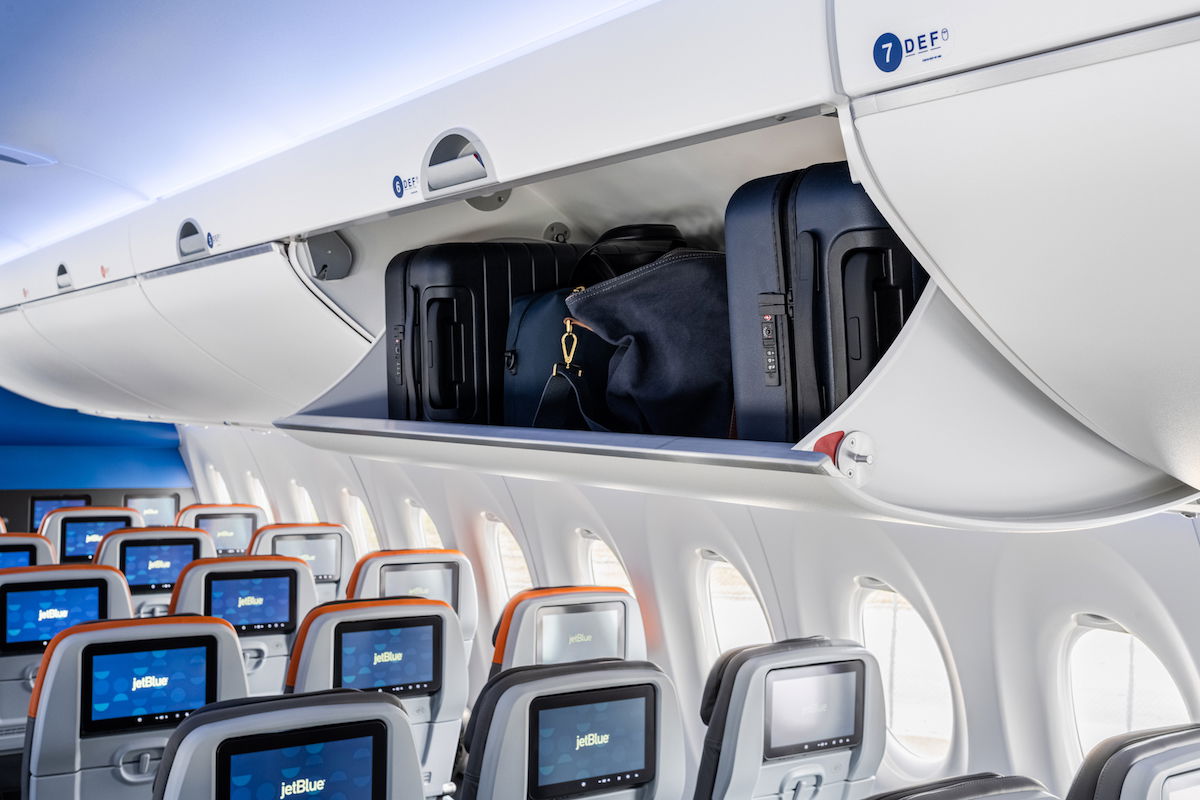 JetBlue A220 overhead bins
JetBlue Airbus A220s will replace Embraer 190s
Over time JetBlue's A220s will replace the carrier's fleet of 60 Embraer 190s, which are expected to be retired by 2025. JetBlue will be taking delivery of A220s rather gradually — the airline will take delivery of seven of these in 2021, so the planes will still be quite rare for the coming year.
JetBlue notes that the A220 boasts nearly 30% lower direct operating costs per seat than the E190. Not only that, but it's also expected that the A220 will have 40% lower maintenance costs per seat than the E190.
Where will JetBlue fly A220s?
The beauty of the A220 is just how versatile it is. The plane has a range of 3,350nm, so it could operate both short haul flights (including business markets) and transcon flights (including "thinner" routes) with ease.
Here's what JetBlue is planning for A220 routes:
The airline will begin flying the A220 this spring, but hasn't yet revealed on what routes
Starting in mid-June, JetBlue will fly the A220 on the Boston to Fort Lauderdale route, which is the first confirmed route so far
While the A220 will initially operate between focus cities, it's noted that new cities, routes, and markets, will be evaluated in the future as more A220s join JetBlue's fleet
Bottom line
Delta is the first US airline to take delivery of the Airbus A220-300 (the airline already has the A220-100), and then JetBlue is the second (and then startup Breeze will be behind JetBlue).
JetBlue's first A220 was delivered to the airline on December 31, and should enter service in the coming months. Seven more A220s will join the carrier's fleet in 2021. We now also know what the interiors of these planes will look like, and they're beautiful.
The A220 is an incredible aircraft thanks to its comfortable cabin, great economics, and long range. Combine that with JetBlue's excellent onboard product (the best of any US airline in economy), and this plane should be a pleasure to fly.
Are you excited to fly JetBlue's A220?