Hello from Brussels! Why am I here?
Well, lets go back to last Thursday for a moment. I was at Amsterdam Airport about to get on my KLM flight to Chicago when I saw my friend Bart Tweeting about Brussels Airlines' Tomorrowland flight.
Quick background — I love electronic dance music, but I'd never dance (no matter how much alcohol I have in me)… at least in public. As a result I limit my dance parties to completely empty first class cabins when the galley curtains are closed.
One of the biggest electronic music festivals in the world is Tomorrowland, held just outside of Brussels. The whole standing on a field shirtless while dancing and using portable toilet thing isn't really for me, but in theory I'm intrigued by all of it.
For example, here's the "movie" of last year's festival:
Even more fascinating than the festival itself (at least to me), is Brussels Airlines' involvement with it, as they have special Tomorrowland flights. During the festival they have a plane that flies a few routes as "Tomorrowland" service, with passengers consisting solely of those going to the festival.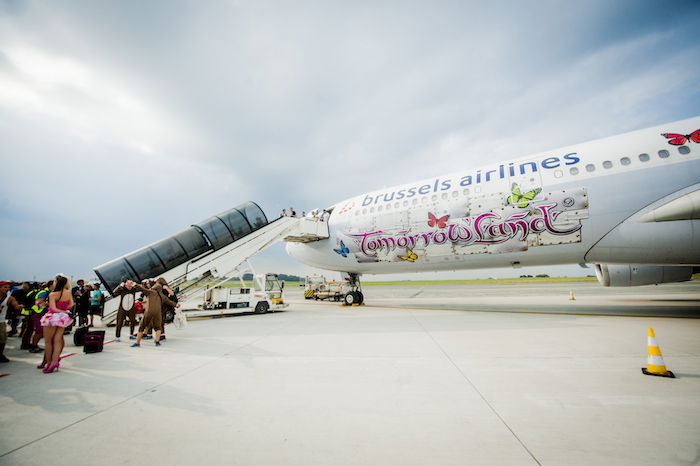 To give a bit of background, here's a video Brussels Airlines made of one of the 2012 Tomorrowland flights:
And here's a video of one of the 2013 Tomorrowland flights:
Does that look crazy, crazy, or crazy?
So when I Tweeted Bart to let him know how jealous I was, Brussels Airlines invited me to join in on one of this week's Tomorrowland flights.

Tomorrow morning I'll be joining them on their Tomorrowland flight from Frankfurt to Brussels. I'll actually be originating in Brussels and simply fly a "turn" in Frankfurt with the plane, and can't wait to cover this.
Be sure you're following along on Twitter, Instagram, and Facebook for all the updates! And thanks of course to Brussels Airlines for inviting me to cover this flight!
Would you take a Brussels Airlines Tomorrowland flight? What level of madness should I expect? 😀