Those of us in the points world are usually pretty good at maximizing value. The issue is that sometimes figuring out what's the best value isn't so straightforward. I figured I'd share a redemption decision I'm struggling with, both because I'm curious to hear what OMAAT readers think, and because maybe some may find my thought process to be useful.
I plan on staying at the Waldorf Astoria Dubai Palm Jumeirah
I'll soon be visiting Dubai for a couple of nights, while enroute to the Maldives (where I'll finally be checking out the Waldorf Astoria Maldives, which is a points reservation I locked in a long time ago).
While I've been to Dubai a countless number of times, I'm trying to review a new points hotel, and I think the Waldorf Astoria Palm Jumeirah is probably the most interesting option. While I'm not necessarily a huge Palm Jumeirah fan, this seems to be a legitimate luxury property, and it has also been around for a long time (some of the last few points hotels I've reviewed in Dubai have rebranded, limiting the usefulness of those reviews).
Paid rates at the Waldorf Astoria are expensive, and start at ~$700 per night, not including taxes & fees. So being able to redeem 80,000 Hilton Honors points per night (which I value at ~0.5 cents each), is a good deal by comparison.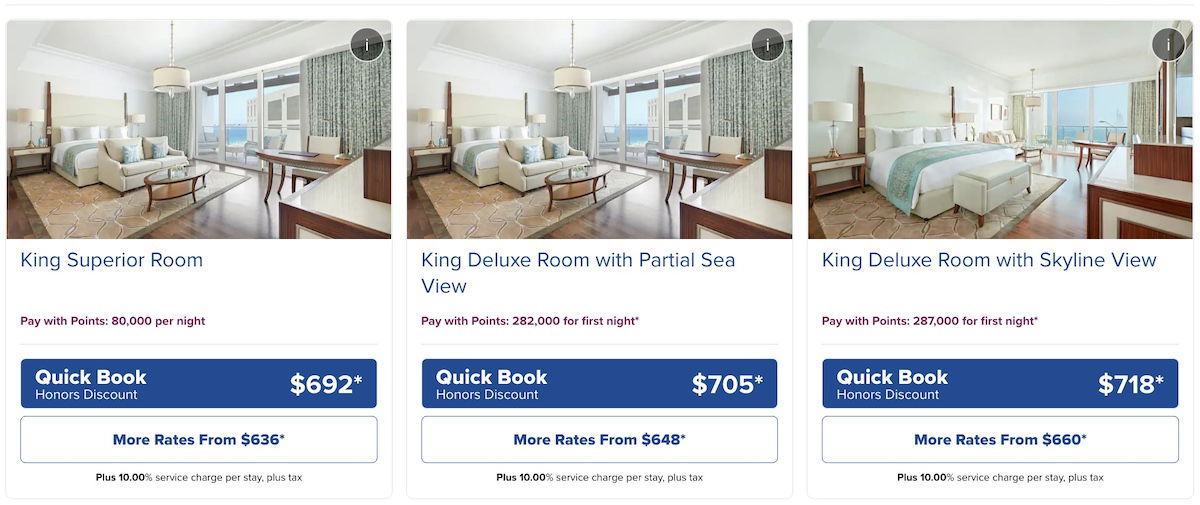 Before I get into the conundrum, a couple of questions and thoughts:
Is there another luxury points hotels y'all would rather see me review? Like I said, I'm not obsessed with Palm Jumeirah, and prefer to be closer to downtown
The Waldorf Astoria has the Pearl Club, which is the property's club lounge, but elite members don't get access to it; anyone have recent experiences with paid upgrades at check-in (I've heard they charge 500 AED at check-in, but a lot more in advance)?
Should I redeem 80K points or a free night award?
Here's the value decision that I'm struggling to make. I can book this hotel either with 80,000 points or a free night certificate, issued with Hilton's co-branded credit cards. For context, Ford and I each have two of these certificates right now, valid roughly through the end of 2022.
A few thoughts about why I'm struggling with whether I should redeem points or a free night award:
The free night certificate could potentially be used at a property costing up to 150,000 points per night, so there's lots more value to be had, since I'm "only" redeeming at a property costing 80,000 points per night
At the same time, my points won't ever expire (with some account activity), while these certificates will expire in around nine months
While there are more expensive properties I could redeem at, how many am I realistically going to visit this year? I'm already staying at the Waldorf Astoria Maldives, I've stayed at the Waldorf Astoria Los Cabos, Waldorf Astoria Amsterdam, Waldorf Astoria Beverly Hills, etc.
Any redemption with this free night certificate would be way above the acquisition cost, which is very low thanks to the huge value of the Hilton Aspire Card
I always struggle with putting a points value to free night certificates like these. As I think about it, 80,000 points might just be right around what I value these free night awards. If this stay cost 65,000 points per night, I'd definitely redeem points. If this stay cost 95,000 points per night, I'd definitely redeem the certificate. Yet the 80,000 points requirement leaves me conflicted.
Bottom line
At times it can be tough to decide whether it's a better deal to redeem points or a free night certificate for a hotel stay. Usually I'm pretty decisive with this stuff, but an upcoming stay at the Waldorf Astoria Dubai is leaving me conflicted, as I'm not sure whether to redeem 80,000 points or a free night award.
I guess my biggest takeaway here is that I probably value a Hilton free night award at somewhere around 80,000 points, because that's the point at which I can't decide one way or another.
How do you decide whether to redeem points or a free night award? What would you do in this situation?