Airline schedule changes happen all the time — the further in advance you book, the bigger the chances you'll have a significant change to your flights as the departure date approaches, given how often airlines tweak their schedules.
While there are plenty of situations where you can make schedule changes work to your advantage, the exception is on partner airline award tickets, where schedule changes are almost always a huge headache. In this post I wanted to share one such situation I'm currently dealing with.
My Qantas partner award ticket downgrade
In late February 2023, Qantas released a bunch of award seats in all classes. I managed to book a Qantas first class award on the Airbus A380 from Sydney to Los Angeles using American AAdvantage miles. I was excited about this, since Qantas first class awards are generally near impossible to find, and on top of that I haven't reviewed Qantas A380 first class in many years.
I've been in the process of planning the rest of my trip, though over the weekend I hit a roadblock. On April 15, I received a schedule change notification from American, informing me that I had been downgraded from first class to business class on my flight (you'll see the confirmation states that "P" is premium economy, but that's a known glitch, as that's the first class fare code for Qantas).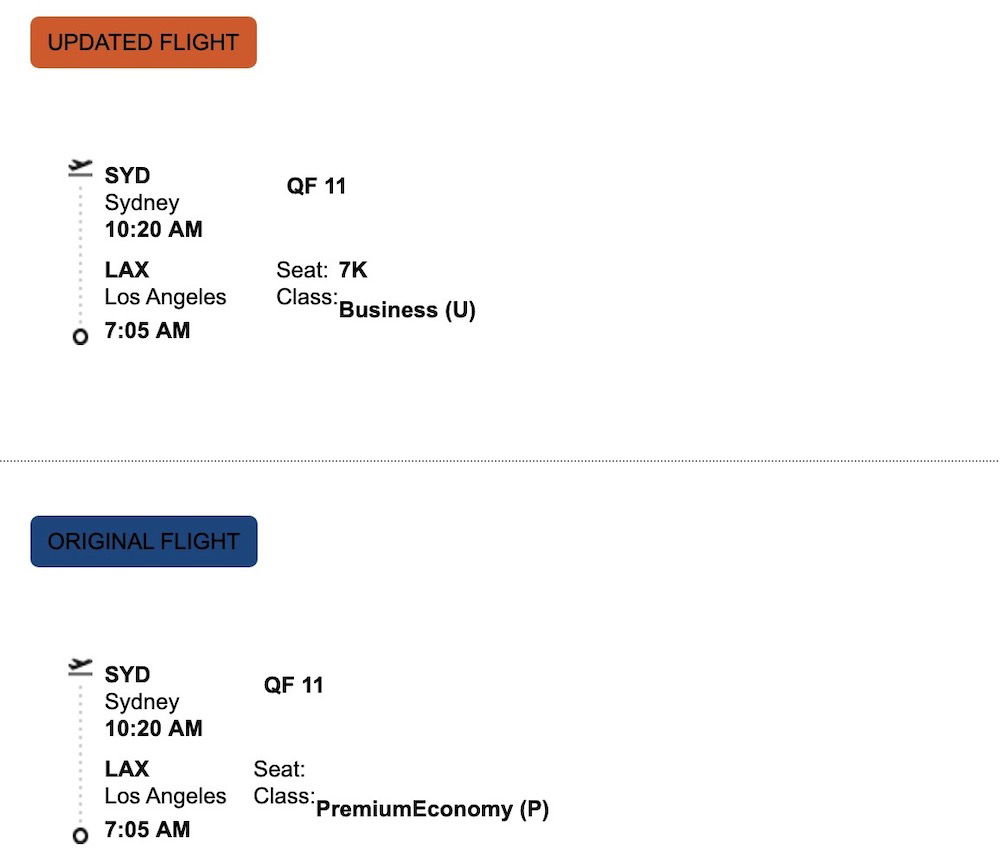 So, what's going on here? Well, for certain days in the coming months, Qantas has taken the Airbus A380 off the Sydney to Los Angeles route, instead replacing it with a Boeing 787-9.
I noticed that the A380 is still scheduled to operate the route on both the day before and the day after my original flight, so it should be a reasonable request to be rebooked on one of those flights.
In these kinds of partner award ticket schedule changes situations, here's how that usually works:
Airlines don't generally have a way to directly open award space on partner airlines in these situations
However, airlines have liaisons that work between airlines, so that there are ways to make reasonable requests in situations like this
It's often not an instant process, but the intent is that in the event of an involuntary schedule change, an agent with one airline can put in a request with another airline for a seat to be opened
Anyway, this is how things are supposed to work. That's not necessarily how things actually work, though, especially with the first try.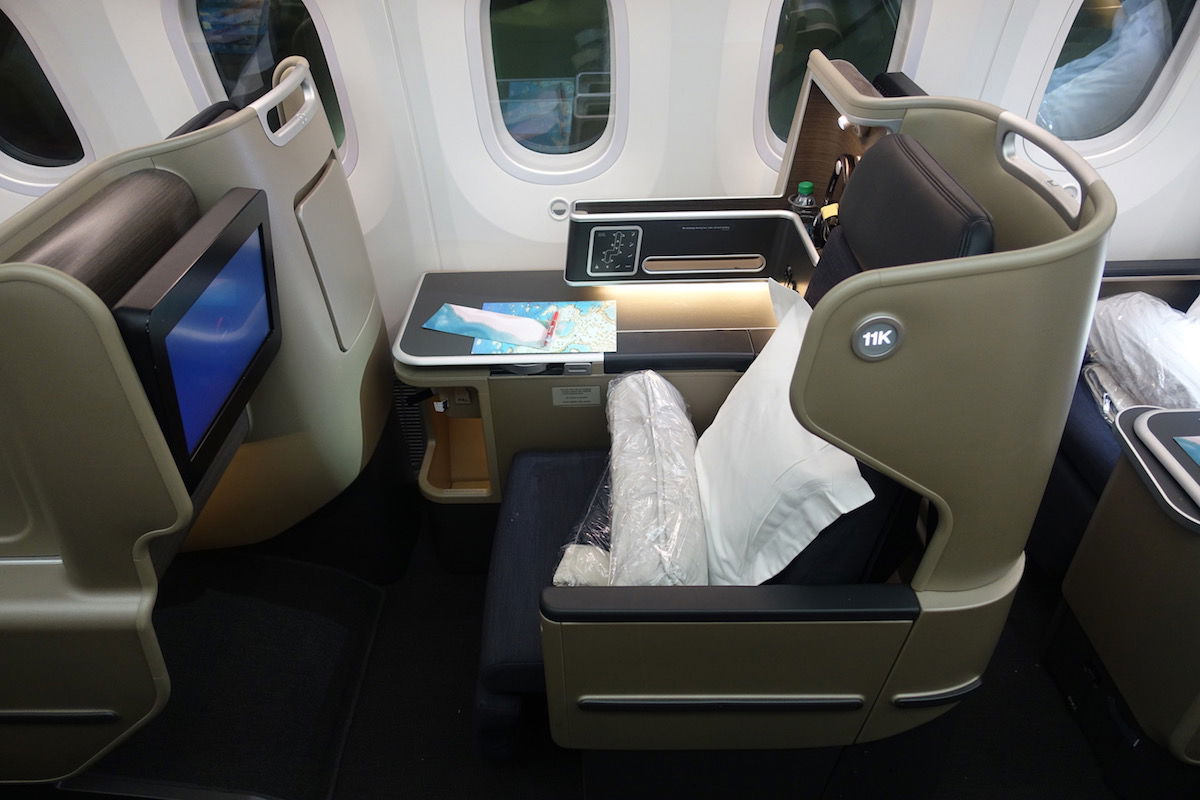 My experience trying to get rebooked
This morning I picked up the phone and called the American Executive Platinum desk. I explained to the agent that I was involuntarily downgraded, and asked for a request to be made for Qantas to open award space on the same route either the day before or after.
She said she'd check, and she put me on hold for well over 20 minutes. A quick tangent — why is is that half of agents seem to check on you every two minutes when you're placed on hold, while other agents don't check on you at all — in this case it was the latter, which was probably a sign of how this would go).
After being on hold for an extended period of time, the agent informed me that Qantas is unwilling to rebook me on a different flight. The reason? The agent claimed it's because I accepted the schedule change. I asked the agent for more details about when I allegedly accepted the schedule change, and she claimed that I did so on April 5. I explained that:
I was first notified about the schedule change on April 15, less than 48 hours before I called American
I intentionally didn't "accept" the change in any way, for obvious reasons
I assume the agent wasn't making this up, though it doesn't feel good to have someone essentially accuse you of having approved something two weeks ago, when that simply isn't the case (both in terms of the timeline and in terms of accepting the change).
To the agent's credit, she said they were able to open up first class award space on American:
Airlines often do this in situations with partner award ticket schedule changes, as it's often the easiest solution
That being said, I've flown American's 777-300ER first class, and it's not great, to put it mildly (and never mind that the soft product has been downgraded significantly since then)
For that matter, American shouldn't have to open first class award seats on its own flights, when it should be Qantas fixing the situation it created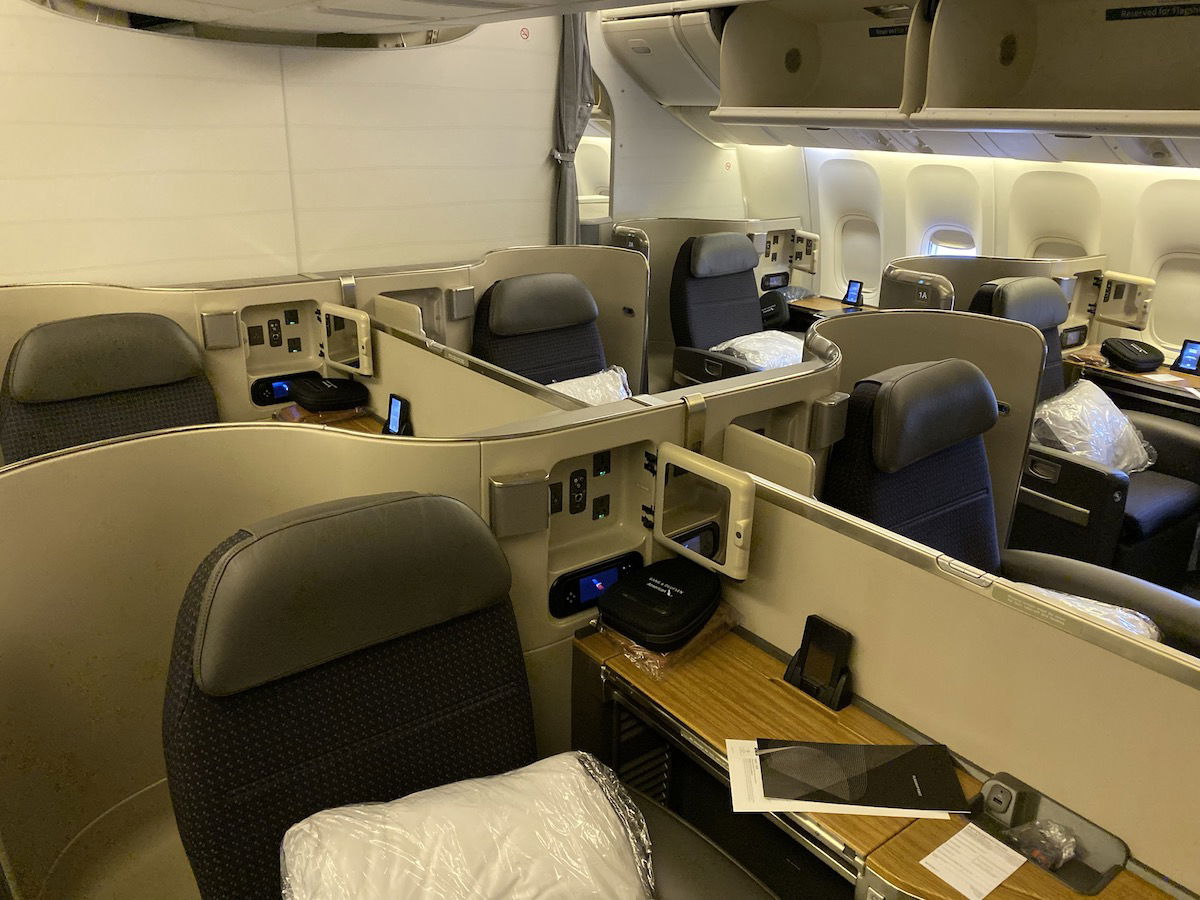 You can bet that I'll be calling again later. I'm probably the most anti-phone person on earth, and I go great lengths to avoid phone calls. As you might expect, I'm already dreading this, as I'm sure it won't be quick.
While I book tons of partner award tickets, for my own travels I tend to book very last minute, so I don't deal with schedule changes very often anymore. I get messages all the time from readers about their frustration with schedule changes on partner award tickets, so I just want to say "I hear you."
I'll report back if/when I get this resolved. Who knows what the last agent noted in my record, which might even make this more of an uphill battle (something like "passenger refused to accept alternative offer").
Part of what makes this all so frustrating is that you're basically playing a game of telephone (literally and figuratively), with the phone agent you're talking to relaying details to someone in a different department, who is relaying details to someone at the other airline (often not in real time), so a lot can get lost in translation.
Bottom line
While it's easy to make many schedule changes work in your favor, one major exception is partner airline award tickets, which can be a real headache at times. Airlines have liaisons through which they can request that partner airlines open award tickets when there are involuntary schedule changes, but the challenge is actually getting a decent agent on the line, having them advocate for you, etc.
I don't think my request is unreasonable. I booked a Qantas first class award. Qantas downgraded me. I'd still like to fly the airline, route, and cabin I booked, and I'm willing to move to another date, even though it's less convenient. Unfortunately they're somehow claiming that I accepted this schedule change nearly two weeks ago, which simply isn't true, as I didn't learn about it until two days ago.
If you've recently dealt with a partner airline award ticket schedule change, what was your experience like?