The United States is easily the most lucrative market in the world for credit card welcome bonuses and general loyalty bonuses. I recently wrote about considering beginning the process of building credit history there myself.
Australia is now a lucrative market too. Nowadays, 100,000 point bonuses in Australia are the norm, not the exception.
When I left Australia two years ago, I also left behind my credit history which I had closely monitored and had either been in the 'very good' or 'excellent' range for many years. I held three or four credit cards at a time, limiting my number of new cards to one or two each year to protect my score. The different credit scoring system in Australia means it's not practical to hold 20+ credit cards at once like in the United States, but it is easy to earn hundreds of thousands of points each year in Australia without spending that much money.
I think I checked my credit score more regularly than I would check my weight on bathroom scales!
I didn't really know where to start with credit cards, when I arrived in the UK as a new resident, but expected it would take several years to build my credit.
I researched as much as I could, and then started the long road to rewards.
Unfortunately the UK is not a very lucrative market for credit card sign-up bonuses, and 20,000 points is considered decent!
Here's what I've done so far to obtain credit, and build credit history in the UK.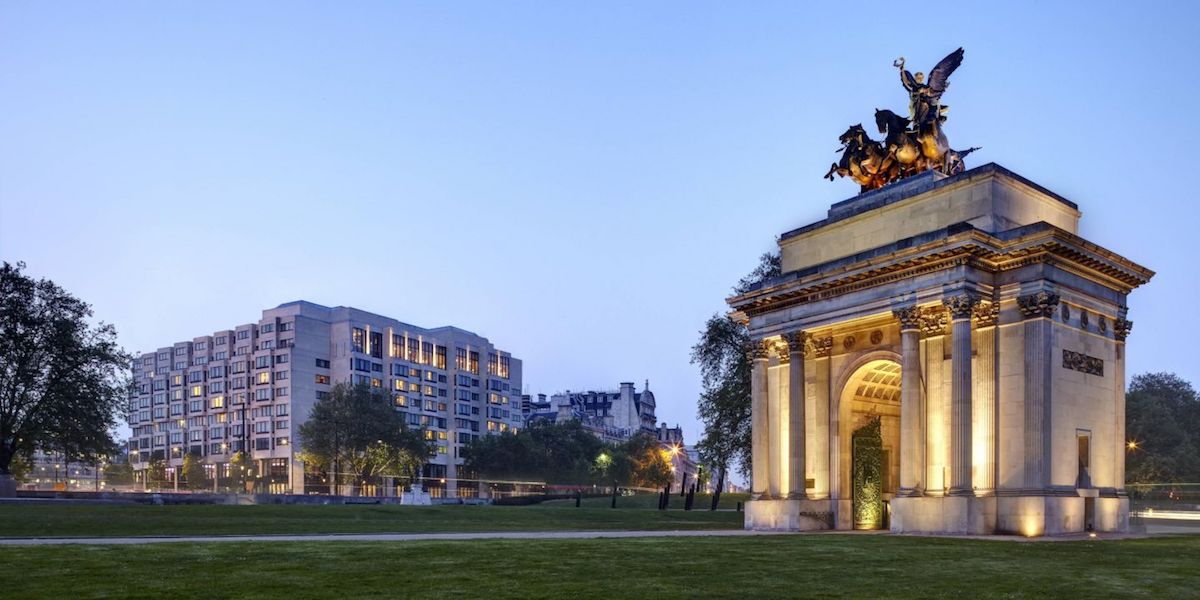 Step One: Register as a local
This was easy. I registered on the local electoral roll where I was living. This allowed me to vote in British elections, a right I still find a bit weird as I am a resident but not a citizen.
Registering on the electoral roll let credit reporting agencies know I had arrived and indicated I am intending to stay, and starts building my local credit profile.
Step Two: Verify your address
Address history is taken seriously in the UK, so I needed to prove I actually lived somewhere in the country, and have lived there for some time. The easiest way to do this was to get my name on a utility account. Electricity, gas, water, internet, etc., are all acceptable.
Mobile/cell phone accounts are usually not.
It might seem obvious that your name would be on a utility account where you are living, but I am flat-sharing with others and that means having several of us on the account.
This also gave me a good form of ID for doing things like opening a bank account (I could have also used a tenancy agreement).
Step Three: Obtain low limit, high interest credit cards
It was a humbling experience to apply for these type of credit cards. In Australia I had no trouble obtaining a credit card with a $15,000 limit, and the card issuer would regularly send me invites to increase the credit limit to over $25,000.
With no actual credit history in the UK, the best I could initially do was a Capital One Classic Card with a measly £200 limit that earned absolutely no rewards. Fortunately, it had no annual fee.
It is a card designed specifically for people like me who are trying to build credit history in the UK (or have bad credit history they are trying to repair). While it does not offer any rewards, it is a way for me to show that I can service debt responsibly, to then be trusted with higher amounts at a later date.
I have a direct debit set up each month to pay off the full balance, which doesn't exactly break the bank! I try and remember to use it a few times each month so there is some actual credit servicing rather than just having an open line of credit, but it is difficult to remember when there's no rewards and little other motivation.
I also need to remember that any medium sized or large purchases will exceed the credit limit quickly, so I keep only use it for coffees, Ubers, etc.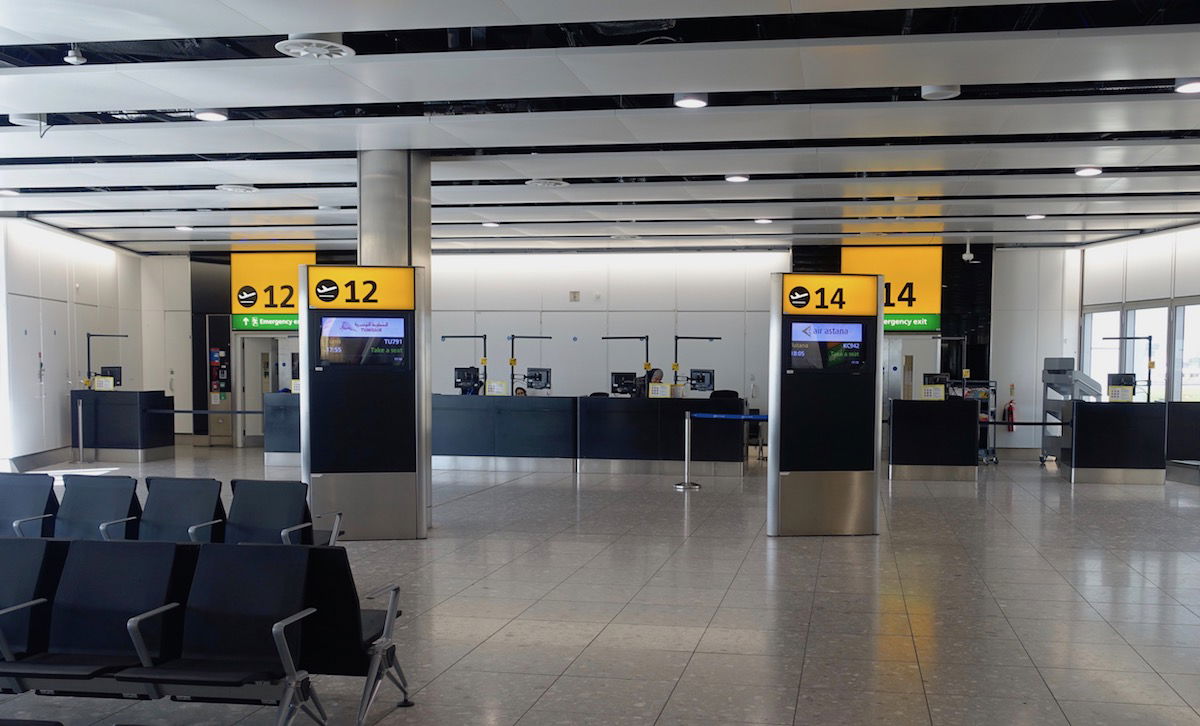 Step Four: Check if you have built sufficient credit
There are plenty of credit card consolidator websites in the UK like Money Supermarket, that will show you the likelihood of being approved for each type of card, based on the personal details you provide. I'm at the stage now where some actual new rewards cards give me a more than 50% chance of being approved, and I would be comfortable actually applying for those cards.
The biggest problem I will face is that I only have two years proof of address. I know that some people in my situation simply 'say' they were at their first address five years ago when they are applying for credit and say that the credit providers never check (or care).
I'm not sure I want to say anything dishonest in a credit application, when I've been working so carefully to build my credit history.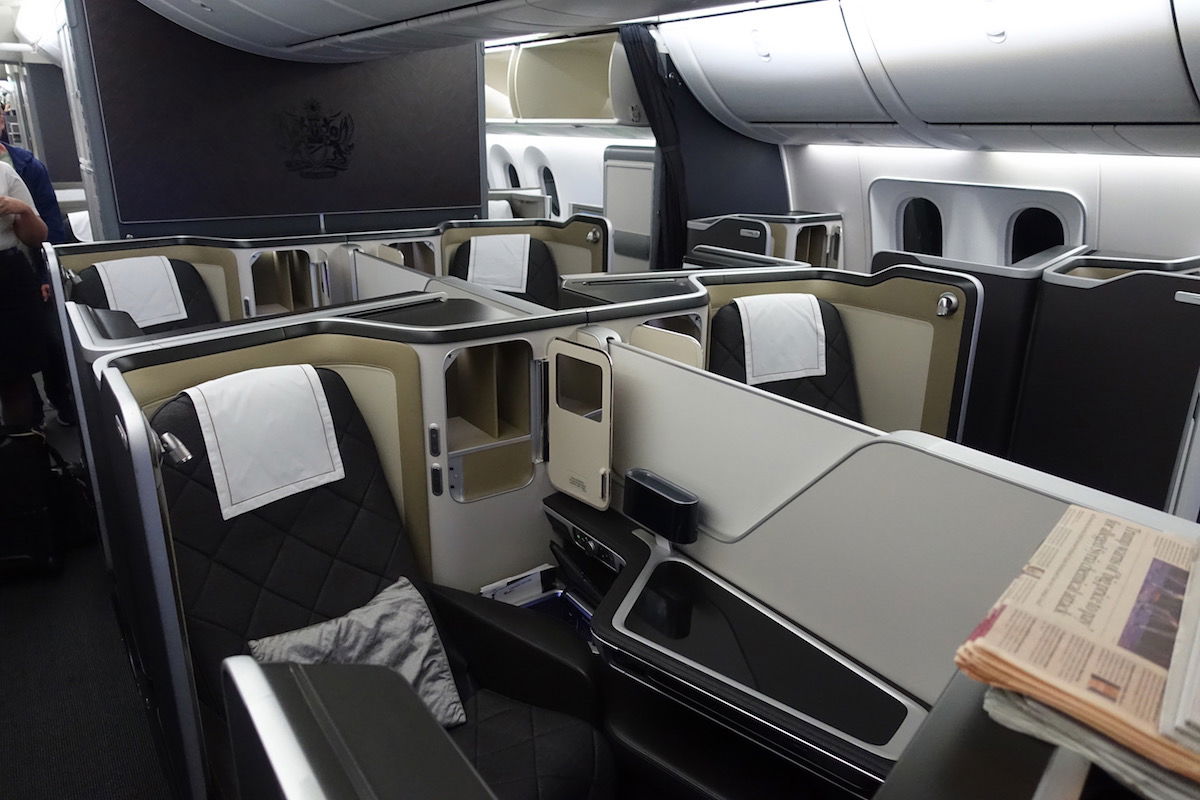 A potentially instant short-cut: American Express
I didn't know this little trick until early last year, when an Australian friend who had arrived in London after me, pulled out a UK-issued American Express Gold Card when we split a bill for dinner. My jaw dropped and I asked him how he had managed to get an Amex card, when he had not been in the country long.
He explained that American Express would transfer your credit history from Australia to the UK, and allow you to use it to apply for American Express cards, but only Amex-issued Amex cards (not bank or airline issued Amex cards).
My friend also advised me that the best chance I had of being approved, was to apply for an Amex charge card which requires the full balance to be paid each and every billing statement, rather than a standard credit card. This is a much lower risk to American Express because the balance must be paid each month so you can't rack up a huge, long-standing debt. The American Express Preferred Rewards Gold Card came with:
20,000 Membership Rewards as a welcome bonus, after spending £2,000 in the first three months
No annual fee for the first year
1 Membership Reward Point earned per £1 spent
I applied for the card on the way home from dinner, and received it in the mail in less than a week, no questions asked.
I now understand American Express offers an international transfer program called Global Card Transfer, where if you move to a new country and are an existing customer, you can transfer your credit history/account to your new country over the phone and they will issue you with a similar local card immediately.
If I moved countries again, I would do this as soon as I arrived.
I'm not sure how recent this formal program has been in place, but it's important to note that I was approved last year for the Preferred Rewards Gold Card without utilising this service (it may not have been in place then) — I simply provided all my personal details and indicated that I had held Amex cards before, and Amex connected the dots.
American Express UK has many transfer partners, and I chose (via SPG), American Airlines AAdvantage as I (still) think it's a better value program than British Airways Executive Club, although I hold status in Executive Club.
As the annual fee kicked in at the start of year two of this card, I always planned to cancel it before then. That's because the annual fee of £140 would likely outweigh any points I may earn. You do receive 10,000 Membership Rewards Points each anniversary where you spend £15,000 in that year, but for me that was not a compelling value proposition to retain the card.
So I prepared to cancel it, while actively looking for a suitable replacement.
And I found it.
The best credit card in the UK?
As I had not yet built sufficient credit to obtain independent credit cards on my own merit (especially Visa or Mastercards), I continued to explore options within the American Express family. Fortunately, the British Airways Premium Plus American Express is widely considered to be the best credit card in the UK (Amex or otherwise), and was also ideal for my situation. As I now had a UK Amex account from my charge card, I simply logged into that account, and applied for this new card online.
I was approved instantly.
It came with:
26,000 Avios as a welcome bonus after spending £3,000 in the first three months
3 Avios per £1 spent with British Airways, 1.5 Avios per £1 spent on everything else
Travel insurance
A £195 annual fee
Oh yeah, and the 2-4-1 Companion Voucher.
People in the UK go nuts about this Companion Voucher. Essentially, when you spend £10,000 on the card each year, you receive a 2-4-1 redemption voucher with British Airways each year. This means you can redeem Avios for two people traveling together, on any British Airways operated return flight (ex-London) and you will only pay the Avios for one person.
Any destination, any class, any date with award availability.
Given how high the redemption rates are for British Airways long-haul premium travel, this could potentially save you hundreds of thousands of Avios each year.
You can use it for a one-way redemption ex-London, however you essentially 'forfeit' the right to use it for a second, return leg.
Now the BIG caveat of this generous offer, is that you must pay the fees, taxes and frustrating fuel/carrier surcharges for both travellers, and this can be substantial – up to £1,000 per person depending on the route and class.
I am thinking about going to Miami later this year. Normally for two people, return in Club World, it would be an eye-watering 275,000 Avios plus around £1,000 in total fees, taxes and surcharges. Applying the 2-4-1 voucher, which can easily be done online in your Executive Club account, keeps the taxes, fees and charges the same, but reduces the Avios required by half.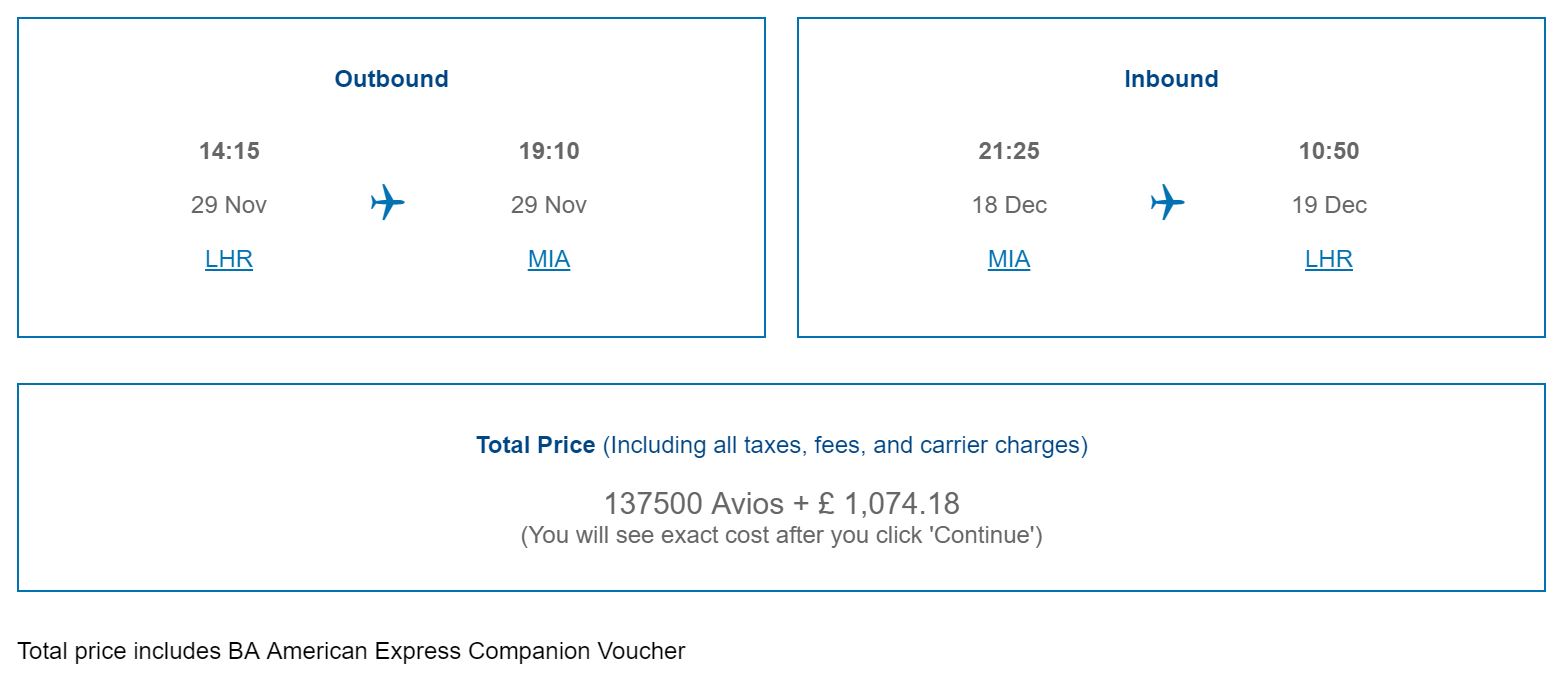 A nice supplement
I've been very happy with the British Airways Premium Plus American Express, but have realised that once I have earned my 2-4-1 voucher by spending £10,000 each year, there are no additional bonuses, beyond the standard 1.5 Avios per £1 spent. Given how generous Amex has been, I thought I would try my luck obtaining another Amex issued card earlier this year.
I settled on the Starwood Preferred Guest Credit Card from American Express for a few reasons:
Although I'm not a regular at luxury hotels and resorts around the world I know that SPG Starpoints are about the most valuable loyalty points you can earn (and more valuable than Avios)
It came with 11,000 Starpoints after spending a very reasonable £1,000 in the first three months
It has a low annual fee of £75
While it only earned 1 Starpoint per £1 spent (although 2 Starpoints per £1 spent with SPG/Marriott), versus the 1.5 Avios on the BA Amex, I recognised the flexibility and value of Starpoints meant this earn rate is equal to, or more than the BA Amex, and I can easily switch back to the BA Amex once I've reached my minimum spend.
Again, this was approved instantly, and has been a nice little side-card, as it nicely supplements the BA Amex after I have earned the 2-4-1 Companion Voucher.
My next steps
While I'm very grateful to American Express for allowing me to obtain credit so easily in the UK with such limited credit history, my wallet is far from perfect and I regularly face the following problems:
Some companies in the UK don't accept American Express, although this is resonably rare
I purchase many things in foreign currencies (especially flights with non-UK airlines), and the FX fees Amex imposes are in my opinion higher than the value of the points I would earn by using this card, so I use my trusty Monzo pre-paid debit card for all purchases that are not in Pounds Sterling.
My credit history is now at a level where I'm more than 50% likely to be approved for various independent Visa or Mastercards. Ideally I would like one that both earns rewards and has no FX fees.
Unfortunately outside the American Express family there are very few compelling offers, most simply offer some cashback or a giftcard with your first purchases.

I'm planning to stay away from Virgin Atlantic Flying Club, as I still have a healthy balance of Virgin Australia Velocity points, and the two Virgin brands have similar redemption partners.
Bottom line
It's been a humbling experience building credit in a new country, after financial institutions in Australia were throwing me offers for years.
I'm very grateful to American Express for how easy they have made the process, and continue to look for Visa or Mastercards with good value propositions, although unfortunately, they are currently few and far between.
Some summary advice:
My advice to you if you are new to the UK and have held credit cards with American Express in another country, is to contact them to understand your eligibility to use this credit history through their Global Card Transfer Program. American Express issued cards are really the best place to start with rewards in the UK, whether you are concentrating on British Airways Avios or not.
If you are native to the UK, and/or have never held an American Express card, I would follow the steps I have listed above to slowly and carefully build a credit history in the UK, so that you can eventually apply for rewards cards, Amex or not.
Have you ever build credit in a new country?