American introduced basic economy early last year — they first rolled it out in 10 markets, and then over the summer they rolled it on virtually all domestic flights. The good news is that basic economy hasn't worked out quite as well for American and United as they had hoped, as they failed to account for the number of people who would simply book elsewhere when presented with basic economy. Instead they took their customers for granted, and assumed that the only choice customers had was to book basic economy or regular economy, rather than considering them taking their business to Spirit, Southwest, etc.
Today American has announced a pretty significant expansion of basic economy. As of April 1, 2018, transatlantic oneworld airlines (American, British Airways, Finnair, and Iberia) will begin to offer basic economy fares. This will initially roll out on a limited number of routes, so that they can train their airport and reservations teams to make sure they get things right.
Basic economy on transatlantic flights will work slightly differently than on domestic flights. Here's a chart that explains the differences and similarities: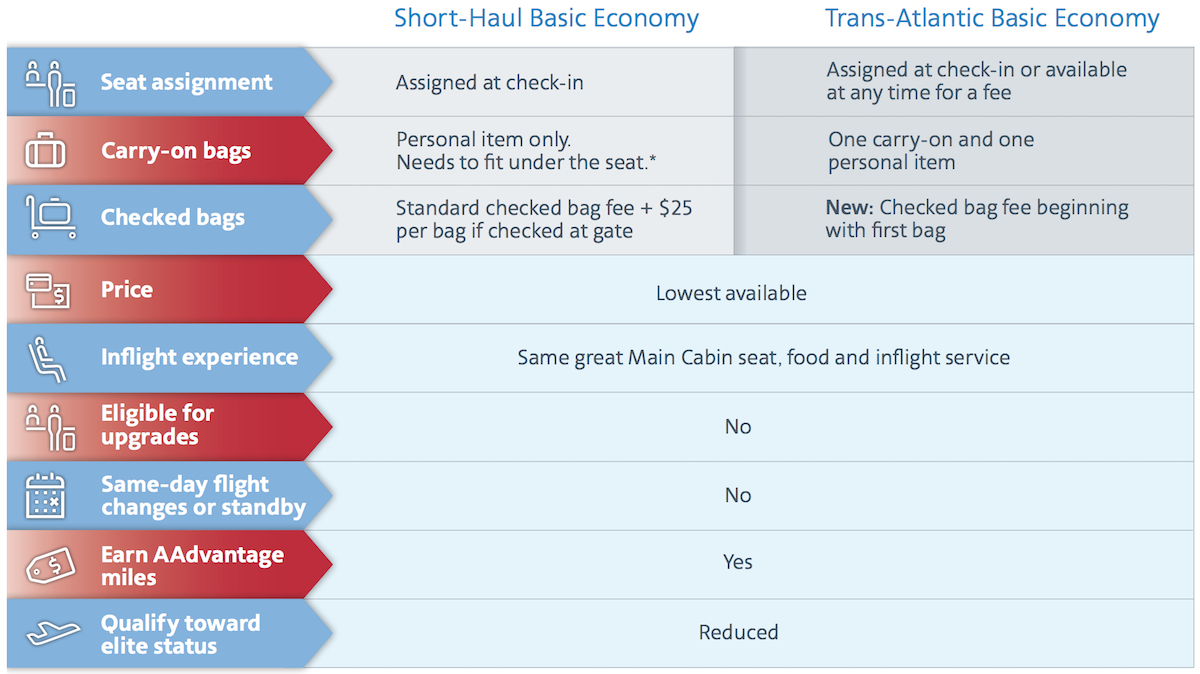 And here's the more detailed explanation from American:
Boarding: Trans-Atlantic Basic Economy customers, including those originating with a domestic leg, will board in Group 8. Elite customers and eligible AAdvantage® credit card members will continue to receive Priority or preferred boarding even when purchasing this fare.
Carry-on Bags: The carry-on bag allowance for all international Main Cabin fares, including trans-Atlantic Basic Economy, is one personal item and one larger carry-on. This is unchanged from international Main Cabin fares today.
Checked Bags: Regular Main Cabin fares will continue to include one checked bag for free. A new fee will apply for the first checked bag on trans-Atlantic Basic Economy.
Connections: Customers flying on a domestic Basic Economy leg connecting to a trans-Atlantic Basic Economy ticket will travel under the rules of the international ticket, including the carry-on bag allowance.
Inflight experience: Regardless of whether they are traveling on a Basic Economy fare or a regular Main Cabin fare, all Main Cabin customers will have the same experience, including the same free entertainment, soft drinks, snacks and meals offered today.
Seat assignments: Free seat assignments are made automatically when customers check in. Customers flying trans-Atlantic Basic Economy can purchase a seat assignment at any time.
Tickets: Non-refundable. No same-day flight change or same-day standby. However, the tickets are changeable (for a fee), which is different from domestic Basic Economy where changes are not allowed at all.
Upgrades: Not permitted, regardless of elite status level.
As you can see, there are a few differences between short-haul and transatlantic basic economy:
On transatlantic flights you get a personal item and a carry-on, while on short-haul you only get a personal item
On transatlantic flights you can assign a seat in advance for a fee, while on short-haul it's only assigned at check-in
On transatlantic flights you can change your ticket for a fee, while on short-haul no changes are allowed
American's new transatlantic basic economy fares will feature reduced mileage earning, though American hasn't yet revealed how reduced the mileage earning will be. If short-haul flights are any indication, those flights offer full redeemable miles and elite qualifying dollars, though only half elite qualifying miles and segments.
American is following Delta's lead here (as usual), as Delta and their SkyTeam partners introduced similar types of fares late last year.
Lastly, it's sad that I have to say this, but I have to give American credit for their press release on this. I am so damn sick of airlines announcing basic economy and saying "OMG GREAT NEWS GUYS WE ARE DOING THIS FOR YOU AND IT'S GOING TO BE AMAZING."
The only potential positive spin American is putting on this is that they are "giving customers a new option for our lowest fares." That's a lot less than they (and other airlines) have said in the past. They don't even pretend the economy experience is good. They simply say everyone gets the same experience: "all Main Cabin customers will have the same experience, including the same free entertainment, soft drinks, snacks and meals offered today." That's better than them talking about award winning entertainment, friendly service, and seasonal cuisine. So for that I give them credit…

(Tip of the hat to Traveling For Miles and View from the Wing)