In the interest of full disclosure, OMAAT earns a referral bonus for anyone that's approved through some of the below links. These are the best publicly available offers that we have found for each card. Opinions expressed here are the author's alone, not those of the bank, credit card issuer, airlines or hotel chain, and have not been reviewed, approved or otherwise endorsed by any of these entities. Please check out my advertiser policy for further details about our partners, and thanks for your support!
Last year I wrote a guide on how to redeem British Airways Avios on Air Italy, but I figured it was time for an update. This is both because Air Italy's route network has grown significantly, and also because redeeming Avios on Air Italy works differently than in the past.
In addition to the changes with Air Italy and British Airways, my colleague Jordan has added his insights into using the Iberia Avios program, so there's lots of new information in this post. Note that while Air Italy's own loyalty program also accrues Avios, the values aren't great, so you're better off using BA or IB Avios.
While you can use either British Airways or Iberia Avios to book flights on Air Italy, there are some key differences between the programs. Fundamentally, you'll pay fewer Avios when booking through Iberia, but the awards are much more restrictive, so it can be worth the price difference to book through British Airways.
Let's get in to the details.
What is Air Italy?
Air Italy was formerly known as Meridiana, but rebranded early last year, after Qatar Airways bought a 49% stake in the Italian carrier. The airline has been expanding significantly (but also canceling some routes), largely in the form of launching transatlantic flights out of Milan.
Air Italy's long haul fleet currently consists of A330s that used to fly for Qatar Airways. Over the coming years the airline plans to lease up to 30 Boeing 787s from Qatar Airways, though I wonder if that will actually happen.
Anyway, the best way to book an award ticket on Air Italy is using Avios, so in this post I wanted to look at how that works.
Where does Air Italy fly?
Currently Air Italy's North American destinations include the following, all from Milan:
Los Angeles (4x weekly)
Miami (5x weekly)
New York JFK (daily)
San Francisco (4x weekly)
Toronto (up to 6x weekly, as of May 6, 2019)
Their short haul network consists primarily of destinations within Italy, though they also operate to some other countries in Europe.
You can find all of Air Italy's destinations here.
What is Air Italy business class like?
I had the chance to fly Air Italy's A330 business class from New York to Milan last year, and was extremely impressed. The seats are slightly angled, though it didn't bother me at all.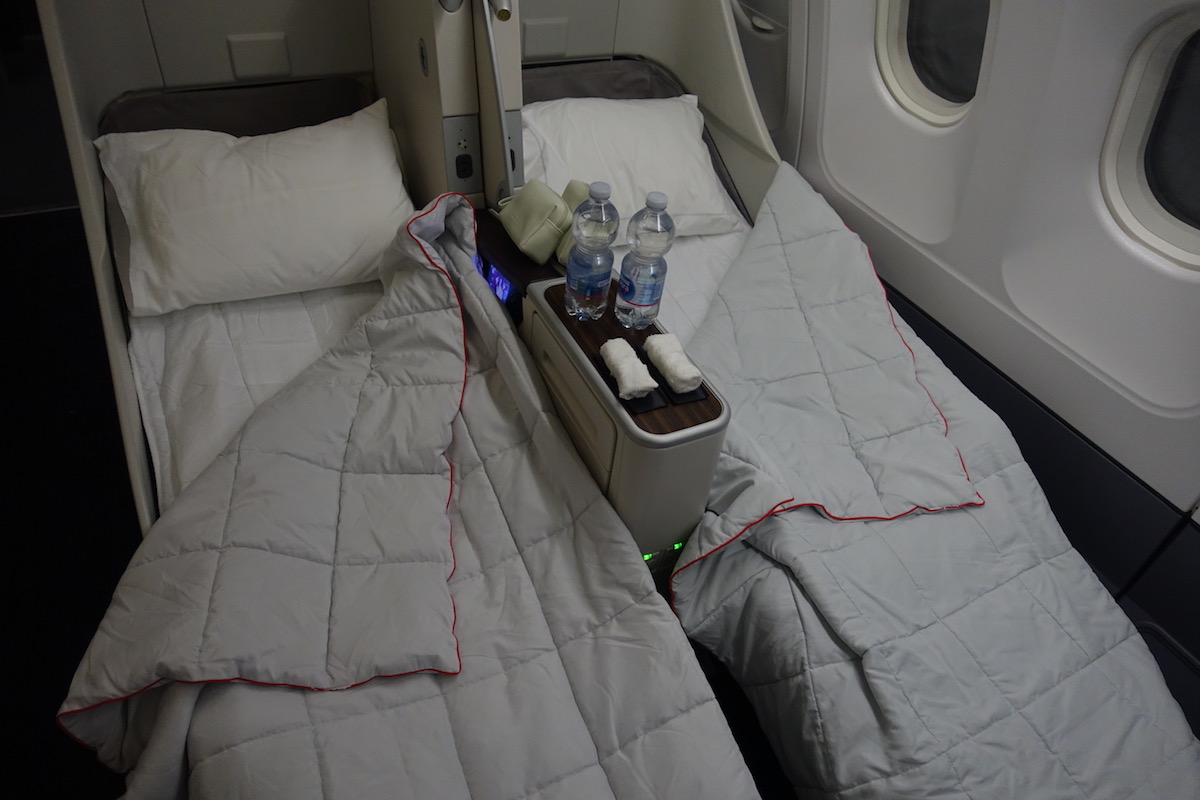 However, the soft product was exceptional — the bedding, amenities, food, drinks, and service were all spectacular, and I'd highly recommend flying with them.
Right now the airline is even improving their business class product further by introducing dine on demand, as they try to align their offerings with those of Qatar Airways.
How is Air Italy award availability?
You can search for award space online, as Air Italy award seats are bookable directly on ba.com or iberia.com. BA has the better search tool in this case, as Iberia has quirks with whether or not they display space, which we'll talk about below.
Air Italy isn't terribly consistent when it comes to releasing award seats, though they do often release 2-4 business class award seats per flight, and often even more award seats in economy.
Air Italy fuel surcharges when redeeming Avios
Unfortunately the carrier imposed surcharges for redemptions on Air Italy have increased significantly since last year. At the time they were ~$120 one-way, while now they're much higher.
I redeemed British Airways Avios for a trip on Air Italy last September, and at the time, Air Italy's carrier imposed surcharges between the US and Milan were $127 one-way, regardless of whether booking economy or business class. That was reasonable.
Since then, Air Italy has increased their carrier imposed surcharges for travel originating in the US, and as a result, both British Airways and Iberia are passing that increase on to those redeeming Avios.
Interestingly they've only made this change for tickets originating in the US.
Want to fly business class from the US to Milan?
That award ticket will now cost you $548, rather than the previous amount of $172.
If you book a roundtrip ticket from the US to Milan, that ticket will now cost you $1,136. Ouch.
The surcharges for travel originating in Europe are the same as before.
Want to fly one-way from Milan to New York in business class?
That will cost you $214.

Even if you book a roundtrip, you'll still only pay the lower/correct fees, just $371.
It is worth noting that in some instances, Iberia doesn't seem to be passing on the full fuel surcharges — particularly when there's a connecting segment that's also on Air Italy.
For example, the surcharges for an itinerary from Los Angeles to Rome via Milan and returning should be ~$1000:
But the all-in cost through Iberia is only ~$400.
This doesn't seem to be consistent, but could be a function of the website versus the call center, as single-segment Air Italy itineraries don't display on the Iberia website. Or it may just be that Iberia isn't levying the full fuel surcharges on some award tickets, similar to how it works with Iberia awards on Iberia metal.
Unfortunately with Air Italy increasing their carrier imposed surcharges for travel originating in the US, the value of redeeming Avios on them has decreased significantly.
If redeeming Avios on Air Italy, I recommend booking either one-ways (only possible through British Airways) or roundtrips originating in Italy with either Iberia or British Airways, and you won't have to pay the higher fees. I'd consider that to be a great use of Avios.
Redeeming British Airways Avios for Air Italy
Here's the pricing for redeeming British Airways Avios on Air Italy:
Zone // Flight Distance
Economy
Business
Zone 1
1-650 miles
4,500
9,000
Zone 2
651-1150 miles
7,500
15,000
Zone 3
1151-2000 miles
10,000
20,000
Zone 4
2001-3000 miles
12,500
37,500
Zone 5
3001-4000 miles
20,000
60,000
Zone 6
4001-5500 miles
25,000
75,000
Zone 7
5501-6500 miles
30,000
90,000
These prices are all per segment, so if you have a connecting itinerary, you'd have to pay based on the cost of each individual segment.
For context as to what this means for Air Italy's North American destinations:
British Airways allows one-way awards on Air Italy, which means you can also book an open-jaw itinerary, and you can connect on other partners if need be. BA also has flexible change and cancelation policies, so while their awards are more expensive than Iberia's (which Jordan will get into below), you're not as limited in terms of itineraries or future changes.
How can you earn British Airways Avios?
British Airways is transfer partners with Amex Membership Rewards, Chase Ultimate Rewards, and Marriott Bonvoy, so there are lots of ways to earn Avios.
Earn British Airways Avios
Redeeming Iberia Avios for Air Italy
Iberia and British Airways maintain two separate loyalty programs. While both refer to their points as "Avios," the programs themselves are very different.
For example, while both airlines have peak and off peak pricing, Iberia has different award charts for all their partners. As part of that, Iberia permits one-way awards for travel only on British Airways, Iberia, Level, and Vueling. British Airways permits one-way travel on all of their partners.
What's most important in the case of Air Italy is Iberia's award chart, as Iberia prices things differently than British Airways, which can be useful for premium awards. Iberia charges fewer Avios than British Airways does for certain routes.
The major caveats here are that Air Italy flights have to be booked as a round trip, and cannot be modified after ticketing. If you need that flexibility, you'll want to consider spending the extra Avios to book through British Airways.
Pricing an Air Italy flight using Iberia Plus versus British Airways Executive Club
In theory, Iberia Plus charges the following number of Avios for nonstop travel on Air Italy:
As you can see, while the economy redemption rates are the same:
A business class award from Milan to Miami, New York, or Toronto, would cost only 62,500 Iberia Avios, compared to 75,000 British Airways Avios
A business class award fro Milan to Los Angeles or San Francisco would only cost 75,000 Iberia Avios, compared to 90,000 British Airways Avios
It's worth noting that the bands and distances are somewhat arbitrary. As an example, New York to Milan is 3,995 miles according to gcmap.com. That's because rather than measuring the distance between airport codes, they're measuring the distance between cities, which puts it just over the 4,000 mile mark.
Regardless, the Iberia pricing is still cheaper than what it'd cost with British Airways. It's 150,000 Avios for the round trip with British Airways, while booked with Iberia it's 125,000 Avios.
Restrictions on partner awards when booking through Iberia Plus
As I mentioned above, Air Italy flights can only be booked as a round trip with Iberia Plus.
Their award chart makes it seem like one way awards are an option. You can even select and price one-way flights on the Iberia Plus website. However, once you get to the payment screen you'll get an error saying "unable to connect to system scorer."
Iberia's tech doesn't seem to be able to deduct Avios for one-way awards with non-IAG partners. I've frustratingly tried many times by phone with no luck. I've made it as far as payment with phone agents as well, as they've scratched their own heads when their own computers and payment systems return an error.
They have to consult with their help desk and finally conclude that Iberia Avios can't be used for one-ways with any partners. This of course is not fully true, as one-ways are possible with British Airways, though BA doesn't count as a true "partner" in the Iberia system.
Another big caveat with Iberia Plus award bookings is once a partner award is ticketed, you cannot make any changes to it. For travel on British Airways and Iberia, award reservations can be modified. For Air Italy flights and other partners, the reservations are generally non-refundable.
Quirks of Iberia's website
Annoyingly, the Iberia website will only display Air Italy awards with two segments connecting in Milan. It will never display nonstop flights to or from Milan on their own.
If there's a significant number of options via Madrid or London, Iberia may display only those options and Air Italy flights may not be displayed at all.
All Air Italy segments are still bookable through Iberia, even when they don't display online, but you'll have to call, which is honestly horrible.
Can I book an open-jaw?
Maybe, in theory? It can't be done online, and I've never been able to do so, and the Iberia call center is probably the single most frustrating call center on earth.
Hell, it's incredibly difficult to even reach Iberia Plus by phone.
Tips for calling Iberia Plus
Mostly, I'd recommend you not.
But, if you want to try booking an open-jaw, or doing anything remotely complicated, you'll need to call Iberia Plus. If you're in the US, you'll want to call: +1 800 772 4642.
You'll need to state (as clearly and monotonously as possible): IBERIA PLUS, or sometimes IBERIA PLUS AVIOS also seems to work. It should ask how they can help you again, and you'll just want to say IBERIA PLUS again. You won't know if you've made it to the correct department until you're patched through to an agent, and you'll need to ask if they're in Iberia Plus.
If you don't make it to the Iberia Plus department, you have to call again and start over. That includes listening to their seemingly endless disclosures on privacy rights, waiting again, and all of this without them even telling you where you're being transferred to.
The Iberia phone agents located in Colombia and Miami are the best ones. The Colombian agents are generally very friendly. The Miami ones aren't as friendly, but are competent and you can at least guide them to do what you need. If you get an agent based in Europe, they will literally hang up on you if they don't like what you're asking them to do. It is incredibly frustrating.
I usually begin the call with something like, "Oh wow, you have such a lovely accent! Where are you from?" just so I can get an idea for who I am dealing with. If it's not an agent in Colombia or Miami, I'll end the call and try again.
Most agents still don't seem to even know what Air Italy is. When you ask them about Air Italy flights, their usual response is: "We don't partner with Alitalia." Right…
What I usually do is feed them the cities and dates first, and then tell them I'd like the nonstop flights with Air Italy, please. The airline code is IG: India-Golf.
It usually takes them a bit of searching, and their computers will recommend routes via Madrid and London first, but they usually can find the Air Italy flights with a little bit of luck. Once they do, it's still a lot of time spent on hold while they grab the flights, take down the passenger details, and price everything.
They'll come back to confirm the pricing, then put you on hold again while they deduct the Avios, then come back to ask for the credit card details. At this point you're nearly there. The e-tickets should issue instantly once payment is approved.
How can you earn Iberia Plus Avios?
If you have an account with British Airways Executive Club and Iberia Plus, and both have been open for 90+ days, you can transfer points freely between the two accounts.
Otherwise, Amex, Chase, and Marriott points all transfer to Iberia Plus. Chase transfers seem to take between one and ten minutes to post. Amex points generally take between 8 and 72 hours. Marriott points will take at least a few days.
Bottom line
It's great to see the expansion of Air Italy, and the additional award options that this opens up for passengers. They offer a solid product, award space is bountiful, and the pricing is attractive. Furthermore, the airline will be getting 787s soon enough… apparently.
Award availability on Air Italy is generally quite good, and if you book through British Airways (or certain routings through Iberia) you can even ticket these flights online.
If you want to book a one-way trip, or anticipate needing to make any changes to your plans, you'll want to consider spending the extra Avios to book through British Airways, otherwise the Iberia program offers better award pricing.
Anyone considering redeeming Avios for travel on Air Italy?