American Airlines is an operational mess. On top of that, I have really bad luck. In the past two months I've taken fewer than 10 flights on American. Of those:
And then there was the issue I had on Tuesday, which I'll get into below.
The problem with American's horrible operational performance
I know what's going on here is a combination of me having really bad luck and American also performing horribly right now.
The way I see it, there are three issues here, two of which are pretty major.
The first major issue is that clearly American is having consistent maintenance issues. Their on-time record isn't great.
But the bigger issue, in my opinion, is how horrible of a job they do handling delays. Delays happen, I get it. But the way you treat customers during a delay says a lot about the airline.
Experience a delay on Delta, and you'll typically find that the pilots constantly update you, they set realistic departure times so you know when the flight will leave (rather than delaying flights 10 minutes at a time), they make it easy to rebook and know your options, and they just generally have fewer maintenance delays.
Lastly, not for a single one of those delays did I receive a proactive email from American customer relations apologizing. Most airlines have a system set up where passengers will proactively be emailed compensation in the event of serious delays. I guess an Executive Platinum being delayed by four hours doesn't meet that threshold, which says a lot about the standards they hold themselves to.
American just doesn't respect their customers' time, both in terms of their maintenance, and how they handle delays beyond that.
My latest issue
On Tuesday Ford and I had an award ticket booked from Miami to Papeete, Tahiti. The only option available on miles was from Miami to Atlanta to Los Angeles to Tahiti, with an over 2.5 hour layover in Los Angeles. Perfect… or so I thought.
Then a couple of days before departure I saw that American had a reasonable fare from Miami to Los Angeles on the nonstop 777 flight, and there was confirmable upgrade space. Since I had systemwide upgrades expiring, I decided to book this on a separate ticket:
It would allow us to depart about three hours later
The layover was the same length
I figured there was less chance of things going wrong on a nonstop 777 flight that has a lot of critical connections, rather than a one-stop itinerary on American's regional carrier connecting to a 737 at a non-hub
We'd get a flat bed nonstop flight rather than connecting; happy husband, happy life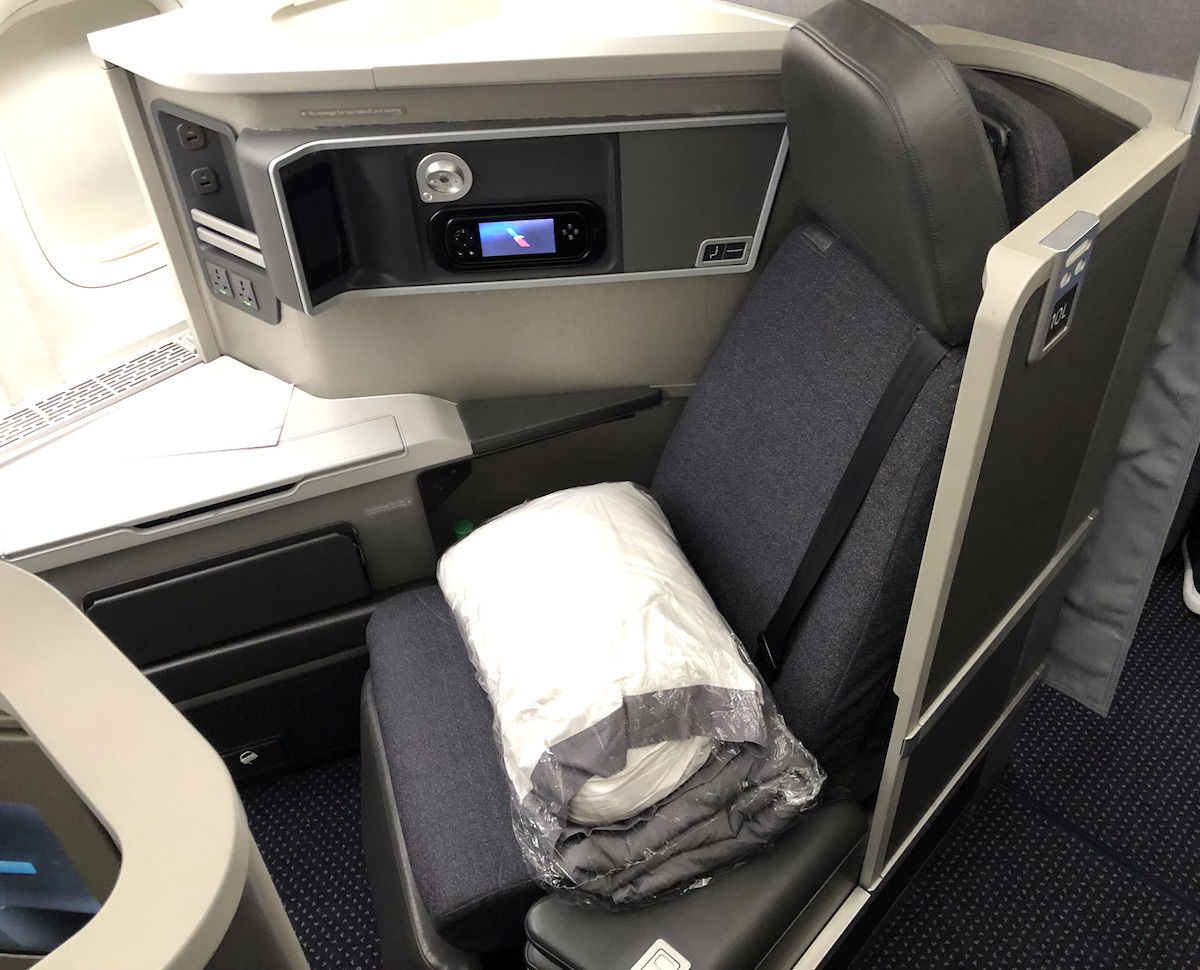 In retrospect, I don't know what I was thinking. No, I'm not referring to booking two separate tickets, but rather I'm not sure why I thought a connection of just over 2.5 hours on American was sufficient.
We boarded our flight from Miami to Los Angeles, and as departure time approached I started to wonder what delay would happen today, and also kicked myself for having booked such a tight connection (by American standards).
"Folks, some bad news from the cockpit. Unfortunately the air conditioning in the cockpit isn't working, we're calling maintenance."
The captain didn't provide any further updates for a while, and made it clear the delay could be lengthy. At this point I thought it was a sure bet we'd misconnect.
On the surface we might have been dumb to book separate tickets, but this was actually not a huge issue. The next Air Tahiti Nui flight, on which we would have presumably been rebooked if we misconnected, also had award space, so we could have easily rebooked even on separate tickets.

The downside was that I wanted to review the 787, and that flight only operates every few days at the moment.
In the end, after a delay of over 90 minutes, they determined that the maintenance issue was deferrable, and we started our journey to LAX. Despite being this late, and despite many passengers having connections to international flights that were at risk of misconnecting, we arrived at one of American's few remote stands, over by the maintenance hangar. It takes forever to get from there to the terminal.

We had 59 minutes to make our connection (our connection was at 10:55PM). It was 10:15PM by the time we got to the terminal (these buses take forever), and then we sprinted towards Tom Bradley International Terminal. As we started our run they paged me throughout the terminal — "urgently paging Benjamin Schlappig for passport verification."
Our flight was departing from gate 140, which for those of you not familiar, is basically a terminal within a terminal. It looks like a Costco, and is a haul even when you're already in TBIT.
At this point I looked down at my phone (which was on silent, as usual), and noticed two missed calls from an LA number. I called back, and shockingly enough the lady at gate 140 picked up. I explained we were on our way, and we made it to the gate right as the flight was boarding.
Bottom line
Obviously I've had very bad luck, but everyone has a breaking point. Significant mechanical delays on over half of my flights is my breaking point. Even when American has the most convenient schedule, I just can't count on the airline to get me where I need to go anymore.
I'd rather take a less convenient schedule and feel like I'm flying an airline that values my time, than continue to put up with this garbage.
I actually don't regret booking separate tickets, because like I said, there was award availability the next day. What I regret is booking a connection of just over 2.5 hours, which in virtually any other situation would be more than enough time.
I just can't with American anymore. It's not that any single mechanical delay is what pushes me over the edge, but it's a combination of the number of times it has happened, how horribly American handles delays, and the fact that they don't even apologize for them.
They don't keep people updated during delays, they don't give you rebooking options, and they reduce staffing at gates during delays rather than increasing it.
Add in that service at American has hit rock bottom, and this airline just feels like dealing with a government organization rather than a for-profit business (no disrespect intended to government organizations). 😉
So I'm happy it worked out in this case, but I think I've reached my tipping point with the airline, and I'll outline the actions I'm taking because of that in a subsequent post. For Ford's part, he was going to requalify for Executive Platinum (either by doing a mileage run or buy-up), but is no longer doing that. He'll just stay Platinum Pro instead, because we are done with this airline, I think.
Note that while American is in this rut, they're also making it more difficult to earn status. "Hey, we're delivering less than ever before, but we want more money from you."