It has been really sad to see the decline of American — I recently wrote about how I think the airline has hit rock bottom.
The problem is simple — the airline lacks a vision. Management doesn't seem to know which direction they want to take the airline, and that rubs off on everyone at the company. They're sending employees mixed signals as to what kind of an airline American is supposed to be.
I mean, think about it — a couple of years ago American introduced the slogan "going for great."
Then they decided to get rid of that slogan. Think about that. They're admitting they're no longer going for great. What are they going for, then? The airline just seems dead inside. Management wants to coast by copying the cuts of Delta without offering any of the benefits of Delta.
In this post I wanted to address one of the things that I find most frustrating about American, which is their complete lack of respect for their customers' time. Yesterday's delay on a flight from JFK to Miami perfectly captured this.
Delays happen…
A few weeks ago I had a four hour delay from Miami to Quito, because an American 737 MAX went out of service due to a mechanical issue.
Yesterday when flying New York to Miami we had yet another maintenance issue. The way it happened was almost comical. We started boarding, and as I walked down the jet bridge the captain came running up saying "this plane is broken, you're going to want to turn right around."
In the end the flight was "only" delayed by two hours, which is much better than I was expecting. After takeoff the captain explained what happened. He apologized for jumping the gun and saying they needed to find a new plane.
I'm not sure his explanation was especially reassuring to most, though. Essentially there was an issue with icing in the gear compartment, and the captain explained that until two weeks ago this is something that would immediately take planes out of service. However, two weeks ago the rules changes, and this can now be deferred under certain circumstances. Hah.
Delays happen. I've just been really unlucky lately, which is fair enough, because I was really lucky for a while.
What annoys me to no end isn't the delay as such, but the way American handles it.
The way Delta handles delays
I recently had a 30 minute delay on Delta:
They knew the plane would be late inbound, and they announced the delay four hours in advance, so that passengers could arrive at the airport later, etc.
When I arrived at the gate, they apologized again for the delay, and said that any passenger who has a question about their connection or any concerns should come see a gate agent, and they increased staffing at the gate for this
Delta's app always lets you know when boarding starts, which is great, because then you know when you actually have to go to the gate
None of this is that revolutionary. This should just be a basic standard for taking care of your customers.
The way American handles delays
A moment after the delay was revealed, the gate agent announced that if anyone had concerns they could go to the rebooking center or call American. The flight originally had two gate agents, but within a few minutes they reduced staffing to one gate agent.
In other words "if you have any question, we're not here to help." What kind of an airline reduces staffing when there's an issue?
The bigger issue, though, is how horrible American is about posting updates regarding delays. I understand rolling delays happen, and that you won't know exactly when the flight will leave. But you could at least provide some updates.
For example, at 4:30PM the flight still showed a 4:15PM departure. They can't even be bothered to update it to the current time.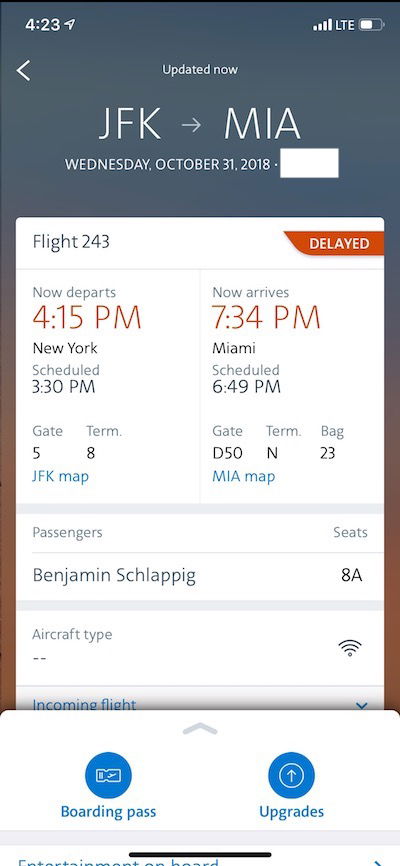 At an absolute minimum the departure time should be listed as 20+ minutes in advance, since that's the minimum amount of time it will take to board. And the airline just doesn't seem to get how this is annoying. For example, take my Twitter exchange with American:
Once an update is available, our team will let you know.

— americanair (@AmericanAir) October 31, 2018
"Once an update is available, our team will let you know."
There is an update available (that the plane hasn't left), and your team didn't let us know (I understand the Twitter team is only the messenger, so I don't blame them… rather I feel bad they work for the airline).
After the delay was announced I went to the Flagship Lounge, and asked if they could announce when boarding for the flight starts. Presumably there are quite a few people in the Flagship Lounge who are on this flight, connecting onto or off of an international flight.
"We don't announce domestic flights."
"But this flight is on a rolling delay, can't you make an exception?"
"Sorry, we only announce international flights, but you can keep an eye on the flight status."
So I left the Flagship Lounge and went back to the gate. But then about an hour later I returned to the Flagship Lounge to get something to eat, when there still wasn't an update on the departure time. This time I had a different agent.
"Would you be able to make an announcement for this flight since it's on a rolling delay?"
"We only announce international flights. As a courtesy I can try to keep an eye on it, but no promises though. Your best bet is to just keep an eye on the flight status."
"But that's the problem, I can't. It's 4:30PM and the flight shows a 4:15PM departure. American doesn't send push notifications to the app when flights board. How am I supposed to keep an eye on the departure time?"
"You can come check with us."
And that's exactly the problem with American. How am I supposed to keep an eye on the departure time of the flight when the airline doesn't publish it? If a person who has access to the res system can't be bothered to keep up with the status of the flight, how is a passenger expected to?
Bottom line
My experience is just one example of American's inability to communicate delays with customers, and in general their inability to provide decent service. I don't know if American doesn't realize how bad they are at this, or if they just don't care.
Delta seems to get that customers appreciate when delays are announced in advance (when possible), or when there are rolling delays, they at least provide a realistic timeline, and provide push notifications of boarding.
With American, on the other hand, I can't count the number of times I've been on flights that showed on-time, even though the inbound aircraft wasn't even expected to arrive until after departure time.
American is sort of like that friend who always shows up late for dinner at 8PM on a Friday night and is like "sorry, there was traffic." You don't say!