American has just announced some significant changes to the AAdvantage program, which kick in as of January 1, 2019. To start, let me note that there are no changes to the AAdvantage award chart for now (I don't know if any changes are coming or not, but I feel that's worth pointing out right away, before those with an AAdvantage mileage balance panic).
American says that they are making these changes because they "want to create a program that gives our customers a world-class experience, provides them with value, rewards they want and continues to keep them engaged" (I think I'll just leave that here without comment).
So, what changes would we expect in 2019?
Increased Executive Platinum revenue requirements
Starting in 2019, American AAdvantage will be raising the revenue requirement for Executive Platinum from 12,000 elite qualifying dollars to 15,000 elite qualifying dollars. This is in addition to the requirement for 100,000 elite qualifying miles or 120 elite qualifying segments.
Currently American requires 12,000 elite qualifying dollars, so this represents a 25% increase in the revenue requirement.
It's one thing if this were the extent of the changes, but let's keep in mind that American recently announced that you'll be able to earn fewer elite qualifying dollars for spend on Barclays credit cards:
You'll no longer be able to earn any EQDs for spend on the Aviator Red or Aviator Blue Cards
AAdvantage Aviator Silver Cardmembers will be eligible to earn only a total of 3,000 EQDs after spending $50,000 on purchases per calendar year (previously they could earn 3,000 EQDs for spending $25,000, and a total of 6,000 EQDs for spending a total of $50,000)
So previously you could earn 6,000 EQDs by spending $50,000 on the AAdvantage Aviator Silver, which got you halfway to the Executive Platinum revenue requirement.
Now you can earn 3,000 EQDs for spending that amount, meaning you still have to earn 12,000 EQDs, which is double as much as before. Ouch.
There are no changes to the revenue requirements for Gold, Platinum, or Platinum Pro.
New Executive Platinum threshold bonuses
For those poor souls who earn significantly more than 100,000 elite qualifying miles per year (my condolences), American is introducing new rewards options at the thresholds of 150,000, 200,000, and 250,000 elite qualifying miles. Currently you receive two extra systemwide upgrades at each of those thresholds, while now you'll be able to choose:
Two systemwide upgrades, 40,000 bonus miles, or the ability to gift Gold status at the 150,000 EQM level
Two systemwide upgrades, 40,000 bonus miles, or the ability to gift Platinum status at the 200,000 and 250,000 EQM level
Mileage earning changes on partner airlines
AAdvantage is increasing how many elite qualifying miles you earn when flying one of their transatlantic or transpacific joint venture partners, which includes British Airways, Iberia, Finnair, and Japan Airlines.
This is a logical enough move, since these joint venture airlines share revenue, so they want to create as much metal neutrality as possible (meaning that you fly whichever airline has the best route/schedule, rather than wanting to stick to one airline).
With these changes, mileage earning on these partners will be aligned with mileage earning on American.
Here's the new mileage earning chart for travel on British Airways: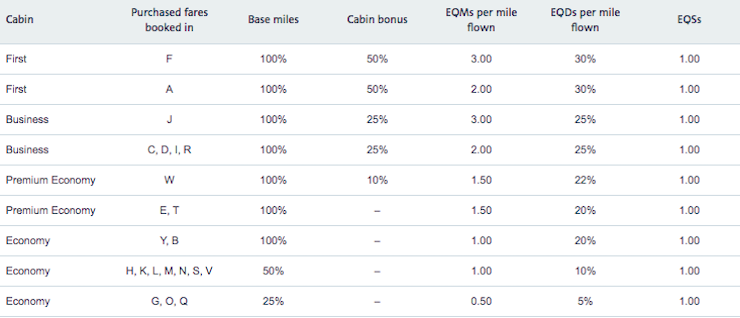 And for travel on Finnair: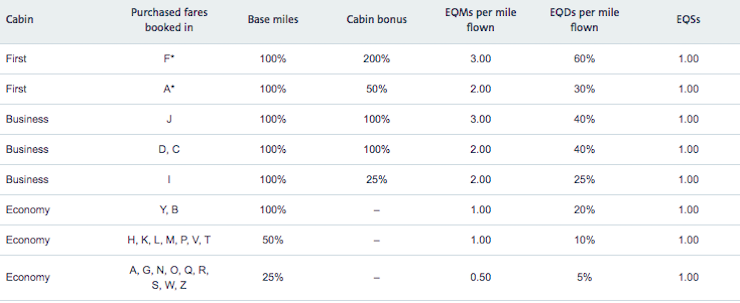 And for travel on Iberia: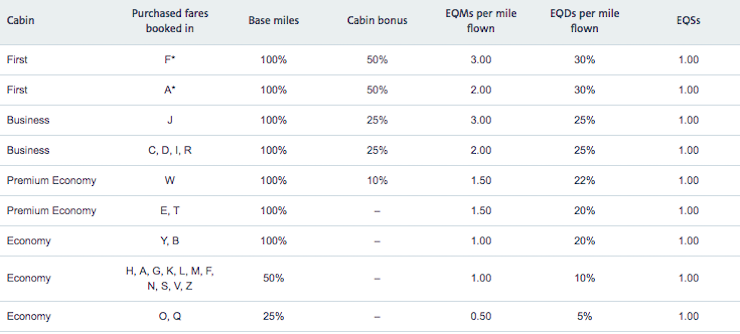 And for travel on Japan Airlines: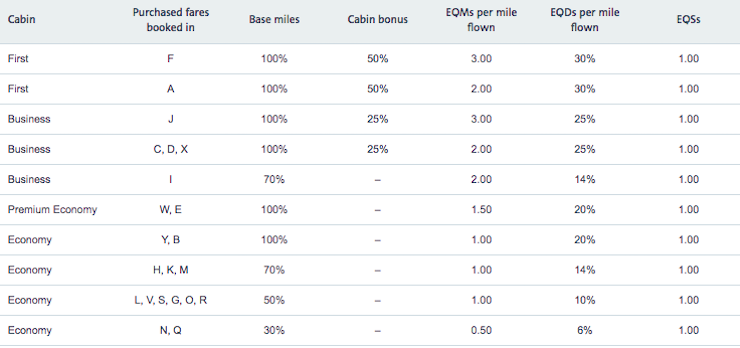 Mileage earning changes on American
American will be reducing how many elite qualifying miles you earn for travel on full fare economy tickets, which includes tickets booked in the "Y" fare class. You'll go from earning 1.5 EQMs per dollar spent to earning just one EQM per dollar spent.
Here's the new mileage earning chart for travel on American:

Changes to mileage accrual on special fares
American is making some changes to how many miles you earn for travel on American on select booking codes on special fare tickets. This includes bulk and consolidator tickets, and cases where ticket and fare details are unavailable.
In some cases mileage earning will increase, while in other cases mileage earning will decrease:
For example, the class of service bonus for special fares in first class and full fare business class will increase from 50% to 100% per mile flown, and EQDs for those fares will go up from 30% to 40%
Award miles earned on special fares booked in Q, O, and B will decrease from 50% to 25% per flown mile, and EQDs for those fares will decrease from 10% to 5%
Here's the new chart for mileage earning on special fares: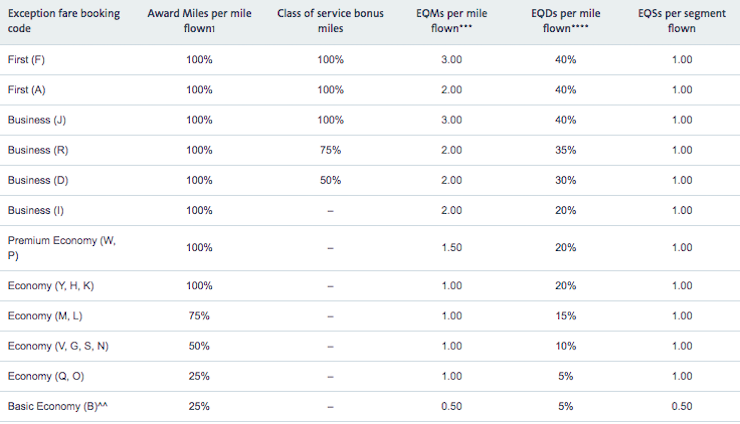 As a point of comparison, here's the current chart: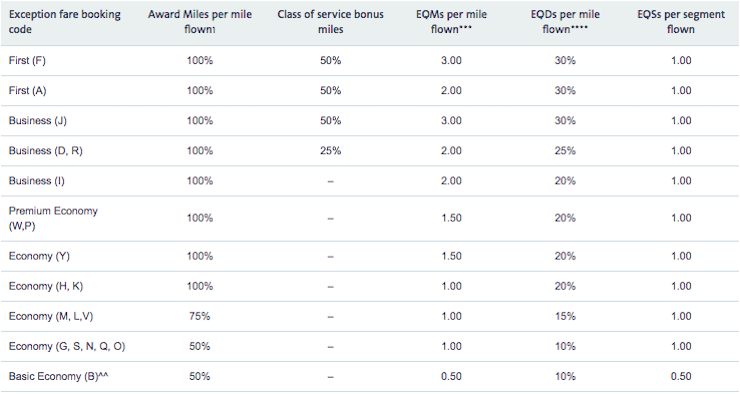 These changes could have been worse
I find these changes to be ridiculous (more on that below), but I do think it's worth acknowledging that these changes could have been worse. American isn't making any negative changes to Gold, Platinum, or Platinum Pro status.
They're also not worsening the award chart, and they're also not restricting the systemwide upgrades that Executive Platinum members get to being valid for only a one cabin upgrade (from economy to premium economy, or premium economy to business). While I feel like it's inevitable that systemwide upgrades will eventually be devalued, I think they're probably waiting for United to "catch up" with installing premium economy, so all the airlines can make changes at the same time.
So I don't want to give them too much credit for not being worse, but I also wouldn't have put it past American to make even worse changes.
AMERICAN DOESN'T GET IT
This is what blows my mind. American really doesn't seem to get it. This includes the airline on the whole, and AAdvantage.
American's employees aren't happy, American's customers aren't happy, and American's shareholders aren't happy. Doug Parker & Co. seem to think that if they just keep making cuts, everyone will be happy. What could be more logical?
There's only so often I can say the same thing — American thinks the road to success is just to follow Delta's cuts while being seemingly incapable of learning from Delta's competitive advantages.
Delta gets that customers like to be treated like humans. Delta gets that customers want TVs at seats. Delta gets that the passenger experience goes beyond a spreadsheet. The list goes on and on.
It's funny, because as I was writing this post, Andrew texted me the following about his flight in Delta Comfort+ (that's just their extra legroom economy section):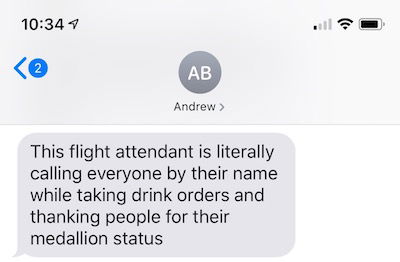 I don't remember the last time I was treated like that on American, ever, anywhere, in any cabin!
American just doesn't get it. Despite failing on all fronts at the moment, American is continuing the race to the bottom.
This is just an extension of that. American expects more from their customers (more money) while they're putting less into the experience. It's greedy and it has backfired, but that doesn't stop them.
Soon enough this airline will have a rude awakening, though I fear that won't happen with Doug Parker at the helm.
Bottom line
These changes from American are a mixed bag. It's mostly bad news for Executive Platinum members, while I'd say the other changes are mostly a wash. For Executive Platinums it's one thing if they just increased the revenue requirement by 25%, but they're doing this at the same time that they're also reducing how many EQDs you can earn with credit card spend, which is a bad combo.
The one thing I'm looking forward to is improved elite qualifying mileage earning for travel on British Airways and some other airlines, which is a positive development.
What do you make of these changes to AAdvantage?