I recently took a roundtrip flight in Delta first class, and it was one of the toughest trips I've taken in a long time. Not because it was bad — quite to the contrary, it was fantastic — but because it made me realize the degree to which I'm settling for a subpar experience on American.
It seems it's not just me who feels this way. Just about every American frequent flyer I hear from agrees. Wall Street certainly agrees as well. Not that they're usually a good measure of customer service at an airline, but their concern about American's lack of vision is well founded.
American's customer service culture is non-existent
I've been flying American for years, and I think customer service at the airline has hit a new low in the past year. It's not any one individual thing, but lately I've just consistently been getting the feeling that the airline simply hasn't created a culture that's centered around customers anymore.
Let me give a few examples (of many) from my flights in the past few days:
When I checked in at the first class line I greeted the agent and told her the flight I was on; she didn't greet me or say anything, friendly other than "checking bags?" and then "gate 158" when she handed me the boarding pass; there was no "hello," no "thanks for your business," and not even a smile
I've now boarded two flights where the flight attendant didn't even look up during boarding to greet passengers, but rather their faces were looking down at their phones
When the pilot announced we'd have an extensive delay and that maintenance would be coming on the plane soon, the crew didn't do a drink service in first class for over 75 minutes, but rather they just sat in the galley doing… nothing
When my flight was delayed by four hours they announced in the gate area about two hours into the delay that they'd be offering refreshments to all passengers; an hour later I followed up about this, and the gate agent said "I don't know why they said that, by the time they do it we'll be on the plane"
I'm not saying any one of those things is unforgivable individually. Rather I just feel like cumulatively customer service at the airline has hit a new low. That's to say that American's corporate culture has sunk to a point that taking care of customers and treating them like valued guests is no longer a priority.
I'm not saying that American ever had amazing customer service, but I feel that at this point your average fast food chain and/or telecom company have more of a customer service culture than American.
Furthermore, there are still some exceptional American employees out there. But they're exceptional because of the people they are, and not because of anything the airline is doing to encourage that.
The irony in American's sinking service
The irony in all of this is that American gave their pilots and flight attendants pay raises last year, a couple of years ahead of when their contracts were expiring. They hoped this would lead to better relations with employees and a more motivated and happy workforce. You know, it's the whole "we can take care of our employees and they take care of our customers" approach. But that hasn't happened.
Why? Because presumably they thought they'd get more out of employees if they compensated them better. But without a vision for the airline, that's not happening, as they're sending mixed signals to employees — they're introducing uber-exclusive Flagship First Dining and uncomfortable Boeing 737 MAX aircraft at the same time. Is American trying to be Emirates or Spirit?
For a while American's slogan was "Going for Great." They got rid of that, which is pretty telling. Trying to be great is no longer a priority. The question is, what are they going for at this point?
I think it's time for a management change
I generally respect Doug Parker as a human. He seems like a nice enough guy (I'd much rather have a drink with him than Oscar Munoz or Ed Bastian), and he understands the airline itself and the industry really well.
He has built an amazing career for himself. He started off as CEO of America West, then became CEO of US Airways, and now is the CEO of the world's largest airline. He's a lifelong airline guy, and I respect that.
But I think it's time American give someone else a chance. Let's keep in mind that late last year Doug Parker made a bet that American's stock would be at $60 by the end of November, in just over a month. This is the same time he made the ridiculous claim that American will never lose money again.
American's stock is now at just over $30, having hit a new 52-week low (again) yesterday. So unless American's stock price almost doubles by the end of next month, Doug Parker loses that bet.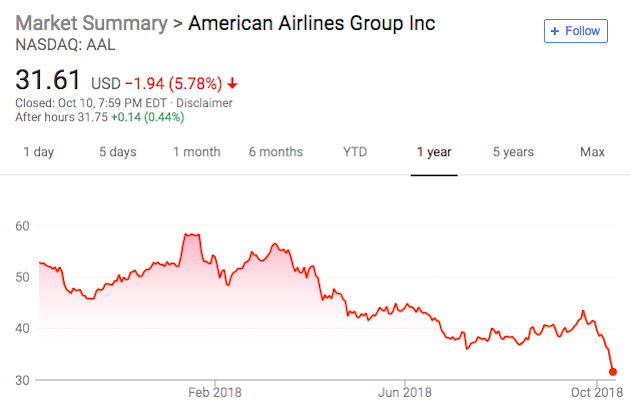 To be clear, it's not that I think stock price is entirely reflective of how good of a leader a CEO is being. Quite to the contrary, I think the short term focus on stock price often leads to executives making bad long term decisions.
But rather it's part of the big picture in this situation. American management is failing investors (the stock price is way down this year), they're failing customers (more consistently than ever before I'm hearing from people about how unpleasant their experiences on American are), and they're failing their employees (by not giving them any sort of a vision).
What do you guys think of American's current situation? Is it time for a management change?