In the interest of full disclosure, OMAAT earns a referral bonus for anyone that's approved through some of the below links. The information and associated card details on this page for the Hilton Honors American Express Aspire Card has been collected independently by OMAAT and has not been reviewed or provided by the card issuer. These are the best publicly available offers (terms apply) that we have found for each product or service. Opinions expressed here are the author's alone, not those of the bank, credit card issuer, airline, hotel chain, or product manufacturer/service provider, and have not been reviewed, approved or otherwise endorsed by any of these entities. Please check out
our advertiser policy
for further details about our partners, and thanks for your support!
With 46 million passengers scheduled to fly on U.S.-based airlines over the next couple of weeks, there are bound to be some rocky roads (and rough air) out there. And even if you're used to hopping on planes, traveling with infrequent travelers is a whole other beast.
While I often travel alone, my three stepkids have significantly upped my family travel game over the past couple of years. And I'll be the first to admit that I still have a lot to learn.
But I'd like to think that I've picked up a few good habits over the years. And as we approach a two-week window where the number of air travelers is equivalent to the entire population of Spain, I figured now would be as good a time as any to round up a few of those best practices.
Vamos!
Pre-Departure
If you're used to the TSA shuffle and have a permanently-packed suitcase, this may not be a consideration, but for less-frequent travelers, the journey begins long before you hit the road to the airport. But even if you're joining forces with fellow blood-relative road warriors, your travel mojo might be out of synch if you're used to flying solo.
Heck, my husband and I are both on the weekly to bi-weekly travel plan, and we still have to adjust on the rare occasion that we fly together (I learned a long time ago that separate suitcases, no matter how little we were packing, was the key to a successful marriage).
All that to say that there are a few conversations worth having in advance.
Luggage
It's no secret that here at OMAAT, we're big fans of traveling with hand luggage only. (Heck, James is so good at this that he could probably open up his own consulting service on this topic alone – and I would definitely be a customer!)
That being said, there are times where the juice just isn't worth the squeeze, if you will. It's great to zip through New York City subways or the streets of Chicago with just a small spinner in tow, but are you planning on taking transit, or is Grandma picking you all up at the airport? If the answer is the latter, it may not be worth trying to convince your teenage daughter to fit that fourth bottle of face cream into a TSA-compliant container.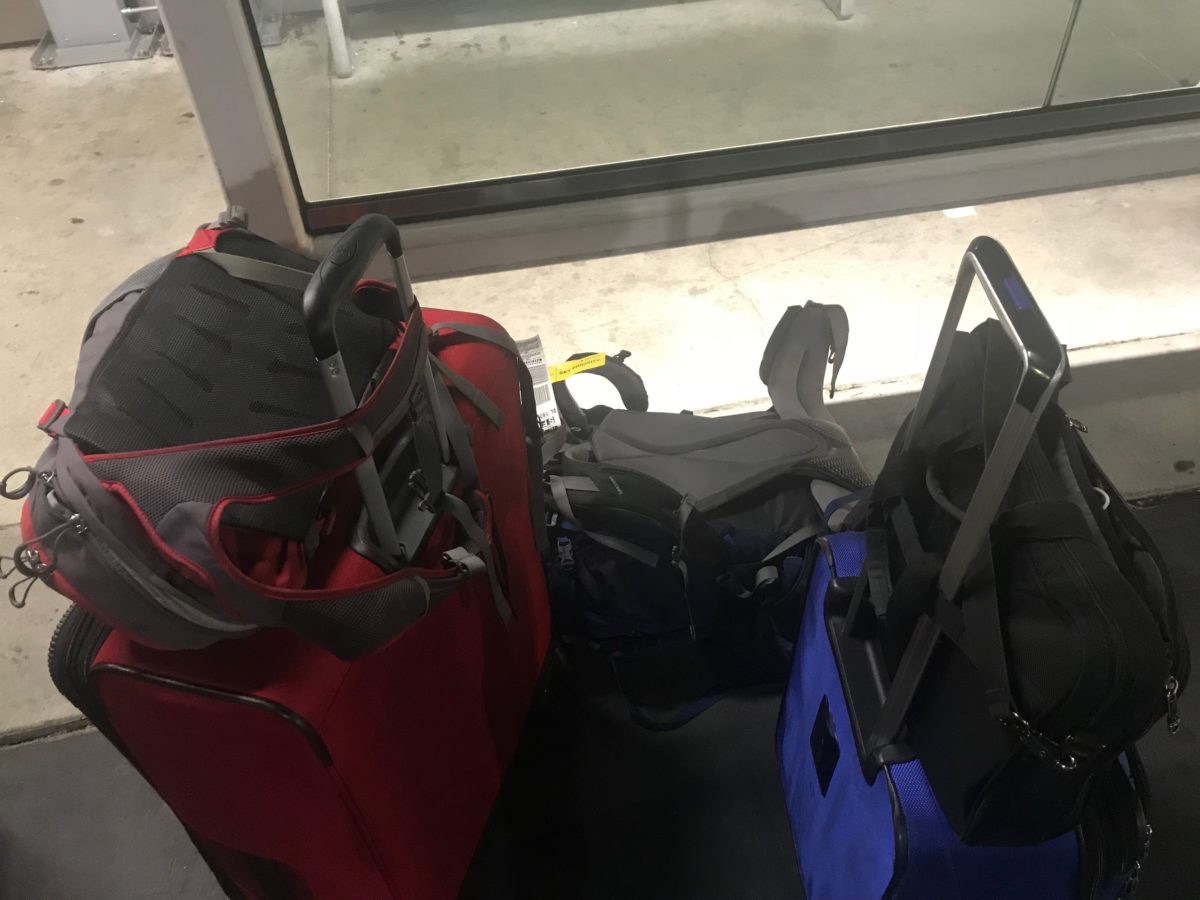 When we travel with my stepkids, the general rule that we subscribe to is one small suitcase, and one carry-one school backpack per kid, but they're responsible for carrying all of it. The suitcases typically get checked, and the emotional support stuffed animals/blankies/Harry Potter capes travel in the carry-on.
While those extra fifteen minutes at baggage claim may feel like an eternity, it's worth it to not have to play TSA Tetris with a nine-year-old.
In theory, the same philosophy holds true if you're traveling with an elderly parent with medication, or an infrequent-traveler spouse with shoes, or even some extra layers for those frigid Montreal Decembers.
Anyway, these are all things worth considering, and probably not worth putting off until the night before departure.
Airport departure time
Much like pickles, the New England Patriots, and Apple vs. Android, this is one of those topics where everyone is going to have a strong opinion. Do you leave for the airport with hours to spare and check out that new Priority Pass restaurant, or do you do your best to minimize waiting time by leaving at the last possible second?
I grew up in a household that was firmly in the camp of "let's spend the day at the airport," but years of tight client meetings and connection times have left me more in the camp of "it's not an airport if there isn't a little jogging involved."
But I know that if I'm traveling in an entourage, I'll build in extra buffers for each additional person that I'm with.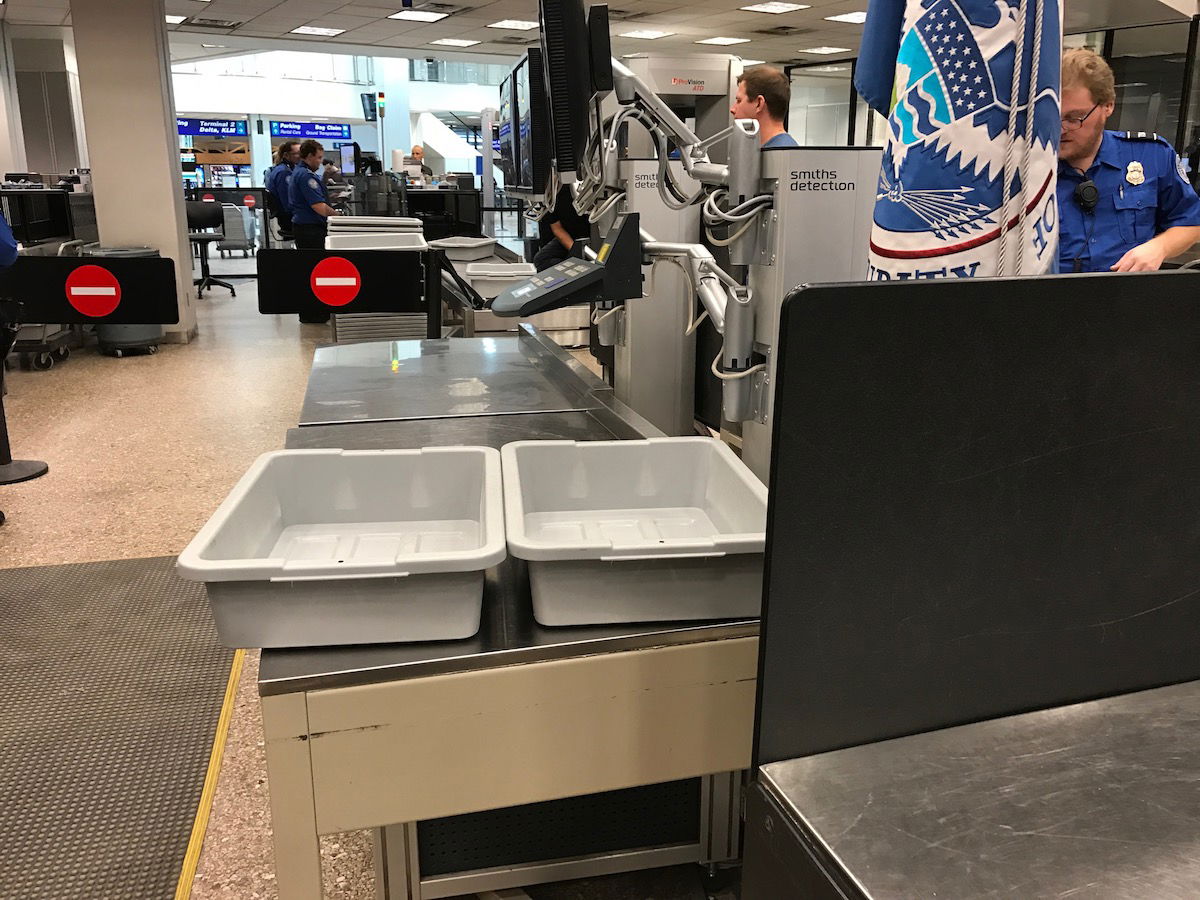 Of course, all of this gets compounded when multiple frequent flyers in the same family are traveling together. I've been witness to more than one argument on this exact topic, and I'll maintain that most of these tiffs could have been avoided if these conversations had been had several days in advance.
But no matter where you land on the issue, I would follow the general rule of don't make your family rush through the airport.
No matter how "good at airports" you are.
Security
If you're on the weekly travel plan, you probably move through security with the efficiency of a NASCAR pit crew. But with less experienced travelers involved, you'll obviously need extra time. That's not to say that there aren't a few potential workarounds.
For non-registered members, the process of getting TSA PreCheck on your boarding pass carries about as much logic as Marriott's points posting or Delta's "Fifty Shades of Passport Plum" boarding process. But if you are a registered member, your family members traveling on the same reservation may luck out and get that coveted logo on their boarding pass.
Even if you're not so lucky, you should still be able to get any "priority" status transferred to other travelers on your same reservation, which may save you some time if your home airport is big enough to have a priority line.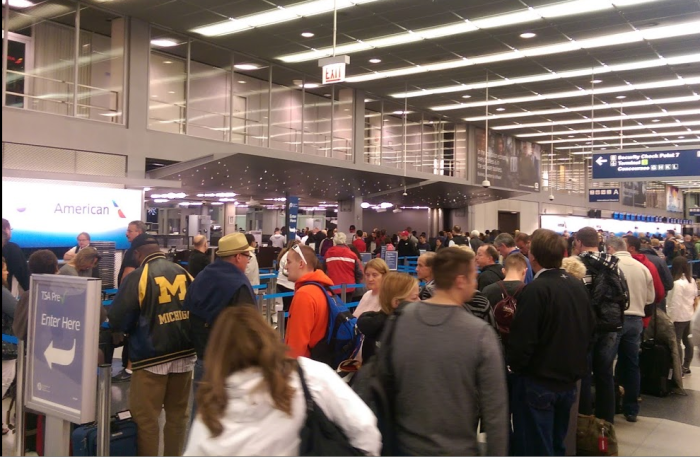 The takeaway here is that if you check in early, you'll at least know what to expect before you show up to the airport. So if for some reason the family doesn't get PreCheck, you can at least prep them with the right expectations (and the right socks!)
Oh, and if you're lucky enough to fly through an airport that has CLEAR, minors can travel through with you at no extra cost. They also offer periodic free trials, so if you're thinking of signing up, holiday travel is probably as good a time as any to give it a whirl.
Just be sure to check their locations and hours of operation, since they tend to vary even within terminals.
Lounge Access Policies
Look, this may feel like a huge indulgence when the goal is simply to get the family from Point A to Point B, but I'm all for sharing whatever spoils of this hobby I can, when I can.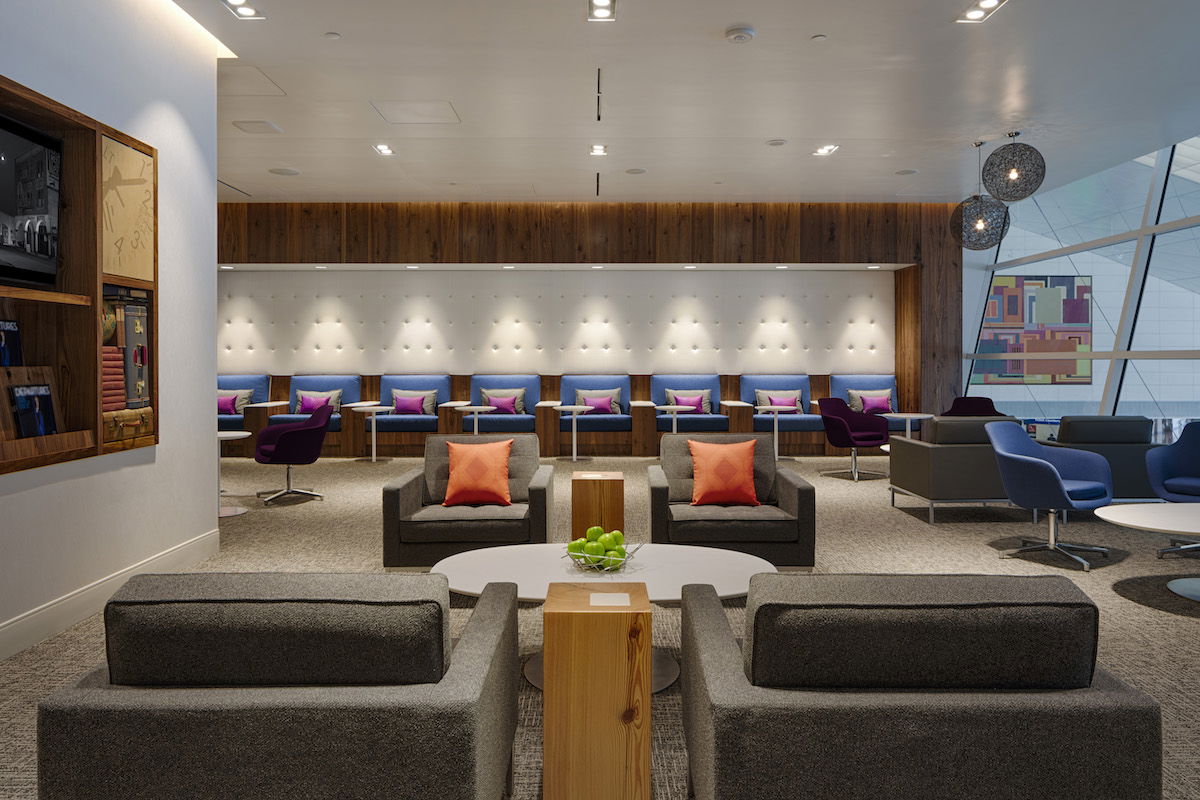 So if you find yourself with some extra time, here is a reminder of the guest policies for various lounges:
Centurion Lounges allow American Express Platinum cardholders to bring up to two guests at no additional charge
Priority Pass Select members through the Chase Sapphire Reserve®, The Platinum Card® from American Express, The Business Platinum Card® from American Express, and The Hilton Honors American Express Aspire Card can bring up to two guests at no additional charge
Escape Lounge visitors with access through the Platinum Card from American Express can bring up to two guests at no additional charge
United Club members can bring one adult and dependent children up to age 21, or two guests, at no additional charge
Paid Admirals' Club members, or members via the Citi® / AAdvantage® Executive World Elite Mastercard®, can bring immediate family (spouse, and children up to 18), or up to two guests, at no additional charge
Delta's Sky Club access is so complicated that it has warranted multiple posts, but the abbreviated version is that Executive Sky Club Members can bring up to two guests at no cost, and Individual Sky Club Members or Amex Platinum Cardholders can bring up to two guests or immediate family for $29 per person.
Alaska Airlines Boardroom members can bring up to two guests or immediate family at no costs, and additional guests can be brought in at the rate of $25 per person.
And while you're in there, you will probably want to take advantage of whatever plugs are available, because in-flight entertainment can certainly be a crapshoot, as evidenced below…
The information and associated card details on this page for the Hilton Honors American Express Aspire Card has been collected independently by OMAAT and has not been reviewed or provided by the card issuer.
In-Flight
Entertainment
Anyone who has ever flown with kids knows that one of the biggest hurdles is simply passing the time. I'm lucky enough to be part of a family where the kids actually prefer reading (and trust me, I'll ride that wave for as long as I can), but for many parents out there, electronics are going to be the saving grace.
But even in 2018, in-flight entertainment ranges the gambit from "You never need to go to the movies again" to "BYO, and your devices better be charged."
Anecdotally, JetBlue seems to offer the best combination of free WiFi and live TV seatback entertainment, although they aren't winning any awards for sound quality. Delta offers outstanding seatback entertainment on their a319s and up (like, I don't go to the movies any more because I'm always caught up), but entertainment is limited to streaming on their narrower MD aircrafts, 717s, and smaller regional jets. If you're not sure of what you're getting, it is easy enough to check on their app.
United's newest refurbished aircrafts offer solid entertainment and they do have streaming, but power outlets are not a guarantee, and some of their older planes still have those old-school Continental TVs that require you to swipe a credit card. But you can check here to see what kind of entertainment they will have.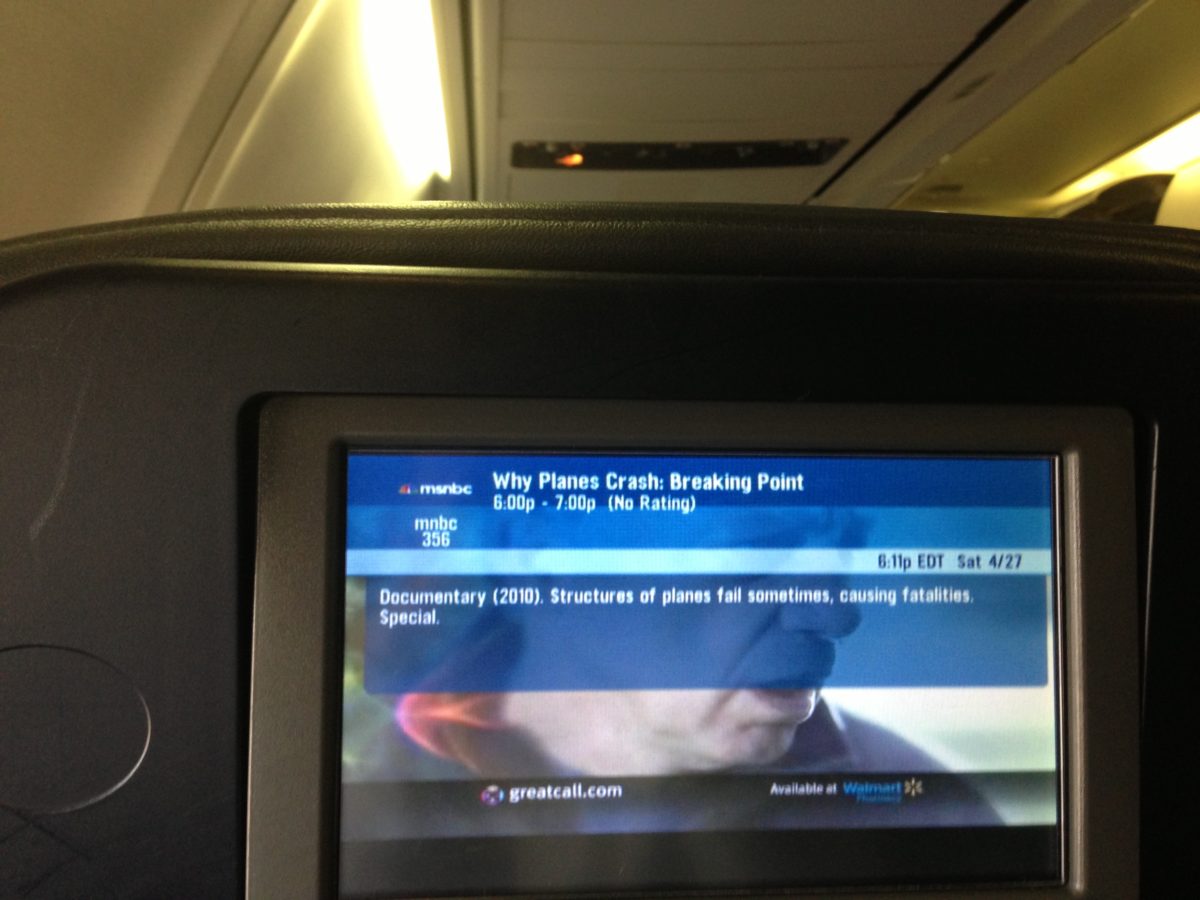 I've found American to be slightly worse than United both in terms of seatback entertainment and power outlet availability, but you can check here to see what you're in for. Just don't assume that a six-hour flight guarantees power or USB outlets, because it definitely doesn't.
Alaska seems to have gone the streaming-or-tablet route, and Southwest also offers free streaming, although you need to download their app in advance if you're planning on using a personal phone or tablet.
And if you're flying Spirit Airlines, thoughts and prayers.
All that to say that if you're planning for in-flight entertainment to be your saving grace, read up on what your specific flight offers, charge everything, and bring some headphones.
Seat Selection
Chances are, you're probably going to be on a packed aircraft if you're flying this weekend, but on the off-chance that you do get lucky, follow this advice to up your odds of scoring an empty middle seat (Travis wrote the masterpiece in this category, and I'm not even going to try to touch it).
Other considerations
Admittedly, I'm still relatively new to the "traveling with kids" game, so I went straight to my literal in-house expert – i.e. my husband – to get his two cents on how to fly with young kids. Here are a few of his go-to moves, from back in the day:
Lollipops, or gum – You're going to know your kids' mastication abilities better than me, but if there's one tip he swears by, this is it. I definitely remember chewing gum as a kid to help with ears popping, but I guess that lollipops work too, if gum is just too much.
Car Seats – Admittedly, there are probably people out there reading with more updated information on whether or not this checks out with carry-on policies, but my husband raves about how easy it was to take his kids' car seats on the plane when they were younger. It helps to create a familiar environment in a metal tube, so it makes sense to me.
Coloring books or other fun activities – This isn't rocket science, but any kind of new toy or activity is probably going to offer greater returns when trying to pass the time. Heck, this past summer we passed the time on a five-hour car ride to Yosemite with mad libs. So. Many. Mad. Libs. And to this day, they talk more about the mad libs than they do about this picture: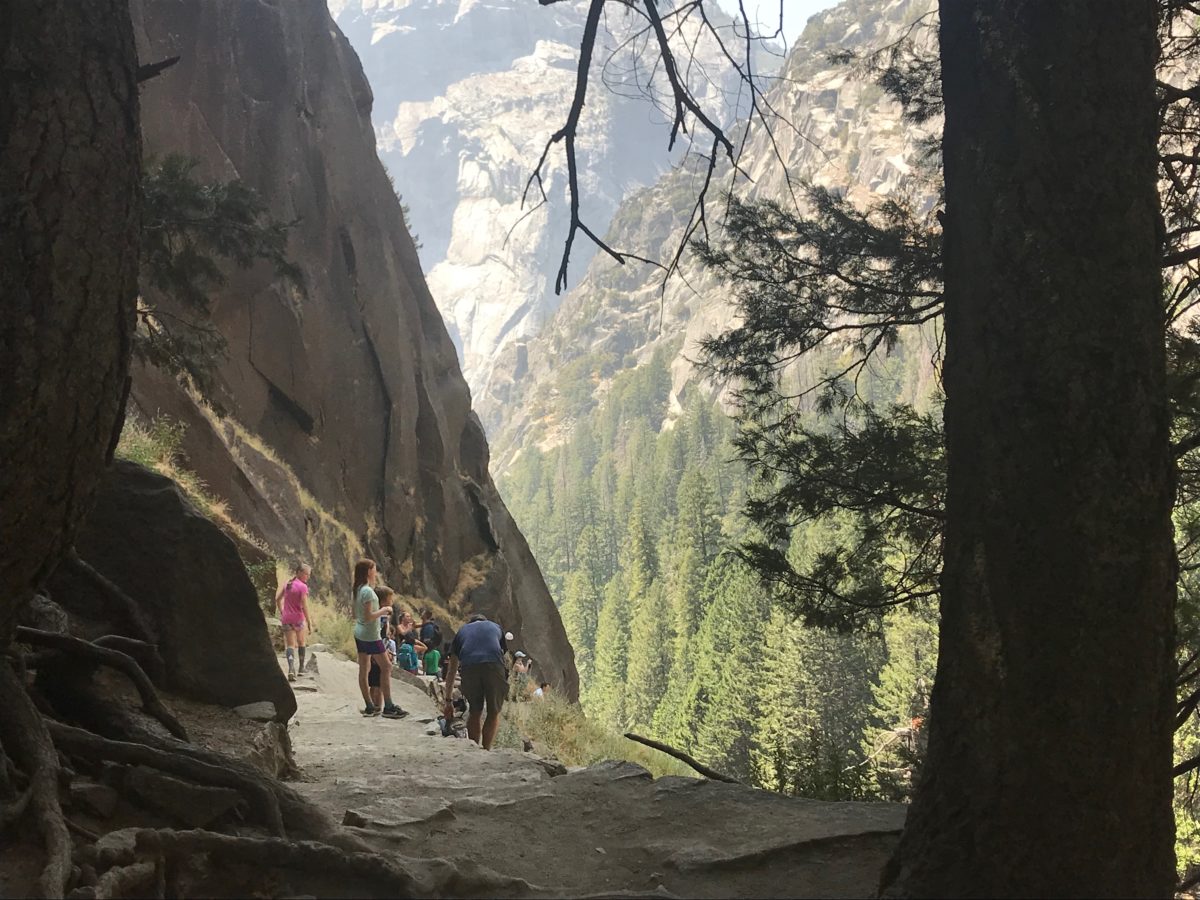 You learn something new every day, I guess.
Upon Landing
This is where "divide and conquer" really pays off. Typically, I'll grab the rental car while my husband waits for the luggage, whether we're traveling in a party of two or five. We've cumulatively saved hours doing this, and we both think we're coming out ahead and getting the better end of the deal.
And I almost hesitate to type this, because I don't want to ruin it for everyone, but whether I'm swinging around with the Hertz minivan or instructing my best friend on where to come find me, I pretty much subscribe to the same rule: drop off at Arrivals, pick up at Departures. The crowds are almost never as bad.
Just don't tell anyone that I suggested that.
Hotels
You've made it through security, onto the plane, you've gotten your luggage, and you're finally out of the airport! The journey's over, right?
Almost. While air travel is arguably the most stressful part of the journey, hotel stays have their own particular way of getting hairy.
If you're used to traveling alone, maximum room capacities are probably the last thing on your mind. But if you have a spouse and three kids in tow and you're trying to maximize your Marriott or Hilton points with that deluxe room redemption in hopes of a last-minute upgrade, you may be out of luck. Many of those hotel rooms with two queen beds are actually capped at four people, for fire safety reasons, and they actually won't bring you a cot in some cases. I've found this to be particularly true in urban locations (don't ask me how I know.)
We've gotten to the point where if we're traveling as a group of five, if we want a suite, we book a suite. It doesn't have to cost a fortune – Residence Inns are the new Ritz Carltons as far as I'm concerned – but it makes everyone's trip better.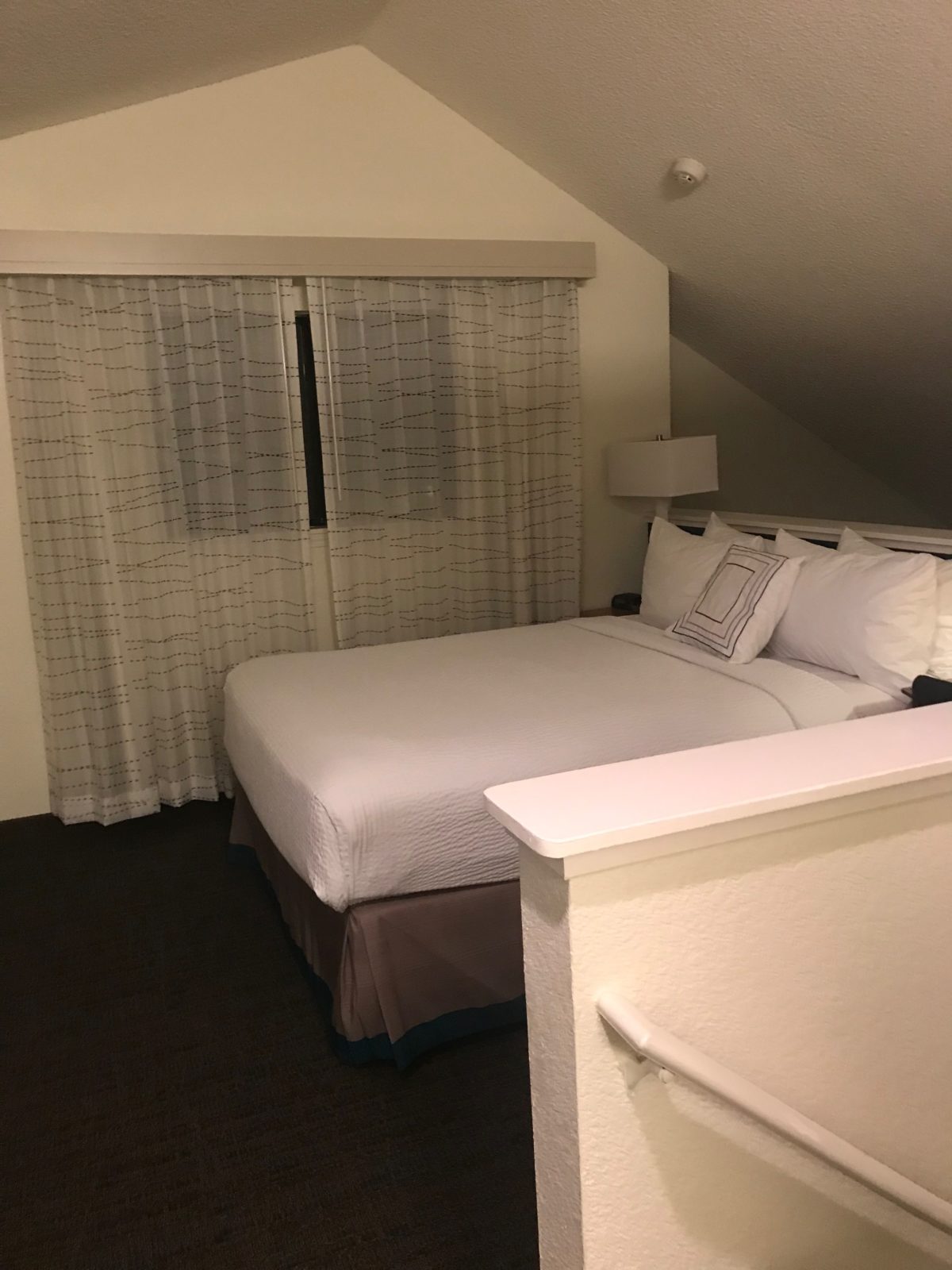 And if there are no suites available, we'll book two adjoining rooms and hope that something opens up. We've had some anecdotal luck with the Marriott app when we've gotten closer to day-of-departure, in that suites have opened up last minute, so all may not be lost. Consider it the "hang up and call again" of hotel reservations, if you will.
Whatever it takes to not have to share one bathroom between five people.
Final thoughts
Look, I'm not going to claim to be an expert on family travel, but like everything else, I hope you're able to find some helpful information in here. That said, I know that there's a wealth of information out there, so I'm curious to hear what you do to survive – if not thrive – during holiday travel.
And most importantly, if you're flying this weekend, good luck.
What's your best advice for traveling with family, or other infrequent travelers?