EXTRA PERKS AVAILABLE
Enjoy breakfast, upgrades, & more
Want to take advantage of Mandarin Oriental Fan Club benefits, including a room upgrade, complimentary breakfast, a hotel credit, and more? Contact Ford ([email protected]) for more details. He may even be able to help if you already have a stay booked.
We recently spent a few nights at the 148-room Mandarin Oriental Boston. Mandarin Oriental is regarded as one of the world's best luxury hotel brands, though I had only ever stayed at one Mandarin Oriental property (in Kuala Lumpur), and that was years ago.
I was curious to see what the brand has to offer, which is why we checked it out, especially since we got a (relatively) decent deal. Mandarin Oriental's properties in the United States are in Boston, Miami, New York, and Washington DC.
What's my takeaway? On the plus side, the hotel has a great location, large guest rooms (marketed as the biggest in the city), generally good service, and a great spa (if that's something you care about). However, I also found the hotel to be forgettable and kind of soulless. The only dining outlet at the hotel is a Gordon Ramsay restaurant, and there wasn't anything that really made this hotel memorable otherwise… it seems like it's just coasting on the Mandarin Oriental name.
In contrast, we also stayed at the Four Seasons Boston (just down the road), and that was in a totally different league, in my opinion. That hotel actually put significant effort into the guest experience. Anyway, let's get into the review.
Booking the Mandarin Oriental Boston
We had to be in Boston on certain days in early August. I don't know what was going on in town, though hotel prices were ridiculous. Like, The Liberty (a Marriott Luxury Collection) was charging $878 per night, the Residence Inn Boston Dedham was charging $642 per night, and the Le Meridien Boston Cambridge was charging $592 per night. There was virtually no award availability anywhere, as hotels were sold out of base rooms.
By comparison, the Mandarin Oriental Boston was almost a bargain. The hotel was charging $995 per night (and that was for a premium room, the only one that was available), with a third night free, meaning we were paying ~$663 per night. I also managed to take advantage of an Amex Offers deal for our stay, to save $100.
Ford booked us through the Mandarin Oriental Fan Club program, which is the best way to book Mandarin Oriental stays. This offers a variety of additional perks, including a room upgrade subject to availability, a $100 property credit, daily breakfast, and more. This is almost always a better deal than booking direct through the Mandarin Oriental Fans of M.O. program.
While the stay was by no means cheap, it was a relatively decent deal, compared to the other options.
If you need help with a Mandarin Oriental Fan Club booking, Ford is happy to help, and can be reached at [email protected].
Mandarin Oriental Boston location
The Mandarin Oriental Boston is located at 776 Boylston Street, in the popular Back Bay neighborhood. It's right next to the Prudential Center as well.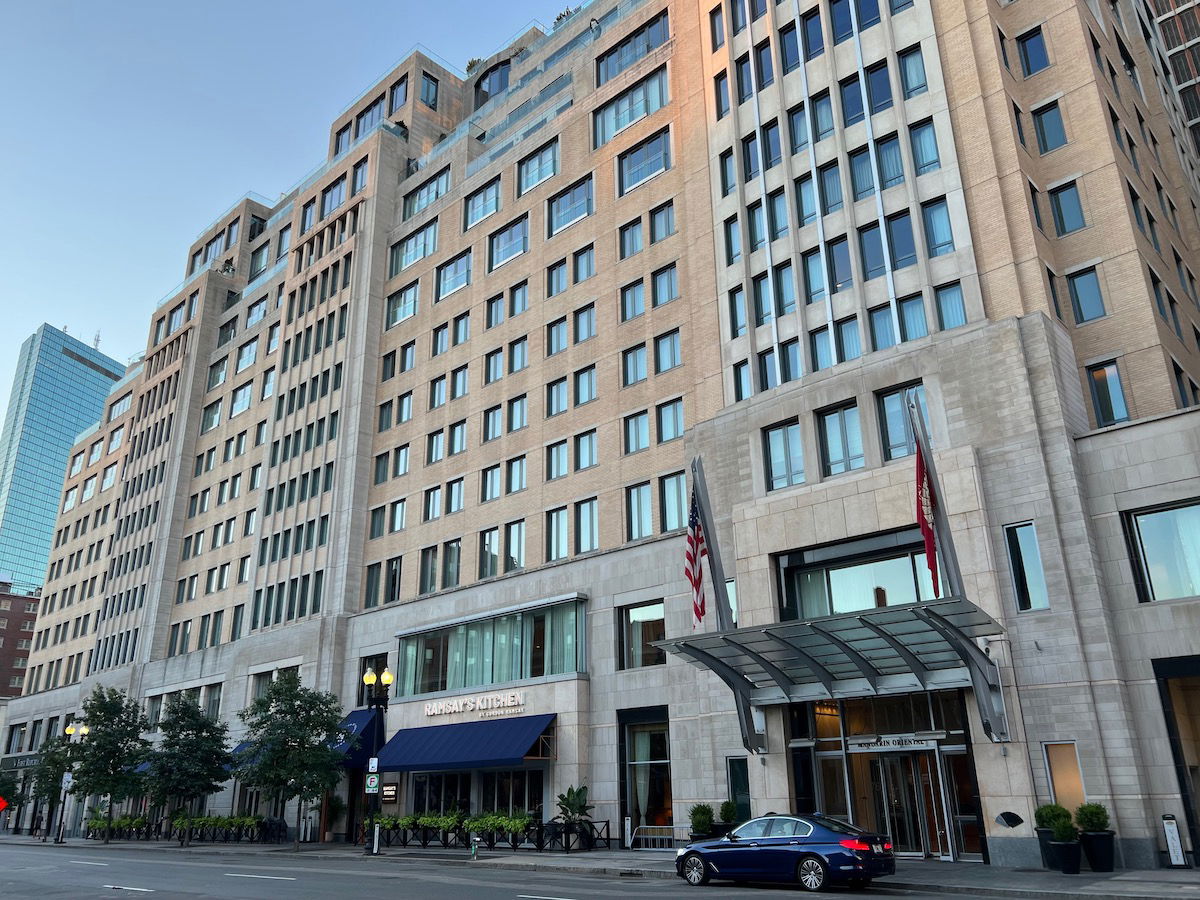 This was my first time "properly" visiting Boston in the summer, and my gosh, I loved the city, and in particular loved this area. Back Bay is such a pretty area to walk around, with all kinds of great local restaurants and cafes. There's even a Capital One Cafe right across the street, for those looking for decent (and cheap) coffee. The hotel's location really can't be beat, in my opinion.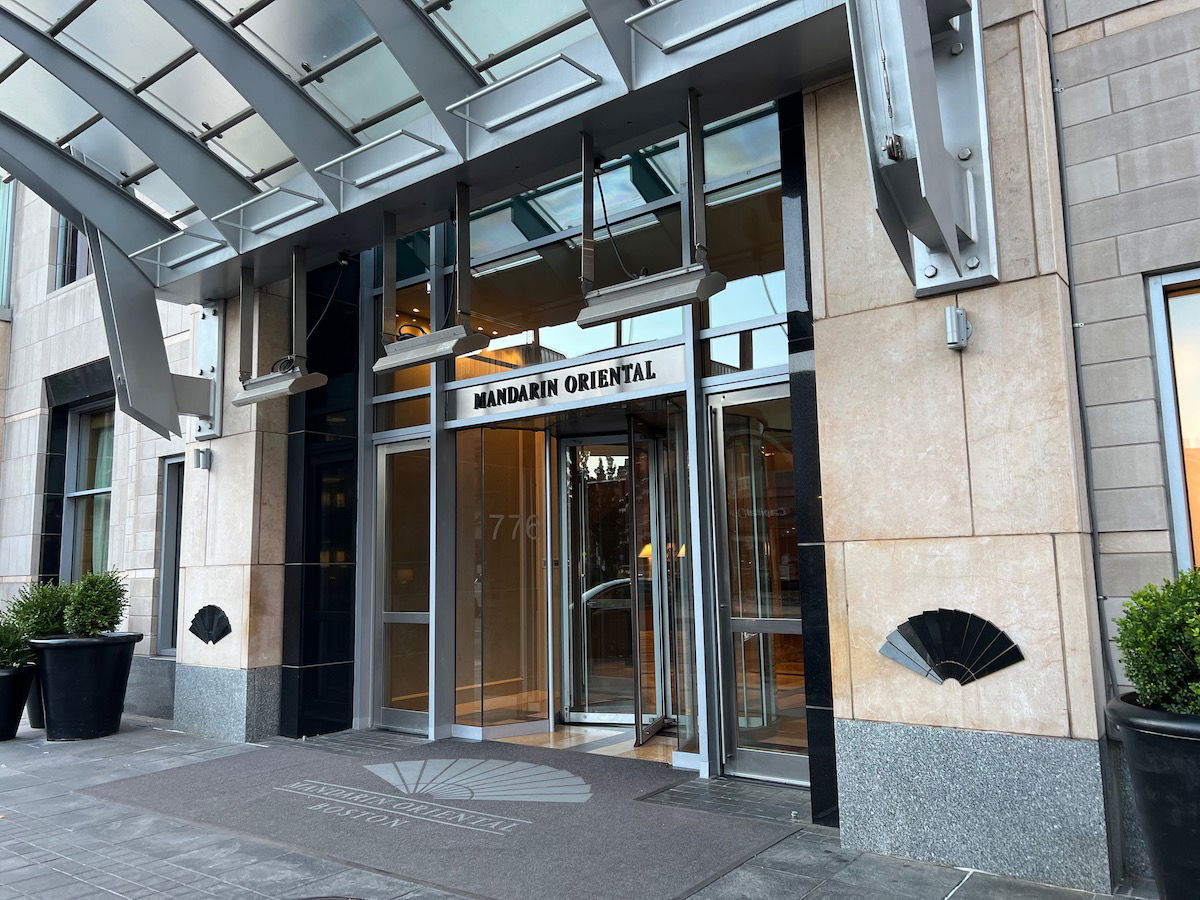 The hotel was roughly a 15-minute drive from Boston Logan Airport (BOS). It's super convenient how close the airport is to the city in Boston — it reminds me of Miami in that sense.
Mandarin Oriental Boston lobby & check-in
We arrived at the Mandarin Oriental Boston at around 1PM, and were promptly helped by the bellmen. We were directed to reception, which was located inside the lobby and straight ahead. The check-in process was efficient and friendly, though our room wasn't quite ready.
Nonetheless the associate checking us in went over all the details of what we could expect during our stay. We had booked a premier king city view room, and unfortunately no upgrades were available (which was totally fair, as the hotel was sold out). She confirmed we'd receive a daily $120 breakfast credit (which is massive), plus a $100 credit to use at some point during our stay.
We were also welcomed by the (German) front office manager, who was extremely professional and friendly, and greeted us each time we entered the hotel (while he was on duty, of course).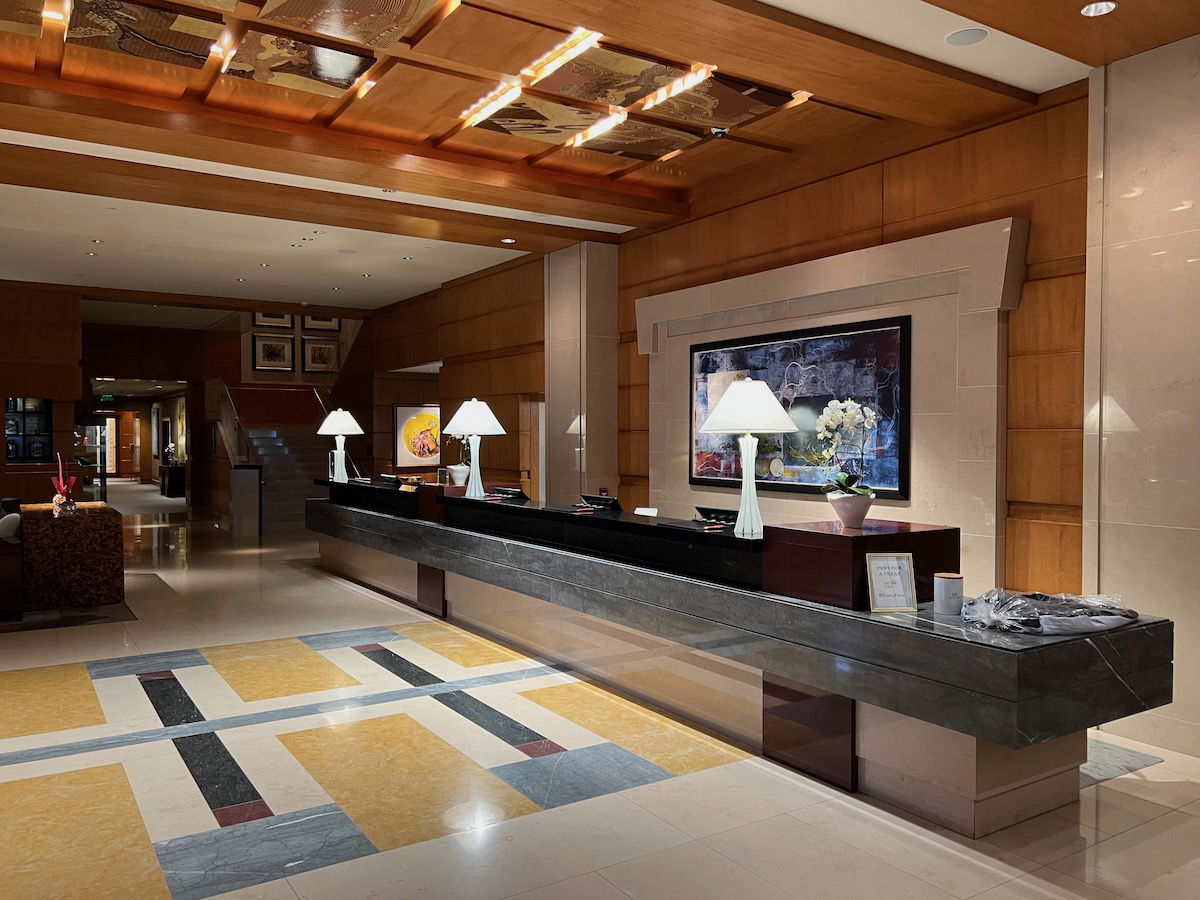 The lobby has a fair bit of seating. Aside from Ramsay's Kitchen (the Gordon Ramsay restaurant attached to the hotel), this is really the only public space in the hotel to sit. I find it disappointing that the hotel doesn't have any sort of a lobby bar or other outlet. Personally one of the things I like about a luxury city hotel is a nice bar where I can have a drink before going out for dinner, but this hotel doesn't really have that.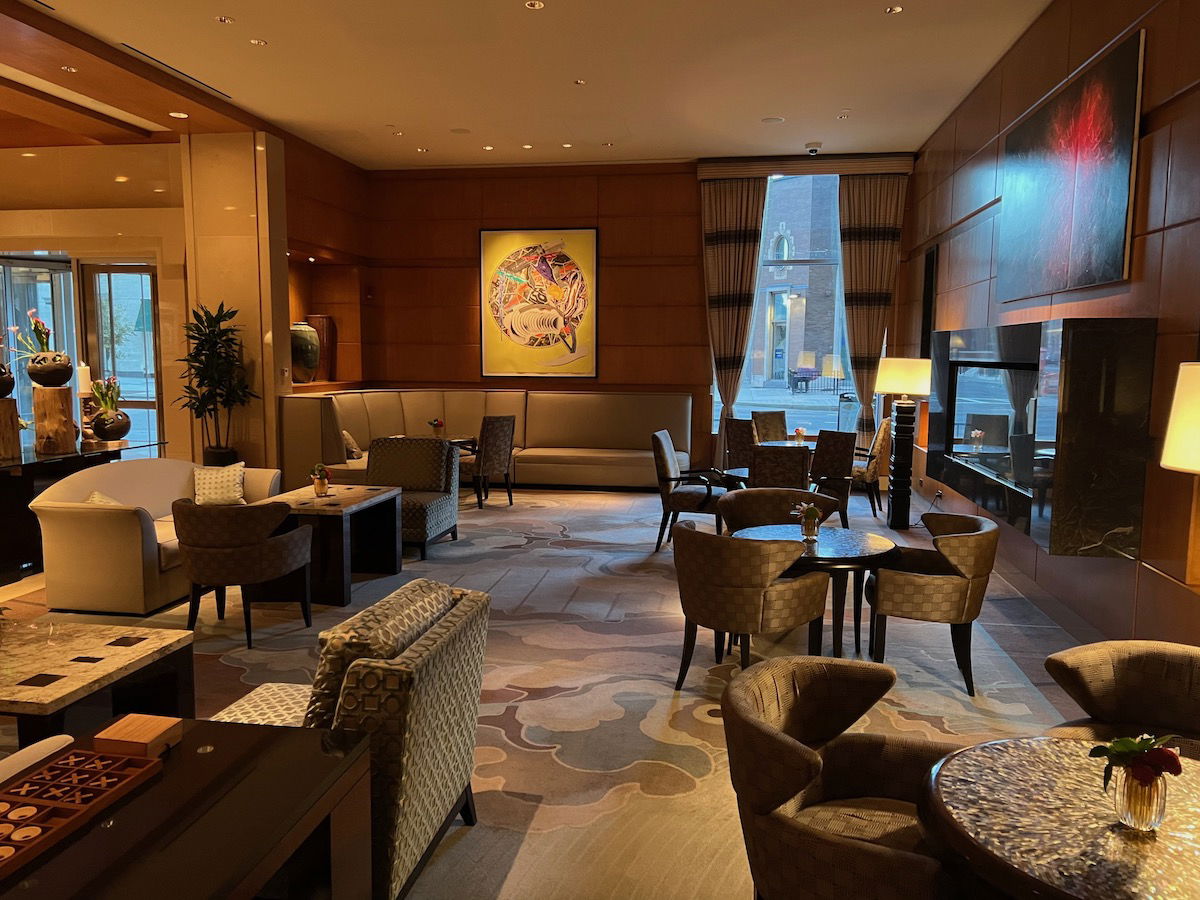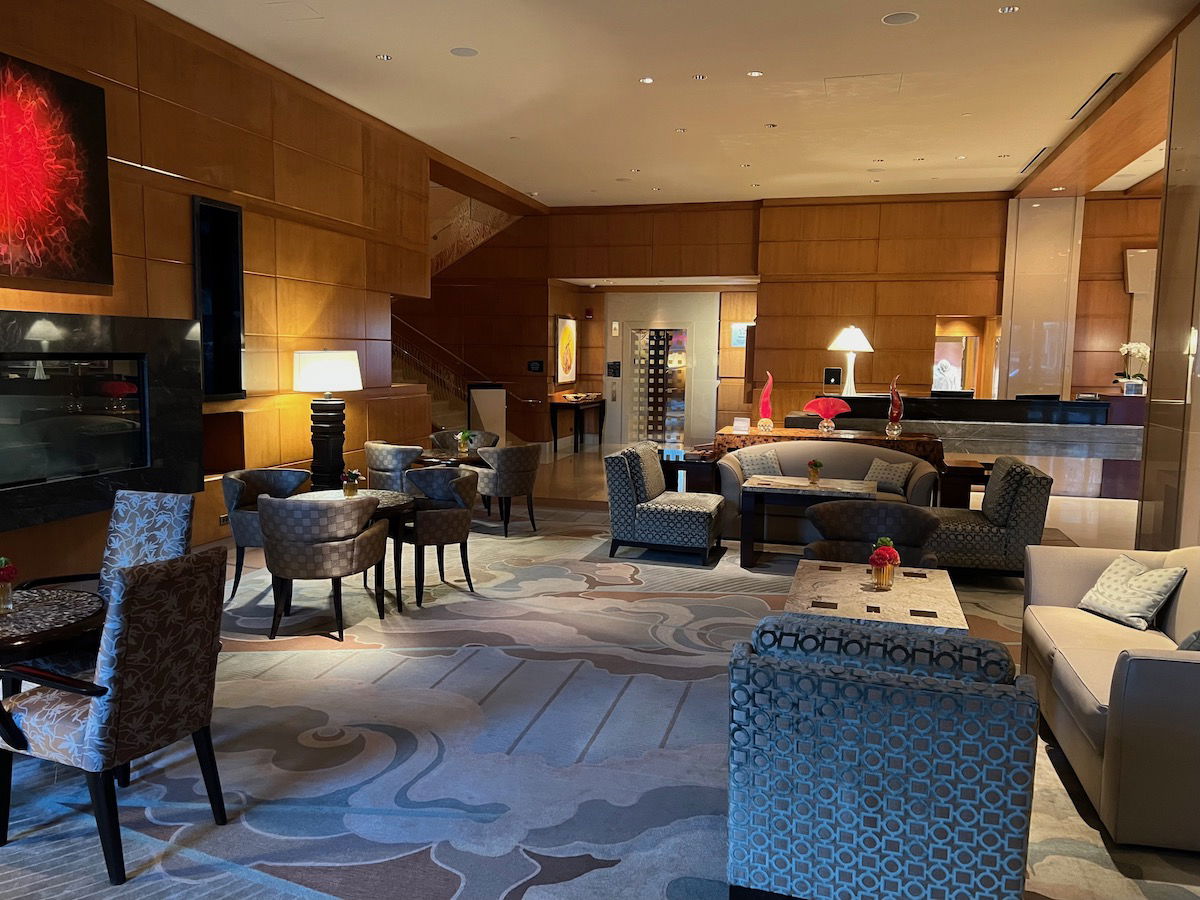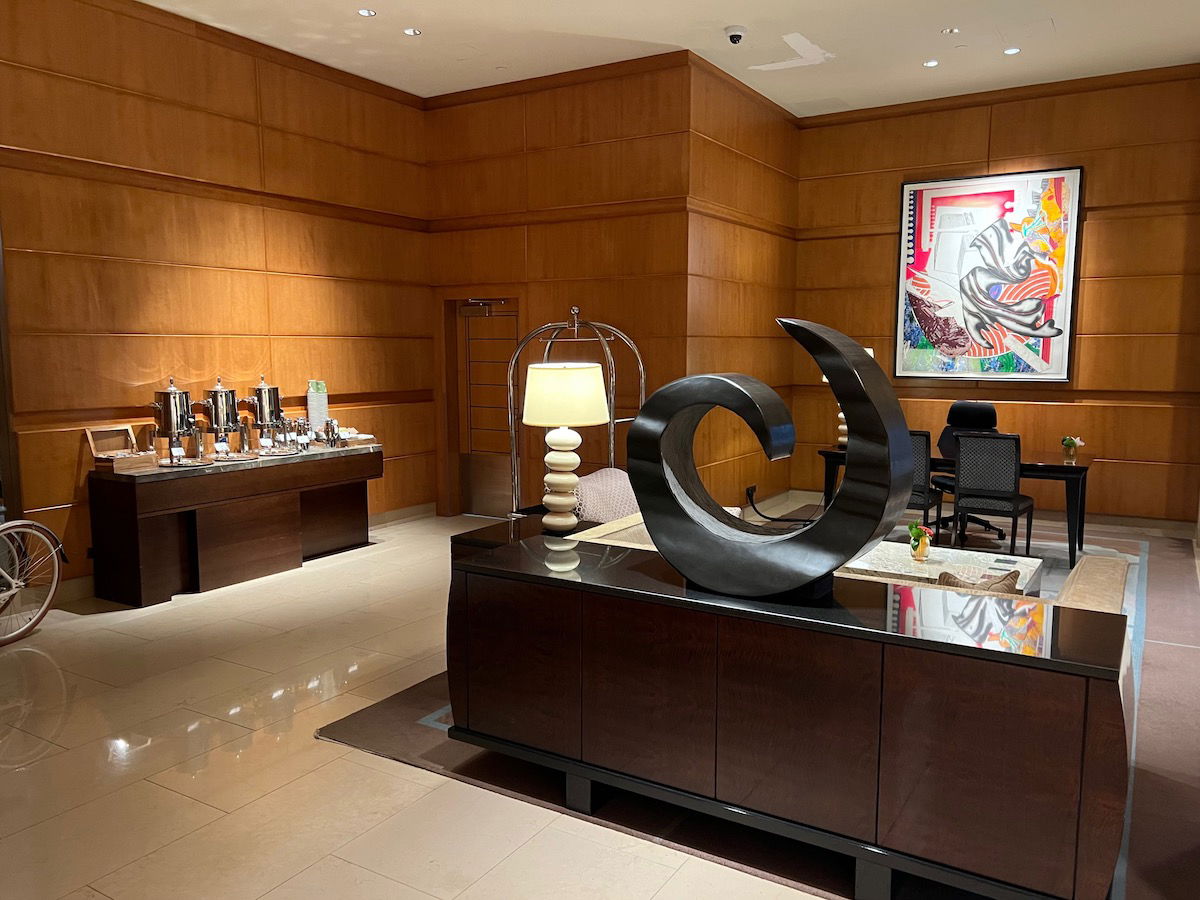 On the plus side, the hotel does offer complimentary coffee in the lobby each morning.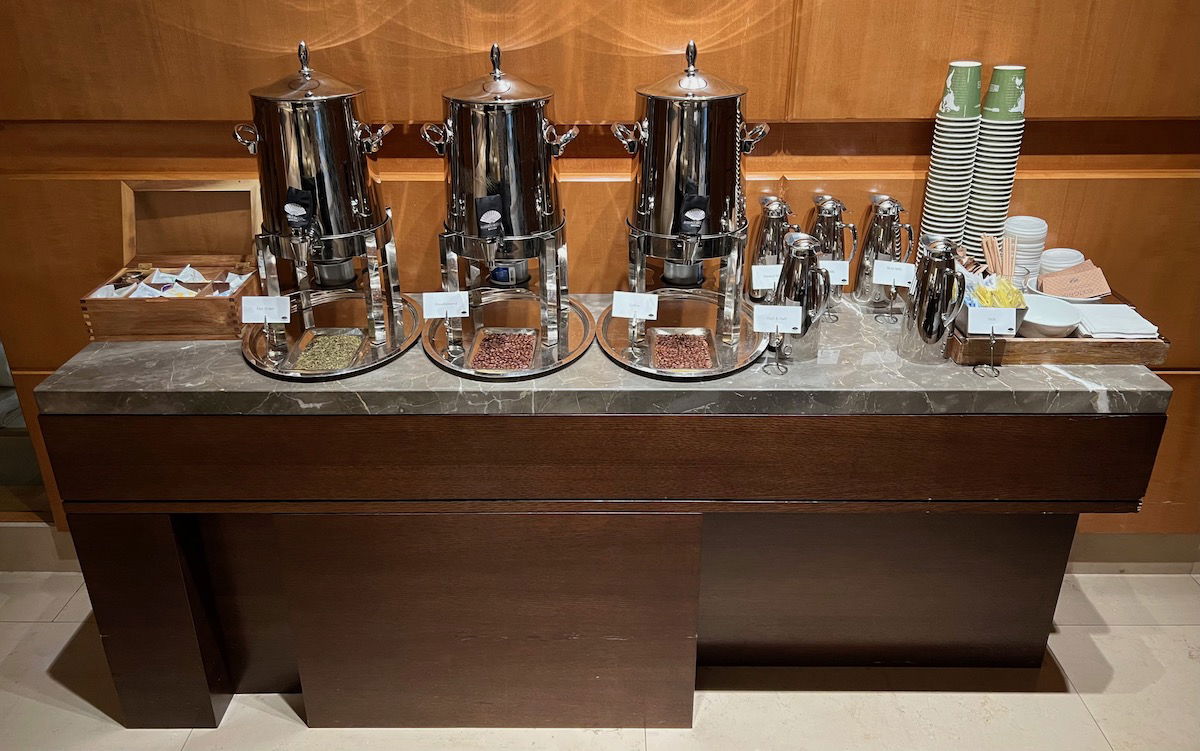 While our room wasn't quite ready when we arrived, it was ready within about 30 minutes of our arrival. During that time we sat in the lobby getting some work done. I found it unprofessional that there were four people having a conference call on speakerphone in the lobby seating area. I got the sense that they were pretty senior hotel employees, because they were discussing final preparations for some winter events they're putting together for the hotel.
Anyway, eventually our room was ready, at which point we headed to the elevators, located down the hall from reception.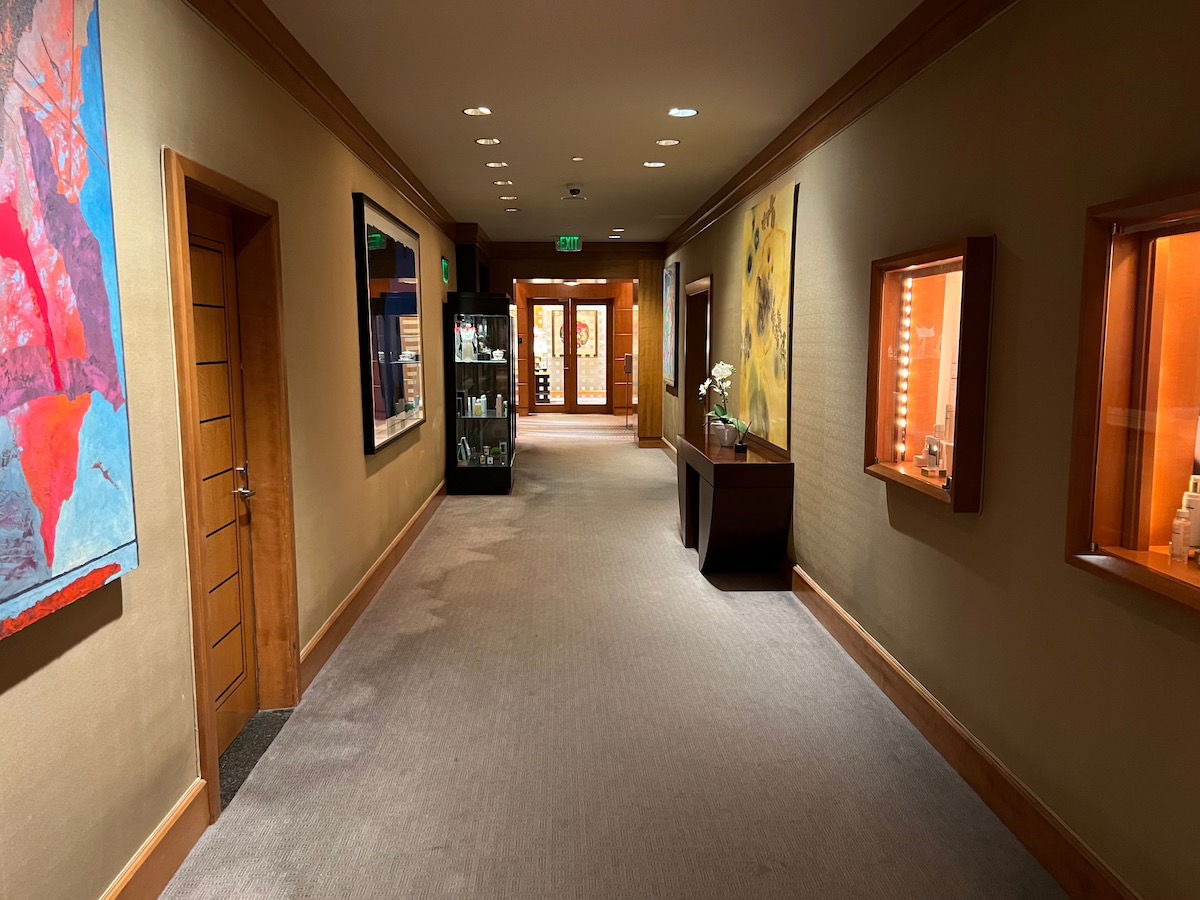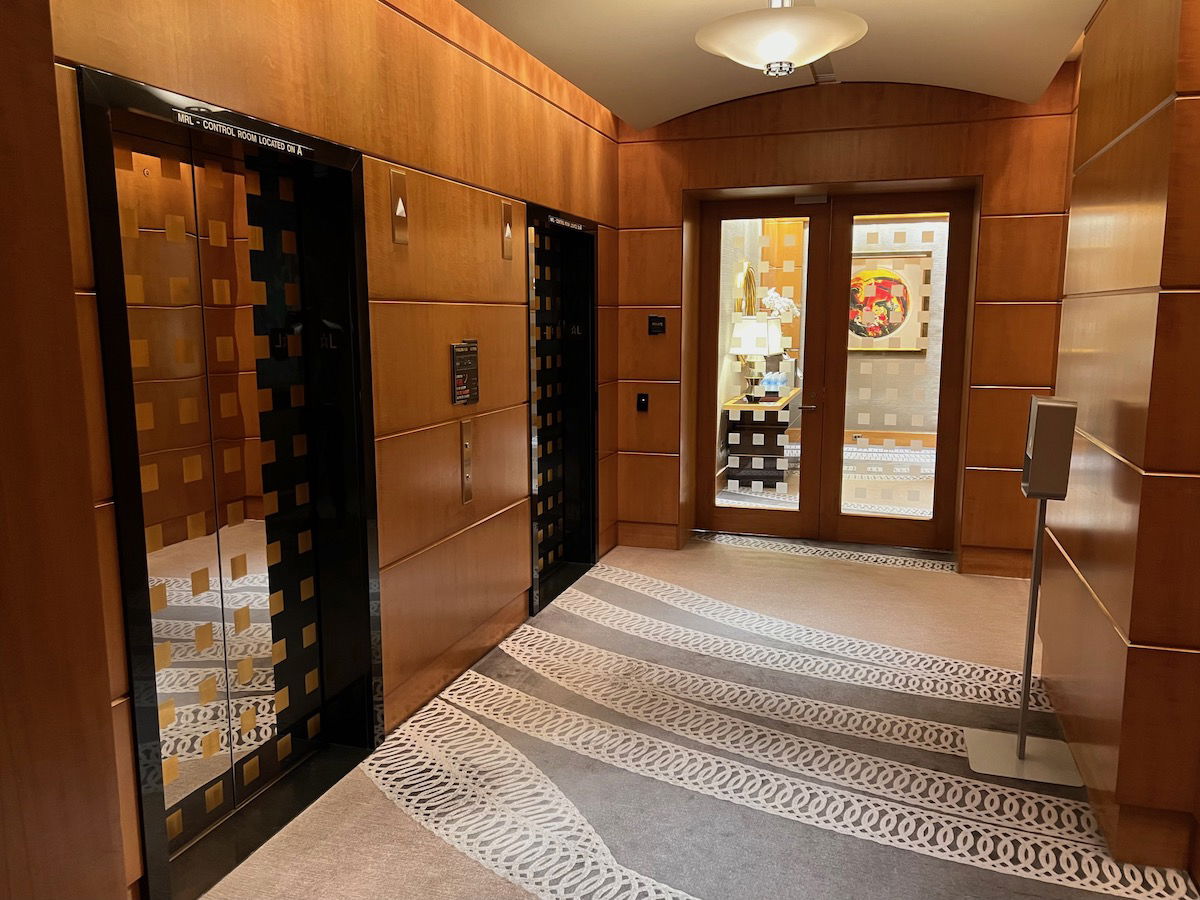 Mandarin Oriental Boston premier city view room
We were assigned room #421, a premier king city view room on the fourth floor (the hotel has eight floors). Our room was the first one on the left.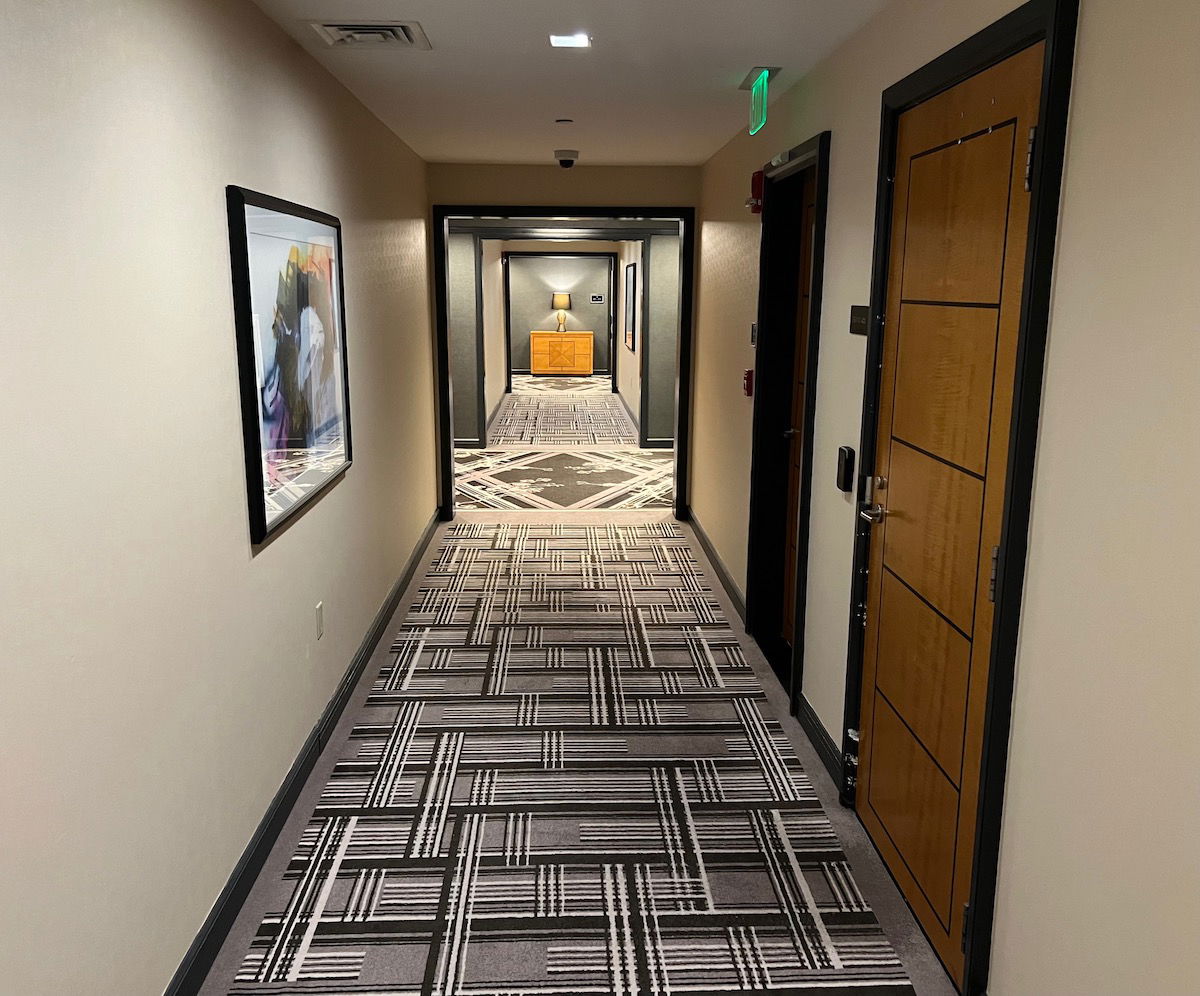 At 538 square feet, the room was generously sized (base rooms here are 409 square feet, which is also quite big). The Mandarin Oriental recently underwent a $15 million renovation, and that's especially evident in the guest rooms, which are nicely appointed.
Our room featured a long entryway, with the bathroom to the right.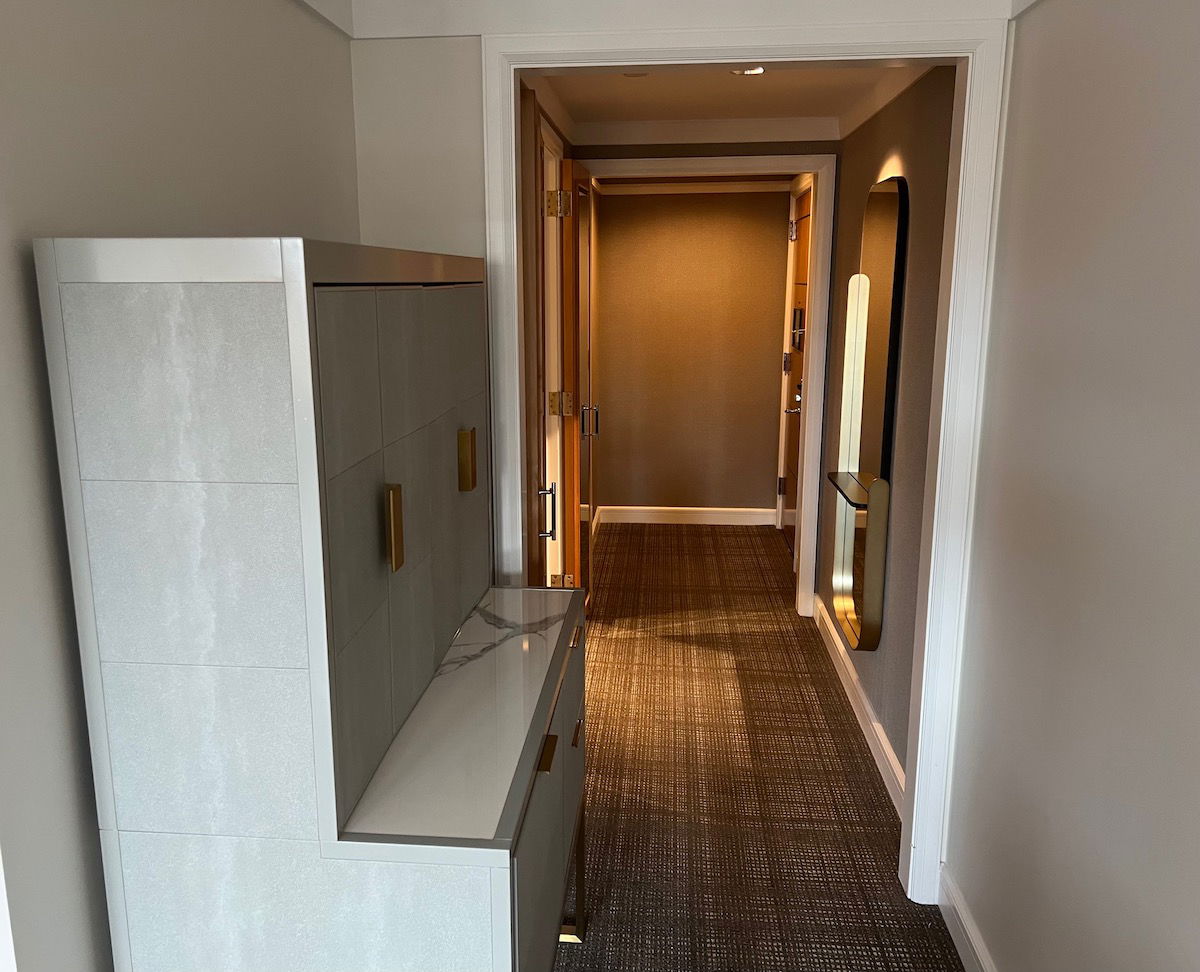 The room had a king size bed with four large pillows, and I found the bed comfort to be on par with Four Seasons (which is saying a lot).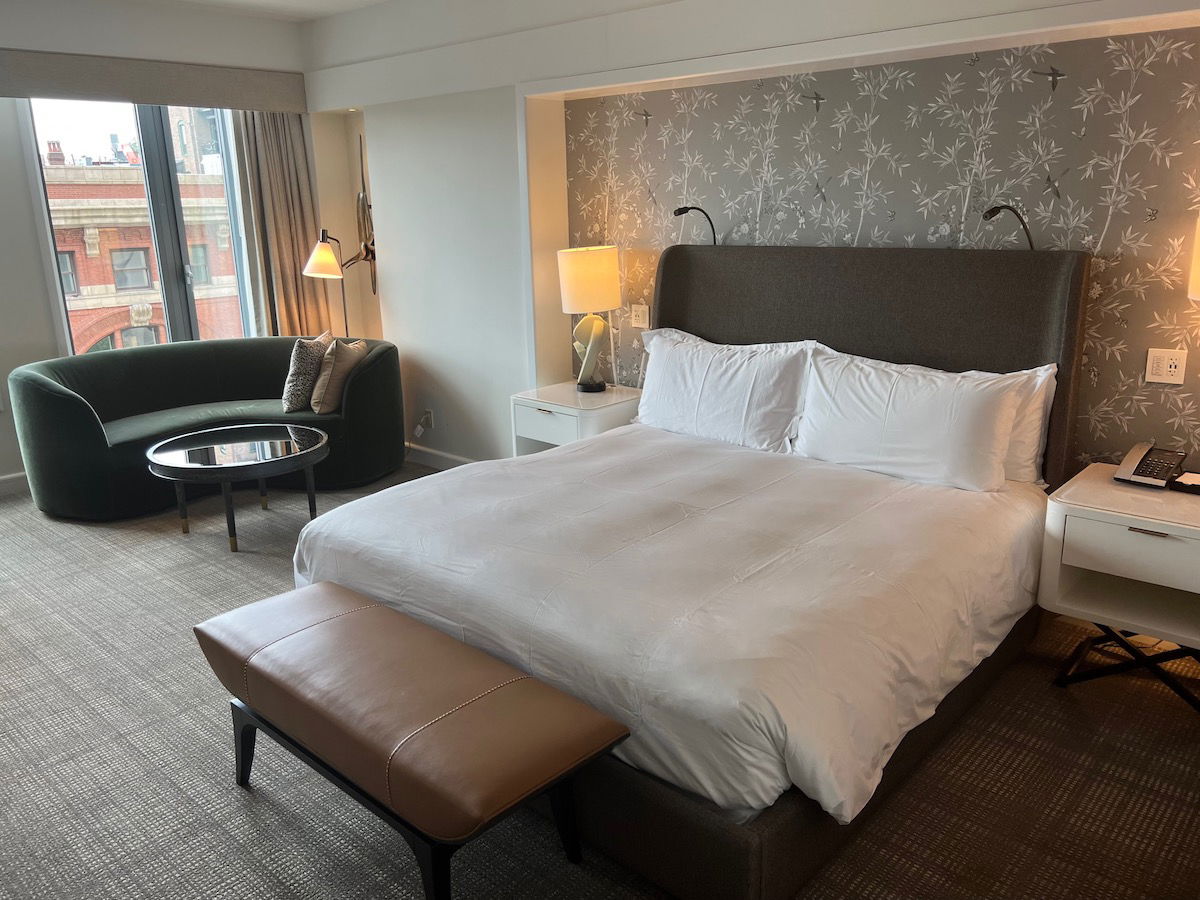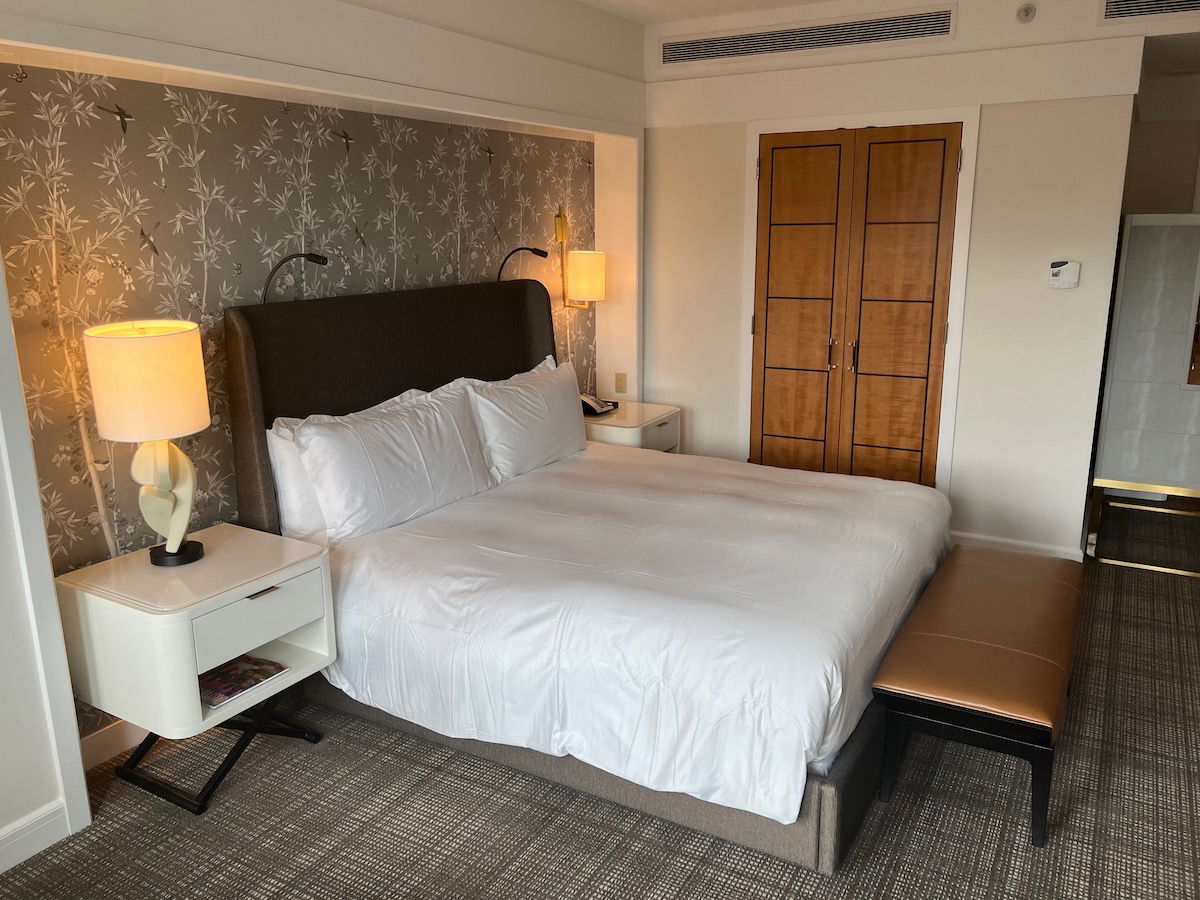 The room had a wall-mounted TV, plus a dresser under the TV.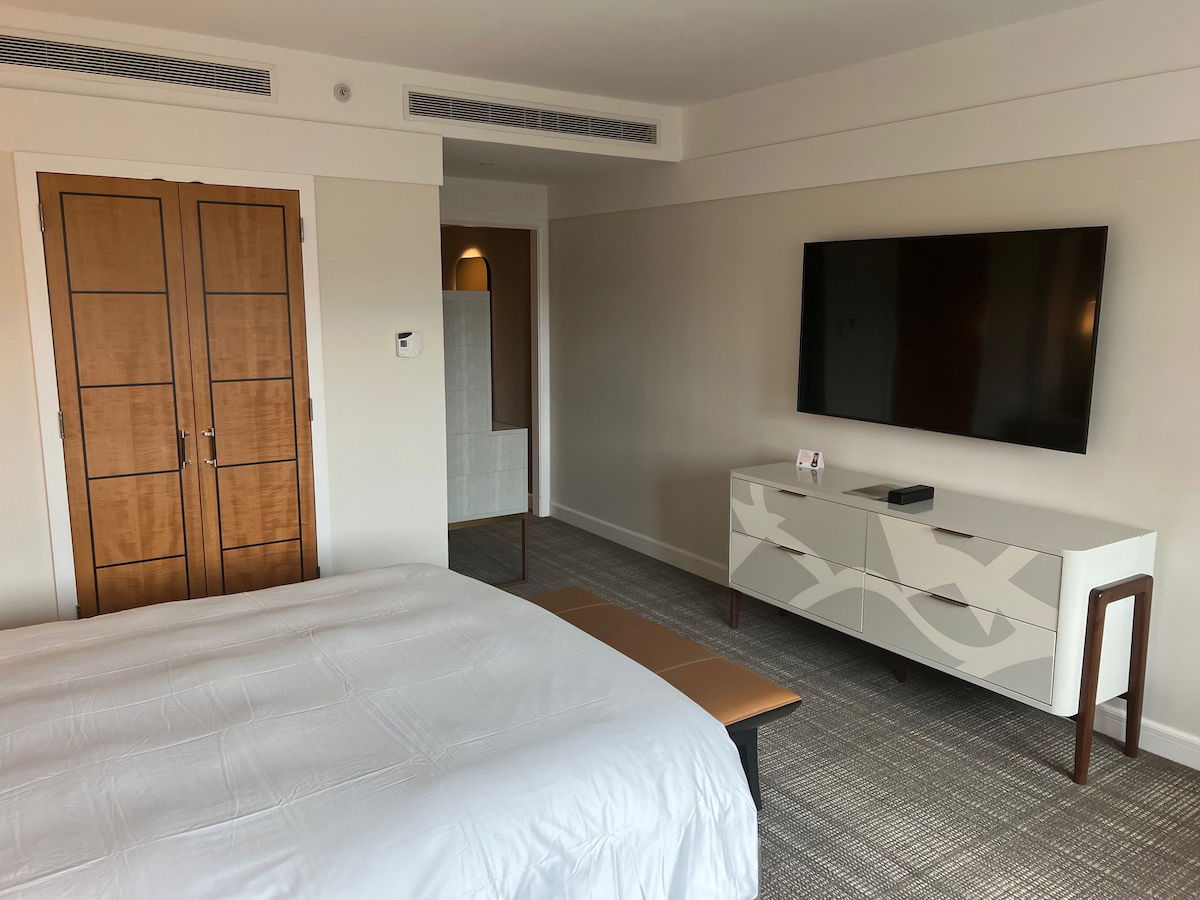 At the far end of the room was a couch plus a table with two chairs. I appreciated the variety of seating options, and that the table could act as either a dining table or desk.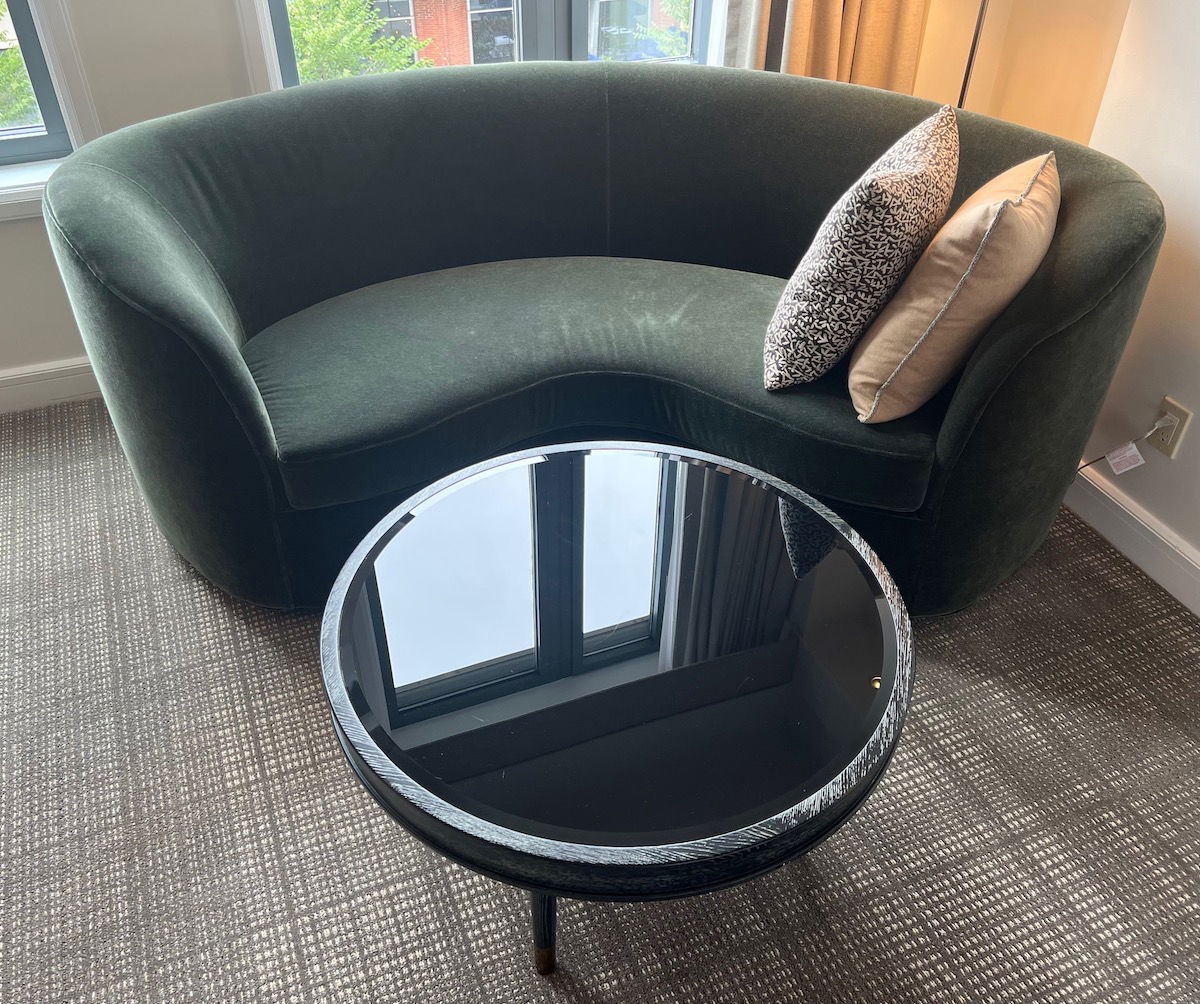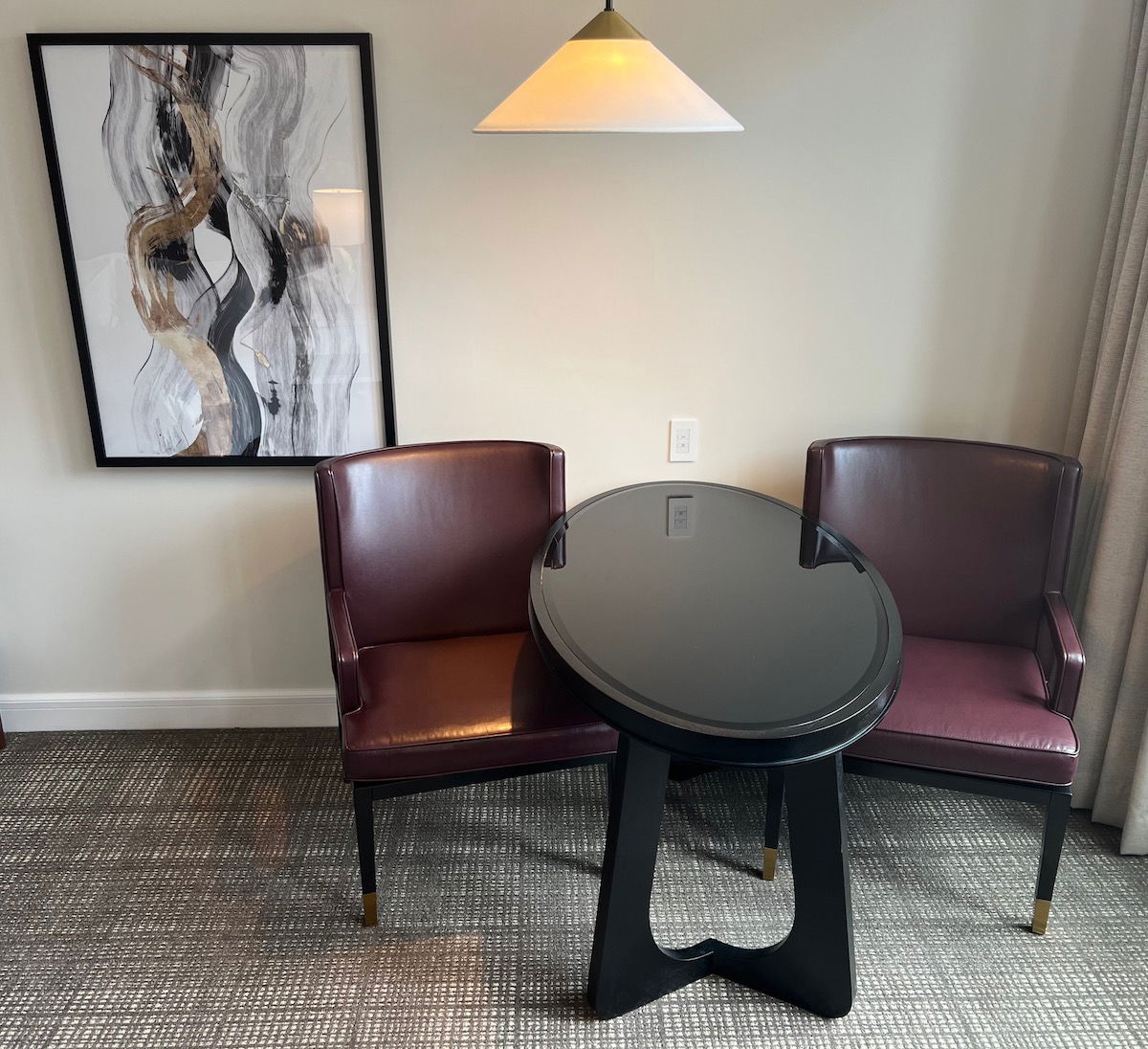 Our room had views of Boylston Street, and even though the street gets busy, the sound insulation is excellent, so we didn't hear any noise in our room.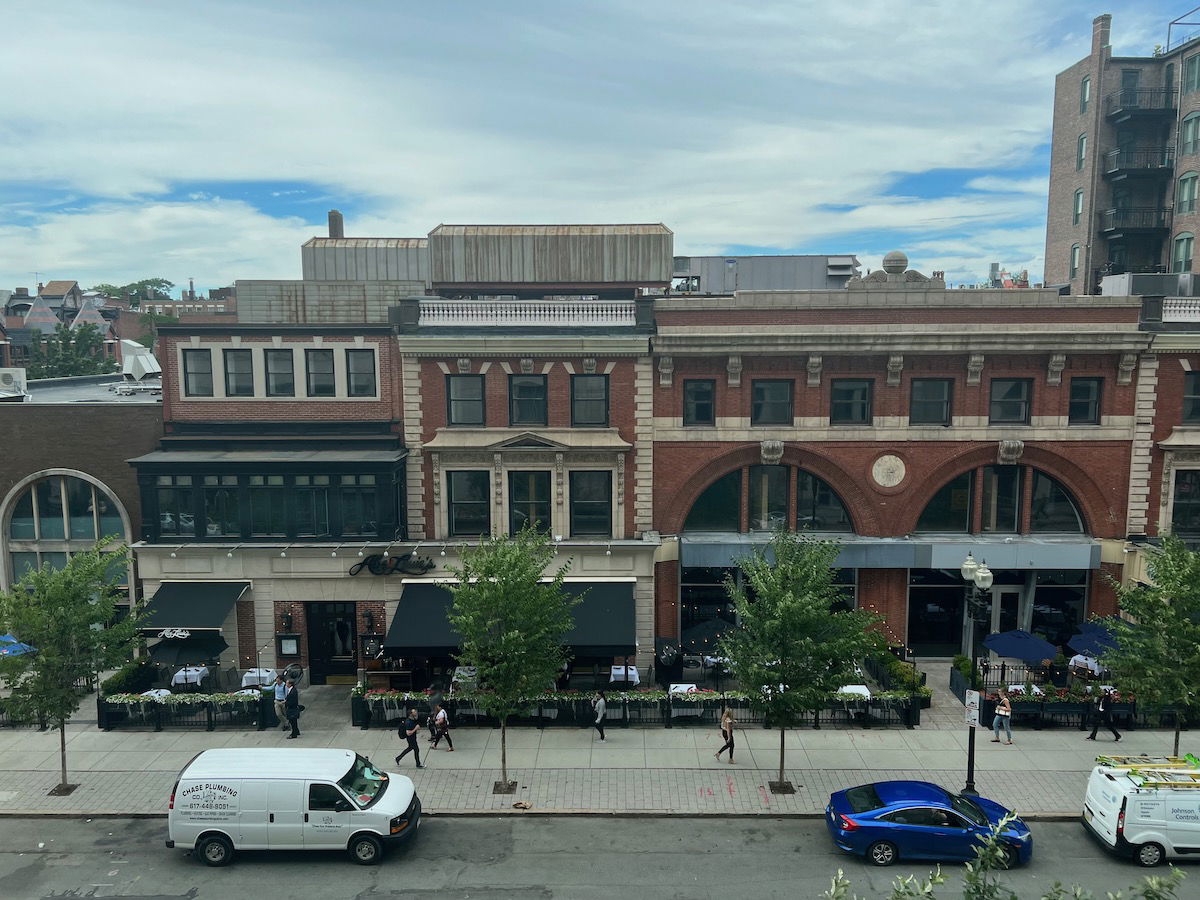 Back near the entrance was the minibar, which had a Nespresso coffee machine plus a variety of food & drinks for purchase. Interestingly there was no complimentary bottled water in the room, except at turndown (of course tap water is perfectly drinkable, but most luxury hotels put a couple of bottles of water in rooms).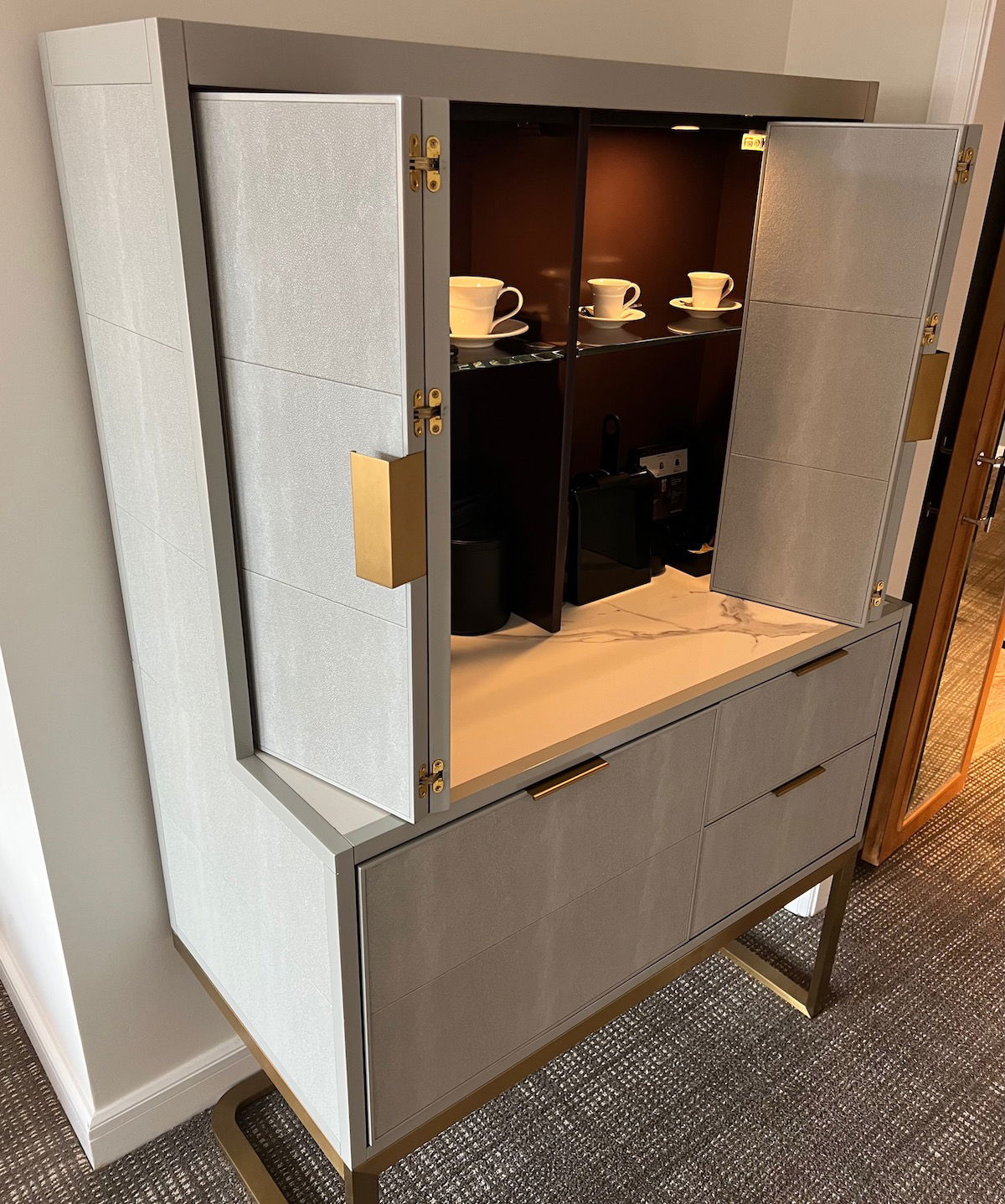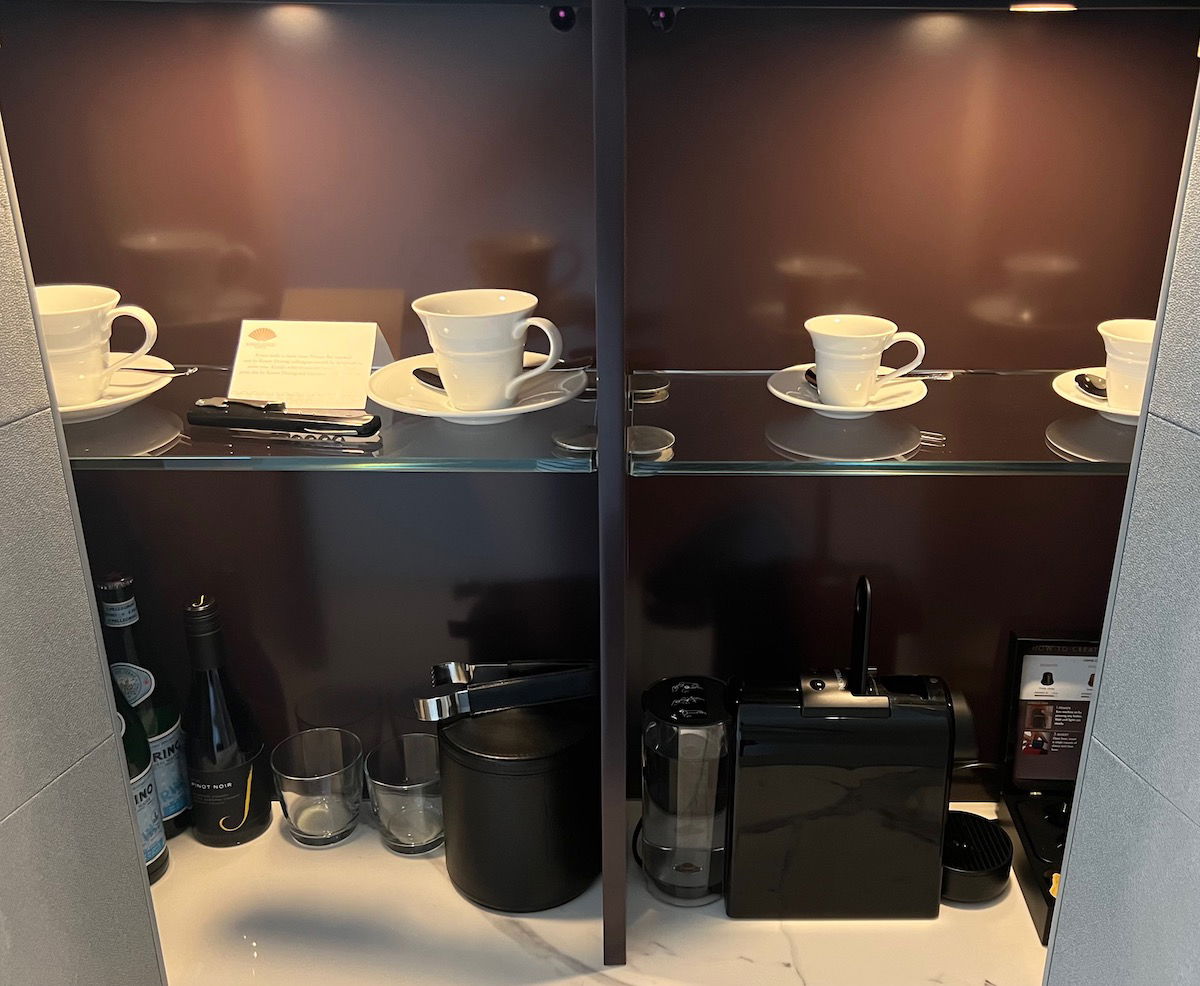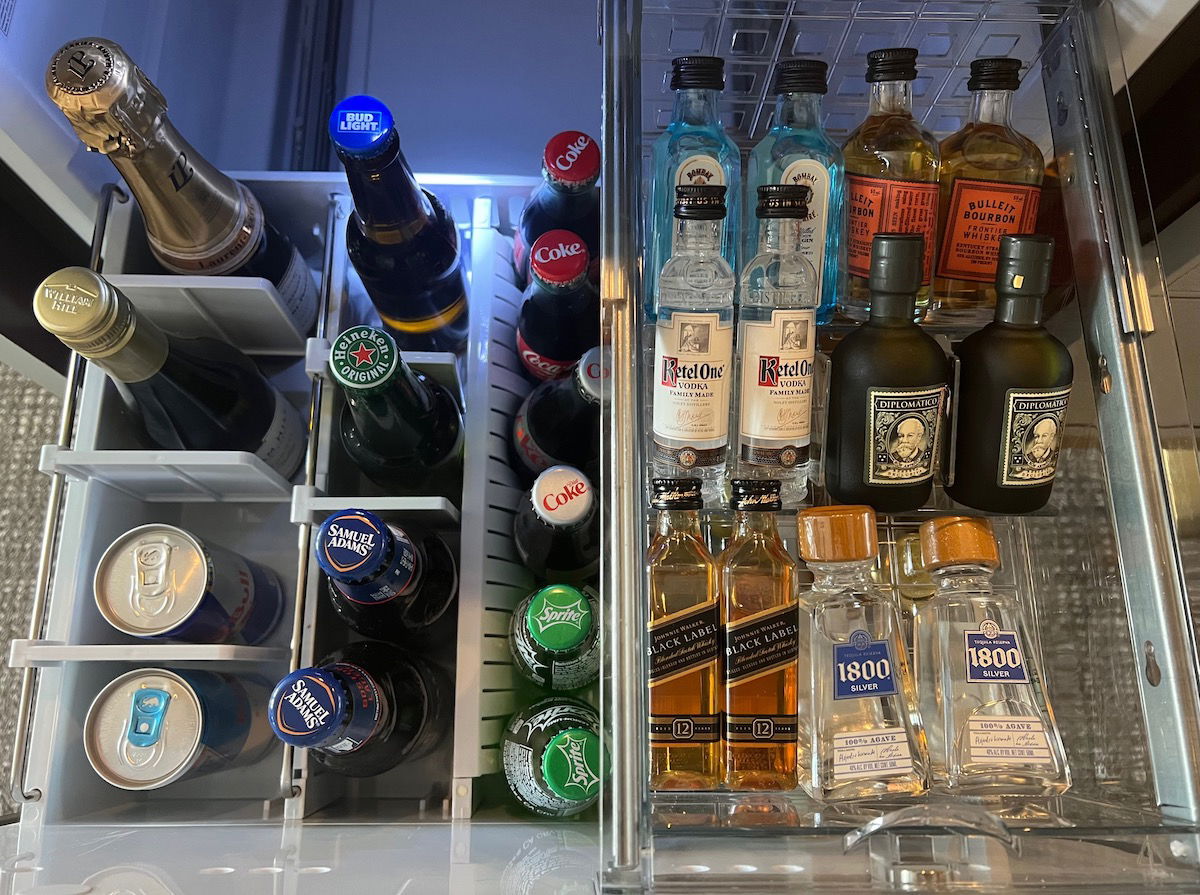 The bathroom was back near the entrance, and was quite large. There was a single sink with a large mirror, and then a soaking tub, a walk-in shower, and a toilet with a door.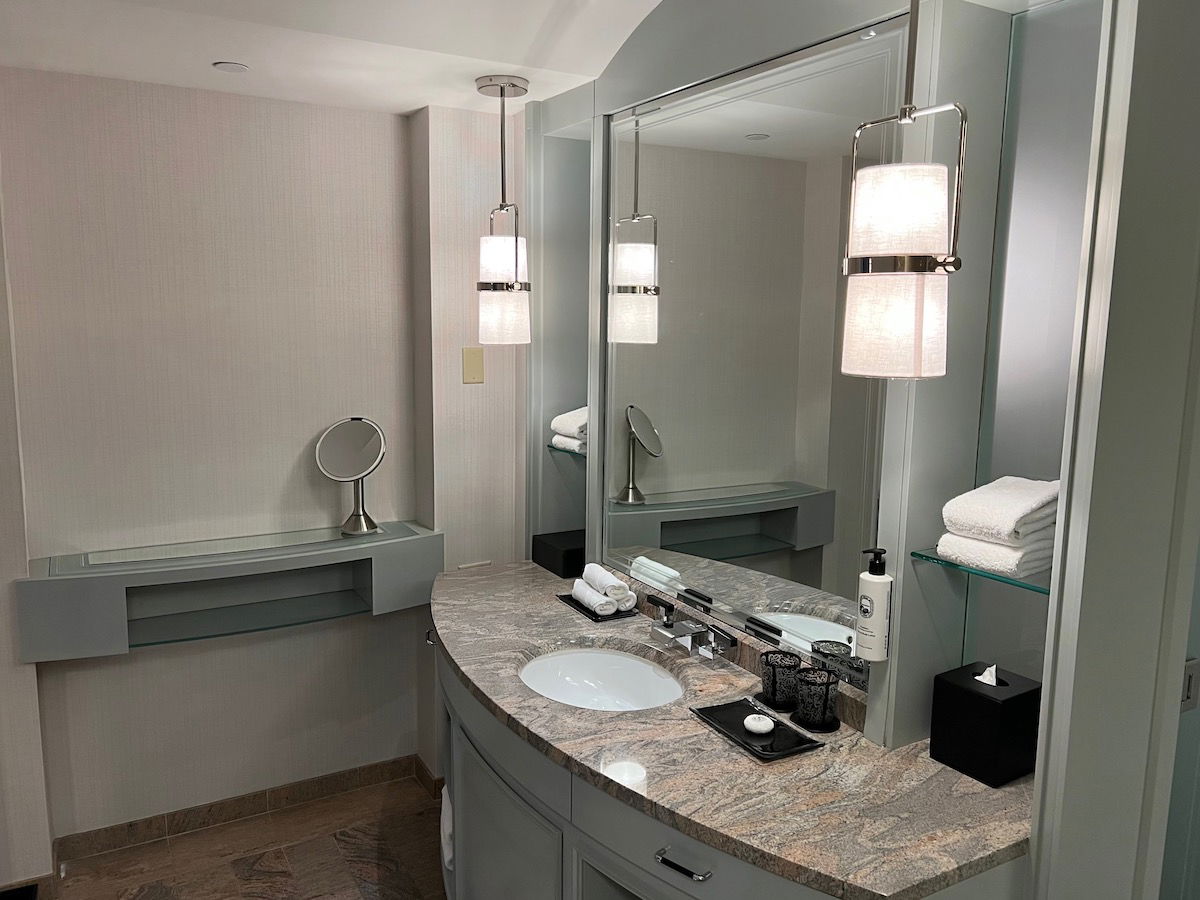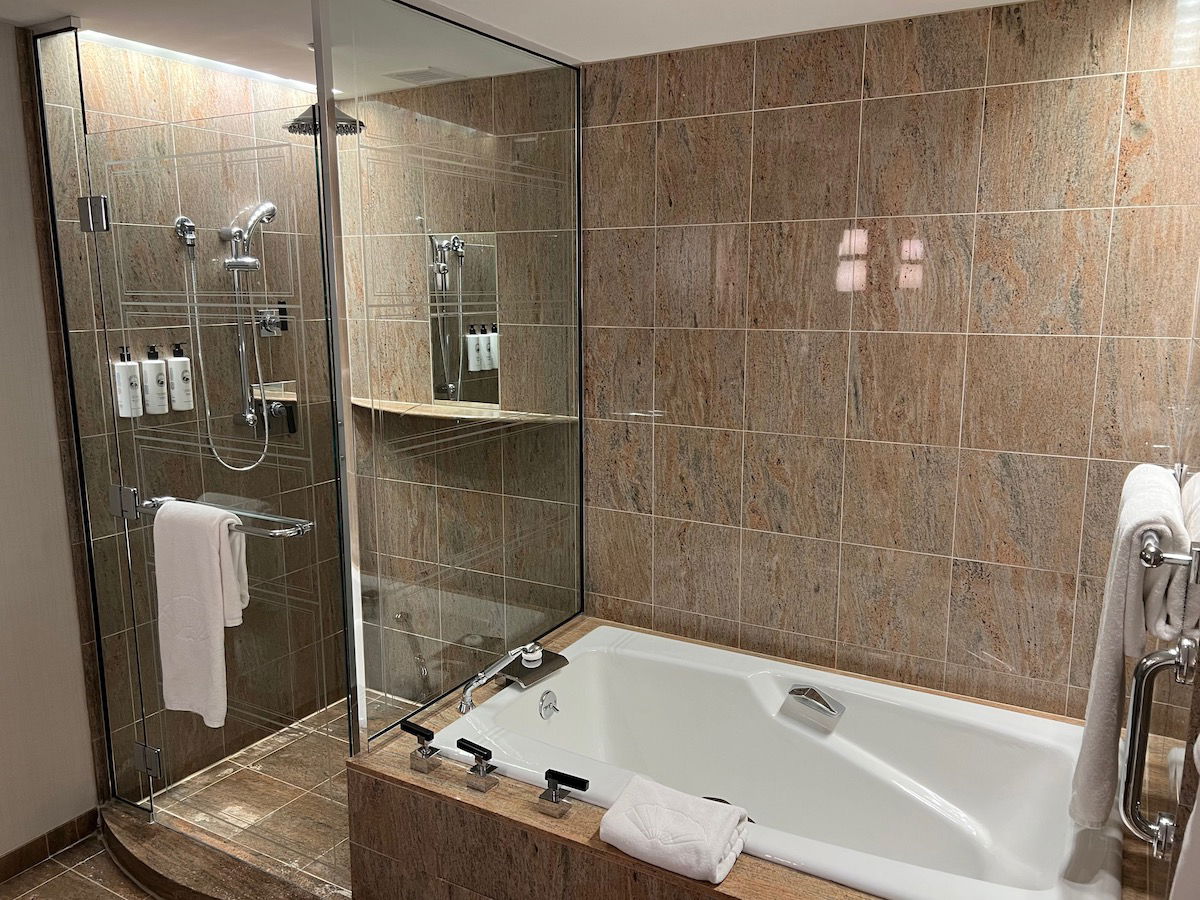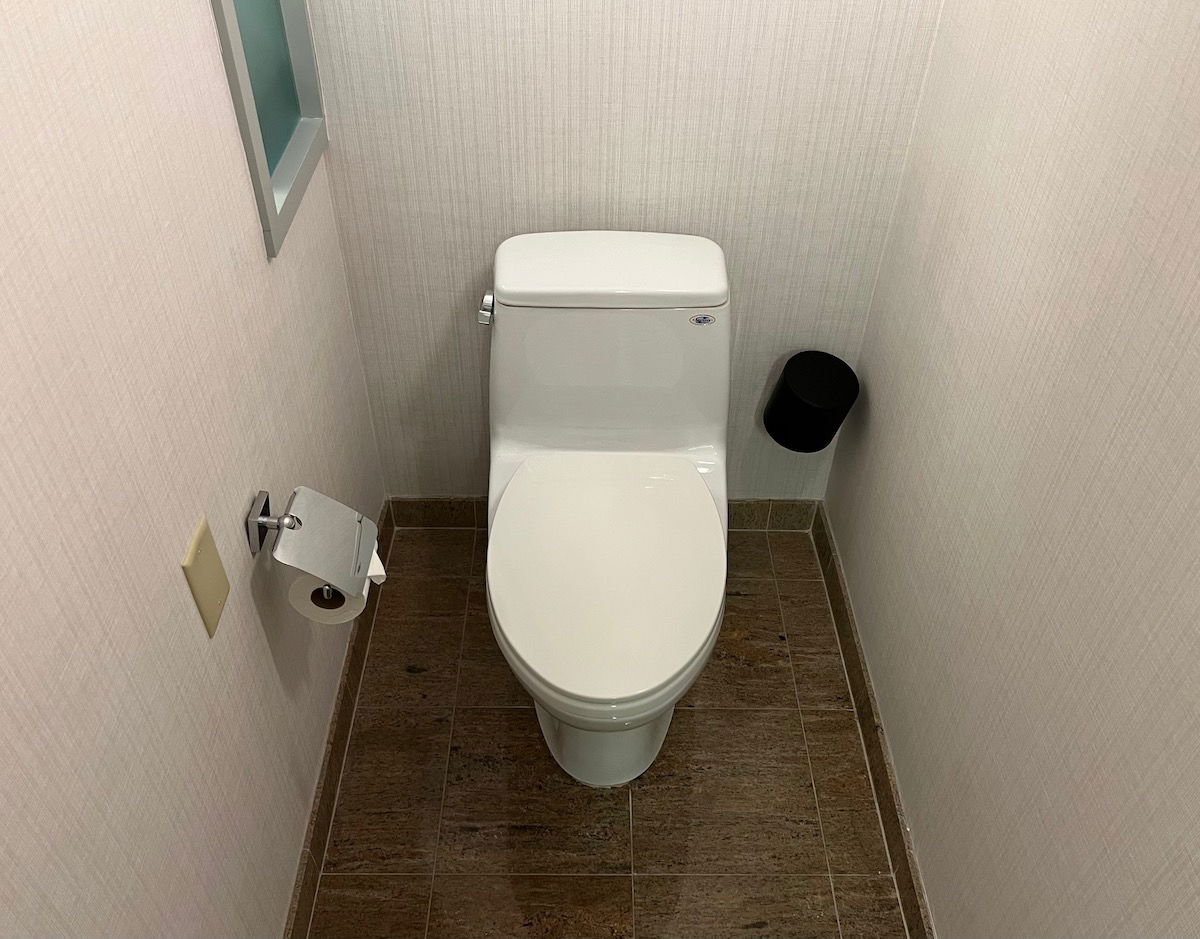 Toiletries were in wall-mounted containers, and were from Diptyque, which I love.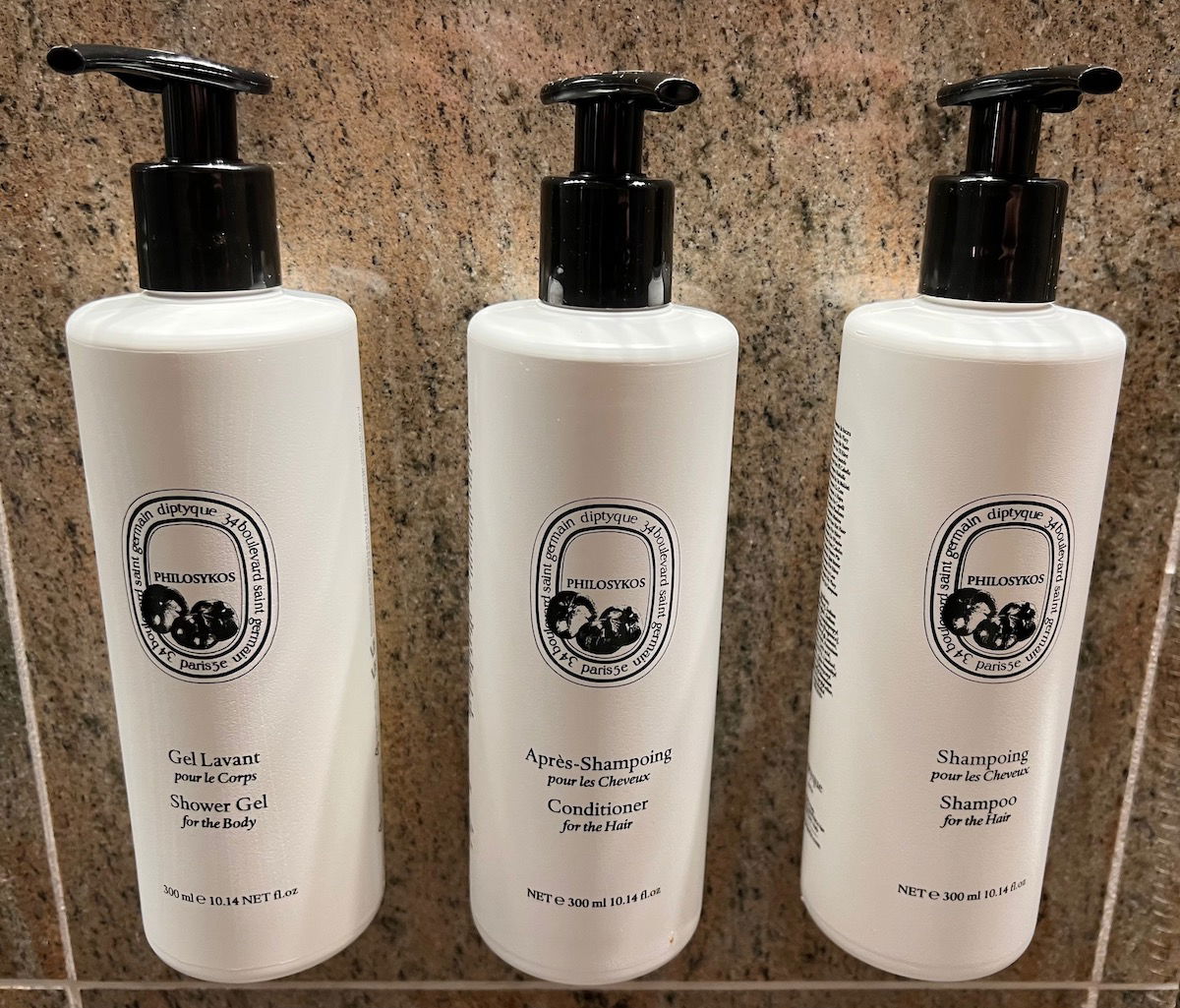 There was also a box with a variety of amenities things you might need, ranging from shower caps to dental kits to combs. I appreciated that this was available in the room, rather than having to call down.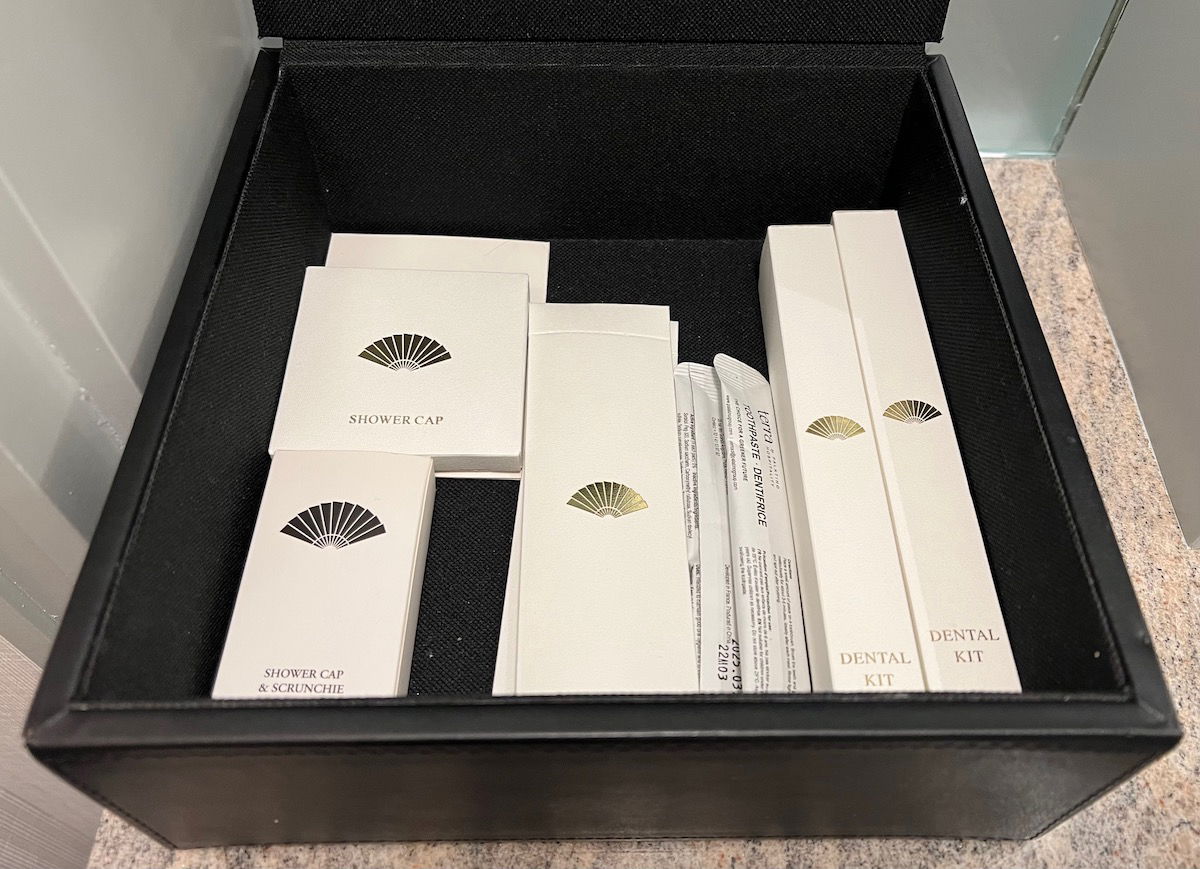 A couple of hours after checking in we were brought a welcome amenity, consisting of a few pieces of fruit.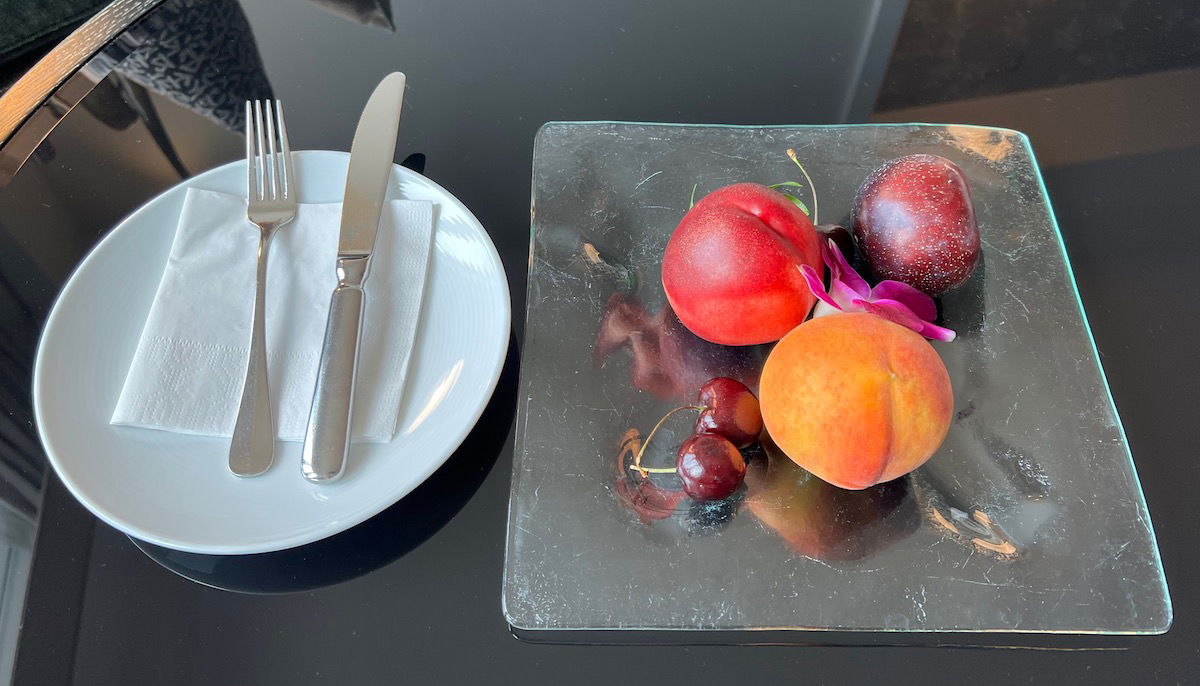 Wi-Fi in the room was fast and free, and twice daily housekeeping was proactively offered.
Mandarin Oriental Boston Ramsay's Kitchen (breakfast)
Ramsay's Kitchen is the Mandarin Oriental Boston's signature restaurant, and the only food & beverage outlet at the hotel (other than room service). You can access the restaurant either from the street, or there's a door near the elevators in the hotel leading to it. This restaurant only opened in early 2022, so it's still quite new.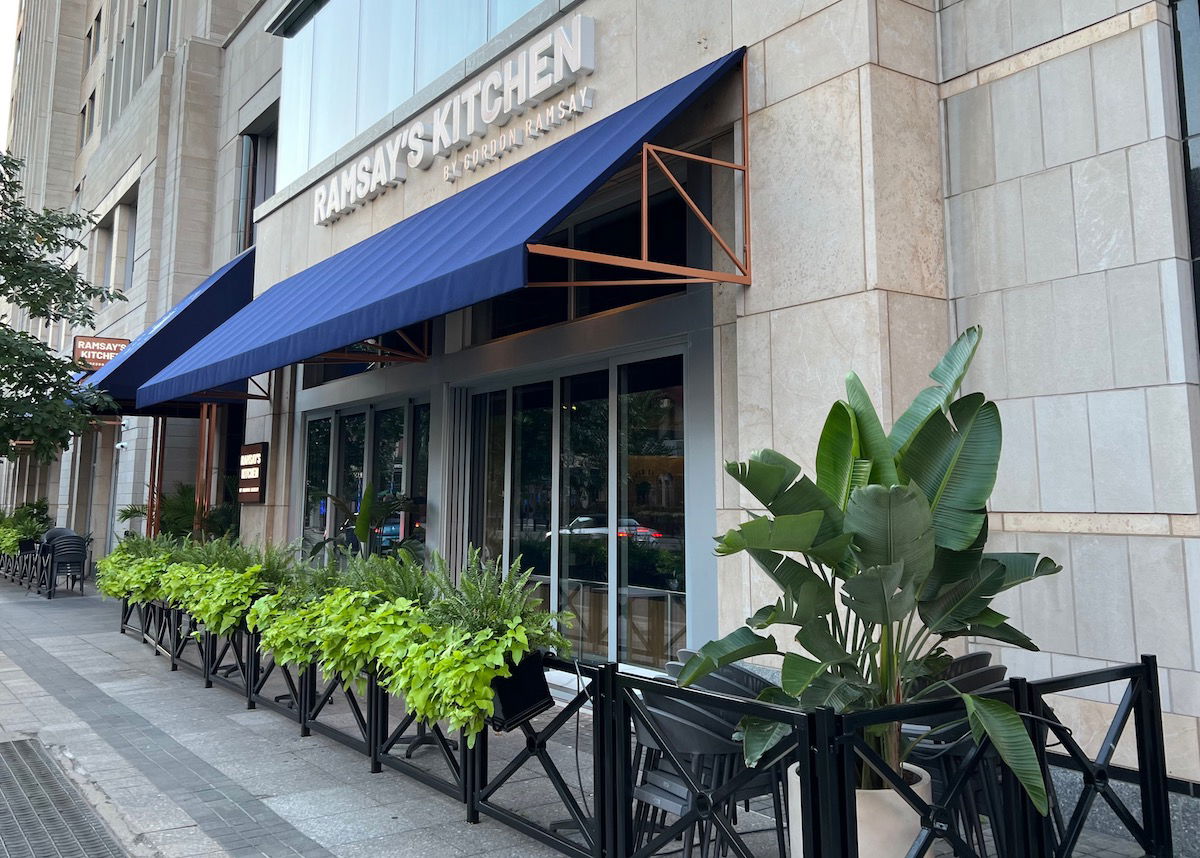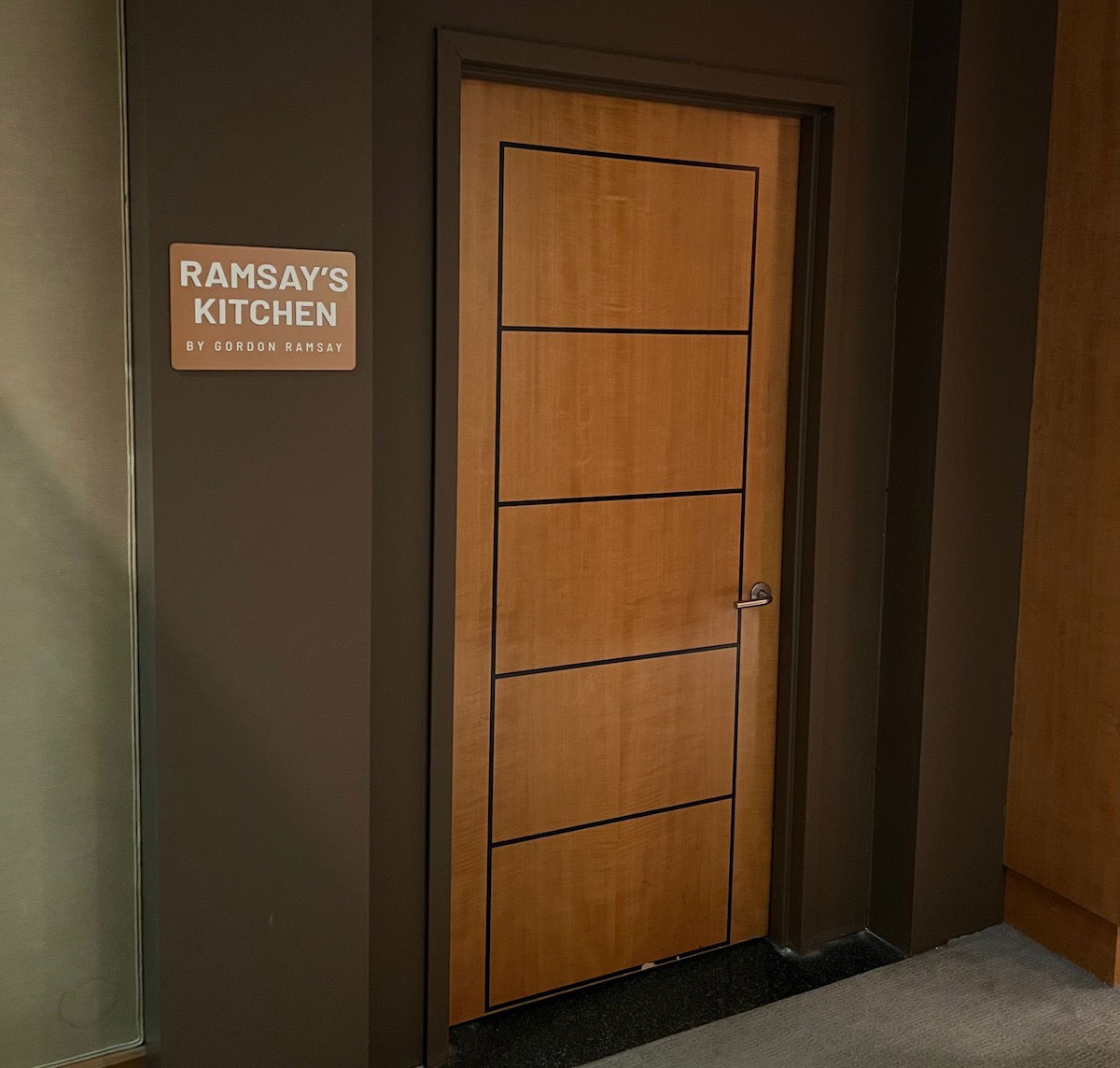 Here's the thing — a Gordon Ramsay restaurant will no doubt be popular, including with locals, but to me it seems like an odd fit for a Mandarin Oriental. I appreciate Mandarin Oriental's Asian roots, and I kind of wish the hotel had some sort of an Asian-inspired food & beverage outlet, even if it's just a bar with some great drinks.
Also, this has nothing to do with anything, but I can't count the number of times I've seen Gordon Ramsay at airport lounges, from the British Airways Concorde Room London Heathrow, to the Qantas First Lounge Los Angeles. He gets around.
The restaurant itself was quite nice, and huge. One side of the restaurant had a bar area, while the other side had the main dining room.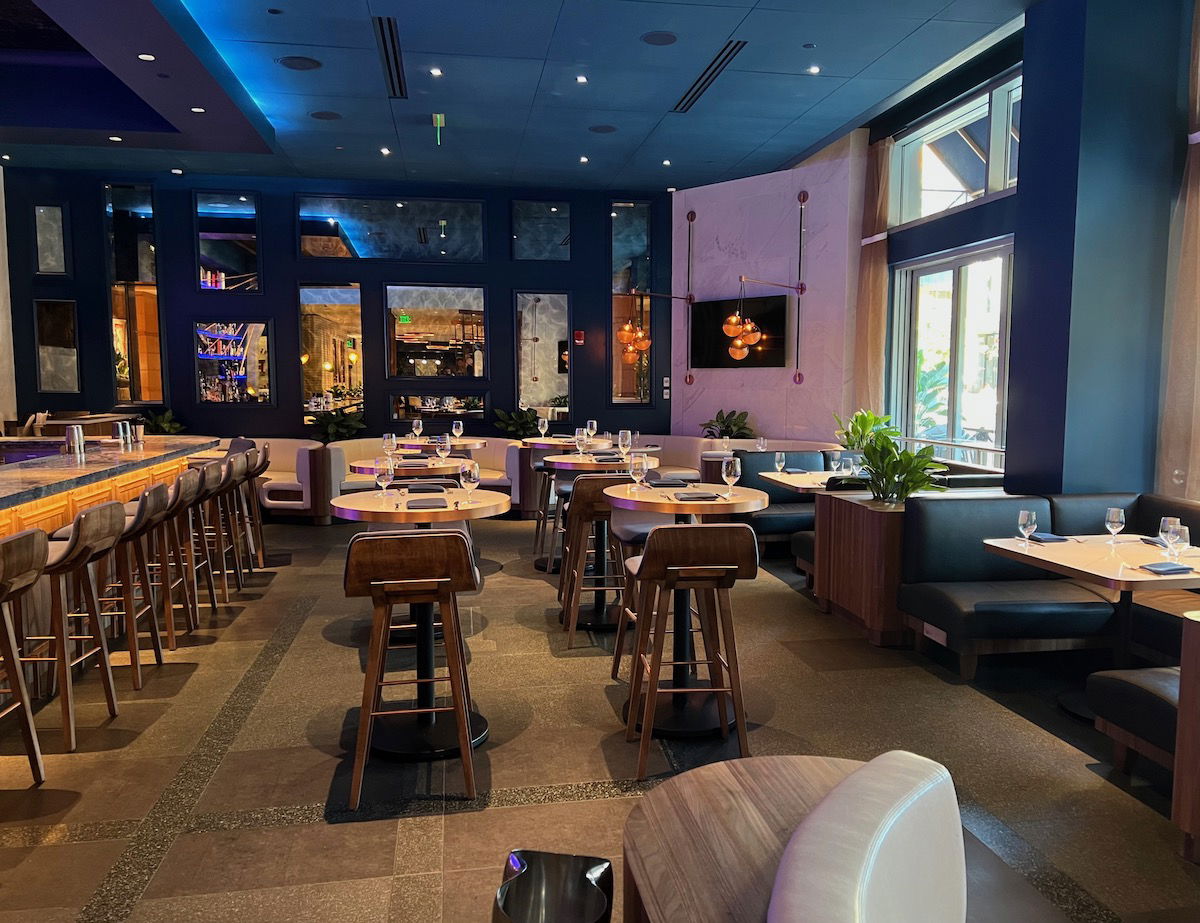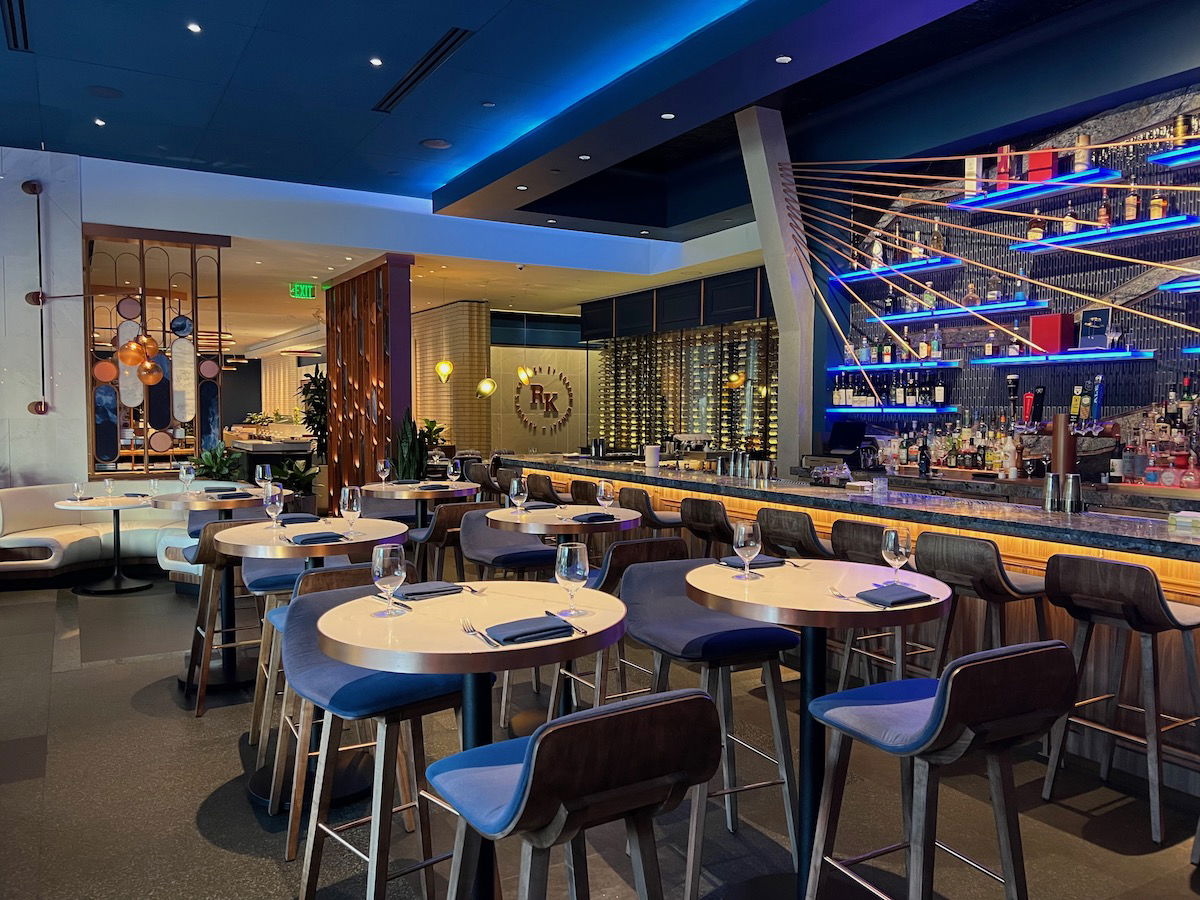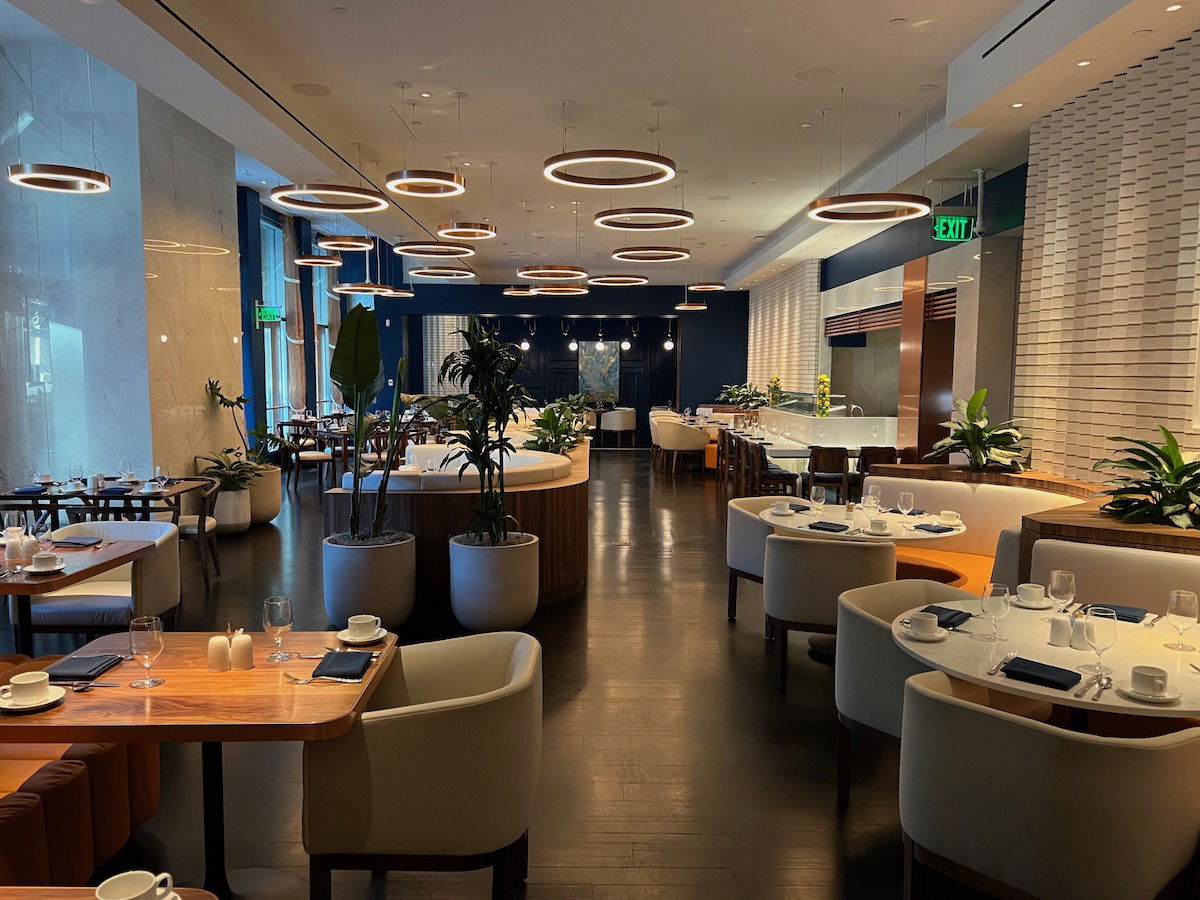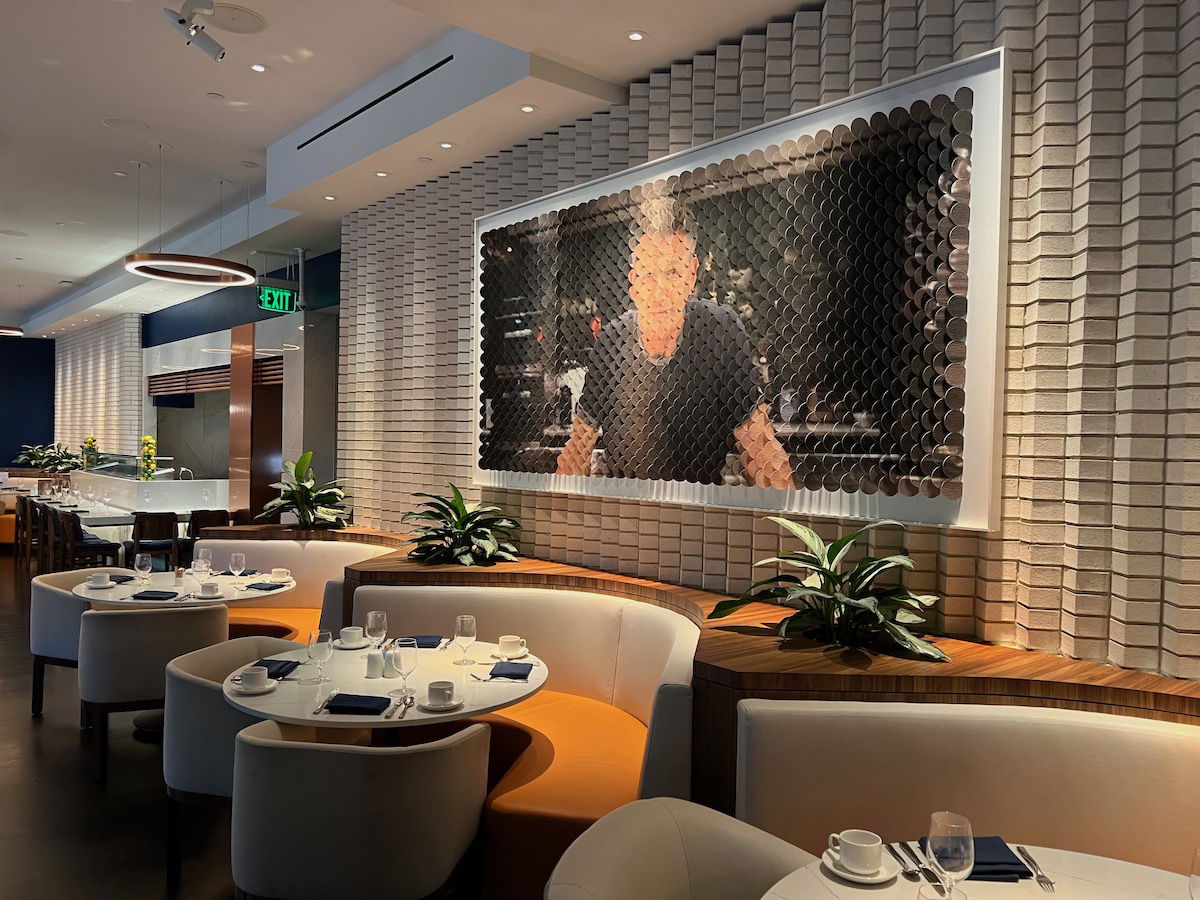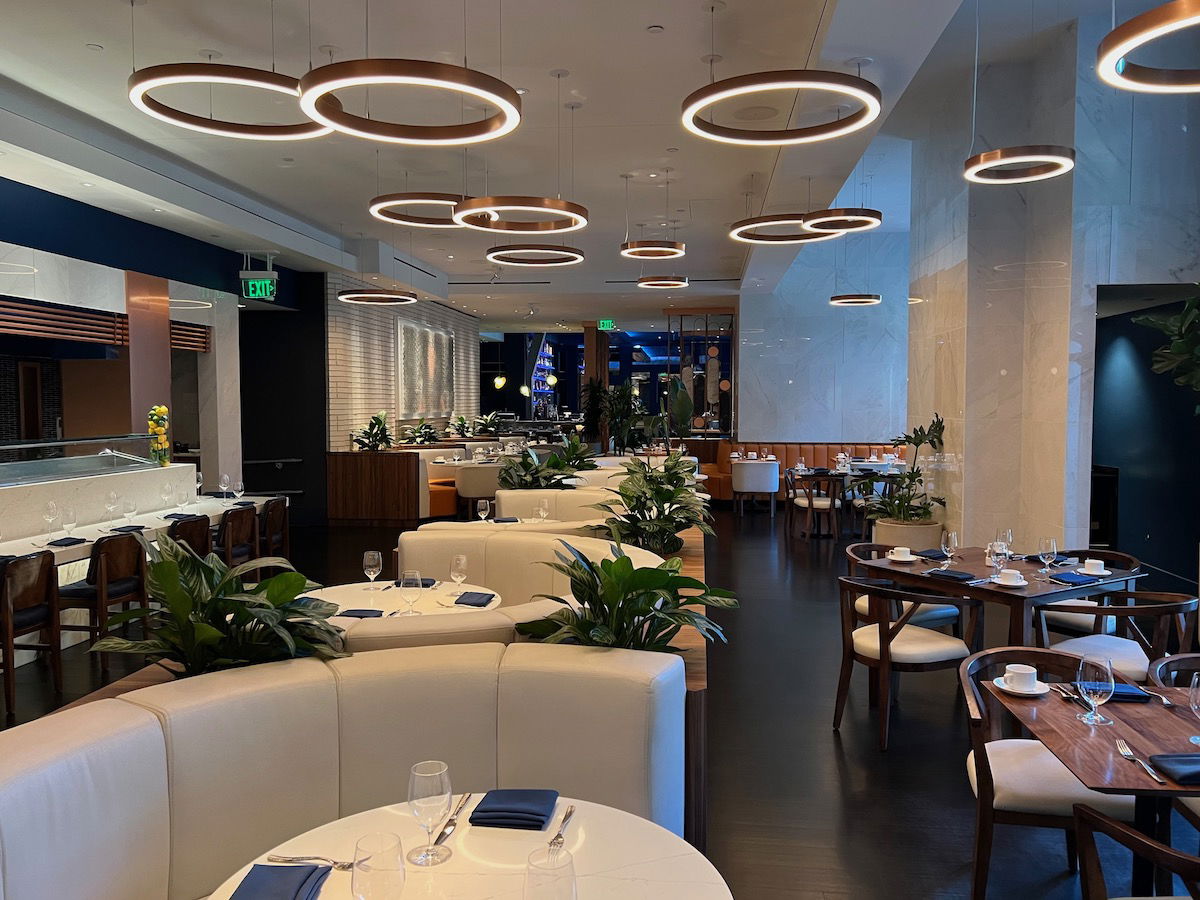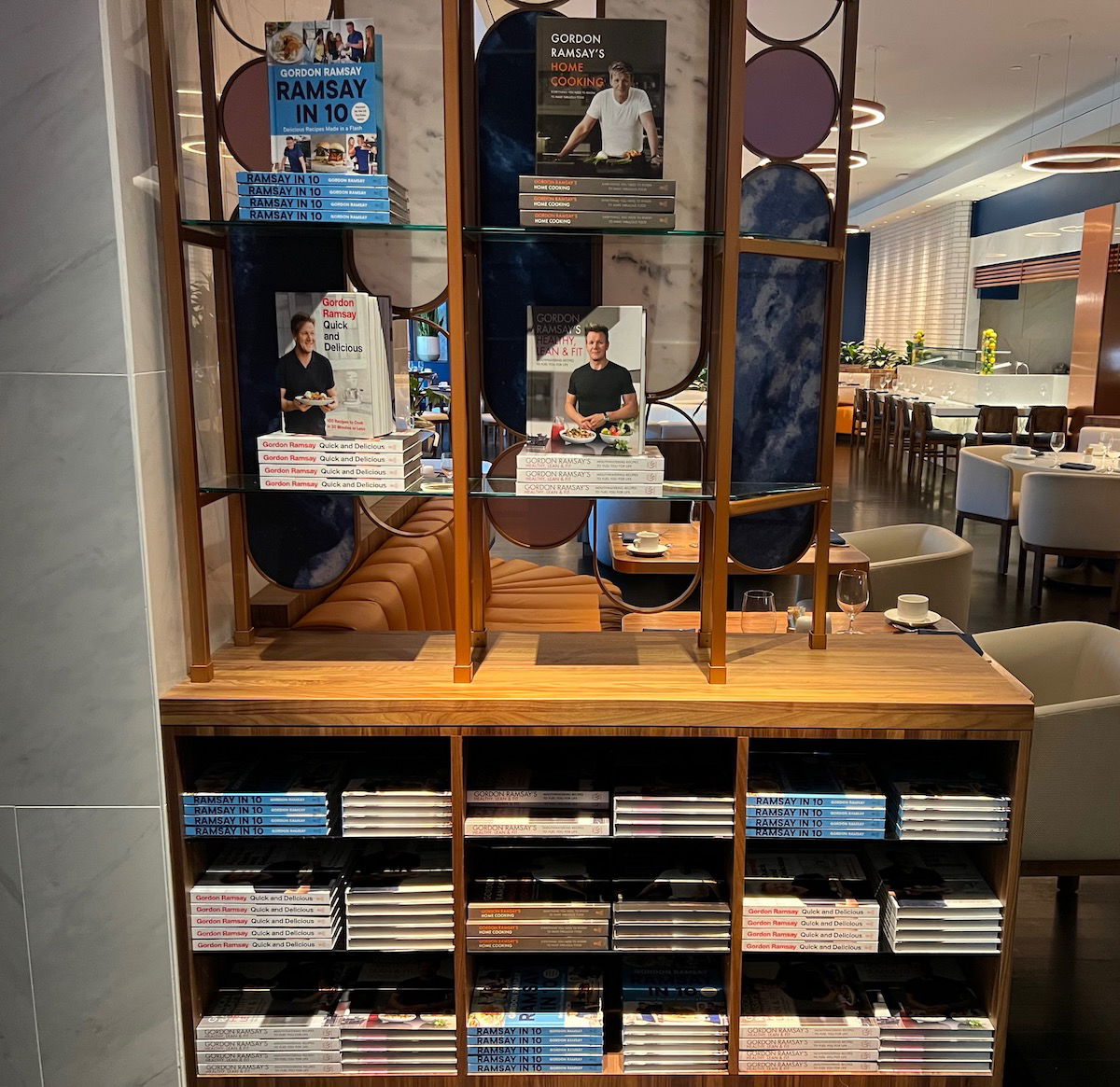 Breakfast was served at Ramsay's Kitchen daily from 6:30AM until 10:30AM, and you can find the menu below.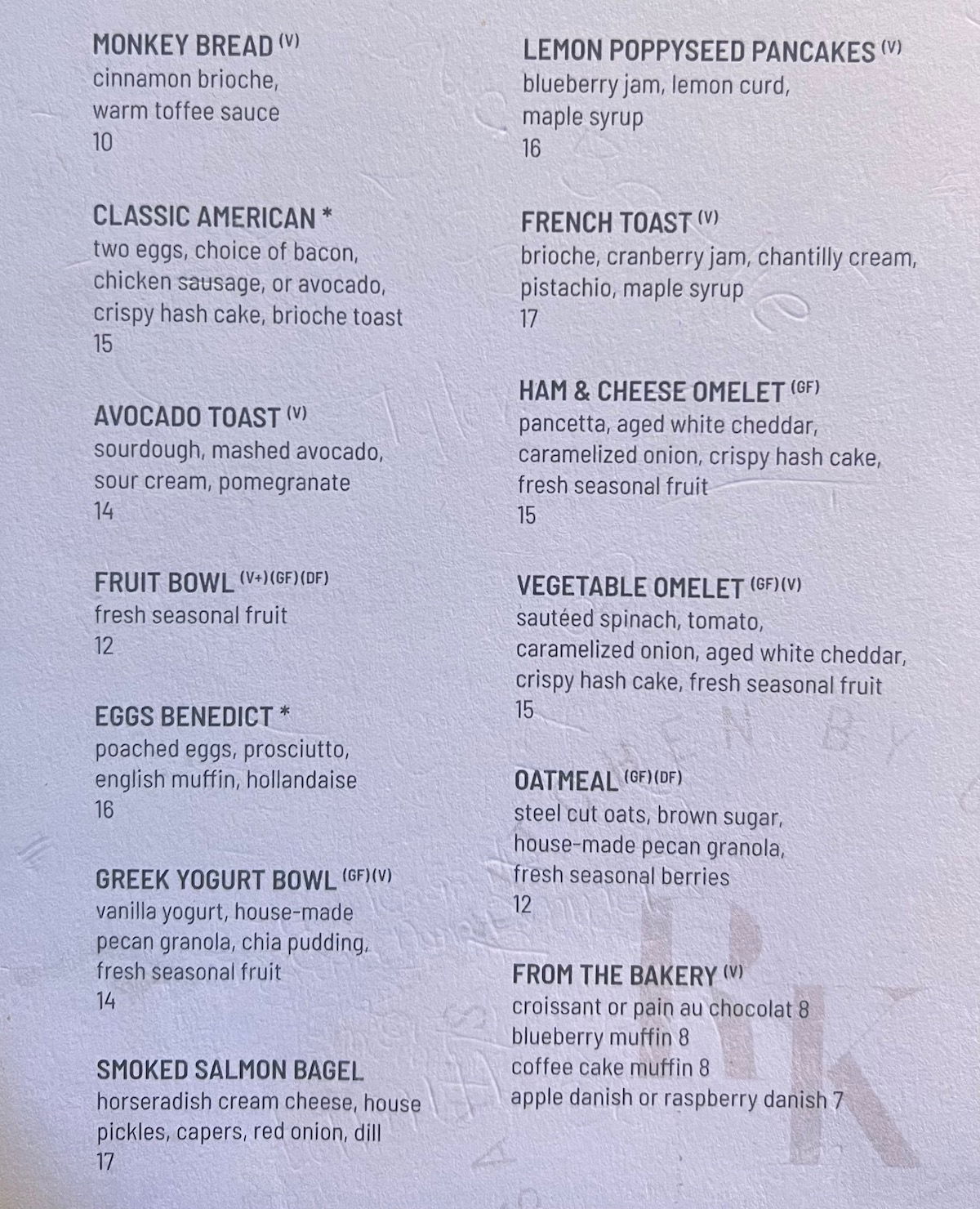 I thought the menu items were surprisingly reasonably priced. Often you'll find that luxury hotels have huge markups on breakfast, but I guess they're trying to price it so that locals might consider dining here for breakfast as well. Also keep in mind that we were given a $120 daily breakfast credit, which seemed ridiculously high, given the price of breakfast options. Like, we could've had four omelets and four avocado toasts each morning.
Oddly there was no coffee or drink menu at all. While the hotel has barista-made espresso drinks, there are no smoothies, and no freshly squeezed juices (though there is cold pressed orange and grapefruit juice from Connecticut). The cappuccinos were pretty good.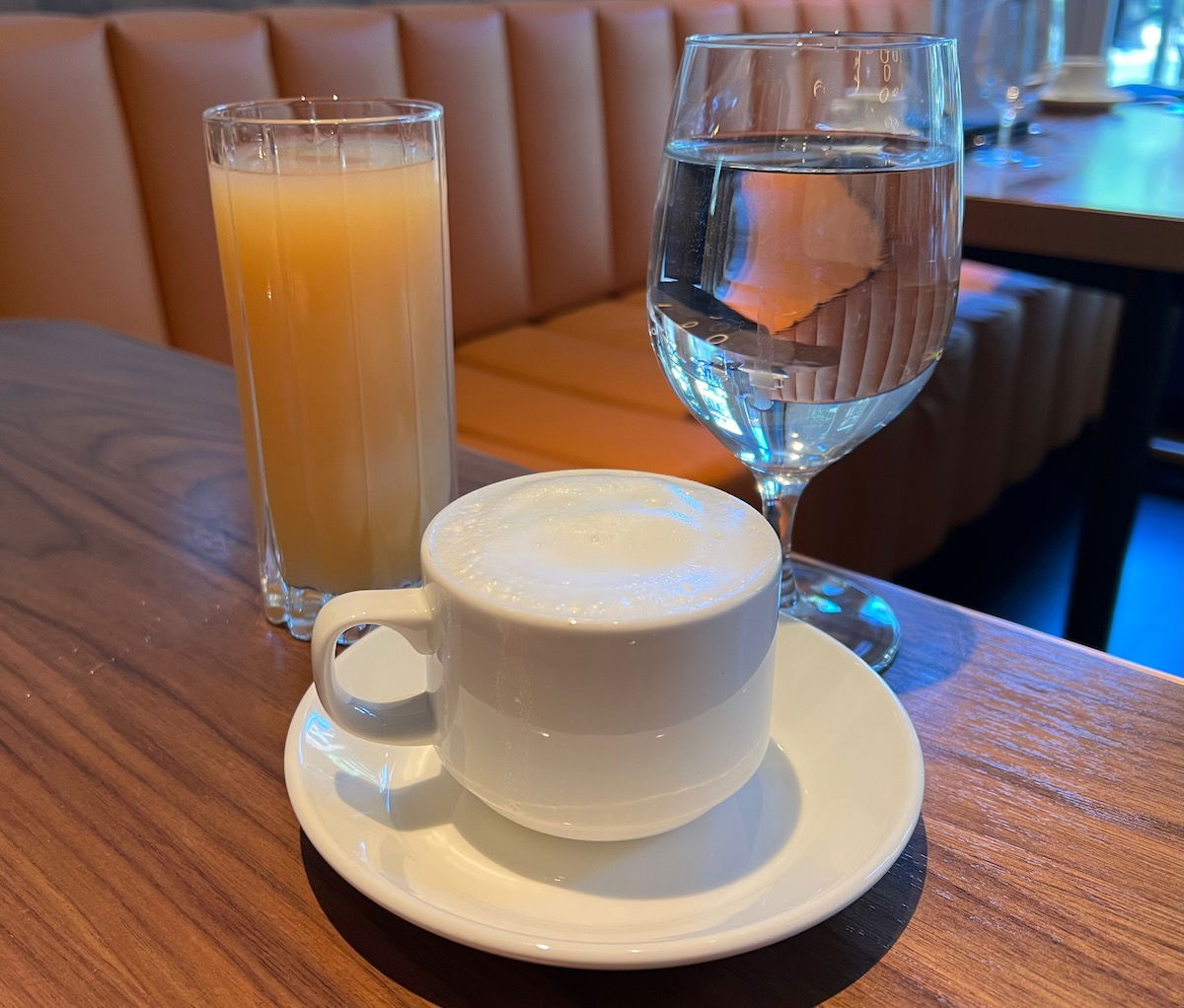 Over the course of our stay we tried a variety of things, including the fruit bowl, greek yogurt bowl, three-egg omelet, avocado toast, smoked salmon bagel, and lemon poppyseed pancakes (we don't usually order sweets for breakfast, but these were beyond good, and the portion was borderline criminal).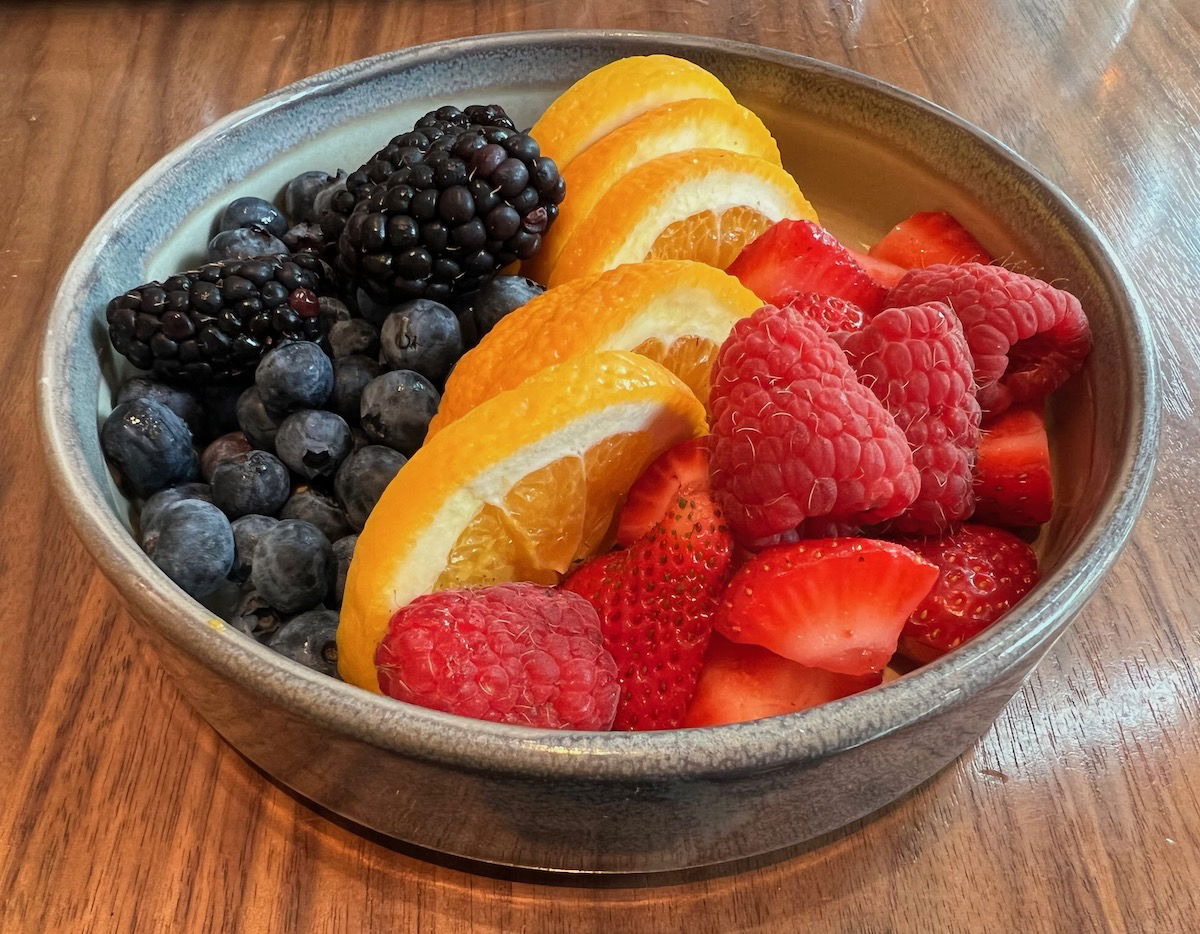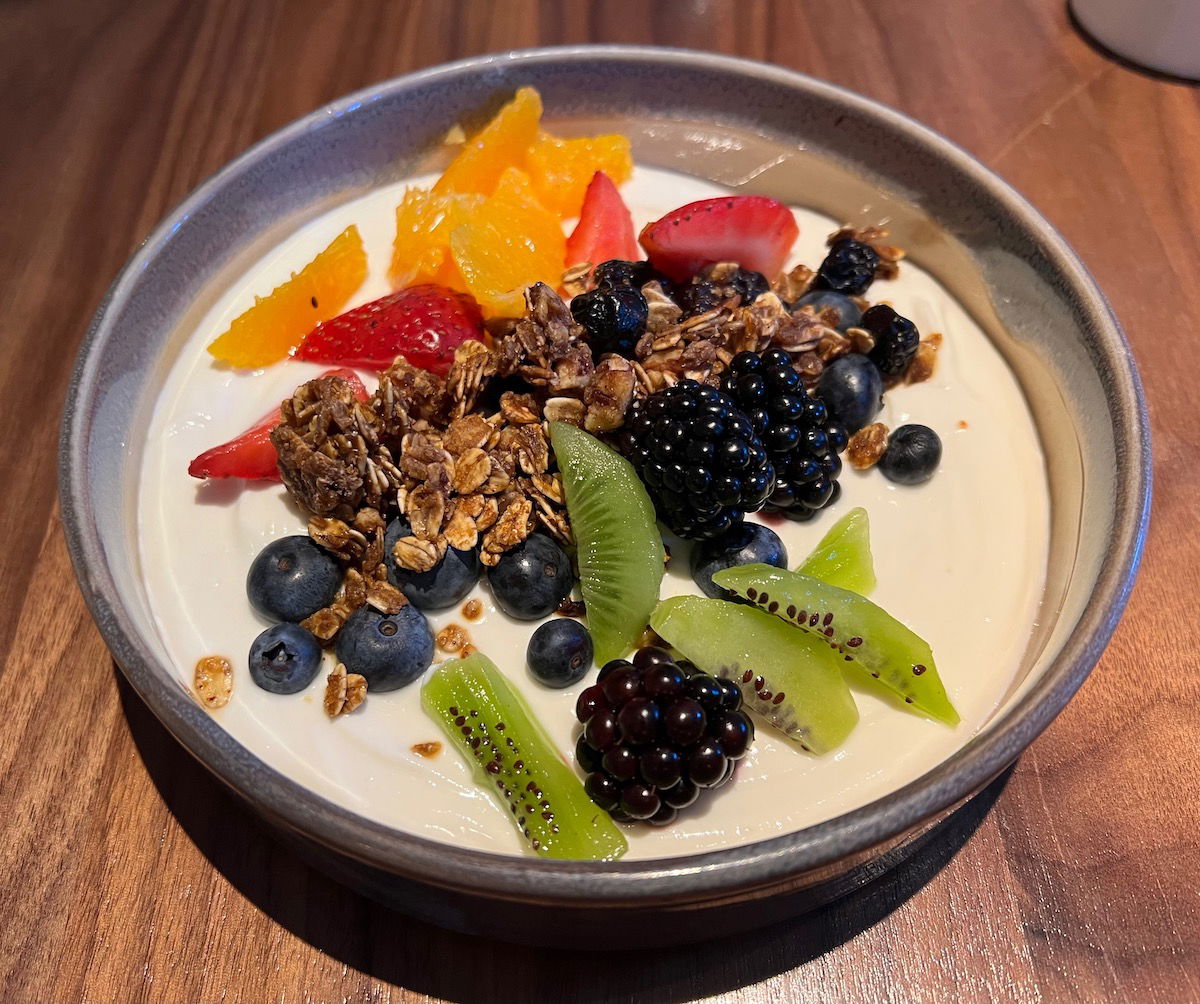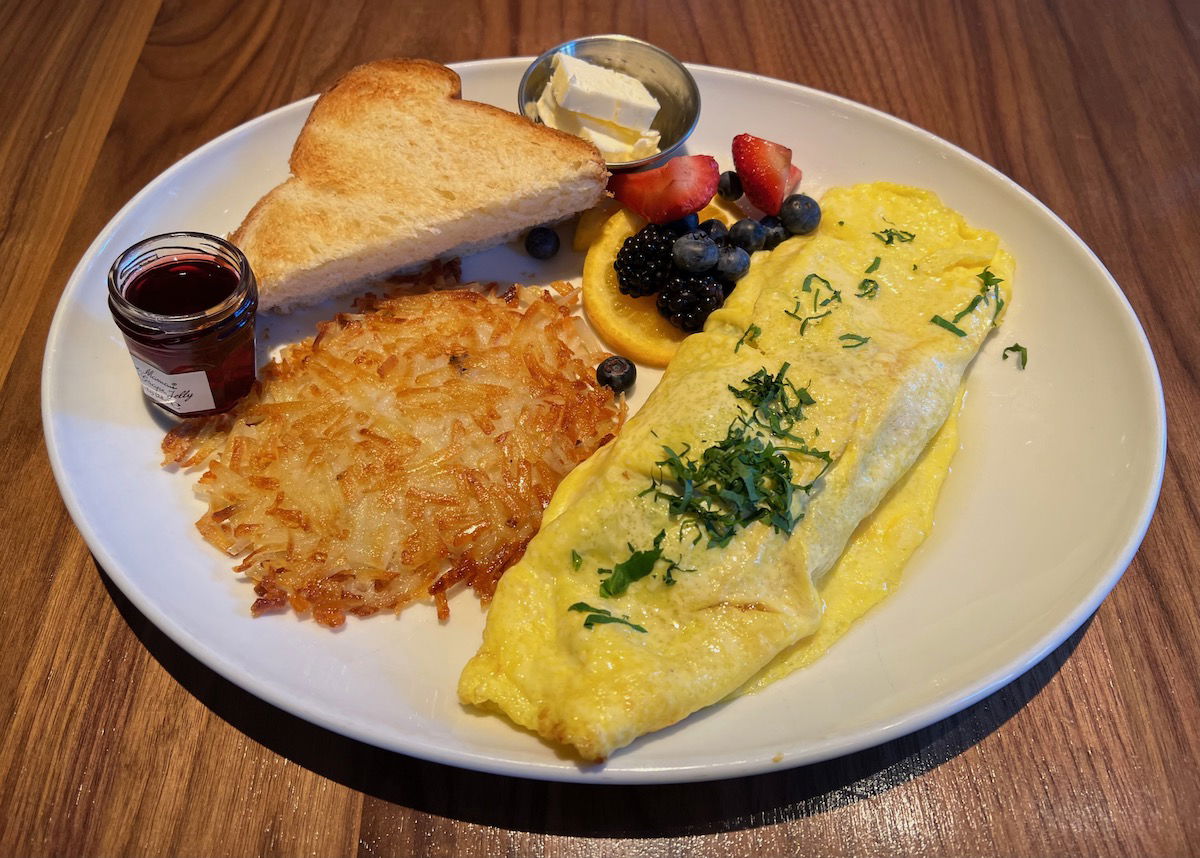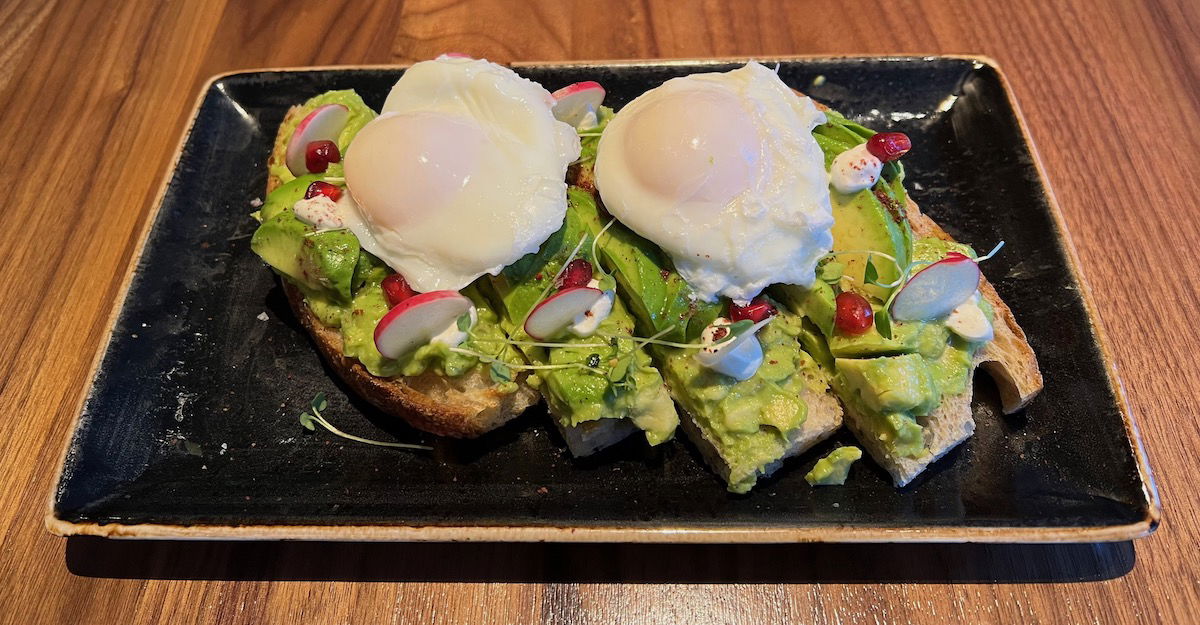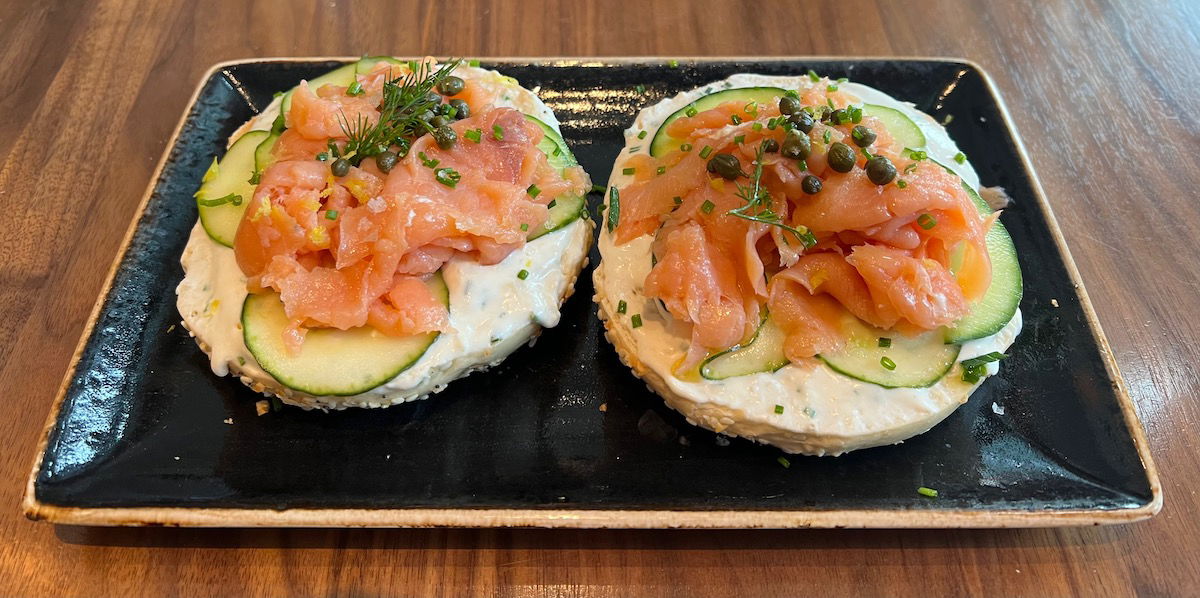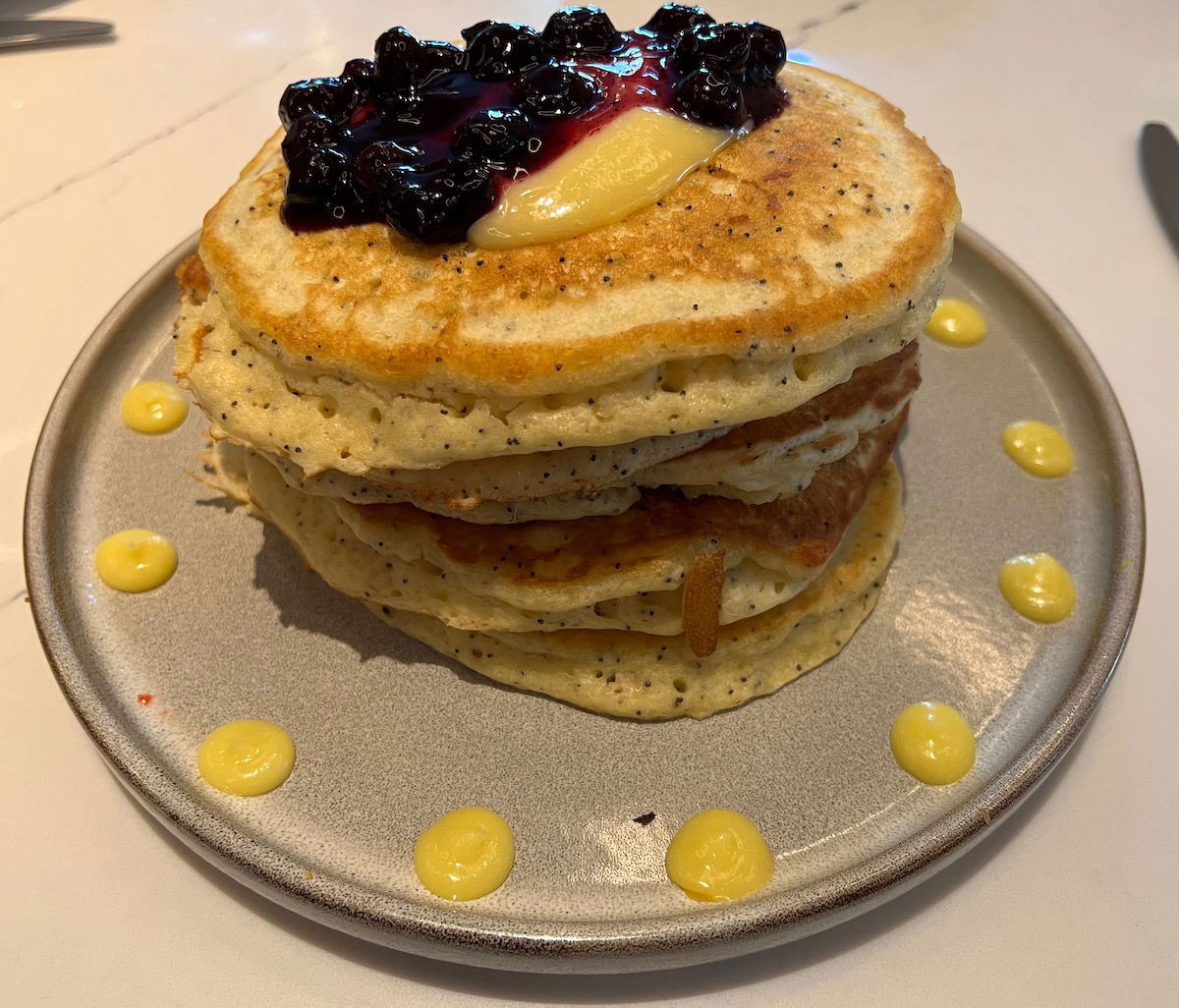 Service in the restaurant was also friendly.
Mandarin Oriental Boston Ramsay's Kitchen (lunch)
Since we had a $100 food & beverage credit to spend, we also decided to have lunch at Ramsay's Kitchen one day. You can find the lunch menu below.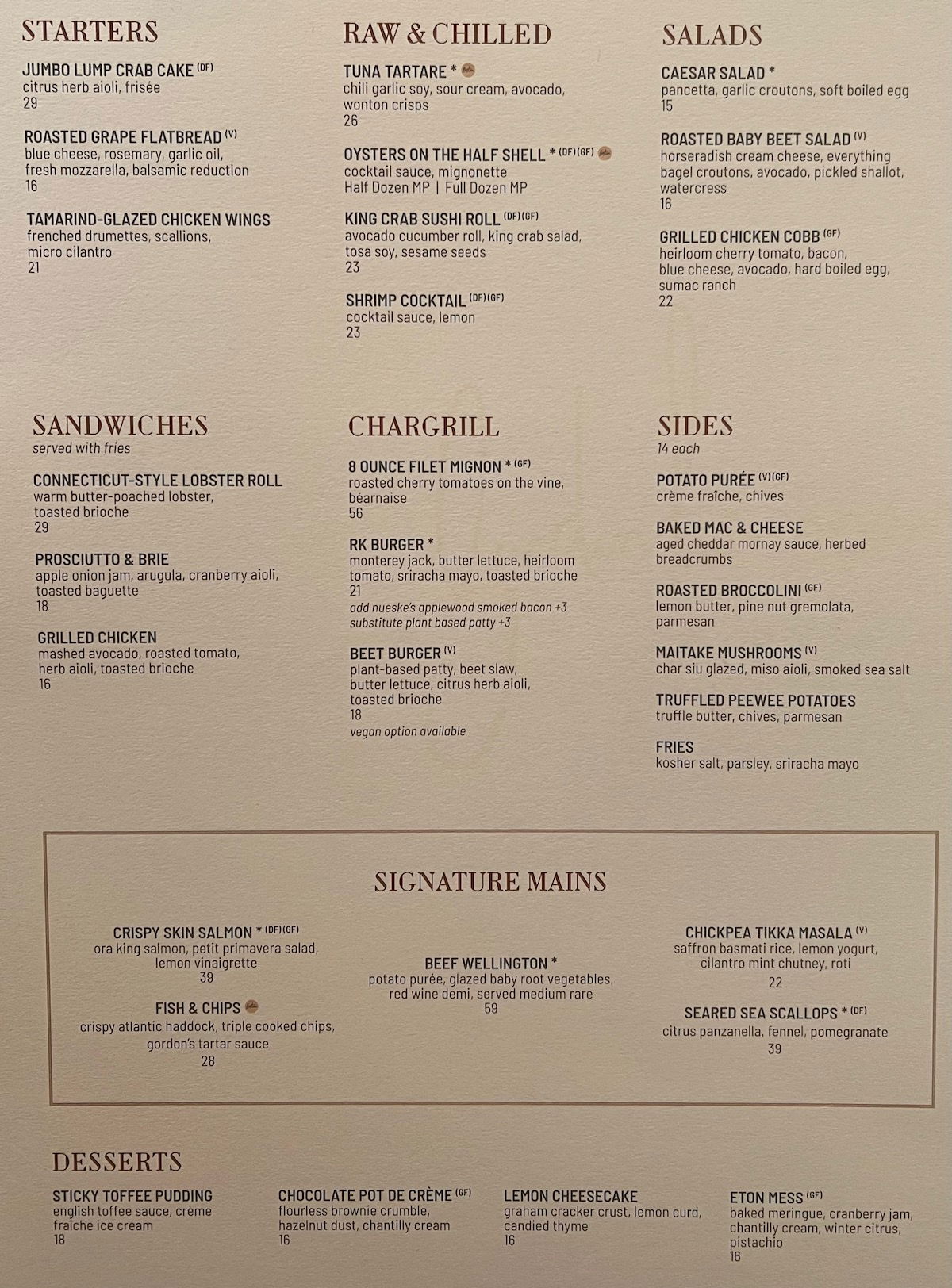 This was our big meal of the day, so we had the tuna tartare and the roasted baby beet salad to start.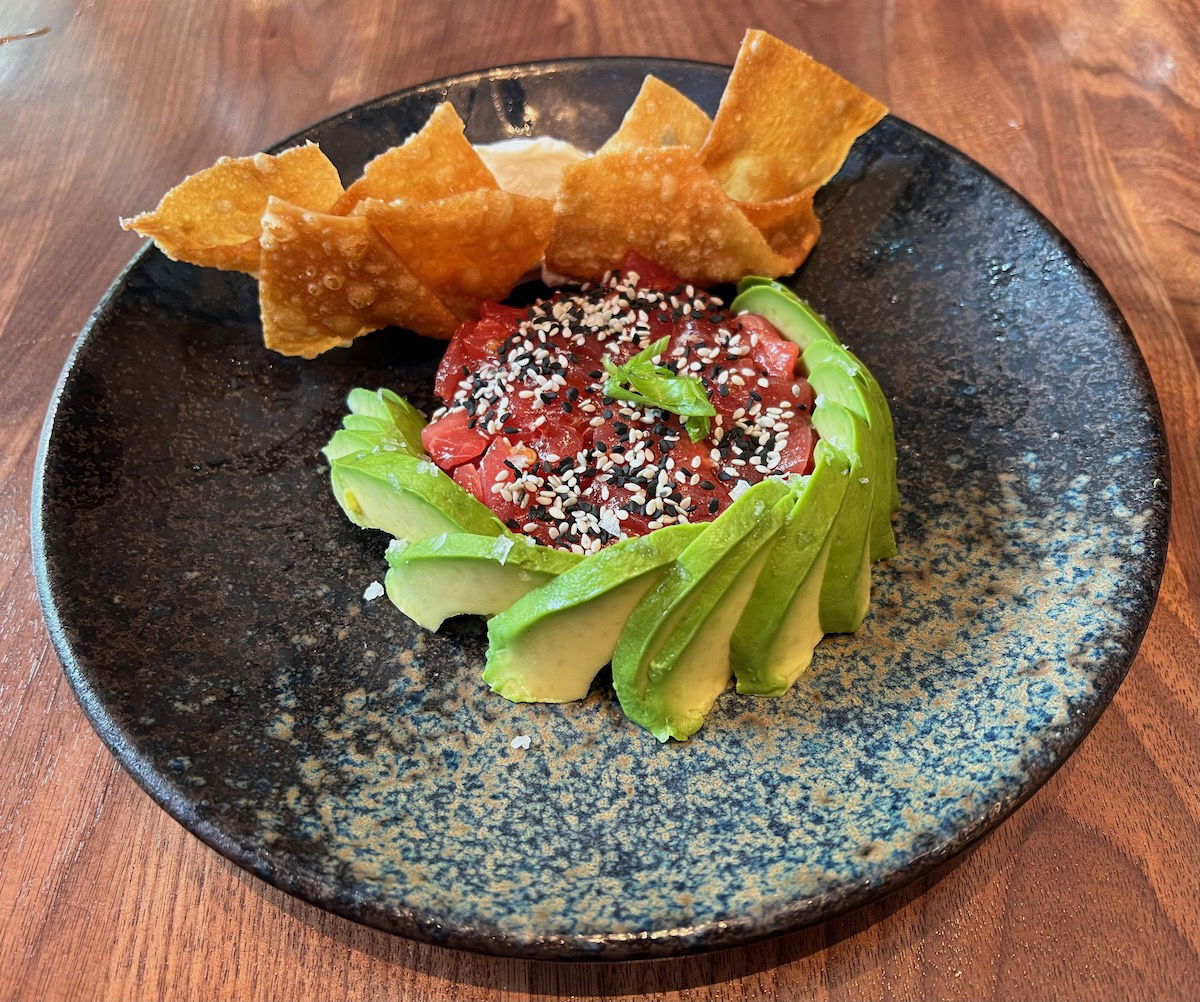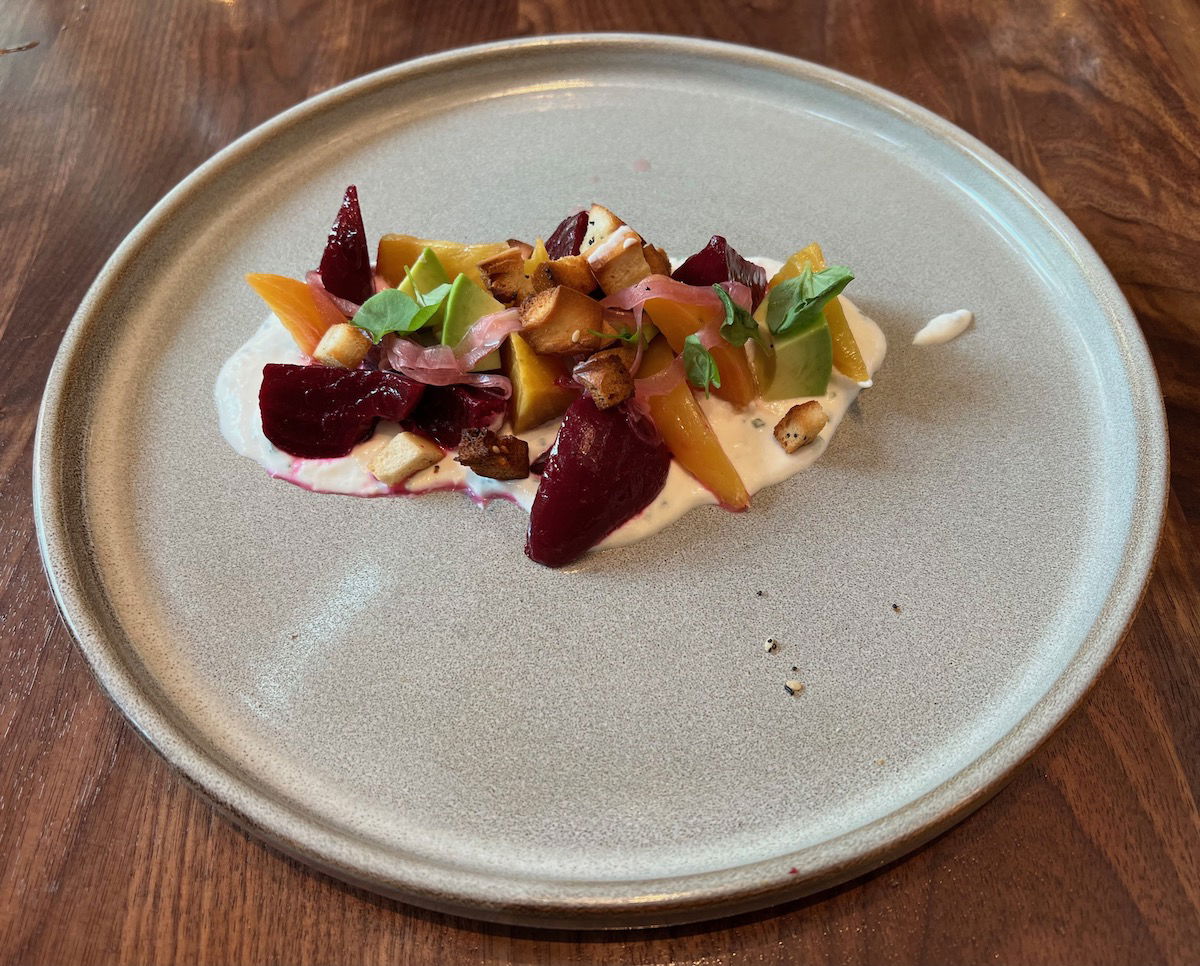 Then for our main courses we had the beet burger and crispy skin salmon.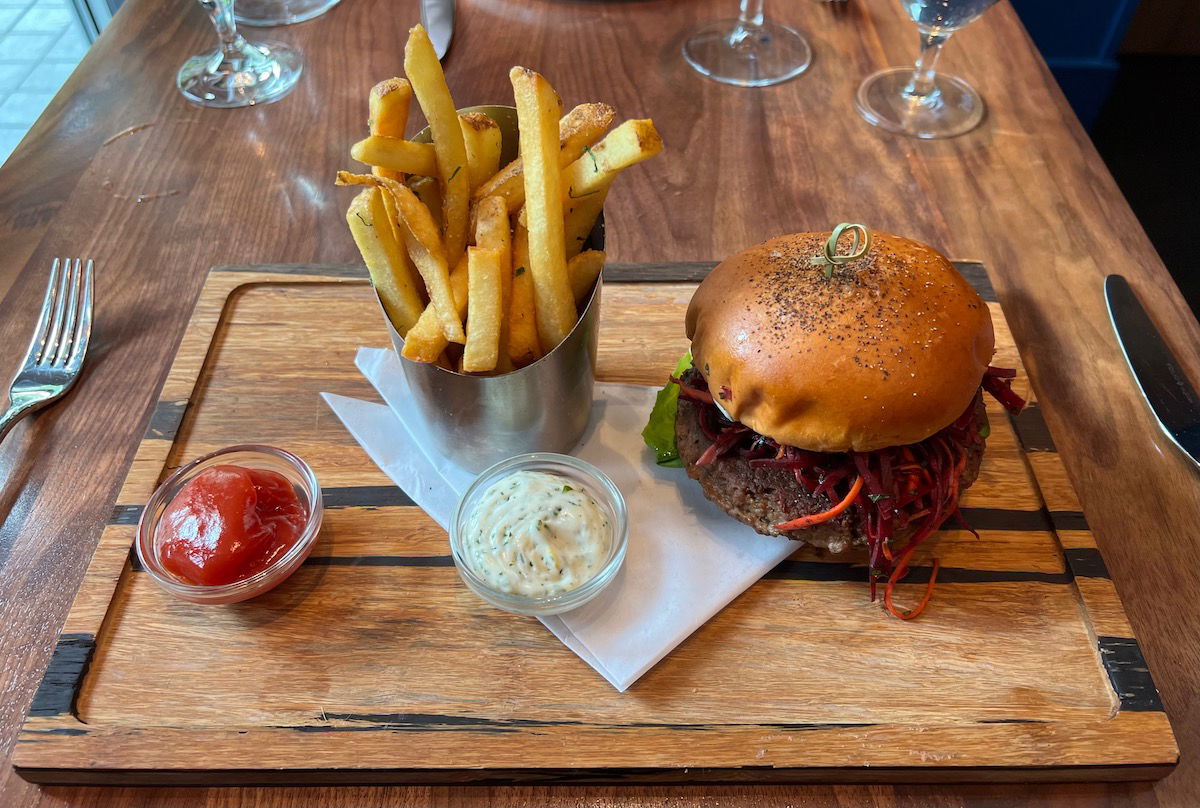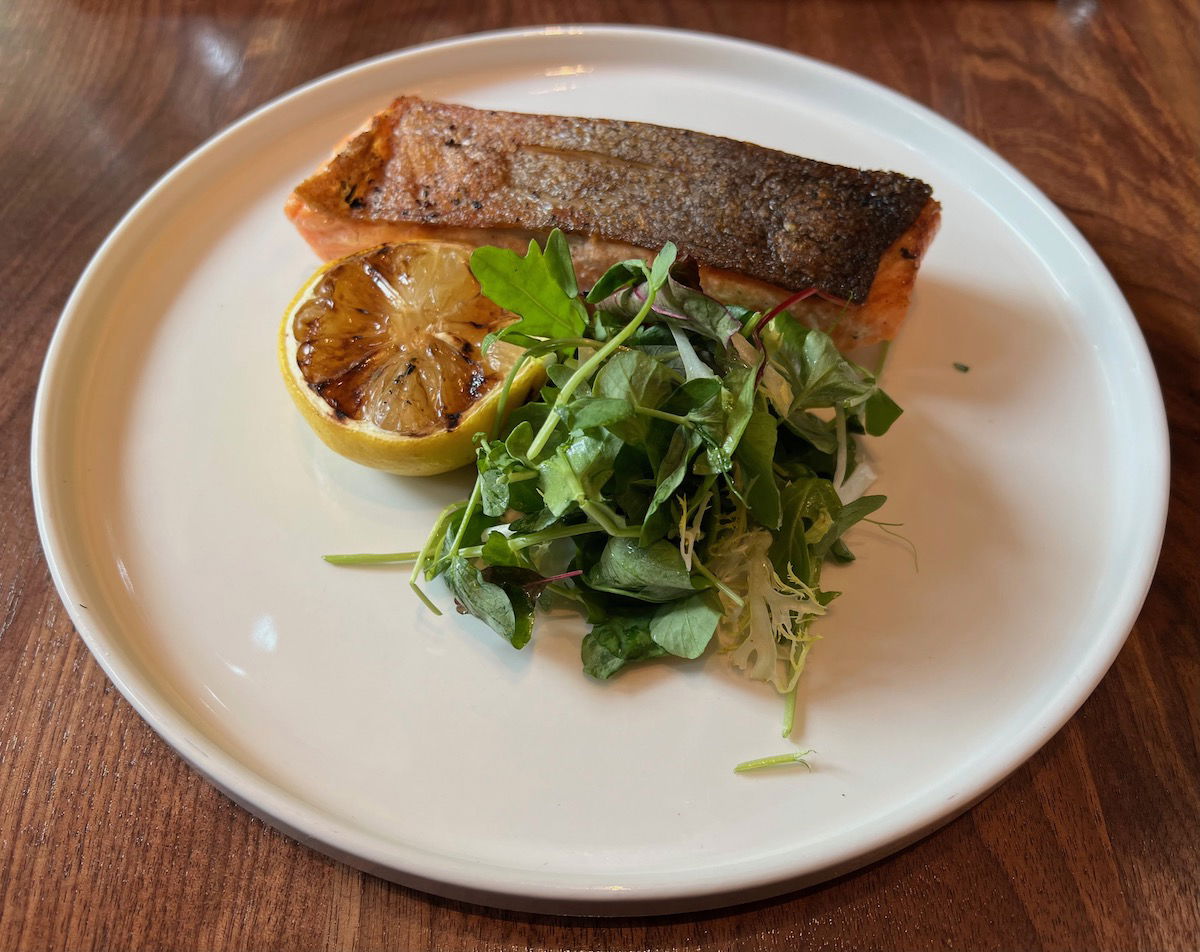 We enjoyed all four dishes. The menu seemed to be a bit all over the place, but at least it was well executed.
Mandarin Oriental Boston gym
The Mandarin Oriental Boston has a 24/7 gym, which can be accessed with guest key cards. This is located on the fourth floor, so was just down the hall from us. The gym was quite good, with a variety of modern cardio and weight equipment. It was particularly impressive when you consider that this isn't a huge hotel — it has "just" 148 rooms.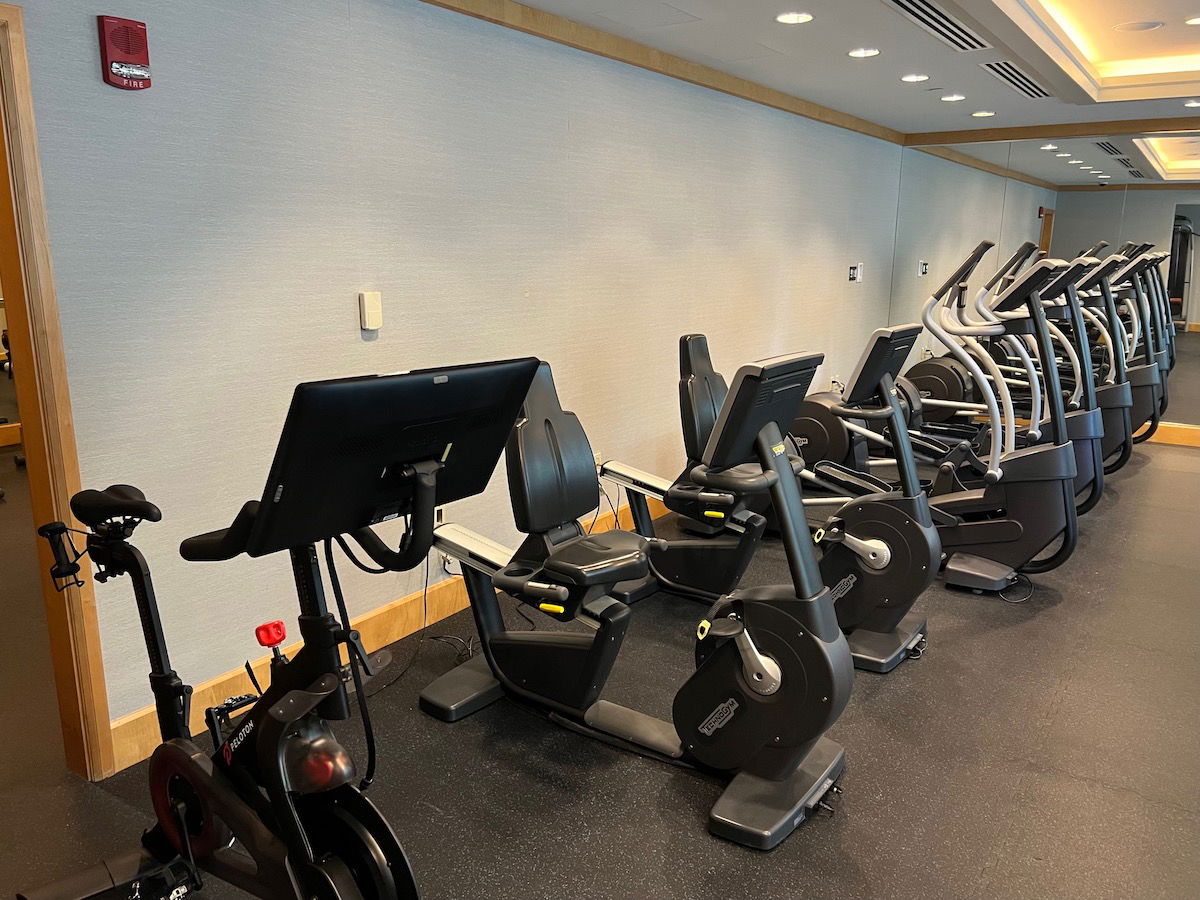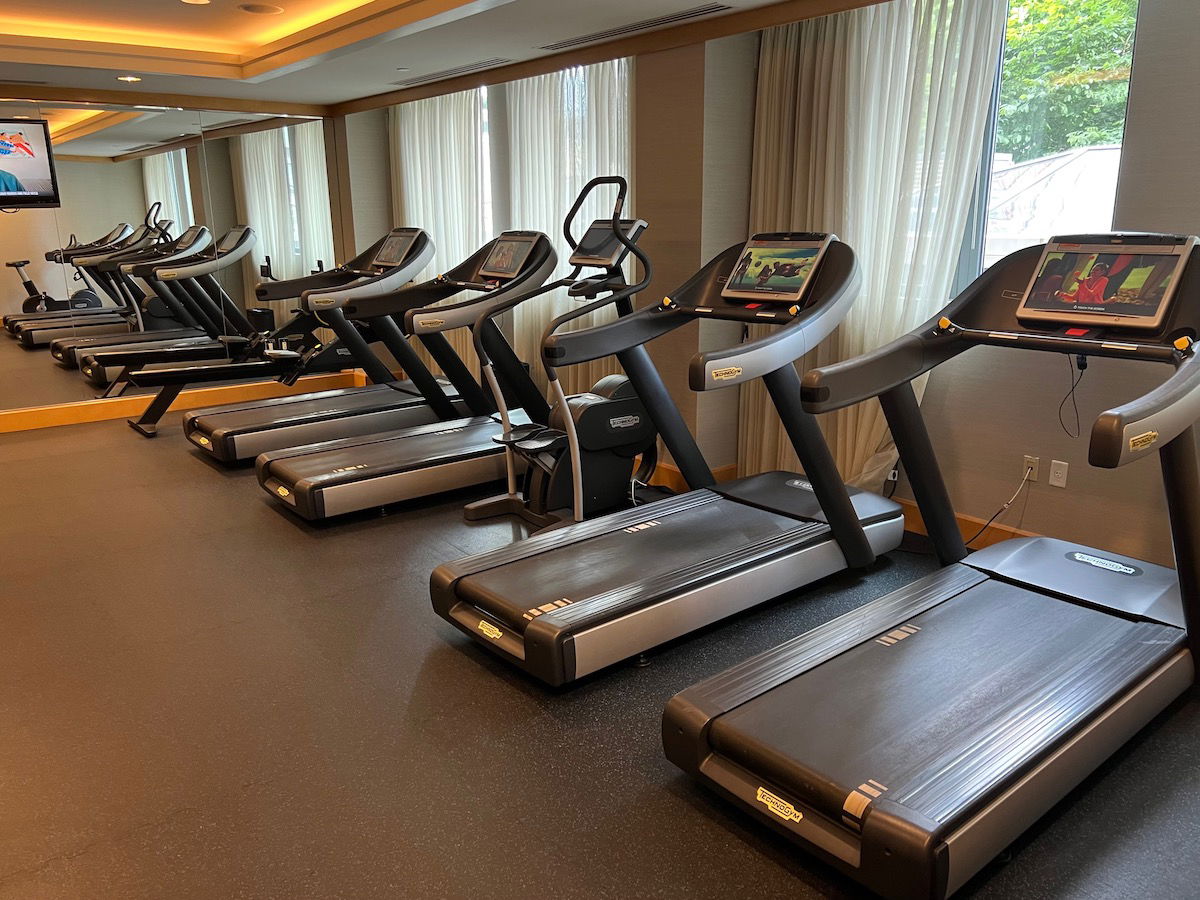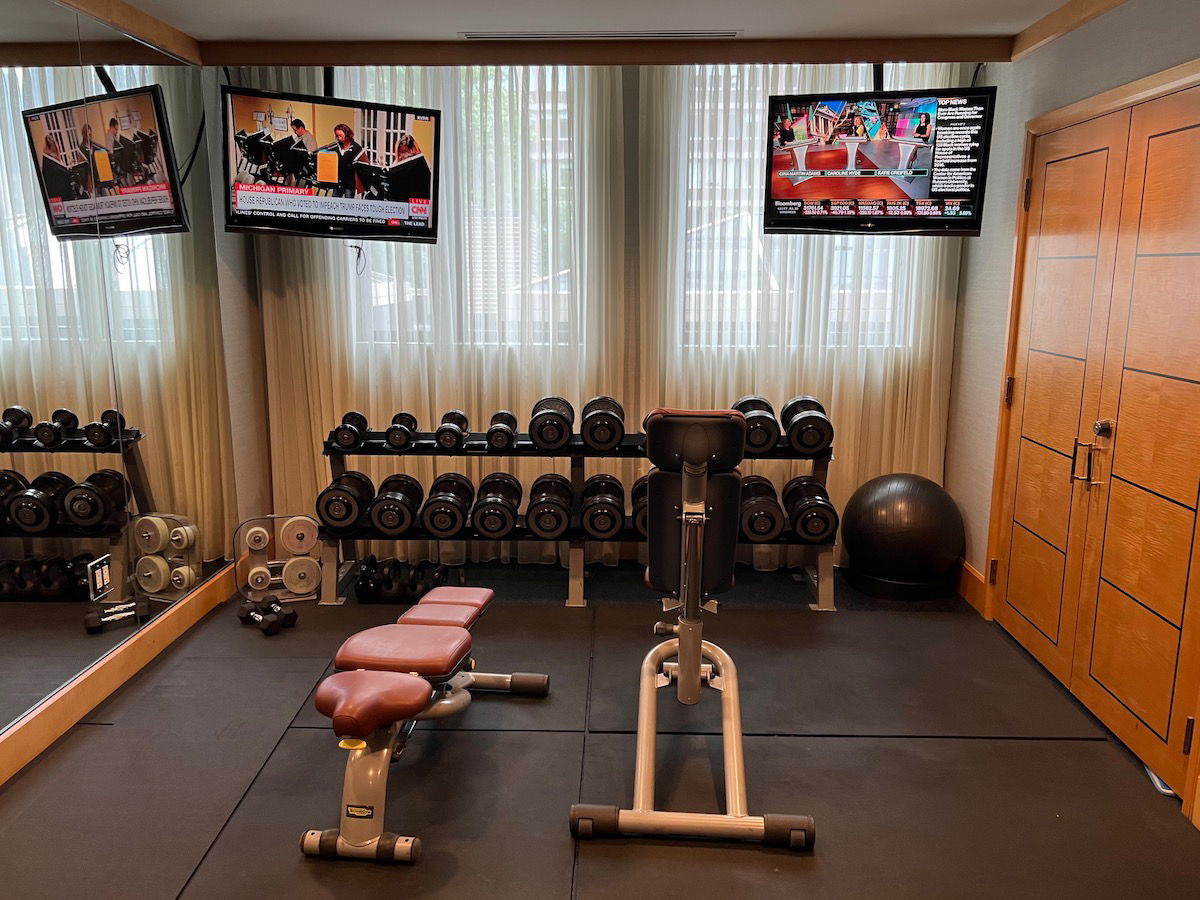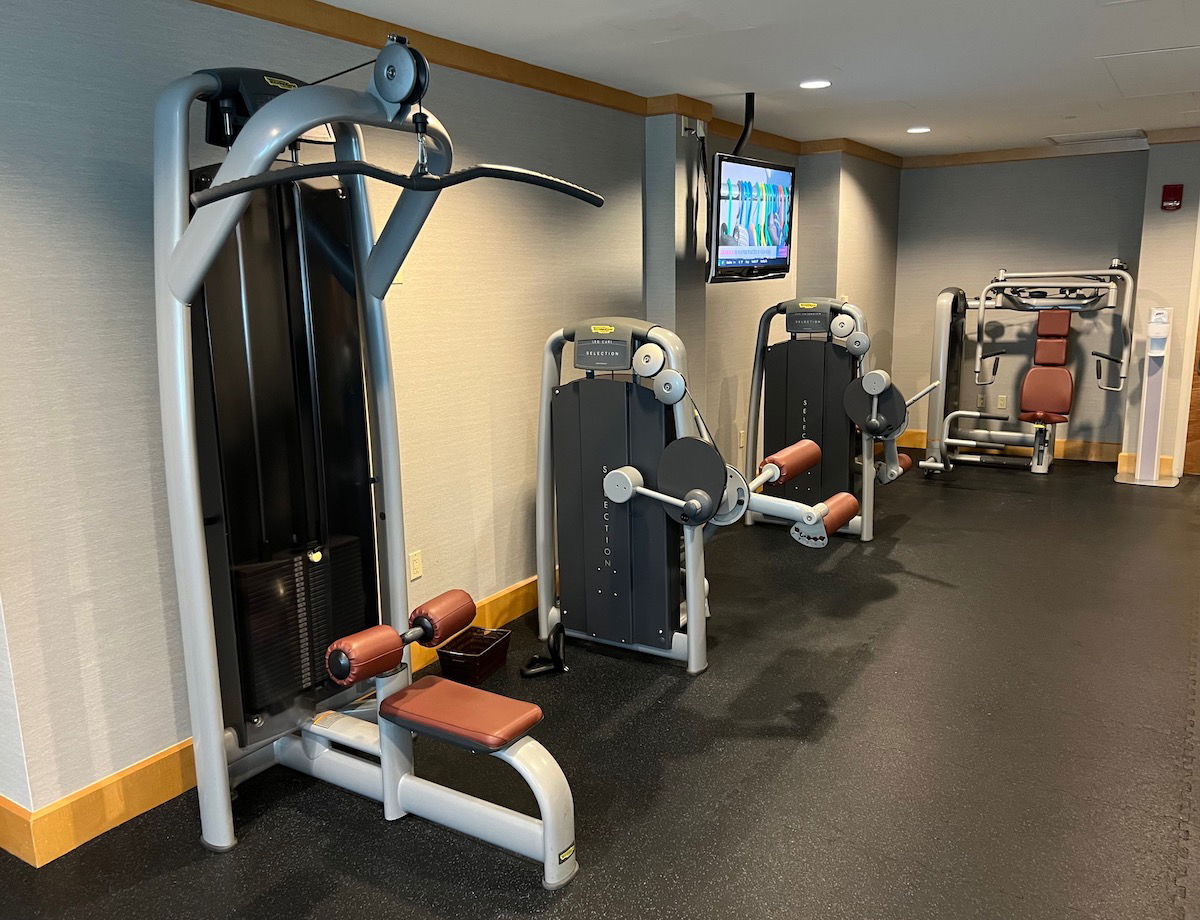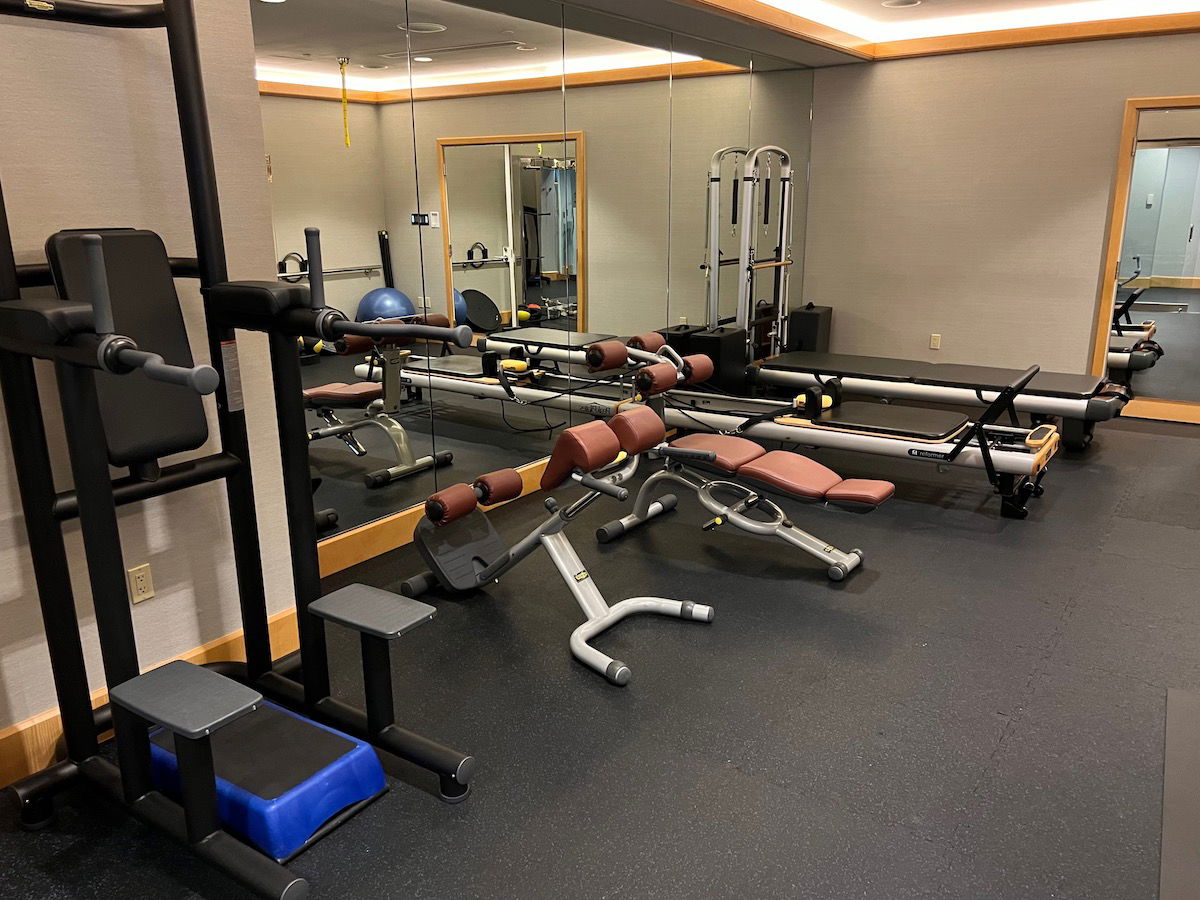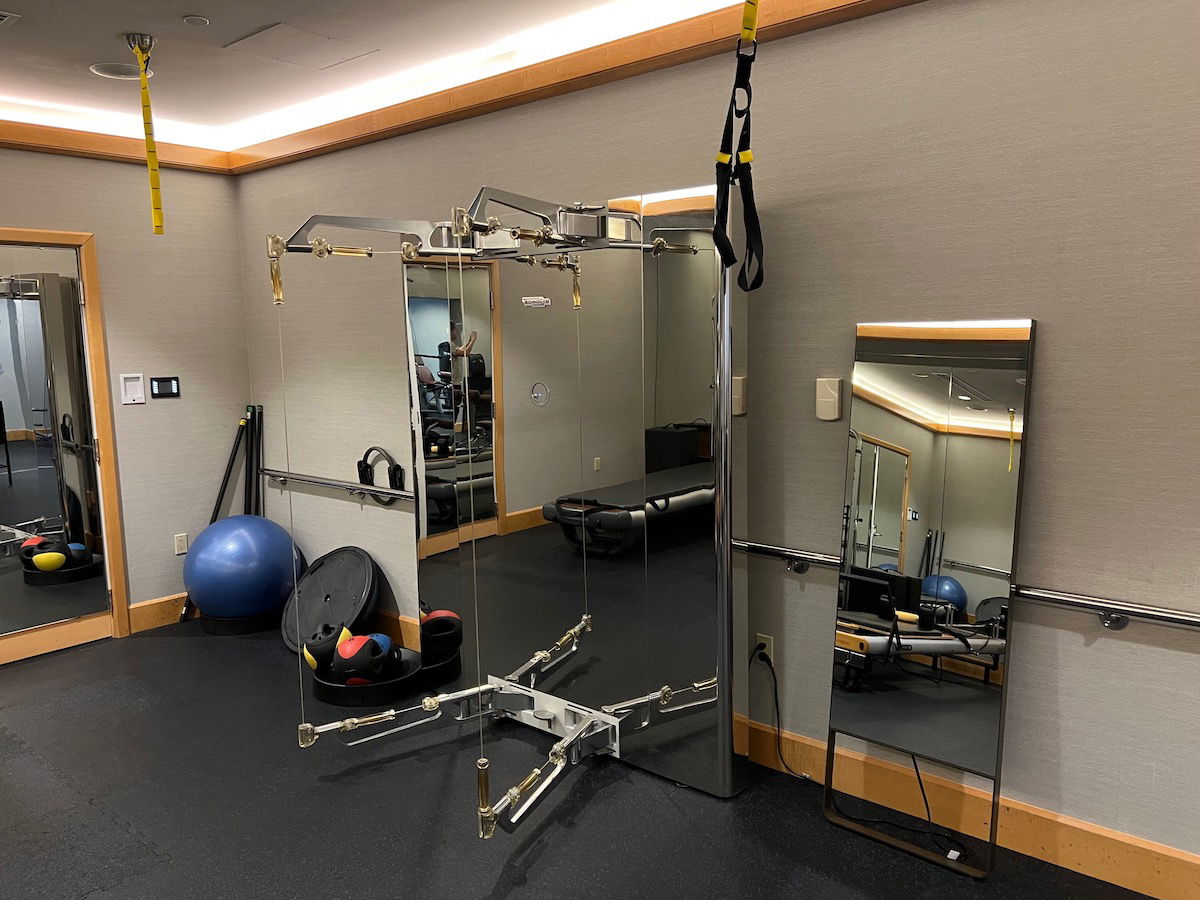 Mandarin Oriental Boston spa
The Mandarin Oriental Boston's spa is located on the fourth floor, also right near where our room was. Mandarin Orientals are known for having great spas, and the Boston property is known for having one of the best spas in the city.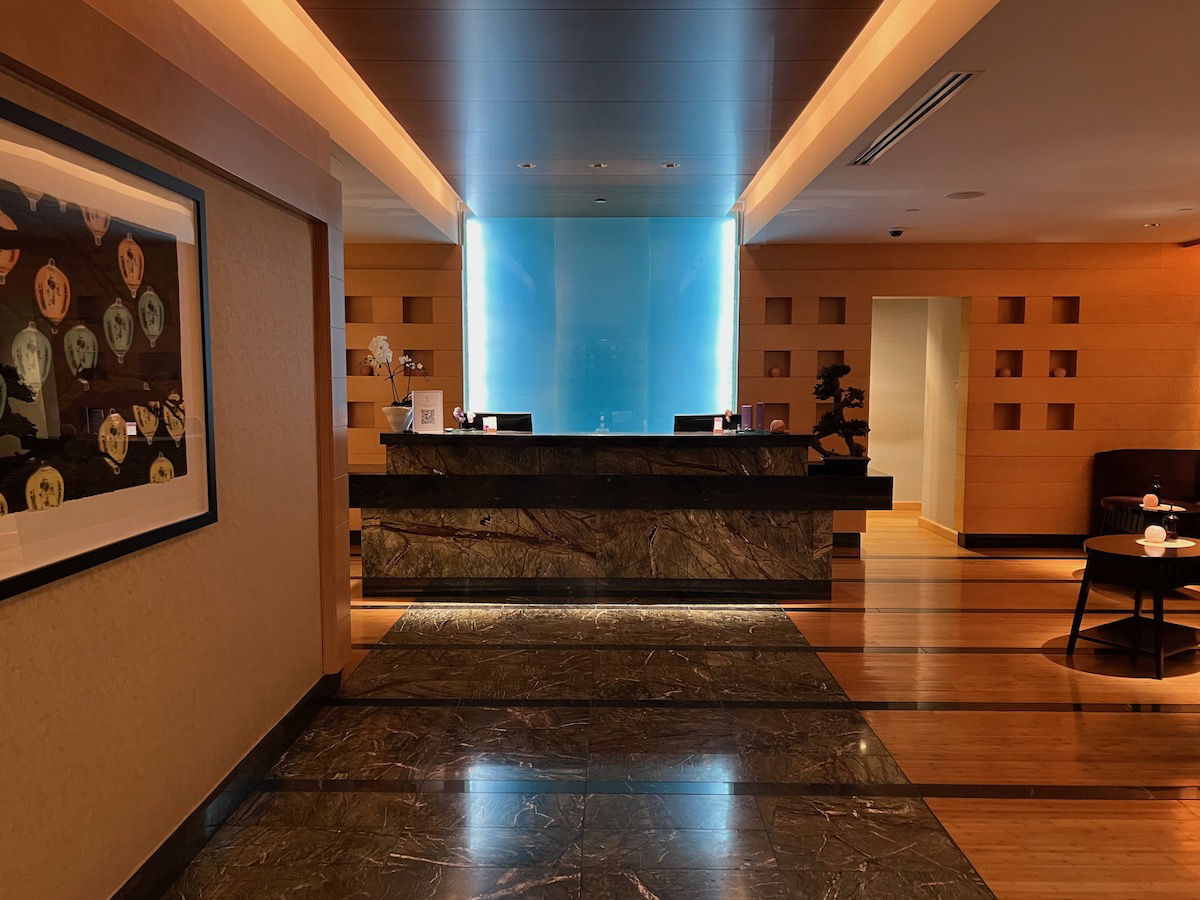 The spa at the Mandarin Oriental Boston is a total of 16,000 square feet, and has 11 treatment rooms. It has some pretty innovative treatments, and you can find the full menu here.
Here's the thing — maybe I'm in the minority, but a nice spa in a city hotel does nothing for me. Sure, I love an amazing spa at a resort with all kinds of cool features (like, take a look at the spa at the Ritz-Carlton Reserve Dorado Beach), but I don't think I've ever really been interested in spas when visiting a city. I don't usually have the time, I don't find it to be worth the money, and for that matter I'm not usually in such a tranquil mindset when in cities.
So if you're really into spas I'm sure you'll enjoy the one at the Mandarin Oriental, though that's something that's lost on me, personally.
Mandarin Oriental Boston service
I found service at the Mandarin Oriental to generally be very good, but not perfect:
The front office staff were friendly, in particular the German front office manager (mentioned above); for example, I saw that they had cute Mandarin Oriental branded lobsters in the lobby (presumably intended as gifts for kids kids), and they offered to give us a couple, which was nice
I found the service in the restaurant to be friendly, at both breakfast and lunch
At the same time, a couple of times I called the operator, and there was no answer, which you wouldn't expect at a luxury hotel
We had fairly limited interactions with staff, ultimately, due to the lack of outlets at the hotel.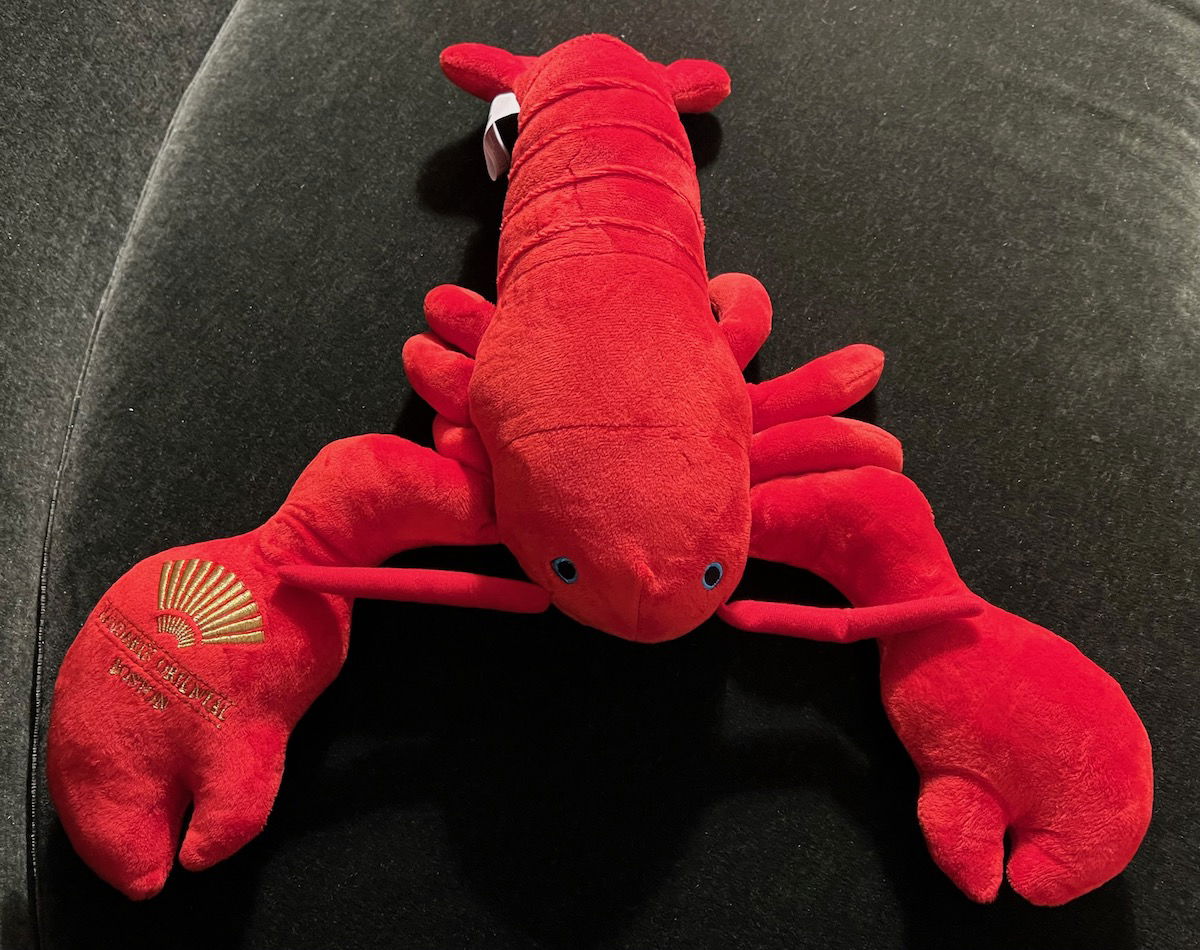 Also, while we didn't have any use for it, I thought MOBI, the robot butler in the lobby, was super cute. Apparently MOBI can deliver stuff to your room. I didn't need anything, but I was almost tempted to ask for something just so he'd make an appearance.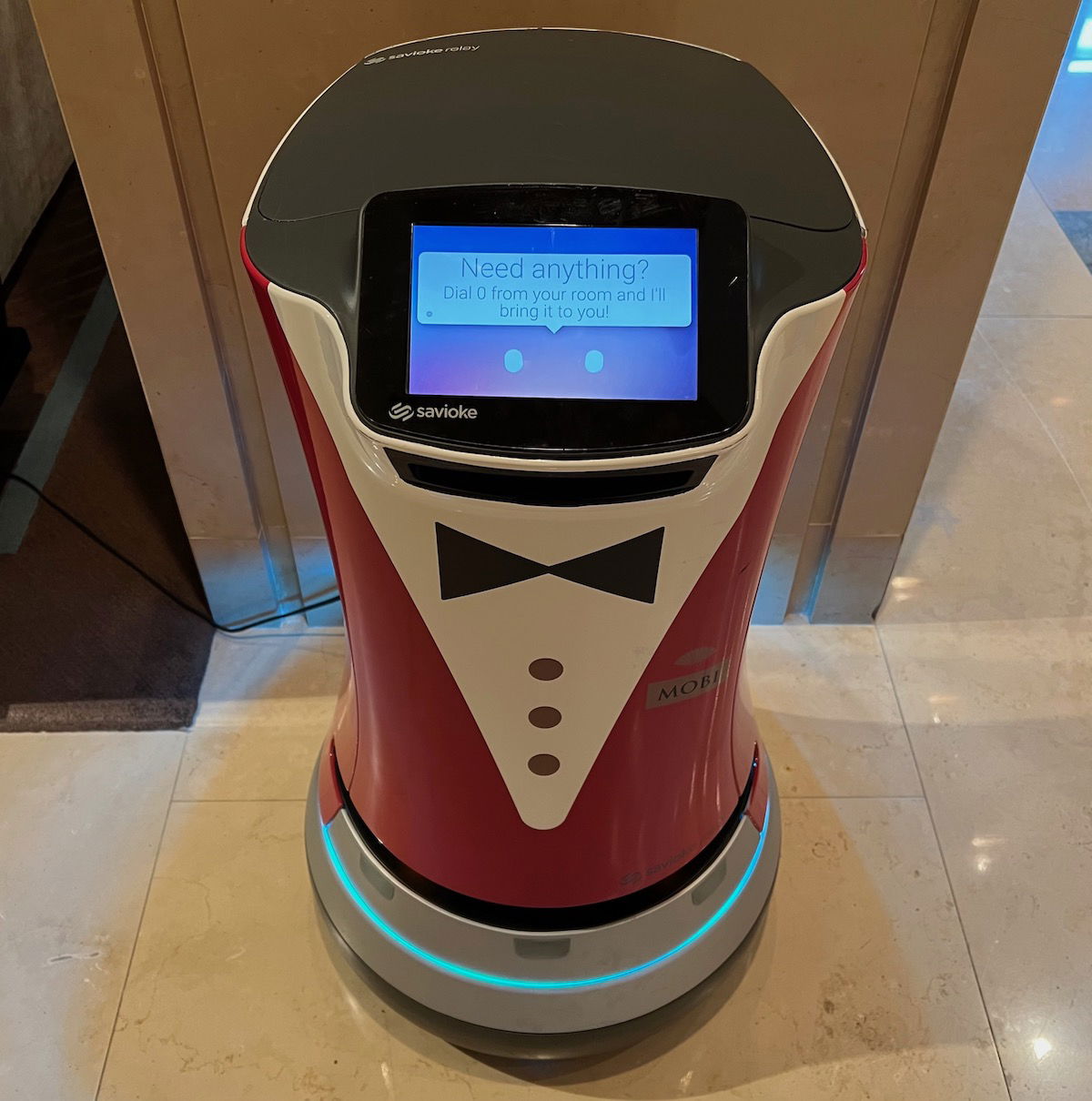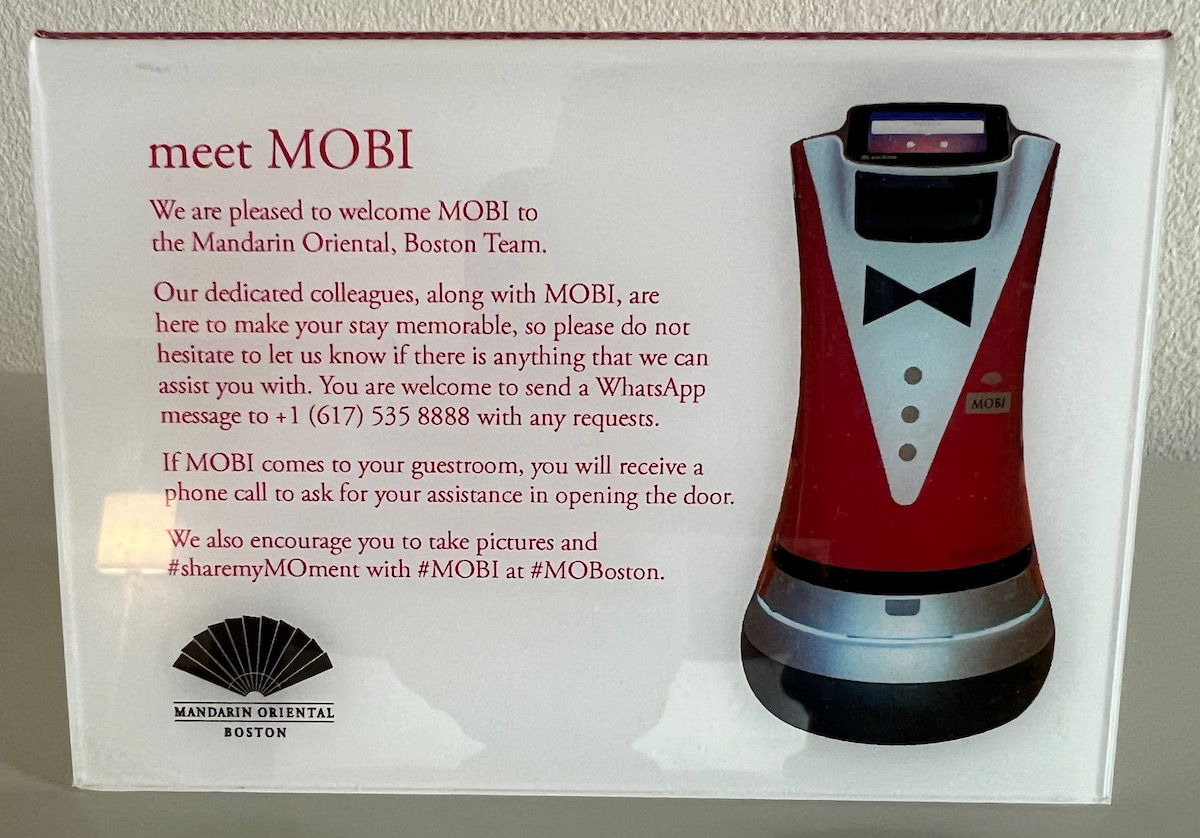 Bottom line
The Mandarin Oriental Boston is a newly renovated hotel in a great location with large and nicely appointed guest rooms. The hotel also has a solid gym and an allegedly great spa (though I didn't use it). The hotel's only food & beverage outlet is Ramsay's Kitchen, which I have a hard time getting excited about at a Mandarin Oriental.
While I think this is a perfectly nice hotel, I feel like there's something missing here. You don't have to be a hotel guest to dine at Ramsay's Kitchen or get a treatment at the Mandarin Oriental spa. I also love Mandarin Oriental being an Asian brand, yet there was nothing about the experience that reminded me of that.
I tend to think that memorable hospitality happens at the margins, and that's what's lacking here.
I'll review the Four Seasons Boston (which is a few blocks away) next. Pricing is almost identical, and I feel like that hotel puts a lot more effort into the guest experience — there's a complimentary hotel car that will take you anywhere in the area, there's a complimentary all-day coffee shop with barista-made drinks, there's a complimentary happy hour on the weekends, there are "vaults" with unlimited free movie snacks for guests, the hotel has a beautiful pool and superior gym, etc. For city hotel stays, those are the kinds of amenities and experiences that stand out to me. Those were all lacking at the Mandarin Oriental.
What's your take on the Mandarin Oriental Boston?