One of Ghana's imaginary airlines has named an imaginary plane after the president of Liberia…
Goldstar Air & Global Ghana Airlines basics
There are two airlines connected to Ghana that are not particularly real — one claims to be Ghanaian, while the other just has "Ghana" in its name.
There's Global Ghana Airlines, a Chicago-based "airline" that was supposed to fly between Chicago and Accra. The airline put tickets on sale just weeks before the inaugural. The airline claimed that the launch was delayed because deicing fluid is expensive, and because the airline accidentally hired low altitude flight attendants. Right, I'm sure it had nothing to do with the fact that the airline didn't have any planes.
Then you have Goldstar Air, which is planning on setting up hubs in the Caribbean and London, and plans on flying between Accra and Baltimore. The airline has an absolutely fascinating routemap, with destinations including:
Abidjan, Brazil
Dakar, South Carolina
Guangzhou, Iraq
Lagos, Kenya
London, Germany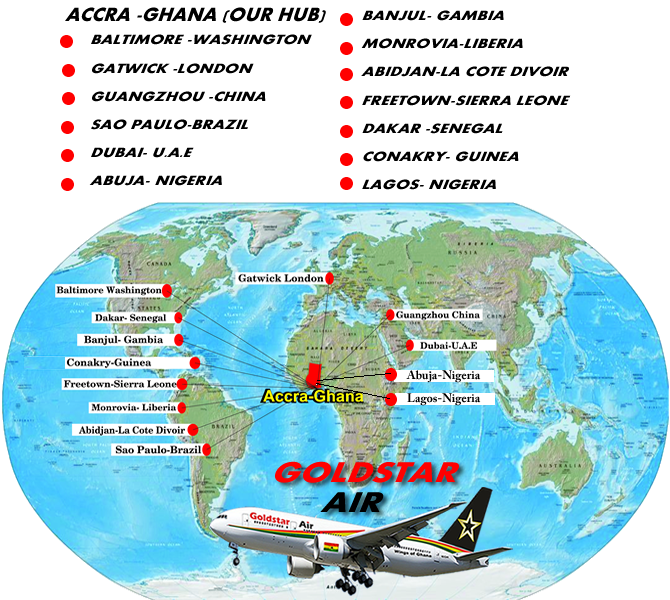 In 2017 the airline won the "most promising airline of the year award." Meanwhile the Ghana Civil Aviation Authority has warned that both of these airlines are misleading consumers.
Goldstar Air naming plane after president of Liberia
Goldstar Air is honoring the president of Liberia by naming one of its aircraft in his honor. A ceremony took place for this special occasion on October 1, coinciding with the president's 54th birthday.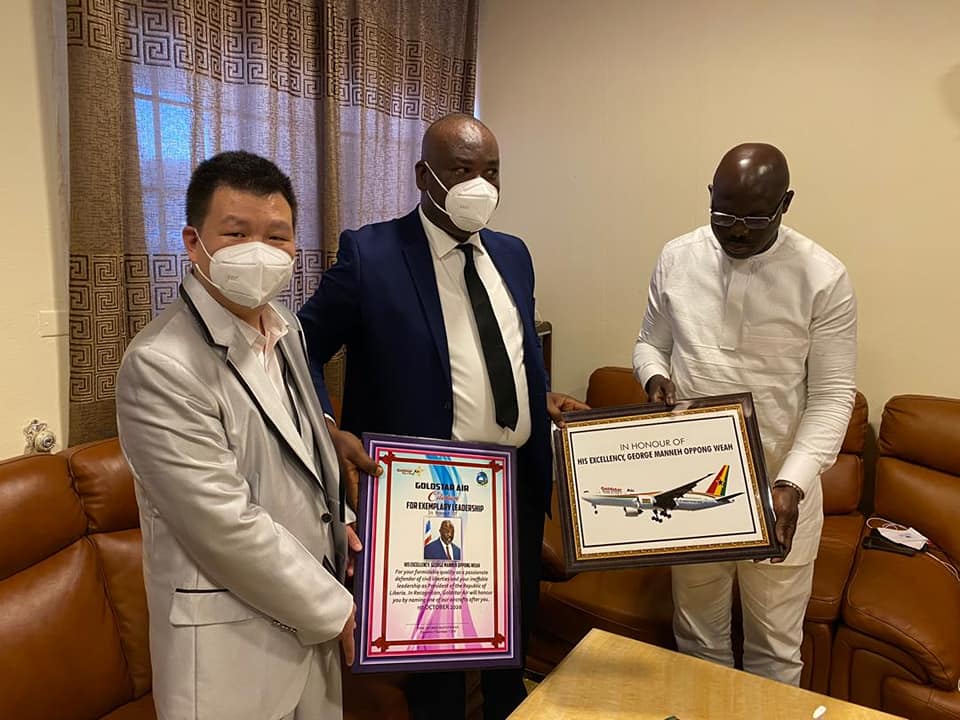 As Goldstar Air's announcement states (bolding mine):
"This plaque represents our love to you and the people of Liberia for your selfless, bold and remarkable leadership skills of putting Liberia on the World Map," said Mr. Bannerman as he presented a plague to the Liberian Leader.
Hmmm…
Goldstar Air's CEO also revealed during this meeting that the airline will have more than 100 modern aircraft flying to a network of more than 90 destinations across the globe.
And there's even great news for Liberia — Goldstar Air plans to "rise to the occasion by ensuring a robust and effective strategy designed to make the aviation industry viable in Liberia." Goldstar Air plans to cooperate with the government of Liberia to revive the national airline, and to create more jobs.
This isn't the first time that Goldstar Air has announced plans to name planes after political leaders. The airline had previously announced plans to name planes after Ghanian leaders (present and past), including having the following registration codes:
9G-AKUFO-ADDO
9G-JOHN MAHAMA
9G-ATTA MILLS
9G-JOHN KUFFOUR
9G-JERRY RAWLINGS
Those are some long registration codes, eh?
Bottom line
Maybe it's time that I "start" an "airline" and have meetings for naming "planes" after leaders. If only Goldstar Air's management put as much effort into ordering planes as it did into naming planes. But ordering planes costs millions of dollars, while a plaque costs maybe a few dollars, so…
It's sad that this airline tries to harm the reputation of Ghanaian aviation, because the country does have a couple of solid, legitimate airlines. Just look at Africa World Airlines, which is well managed and running an incredible regional operation.
In the meantime, I continue to appreciate the entertainment that Goldstar Air provides…