Air Transport World has the story of a new Ghana-based airline, Goldstar Air, that is planning on launching flights between Accra and Baltimore in the first quarter of 2017.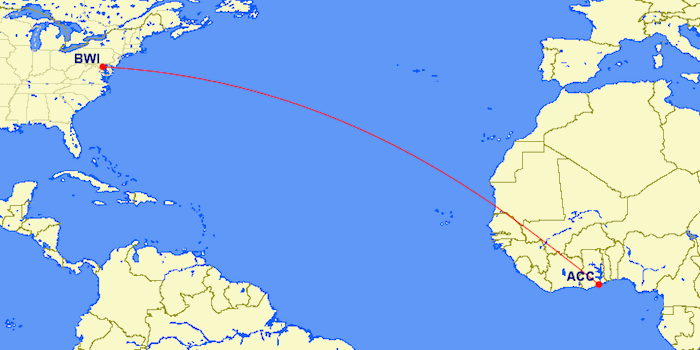 Per the article:
New Ghanaian carrier Goldstar Air plans to start services to Baltimore Washington International (BWI) in 1Q 2017, according to CEO Eric Bannerman.

The small West African nation has lacked a national long-haul carrier since Ghana Airways, one of Africa's oldest airlines, ceased flying in December 2015.

The new carrier, which anticipates an air operator's certificate in December, plans to start services in February or March 2017, Bannerman said.
I had never heard of this airline before, so was intrigued. I started by looking at their Wikipedia page, and then by looking at their website. The (poorly) photoshopped picture the airline uses on their website certainly doesn't instill much confidence. 😉

Apparently the airline will operate three 767-300 aircraft and two 737-300 aircraft… so it's a bit odd that the other picture on Goldstar's website is of a photoshopped 777, which they apparently don't plan on operating. I've read some reports suggesting that they'll also eventually get a 777, though I haven't seen that officially confirmed from the airline yet.

Goldstar Air apparently has lofty expansion goals beyond Baltimore. In addition to short-haul destinations, they want to fly to Guangzhou, Dubai, London, Baltimore, and beyond. Based on the below map, it looks like they're confusing the location of a few places, including Guangzhou, Senegal, and Liberia.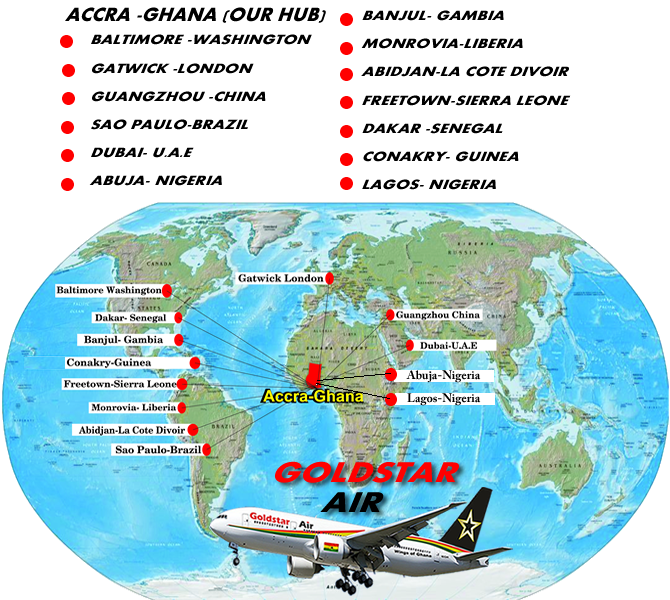 Perhaps even more crazy than the airlines' initial plans is that they eventually want to operate flights from Baltimore and London to the Caribbean:
Our European hub will be Stansted airport which will service flights going to Accra and the Caribbean, making some pick ups in some European cities before its destination in the Caribbean. Our hub in the Caribbean will service flights to Baltimore and Stansted. whiles the Accra hub services West Africa, Dubai and Guangzhou, Baltimore hub will as well service flights to Accra and the Caribbean.
I sort of feel like we're being trolled here… maybe?