Earlier this week Lufthansa won a Skytrax 5-star award. One of the things that Skytrax looks at most when evaluating an airline is consistency, and airlines lose points if more than 80% of their fleet doesn't feature that consistent experience. A key factor in Lufthansa being awarded a 5-star rating was also their plans to install a new business class product in 2020. Yeah, let that sink in for a moment.
But Lufthansa isn't the only airline winning big awards. At the prestigious Quality Excellence Awards at the Golden Tulip Hotel in Accra this past weekend, Goldstar Air has won the award for being the most promising airline of the year.
I always like to stay on top of new airline startups, so some of you may remember that I first wrote about Goldstar Air a bit over a year ago, as they planned on launching flights between Accra and Baltimore in the first quarter of 2017.
The airline had big expansion plans, including setting up hubs in London and the Caribbean (as one does):
Our European hub will be Stansted airport which will service flights going to Accra and the Caribbean, making some pick ups in some European cities before its destination in the Caribbean. Our hub in the Caribbean will service flights to Baltimore and Stansted. whiles the Accra hub services West Africa, Dubai and Guangzhou, Baltimore hub will as well service flights to Accra and the Caribbean.
Whether you're looking to fly to Guangzhou, Iraq, or Dakar, South Carolina, Goldstar Air has you covered.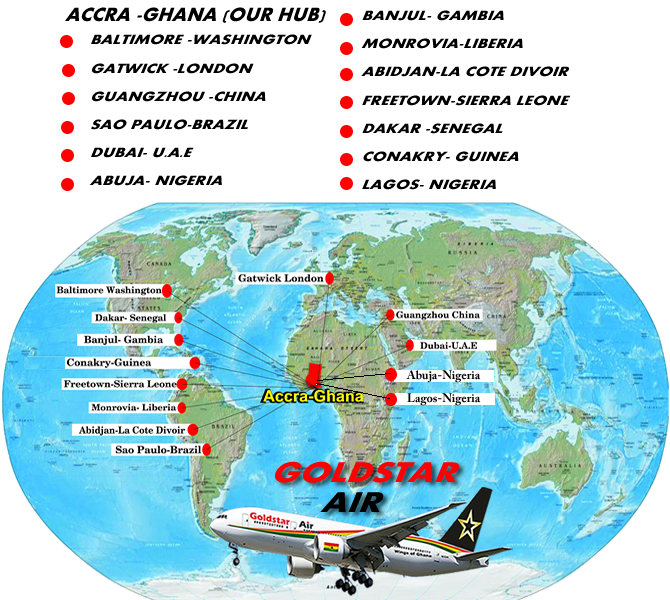 Nevermind the fact that the Global Ghana Civil Aviation Authority has issued a warning about how Goldstar Air is misleading consumers, and advises consumers not to do business with them.
With that background out of the way, lets take a look at how Goldstar won this prestigious award:
The decision of Awarding the airline for a quality service Excellence Award was arrived at having carefully evaluated the business performance, the strives for the highest customer satisfaction which characterizes strong positive relationship through mutual support and respect for their existing loyalty, conduct and achievement during the year under review.

The award scheme is a prestigious annual scheme, which cuts across the whole of Ghana with the aim of centralizing the strength and relationship that exists between customers and organizations.
I mean, I guess they're onto something. Goldstar Air has had zero flight cancelations and zero customer complaints in all of 2017. There aren't many airlines that can say that.
Here's what Goldstar Air's executive chairman had to say about the award:
According to the Executive Chairman, Mr. Eric Bannerman, the airline's great work has increasingly being recognized, which mark another milestone for Goldstar Air and is a testament of the diligent execution of the Airline Strategic initiative to leverage its local and global exposure as well as presence to drive positive change in the country and African as a whole for smooth take off.
Next up, I think Baltia/US Global Airways stands a good chance of being the 11th airline to win a Skytrax 5-star rating!
(Tip of the hat to Sean M.)