In September 2017 I first wrote about Global Ghana Airlines, a new startup airline that intended to operate nonstop flights between Chicago and Accra. At the time the airline announced that they'd begin operating flights within weeks.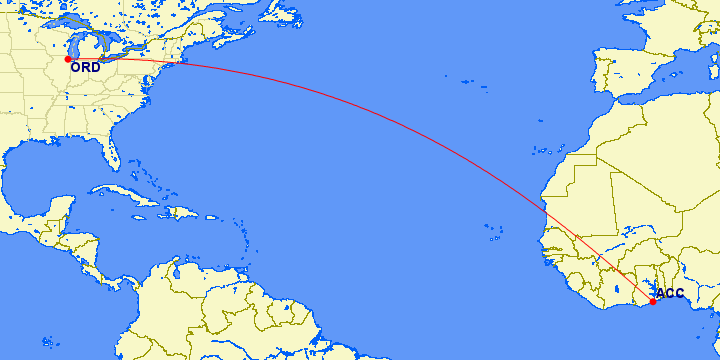 There was only one slight problem. The airline didn't actually exist. That's to say that they didn't have a plane, and they didn't have any sort of approval from US or Ghanaian authorities (and as Baltia can attest to, that can take 30+ years to get).
In fact, the Ghana Civil Aviation Authority accused Global Ghana Airlines of misleading consumers, and advised the public not to conduct business with the company.
Last December Global Ghana Airlines issued a press release assuring people they were legitimate, and stating that they had a new launch date of March 20, 2019.
So, what's the latest on this airline in 2019?
The founder of Global Ghana Airlines had an interview this past week with an African radio station in Chicago.
You can watch the interview here, though note that it's nearly three hours:
The Global Ghana Airlines founder shows up about an hour in, so you'll want to start there, because the first hour largely isn't in English.
OMG this interview is EPIC, and the lady sitting at the bottom left is basically me. Her facial expressions the entire time sum up how I feel about this airline.
I was only able to watch about 45 minutes of this before Ford asked why I'm listening to a Ghanaian radio station in Chicago, but boy was it entertaining.
A few of my favorite tidbits:
The founder repeatedly claims that the inaugural flight took place on September 31, 2018 (yes, the 31st!), though they "didn't have enough participation, so the lease holders for the aircraft didn't think it was a good idea"
He initially tried to get certification with the Ghana Civil Aviation authority because"it would elevate Ghana's standard for aviation up, it would help Ghana, that's what I wanted"
He doesn't want investors, because "before I ask for investors, I want to make sure I'm using my own money, I want to go through the pain"
He also acknowledges that he needed $12,500 and didn't have that, so he was loaned $7,000 by someone else (so good on him for not wanting to take money from other people, but $5,500 isn't enough to start an airline)
He says launching in winter would have been a bad idea, because de-icing fluid is expensive
The fact he doesn't have a plane isn't a problem, because nowadays airlines just "codeshare," apparently that's the name of the game; without any other specifics, he also says that they are using Hi Fly to operate the flight (which is a wet lease charter operator)
They had issues getting flight attendants because "there are two types of flight attendants — high altitude flight attendants and low altitude flight attendants," and unfortunately the flight attendant they hired was a low altitude flight attendant, so they had to start over
They almost had a catering contract, but that person wanted to deliver the Ghanian food hot, so if the flight doesn't go, what do they do with the food?
What I don't understand about Global Ghana Airlines
I feel pretty confident saying that this airline won't be flying anytime soon, and that the whole business seems like a joke. What I can't wrap my head around is what the motive of the founder is:
He has spent years on this project, and aside from a loan of $7,000, he apparently hasn't taken money from anyone else, and hasn't sold seats, etc.
He's an aviation geek and knows a fair bit about the industry
Surely he knows he's not being fully honest in terms of the timeframe he puts forward and the logistics he's sharing
For example, he talks about getting flight attendants, etc., but if he were to use Hi Fly, they're a wet lease company, so they provide the crew. Similarly, it's going to take more than a few thousand dollars to start an airline, so how does he plan on doing that if he's not willing to take money from investors?
This is all just so strange to me. It's not like Baltia, where they took tens of millions of dollars for investors, and tried to string them along for decades. Rather this almost seems like a practical joke, but I don't get the upside?
Anyway, if you have a couple of hours today and are bored, be sure to watch the above interview!