As I've written about several times over the past few months, airberlin is in financial trouble, and Etihad has a big stake in them. The airline has fundamentally had an identity crisis, and hasn't been able to decide whether they're a leisure carrier or business carrier, and has been bleeding money with no end in sight.
Fortunately it looks like some changes are finally happening. As I wrote about in September, Lufthansa will be leasing several dozen planes from airberlin, and using them to operate flights for their own low cost division, Eurowings. I'm not actually confident that Lufthansa will perform much better in those markets, but I'm not sure that's their primary motivation.
On the surface it seems odd for Lufthansa to help their biggest domestic competitor, rather than just letting them go out of business. However, their motive is clear — the biggest threat to Lufthansa on regional flights is carriers like Easyjet and Ryanair, which up until now haven't been able to gain too much market share in Germany. Lufthansa knows that if airberlin goes out of business, those carriers will flood the market.
Once Lufthansa takes over those routes, airberlin will be a much smaller and more focused airline, as they're primarily maintaining their core routes out of Dusseldorf and Berlin.
Today both Etihad and Lufthansa put out a press release regarding their new partnership. In practice the biggest implication is that Lufthansa is taking over so many airberlin planes. But that's not the most interesting part.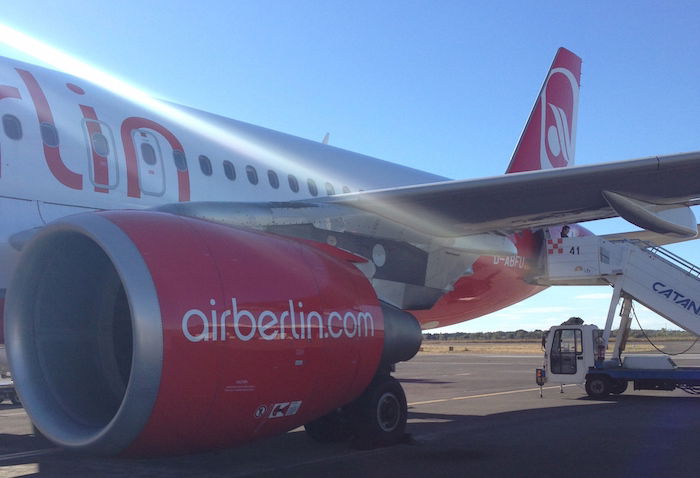 The hypocrisy surrounding opposition to Gulf carriers
The hypocrisy of so many major airlines when it comes to Gulf carriers amazes me. The "big three" U.S. carriers are strongly opposed to the Gulf carriers and fight for them to have less access to U.S. markets. Their lobbying group even goes so far as to shame any company that dares associate themselves with these "evil, subsidized Gulf carriers." For example, they shamed the U.S. Travel Association for working with the Gulf carriers, saying:
"We are writing to you, a member of the board of directors of the U.S. Travel Association, to ask two simple questions: Do you support these labor standards? Do you want to associate your name and your company's reputation with such repugnant practices?"
The hypocrisy here blows my mind, given that American Airlines has multi-million dollar codeshare partnerships with both Etihad and Qatar Airways. So it's okay for American to benefit financially from their partnerships with Gulf carriers while they're actively fighting against them, but if anyone else does the same thing, they're supporting "repugnant practices."
Let me be clear — I'm all for airlines partnering with Gulf carriers, it just seems ridiculous to do so while also claiming that they threaten your existence.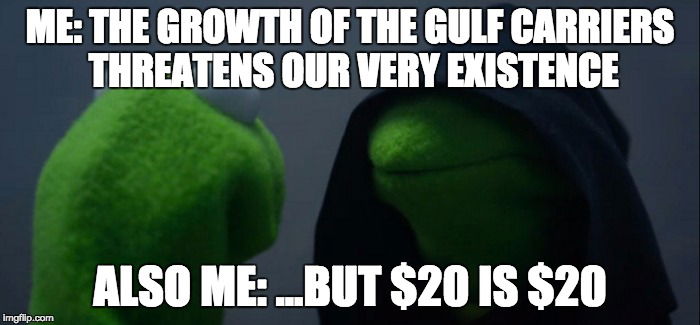 Lufthansa will now codeshare with Etihad
Lufthansa has been an outspoken critic of the Gulf carriers. Here you can read the Lufthansa Group's 10 page opposition to them. Well, it has just been announced that Etihad and Lufthansa will enter into a codeshare agreement, and "look forward to extending their cooperation:"
Under the codeshare agreement, the German airline will place its 'LH' code on Etihad Airways' twice daily non-stop flights between its home base of Abu Dhabi and Frankfurt and its twice daily non-stop services between Abu Dhabi and Munich, the biggest city in southern Germany.

The UAE's national airline will, in turn, put its 'EY' code on Lufthansa's long-haul, non-stop intercontinental services between its home base of Frankfurt, the business and commercial capital of Germany, and Rio de Janeiro, Brazil as well as Bogota, Colombia.
As I wrote about a few weeks ago, Etihad will shortly be pulling out of South America altogether, as they're cutting their Abu Dhabi to Sao Paulo route. So this new partnership is a smart way for them to continue to be able to offer passengers access to the continent.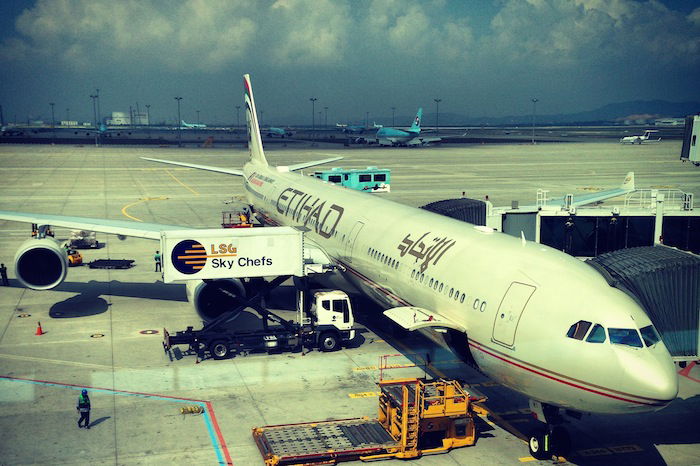 Lufthansa's CEO even hints at the possibility of the partnership expanding:
"We are looking forward to partnering with the Etihad Aviation Group. The wet-lease contract with airberlin fosters the growth of our Eurowings Group. The codeshare agreement of Lufthansa and Etihad will offer our customers more benefits and complement both airlines' networks. We will consider extending our cooperation in other areas."
Bottom line
The Gulf carriers have excess capacity and global route networks, so there's a lot of value for other major airlines partnering with them. Partnerships like this are great, in my opinion, and there are many airlines that can attest to how mutually beneficial these partnerships can be, like Alaska and Malaysia.
However, I struggle a bit when airlines act like the Gulf carriers are the worst thing to happen to aviation, while agreeing to partner with them for their mutual benefit. I suspect this is a trend we'll continue to see, as much as many carriers continue to be outraged by Gulf carriers, at least in words.