Last week I wrote a post entitled "My First Long Delay In A While." I was flying from Philadelphia to Toronto and had a four hour delay due a mechanical problem on the inbound aircraft. I wasn't frustrated by the delay as such, but rather by the complete apathy on the part of the front line employees.
But more than anything, what I took away from the experience was just how smooth my travels have been lately. Nowadays most of my travel has been longhaul, which seems much less prone to delays than short-haul flights to/from the United States. Prior to that delay, I really don't remember my last extended delay.
I guess I jinxed myself, because I had a huge double-delay on Friday. It of course wasn't a big deal, but turned out to be quite amusing, so I figured I'd share.
I was scheduled to fly from Newark to Dallas to Las Vegas. My Newark to Dallas flight was delayed by a couple of hours because one of the flight attendants called in sick, so they were waiting on a reserve flight attendant to show up, which was going to take at least two hours.
Fortunately I had a fantastic Admirals Club agent who quickly rebooked me on another itinerary through Chicago, which was actually scheduled to get me into Las Vegas earlier than my original itinerary — awesome!
My Newark to Chicago flight arrived early, so I was ready to fast on my flight to Las Vegas and enjoy a delicious dinner upon landing.
Until I made it to Chicago I hadn't considered the weather situation, and about an hour after I arrived a thunderstorm rolled through the area. The aircraft for my flight to Las Vegas was coming from New York LaGuardia, and it ended up diverting to Madison, Wisconsin.
It sat there.
And sat there.
And sat there.
And sat there.
The flight from Madison to Chicago only takes about 20 minutes, but the weather wasn't improving.
It wasn't just our flight — flights to just about everywhere were delayed, and American seemed to be building up a mini-hub in Madison with all the diversions.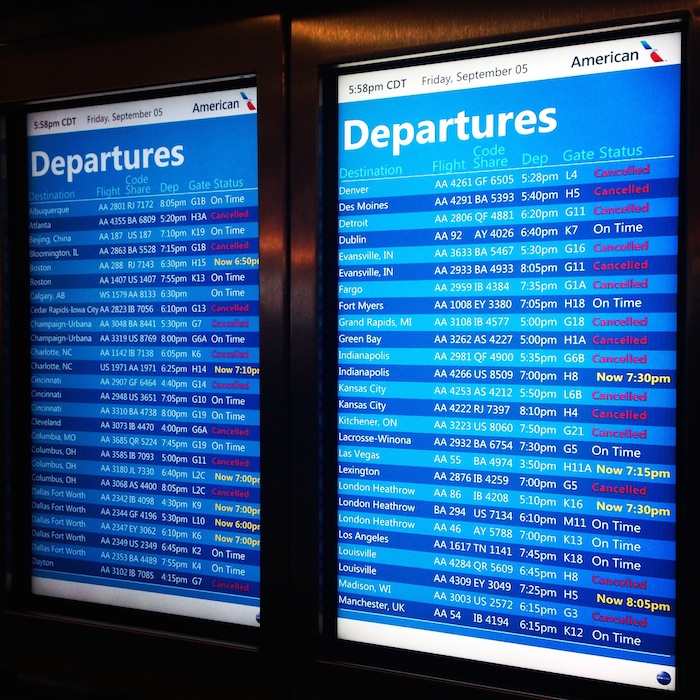 Sure enough the inbound flight finally took off from Madison at around 6:30PM, and made it to Chicago by around 7:15PM.
The ground crew was good and they turned the plane around pretty quickly, and at 7:45PM boarding began.
Now, anyone want to guess what happens on a flight to Vegas on a Friday night that's delayed by five hours?
If you guessed "people freaking lose it," you'd be right.
There were some intoxicated passengers aboard that were complaining and being aggressive about the delay, and eventually four cops boarded the plane to remove them.
At this point the captain came on the PA to say something along the lines of "ladies and gentlemen, we realize you've had a long delay and apologize, but your crew has been here all day as well. You need to leave your issues off the plane, because as you can see we're having to remove some passengers."
Then they removed a few other passengers. Eventually 11 people were removed from the flight. There were a few people in first class that were pretty drunk and belligerent as well, and the guy behind me said "this flight is like Ferguson for white people." I wanted to kick him in the nuts for that comment, but also had no desire to be the "12th man," so let it be. 😉
The flight was then further delayed because they filled those 11 empty seats with standby passengers.
We did eventually make it to Las Vegas, about five hours late. Given the situation, I think the crew did a great job.
Of course hindsight is 20/20, and looking back it seems I should have stuck with my original routing through Dallas. Even if I misconnected and took a later flight, I would have still made it to Vegas nearly three hours earlier.
Anyway, certainly not the easiest travel day, and I guess I jinxed myself last week when I noted how smooth my travel has been lately.
It never ceases to amaze me how people think they'll get away with being abusive on a plane. It's 2014, and yelling at your flight attendant over a delay will get you nowhere. While I've seen people removed from flights well over a dozen times, I don't think I've ever seen a dozen at once…