The "big three" Gulf carriers — Emirates, Etihad, and Qatar — are often considered to be the best airlines in the world. I think that's a bit of a stretch, as I don't think they can quite compete with the top Asian airlines. That being said, there's no doubt that they're among the best.
I figured I'd do a quick side-by-side comparison of their first class products. While Emirates and Etihad feature first class cabins throughout much of their fleet, Qatar only offers first class on flights to London and Paris, so I won't include them here, since they seem to think that there's no need for first class anymore.
Below are my thoughts on the Emirates and Etihad first class experience in very general terms. The experience will vary by flight and aircraft, and I haven't flown either airline nearly as much as Cathay Pacific or Lufthansa, though I'll still share my thoughts.
Emirates vs. Etihad: First Class Seat
Winner: Etihad
Etihad offers one of the best first class hard products in the world. And the best thing is that they offer the same hard product throughout their fleet, so there's no regional first class product (that being said, some planes are in a two class configuration). The suite is not only incredibly comfortable, private, and spacious, but also has oddly modest finishes for a UAE-based airlines.

Etihad first class seat

Etihad first class seat
Meanwhile Emirates' first class seat has an impressive amount of bling, with an extensive minibar, "Hollywood style" mirror, snack basket, phone which can be used to call another passenger or flight attendant, lamp, etc. The thing is that all of this seems to come at the expense of "seat space," since I find the seat itself to be fairly tight.

Emirates first class seat

Emirates first class seat
So in terms of seat comfort I do think Etihad has the edge, as the seat itself is more spacious and "soothing" in terms of tones.
Emirates vs. Etihad: Onboard Food
Winner: Tie
Emirates and Etihad's dining concepts are simultaneously very similar and very different. They're similar in the sense that they both have "dine on demand" concepts, whereby most flights just have one big menu, and you can order what you want when you want. Assuming they don't run out of food halfway through the flight, that's a concept I really like.
I love that Etihad has an onboard chef. It really does make a difference, as they can prepare food for you how you want, and even customize many orders. In many cases it's even possible to order something that's not on the menu.

Etihad first class beef tenderloin
Emirates doesn't have an onboard chef so it's not possible to customize orders in the same way, though they have:
Caviar, which Etihad doesn't have
A superior arabic mezze
And I could live almost exclusively off those two things, which is why I consider it a "tie."

Caviar
Emirates vs. Etihad: Entertainment Systems
Winner: Tie
Emirates claims to have over 600 channels of entertainment with their ICE system, while Etihad claims to have over 750 hours of entertainment with their E-BOX system. Seriously, between that and the Wi-Fi, if you're bored on one of their flights it's your own problem. Now if only either airline added The Real Housewives to their entertainment selection, I'd give them the edge.

Emirates ICE entertainment system

Etihad E-BOX entertainment system
Emirates vs. Etihad: Onboard Amenities
Winner: Emirates
Emirates has some impressive amenities on their A380 aircraft, while Etihad doesn't really have any amenities on their aircraft yet… at least until they take delivery of their A380s. Even so, they won't have nearly as many A380s as Emirates has.
On the A380 Emirates has two shower spas, which are just so damn cool. I don't think the novelty of showering at 37,000 feet ever wears off.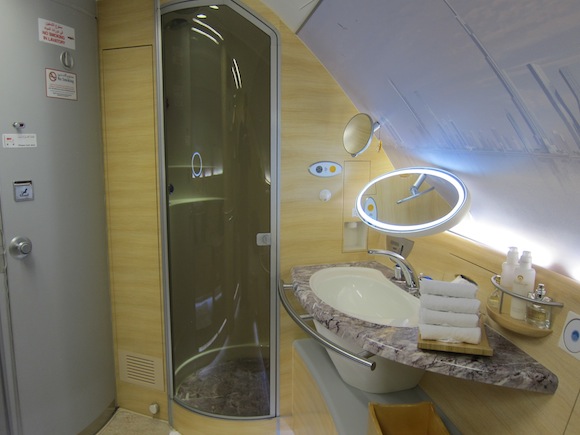 Shower and sink
And then Emirates also has an impressive A380 onboard bar. Emirates is one of the few airlines that does the onboard bar concept well, in my opinion, as the lounge at the back of the A380 is quite spacious and doesn't disturb other passengers.

Business class bar & lounge
Emirates vs. Etihad: Wifi
Winner: Tie
Both airlines offer Wi-Fi throughout much of their fleet. The difference is that Etihad charges based on length of use, while Emirates charges based on usage.
Etihad charges:
$11.95 for two hours
$17.95 for four hours
$21.95 for 24 hours

Etihad Wi-Fi pricing
Meanwhile Emirates charges:
$10 for 20MB
$20 for 100MB

Emirates Wi-Fi pricing

Personally I prefer Etihad's pricing since I'm constantly connected to Wi-Fi when flying so would easily run through a few sessions on Emirates, though I also realize that everyone has different usage patterns. If you just wanted to use limited data throughout the flight, Emirates' system might be better for you.
Emirates vs. Etihad: Onboard Service
Winner: Tie
Both airlines have some great cabin crew and some mediocre cabin crew, in my opinion. I haven't flown either airline enough (I feel like I'd need to fly them at least a dozen times each) before I could fully judge if one has better service than the other. But I've had good experiences on both, and less than great experiences on both. On average, service won't be to the same level as ANA, Cathay Pacific, or Singapore Airlines, though.
Emirates vs. Etihad: First Class Lounges
Winner: Emirates
Here are some reviews I've written of both airlines' flagship first class lounges:
The Emirates First Class Lounge Dubai is truly world class, just about on par with the Air France First Class Lounge Paris, Lufthansa First Class Terminal in Frankfurt, and Thai Airways First Class Lounge & Spa in Bangkok. The lounge literally spans the entire length of the A380 concourse, and you can board your A380 flight directly from the lounge.
The lounge has all the amenities you'd expect, from a restaurant to a spa to relaxation rooms.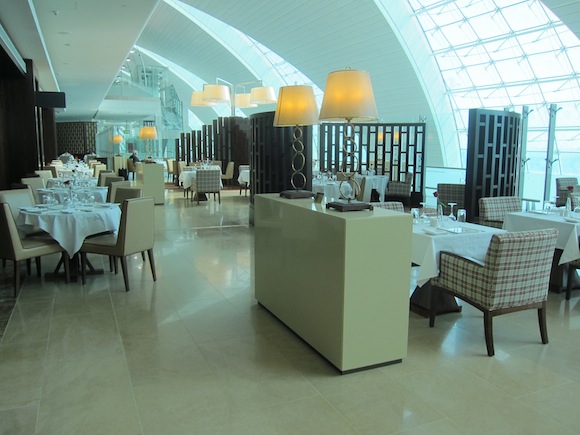 Emirates First Class Lounge
Meanwhile the Etihad Airways First Class Lounge is also nice, though small. It's literally maybe a tenth the size of the Emirates First Class Lounge. It's still very nice, with a restaurant area and spa, but it's just not quite as over-the-top as the Emirates lounge, in my opinion.

Etihad First Class Lounge
Bottom line
Even though flying the two airlines "feels" very different, I've realized that they're much more similar than I was expecting. Emirates comes out ahead in terms of the lounges and onboard amenities, while Etihad comes out ahead in terms of the seat. The rest are more or less tied, even if the experiences are quite different. I suppose they're "equal but different" in many ways.
What do you think? If you've flown Emirates and Etihad, which did you prefer?