I've gotta say, there aren't many things in life that bring me as much joy as the drama between the big three Gulf carriers (Emirates, Etihad, and Qatar). It combines my two greatest passions in life — aviation and bad reality TV. And the drama between the Gulf carriers is like a hybrid between The Real Housewives of Atlanta and My Super Sweet 16. It's what you get when you have three of the strongest personalities in the airline industry with virtually unlimited funds.
The perfect example is what Emirates recently did in Dallas. They fly a 777 right now between Dallas and Dubai, and both Etihad and Qatar are launching service to Dallas this year. So capacity between Dallas and the Middle East is literally tripling over the course of a few months. So what's Emirates' response? To put an A380 on the route and increase capacity even further, just to send Etihad and Qatar a message!
Earlier in the week Etihad Airways announced their new A380s, including their new Residence Class, which really makes first class second class. It's innovative and over the top, and regardless of whether it's ever profitable, it does allow Etihad to thumb their nose at Emirates and Qatar and say "we have the best product, so take that."
Or in Real Housewives of Atlanta speak: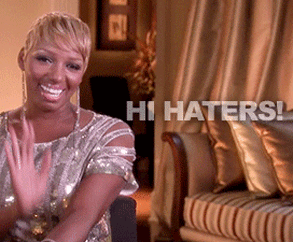 Of course Emirates wasn't just going to let Etihad steal the spotlight, so the next day Emirates' CEO totally played it off as if they were also planning private bedrooms on their planes. Emirates wouldn't reveal the product or the cost of a ticket, since at this point it's entirely a figment of their imagination, no matter how they try to spin it.
Or in Real Housewives of Atlanta speak: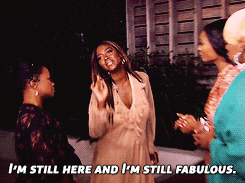 But quite possibly the most "vibrant" guy in the Middle Eastern aviation industry is His Excellency Mr. Akbar Al Baker, CEO of Qatar Airways. This is the same guy that denied Qatar Airways was even in talks with oneworld regarding possibly joining until the day it happened.
So with Etihad having shown their new bedroom product and Emirates claiming to have a bedroom product on the way, Al Baker had two options:
Announce a six bedroom villa with infinity pool and falcon quarters on their A380s
Call Emirates and Etihad out, claim first class is dead, and instead emphasize their business class
And while Al Baker is a bit eccentric, he's also a smart guy, so naturally he went with the latter. Now, admittedly Qatar Airways isn't as focused on a first class product as Emirates or Etihad. As it stands they only offer a longhaul first class product to London and Paris, so first class isn't a focus for them.
So a couple of days later Al Baker claims that first class is basically obsolete, and that they're working on developing a "super business class"… within 24 months.
Via a Business Week article:
Qatar Airways Ltd., which markets itself as a luxury carrier, will remove most first-class seats from its fleet and reserve them for the Airbus A380 slated for delivery within weeks as ultra-premium travel demand shrinks.

Qatar Airways is working on a new berth it calls "super business class" that it will introduce within 24 months, Chief Executive Officer Akbar Al Baker told journalists in Dubai today. The new model will replace the current herring-bone layout and will provide aisle access, he said

"I don't think there will be a return to first-class travel," Al Baker said. "The chunk of our premium occupation is business travel. There is very little leisure travel in the front cabin, except when there's point-to-point local traffic that we generate within our community."
Or in Real Housewives of Beverly Hills speak: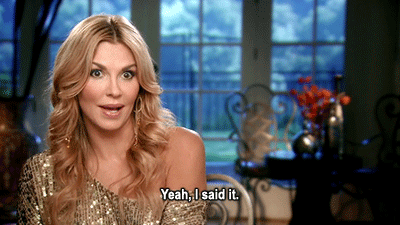 Bottom line
To sum up the industry according to the "big three" Gulf carriers…
If you can't beat 'em, join 'em… and by join 'em I mean pretend you were planning exactly the same thing when you were totally caught by surprise. And if that's not practical, just tell 'em their idea sucks and that you're working on another new great idea, which clearly hasn't been started on yet either.
I love this industry!