Update: Emirates is launching daily flights from Dubai to Barcelona to Mexico City as of December 9, 2019.
For several years now, Emirates has been wanting to launch flights to Mexico City. The problem is that there's no way they could operate a Dubai to Mexico City route nonstop in both directions, given the altitude of Mexico City Airport, which greatly limits the distance planes can fly when departing there.
In early 2018 it looked like Emirates had found a way to make the route work, as Emirates announced that they intended to fly between Dubai and Mexico City as of later 2018. The plan was for the service to be operated via Barcelona in both directions, and Emirates would have pick-up rights there.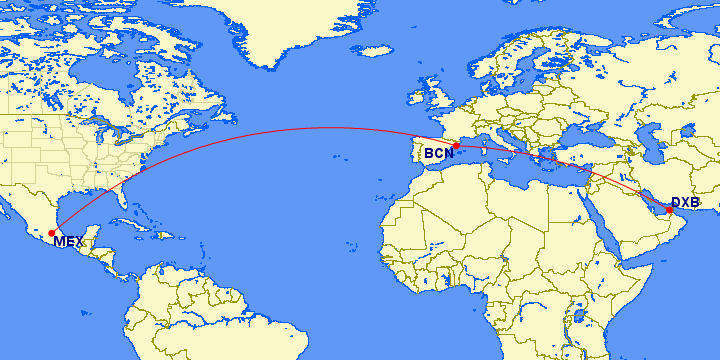 This seemed like a brilliant plan, given that:
Barcelona is almost directly on the way between Dubai and Mexico City
There's demand for travel between Barcelona and Mexico City, yet no airline operates the route
So while it looked like this would happen for a long time, in September there was some bad news, as Emirates canceled plans for this route.
Why? Because Mexico wouldn't grant Emirates slots to operate the flights on a daily basis. Rather they could only get permission to operate the flight 3x weekly, and Emirates didn't find that to be worthwhile.
The airline said that they still hoped to operate the route at some point in the future, but realized it wouldn't be happening anytime soon.
There's now an update on this story. Emirates News Agency is now reporting that the UAE Ambassador to Mexico and Mexican Minister of Communication and Transport have met to discuss this flight, and that Mexico is granting Emirates the right to operate this flight on a daily basis, as the airline has wanted all along:
During the meeting, which was held in the presence of Juan Carlos Salazar, Director-General of the Mexican Civil Aeronautics; and Miguel Pelarez Lara, Director of Mexico International Airport, the Mexican side agreed to operate the direct service between the two countries for seven days within the time slots available after the maintenance and technical improvement at the Mexico City International Airport.

The Mexican Minister affirmed that country's current government has worked hard to ensure the success of the project and will continue to cooperate with the UAE for the interests of both countries across all fields. He also thanked the UAE Ambassador and Emirates Airline for their efforts to enhance cooperation in this field.
Bottom line
While the two countries are still working out the details, it looks like Emirates will indeed be starting daily flights from Dubai to Mexico City via Barcelona, which is great news.
I should note, however, that like anything involving politics, this situation could also change.
Aeromexico (which Delta has a 49% stake in) is heavily opposed to Emirates' expansion, and is doing what they can to block the route.
Here's to hoping this route finally happens, as it would represent Emirates' third fifth freedom transatlantic flight (after New York to Milan and Newark to Athens).