Update: Emirates is launching daily flights from Dubai to Barcelona to Mexico City as of December 9, 2019.
For several years now, Emirates has been wanting to launch flights to Mexico City. The problem is that there's no way they could operate a Dubai to Mexico City route nonstop in both directions, given the altitude of Mexico City Airport, which greatly limits the distance planes can fly when departing there.
Earlier this year it looked like Emirates had found a way to make the route work, as Emirates announced that they intend to fly between Dubai and Mexico City as of later this year. The plan was for the service to be operated via Barcelona in both directions, and Emirates would have pick-up rights there.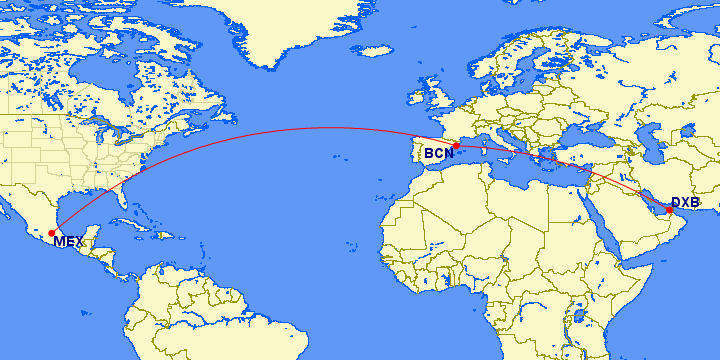 This seemed like a brilliant plan, given that:
Barcelona is almost directly on the way between Dubai and Mexico City
There's demand for travel between Barcelona and Mexico City, yet no airline operates the route
So, it's now approaching the time when Emirates was supposed to launch the route, so what has happened?
Emirates won't fly to Mexico after all
Unfortunately media in Mexico is reporting that Emirates no longer intends to fly between Barcelona and Mexico City. Why? Because Mexico wouldn't grant Emirates slots to operate the flights on a daily basis. Rather they could only get permission to operate the flight 3x weekly, and Emirates didn't find that to be worthwhile.
While other airlines might like operating a flight three times per week, Emirates is an airline that operates daily in a vast majority of markets, so this didn't work for them.
The airline as well as Spanish authorities say they're disappointed, and Emirates says they hope to still fly to Mexico at some point in the future. It's disappointing that it's not happening now, though.
Will Aeromexico follow through on their temper tantrum?
When it was first announced that Emirates would launch flights between Mexico City and Barcelona, Aeromexico threw a temper tantrum. This is in spite of the fact that they didn't operate the route themselves. They threatened legal action against Emirates. In part they said the following:
"We are going to review all the legal mechanisms that are within our reach. We are going to give our battle. It may even affect connectivity, because if they sell subsidized tickets to us they take us out of the market. If they take us out and we are not competitive on our flights to Europe, we will have to reduce the offer."

"But to allow a non-European airline to fly to Mexico, to allow it to fly to Barcelona, ​​which does not contribute anything because it is subsidized. What they are doing is putting at risk the sources of work in Mexico and we strongly disagree. We can not compete with an airline that receives billions of dollars in subsidies."

"They do not contribute anything, they must not be here and must not displace Mexican sources of employment. If you want to open a Mexico-Dubai flight we have no problem, but not Mexico-Barcelona."
Once Emirates announced they'd fly between Mexico City and Barcelona, Aeromexico copied them and also said they'd operate the route, but then just days later changed their mind and canceled the route.
So, now that Emirates won't operate the flight, will Aeromexico put their money where their mouth is and actually operate this route? After all, this is all about Mexican sources of employment and providing passengers with more options, right?
Bottom line
Emirates has been wanting to fly to Mexico City for years, and I know they've been working with several European governments to secure fifth freedom rights. Unfortunately it looks like they still haven't been able to secure viable slots, as they weren't happy with 3x weekly flights.
So while Emirates will eventually likely make it to Mexico City, that time won't be now, unfortunately.