With the Gulf carriers under cost pressure, we're seeing them increasingly cut services and find creative ways to generate more revenue. For example, in January I wrote about how Emirates is now letting economy passengers buy access to business class and first class lounges at Dubai International Airport at a cost of $100-200. The details are as follows:
If you're a non-status Skywards Blue member you can pay $100 to access the business class lounge or $200 to access the first class lounge when flying economy
If you're a Silver or Gold member, you can invite guests to join you in the business class lounge for $100, or if you have access to the business class lounge anyway, you can pay an additional $100 to access the first class lounge
Ultimately I don't think this will lead to much lounge crowding, given that there aren't that many people who are willing to pay $100-200 for lounge access. That being said, for a special occasion, some people may find this to be worthwhile. If in business class I could even see myself paying $100 to upgrade to the first class lounge, given that the food is significantly better.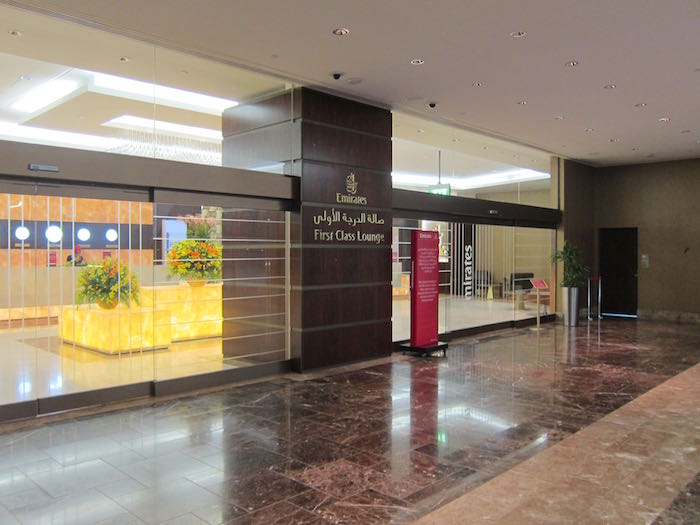 Well, Emirates is getting creative with lounge access again, but in a different way — Emirates is now offering complimentary lounge access to select economy passengers. Specifically, passengers traveling from Bangkok to destinations beyond Dubai on two select flights now receive access to lounges at Dubai Airport, as long as they book by March 26 and travel between May 1 and November 30, 2017. Here are the details:
Fly Emirates from Bangkok to Europe, the Americas, Africa, and the Middle East and get a complimentary 4-hour access to the Marhaba Lounge while waiting for your connecting flight in Dubai. Enjoy an open buffet offering a variety of hot and cold cuisine and unlimited beverages, freshen up with the shower facilities or stay up to speed at the fully equipped business centre with complimentary Wi-Fi access. This offer is valid for bookings on EK351 or EK377 for the Bangkok-Dubai sector.
Emirates has seven daily flights between Bangkok and Dubai, so I suspect they're offering lounge access on the flights that are typically least full.
Now, the catch is that the Marhaba Lounge is not the Emirates business class lounge, but rather it's a contract lounge used by other airlines in Dubai. So it's not as good as Emirates' first class & business class lounges, though it's certainly a very nice offering for economy passengers.
I'm conflicted about how to feel about this offering by Emirates:
While it's a very nice perk for economy passengers, I wonder how much this will actually impact consumer behavior, given that this isn't a widely advertised promotion
At the same time, if everyone actually knew about this and booked during the promo period, it would cause massive lounge crowding, as you suddenly have 300+ economy passengers using the lounge at once (on a full A380 that's how many passengers would be connecting, given that 80%+ of passengers traveling Emirates aren't terminating their travels in Dubai); of course the number won't be that high in practice
Bottom line
Given Emirates' trend of cost cutting and adding fees lately, I commend them for adding services for select passengers in economy. While I'm not sure how much of an impact it'll have on their bookings, this is a generous and creative offer on the part of Emirates.
(Tip of the hat to View from the Wing)