The wait is finally over! In 2015 Emirates first revealed that they were planning on introducing a new first class suite, and they just shared the full details of it today at the Dubai Airshow. Let's look at what we know so far about Emirates' new first class suite.
Details of Emirates' new 777 first class
Emirates' new 777 first class suites have floor to ceiling sliding doors with design features that are inspired by the Mercedes Benz S-Class. The collaboration includes Mercedes-inspired soft leather seating, high-tech control panels, and mood lighting. Each suite offers up to 40 square feet of personal space, and the cabin is in a 1-1-1 configuration, compared to the previous 1-2-1 configuration (meaning that there there will be just six first class suites, rather than the current eight).
To start, here's a promotional video for the new first class cabin:
Here's what Tim Clark, Emirates' president, has to say about the new first class suite:
"Emirates pioneered the First Class private suite concept back in 2003, and today it's the industry benchmark when it comes to first class travel. Over the years we have continually improved on our private suites, adding thoughtful refinements and features. We are very excited about our new fully-enclosed suite which is a real game-changer in terms of privacy, comfort, and thoughtful luxury. This is the first time an Emirates product has been so influenced by another luxury brand, but it is a natural fit as both Emirates and Mercedes-Benz have the same unwavering commitment to fine detail, uncompromising quality, and a drive to push the boundaries."
Here are some pictures of Emirates' new 777 first class: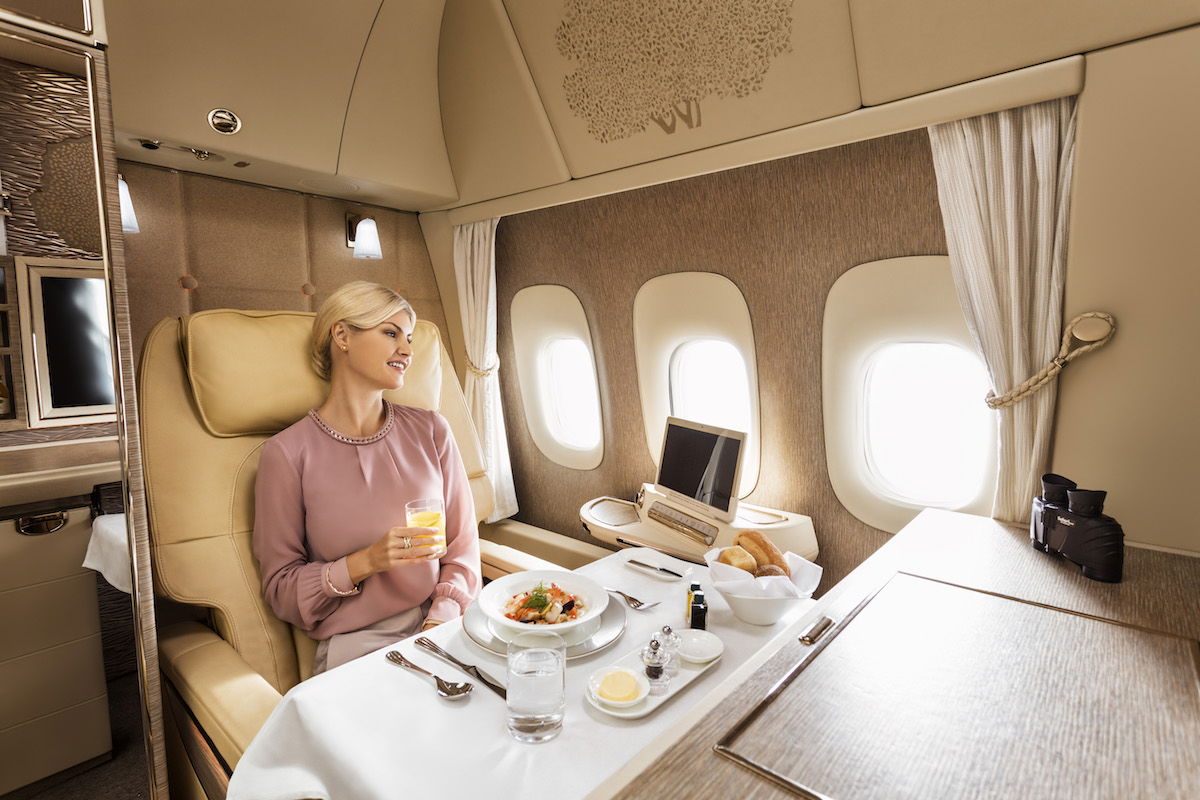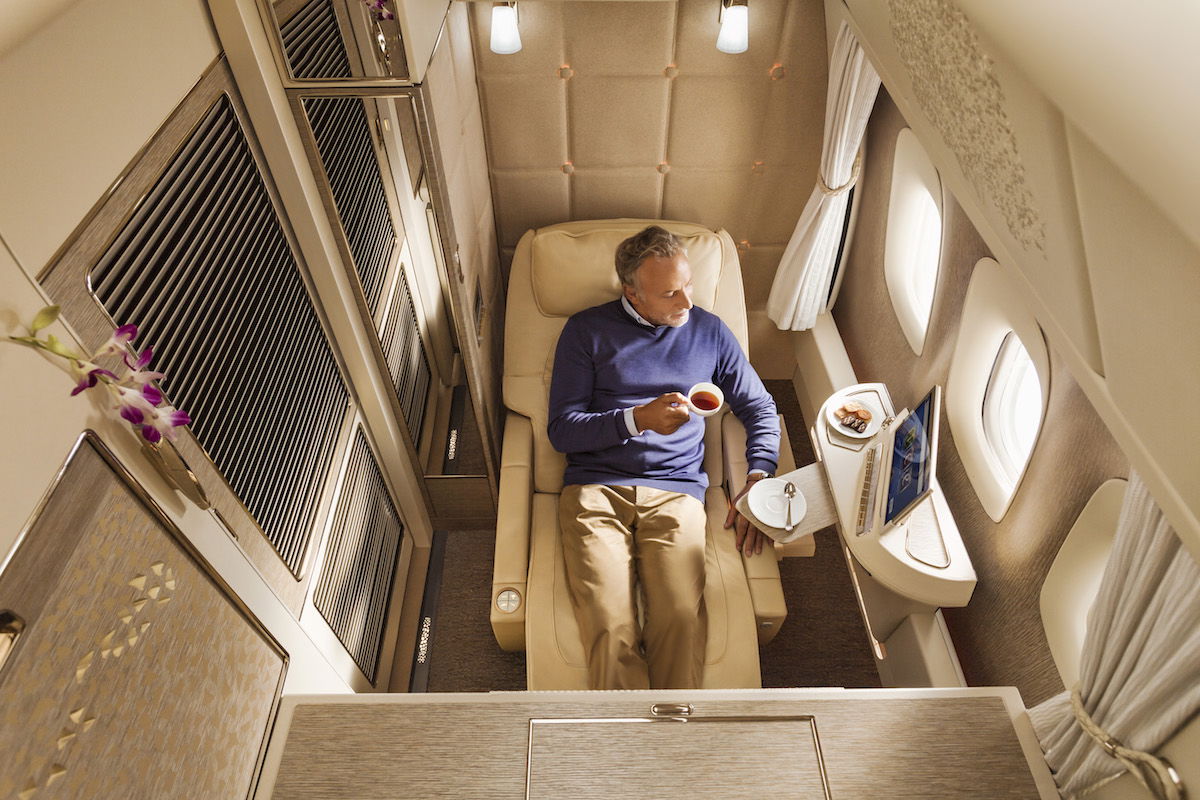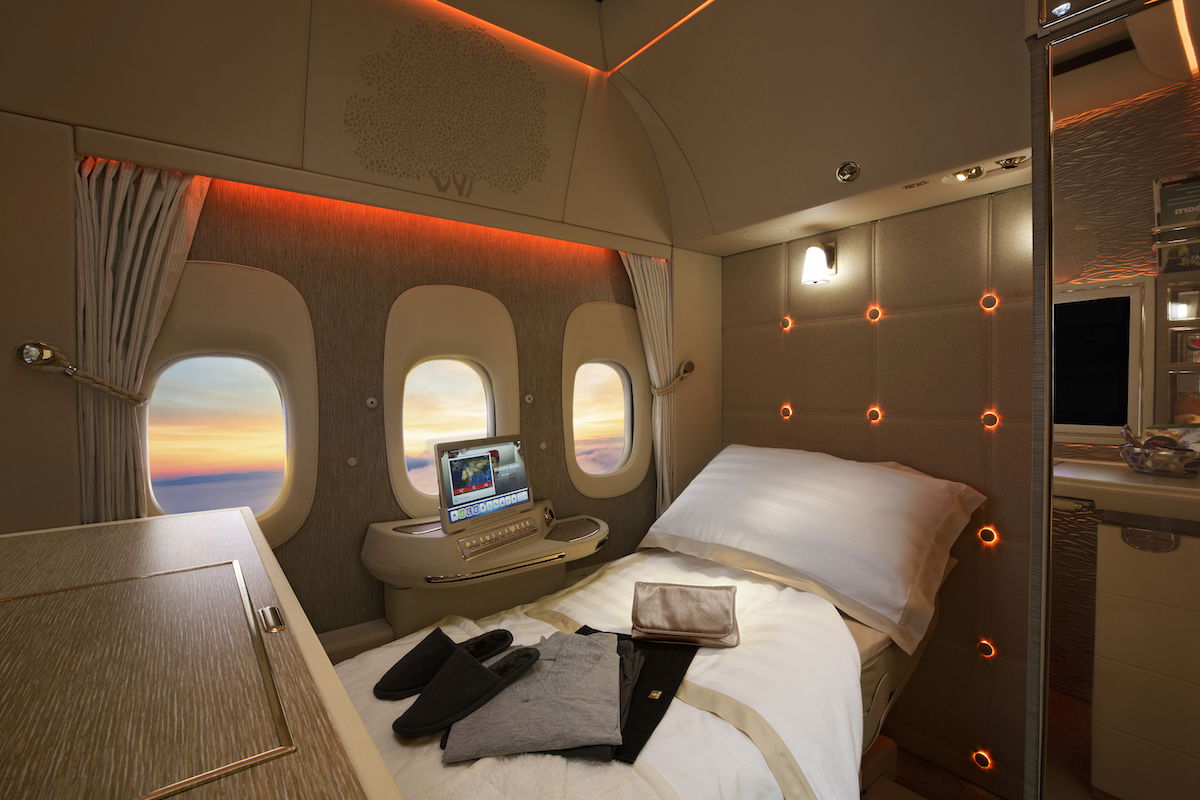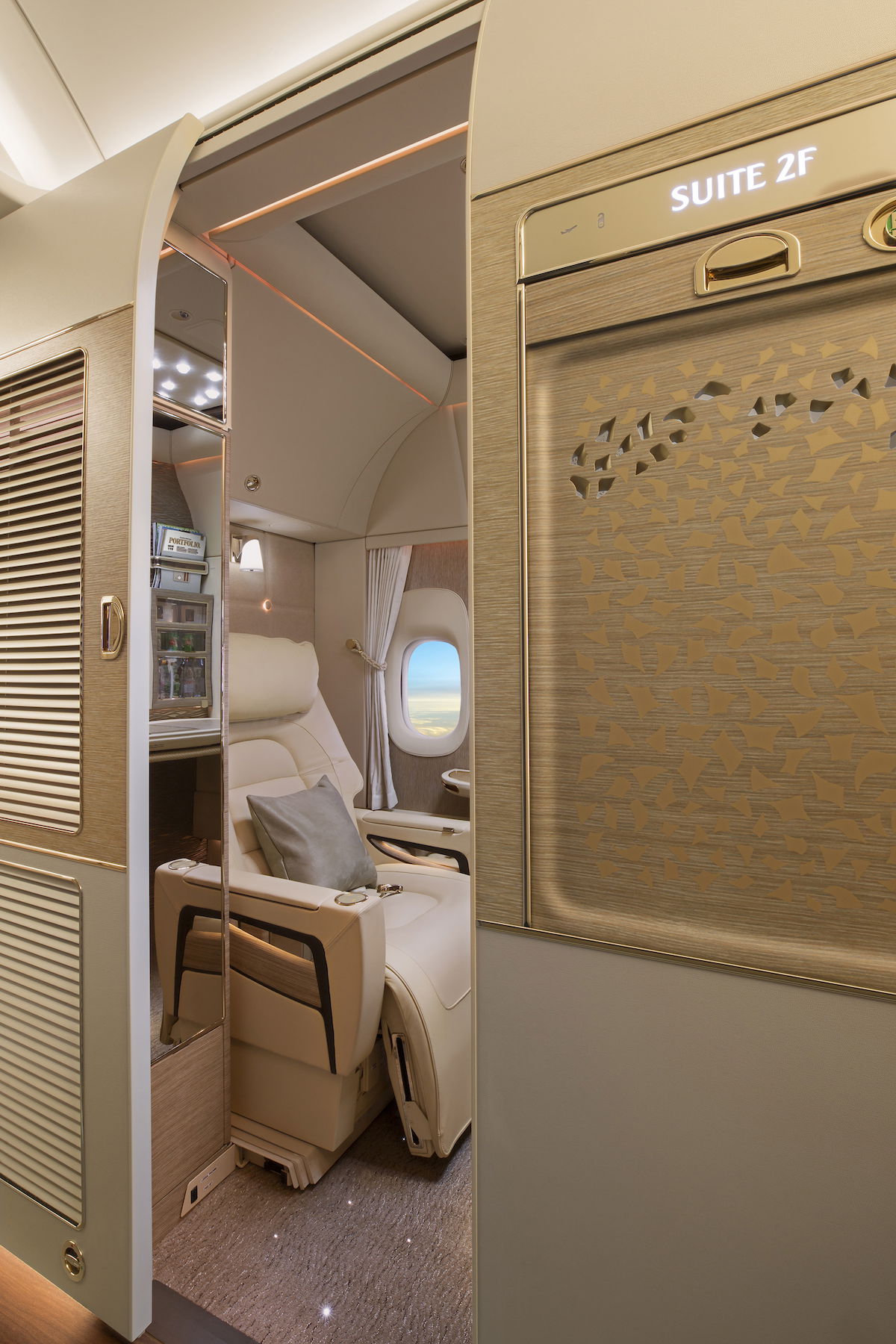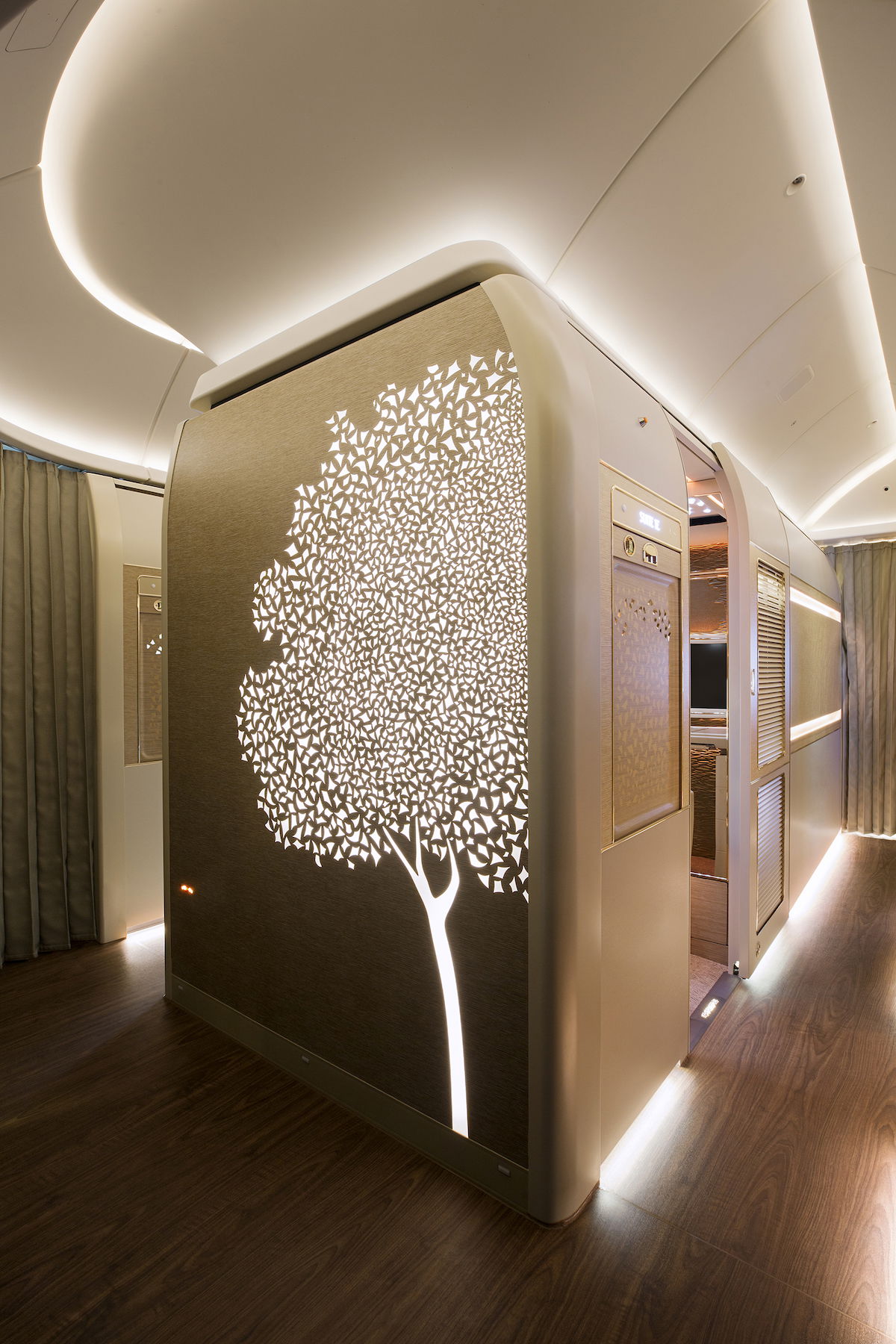 Here are some of the highlights of the design features of the new 777 first class:
Rather than the blingy finishes that Emirates has in their old first class, the new suite has a color palette of soft greys, cream, and champagne, which conveys a "contemporary, open, and airy feel, with quiet and timeless luxury"
The seat can be placed into a "zero-gravity" position inspired by NASA… I'll have to test that one out myself
The suite is truly fully enclosed with floor-to-ceiling walls and doors, so passengers can change in the comfort of their own suite
For passengers in the center seats, Emirates is introducing virtual windows that will project the view from outside the aircraft using real time camera technology; in the window suites, binoculars will be available for passengers who want to look outside
The suite features a video call function for communicating with cabin crew (don't worry, you can choose just to make an audio call, as this is optional), and each suite also features a service window where customers can be served drinks and canapés undisturbed
Each suite has a 32-inch personal television with 2,500 channels of on-demand entertainment, and each suite now also features Bowers & Wilkins Active Noise Cancelling E1 headphones
Each suite has an "inspiration kit," featuring a luxury Byredo skincare collection, Hydra Active moisturizing pajamas,

and

Bulgari amenity kits
As part of the collaboration between Emirates and Mercedes-Benz, Emirates' complimentary chauffeur service in the UAE will feature a fleet of S-Class vehicles to get passengers to and from the airport
The HUGE issue with Emirates' new first class
Emirates' new first class looks great, but the major issue is that as of now Emirates only has plans to install the product on at most nine Boeing 777-300ERs by the end of 2019. Emirates wants to install the new product on the A380, but doesn't have a timeline for doing so, so we have no clue if or when that's really happening. They also don't have firm plans to retrofit their existing 777 fleet with this product.
In many ways that makes this new product a gimmick, since as of now Emirates has committed to installing the new seats on less than 4% of their fleet in the next two years. I find that to be pretty disappointing.
Emirates does have 150 777-8s and 777-9s on order and will take delivery of those starting in 2020. Those will definitely feature a new first class product, which may be modified even further.
Which routes will have Emirates' new first class?
The first two 777-300ERs featuring Emirates' new first class will be in service as of December 1, 2017, flying to Brussels and Geneva.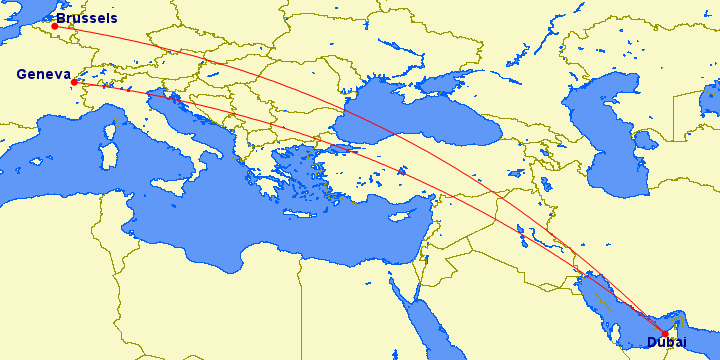 As of now Emirates seems to be blocking first class award availability on flights featuring the new cabins, though at least they're not charging a fare premium for flying the product.
What do I make of Emirates' new 777 first class?
It's breathtakingly stunning. While the new suites will be larger than the previous ones, they're not actually going to be that huge. However, I can't help but feel like Emirates has done a fabulous job with all of the little details of the new suite. Emirates' new first class suite looks so well thought out and inviting, and it looks like space is used well.
From the floor-to-ceiling doors and walls, to the curtains by the windows, to the mood lighting and temperature control, to the binoculars, this looks to me like the most elegant cabin in the sky. In many ways it's evolution rather than revolution, because they're sticking with the same general type of suite they had before. But they're making some substantial improvements to it, and the finished product looks excellent.
One major downside of the new product is that it doesn't seem ideal if you're traveling with someone. There's no option to combine two suites into a larger suite, and there's not even really an option to sit next to someone. Furthermore, there's no buddy seat that allows you to dine face-to-face.
How does this compare to Singapore's new A380 Suites?
Emirates is only the second airline this month to introduce a new first class product. Earlier this month Singapore revealed their new A380 Suites.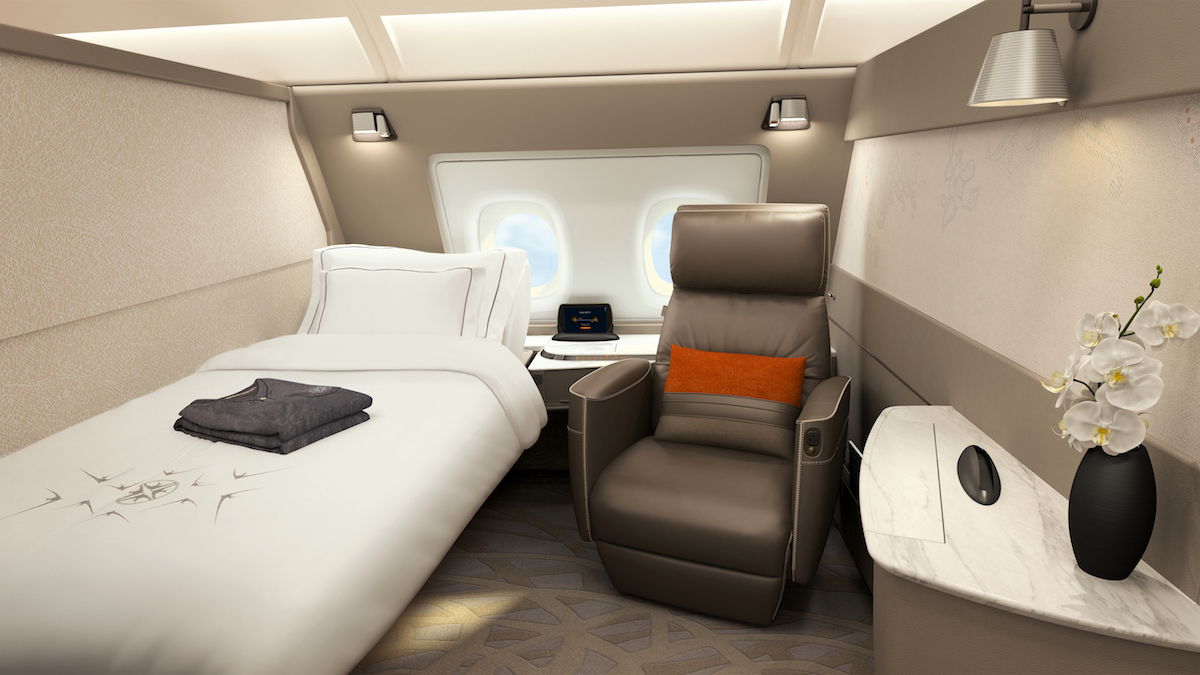 Singapore's new Suites is more spacious. Each Singapore A380 Suite is roughly 50 square feet, while each Emirates 777 first class suite is roughly 40 square feet.
While there's no denying that Singapore's new Suites product is a greater evolution and looks amazing, I have some practical issues with the design. They're installing a separate bed and seat, but the bed folds up and doesn't have a real mattress, which seems like such a lost opportunity. Meanwhile while it's nice to have a separate seat and bed, I can't say that the seat looks all that comfortable, at least in comparison to some of the other first class seats out there.
The advantage of the Singapore A380 Suites product is that it's great if you're traveling with someone, as you can create a double bed, which is something that Emirates doesn't have.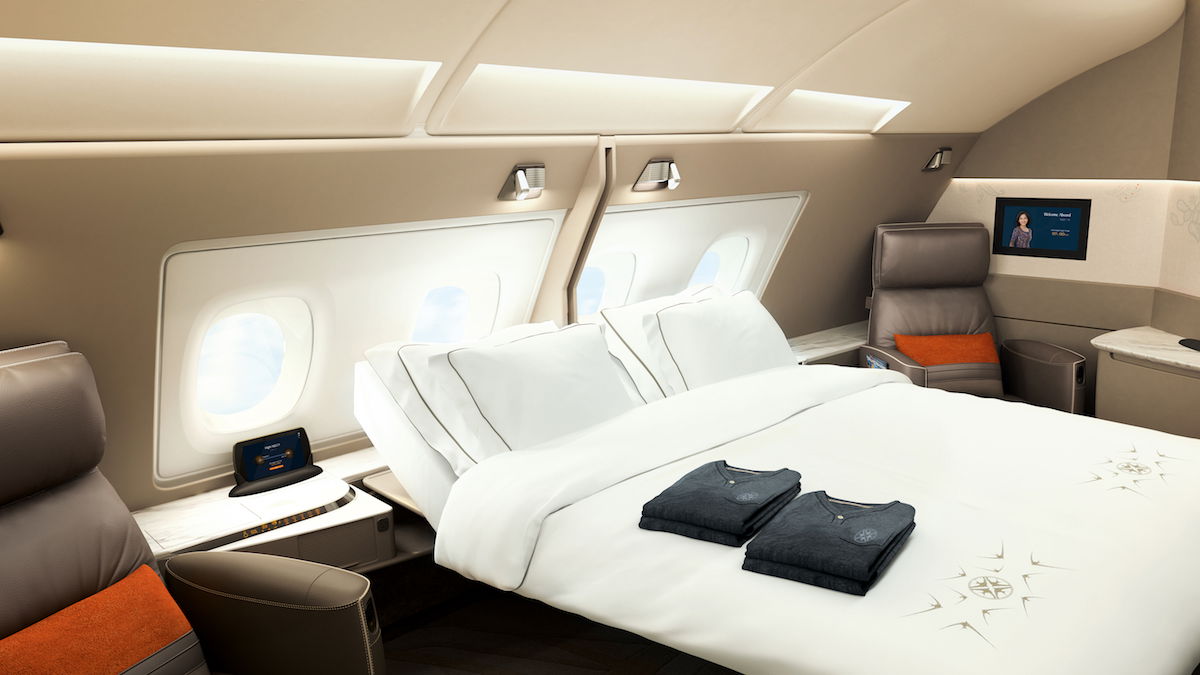 So while Singapore's A380 Suites are more impressive on the surface, I can't necessarily say that it impresses me more than Emirates' new first class, which seems so well thought out.
Bottom line
Emirates did a stunning job with their new 777 first class. This looks like such an elegant and well thought out product, and I can't wait to fly it myself.
I do have a few issues, though — Emirates doesn't have immediate plans to install this product on their A380s, and they only plan to have this product on at most nine 777s in the next two years, so this will be a bit of a gimmick, as less than 4% of their fleet will feature this product two years from now. Furthermore, this doesn't look ideal if you're traveling with someone.
In many ways it's still a toss-up between Emirates first class on the A380 and 777 — the A380 has the advantage of the shower and bar (both of which I love), while the 777 has the better seats.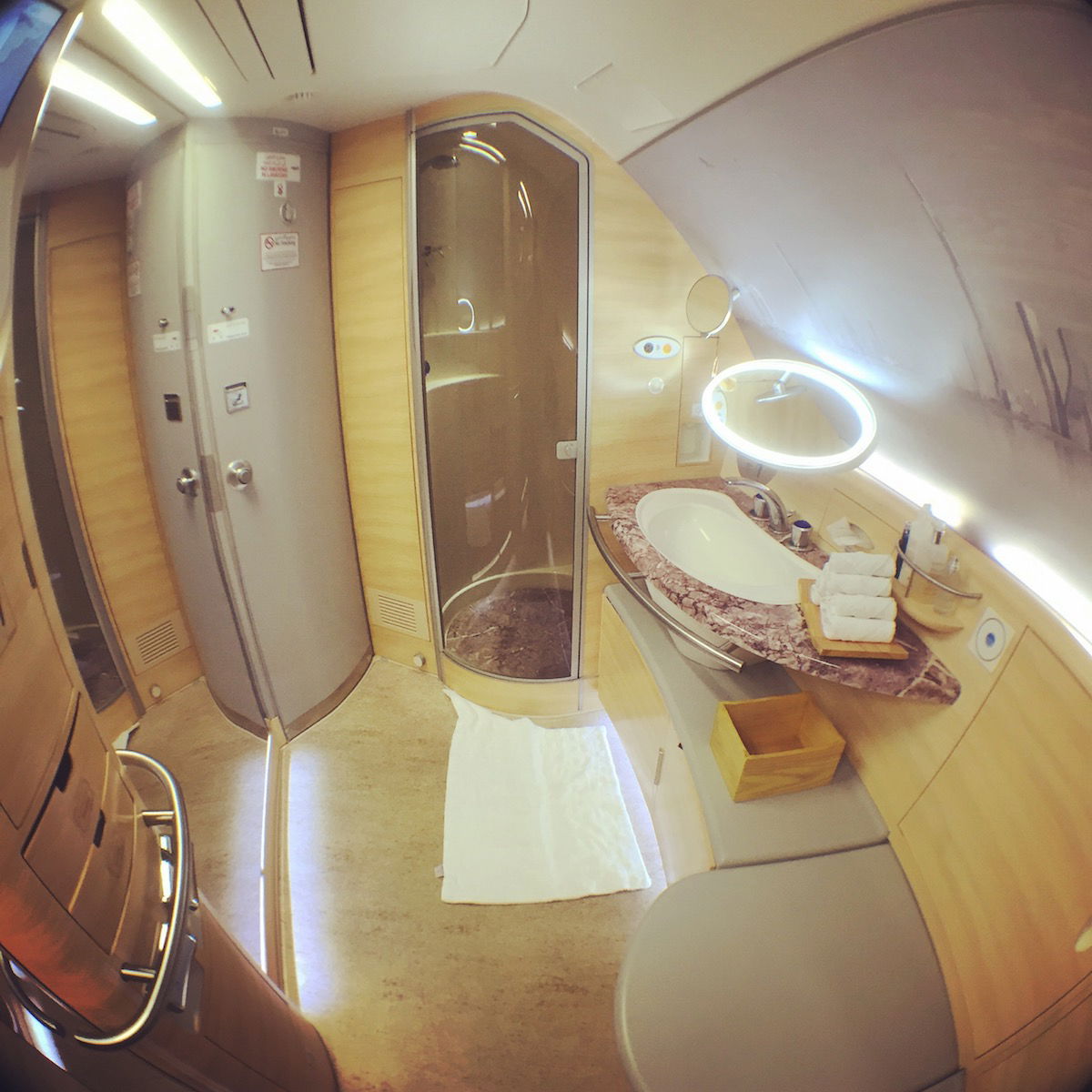 What do you make of Emirates' new first class?