My friend Yaroslav had the chance to recently try Qatar Airways' new business class product, which became available between Doha and London as of this past weekend. While I still hope to review the product soon, I'm thrilled he shared his experience, given how new this product still is.
Yaroslav is a software entrepreneur and traveller from Kiev, Ukraine. In his free time he enjoys photography, filmmaking and writing endeavours, which he shares on his Apertoura.com project (https://medium.com/@apertoura)
---
For the past several years I have been fascinated with the rapid and continuing improvements that are happening in airlines' premium cabins. Within less than a decade the whole concept of what a business class seat should be has shifted significantly. From just a recliner — to fully-flat, aisle accessible beds, offices and dining rooms — at 41,000 feet.
Earlier this year Qatar Airways announced a further improvement to the concept. Named QSuites, these fully enclosed seats, available as a single, double or quadruple pod, promise to enable passengers to spend time together with their family while flying or get work done in teams.
Having plans to visit Doha around the dates of the scheduled commencement into service, I decided to book my flight to Qatar via London, rather than Frankfurt, which would have been more convenient. Although Qatar Airways is infamous for their unpredictable delays and unrealistic promises — I thought the worst case scenario would be an extra hour or two spent in transit and I can easily switch to QR's A350, A380 or 787 all of which fly from DOH to LHR daily (avoiding the significantly worse pre-QSuites 777 business class). And they all feature the great reverse herringbone seat, Wi-Fi and in case of the A380 — a bar. Not a bad proposition either way 🙂
For days I've constantly awaited alerts from flightradar24 about the whereabouts of A7-BED, the first 777–300ER in Qatar Airways' fleet to be reconfigured with QSuites. At the end of May it left for Zurich, the location of the reconfiguration, had done a test flight for a few hours over Switzerland, flew to Le Bourget — to be demonstrated to the world and finally on the 24th of June — flew back to Doha, for the inaugural QSuites flight to London Heathrow, flight QR7. That gave me confidence that I will have the chance to try out their new product on the following day.
I left Paris early in the morning, taking Air France's 787 (operated currently once per day with flight AF1680) and had almost 8 hours to kill until departing to Doha in the afternoon. The benefit was that I could check out the Qatar Premium Lounge in detail. The lounge is located in Terminal 4, nearby gate 6 and is open from 5AM to 9:30PM and welcomes Qatar Airways first and business class passengers.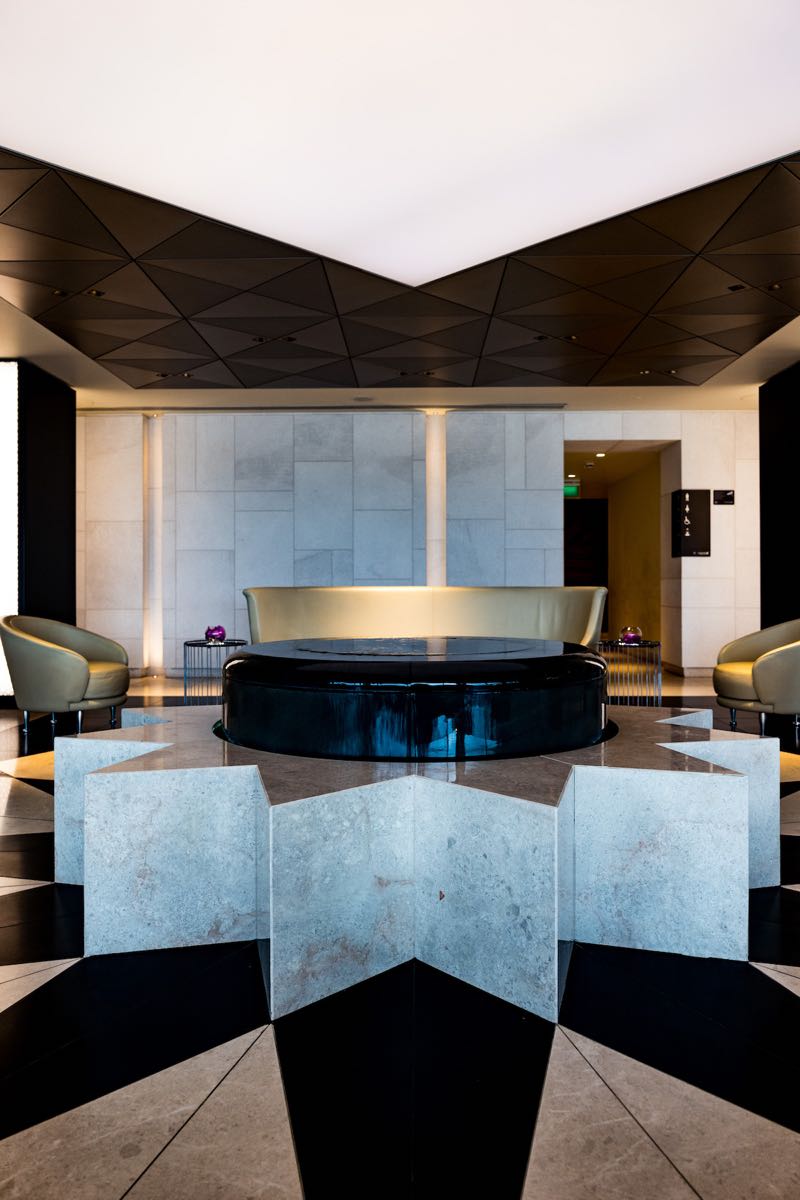 The centerpiece of the lounge is a beautiful fountain
As I arrived during the morning rush hour — the lounge was fairly packed with most of the casual seating occupied, but the À la carte restaurant wasn't as full. It's amazing how Qatar Airways operates a decent restaurant for just 6 flights a day. At 11AM they were finishing serving the breakfast.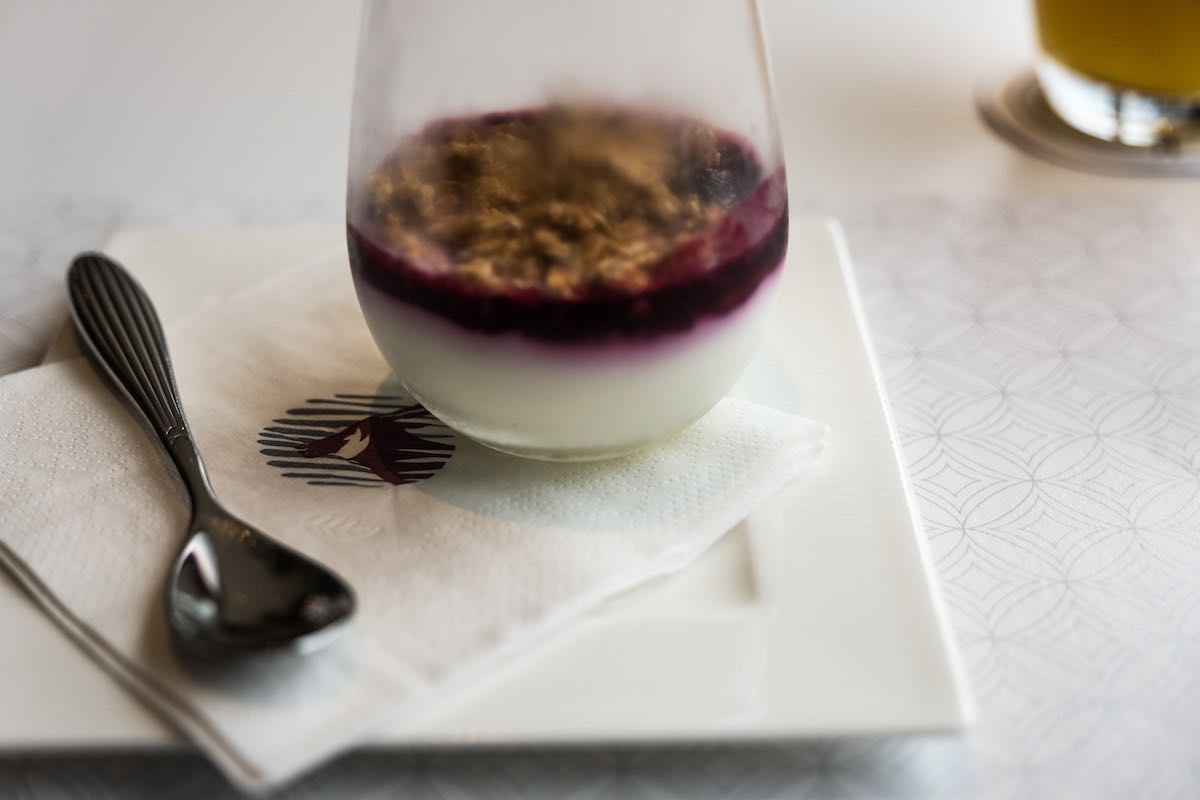 Qatar lounge granola and orange juice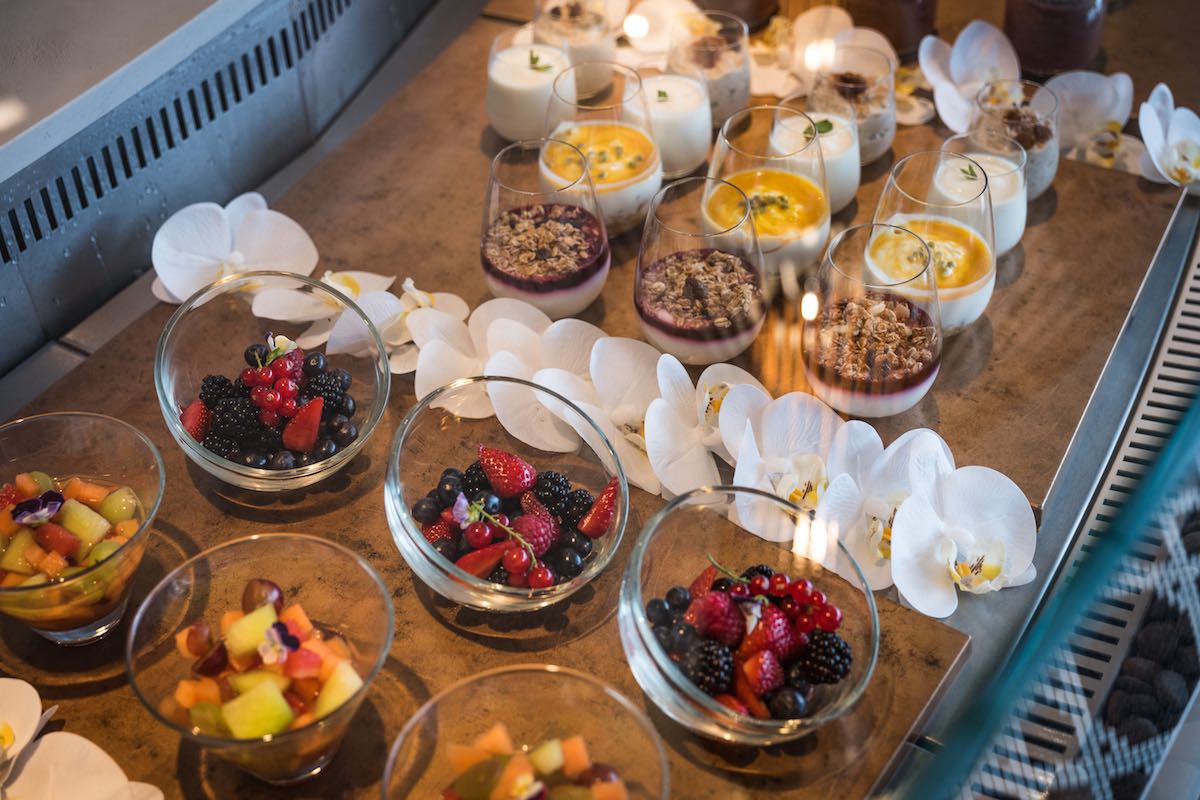 Qatar lounge buffet display of fruits, smoothies and such
The lounge is beautiful. It isn't too large, but if you arrive early — there will never be a lack of space. After the morning flight left, I was the only passenger for at least an hour and a half. The staff had been very pleasant and helpful, with a separate person greeting me, taking my luggage, providing a tour of the lounge, accepting an order, serving it and also — inquiring if I had enjoyed my meal. It is not understaffed for sure!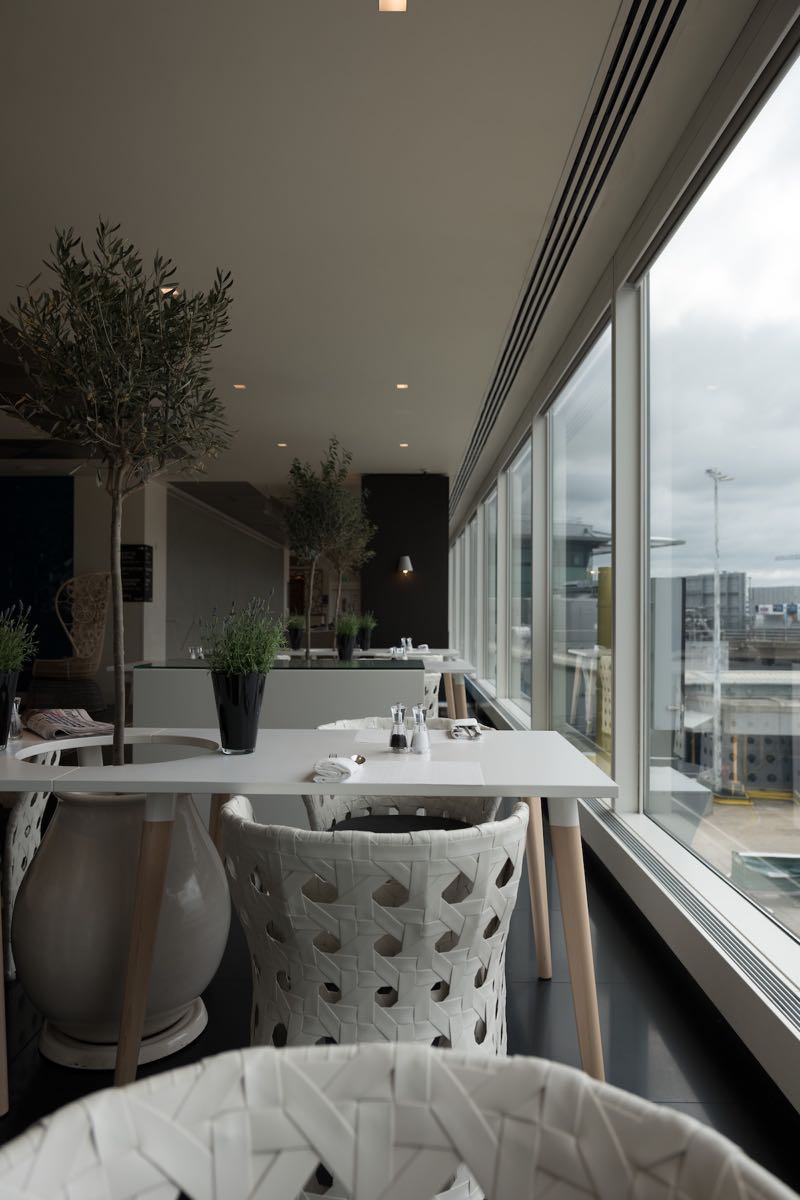 Qatar Premium Lounge dining area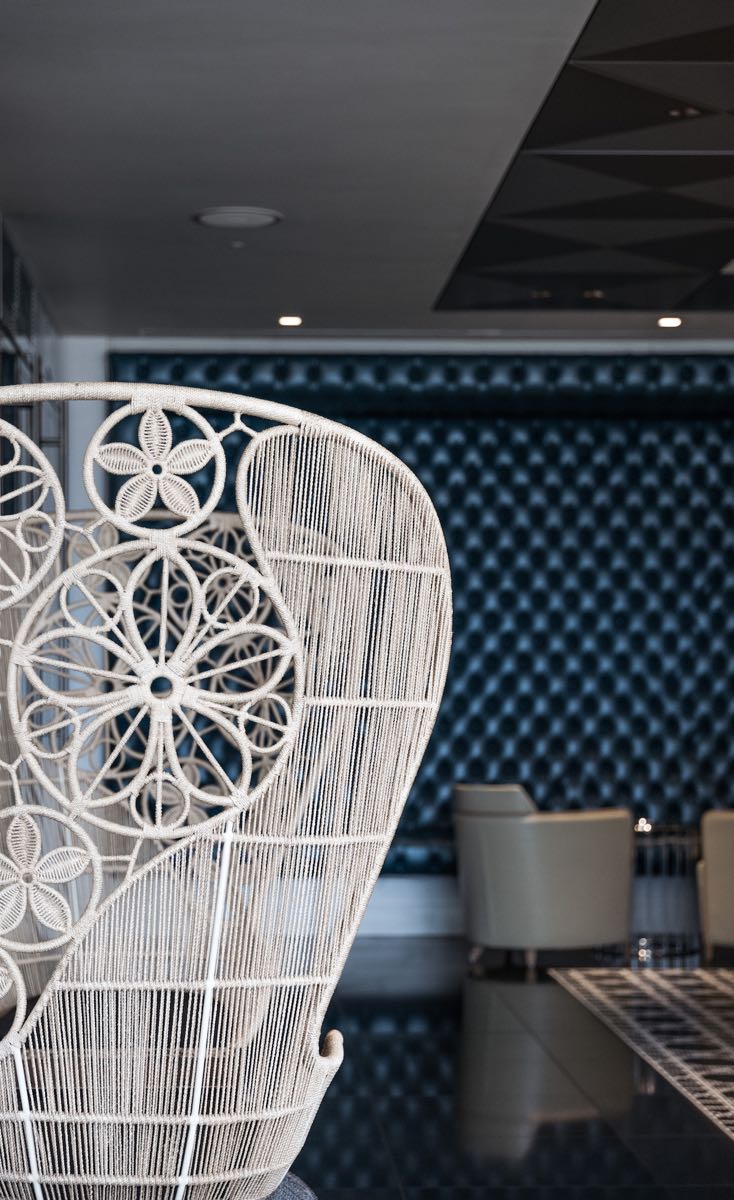 Qatar Premium Lounge dining area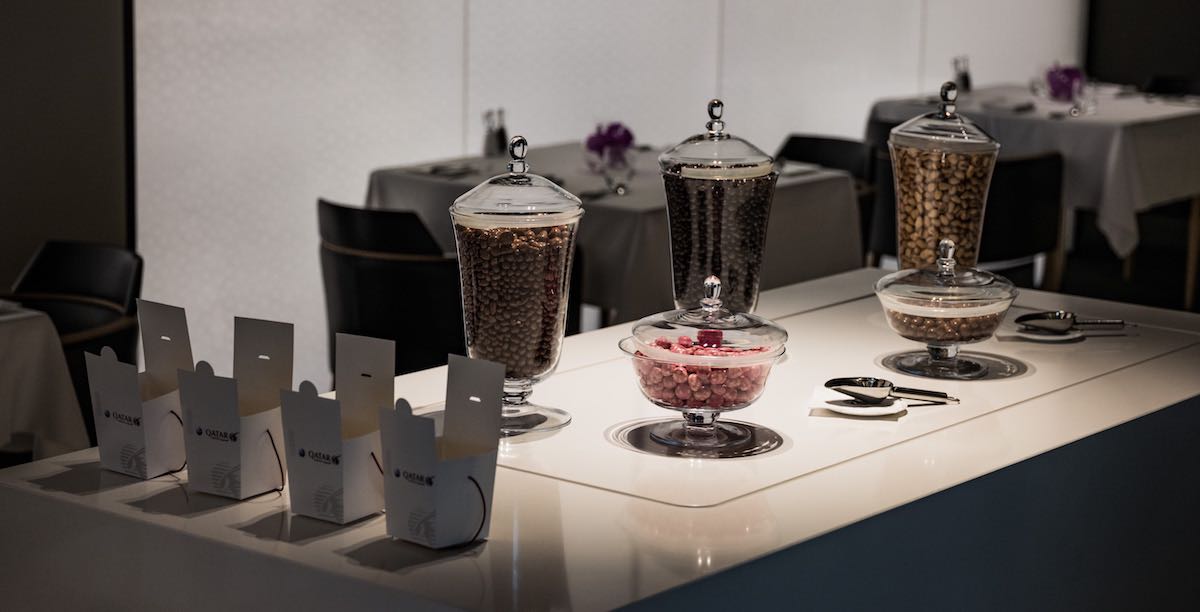 A snack station, where you can get chocolates, nuts, candy and put it all into a cute take-out style box to munch on at your seat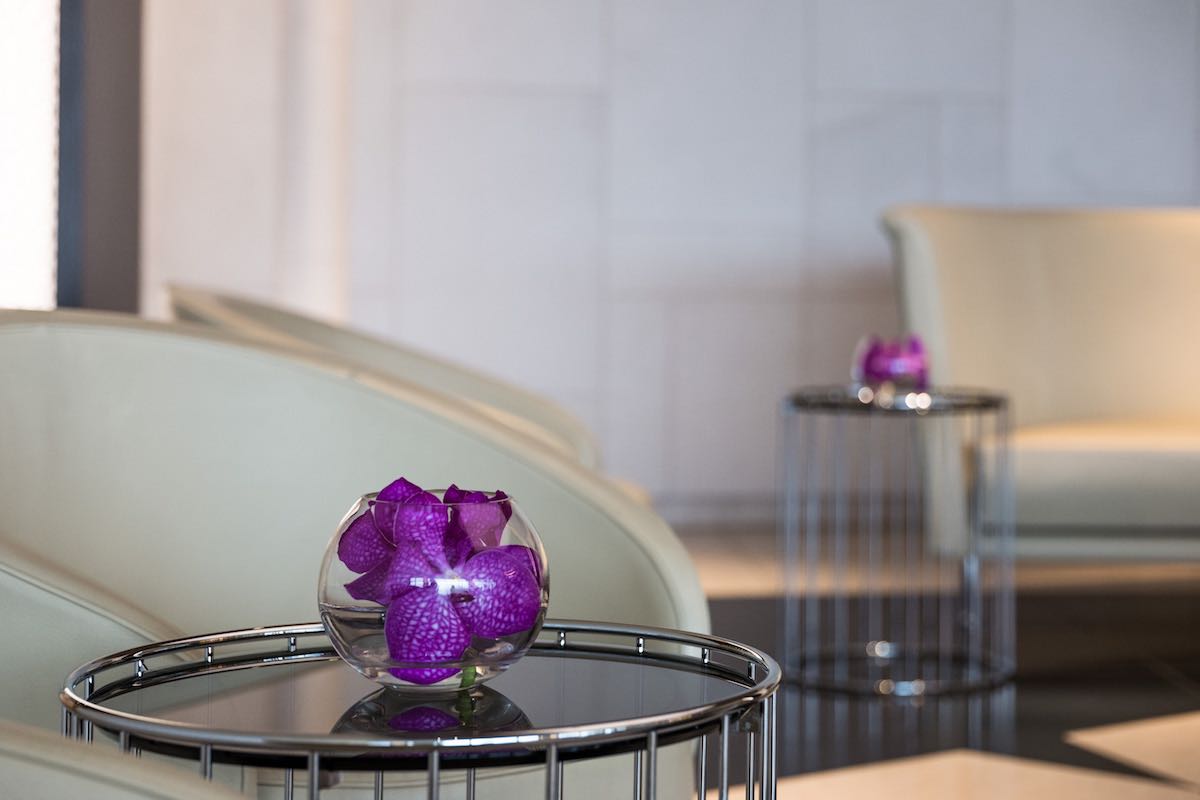 Qatar Premium Lounge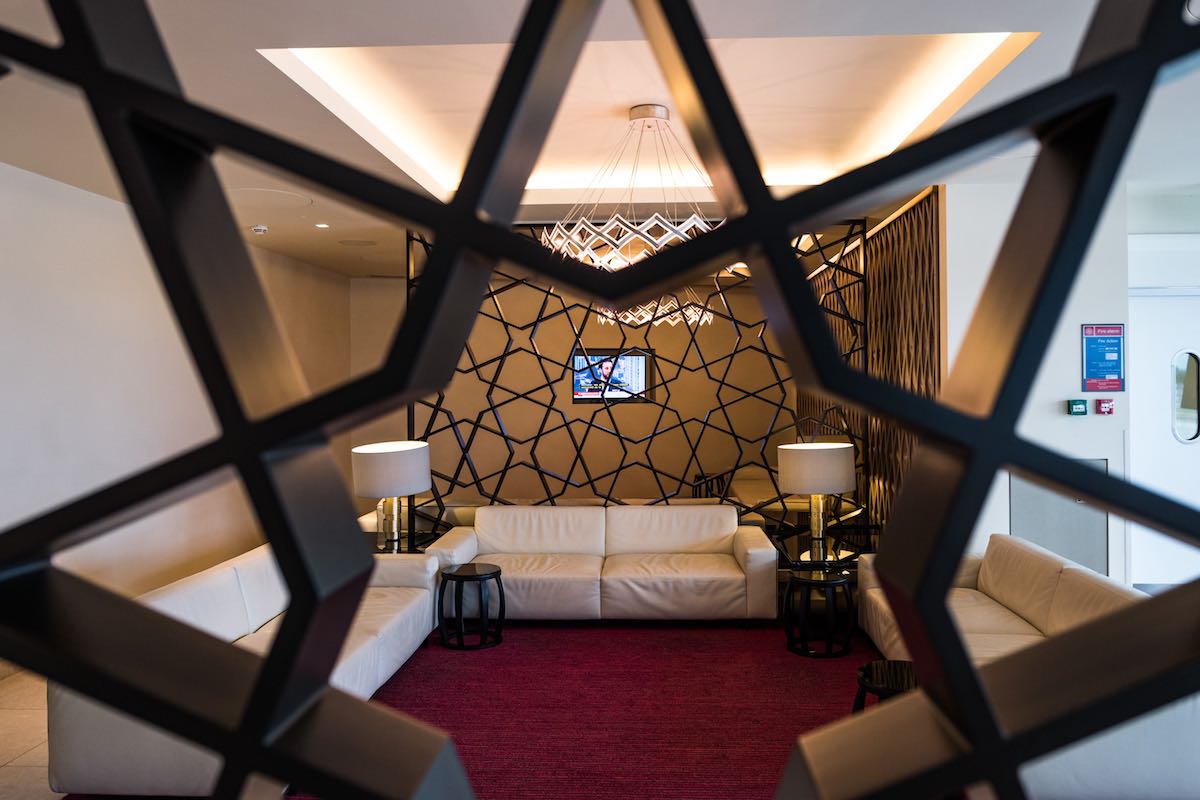 Qatar Premium Lounge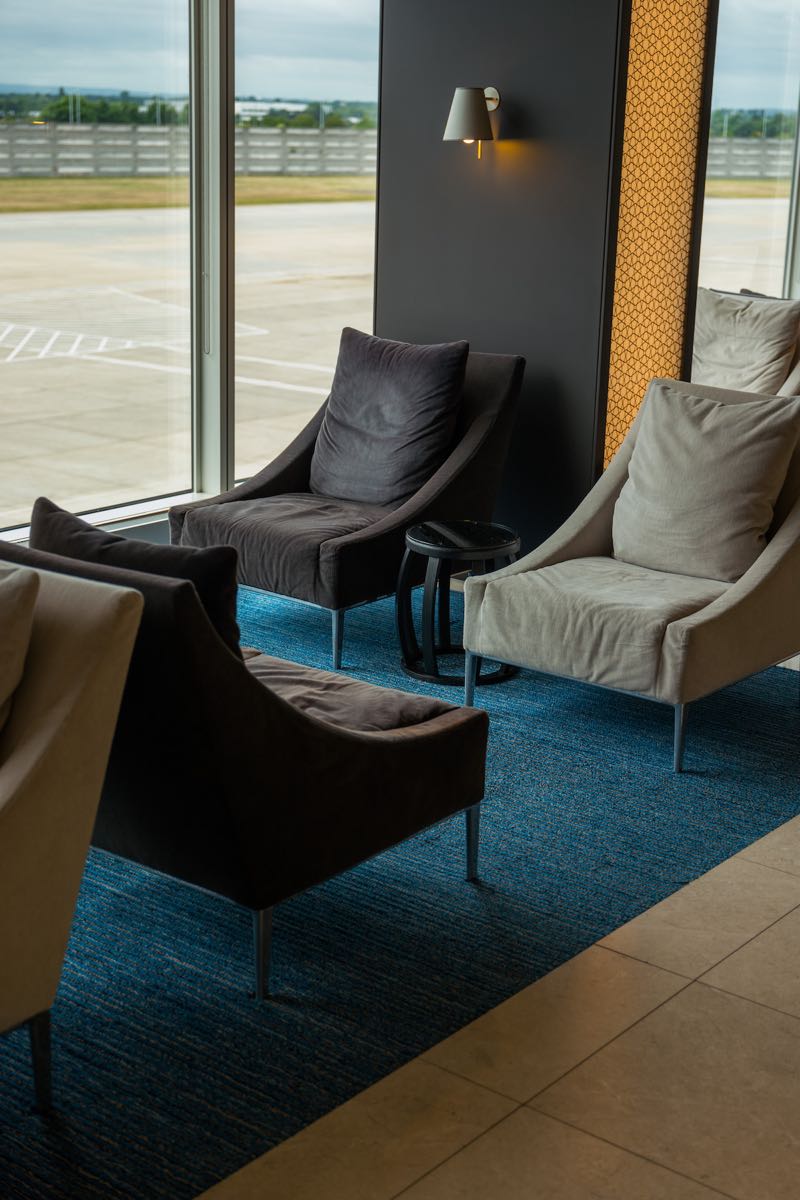 Qatar Premium Lounge
With several hours passing in work-related matters I was ready to have lunch. The staff had changed the buffet and presented Eid holiday menus along with the regular ones.
The lounge also has shower and business facilities, but as I didn't use them I will not be reviewing them.


A delayed QR A380, with EK's A380 taking off in the background
Hours pass quickly with good service, palatable food and comfortable seating and I was ready to try out the intriguing QSuites.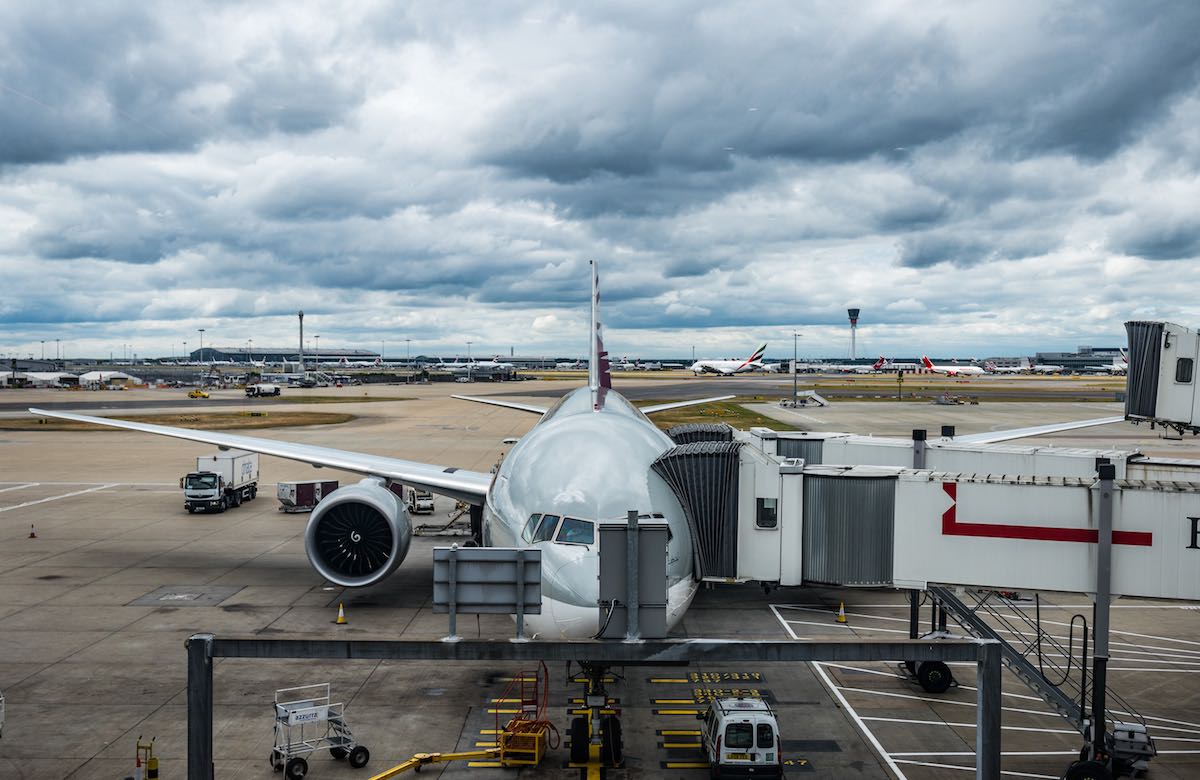 A7-BED, the first reconfigured 777–300ER with QSuites
The Qatar Airways Premium Lounge is located literally 30 seconds away from gate 6 gate, so moments later I found myself entering the coveted plane.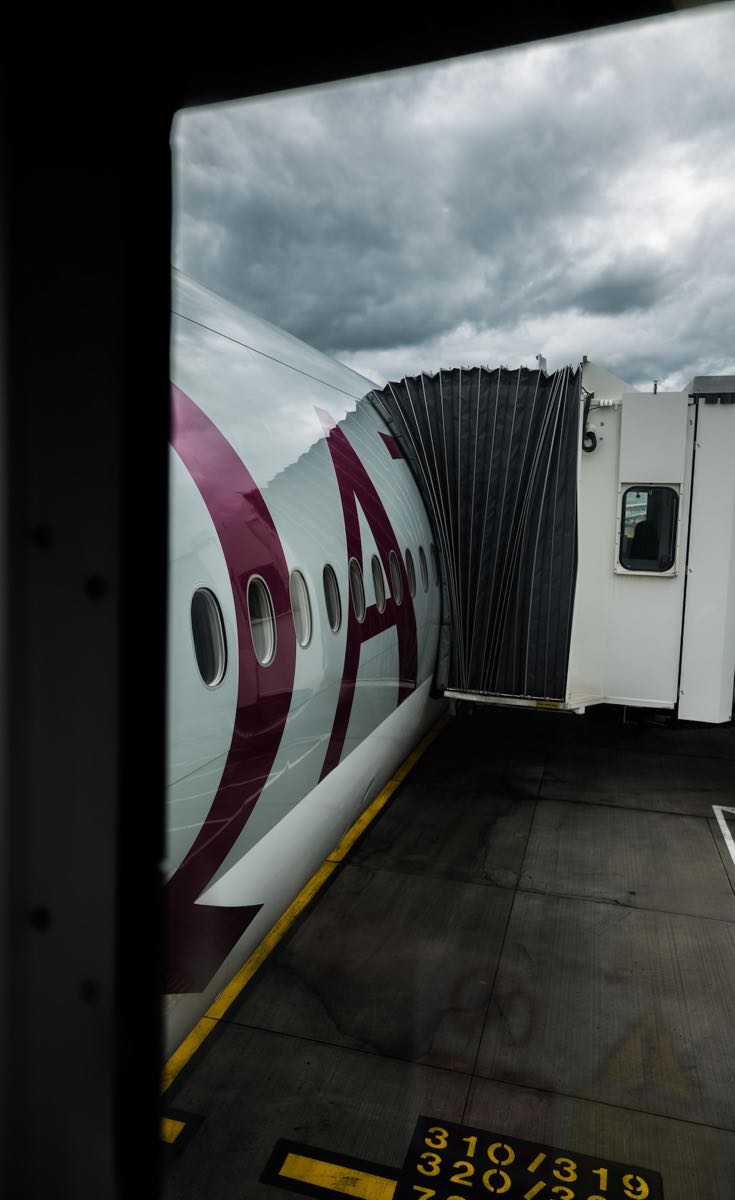 A7-BED, the first reconfigured 777–300ER with QSuites
I swiftly made my way down the jet bridge with excitement. For some reason it was winding and too long, giving second thoughts of whether I had gone in the right direction. Yet, shortly after I saw flight attendants greeting passengers at the plane's door.
The crew seemed very cheerful about the new product and warmly introduced me to the second QR8 flight with QSuites. I think they were glad I was as happy as they were in trying out the new configuration, as for most people onboard this was a great, totally unexpected surprise. A very significant upgrade over the previous 2–2–2 configuration of the 777–300ER.
It was time to see the innovative hard product in real life!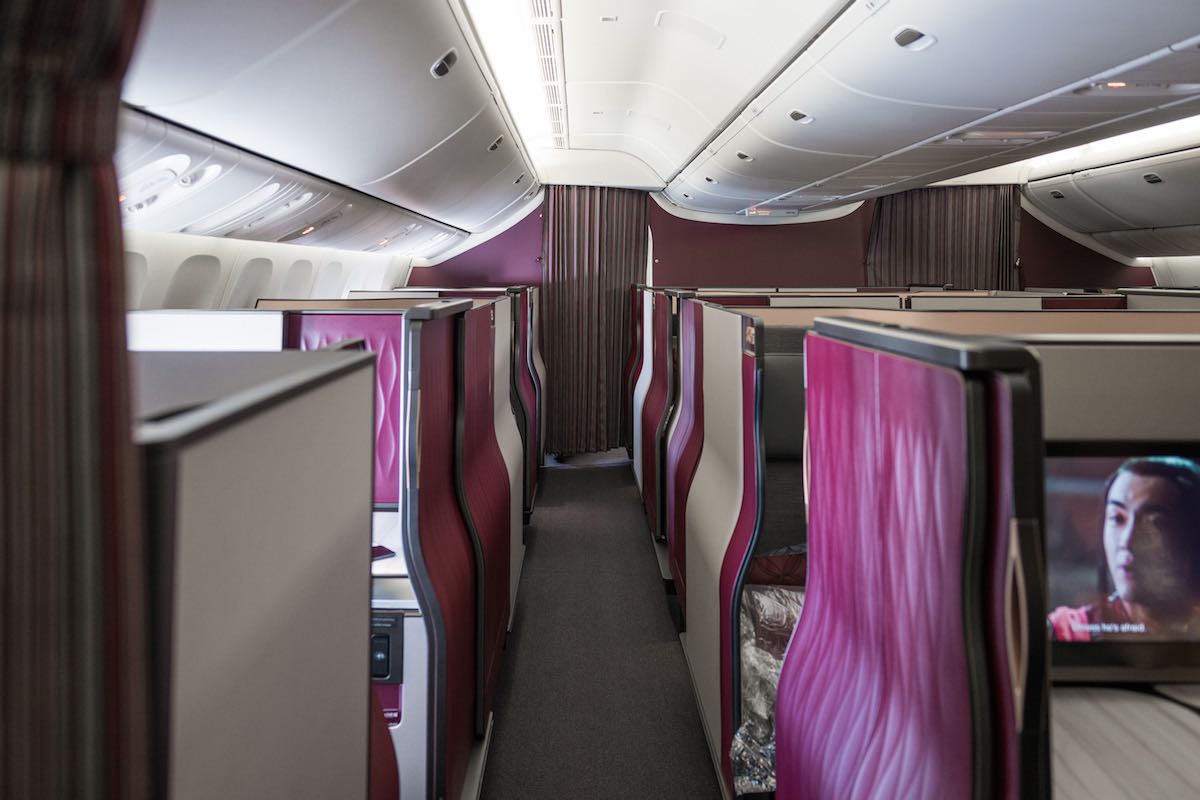 Qatar Airways QSuites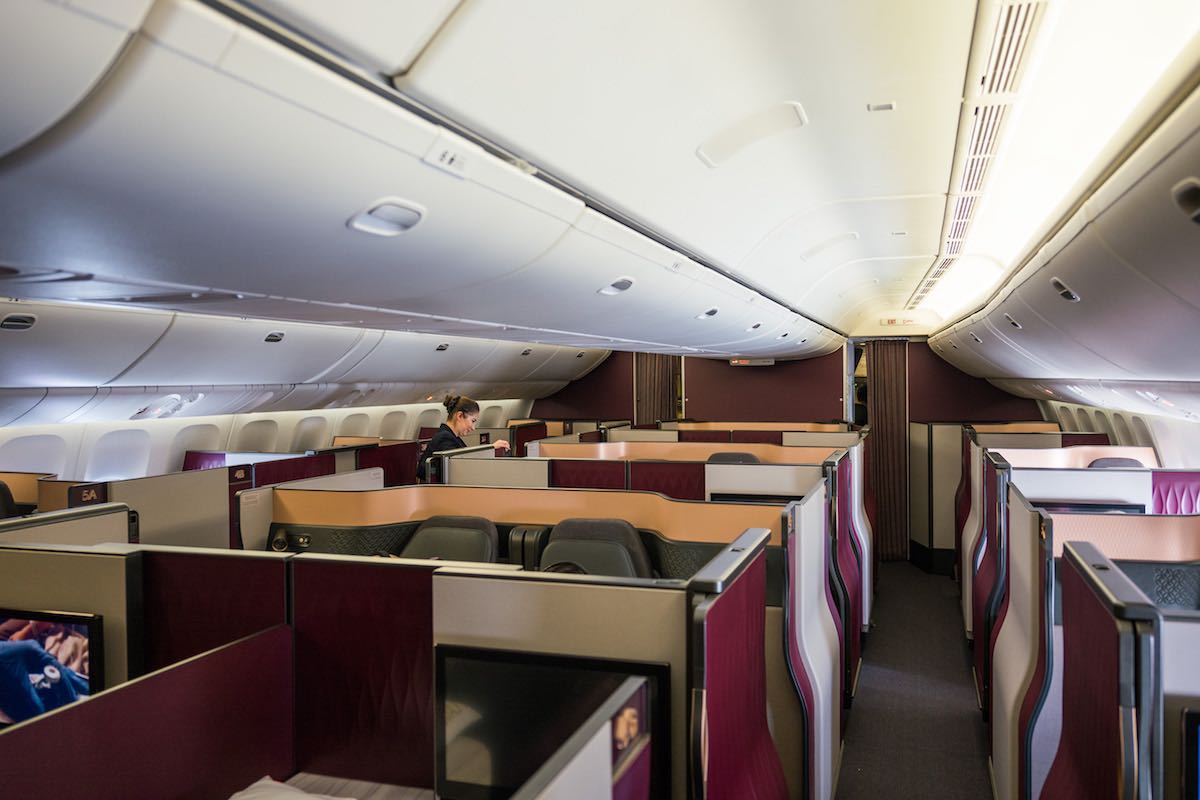 Qatar Airways QSuites
The design is stunning. It's all new, of course, fresh from the factory, with bright purple (Qatar colored) paint that gives off some alien vibe. The look is very sophisticated, you can easily get the impression that you are in a denser ANA or Emirates 777–300ER first class cabin. Absolutely does not look like business class. With each suite's walls being fairly tall and overhead luggage bins being present — there is a small feeling that the cabin is very packed, but that would be the only drawback in terms of the general cabin look and feel.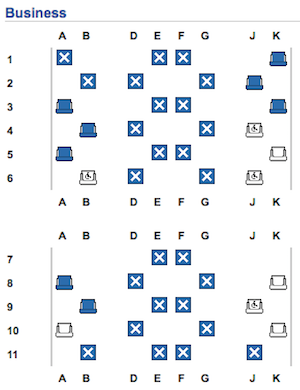 The business class cabin is divided into 2 section, the front having 24 seats (12 single window seats and in the center — 3 quadruple seats, or 6 double seats, depending on the party who had booked). The back having 18 seats (8 single window seats, 2 quadruple and 1 double, or 5 doubles).
There are some complex rules as to how the different kinds of seats can be booked, but it all boils down to the number of passengers in your reservation. As I was traveling single — I could only choose the single (window) seats. When the Quadruple seats are broken down (i.e. a couple books half of it) — it opens to single travelers as well. And if you are a party of at least 3 — you can book the Quadruple.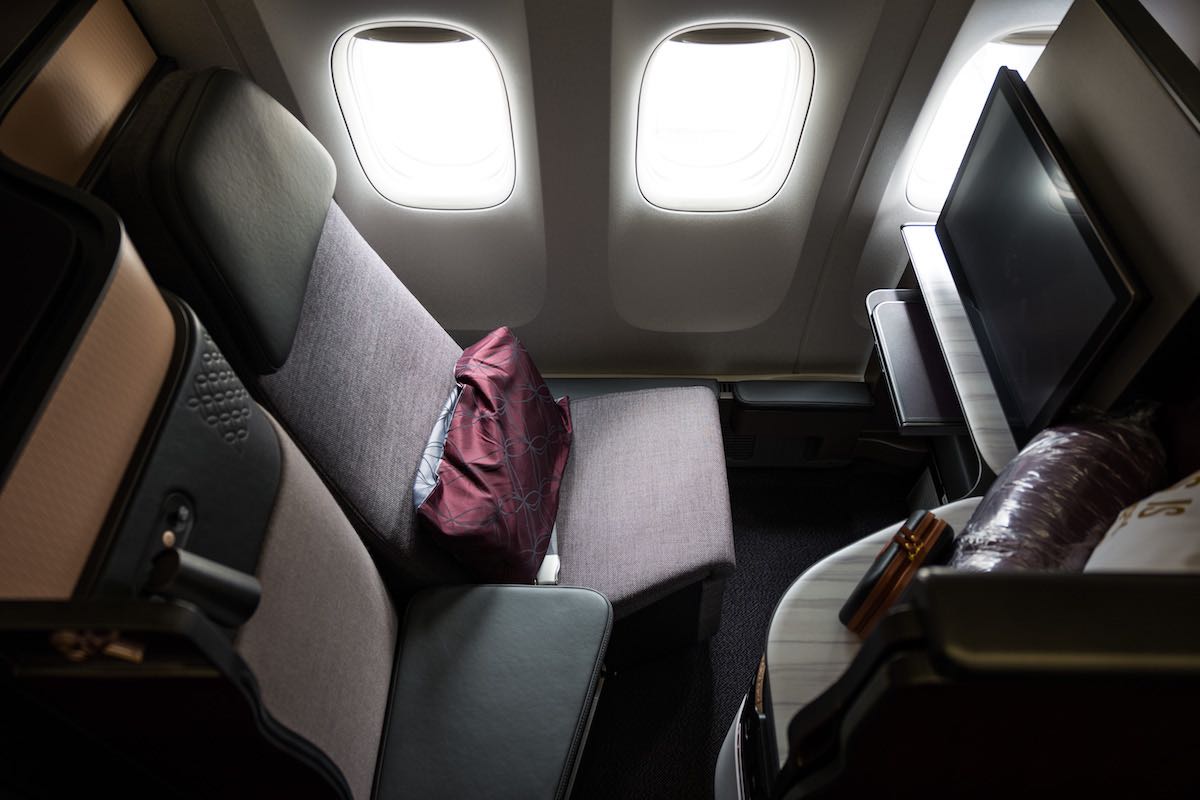 Qatar Airways QSuites
During check-in I selected seat 8K, which resides in the rear cabin and is a rear-facing seat. The single window seats alternate between front facing seats, closer to the aisle, and rear facing seats, closer to the window.
While photographing my suite, the flight attendant who would be taking care of me, came to introduce herself. Her name was Kantamala and from her enthusiasm about the QSuite and Qatar Airways in general — I could anticipate attentive and pleasant service for the flight ahead. To my comment about this seat trouncing certain first class offerings, she responded that this was first class, just sold as business class. Confusing as that may be, their slogan is First in Business.
A hot towel and refreshing but sour lime & mint was brought shortly, just as I noticed the two pillows (a small one and a larger one), as well as a very soft and fuzzy blanket placed in the suite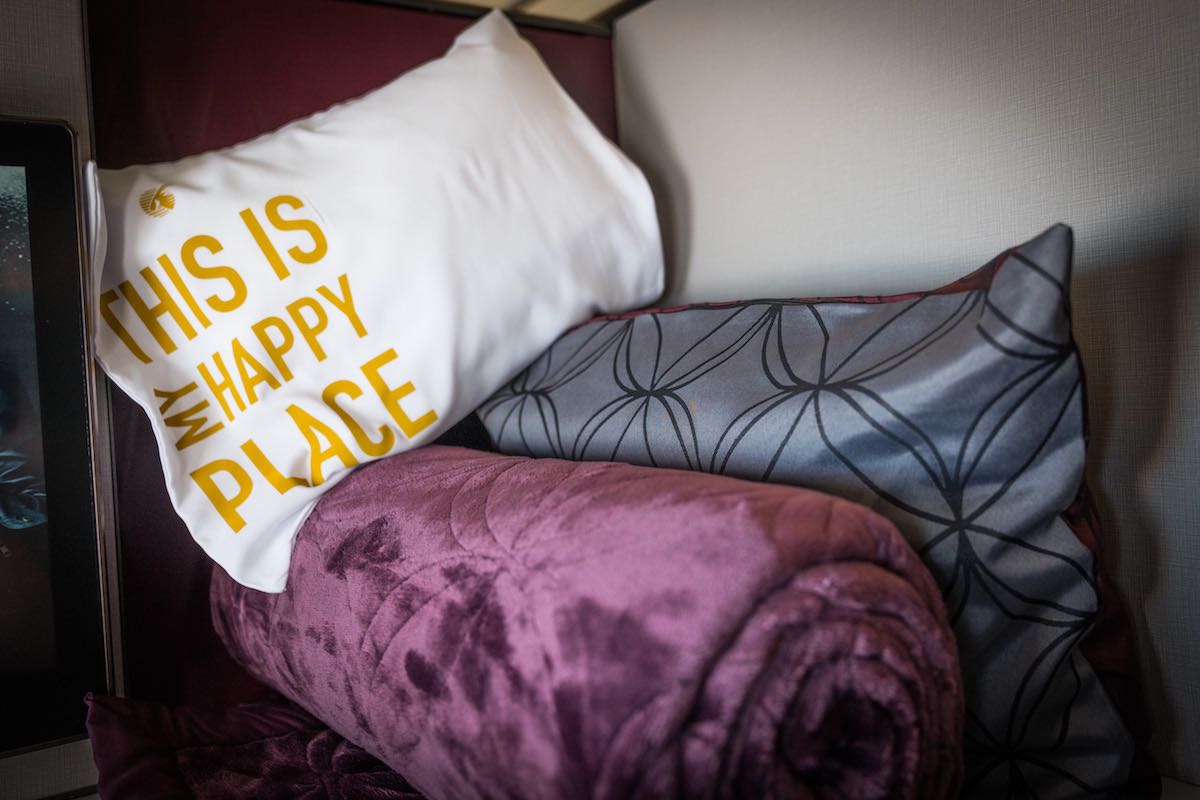 Qatar Airways QSuites
The cabin was quickly filling up, with all but 1 seat occupied — a front-facing single seat. I tried it out and failed to find anything different from mine, it's just rotated 180 degrees. In terms of privacy — they are the same, both have a door that closes. I like photographing the landscape during flight, so being a bit closer to the window is nice.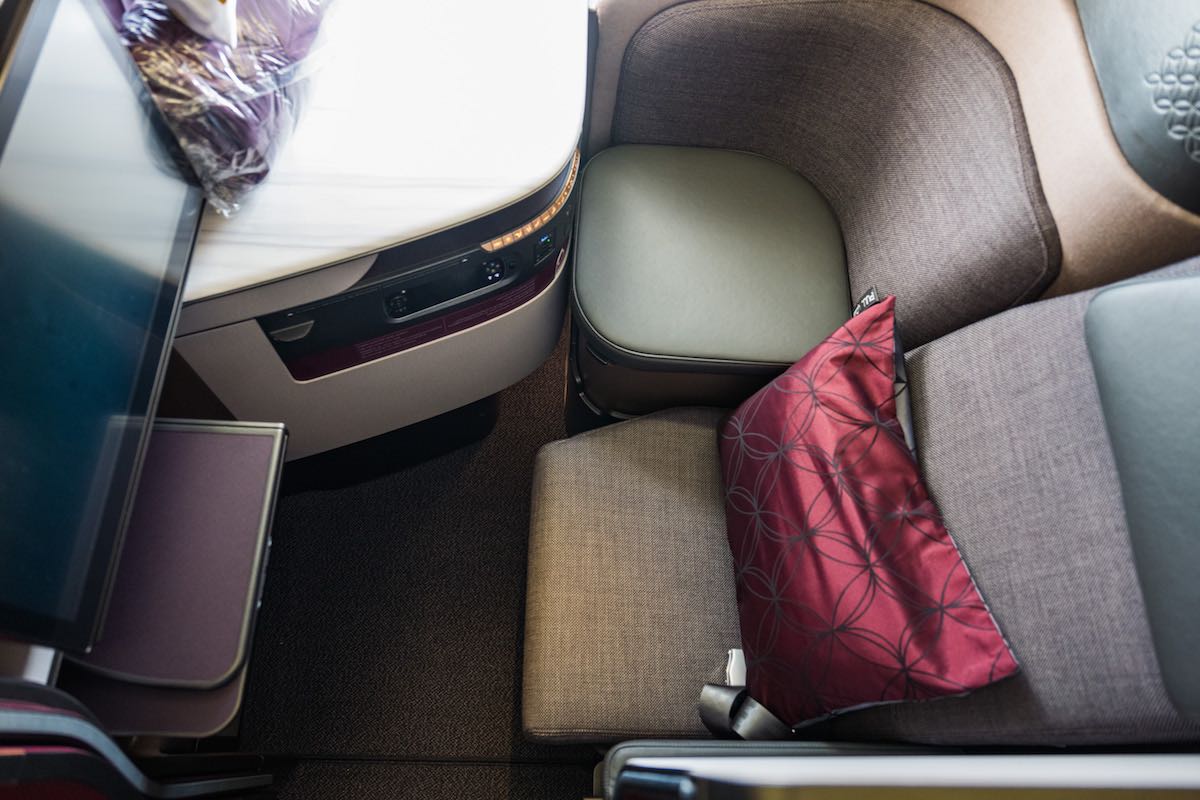 Qatar Airways QSuites
I didn't have a chance to experience the quadruple seat, only briefly reviewed it with the passengers nearby, but essentially the seat is identical to the single ones, but they are together. As you can see, the quadruple seat has two passengers sitting together in very close proximity and two being well divided by the storage/handrest and divider.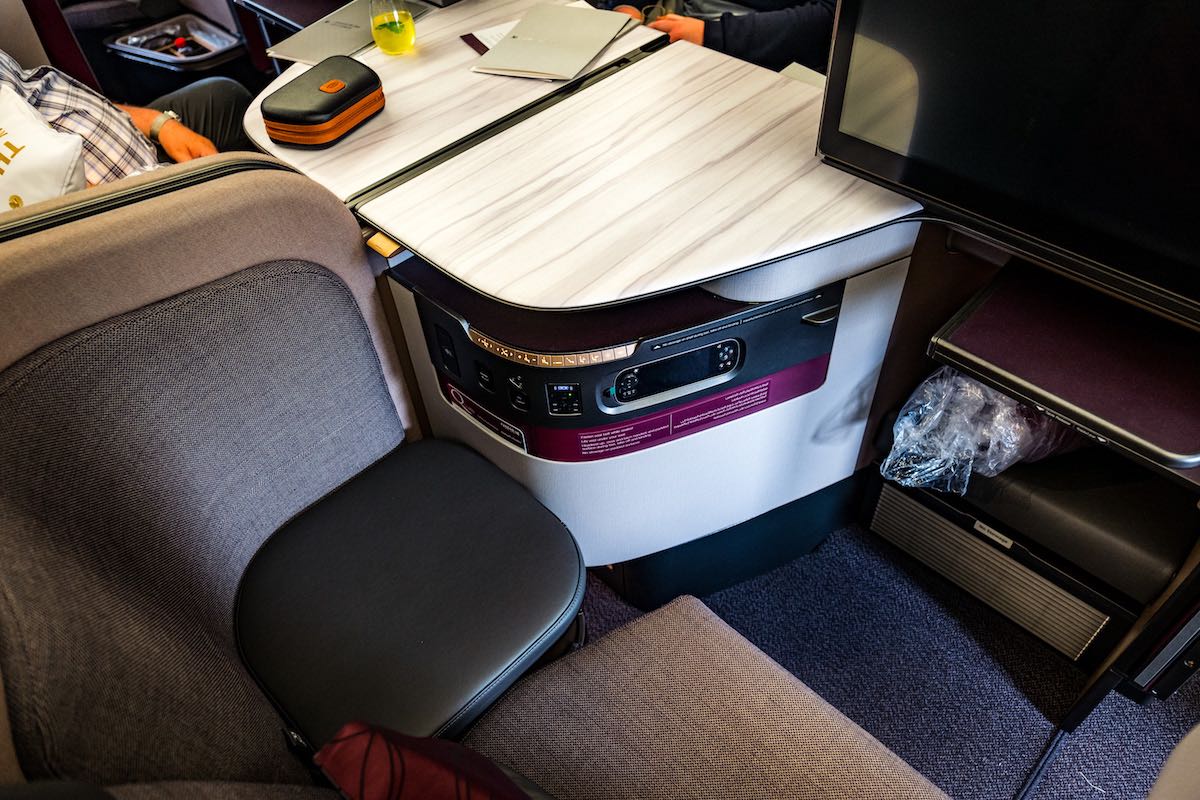 Qatar Airways QSuites quadruple seat
Dividers can be raised and lowered by crew to accommodate the passengers. Although the idea of seating 4 people together provides great opportunities to communicate when traveling in a group, I see some scenarios where it won't really work out.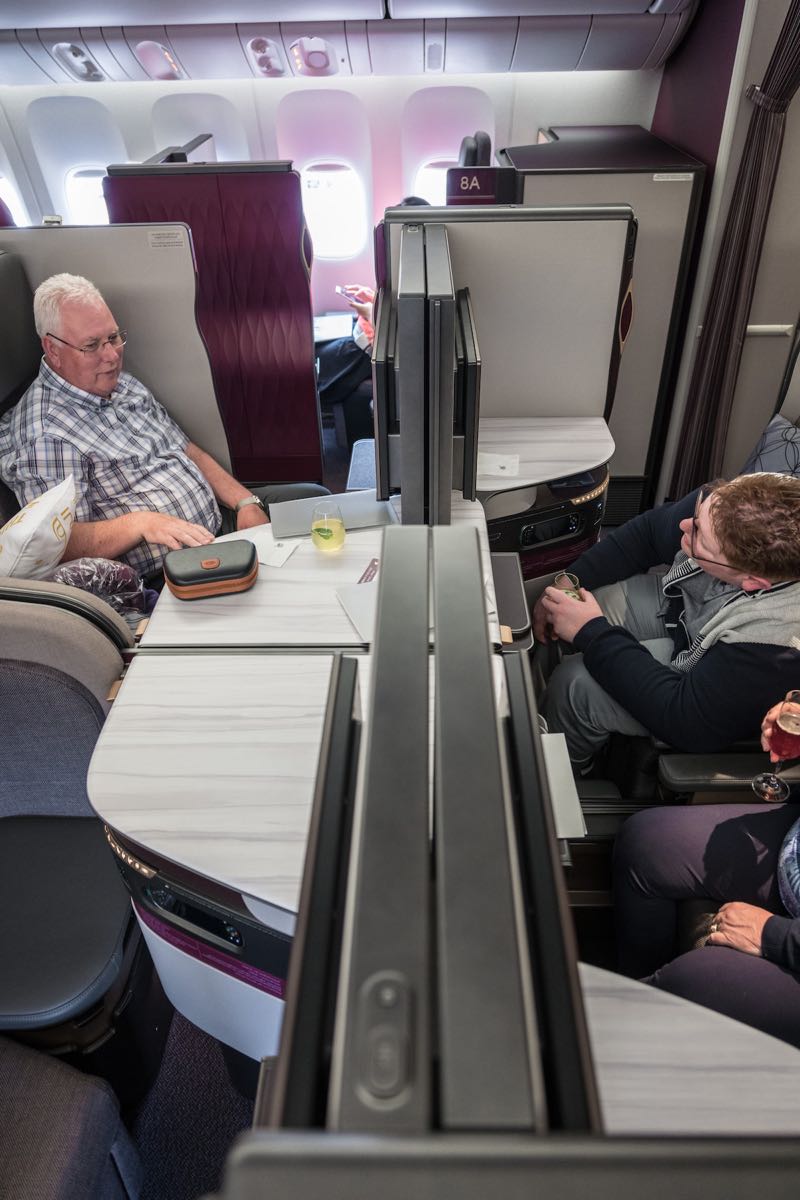 Qatar Airways QSuites quadruple seat
For example, when 2 couples travel — it's great. One couple could take the "close together" seats on the inbound, the other couple on the outbound, it doesn't matter. But what if it's work colleagues? As the "close together" or "honeymoon" seats convert into a double bed, wouldn't it be awkward to sleep so close to a coworker? I guess the divider can be raised but you would still be very close to each other. It would work best for families of 4 though.
The ergonomics of the seat are top notch. Everything is located within reach and intuitively understood.
The Oryx One IFE system has a large screen, with crisp HD. The controller looks like a portable gaming console and is responsive, with a high resolution screen.
An abundance of ports — HDMI for displaying your own media, socket, double USB ports, slot for headphones and an NFC reader (did not try due to Apple's iOS being extremely limited in this department).
The control buttons and a shelf, convenient for storing any devices you might be charging from the USB/Socket ports just below.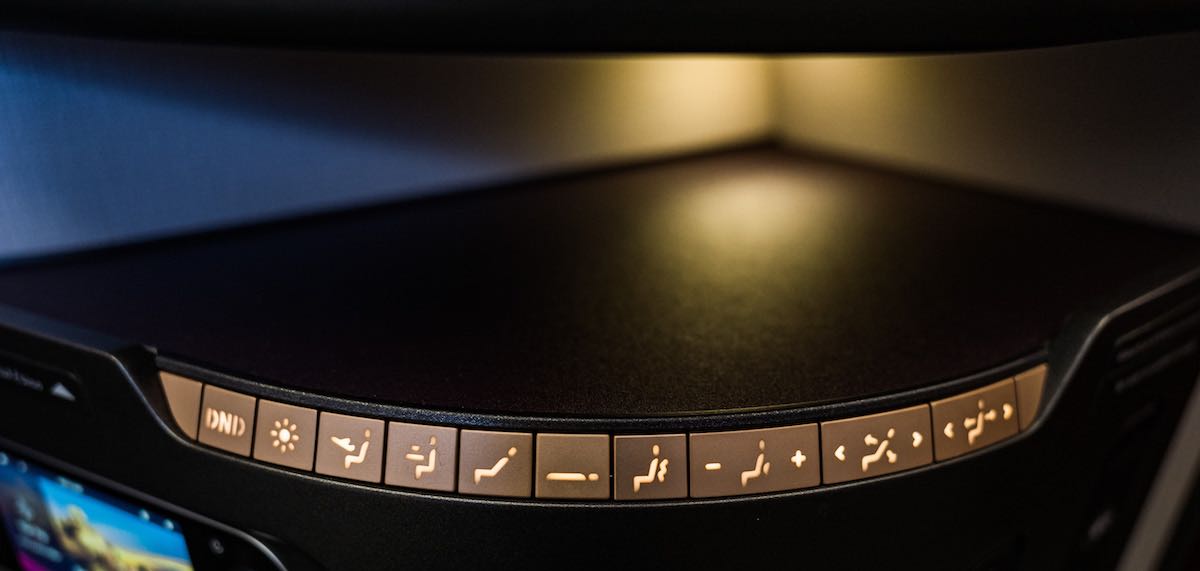 Qatar Airways QSuites
Most controls are done from this button panel — do not disturb to prevent FAs from checking in on you, the light above, upright, lounging and bed seat position, massage, lumbar support, and seat recline/movement.
On my right was the single large (fits 13′ MacBook Pro) storage facility, with a bottle of Vittel water, airline and Duty Free magazines, and headphones (noice cancelling, but average sounding, BOSE would be nice to have).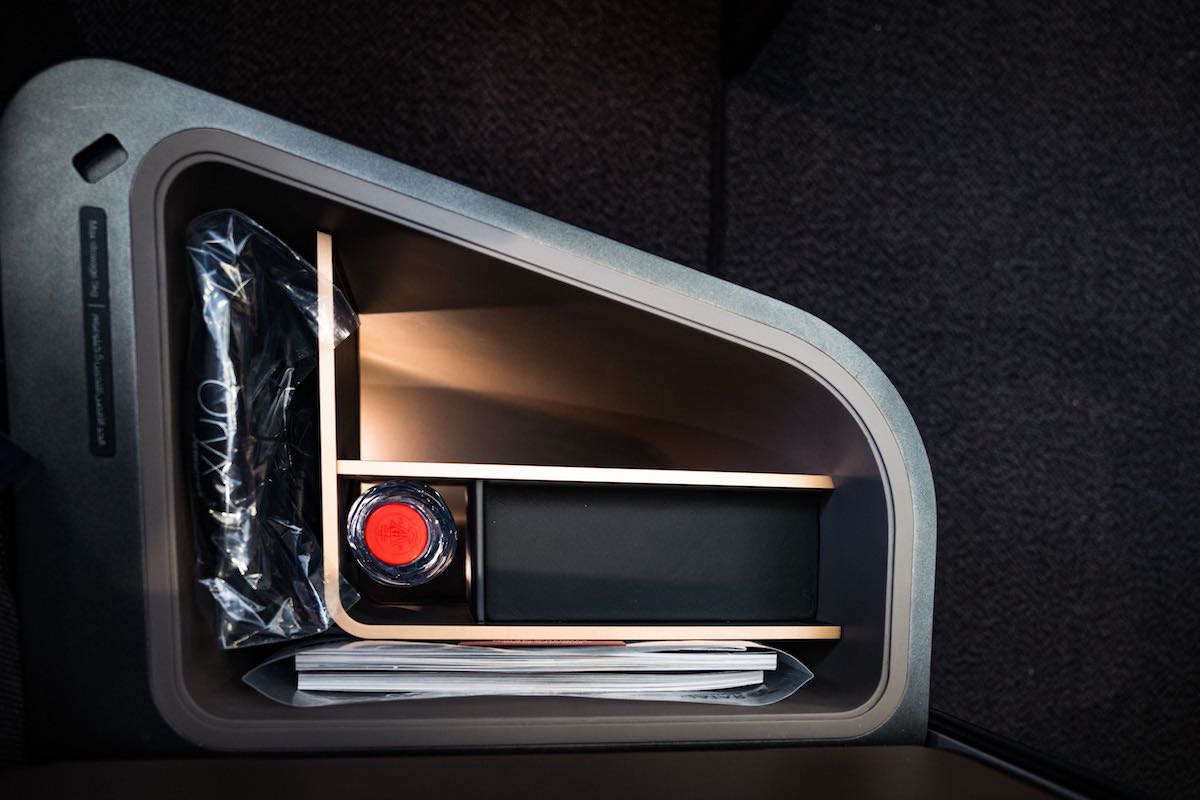 Qatar Airways QSuites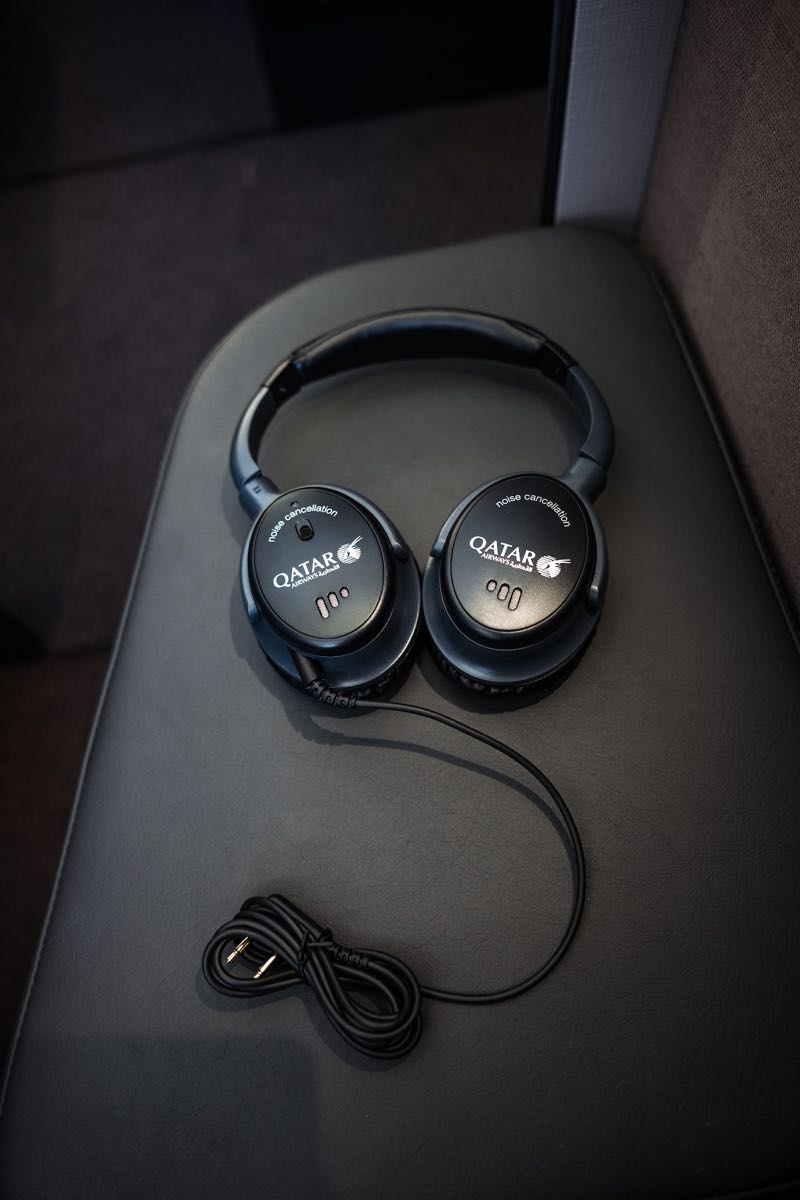 Qatar Airways QSuites
The storage nook also serves as an elbow rest that can be extended or retracted.
Amenity kits from Bric's and Monte Vibiano were placed in each suite. Containing cream, facial mist, lip balm, eyeshade, and a pair of socks. Dental and shaving kits, as well as hand lotion were offered in the lavatories.
The table is stored underneath the IFE screen, is large, can be compacted roughly in the middle. In fully extended mode  it  does not move.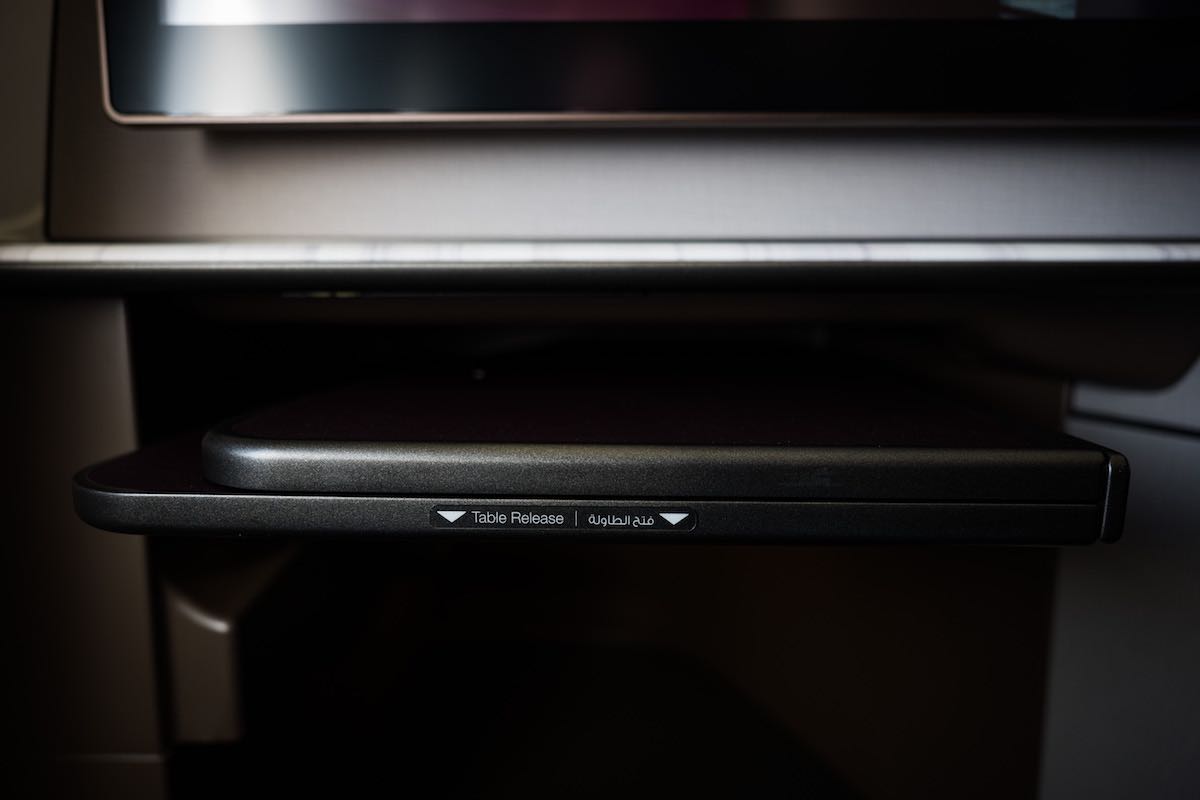 Qatar Airways QSuites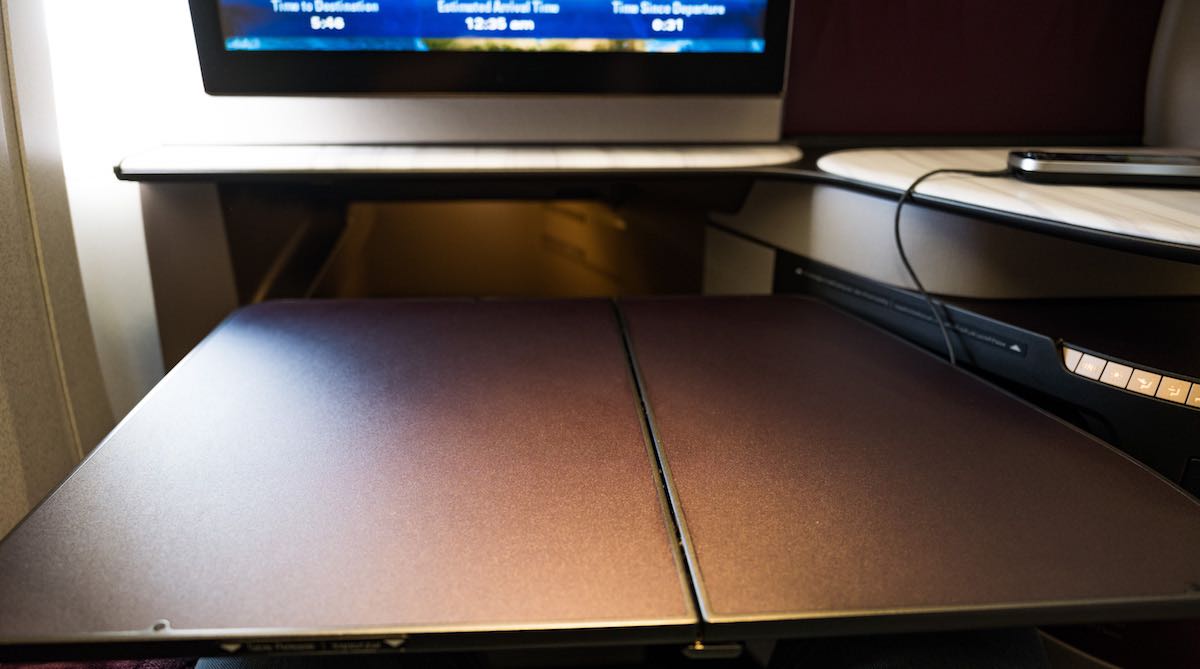 Qatar Airways QSuites
With the crew performing final preparations before the flight, I evaluated the actual space of the suite — was it enough? Being 6'4″ I had enough legroom — while sitting, while lying down and while lounging. Even a slightly taller person would be perfectly comfortable in this seat.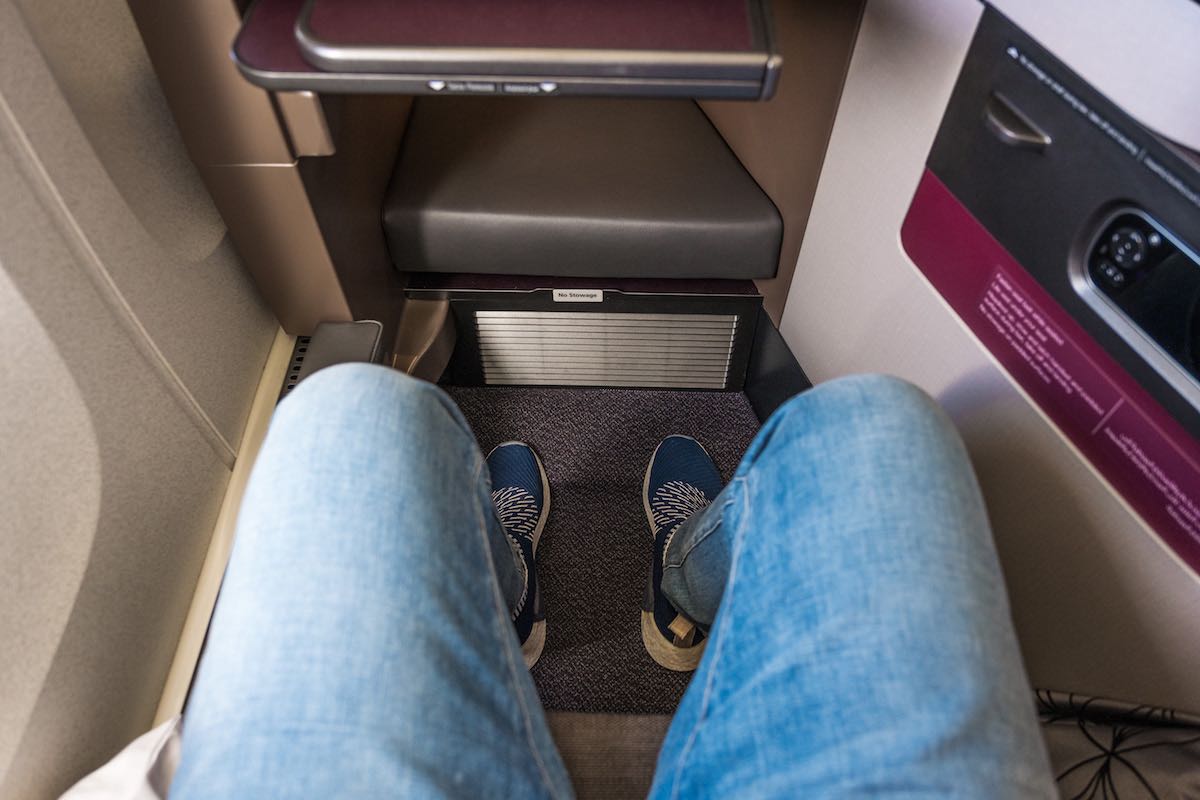 Qatar Airways QSuites
The seat itself is a bit on the firm side, with no stiffness setting, like Swiss Airlines, among others have in their longhaul business class seat. The materials — both the leather parts and the fabric ones are pleasant to touch, although one might wonder if the fabric part will look as good as new in a year or two.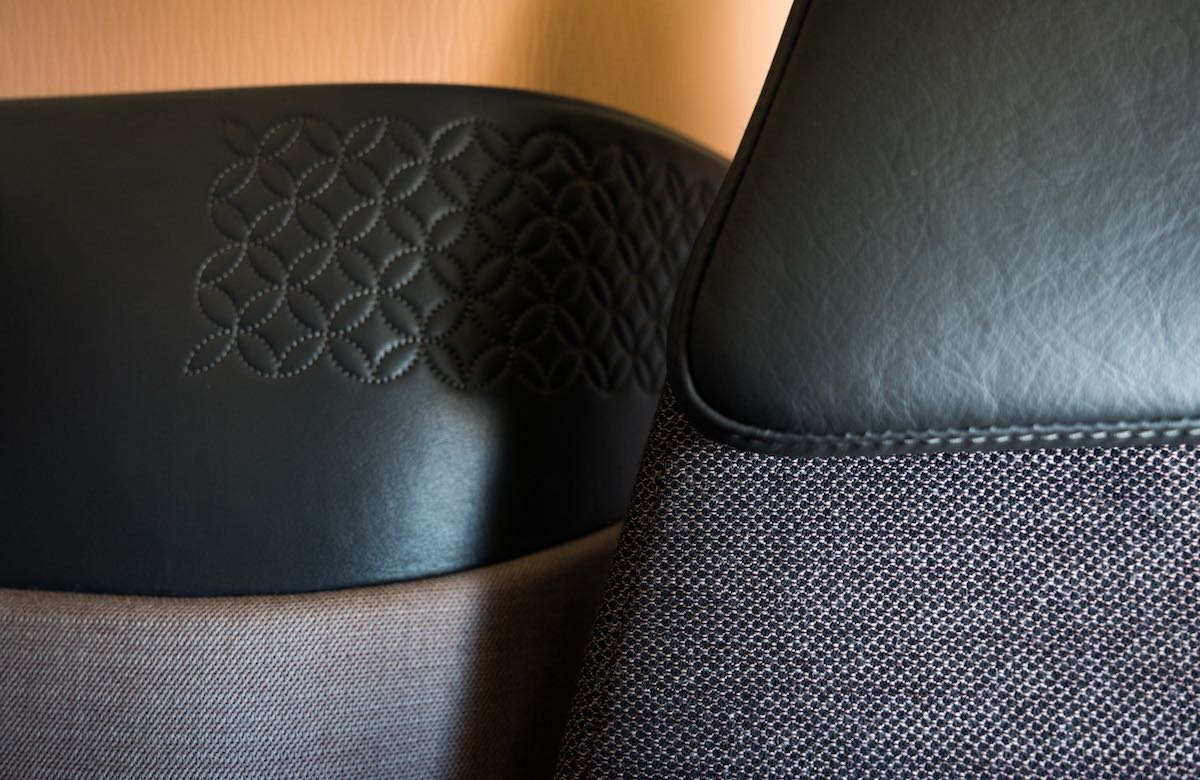 Qatar Airways QSuites
Above the seat were individual air nozzles — they proved themselves extremely useful as the cabin was kept very warm throughout the whole flight. And on my right side was a coat hanger and a small lamp (that helped greatly in evening food photography).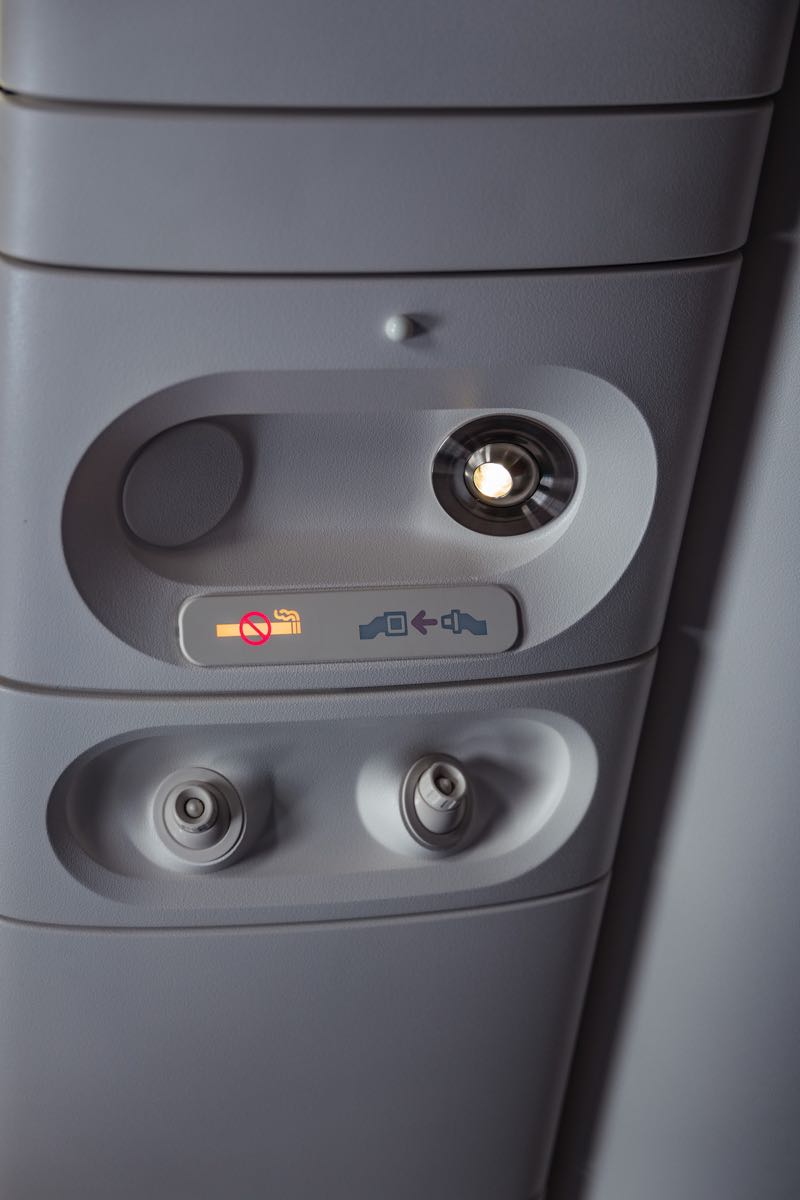 Qatar Airways QSuites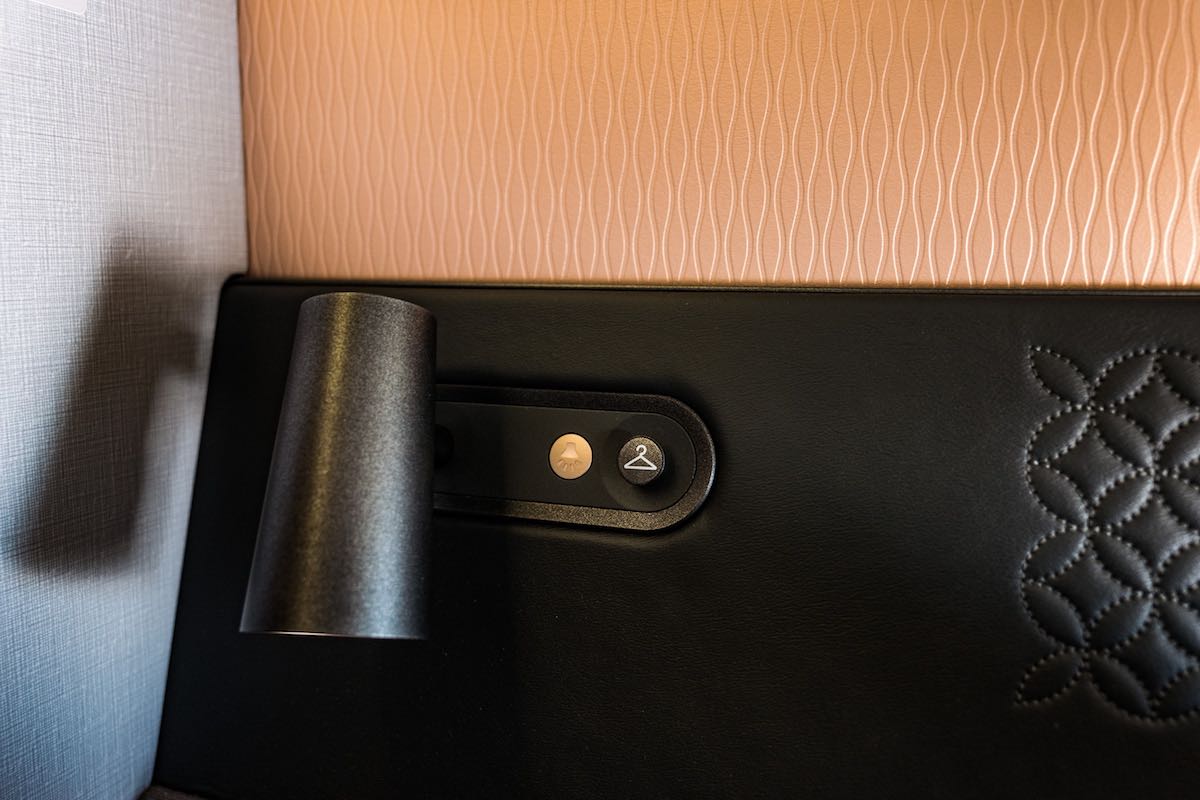 Qatar Airways QSuites
The take-off and climb were exceptionally smooth, with seatbelt sign getting turned off about 15 minutes into the flight.
https://vimeo.com/223176699
Almost instantly the flight attendants sprang into action, taking orders for meals. Qatar Airways has a dine-on-demand concept, allowing passengers to have their meals at any convenient time. I decided to have dinner an hour into the flight and in the meantime was offered warm nuts and a traditional masala-like drink called Karak with cardamom.
Menus were distributed prior to take-off. There were several choices for snacks, as well as starters, appetizers and main dish.
The wine list was expansive and presented in great detail. I don't drink so didn't order anything off it.
For dinner though I selected the roasted red pepper and tomato soup, goat cheese and roasted pumpkin salad, arabic spiced chicken kapsa with rice and a cheese plate.
I've also checked out the Oryx One entertainment system, which seemed to be filled with a number of recent movies as well as multiple popular series.
The only disappointing thing was the airshow — same as you would find on a 15 year old product — low resolution, no control over it, as it just cycles through the pre-programmed screens.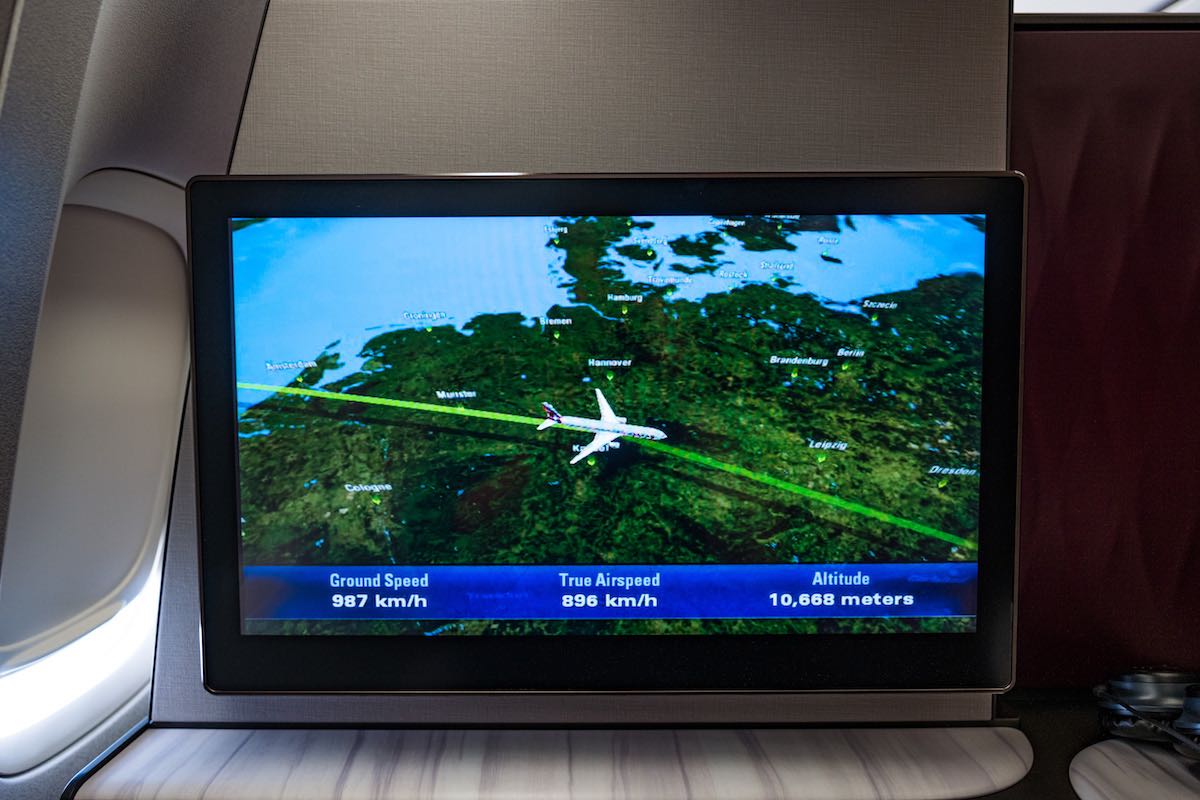 Qatar Airways QSuites
At this point I was feeling extremely satisfied by the product — the seat, as far as I saw it had no flaws, especially when taking into account that it is a business class seat. The service was impeccable — all flight attendants have been very friendly, helpful and positive.
The only significant flaw of QSuites at this point is the lack of inflight Wi-Fi. We're halfway into 2017 and it's such an oversight to not install it on the reconfigured A7-BED before it went into service, as even domestic European flights on carriers like Austrian and Lufthansa are starting to have it. Hopefully, the only reason they forfeited the installation is that they wanted to launch the plane earlier, and future new planes or retrofits will have wi-fi straight away.
I thoroughly enjoyed the dinner. It might not have been exactly gourmet, but it was flavory and generally delightful. The appetizer was spicy and surprisingly edible.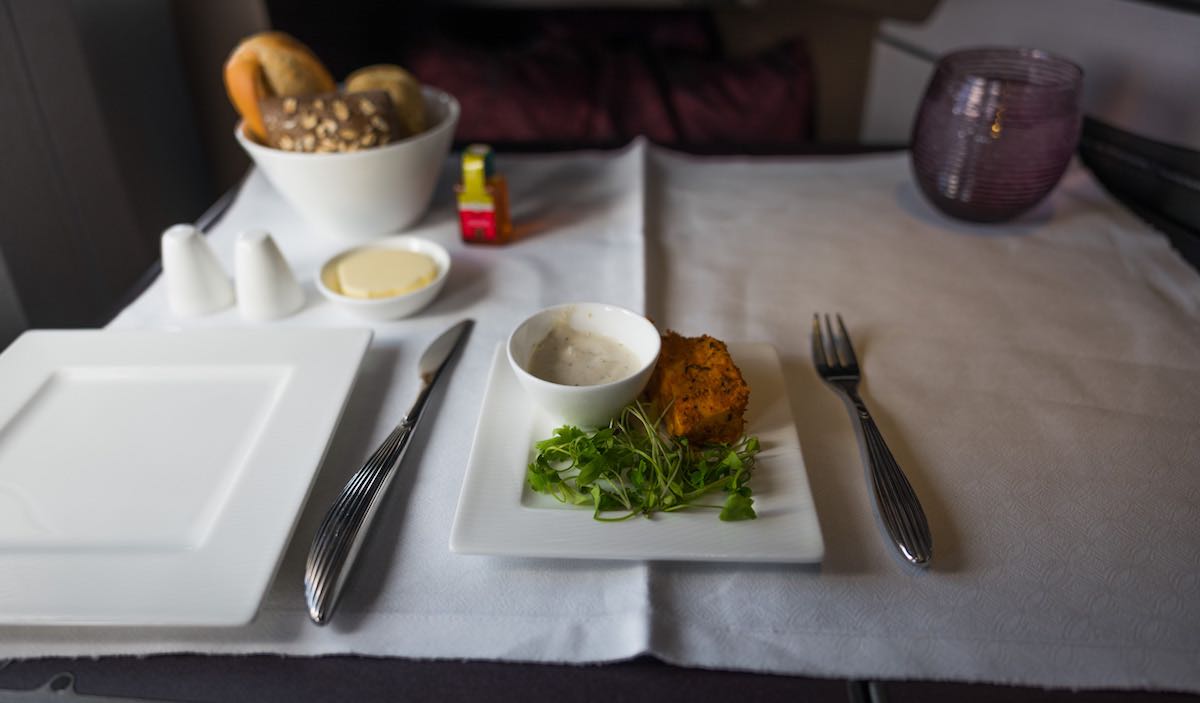 Chicken tikka masala
Soup — although simple — was very tasty, best soup I've had in the sky.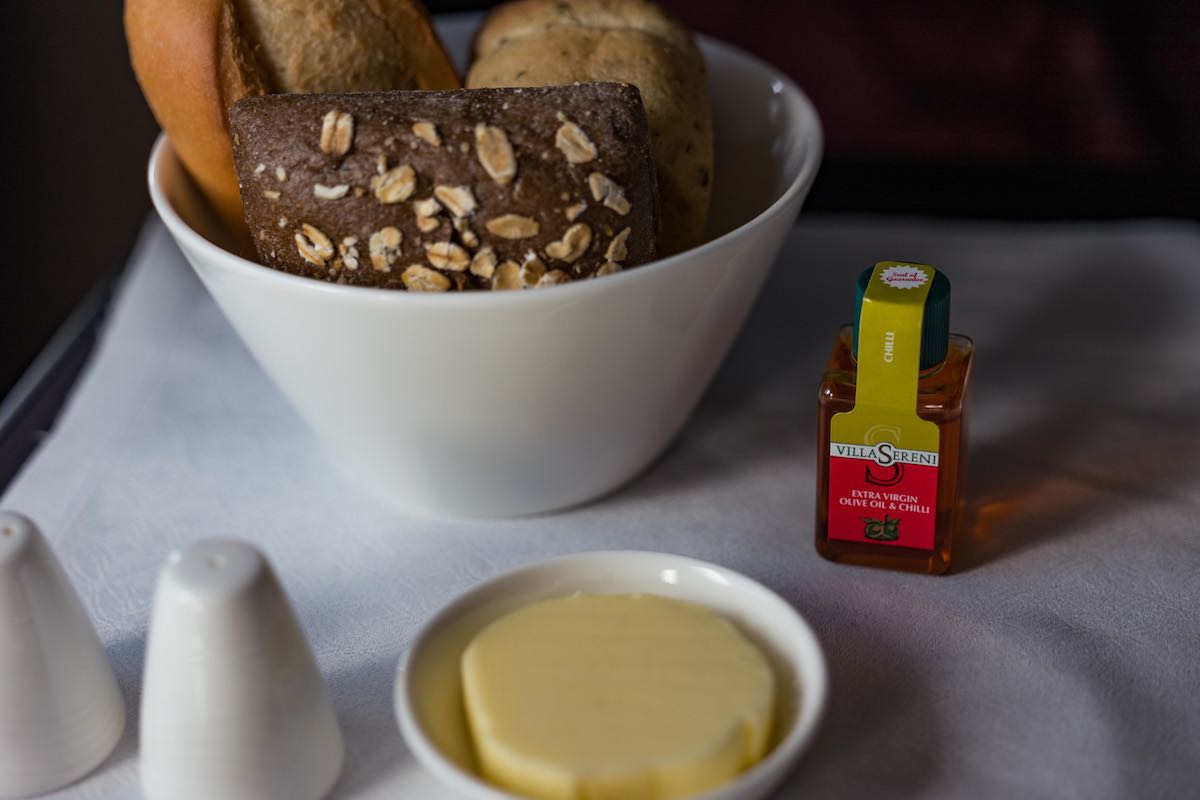 Bread basket with spicy olive oil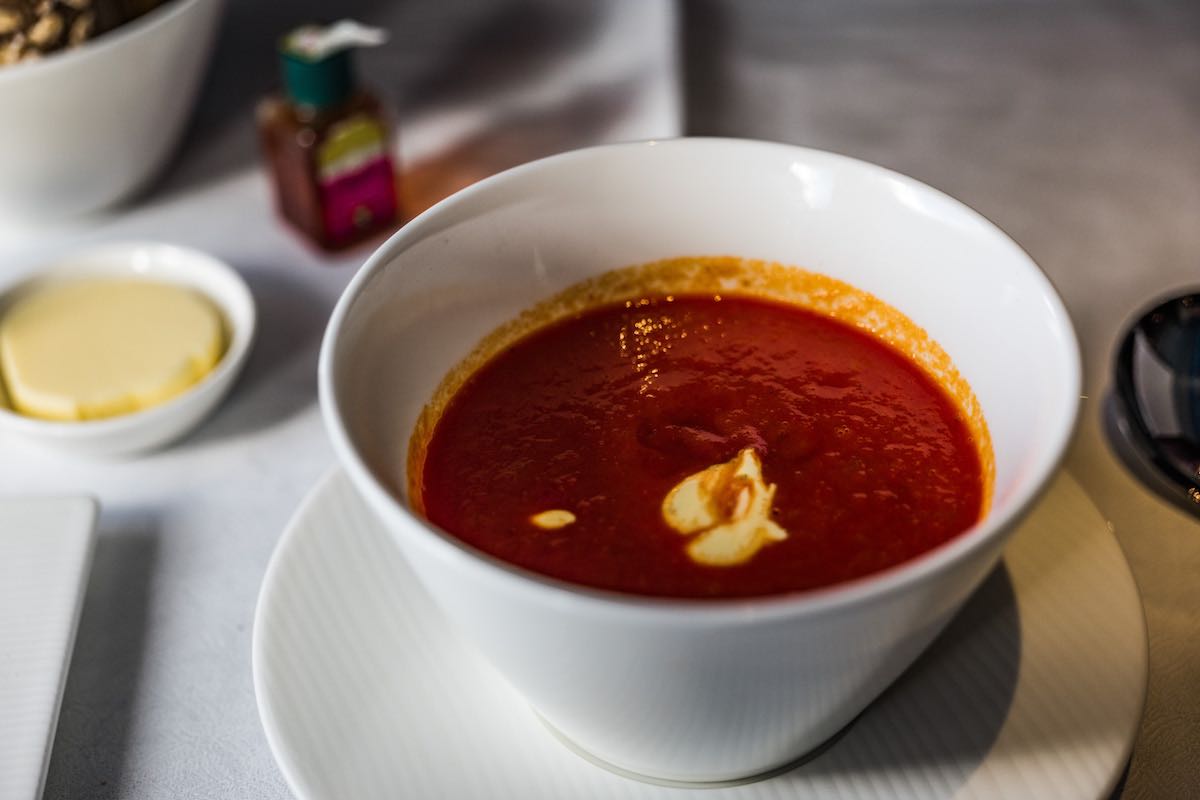 Roasted red pepper and tomato
The salad was the only disappointment, as it did not have any taste whatsoever.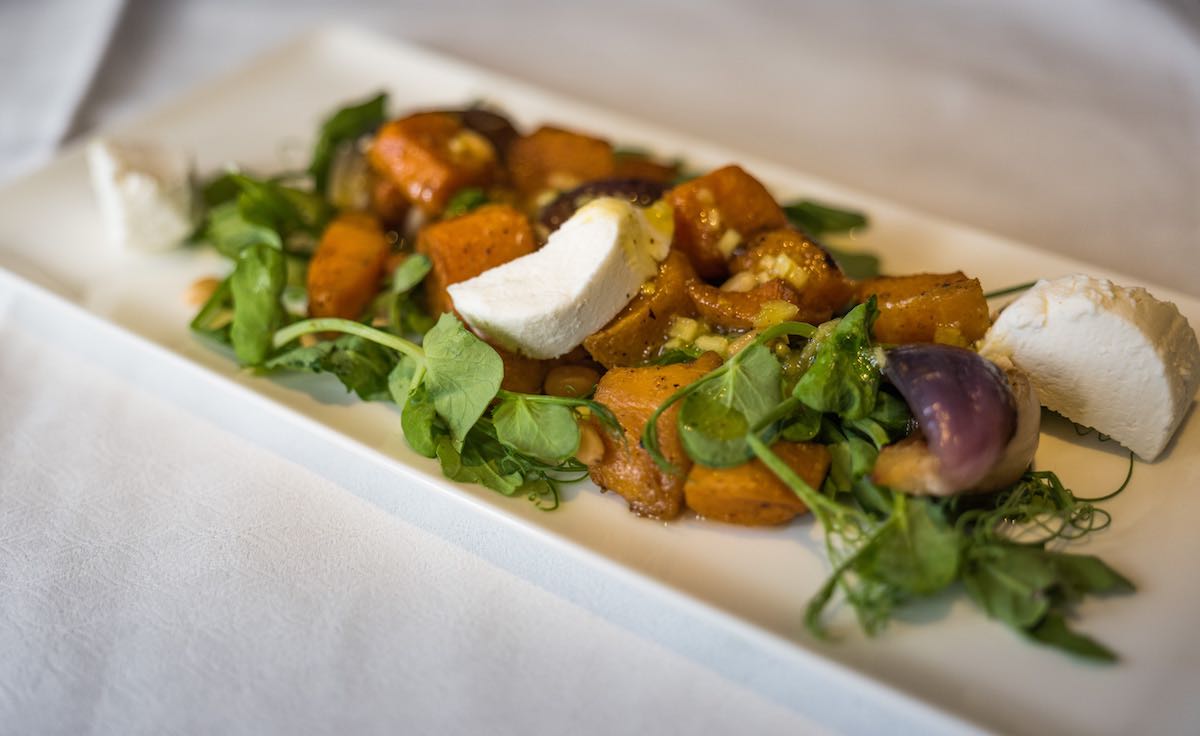 Goat cheese and roasted pumpkin salad
The main dish was the highlight — hot, peppery, with the grilled vegetables complementing the spiced chicken bits nicely.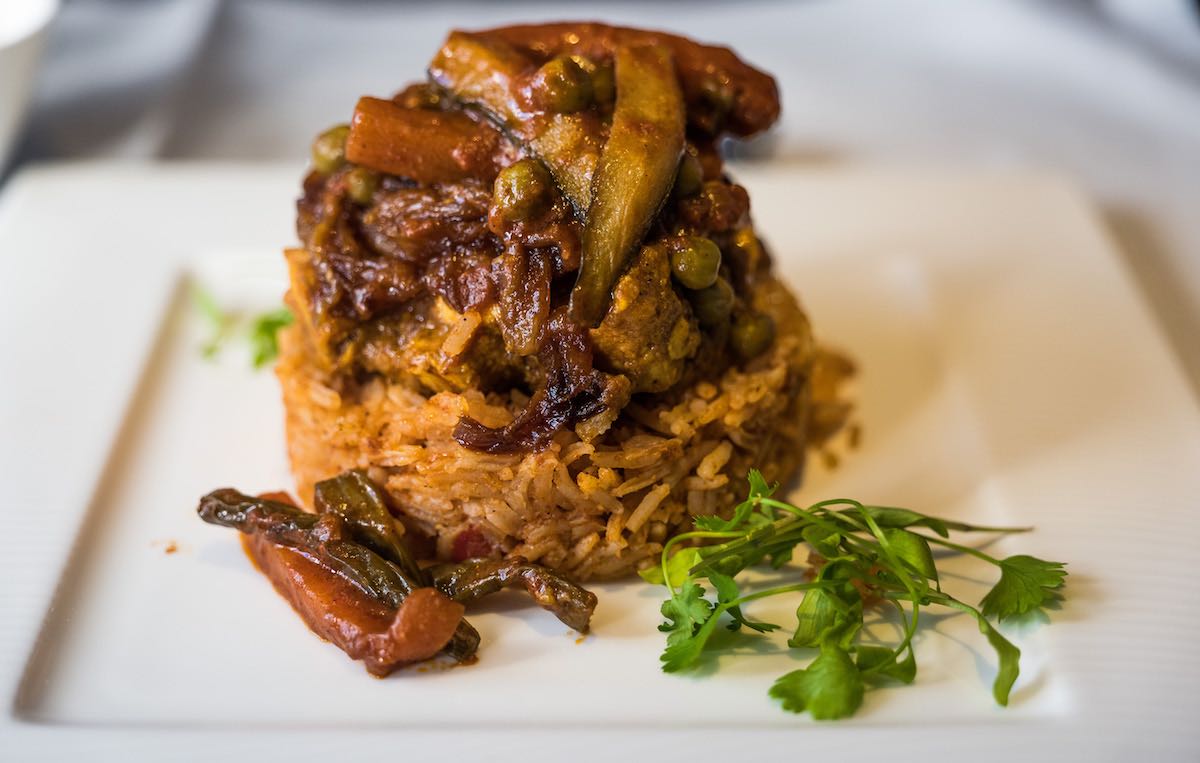 Arabic spiced chicken kapsa with rice
And the cheese plate — was as you would expect — a cheese plate.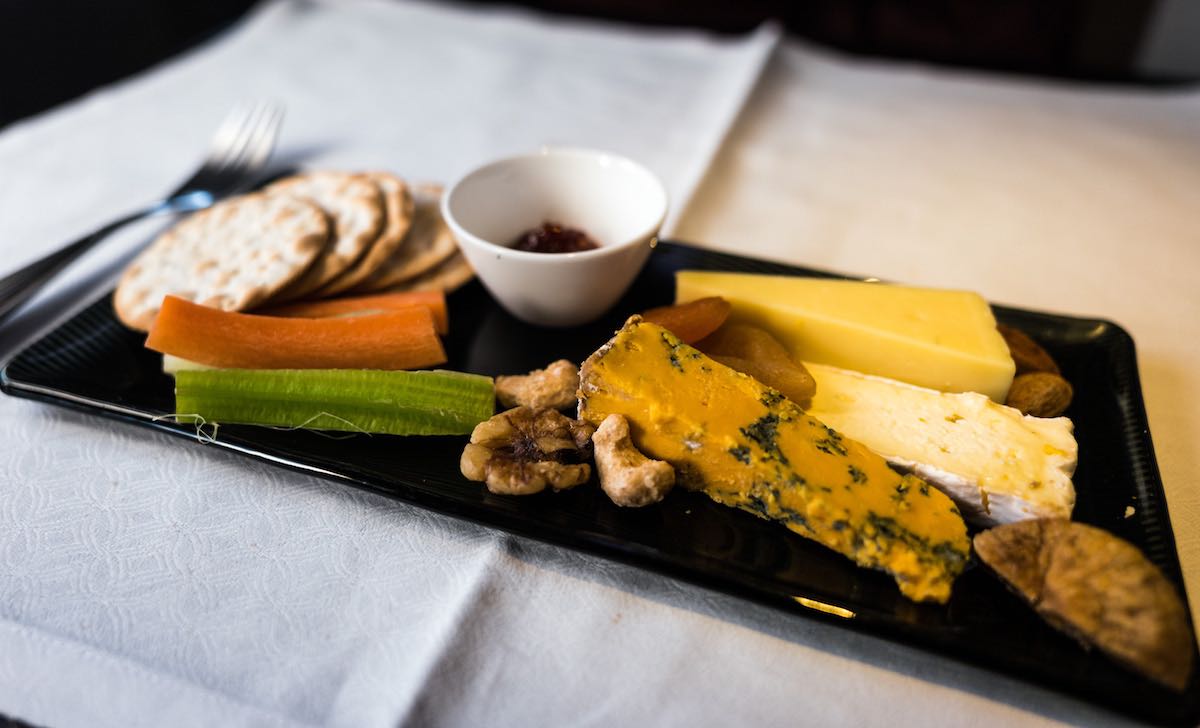 Qatar Airways cheese plate
The whole meal service took about an hour, but I was enjoying it at my own pace, as most of the cabin had their dinner right after take-off and the flight attendants were no longer busy.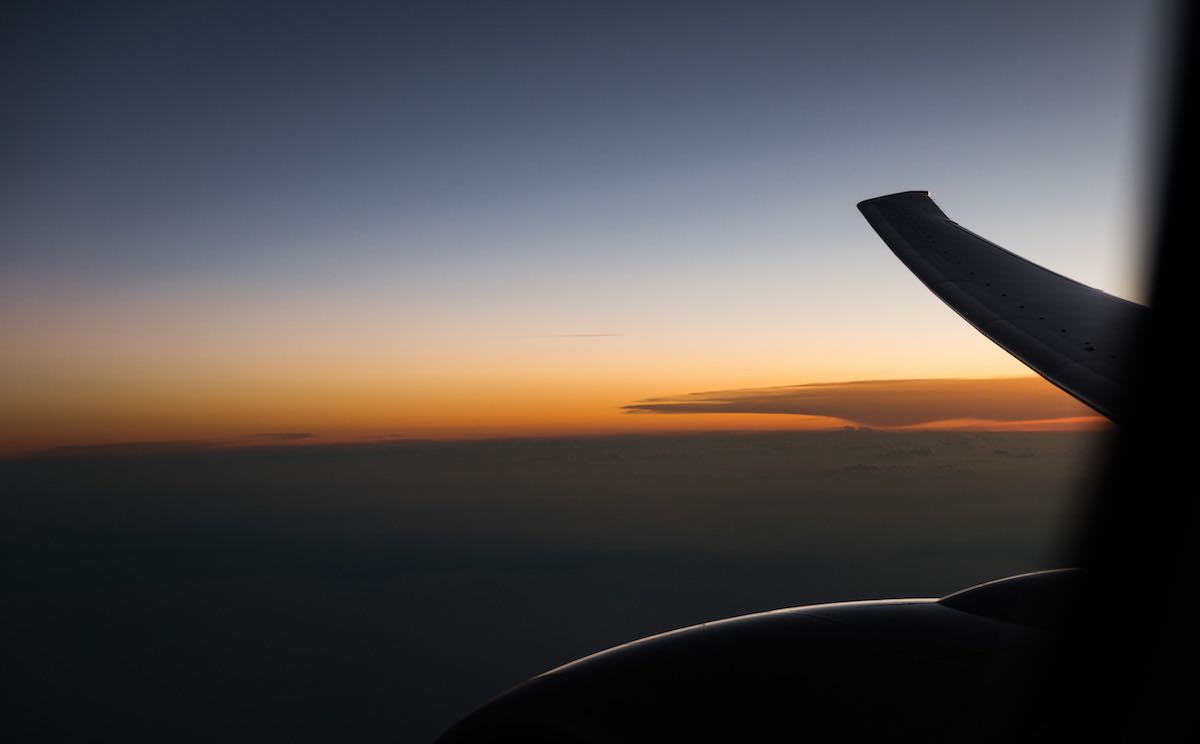 Sunset over Romania
As the flight proceeded over Eastern Europe I decided to try out the fully flat bed (comically — on a plane registered as A7-BED).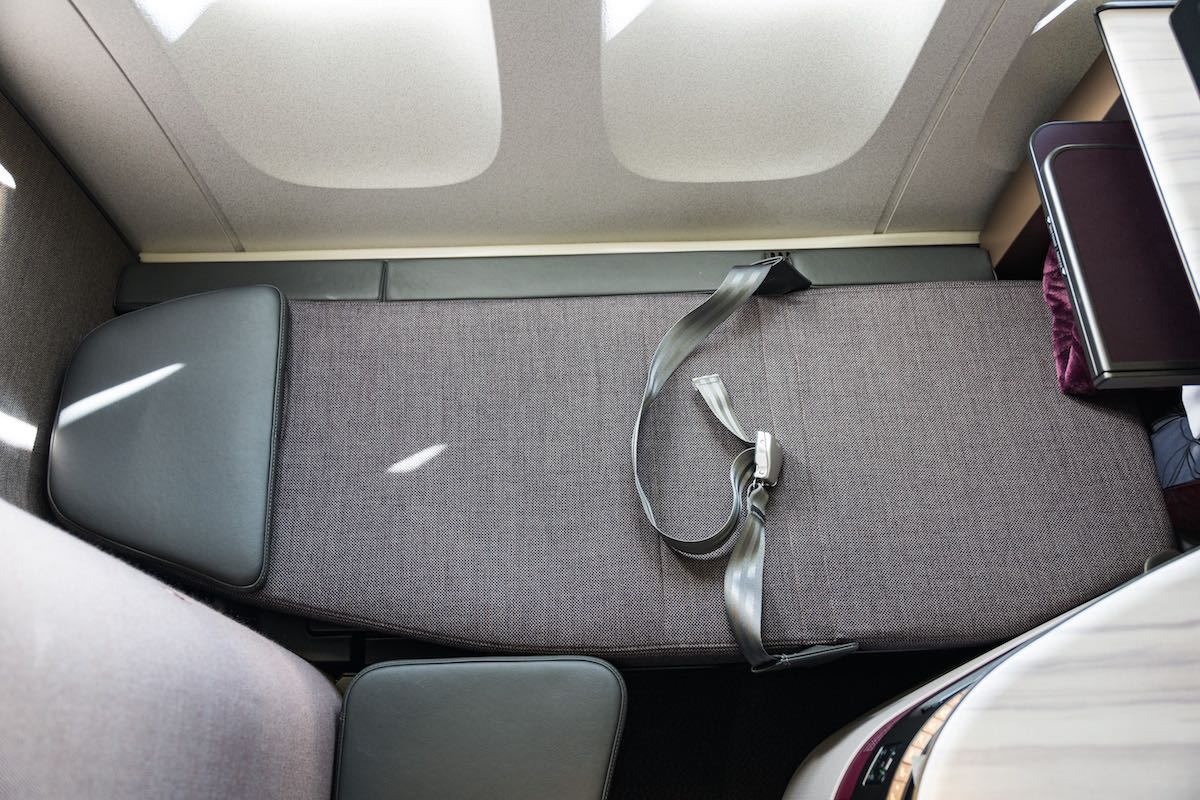 seat in fully flat position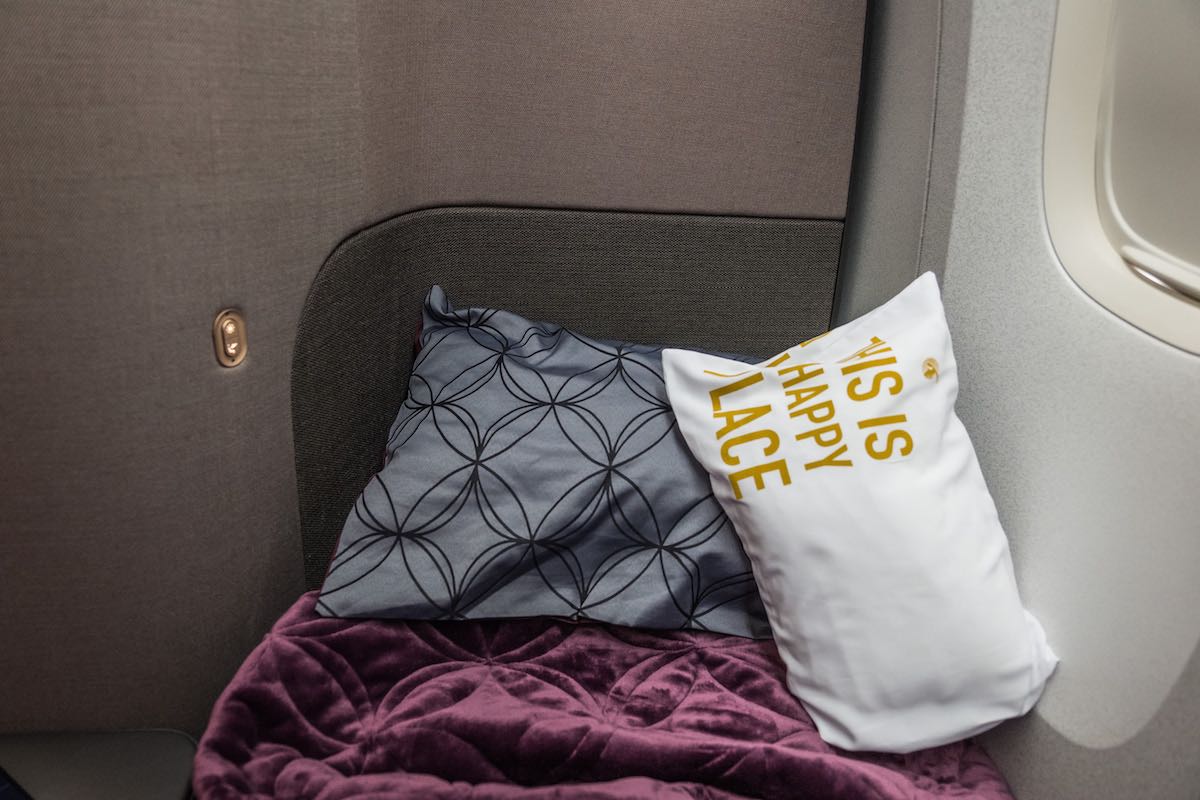 When in the fully flat position a small switch becomes accessible for controlling the overhead light and turning the bed into a seat
I didn't get any sleep as it's a daytime flight and it's a short one, but I recon dozing off for a full 6–8 hours during a ultra long haul to LAX or SYD would be a breeze. Although, as mentioned before, the seat is slightly on the hard side, mattress pads will be offered on longer flights. And pajamas will be provided as well. There was enough legroom to sleep on the back or on the side, and the surface of the bed is wide enough to permit moving side to side a bit.
With the door closed, when lying down there may be some small claustrophobic feelings, as you are enclosed, but the only suite with a door without such a feeling would be the Etihad A380 first class apartment. The benefit though is the absolute privacy. You might see the top of someone's head as they pass by, but if they're not actively trying to look into your suite — they won't disturb you with their glances.
Doors remain open during take-off and landing (the crew locks/unlocks them with a tool-key). Unlike Emirates first class suite doors — these open manually.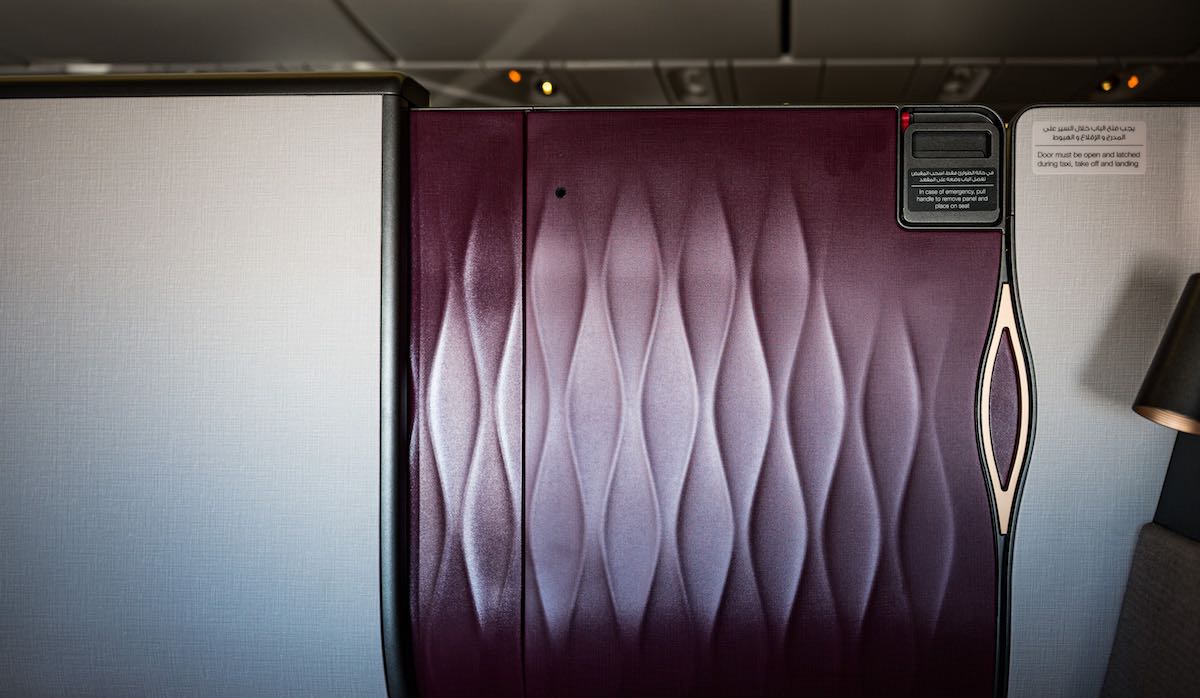 Qatar Airways QSuites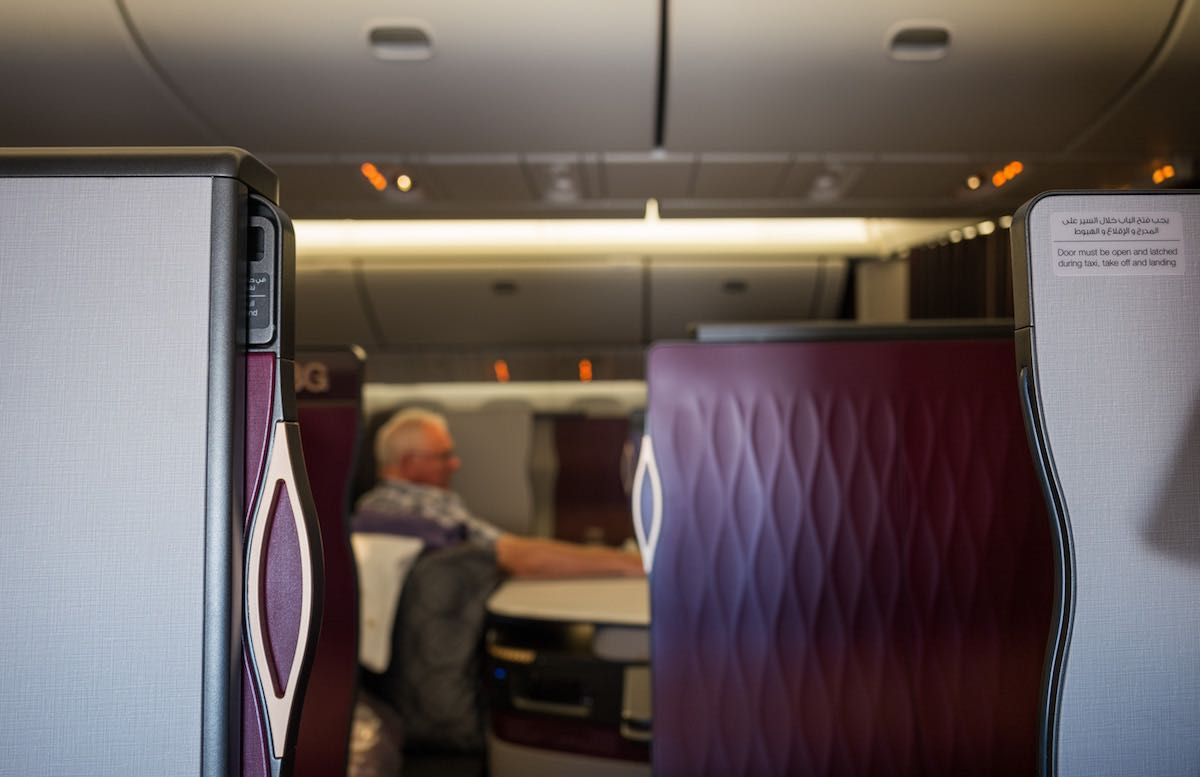 Qatar Airways QSuites
Half an hour later I requested another cup of the delicious Karak tea, and it was swiftly brought, along with a warm towel and a small box of Godiva chocolates.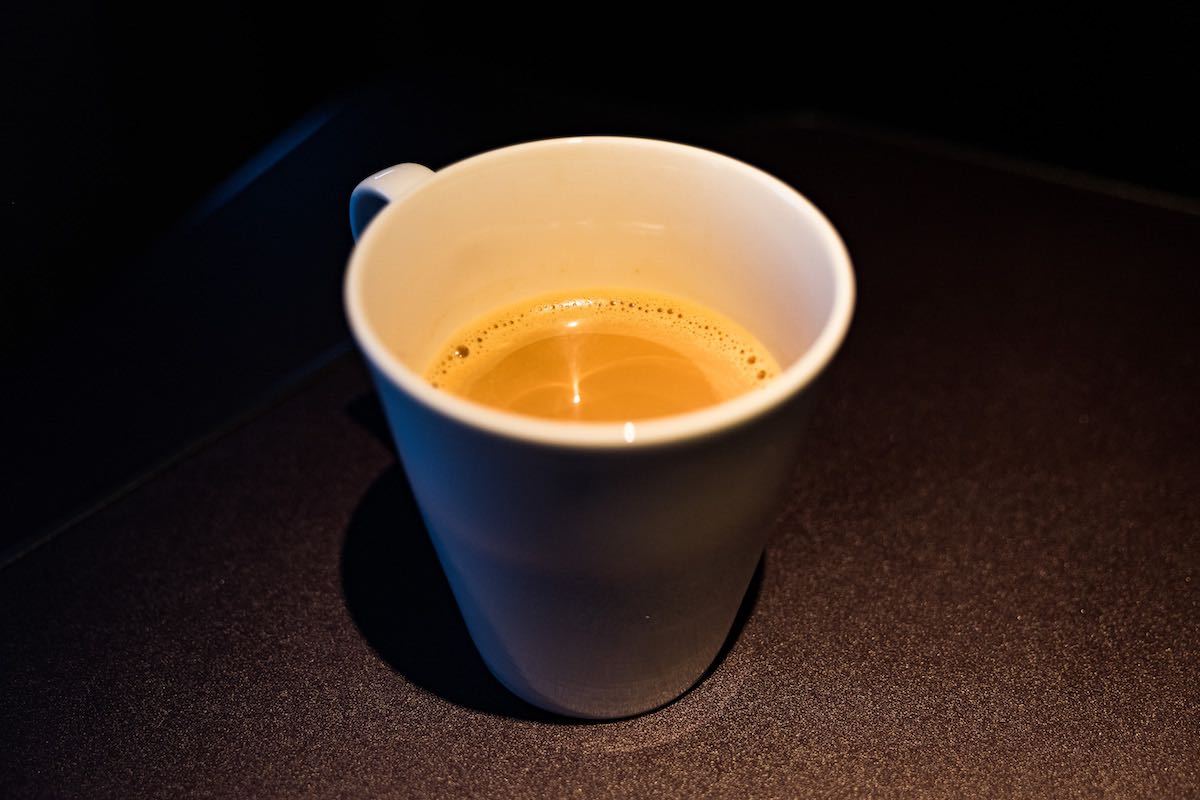 Karak tea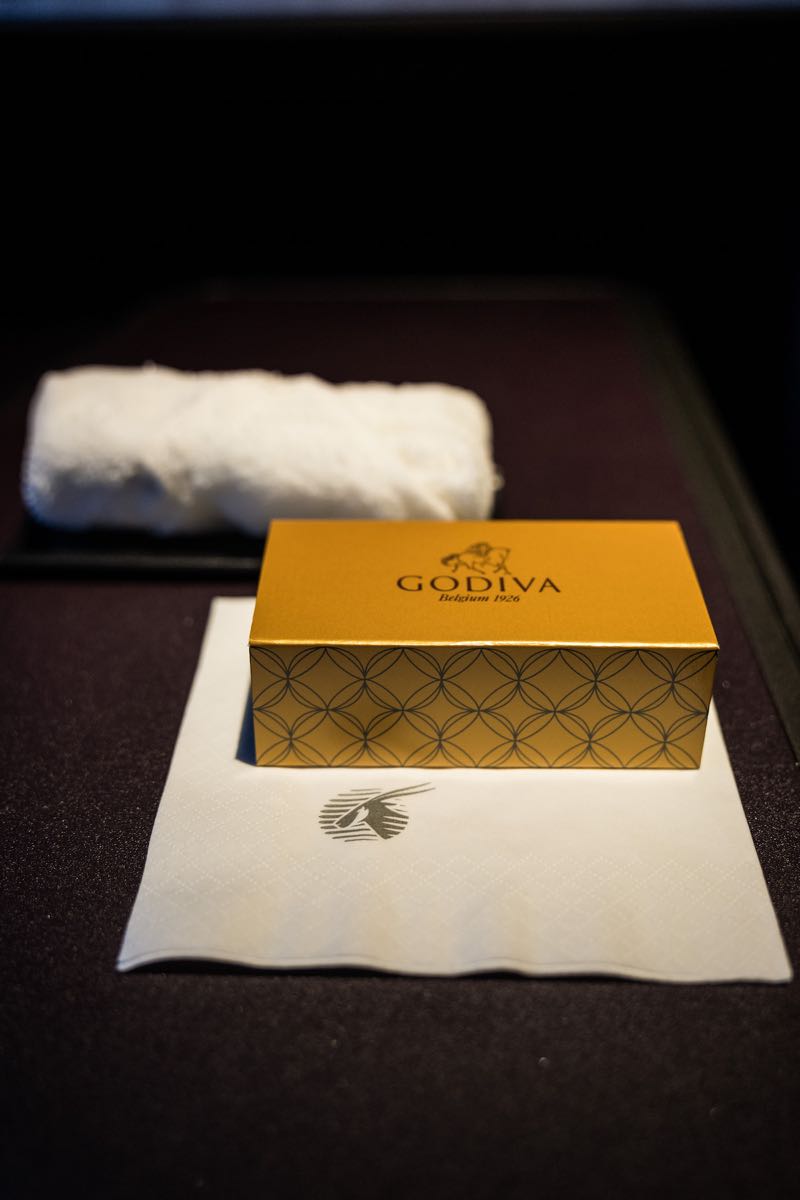 Chocolates
It's worth noting again that the service on the flight was amazing — during meal service you receive a lot of attention — glasses are never empty, completed meals are retrieved instantly, any requests are attended to without delay. After meal service, on the other hand — the focus is on maximizing rest, so check-ups happen very rarely, maybe once an hour — but if something is needed the call button will be answered within 15 seconds.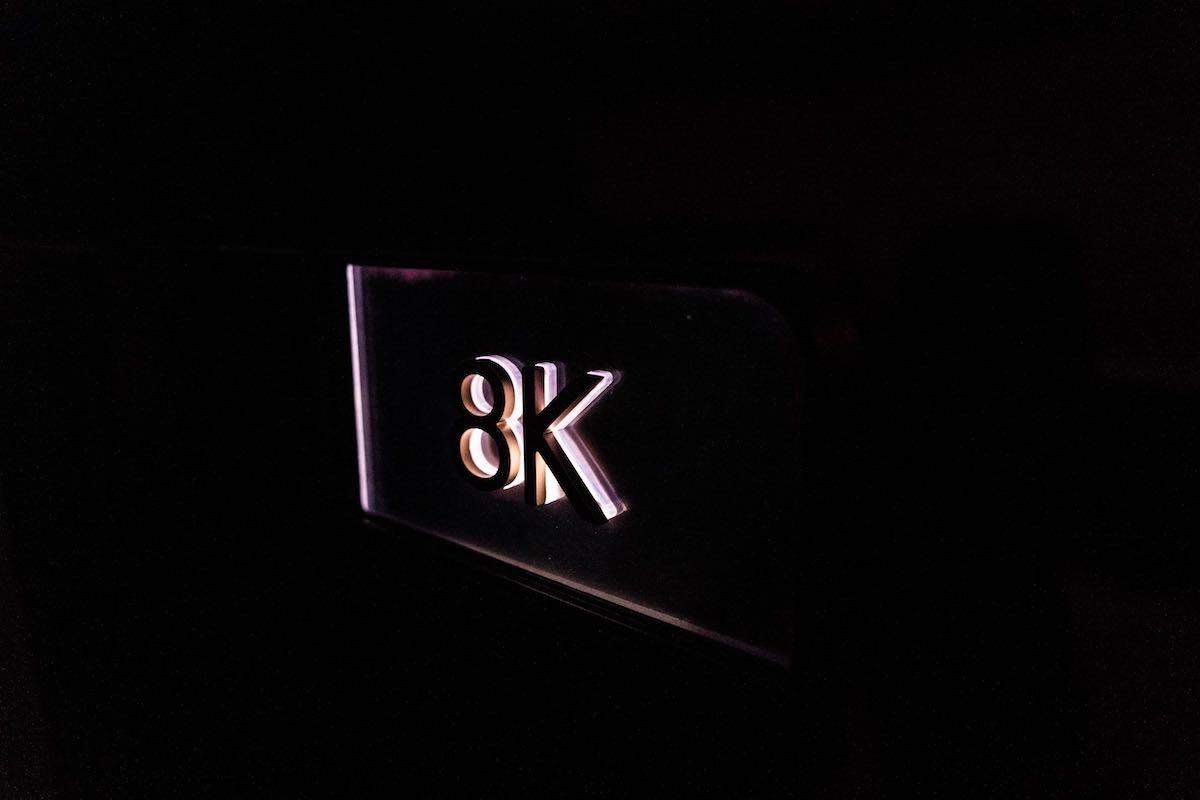 Highlighted seat numbers
I managed to get some work done for a few hours and hadn't noticed that the plane was just an hour shy of landing. Having eyed an interesting dessert in the snack menu I ordered a victoria sponge and a hot chocolate. The drink was wonderful, but the sponge cake was too sweet and too dry for my liking.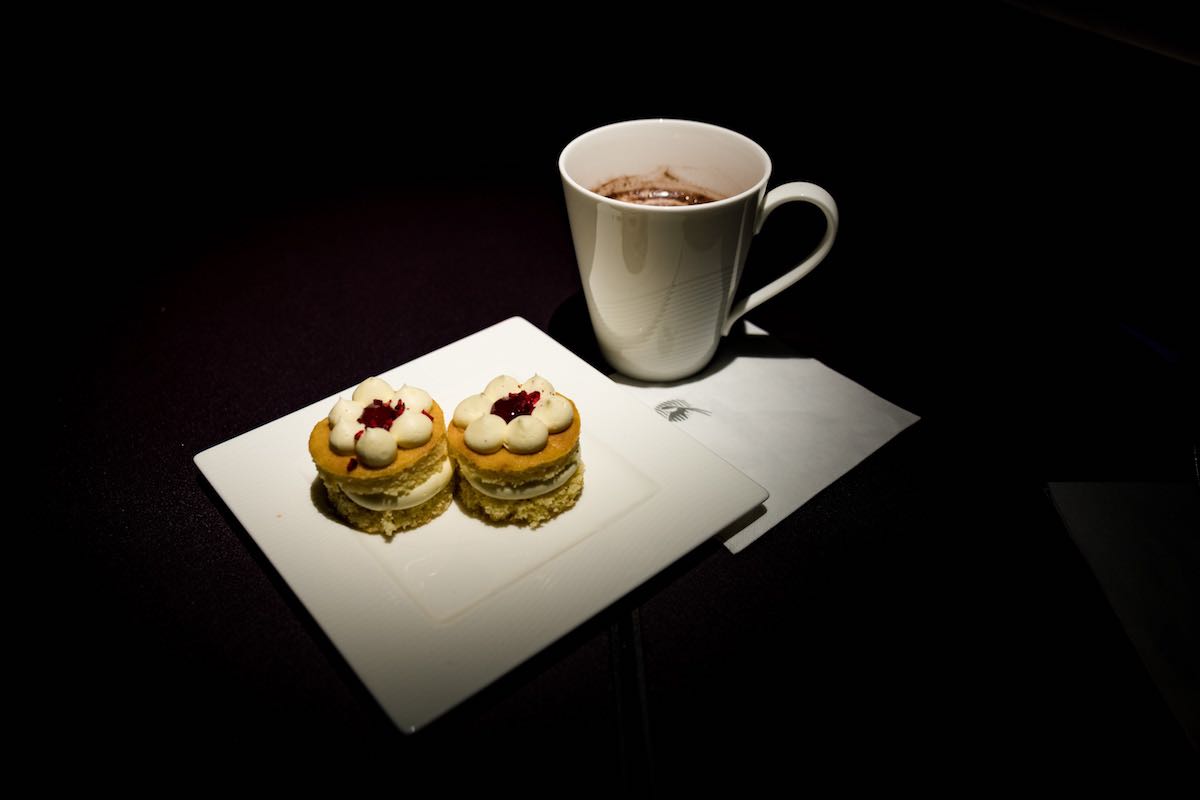 Victoria sponge and hot chocolate
Once the meal was cleared — the crew started preparing for landing. We passed Bahrain island and were flying alongside the Northern tip of Qatar. Moments later the magnificent West Bay view came into sight.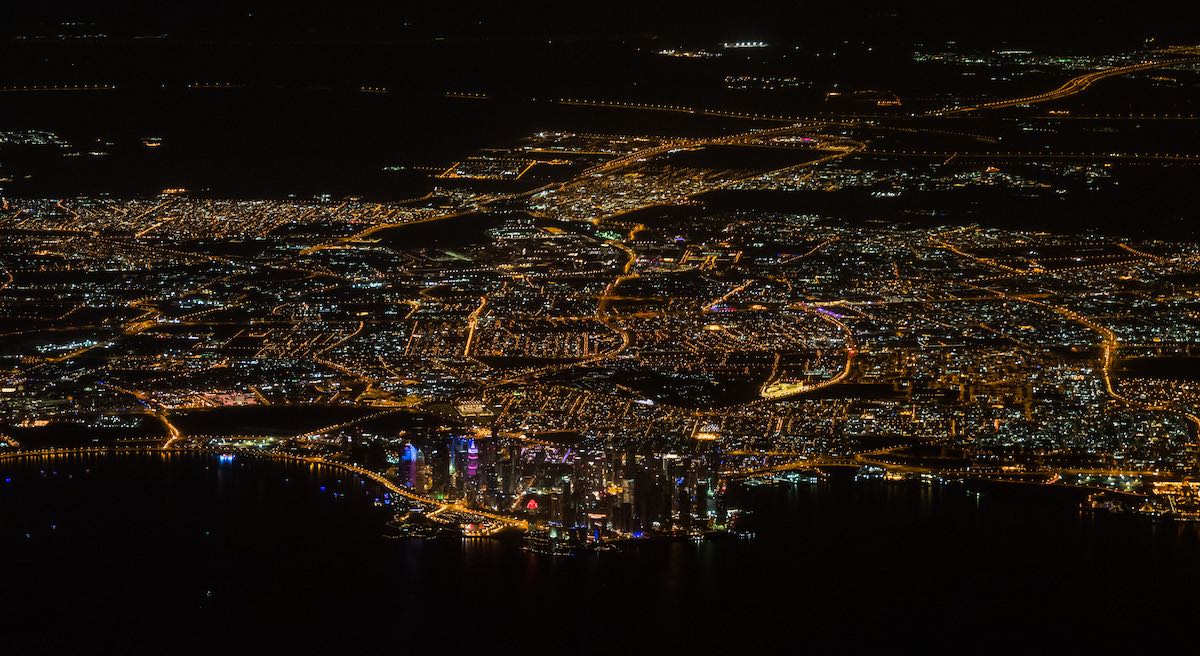 West Bay, Doha, Qatar, minutes before landing
The plane landed moderately hard right on schedule and after a surprisingly long taxi arrived at a remote stand. I bid farewell to the splendid crew and made my way towards the summer Doha heat.
I enjoyed this QSuites flight in every way possible. The seat is a significant step forward for business class. A private suite in the sky, that is available with an attainable miles and cash cost. That in a year or two will be widely available throughout Qatar Airways fleet. Both the hard product and soft product have lived up to the hype surrounding the release and apart from some minor fixable details like Wi-Fi on the 777–300ERs — it's a brilliant product that I would gladly fly again and again.