In October Emirates added a third daily frequency between Dubai and New York, though unlike their two other nonstop A380 frequencies, this one is operated by a 777-300ER and stops in Milan in both directions. It's not that the plane couldn't fly Dubai to New York nonstop, but rather they're trying to tap into the lucrative US to Europe transatlantic market.
The New York to Milan route was previously operated by Alitalia, American, and Delta, and I suppose it's hardly surprising that they didn't like the added competition from Emirates. Not only does Emirates hugely increase capacity on the route given that they have 354 seats on their 777-300ERs (the other carrier operate smaller 767-300s and A330s), but they also have a first class product, which none of the other airlines in the market have.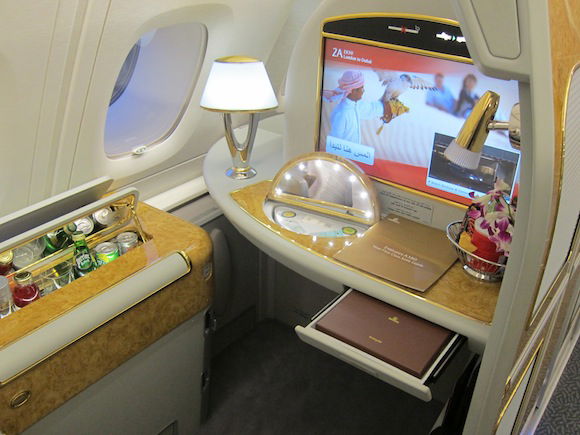 Emirates first class
It appears as if this route may be at risk, due to a complaint filed by Assaereo, which represents Alitalia. Per the Wall Street Journal:
An Italian court on Thursday moved to block a new route opened by Dubai-based Emirates Airline between Milan and New York following protests from rival carriers that the service contravened international aviation laws.

Thursday's ruling, by an administrative court in Rome, was a response to a complaint filed by Assaereo, an association that represents Alitalia and other Italian airlines. The trade group filed the suit last year against the Italian Civil Aviation Authority, which granted Emirates permission to start the service. Assaereo claimed that the Milan-New York flight broke the bilateral air-service agreement between Italy and the United Arab Emirates.
It's not clear as of yet whether the route will actually be canceled, or where things go from here. I'm far from an expert on the law, let alone international law, but I also find it kind of odd that Emirates has been able to operate the route for so long despite supposedly violating a major bi-lateral air agreement. You'd think Alitalia, American, and Delta would have tried to stop it from the get-go.
This service offered by Emirates kind of seemed like the "next big thing" for the Middle Eastern carriers. These "one stop" routings through lucrative European hubs have significant advantages for the airlines, so it's no wonder they're trying to tap into these markets:
There are substantial fuel savings from operating two (roughly) seven hour flights vs. one fourteen hour flight (on ultralonghauls you end up burning a lot of fuel just from the weight of carrying the additional fuel), and it also allows you to maximize cargo.
While you can sell it as a "direct" flight all the way through, it's also a great opportunity to maximize yields and load factors on the individual segments.
It allows airlines to tap into otherwise lucrative markets aside from their hubs.
In 2012 Qatar Airways announced their intention to fly from Athens to New York, though it seems that they've changed their mind on that in the meantime.
Emirates was also considering similar routes through other European gateways, so it will be interesting to see what comes of this…