Yesterday I wrote about how Emirates is reintroducing many premium cabin services as of October 15, and now I have some more details to share about what exactly that will look like…
Emirates reinstating first & business class service
When the pandemic first started, airlines around the globe modified inflight service offerings. Emirates was among those airlines — while Emirates' cuts weren't as drastic as those on other airlines, the Dubai-based airline eliminated many of its popular amenities, including the A380 business class bar, A380 first class shower, and more.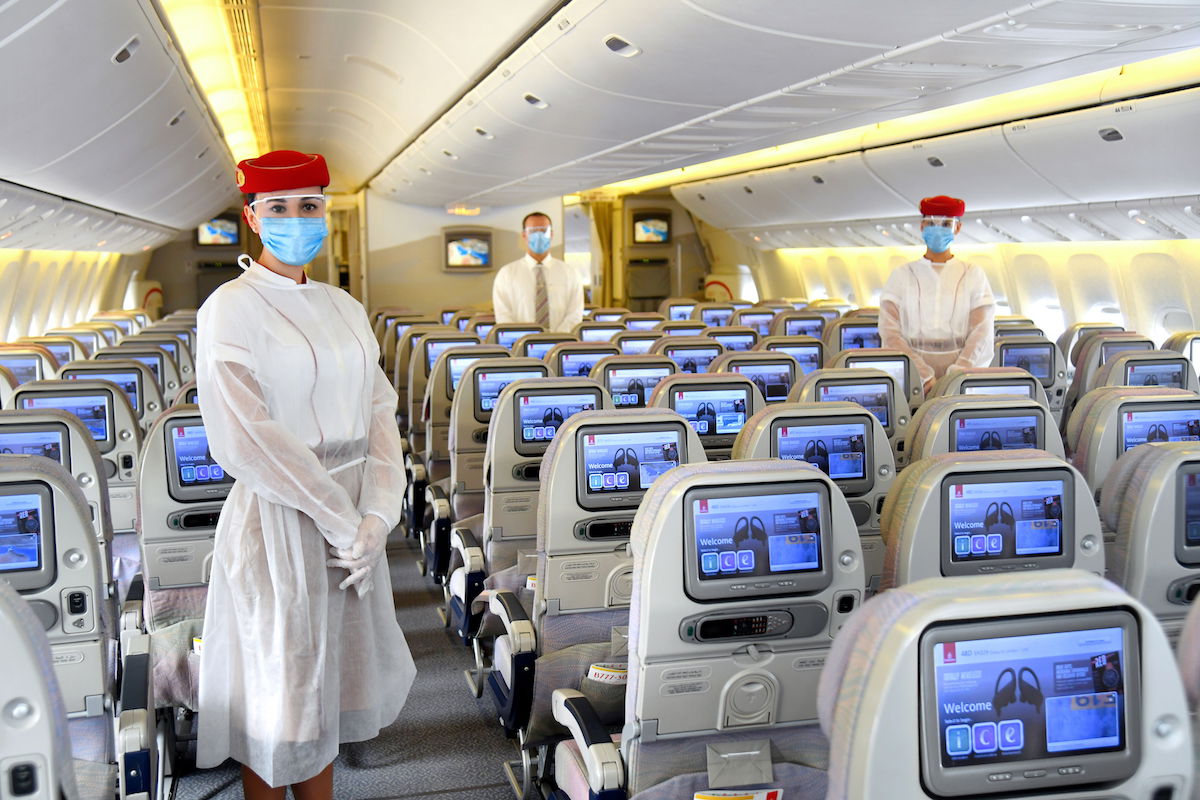 Like most airlines, Emirates has adjusted service during the pandemic
Initially this wasn't of much significance, since Emirates' A380 fleet was grounded for a couple of months. However, as Emirates brings more A380s back into service, the airline is also adding back more amenities (though note that Emirates isn't operating any A380s to the US in the upcoming winter schedule). Let's go over what's changing.
Emirates bringing back A380 first class showers
As of October 15, 2020, Emirates will once again be offering A380 first class passengers showers. Each A380 is equipped with two shower suites — if you haven't showered on a plane, it's probably the coolest experience you can have in commercial aviation.
These shower suites also double as bathrooms, and for the past several months the shower suites could only be used as lavatories, and not for actually taking showers. That will finally be changing.
Emirates has dedicated shower attendants, and for the past few months they've been working as bathroom attendants on all flights, to keep lavatories clean.
As showers are reintroduced, here are some things to be aware of:
Showers will be available on flights blocked at a minimum of 2hr30min; on flights of 2hr30min to 3hr29min they'll be offered on request, while on flights of over 3hr30min reservations will proactively be offered
Additional amenities, including a comb, loofah, cotton buds, dental kit, shower cap, etc., will only be available on demand, rather than placed in the shower suite proactively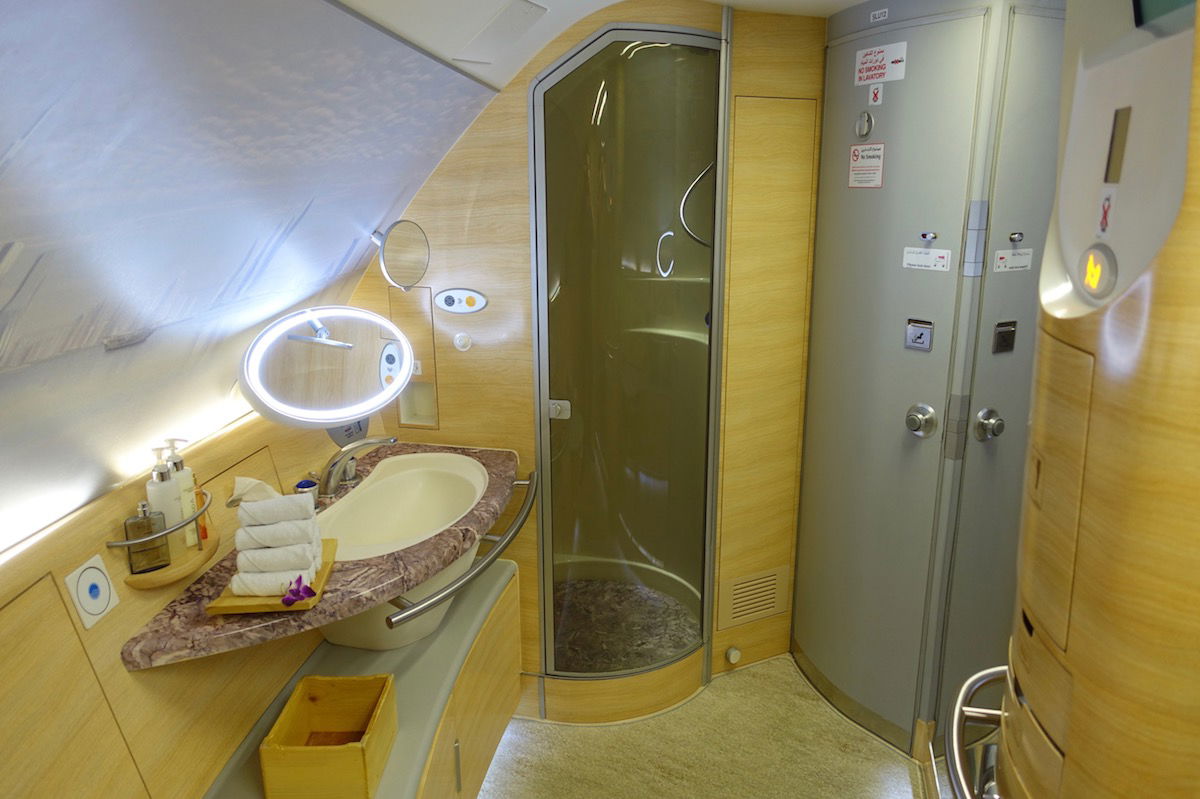 Emirates is reintroducing showers for first class passengers
Emirates bringing back A380 business class bar
As of October 15, 2020, Emirates will once again be opening its A380 business class bar and social area. The bar is located at the back of the upper deck, behind business class. For the past several months Emirates simply hasn't used the bar, for obvious reasons.
While the bar is reopening, expect it to be more of a to-go bar than an actual social area. Here are some logistics to be aware of:
The bar will be available on flights of at least 2hr30min
The lounge will operate at zero capacity, so customers aren't allowed to stand or sit, but rather can only order drinks and take them back to their seats; customers will be reminded of this via announcements, tent cards on the bars, and messages at seats
The food and drink selection will be the same as before, except food will be individually wrapped
As you can see, this is more of a place to order drinks than to actually socialize for now, though ironically even if it were a bar, it might just be the safest indoor bar you could find anywhere:
HEPA filters on airplanes offer superior ventilation compared to virtually any other indoor spaces on the ground
On many routes all Emirates passengers need to get tested prior to travel, so that at least reduces the risk of other passengers having COVID-19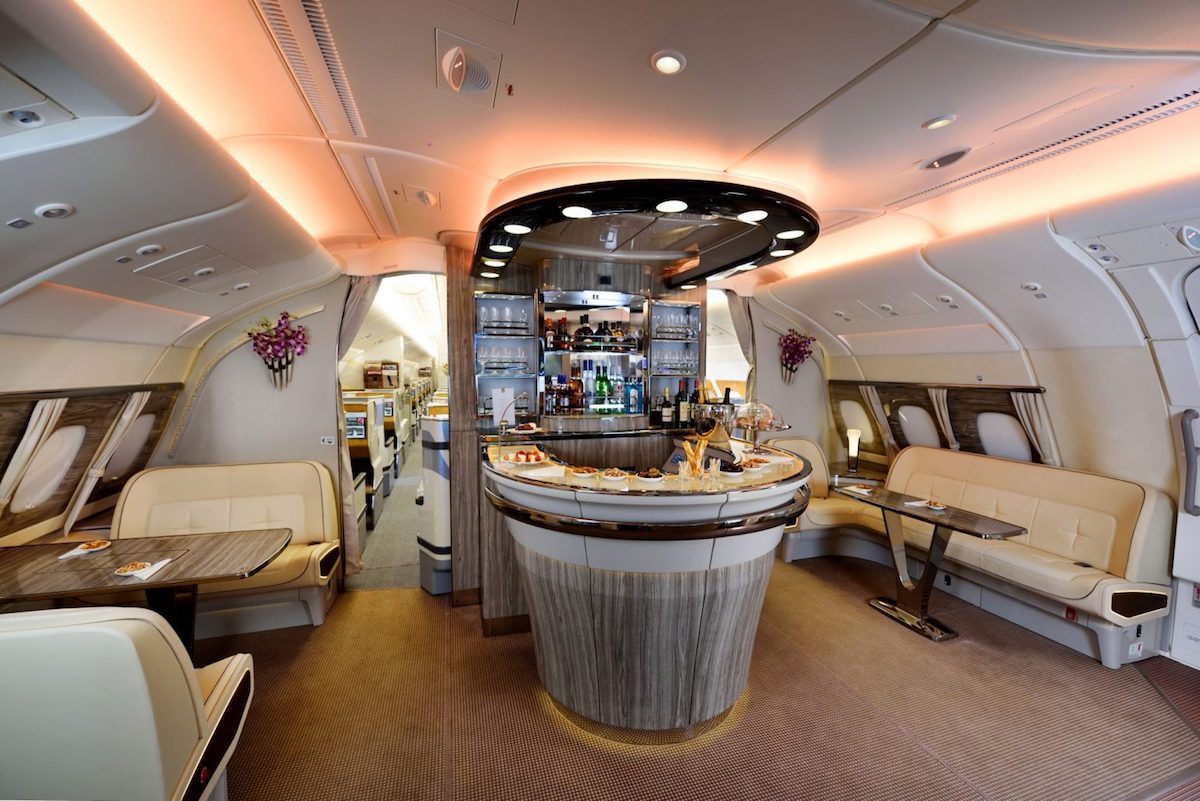 Emirates is reopening its iconic business class bar
Other Emirates premium cabin inflight service resumptions
In addition to the return of the A380 showers & bar, Emirates is also resuming several other aspects of its premium inflight service as of October 15, 2020 (this is on all aircraft types, including the 777 and A380).
In first class:
Customers will be escorted to their seats upon boarding
The small social area at the front of the cabin will once again be set up with drinks and packaged snacks
Drink service with mixed nuts will be offered on all flights prior to the meal
The full first class drink list is making a comeback
Drinks will be poured in front of passengers, rather than pre-poured in the galley
Turndown service will once again be offered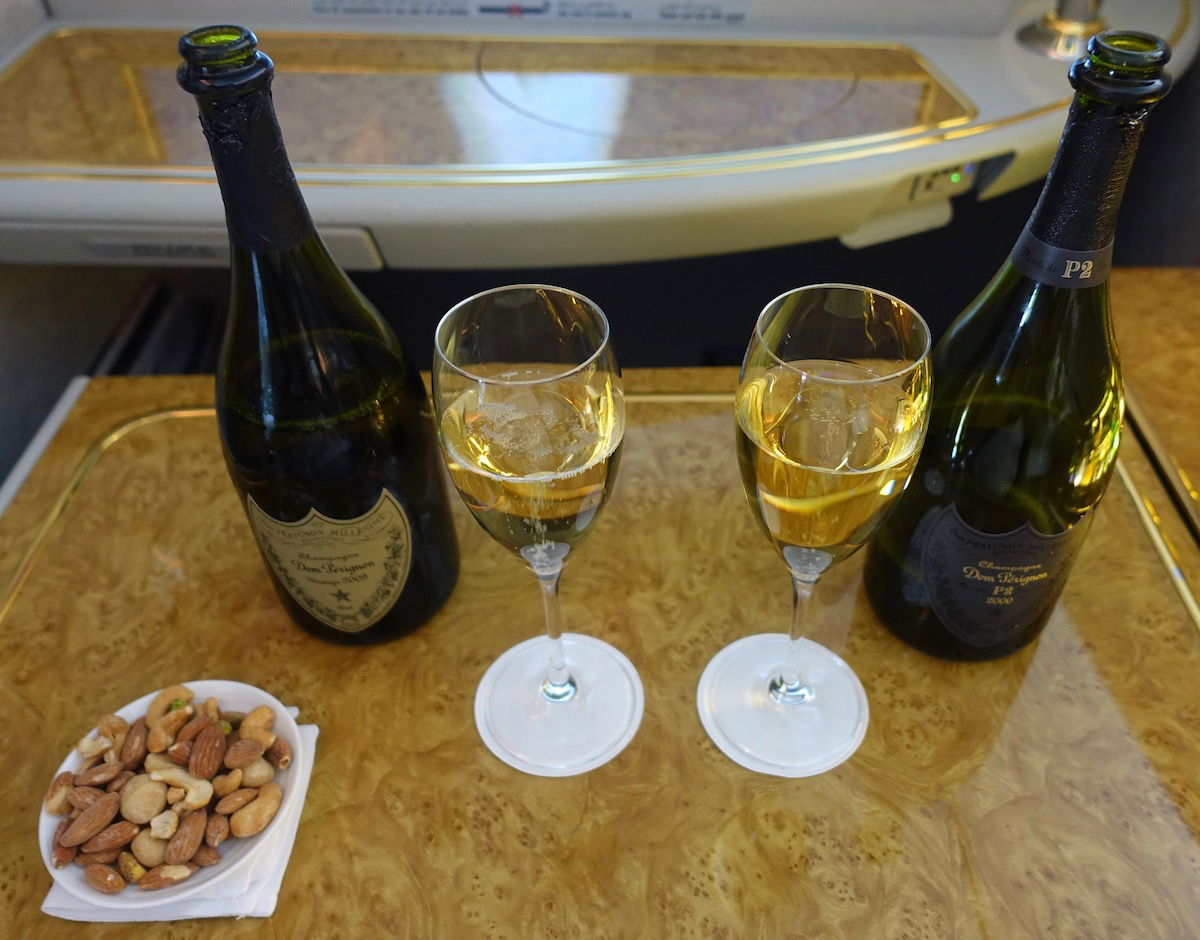 Expect a return of the full drink list & mixed nuts
In business class:
Drink service with mixed nuts will be offered on flights
Turndown service will once again be offered
Bottom line
Understandably we saw airlines introduce all kinds of service cuts when the pandemic first started. However, for the most part we haven't seen much service reintroduced, largely for good reason.
While Emirates' cuts were fairly minor compared to other airlines, Emirates is bringing back several popular aspects of premium cabin service as of October 15. This includes first class showers, the business class bar (without the ability to socialize), a more traditional drink service, and turndown service, among other things.
What do you make of Emirates restoring these services?