A few weeks ago Delta announced a new revenue-based frequent flyer program, whereby the number of miles you earn for flying is directly tied to the cost of your ticket. This took a lot of us by surprise, and several people asked me whether this was the death of mileage runs.
I made the point (which I feel like I've been making for years) that mileage runs have been more or less dead for a long time. Yes, I realize the irony in that statement, since I did mileage runs for Executive Platinum for the first two months of this year. But still, on the whole they're not nearly as lucrative as they used to be between the increased cost of airfare, lack of promotions, more restrictive routing rules, and increasing redemption costs.
But what about mattress running — can it still make sense?
For those of you not familiar with mattress running (sounds dirty, doesn't it?), it's the hotel equivalent of mileage running. It's basically staying at a hotel for the sole purpose of accumulating hotel points. Or as I like to think of it, checking into a hotel, making the sheets and pillows look slightly used, and then going home.
The good old days of mattress running — Hyatt's Faster Free Nights
It's always fun to reflect on the "good old days."
For those of you that weren't playing this game a few years ago, the gold standard of hotel promotions was Hyatt's Faster Free Nights. They offered a free night at any Hyatt property after two stays. Yes, it was basically that straightforward. Two stays at $70 Hyatt Place properties got you a free night at the Park Hyatts in Tokyo, Sydney, Paris, etc.
But it got better than that. Much better.
I lived in Tampa back then, and the Grand Hyatt was regularly $80 per night. So I'd make two stays, and for each stay I'd earn:
2,500 bonus points (the club lounge was closed on weekends, and that's a standard benefit for Gold Passport Diamond members)
1,500 bonus points ("G3" promotion that Hyatt ran at the time, which they've since discontinued)
1,000 bonus points (Diamond welcome amenity bonus)
500 points (as a Diamond you earn 6.5 points per dollar spent, so that's roughly how many points I was earning per stay)
Altogether that comes out to ~5,500 points per stay.
Two stays cost me a total of $160, and I'd earn 11,000 Gold Passport points plus a free night.
Oh, and it's worth noting that at the time Hyatt's top properties cost just 18,000 points per night, so you were basically earning more than one and a half nights at any Hyatt property in the world after every two stays.
It was ridiculous, and even if you were the most anti-hotel loyalty program person out there, there's no way you could argue with the value of that promotion. Period.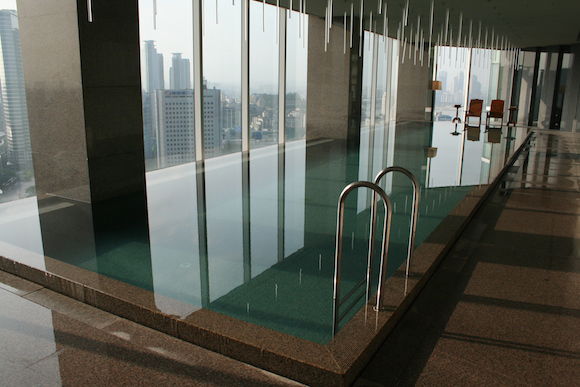 Park Hyatt Seoul using Faster Free Nights
Oh, and it got even better than that. At the time Hyatt was switching some internal software or something, and for whatever reason when you put a charge on the folio for an award stay (including when using Faster Free Nights), it would still credit as a stay, meaning you'd earn another credit towards Faster Free Nights. That meant every two Faster Free Nights award stays would earn you another Faster Free Nights award stay.
Of course times have changed. We're not in a recession anymore, and hotel occupancy and rates are at a near all-time high.
Should you earn hotel status the "hard way?" Keep in mind the alternatives!
When analyzing this kind of stuff you've always gotta look at the next best option.
For example, one of the reasons it might not make sense to go for airline status anymore is because lots of airlines more or less give you entry level elite benefits just for having their co-branded credit card.
Co-branded hotel credit cards are even more generous than that. So in determining whether it's worth going for hotel status I always look at the "baseline" option, which is Hilton Honors Gold status.
If you have access to US credit cards, the Hilton Honors American Express Surpass® Card offers Honors Gold status for as long as you have the card. Gold status gets you free internet and breakfast, which I consider to be the two most valuable elite benefits.
So if you're going to "work" towards status with another program, you should really be looking at the marginal benefits you're getting beyond that.
What's the breakeven cost of a mattress run?
Lets talk about Hyatt for the purposes of this example, since I do believe they offer the most generous promotions. With Faster Free Nights behind us, we're seeing promotions that are much more "sustainable," given that there's a huge opportunity cost to "giving away" hotel rooms with no blackout dates.
For what it's worth, I value Hyatt points at about 1.5 cents each. While Hyatt devalued their award chart earlier in the year, they introduced Points + Cash awards, which I find to be an awesome new feature. I'm not saying my valuation is universally right, so feel free to use your own numbers when doing your "math."
Hyatt's current promotion is entitled Endless Possibilities, and their previous promotion was entitled Discover New Possibilities.
While the exact terms of the promotions differed, the bottom line were more or less the same — if you maxed out each promotion you were earning 2,500 bonus points per night.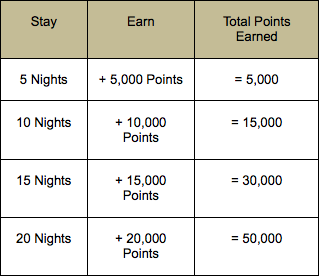 On top of that as a Diamond member you get a Diamond welcome amenity, and at full service Hyatt properties can choose 1,000 bonus points (per stay) as the amenity.
One other cool feature that Hyatt has for Diamond members is that if the hotel has a club lounge and it's closed (as some properties do on weekends), you get restaurant breakfast and 2,500 bonus points. To clarify, this benefit doesn't apply at hotels that don't have club lounges.
So basically not factoring in any further bonuses, you'd be earning 3,500 bonus points per stay, or 6,000 bonus points per stay at a hotel with a closed club lounge.
Lastly, as a Diamond member you earn 6.5 points per dollar spent at a hotel, so at 1.5 cents per mile that's roughly a 10% return on your hotel spend.
To me, 3,500 bonus points are worth roughly ~$52, while 6,000 bonus points are worth ~$90. Plus when doing the math rebate the cost of the stay by 10%, which accounts for the base points you're earning.
In other words, if you're a Diamond member and can find a Hyatt for ~$60 per night, or a Hyatt with a club lounge for ~$100 per night, you'd be "breaking even," not factoring in what you may value status.
If you're not a Diamond member, keep in mind that Hyatt has a very generous Diamond status challenge policy. If you qualify they'll not only give you Diamond status upfront, but even give you additional bonus points for your first few stays.
So what am I really trying to say?
Basically I guess my thoughts are as follows:
Mattress runs only make sense if you value luxury hotels. Everyone is looking for different things out of hotels. Some people don't see any value in chain hotels because they prefer charming "local" places. Some people don't see any value in chain hotels because all they care about is a clean bed, and there are cheaper ways to get that.
At the end of the day the difference between something like Hyatt Diamond and Hilton Gold will be pretty subtle. We're talking about suite upgrades, guaranteed late check-out, etc. So it all depends what you're looking for. Similarly, I value Hyatt points at 1.5 cents each because I value luxury hotels. If you don't value luxury hotels, chances are that your valuation of Hyatt points will be lower.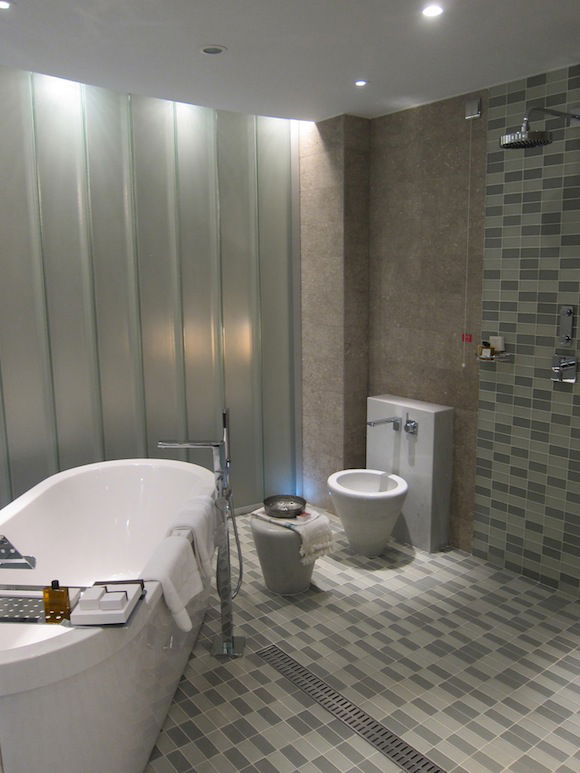 Park Hyatt Istanbul Spa King Room
Decide what you value elite benefits at. This can sometimes be tough to do in a precise way if you don't know exactly how many stays you'll make, but do decide what you value elite benefits at. Everyone values stuff differently. My dad doesn't value free in-room internet (he doesn't know how to use a cell phone, let alone a computer). Others don't value free full breakfast (they'd rather have coffee and a banana, or visit a local cafe).
And the added challenge is that the value of these benefits probably also varies by property.
For example, I think it goes without saying that I value a full breakfast at the Park Hyatt Buenos Aires in their beautiful courtyard…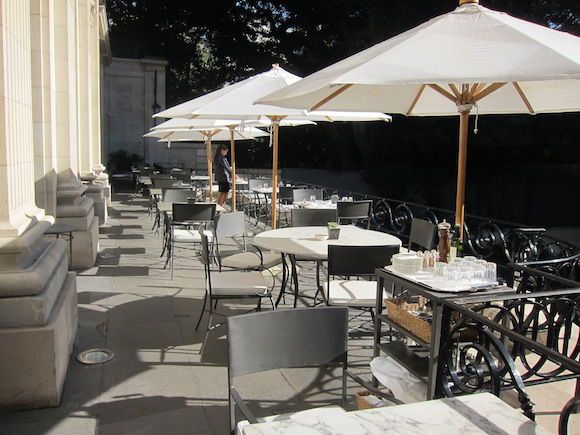 Park Hyatt Buenos Aires breakfast terrace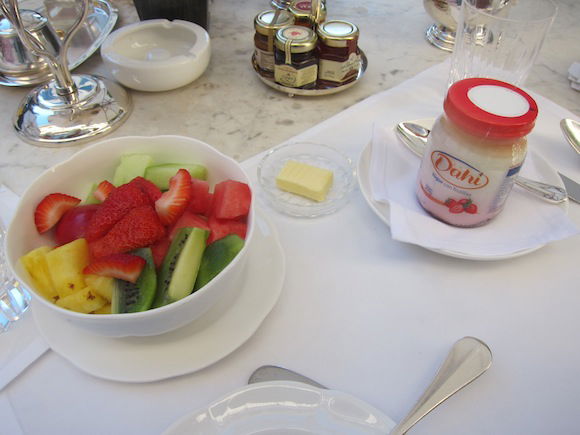 Park Hyatt Buenos Aires breakfast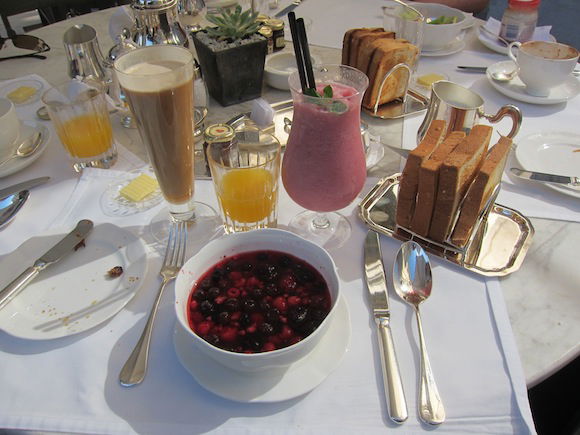 Park Hyatt Buenos Aires breakfast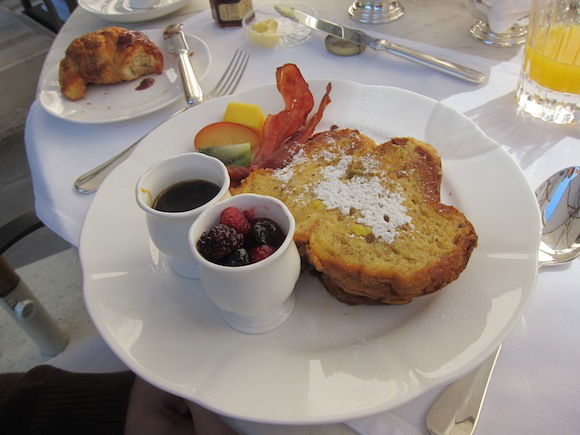 Park Hyatt Buenos Aires breakfast
…slightly more than I would value a free club lounge breakfast at the Hyatt Regency Scottsdale. 😉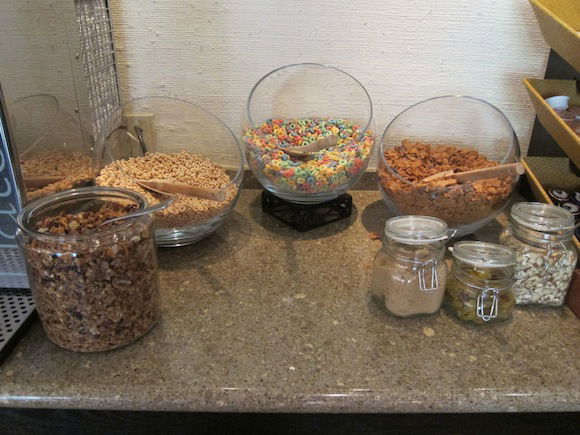 Hyatt Regency Scottsdale club lounge breakfast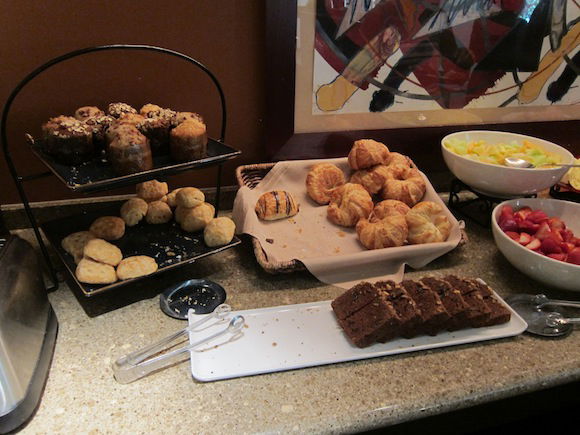 Hyatt Regency Scottsdale club lounge breakfast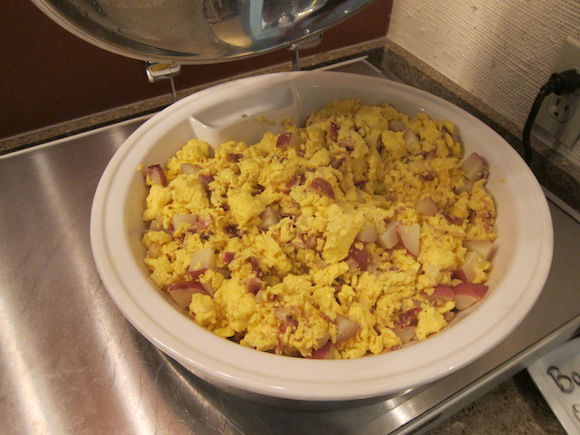 Hyatt Regency Scottsdale club lounge breakfast
Mattress runs, much like mileage runs, only make sense at the margins. Whenever I get an email from someone asking for a suggestion on which airline to start mileage running on, my first question is always "why?"
The truth is that for the most part it doesn't make sense to mattress run (or mileage run, for that matter) from "scratch."
Think about what you're trying to accomplish. Mattress running 25 times without a specific purpose is silly. Mattress running one or two times because you're a couple of nights short of requalifying for status can make perfect sense.
Factor the value of points into your stay decisions rather than mattress running. That sounds complicated, so let me explain this in the form of mileage running, as I've done a couple of times before.
Don't do mileage runs, but instead take mini-vacations, and use the miles you're earning as a means of justifying/reducing the cost.
For example, if you take a trip to China on a $700 ticket on American, think of the value of the 30,000+ miles you're earning (assuming you have top tier status). I value American miles at 1.8 cents each, so I'm earning $540 "worth" of miles for that trip, which just brought down the "actual" cost of the ticket to $160 for me.
Rather than doing a direct turn in China and just flying there and back, I'll stay a few days and actually "vacation." I can't justify spending $700 to earn $540 worth of miles, but I can justify spending the equivalent of $160 for a vacation to China.
Admittedly this is more mental accounting than anything, but I do think it helps with perspective a bit.
The same is true for mattress running. Rather than outright mattress running in your home town, consider using loyalty programs as a means of increasing the value you get out of hotels when traveling.
For most of us, checking into a hotel locally doesn't sound all that fun. So even if a local hotel has a decent rate that you'd find justifiable, it still seems like a better idea in most cases to go on a trip somewhere and stay at a property that belongs to that chain. When doing the math on the cost of the stay, factor in the value of the points and benefits you'll earn. If the hotel is $150 per night and you're getting $70 "worth" of points out of it, then think of the fact that you're really getting that hotel stay for $80. You'd probably be happier with that than a cheaper stay at a local property that you get no enjoyment out of.
Know which fast tracks and challenges are available to you. The fact is that earning status from "scratch" doesn't have to be that difficult either.
As I mentioned above, Hilton Honors offers Gold status just for having the Hilton Honors American Express Surpass® Card, and Diamond status for spending $40,000 in a calendar year on the card.
Hyatt Gold Passport probably offers the most lucrative Diamond challenge of any program, and beyond that you receive two elite stay credits and five elite night credits towards Diamond status when you spend $20,000 on the Chase Hyatt Visa Card in a calendar year. Furthermore, you get Platinum status just for having the Chase Hyatt Visa Card, which gets you complimentary internet.
IHG Rewards Club offers you top tier Platinum status in their program just for having their co-branded IHG Rewards Club Mastercard.
Marriott Rewards offers you 15 nights towards status annually just for having their co-branded Marriott Rewards® Premier Credit Card. Beyond that you get an additional elite qualifying night for every $3,000 you spend on the card.
Bottom Line
I realize this is a long post for something that's utterly non-conclusive, but hopefully my "thought process" helps some people work through this in deciding what makes the most sense for them. No matter what it is you're trying to do in this "hobby," always work with a goal in mind and crunch the numbers, and you'll almost certainly come out ahead.