By now you've probably heard that there's going to be a solar eclipse next Monday. It's kind of a big deal. But while all of the continental US will have a partial solar eclipse, only those within a 70-mile band stretching from Oregon to South Carolina will get the real deal. We're talking day turning into night, fiery coronas, cats cuddling with dogs in fear that the end of the world is upon us.
Seriously, I think it's going to be pretty cool. But only if you're within the band of totality! Trust me, I've watched a partial solar eclipse back in high school and it was kind of boring, even for a nerd like me.
So you might be thinking, that's great and all but it's too late. I should have planned this trip six months ago. My neighbor just told me how he heard that the hotels are booked solid, the rental cars are sold out, and the flights are crazy expensive. I live in New York, Los Angeles, Dallas, Phoenix, or [insert your city here] and it's just too far to drive.
Well, I'm here to tell you that it's not too late. You can still do this. In fact, there are some amazingly good options available and I'm going to tell you how to do it.
Now let's be clear, this won't be easy.
It's not going to be like flying Lufthansa in first class or staying in the Park Hyatt Sydney, but it'll at least get you into position to have a chance at seeing what may be one of the greatest shows on earth.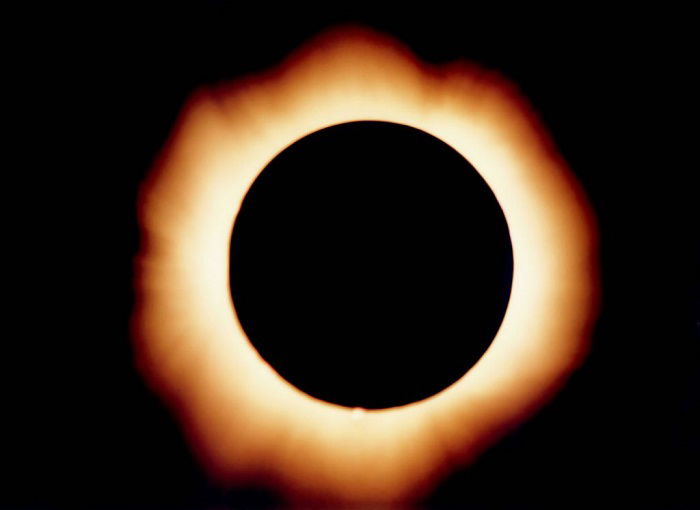 The cheapest last minute trip to see the total solar eclipse
The key to making this happen without breaking the bank is to forget flying into the path of totality. I mean, if you have $2000 to drop on a plane ticket alone, stop reading now and just go book a ticket to Nashville for first thing Monday morning — you can even watch the total eclipse without leaving the airport!
I wouldn't think about flying somewhere close to the path of totality either. Portland, Boise, and St. Louis are each a short distance away, but they aren't cheap, and then you're going to need a rental car. Earlier this week, the only cars I saw in Portland were about $1500 per day. I can only imagine what Uber's surge pricing will look like on Monday morning in Portland.
So here's what you should do instead.
Fly to Denver
Rent a car
Drive about 3 hours into the path of totality
Camp, Airbnb, or hell, sleep in your car for the night
Watch the eclipse
Drive back to Denver
Fly home
Sounds easy right? Yeah, kind-of, sort-of. Let's talk about it.
Why fly to Denver when Colorado isn't even in the path of totality?
Well first, that's kind of the point. We want to fly to somewhere that is only somewhat — not completely — caught up in eclipse mania.
But what we really want is infrastructure. We want a big city that has the capacity for a crowd. Lots of flights. Lots of rental cars. Lots of hotels. That way demand still won't have exceeded supply and prices won't be through the roof.
That's Denver.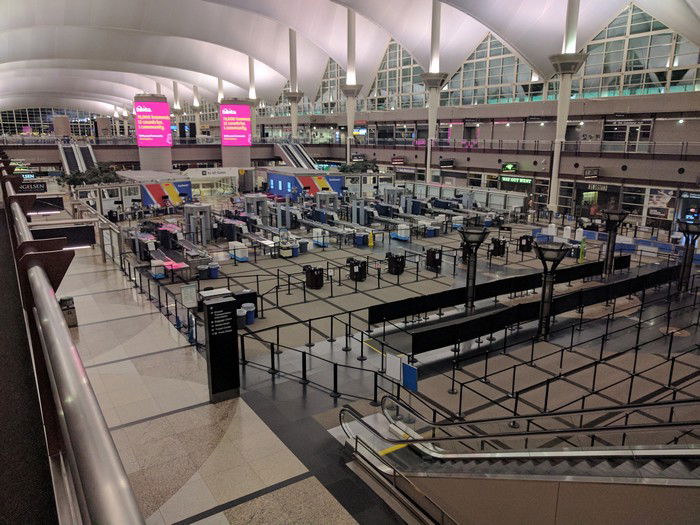 Denver International Airport
Denver is a major hub for air travel
Frontier, United, and to some extent Southwest, all have hubs at Denver. It's sort of the crossroads of America with a ton of flights everyday. But the best part is that Denver is somewhat ground zero in the battle for low cost carrier supremacy as both Frontier — with their hub — and Spirit both have big operations there.
They are the two biggest low cost carriers in the US, and for all their warts, their fares pretty much never go bonkers. Even the legacies like United, American, and Delta still have reasonable ticket prices.
We're talking Los Angeles to Denver for $213. Minneapolis for $220. Dallas at $150. New York City at $430. These are for Saturday / Sunday to Tuesday, round trip, all-in. I suggest using Google Flights to take a look at your options.
Here's Chicago to Denver for $122 round-trip on Spirit which is phenomenal!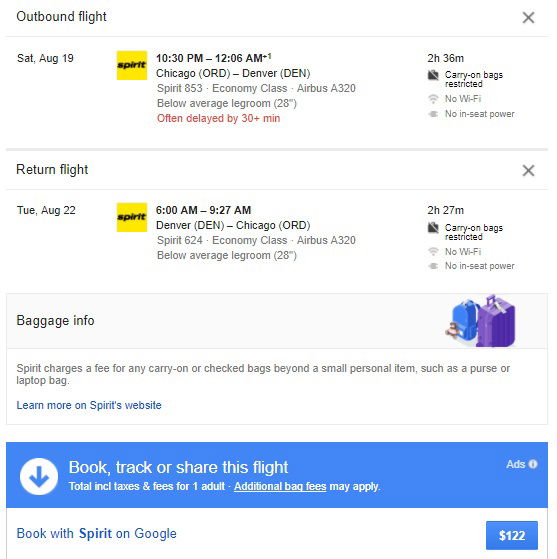 Chicago to Denver on Spirit for the eclipse at just $122 per person
Denver is also a major city, albeit in the middle of nowhere.
That means it has plenty of tourist infrastructure. There are still a good number of rental cars available, and the prices are just high, not ridiculous.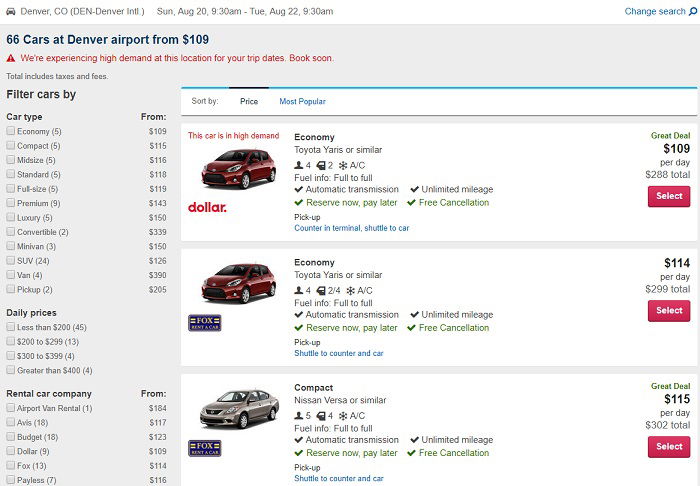 2-day car rental from Sunday to Tuesday in Denver for about $300
If you get there a day early, there are plenty of hotels with mostly normal pricing. Because, keep in mind, you are still three hours away from the action.
Right, so I have to drive three hours?
Well, yes. And it might actually be four.
But the upside of being further from the action is that you have some choices. Most folks in Denver are probably going to head due north up I-25 to Wyoming. That's because Wyoming has been promoting the hell out of their eclipse viewing opportunities. And also because people in Denver like to go to Wyoming. They associate Wyoming with Yellowstone and the Tetons, both of which are fun places to play both in the summer and the winter.
But guess what? Nobody in Colorado would be caught dead taking a vacation to Nebraska. You just don't do that.
So, of course, that's exactly where you should go to escape the crowds and watch the eclipse. Thanks to the swooping arc of the eclipse, you won't have to drive much more to get to the path of totality in Nebraska than you would in Wyoming.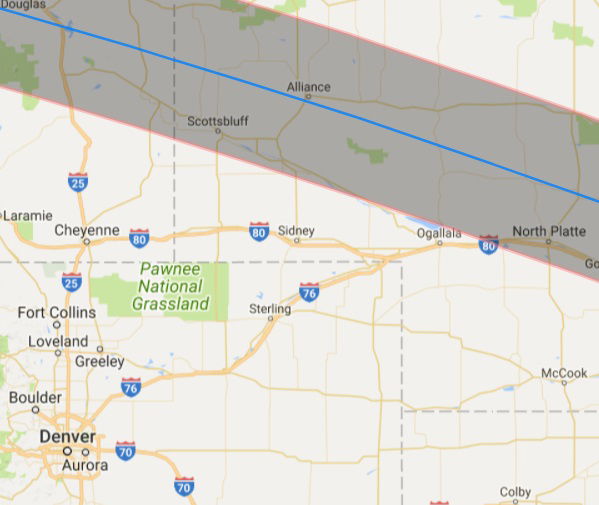 From Denver, you can get to the path of totality by going to Wyoming or Nebraska
I mean, if you've ever flown into Denver International Airport, it seemed like you were halfway there already, right?
You just need to jump on I-76 and take it until it terminates into I-80 shortly after crossing the state line. (Only to magically reappear 1200 miles later in Ohio, but whatever.) It'll take you directly to the path of totality in about three and some odd hours.
So while everyone else zigs to Wyoming — where the population of the state is expected to double this weekend — you'll zag to Nebraska.
Nebraska might be the best spot for watching the eclipse
Nebraska has some other things going for it too. Although still too early to bank on, the current weather forecast rates western Nebraska as having as good a chance at favorable weather as anywhere along the path of totality. Including Wyoming, which may suffer from a plume of monsoonal moisture that could potentially cause partly to mostly cloudy conditions across much of Wyoming. (Trust me, I read this stuff.)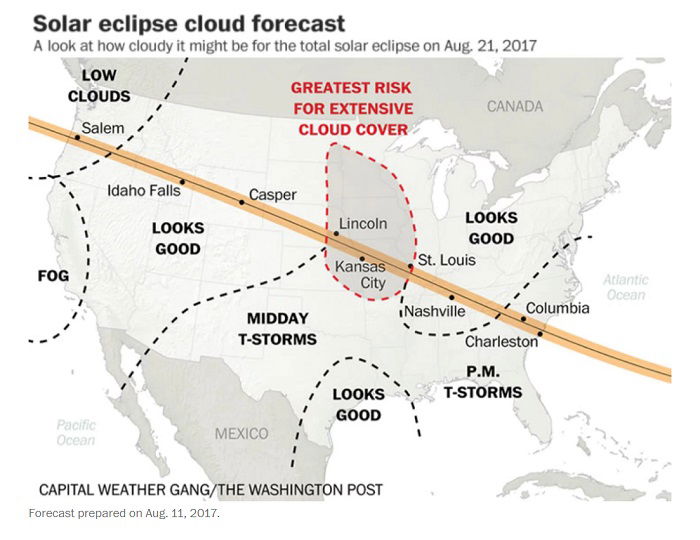 Eclipse forecast from the Capital Weather Gang / Washington Post
Aside from smaller crowds, Nebraska also benefits from having I-80 run through the path of totality for over 225 miles between North Platte and Lincoln.
I'm not suggesting you try to drag race the shadow of the sun — it moves as fast as 2300 miles per hour after all — but if clouds do show up on Monday morning, you'll have a high capacity highway available to change positions.
True, there could still be a traffic jam as others get the same idea, but if it's me, I'd rather be stuck in traffic in the path of totality than outside looking in.


The path of totality follows I-80 for over 200 miles in Nebraska
What about lodging?
Yep, lodging is the tricky part. There just aren't that many hotels in western Nebraska to start with, and as much as I think there will be fewer crowds there than elsewhere, I'm certainly not the first one to realize this. So you can expect everything to be booked up.
My suggestion would be to try Airbnb where I've seen people renting rooms and such for a couple hundred per night. Honestly, if it were me and I was being cheap, I'd probably just pull into a rest area and sleep in the car. Or pick up a sleeping bag at Walmart on the way and then find someone on HipCamp that will let you camp in their front yard for $50.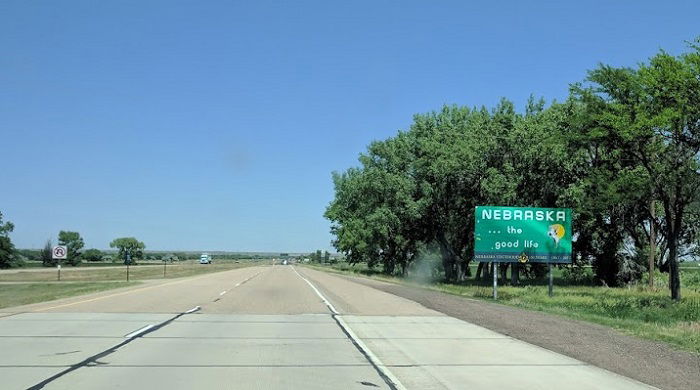 Bottom line
It's not too late to get yourself in position to see the Great American Solar Eclipse of 2017. Settling for a partial solar eclipse is like having the Super Bowl come to your town and then watching the game from the parking lot.
If you bring along a few friends and split the car rental, I think you can do this for a few hundred bucks per person. These are the crazy adventures you'll tell your grandkids about some day.