Eclipse mania is sweeping the nation from coast-to-coast. Or at least in every city, town, or map dot near or within the 70-mile wide path of totality. Businesses fortunate enough to be located along that strip of land are having their moment in the sun, or shall we say shadow.
As part of our eclipse coverage here on OMAAT, I had my good friend Dawn — an eclipse enthusiast who has spent a decade planning for the big one — share 7 of her tips for viewing the eclipse. My family will be joining her's and a hundred thousand of our closest friends in the middle of nowhere Wyoming, which is ranked as one of the best viewing spots based on the probability of good weather. We paid $60 per night (minimum four nights) for a site at one of the state parks, which I thought was gouging given that the regular nightly rate is $30, no minimum stay required. But I expect my reselling friends would now be telling me that I should have bought out the entire campground and then resold them to the highest bidder, making enough to put one of my kids through college.
I exaggerate, but only a little.
Anyway, a few days ago we learned that Hertz has cancelled some car rental reservations for eclipse weekend. They are apparently claiming that some of their more popular locations are oversold, meaning they accepted more reservations than they have cars available. So they just canceled a few, unilaterally. And that's sort of the rub with car rentals — nothing is really guaranteed, though some rental companies are better than others.
Worse yet, Hertz didn't even have the courtesy to inform these customers directly, and instead used robocalls to notify them that they'd been left high and dry. Just lovely…
The irony of course is that Hertz actually has an entire website dedicated to renting cars for the eclipse. (Interestingly, it has a domain from the United Kingdom.)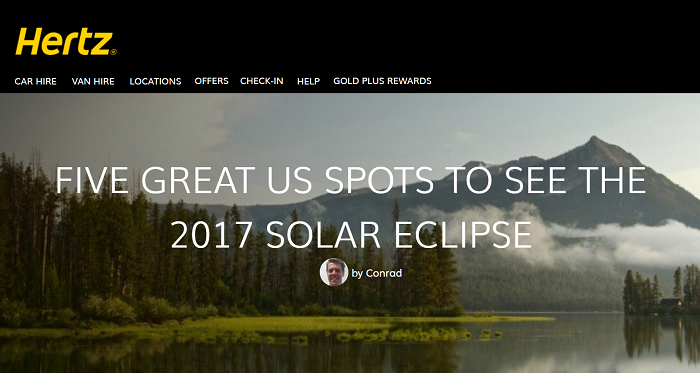 Hertz website for the 2017 solar eclipse
How much does it cost to rent a car for the eclipse weekend?
The cynic in me wonders if Hertz is canceling some lower value reservations now that they have seen just how high the demand for cars is that weekend. This would allow them to continue to sell more high value reservations, thus maximizing profits.
I took a peek at a few key cities, assuming a Saturday to Tuesday rental period.
Denver, for example, is about a 3-hour drive away from prime viewing territory in Wyoming to the north, or Nebraska to the northeast. The good news is that cars are still available in Denver, and they aren't too terribly expensive. That's right, $125 per day is a good deal, just wait.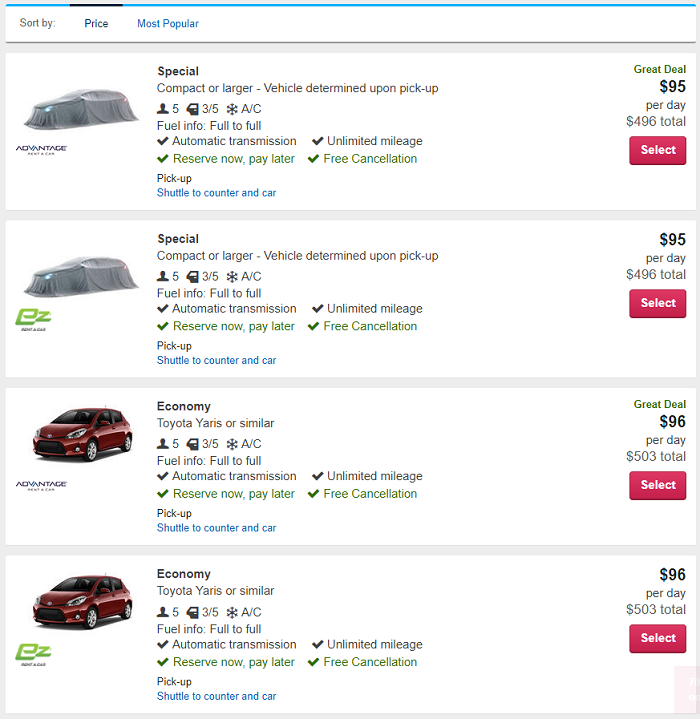 Rental car prices in Denver for eclipse weekend
In St. Louis, the cheapest vehicle to rent is a pickup truck which would give you a nice place to lay out and watch the show. It's actually a really good deal too.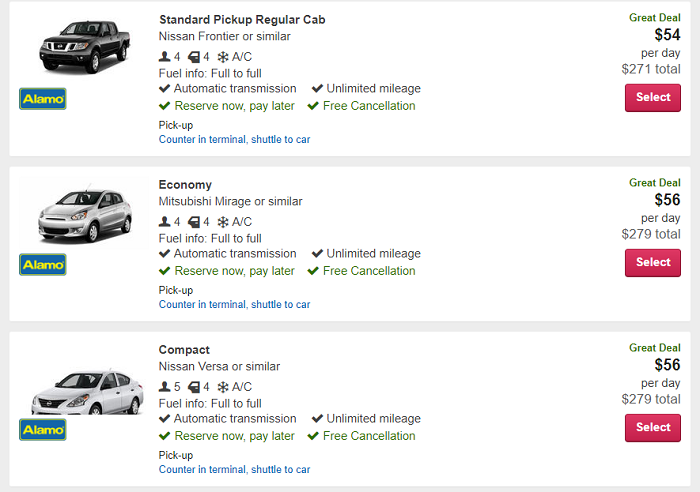 Rental car prices in St. Louis for eclipse weekend
Then we get to Portland, which some think is going to be the best eclipse viewing location. It's also one of the bigger population centers near the path of totality. Most of the car rental companies are sold out, but there is one place offering vehicles in Portland, at a rate of about $1,500 per day. I think at some point I might just be tempted to buy an old clunker off of Craigslist and then donate it to a charity before flying home.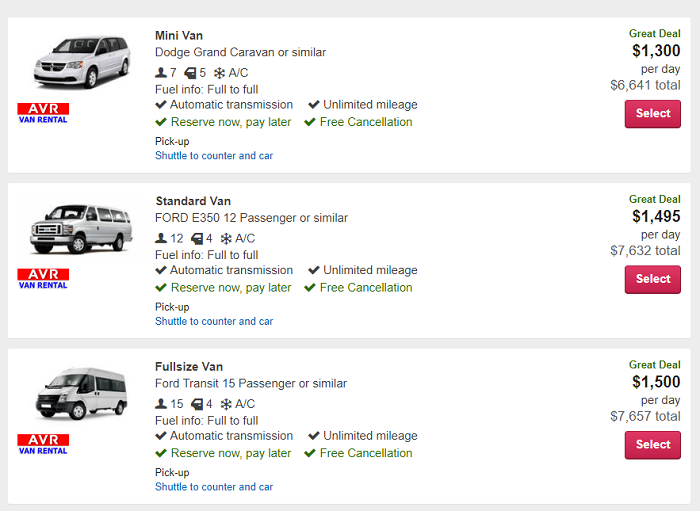 Rental car prices in Portland for eclipse weekend. Don't worry, Orbitz says it's a great deal!
But at least you can rent a vehicle in Portland. Boise is completely sold out.


Boise is out of rental cars for eclipse weekend
Bottom line
Rental cars are in high demand for the Great American Solar Eclipse of 2017. The path of totality is mostly outside of urban areas, so most everyone that is flying in for the event is going to need transportation to a viewing site. That is straining the capacity of the car rental agencies, and sending prices through the roof. If you haven't made a reservation yet, do it soon.
Do you have all of your travel plans in place for the Great Solar Eclipse of 2017?
(Tip of the hat to View from the Wing)